Whatever the style, and whether celebrating a memorable New Year's Eve or not, the turning of a new year holds something symbolic. In some way, we are all tempted to make a balance of the past 12 months and to keep resolutions appearing strong at that very moment and which we almost always forget just a few days later.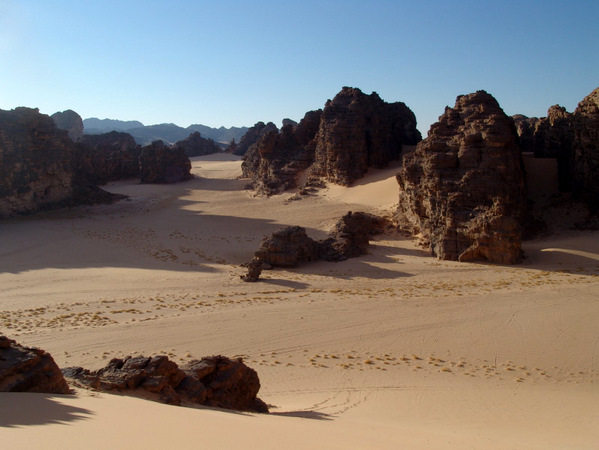 5 travel bloggers, 5 memorable New Year's Eve experiences
I've often celebrated New Year's Eve by er… not celebrating and just having the usual evening, reading a good book and going to sleep early, often before midnight struck. And sometimes I had unforgettable moments as a couple of years ago, in Sydney or in the desert in Algeria.
Since there are so many ways to celebrate, I asked five awesome travel bloggers to share a memorable New Year's Eve experience.
A Memorable New Year Millennium in Aviemore… Epic! by Iain Mallory, Mallory on Travel (@malloryontravel)
Scotland always celebrates the New Year in a big way, they even have their own name for it – Hogmanay – and the party often lasts a whole week! My Millennium New Year was spent in Aviemore enjoying some great conditions and a few beers in the company of friends on an Army Mountaineering Association winter meet.
I experienced some great snow and ice climbing and skiing in the corries including a very memorable ski touring trip over the four highest points of the Cairngorms. This includes Cairngorm, Ben Macdhui (Scotland's second highest mountain), Braeriach and Cairn Toul before escaping via the Sinclair Hut and the Larig Ghru. It is a true mountaineering experience and an awesome day on the hill.
The excitement of the fantastic alpinism was matched by some equally impressive drinking expeditions in the local pubs each evening. Although several association members chose to spend their New Year with the Grey Man of Ben Macdhui, most celebrated the new Millennium in the bars of Aviemore. We certainly partied like it was 1999!
Being the first to celebrate the Millennium… Exciting and… Excessive! by JD Andrews, EarthXplorer (@JDAndrews)
It was 1999, I was working onboard a Royal Caribbean ship, The Legend of the Seas (video dept.) We were in the middle of a Semi-world cruise that started in Istanbul, Turkey and sailed all the way down through Australia, New Zealand to Tasmania and beyond…
Midnight,  Dec. 31st, our ship sailed over the International Date Line, 5-4-3-2-1 "HAPPY NEW YEAR"! Champagne flowed like water while noise makers, balloons and funny hats were handed out thus making everyone on-board the first to Celebrate the year 2000, the Millennium. There was an open bar and incredible ship-wide parties, with dancing and music that lasted for hours upon hours.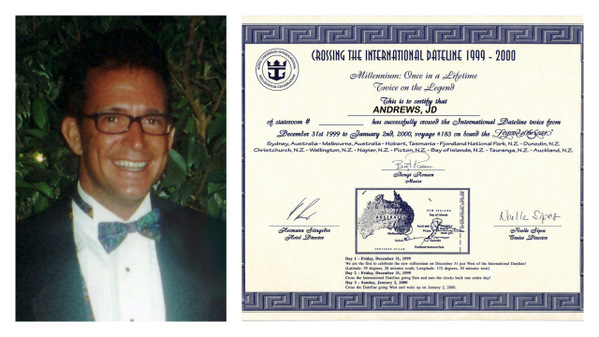 Early that Jan. 1st morning, the ships Master (that's what they call the Captain) made a full 180 degree turn and sailed back across the date line.
As over 5000 passengers, staff and crew awoke sleepy, hung-over and exhausted, we all started to realize –  it  was Friday Dec. 31st all over again.(Groundhog Day on water)
As you can imagine, that nights New Years Eve party was a little less exciting, wild and memorable. And after the clock struck Midnight (again) and the echoes of "Auld lang Syne" died out, almost everyone simply went back to their cabins, to get some sleep.
The whole idea sounded great, to be the first in the world to celebrate 2000 and then do it all over again but having TWO big parties back to back and not being in college, was tough.
There's a good reason New Years only comes once a year.
New Year's Eve in Central America…. Explosive! by Andy Jarosz, 501 Places (@501Places)
Travel around Central America around the New Year and you'd be forgiven for thinking the world's entire supply of fireworks was on sale in the streets. Even in small villages you'll find a few stalls set up selling firecrackers and assorted rockets. Head to the cities and the main squares will be packed with firework sellers, with thousands of tons of explosives lying in dangerously close proximity.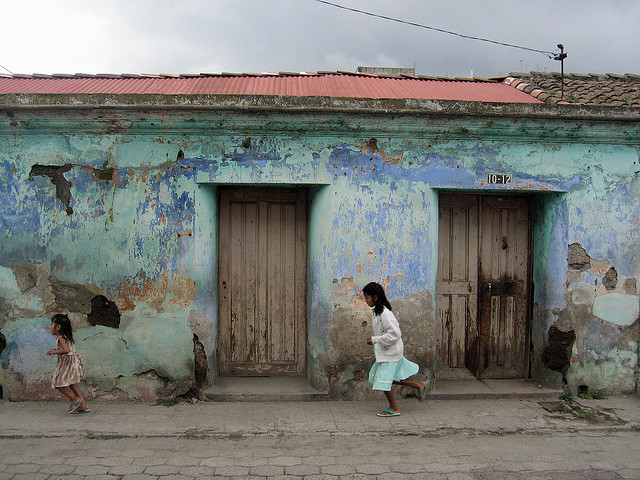 We spent last New Year's Eve in Quetzaltenango in Guatemala and were surprised to see the streets suddenly empty at around 11pm. Everyone headed home to begin their own private celebration. At the stroke of midnight an almighty sound boomed out from every direction and continued unbroken for almost an hour. We watched in amazement from our vantage point as rockets went up from every garden and every street in the city.
Celebrating New Year's Eve in Hong Kong… Unforgettable! by Keith Jenkins, Velvet Escape (@velvetescape)
I'm not a big New Year's Eve fan. To be honest, I find it to be one of the most over-rated events of the year. There's always a certain pressure to throw a party or attend a party full of strangers… and funnily enough, I often find myself succumbing to it and regretting the decision later!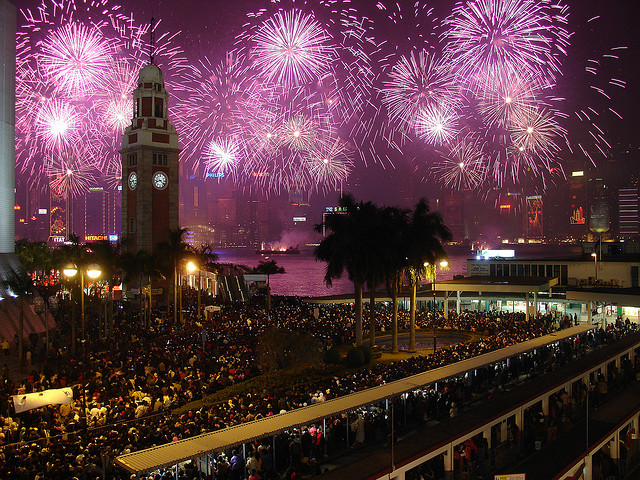 A cloud of cynicism hung above my head like a massive cumulus nimbus when I walked into a New Year's Eve party last year. I was a guest at the Mandarin Oriental Hotel in Hong Kong and received an invitation to join the General Manager and his guests at a New Year's Eve dinner party.
The only thing that motivated me to attend the party was the prospect of dining in a gorgeous suite with a stunning view of Victoria Harbour and Hong Kong's skyline. The big, black cloud was banished as soon as I entered the suite. The view was quite literally breathtaking! After several rounds of bubbly and delicious canapés, we were ushered to the grand dining table at one of the bay windows for a sublime seven course Chinese dinner. The exceptional service, food and views combined with the animated conversation made the evening one of my most memorable. The lovely evening was crowned by a magnificent fireworks display above the harbour at the stroke of midnight. I stood at the window and simply gaped at the impressive fireworks and the skyscrapers bathed in festive lights. It was one of the most memorable New Year's Eve experiences I've ever had!
Wine Tasting and Fireworks in New Zealand… Exciting! by Andrea and John Spirov, InspiringTravellers.com (@InspirngTrvlrs)
For New Year's Eve 2010-11 we spent the day visiting the vineyards on Waiheke Island, which is just a short ferry trip away from Auckland, New Zealand. We love wine so this was a fabulous day out and we had gorgeous weather. After the tour we had some romantic sunset drinks on the island and then headed back into the city later on. By then the crowds had gathered for the night's festivities. As we walked back to our hotel through the city the fireworks began. It was fantastic watching them from our vantage point on the ground and feeling the energy and excitement of the people around us.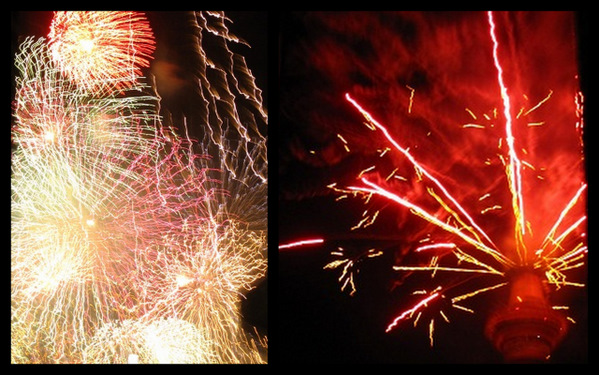 What made this New Years Eve so unforgettable, aside from such a brilliant location and what we did that day, was that it kicked off the year of our sabbatical. Auckland was our first destination for the round the world trip and we had everything ahead of us. It was a beautiful day and night and we had so much fun celebrating what was to be an incredible year of travel.
What was your most memorable New Year's Eve experience?