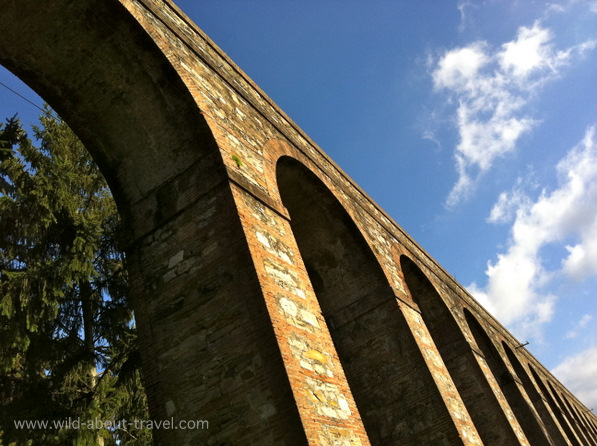 15 Jul

A Bike Stroll Around Lucca

Often overlooked by people visiting Tuscany, Lucca is indeed a little gem full of history and wonderful architectural examples from the Renaissance: the old walls, the Cathedral di San Martino, the wonderful church of San Michele in Foro, the famous Piazza Anfiteatro with its unique oval shape.
[pullquote]There's nothing like a bike stroll around Lucca to see the city and its surroundings from a different perspective[/pullquote]
Apart from loafing around the old narrow streets, enjoying every little corner, a lovely way to explore Lucca and its surrounding is a stroll by bike.
While you can easily hire a bike and tour the city walls by yourselves, a guided tour adds a lot to the experience, showing more nice places outside the city.
Emilio and Serena are two nature guides who founded Eco-guide, with the objective to let people discover the beautiful surroundings of Lucca. Slowly, on foot or by bike, to fully savor the landscape.
After having tested and chosen the right bike, the tour started on the ancient walls circling the old city. From there, the perspective is different and it wasn't long before we stopped to catch a few photos of beautiful historical buildings.
We then headed towards the outskirts of Lucca and pedalled along the Nottolini aqueduct. Seen from above, the arches of the aqueduct are quite impressive.
At the far end, there's the old 'Temple Cistern' – owing its name from its circular shape – from where we enjoyed the view of the entire aqueduct and a glimpse of the mountains.
Back in Lucca, we treated ourselves with a little rest and a well-deserved ice-cream. Emilio and Serena told us a little more about Eco-guide excursions, which include education walks with kids in the woods, bike rides in Garfagnana and night walks on Monte Pisano. And as Emilio and Serena are very attentive to the environment, every starting point is reached by train.
Our stroll is almost over. Heading back to the bike rental we stop for a while to admire the gorgeous Duomo di San Martino and its wonderful marble sculptures and carvings.
Our day in Lucca turns to its end in the most beautiful way: a lovely sunset with a view on Lucca's old walls.
Note: the day in Lucca was part of the Blog Trip "Like a Local Between Pisa & Lucca" organized and hosted by Casa Gentili (a lovely B&B near Pisa) and Avventurosa (travel social media specialists). However, all views and opinions expressed are uniquely personal.
More reading: Eat, Pray, Love: A Tribute to Hidden Tuscany
Travel addict and passionate about photography, Simon Falvo started Wild About Travel back in 2009. Leveraging her strong PR background, she developed an extensive knowledge of Digital Communications and Social Media Marketing. Besides travel writing SImon holds workshops and trainings, she collaborated with tourism boards for digital marketing campaigns and participated as a speaker at several events.