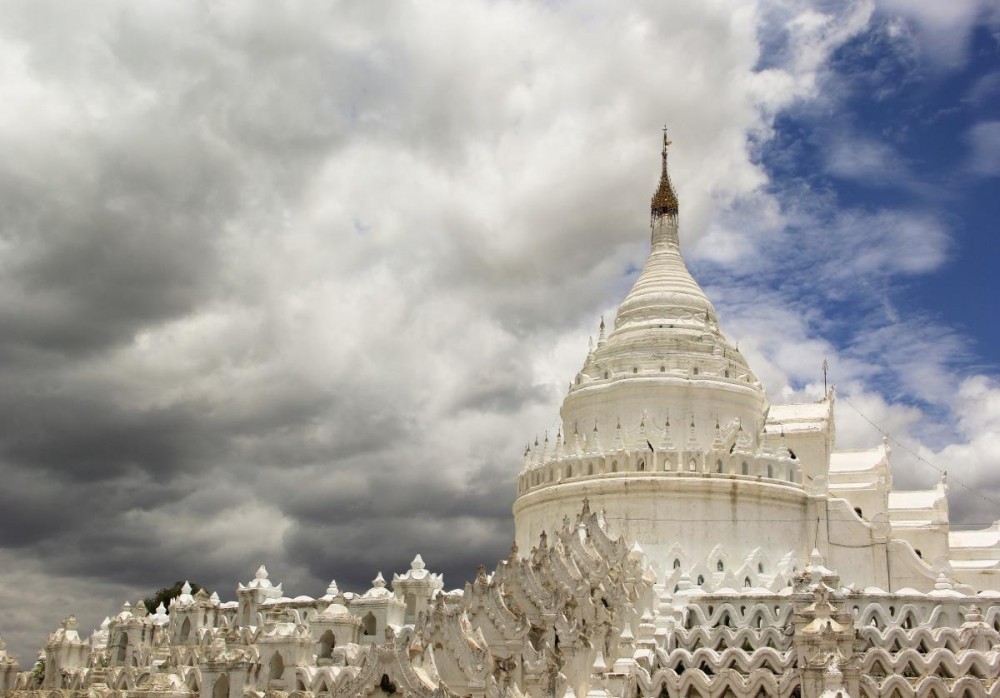 11 Aug

The White Hsinbyume Pagoda in Mingun
Dedicated to Princess Hsinbyume, the white pagoda in Mingun stands out from other Burma temples for its peculiar style, making it very different from the other religious buildings.
[pullquote]The Hsinbyume Pagoda was one of my favorite Temples in Burma[/pullquote]
The architectural design, with its seven terraces shaped like waves, is deeply linked to the Buddhist cosmology, and generated a vast number of interpretations. Many sources point out that the shape of the withe pagoda represents Mount Meru, the sacred mountain and centre of the universe in Hindu, Buddhist and Jain mythology.
Built in 1816 by King Bagyidaw to commemorate his wife Hsinbyume, the 'Elephant Princess', who died in childbirth, the white pagoda in Mingun was one of my favorite Burma temples, if only for its originality.
Mingun and the white Hsinbyume pagoda can be easily reached from Mandalay, crossing by boat the Ayeyarwady River. Tourist boats leave in the morning from Mandalay Jetty and return from Mingun just after lunch. However, if you prefer avoiding the crowds you can also rent a private boat, a good option for small groups but not advisable (as the cost is much higher) for solo travelers.
More reading on Burma: 7 Things You Better Know Before Traveling to Burma
[divider]LIKED THIS POST? [/divider]
Travel addict and passionate about photography, Simon Falvo started Wild About Travel back in 2009. Leveraging her strong PR background, she developed an extensive knowledge of Digital Communications and Social Media Marketing. Besides travel writing SImon holds workshops and trainings, she collaborated with tourism boards for digital marketing campaigns and participated as a speaker at several events.