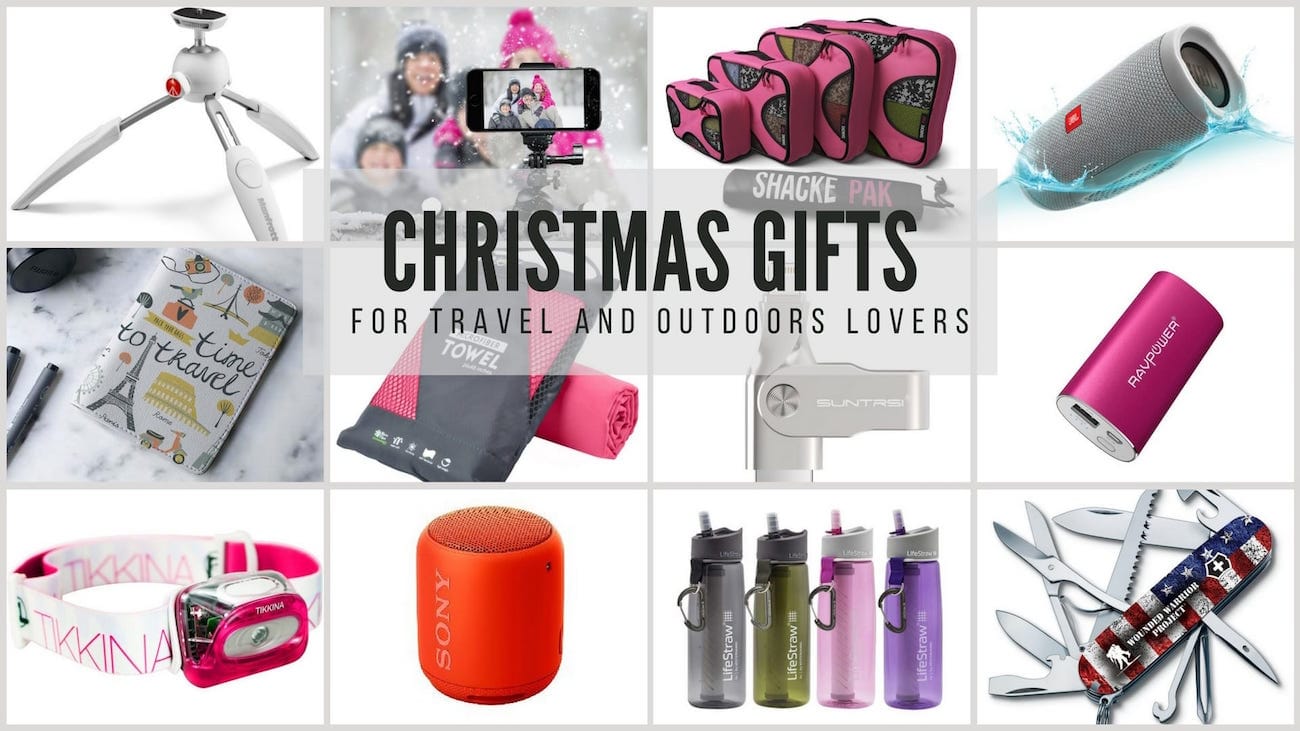 15 Dec

Christmas Gifts for Travel and Outdoors Lovers

It's that time of the year, and Christmas is rapidly approaching. I don't know about you, but for me, Christmas gifts are always a headache. Don't get me wrong: I love giving presents, but I don't like going around when shops are overcrowded. I feel overwhelmed by the shopping frenzy and annoyed by the shameless consumerism that seems to be the only meaning left for Christmas.

Add to that that I like to make presents that are useful and to choose them according to everyone's personality and tastes, and you get the picture.

Every year, I'm chronically late and always on the look for inspiration, and since I still have to meet someone who doesn't like to travel, no matter if just for a weekend close to home, I created a list of Christmas gifts ideas for people who love travel and outdoor activities.

There's something for every budget because a present that comes from the heart and has been chosen having a person in mind doesn't have to be expensive. It has to be thoughtful.
Gifts for organized travelers  
Passport holder
I used to be proud of my well-worn passport, until the day when at the passport control they threatened not to let me go through because it was looking too bad.
That's when I bought a passport holder, which proved to be useful to protect my most faithful travel companion as well as to store other small items like the frequent flyers and boarding cards.
Mine is a bright fuchsia so that I can easily spot it between the many other stuff stored in my bag, and I plan to buy another one from this lovely series.
Packing Cubes
Despite years of intensive travels, I still have to master the art of packing, mainly when I'm off for a long time, visiting places with different climates.
With my Shacke Pak packing cubes I can organize things, save space, and find what I need quickly. I particularly like that the zip runs almost all around so that I can open the cube like a suitcase. That way, I can take off stuff without having to remove all contents as it happens with organizers that only have a half zip.
Microfiber towel
There are countless moments when you can do with a microfiber towel during your travels and outdoor activities.
I have towels of different sizes in bright colors, and like them because they are light, compact, and only take little space, plus they are easy to wash and quick to dry. I take my microfiber towels with me all the time, and they are a simple but handy gift for travel lovers and anyone who likes an active life.
Toiletry bottles
Even if you usually stay at high end or luxury hotels, providing bath essentials, chances are you want to take with you some of your favorite toiletries and cosmetics.
To avoid useless weigh, and to bring with me my preferred products even if I travel carry-on only, I use several kinds of toiletry bottles.
Every traveler should have at least one set!
Gifts for outdoors lovers
Water purifier and water filter
If you have friends or family who love outdoors, camping, and hiking, a water purifier is a perfect present for environmentally conscious travelers.
I am a solo hiker, and one of the most significant issues for me is the backpack's weigh which, in turn, is directly related to water. With the small SteriPen Adventurer Opti, I only need an empty reusable bottle and can collect water wherever I can find it. It takes then less than a minute to treat and purify it, destroying 99,9 % of the microorganisms that can be harmful.
On top of that, it means not only hiking with a lighter backpack, but at the same time not using (and leaving behind), plastic bottles, one of the major environmental threats, especially in the developing countries.
Since you can never know beforehand if the available water will be clear enough, I suggest you complement your gear with a plastic bottle with a water filter. The LifeStraw Go Water Filter Bottle squeaks a bit, but overall it's a good – and useful –  complement.   
Swiss army knife
It's usually when you unexpectedly need a knife, a bottle opener, or another tool, that you find out that you have nothing at hand.
My Swiss army knife is one of my best travel companions, and I take it with me all the time, even on a day trip. If you catch a flight, just remember to store it in your checked-in luggage. You can choose between different sizes and models, but my favorite is the medium one.
Headlamp
A must if you go camping (lighter and much more practical than a torch), it can be useful in many other circumstances. Perhaps nowhere like in Pakistan, where I traveled recently and where power outage is frequent, was I that happy to have my headlamp.
Mine is simple and functional, although you can also choose more sophisticated models
Mini Tripod
Whether you want to take a selfie with some background context, shoot A group photo or make a short video that's not shaking, a mini tripod is what you need.
With its beautiful Made in Italy design, the Manfrotto Pixi Evo is perfect if you're looking for a stylish Christmas gift.
Another option is the funny Anconic flexible tripod, to take photos from the most unusual perspectives.
Portable charger
I use my smartphone for about everything except phoning (yes! I don't like very much talking on the phone), and between googling, online booking, taking a short video and photo editing, there's no way my battery can last a full day.
A portable charger was thus one of my best purchases of the last couple of years, and it follows me everywhere.
My Ravpower power bank is neither small nor light, but with its three USB ports and the 26800mAh, it's precious when I need it for a long time, for example on a multi-day hike, or when camping in the wild. It can charge a smartphone 5 to 6 times, and a tablet a couple of times.
For everyday use, the Ravpower Luster 6700mAh  is small, compact, fast, and stylish.
Believe me. Your friends and family will love you for that!
Flash Drive
I don't know if you experience the same, but my laptop and phone end up being full often and quickly. That's why I never travel without a flash drive, where I store important documents, save pictures and videos, and usually add a few movies to watch on a dull day.
The SanDisk Ultra USB 3.0 may be small, but it can store 256 Gb, more than enough for a holiday.
If like me, you are an Apple fan, the Suntrsi Flash Drive 3.0 could be the right choice, thanks to its double function: as a lightning memory stick as well as a pen drive.
Portable Bluetooth wireless speakers
It's probably not something I would buy for myself to bring with me during my travels, but I got one as a present for my nephew, who will undoubtedly love it.
I eventually chose the colorful Sony XB10, which is small, light and stylish, and has a battery life of about 16 hours.
Another beautiful object is JBL Flip 3 Splashproof, which also comes in different color options. Bigger and heavier, it's best used during a road trip or if you rent a holiday home.