I'm wild about mountains. In all seasons. In winter, when everything is white and I slide on the snow with my skis. In spring, when flowers are blooming. In summer, when the mountains offer a great shelter from the crowd and the heat. In fall, when the landscape is dominated by the colours of autumn, and explosion of yellow, red and brown.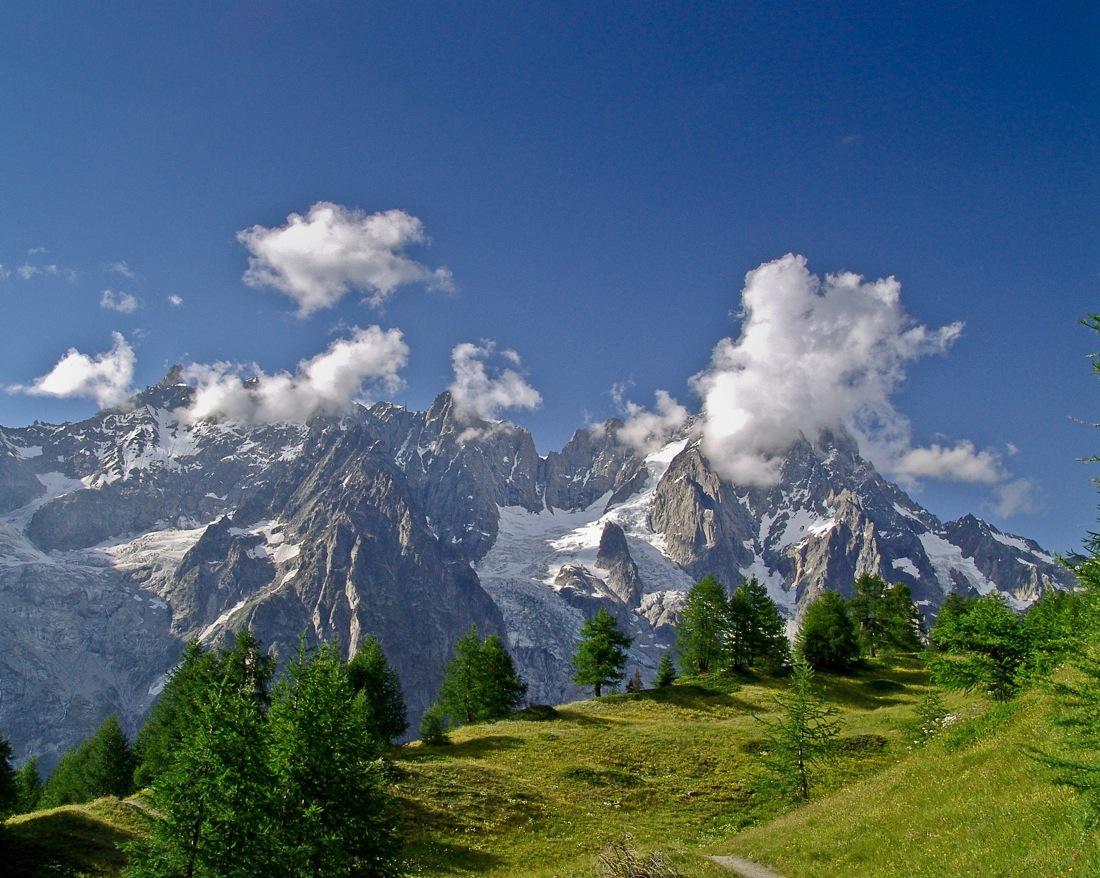 No matter the season, Courmayeur offers stunning views on the Mont-Blanc ant the glaciers.
One of my favorite places is Courmayeur, the last town before entering the Mont Blanc tunnel and reaching France. During the ski season, Courmayeur is one of the most fashionable ski resort in Italy, crowded with wealthy people from Milan and Torino having one of their holiday houses. It's nice but the best time to fully enjoy the mountains is from May to November. There are plenty of beautiful hikes to discover, some very easy, other more challenging. Tracks for every taste. And if you are looking for mountaineering adventure, you can rely on the expert guides of the Società Guide Alpine Courmayeur.
In the beautiful Val Ferret, you can admire the Mont Blanc, the Grandes Jorasses and the glaciers. Val Ferret is at its best from mid-June to approx. Mid-July, when rhododendrons are blooming, colouring the fields with beautiful fuchsia spots. In August, Val Ferret traffic is regulated but there is a bus shuttle service connecting Courmayeur with the main starting points for the hikes. For a closer look to the glaciers, you can also take the cable car from the village La Palud, riding you up to the Aiguille du Midi from where you can enjoy spectacular views of the alps. We recommend however this journey only to people in good physical shape because you reach a 3,400 meters altitude, and some might suffer from Mountain Sickness.
If you want a change, you can go to the Val Vény. It is particularly indicated for families, offering a great green area along the river where kids can run and play and rest under the trees with no danger. Besides, Val Vény offers beautiful hikes, with closer views of the Mont Blanc.
If you are simply not willing to walk but would like to enjoy an enchanting scenery, I advise you to go to the Restaurant Baita Ermitage, which you can reach by car. Baita Ermitage is a characteristic mountain restaurant offering local traditional dishes and a beautiful view on the Mont Blanc. To rest and have some sunbathing, you can enjoy the deckchairs on the terrace. But you can also opt for a traditional dinner (reservation strongly recommended).
Courmayeur is one of the halts of the famous Tour du Mont Blanc, the circular trail that is generally started in Courmayeur or in Chamonix and can be completed in 7 to 8 days. There is clearly far more besides hiking. Other sports activities include mountain biking, rafting, golf, riding.
There are plenty of accommodations, from simple but cosy hotels to luxury ones. You can also experience mountains resorts but better reserve during peak season because they are the obvious choice of the trekkers making the Tour du Mont Blanc. A last glance to restaurants and local food. Most of them offer  the traditional dishes of the Aosta Valley (polenta, mocetta, lardo, cotoletta valdostana) but you can also find more elaborated ones. For a good traditional lunch or dinner, I suggest "Le vieux pommier". Instead, if you are looking for a high standing restaurant try "La Clotze" and the restaurant of the "Villa Novecento Hotel".
SaveSave
Travel addict and passionate about photography, Simon Falvo started Wild About Travel back in 2009. Leveraging her strong PR background, she developed an extensive knowledge of Digital Communications and Social Media Marketing. Besides travel writing Simon holds workshops and trainings, she collaborated with tourism boards for digital marketing campaigns and participated as a speaker at several events.