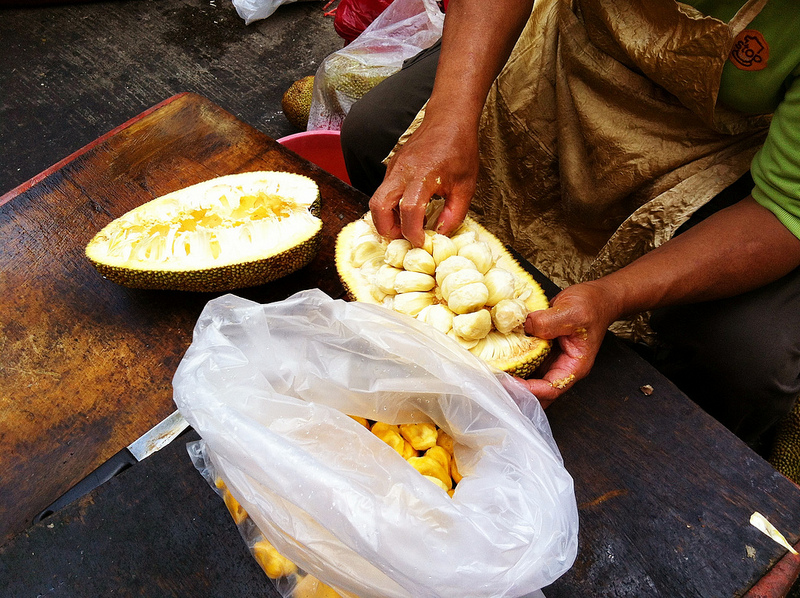 30 Jul

A Durian Vendor in Kuala Lumpur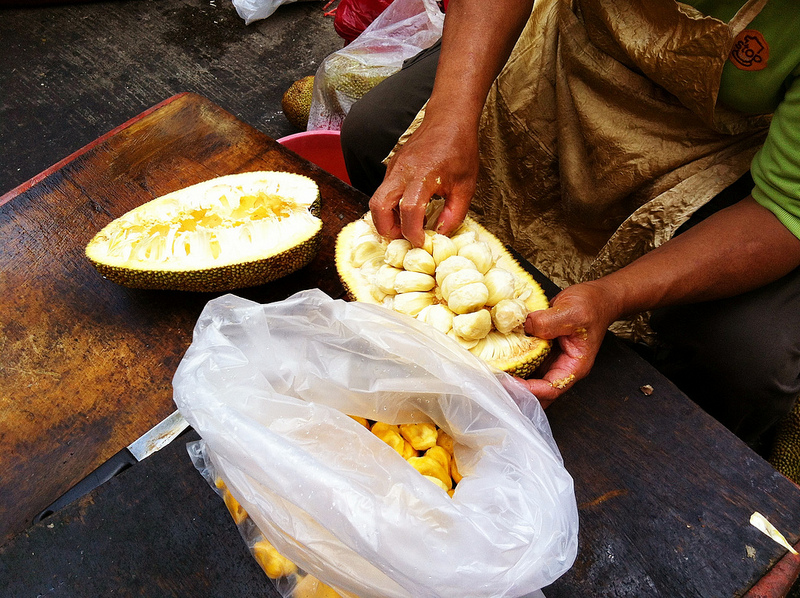 And after publishing… It turned out it's not a Durian, but a Jackfruit… 🙂
Strange fruit, the durian. Outside, this tropical fruit is rather awesome, but I had never seen how it looked inside, neither how it tasted.
Wandering in the streets of Kuala Lumpur, where food stalls are ubiquitous, I stepped into a vendor deeply concentrated in cutting and preparing durian. Curious, I asked him if I could taste it, and indeed it had a strange flavor (for an European palate not used to it) but not that bad.
My curiosity was further enticed later on, when traveling through Burma. More than once, I stumbled into a sign at the hotel reception warning guests that the infamous durian fruit was not allowed in the rooms. I couldn't help wondering why and that's how I found out that durian is well-known for having a very strong odor, apparently extremely bad-smelling to the point that many consider it even revolting. I hadn't noticed the bad smell in Kuala Lumpur, but I also stopped for a very little time and maybe the durian odor was mixed with so many other food smells that it was somehow covered…
Still, the 'king of fruits', as it is often referred to in Southeast Asia, is widely used to prepare various sweets. Moreover, according to Southeast Asian beliefs and traditions, the durian would have healing properties, not to speak about its aphrodisiac qualities as they seem to think in Java.
And oddly enough, I found out that the Singapore Esplanade, the performing art centre with its unmistakable awesome shape and one of the nicest buildings in the SE Asia city-State, is nicknamed 'the Durian'.  I thought it resembled a stylized hedgehog, but now that I think of it, it also resembles the 'king of fruits'! 🙂