After a total refurbishment, the Edinburgh Sheraton Grand Hotel and Spa offers a unique blend of stylish design with a warm and welcoming atmosphere, where every detail has been designed to give guests a signature experience.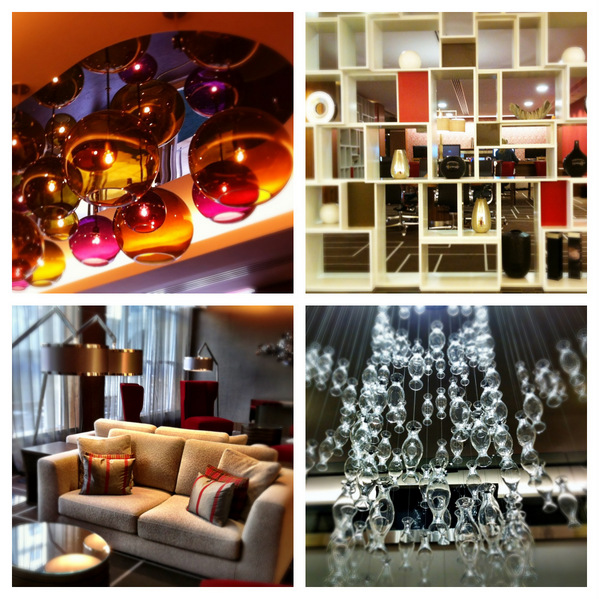 Together with a small group of journalists and travel bloggers I was invited to a media event during which we got a sneak peek of the many amenities of the new Sheraton Grand, reflecting the positioning of the brand as 'The World's Gathering Place' where people can easily meet and interact in different contexts.
A unique blend of stylish design with a warm and welcoming atmosphere.
I stayed in a modern and spacious Club Room on the 7th Floor, a real treat since it includes the access to the bright and colorful Sheraton Club Lounge, free Wi-Fi and, most important, the possibility to enjoy the exclusive Spa at Escape at One.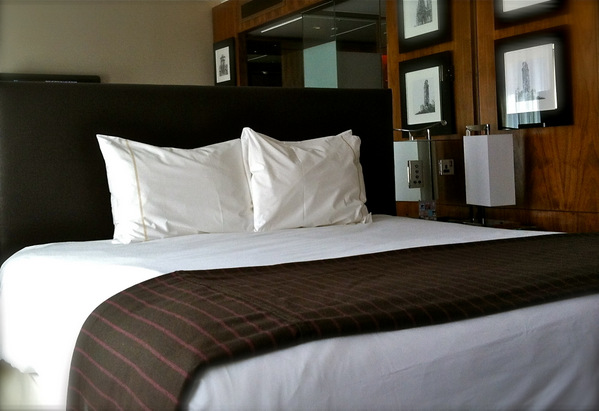 Club Rooms offer the best amenities in terms of technology and comfort (the Sweet Sleeper bed is truly magic and I slept so long that I missed breakfast in the morning) as well as a sensorial experience through an advanced lighting system in the bathroom. There you can choose the lighting color and intensity according to your mood, from intense red or blue to soft green and yellow, all this with the music background of your choice from your own phone or music player.
Technology in the room is so advanced that I felt a little confused at the beginning, although after playing a little are reading the instructions I managed to take control of everything.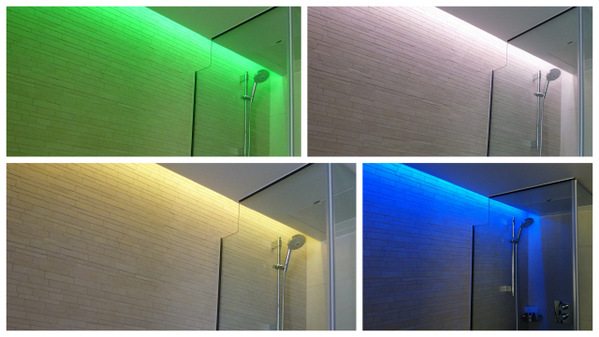 The colorful Club Lounge is a great place for a drink, a chat or to simply relax and read a book. If you have the chance, don't miss the happy hour enjoying a glass of good wine or a cocktail and excellent finger food in a relaxed atmosphere where getting in touch with other guests is very easy.
There's nothing like passion to generate a great customer experience, and we were initiated to the secrets of Gin and Tonic at the bar. Not only did I learn about the characteristics of different Gin (the bar offers 40 different varieties) but also was I introduced to the various tastes of Tonic Water and the best mix for a perfect Gin and Tonic, flavored either with apple, lemon or orange. The freshest and tastier cocktails I have drunk for a long time.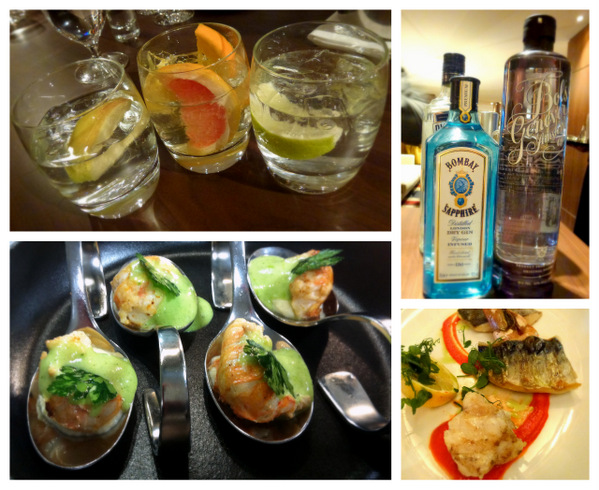 Being a foodie, I enjoyed the privilege to meet the Head Chef of the newly refurbished One Square Restaurant, see the kitchen and all the people following a perfect scheme to create signature dishes. Right in front of us, the Chef prepared a delicious 'amuse-bouche' of grilled Scottish langoustines with garlic butter. A real delicacy. At the stylish One Square Restaurant we got to taste more of the contemporary British cuisine, made of fresh, local, high quality products revisited by the chef in a creative yet traditional fashion.
Edinburgh Sheraton Grand Hotel and Spa: A signature experience, a treat for the body and the mind.
At Edinburgh Sheraton Grand Hotel and Spa, everything is about enhancing guests well-being. The wide Sheraton Fitness area is equipped with the latest and more advanced workout machines and through the partnership with Core Performance, it offers personalized training programs and nutrition tips.  For those who have limited time, there is the possibility to follow 20 or 30 minutes 'Themed' exercise to better face jet-lag or to feel more energized to face a long day of meetings.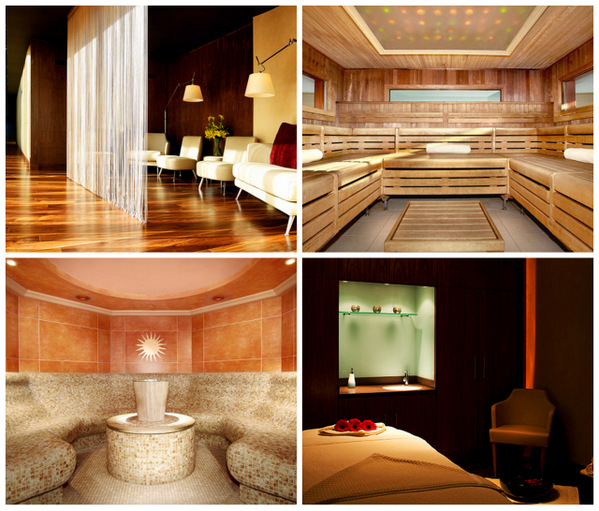 The jewel in the crown is, however, the Escape at One Spa, a wonderful treat for mind and body. The area dedicated to treatments is elegant, with soft lighting and a smooth atmosphere that made me feel as if I was entering a temple for relax.
The jewel in the crown is the amazing Escape at One Spa
I was offered to try a soothing Kodo Foot Massage, whose technique is inspired by Australian Aboriginal traditions, and I wished I could have stayed for hours.
One Spa offers a wide array of  relaxing or energizing massages and body treatments, as well as Spa days and Spa breaks to rejuvenate, relax  and recover balance. The pampering continues by the Thermal Suite and the Pools, where guests can enjoy heat treatments (hammam, aroma grotto, bio sauna, rock sauna, laconium, tepidarium), have a swim in the 19 m swimming pool and  re-energize in the indoor-outdoor warm hydro pool.
Another highlight of Sheraton Grand refurbishment is [email protected], providing business travelers with desktop workstations, complimentary WiFi and meeting tables in an area within the main lobby blending design and technology to create a welcoming area where everything is aimed at facilitating interaction.
My opinion in summary:
Style * * * * *
I usually prefer smaller boutique hotels with a strong character to hotel chains, thus I was surprised by Sheraton Grand design and structure, where every area distinguishes itself by colors, shapes, furniture and accessories to enhance the experience. Sober grey with a touch of red in the lobby, bright green, yellow and purple at the bar, Red and black in the business centre. Every detail has been studied to create a warm and welcoming environment.
Location and External view * * * *
Edinburgh Sheraton Grand Hotel and Spa is conveniently located in the centre and close to the main attractions. However, being at the heart of the financial district, the view and surroundings lack the charm of the Old Town or other awesome neighborhoods. If like me you have no sense of direction you might have some difficulties in finding the main entrance, and you might prefer taking the easiest way getting in from the Restaurant.
Service * * * * *
The excellent service reflects the overall Sheraton approach, where everything is about well-being and personalization. Sheraton Grand is not offering its guests a stay, but a true signature experience.
Prices and Reservations
____
Stay Tuned… Upcoming Contest [CONTEST CLOSED]
Do you fancy an awesome experience at one of the 1,000+ Starwood Hotels & Resorts around the world?
Keep an eye out for an exclusive Wild About Travel competition coming up in the next few weeks run in association with Sheraton's Meet You There project, where you'll have a chance to win 10,000 SPG (Starwood Preferred Guests) points!
________
Note: I was invited to Edinburgh Sheraton Grand Hotel and Spa by Sheraton as part of a press trip organized by LBi and bigmouthmedia media. However, as always all opinions are exclusively mine.
Travel addict and passionate about photography, Simon Falvo started Wild About Travel back in 2009. Leveraging her strong PR background, she developed an extensive knowledge of Digital Communications and Social Media Marketing. Besides travel writing Simon holds workshops and trainings, she collaborated with tourism boards for digital marketing campaigns and participated as a speaker at several events.