06 Jun

Fun in South Africa: Playing The Great Gatsby in Parys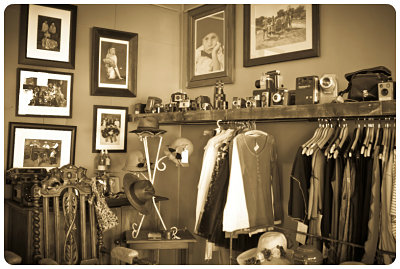 Imagine stepping in a vintage shop full of lovely objects of the past, being dressed up in old costumes, playing The Great Gatsby for a photo shooting that will let you jump in the past and bending over with laughter.
The afternoon in Parys at Kiki's Vintage Photo Studio was one of the best moments of my recent South Africa trip and delighted me with so much fun, like I hadn't experienced for a while.
But let me tell from the beginning the story of a very special afternoon in this quirky small town of South Africa's Free State.
[pullquote]It all started with a Tweet…[/pullquote]
If you're still not convinced of the power and value social media can offer to travelers, you might change your mind after reading about this wonderful and fully unexpected experience. For fun, Kate of the South Africa Tourism – who went along with us during the trip – sent a tweet, asking is there was any local online keen to suggest nice things to do and see in Parys. In a matter of minutes, Bertrand replied and offered to show us around and to get in touch with the locals.
[pullquote]So, we went off for a sort of 'mystery tour' of Parys[/pullquote]
My friend – and great blogger – Keith and I only knew that there would be some beer tasting involved, but nothing else.
To our surprise, after driving us a little through Parys, Bertrand stopped at a quaint shop, whose sign recited 'Kiki's Vintage Photo Studio'. Both Keith and I thought the reason was to admire some of the exquisite objects – after all, Parys is well known for antiques – when the owner Belinda told us: "You take photos all the time. Now, for a change, you'll be the ones captured by the camera". Er… Taking photos of me?
All of a sudden, despite my fear of heights, abseiling sounded less scary than a photo shooting!
Everyone (almost) knows that I don't like to be photographed. I have a sort of block as soon as I feel a camera pointing at me and become as stiff as a steel pipe, with embarrassment unconsciously making me assuming the strangest faces. In two words: a disaster. The only thought of a photo shooting made me shiver, as I tried to keep a stoic attitude and started to mumble: "What the heck? I should have gone with Melvin (my pal of Traveldudes, and the most adventurous in our small group) for abseiling".
It was impossible to chicken out after Bertrand had been so kind and organized everything. So I reached the dressing room and, with the help of Belinda, was transformed into a woman of the 1920's in a matter of minutes. It was Keith's turn to be transformed and as soon as we saw each other… We both burst out laughing! It was not only seeing each other in such a nice and funny attire but also the roles that we ended up impersonating. I was supposed to be a sort of aristocratic lady and Keith…
Rise and fall of a travel blogging star…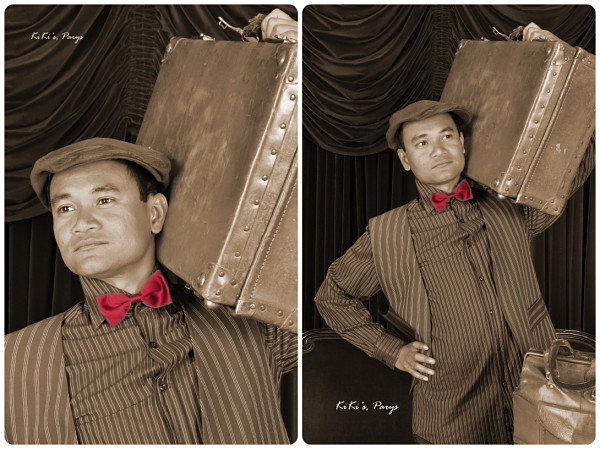 While I was given the role of a woman from the jet set, Keith transformed in er… my bell boy! In a matter of minutes, Keith's dream to become The Great Gatsby, the fascinating millionaire and main character of F. Scott Fitzgerald's most famous novel fell into pieces. Glancing at each other, it was impossible not to laugh. So much for my aversion to being photographed.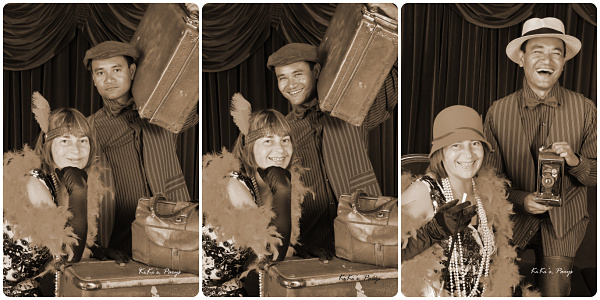 After a while, with an expert touch Belinda turned Keith into my personal photographer, for more fun, photo shooting and to Keith's relief, after the abrupt plummeting in his social status 🙂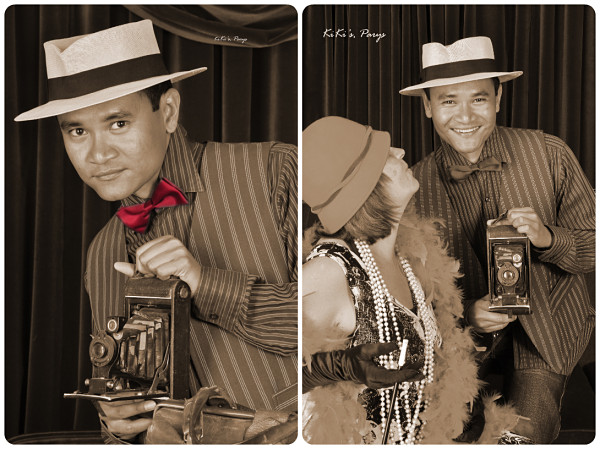 A little chat with Belinda, who shared with us nice stories of the people coming to her photo studio for special celebrations (including a surprise marriage proposal, how fantastic is that?), we headed, guided by Bertrand, to the Pickled Pig for some beer tasting. Sipping several excellent beers from the local micro-brewery De Garve, we had a wonderful time talking to the friendly pub owner, and more chit-chat with the customers coming in, who welcomed us as if we had been old friends.
When unforgettable moments come from the unexpected and the advice from locals
I'll be honest: never would I have spontaneously entered Kiki's photo studio for a vintage photo shooting if I had traveled by myself. For that matter, there are little chances I would have visited Parys and the lovely surroundings, of which I had never heard of.
That's the magic that happens when one travels with an open mind, ready to experience whatever comes, and often discovering that the unexpected offered unforgettable moments. Thank you, Bertrand, for the wonderful time we had in Parys!
Have you ever asked (and followed) suggestions through social media during your travels?
Practical information:
Getting there: Parys is 110 km (68 miles) South-West of Johannesburg and is about a 1-1.5 hour drive
Where to overnight: The Stonehenge in Africa Lodge, in a lovely setting overlooking the Vaai river
_______
Note: my trip to South Africa was part of the #MeetSouthAfrica project, a collaboration between the South Africa Tourism Board and iambassador. All views expressed above are mines.
More reading: Off-Beaten South Africa: Quaint and Vintage Clarens
Travel addict and passionate about photography, Simon Falvo started Wild About Travel back in 2009. Leveraging her strong PR background, she developed an extensive knowledge of Digital Communications and Social Media Marketing. Besides travel writing SImon holds workshops and trainings, she collaborated with tourism boards for digital marketing campaigns and participated as a speaker at several events.