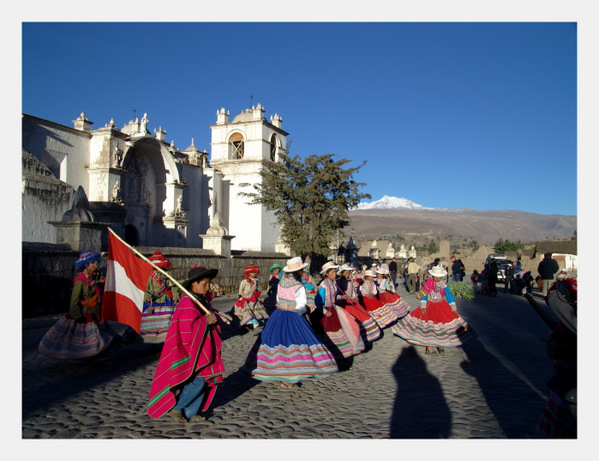 26 Mar

People and Costumes from Peru: A Photo Essay

Peru is an amazing country for culture, dramatic landscapes, variety, colors, handicrafts and people.
[pullquote]Peru traditional costumes are one of the most fascinating aspects of the country[/pullquote]
I was so fascinated by their traditional costumes, an important part of Peruvian culture as they mark the differences between regional areas and how influences melted over time.
The market is one of the most interesting places for observing people, and you won't get short of them while crossing Peru. Here I got my eyes caught by the lovely big hats and the awesome decorations on the sleeves. And Peru also provides a large number of awesome handicrafts: beautiful and brightly colored cloths, carved seeds with scenes of daily life, lovely knitted woollen sweaters and hats with the traditional peruvian designs, and lots more.
In the Colca Valley, I stepped in this group of dancers wearing amazing traditional costumes with wonderful colorful embroideries.
Despite being a poor country, Peru distinguishes itself for its beautiful handicrafts, first of all textiles.
A lovely little dancer waiving at me…
Travel addict and passionate about photography, Simon Falvo started Wild About Travel back in 2009. Leveraging her strong PR background, she developed an extensive knowledge of Digital Communications and Social Media Marketing. Besides travel writing SImon holds workshops and trainings, she collaborated with tourism boards for digital marketing campaigns and participated as a speaker at several events.