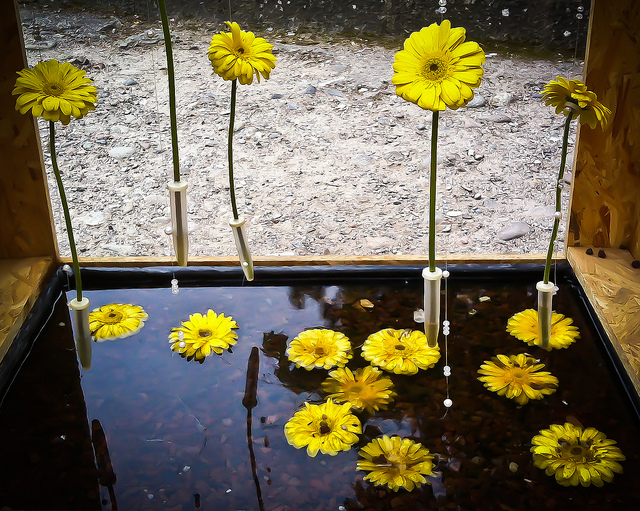 29 May

A Photo Tour of the Spectacular Temps de Flors Festival in Girona

Every year, in May, Girona celebrates Spring with Temps de Flors, the floral festival decorating the Barri Vell – the historical city – with striking colors and beautiful shapes.
What makes the Temps de Flors Festival so special?
Launched 57 years ago as a small flower exhibition and competition, Temps de Flors has grown over the years and now attracts visitors from all over the world. The Festival is a hymn to color, joy and creativity, a wonderful celebration of a beautiful city and one of the many gems in Costa Brava.
There are flowers everywhere. Decorating the walls of historical buildings, into lovely ancient courtyards, along the streets and even in small cozy private gardens.
Besides a few more traditional compositions, strolling along the cobblestone streets, watching into the patios is like having a walk in the world of imagination.
I was stricken by the exquisite taste of the compositions, awesome in their simplicity, perfectly blending with the surrounding space, enhancing the beauty of the city and its medieval architecture.
The entire city participates to the festival with a floral touch. The windows of apparel shops showcased everything having a floral theme, some bars offered flower cocktails, every shopkeeper contributed with a little touch.
Looking up while walking along the cobblestone streets close to the Cathedral, original installations create a roof of artificial flowers made up of different materials, offering a lovely effect.
The climax of Temps de Flores is at the Cathedral, where a cascade of fucsia and white flowers between a brilliant green carpet adorned the 86 steps in front of the façade.
In the wonderful medieval cloister, simple floral arrangements underline the elegant  columns, with their beautifully carved capitals.
Creativity has no limits at Girona flower festival, as in this lovely decorated clock. And while I stroll around this awesome medieval city, I think that time flies too quickly. Girona… I'll be back!
Useful Information
Getting There:
Girona is easily reached by train from Barcelona. There are frequent rides and the journey last about 90 minutes.
Alternatively, Girona-Costa Brava airport connects many European cities through low-cost carriers.
When to visit Girona Flower Festival:
The only downside of Temps de Flor is that being such a fabulous event, it has become very popular, thus the narrow streets and the courtyards are often overcrowded. If you have the chance, better avoid the weekend and visit the Festival the first days, when the flowers are fresher. A trick to avoid the crowd – at least for a while – is stopping for an early lunch break and walk around when most people are having a bite in one of the many welcoming restaurants.
_____
Note: Warm thanks to the Costa Brava Pirineu de Girona Tourism Board for inviting me to discover this beautiful area of Spain. While I enjoyed the wonderful hospitality, the opinions expressed are exclusively mine.
More reading on Costa Brava: 5 Attractions in Cadaquès