The third (and last) episode of my journey to Prague, back in 1980, tells the story of the long waited occasion to discover a bit of Prague every day's life. Escaping from the guide…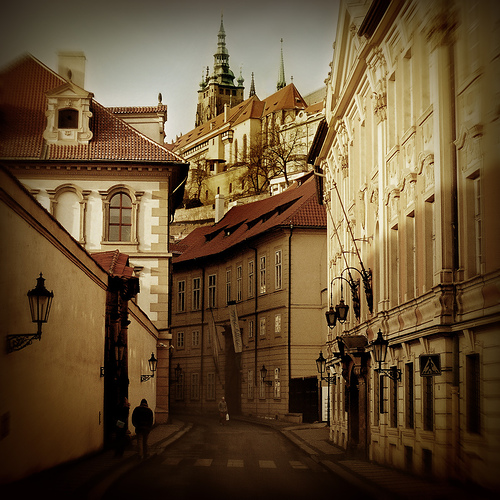 […]
The continuous presence of the guide was really annoying, so I started to think at a way to go on my own without him noticing. The chance came soon. When we got to know that our guide had organized a night at the theatre, together with a school mate we made a plan to escape. Eventually the opportunity we were waiting for had come!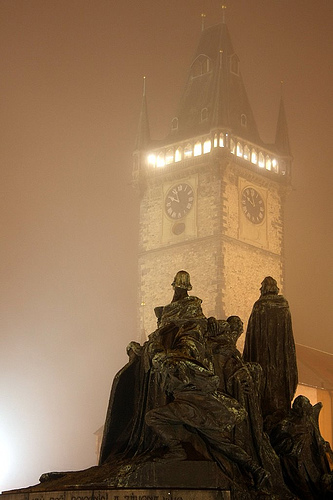 After a little while we discreetly left and rushed to explore the old city, the bars, the everyday life of the young people in Prague. We strolled in the Malà Strana, the Old Town, then stopped in a bar for a beer.
We sat at a long wooden table with three young fellows, observing the place and trying to get a little taste of the local culture. We would have liked to talk with our table companions but didn't know how to break the ice. Suddenly, my mate had a fantastic idea. He remembered having in his backpack some Swiss chocolate, took it out and offered it to the three young people.
That was it!
They accepted with pleasure and we started talking a bit. They were curious about us and we were about them. It was a long time ago and my memories are a little blurry. However, I can clearly remember a few things we had been talking about and which impressed me so much.
♦  Limited freedom: they could not travel outside the Communist European states (and even that was difficult) and they were not allowed to expatriate. The only possibility was trying to escape, an event requiring lots of money in foreign currency (that was one of the reasons, they explained, why illegal exchange was so widespread) and implying huge risks.
♦ Control: police was at every corner, ready to intervene – possibly also with violence – at the slightest suspect (no matter if totally arbitrary). People knew they were spied all the time and they had learned to live with fear.
♦ Censorship: the regime had fixed severe prohibitions to widely restrict the freedom of speech. Similarly, information and culture were submitted to a hard and fast censorship. The French writer Marcel Proust was one of the many banned authors…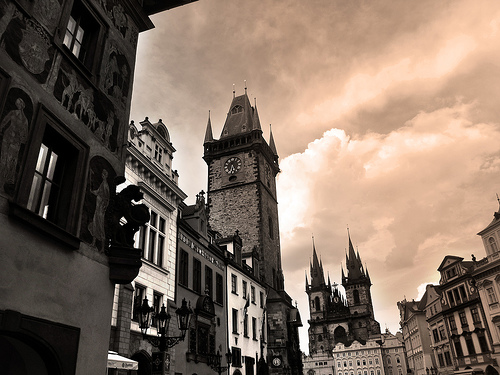 Overall, most people living in Czechoslovakia felt trapped and often hopeless. That's why there was always a shade of sadness in their eyes and what gave Prague a sense of melancholy.
Everything has changed and it's hard to believe  that there was a time, not so long ago, when the countries belonging to the 'Eastern bloc' were a totally different world. That's why I wanted to share my memories.
We shall not forget the oppressions of the past.