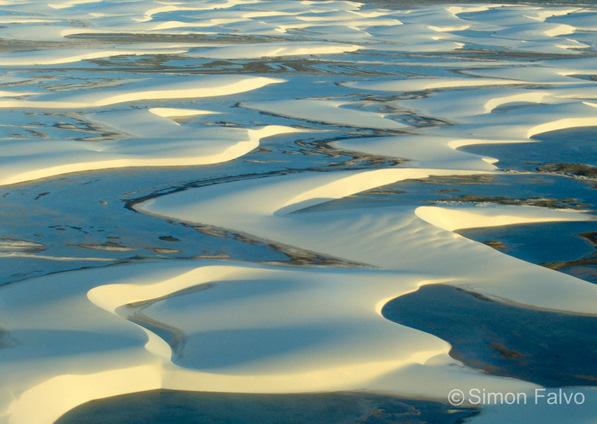 12 Aug

Surreal Landscape of Parque Nacional dos Lençóis

With its white sand dunes and the natural blue and green lagoons, the Parque Nacional dos Lençóis Maranhenses (in the State of Maranhao, Northeastern Brazil) was one of the places I was most anxious to visit during my wild journey in Brazil.
[pullquote]The landscape at Lençois is just surreal and breathaking[/pullquote]
The aerial view is simply breathtaking and the best way to admire the dunes spreading like bedsheets – lençois in Portuguese – from which the name of the National Park derived.
The lagoons are formed by the rainwater filling up the hollows between the dunes during the rainy season, usually taking place in the first months of the year.
Since it is a protected area with no roads, the Park can be entered exclusively by 4×4 vehicles.
Getting to the Parque Nacional dos Lençóis takes quite a long time and the journey is somehow wild and uncomfortable. That's how the Park can be preserved and what makes the beauty of its surreal landscape so overwhelming.
More reading: Salvador de Bahia, the Pastel Colored Houses of the Palournho
Travel addict and passionate about photography, Simon Falvo started Wild About Travel back in 2009. Leveraging her strong PR background, she developed an extensive knowledge of Digital Communications and Social Media Marketing. Besides travel writing SImon holds workshops and trainings, she collaborated with tourism boards for digital marketing campaigns and participated as a speaker at several events.