Last updated on August 29th, 2019
During the last 2 years, I've been to London quite a few times but never adventured beyond a long walk along the Thames.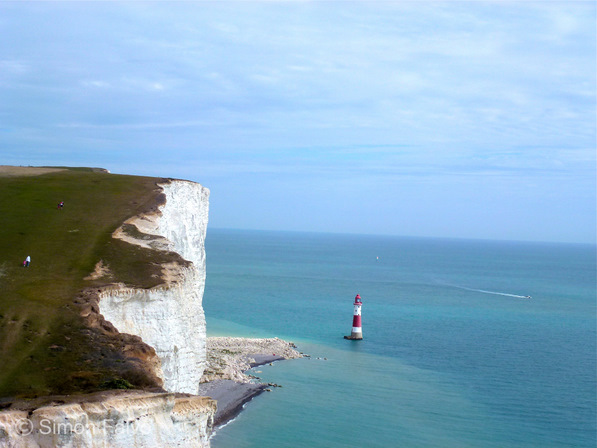 Then, some time ago I got enticed by an article written by my friend Michael on an easy hike close to London, on the coastline in Eastbourne. As soon as I saw the pictures of the magnificent white cliffs I felt attracted by the place and decided I should see that marvelous place at the first occasion. I didn't have to wait too long as I decided to spend some time in England in August. A few days in lovely Bedford, visiting my friend Lynne, then a week to explore new places.
Walking atop the white Beachy Head cliffs was a wonderful and magic experience.
I won't describe the hike, as Michael did it so well, rather write about how I felt in front of such an amazing landscape. I've been hiking quite often in the Alps and the Dolomites, and a few years ago also in Nepal and Peru. All wonderful places, with stunning sceneries. And all dominated by the powerful mountains.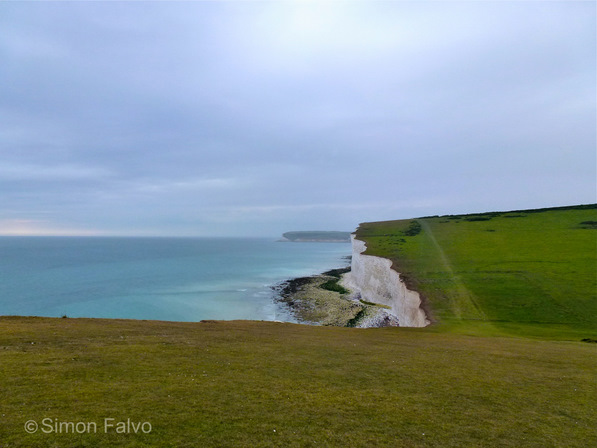 For as much as I am wild about mountains, walking atop the white Beachy Head cliffs was a wonderful and somehow magic experience. First of all the chalk cliffs, standing very high above the sea and so incredibly white, contrasting with the blue of the sea and the green of the meadows. Then the sky and the light. It is hard to explain, but when I look at the clouds running fast through the sky, I got captivated.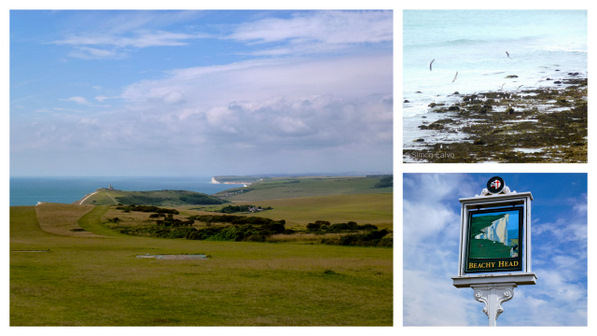 I felt enthralled by the wild beauty of the scenery…
While I was walking up and down the gentle hills, I looked at the various shades of green and how they changed as soon as a little ray of sunshine cleared through the clouds. One of the most striking spots is the view on the old lighthouse. While I was standing there, in the wind, I felt enthralled by the wild beauty of the scenery. So different from the mountain landscape I am more familiar with and so fascinating.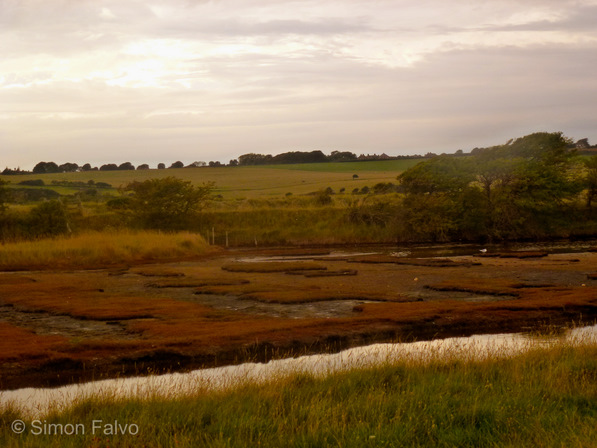 Unlike Michael, I did walk all the way past the 'Seven Sisters' – the famous chalk cliffs chosen as the backdrop for the film 'Robin Hood: Prince of Thieves' – to Alfriston and from there took a bus to go back to Eastbourne. The walk is longer but if you don't mind a little more exercise the view is gorgeous.
The hike atop Beachy Head's wild cliffs has become one of my favorites, and I'll surely go back. With Michael and Marlys? That woud be fantastic!