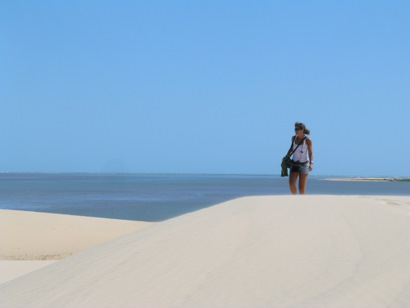 Travel addict and social media enthusiast, Simon Falvo started her Wild About Travel website for fun but it soon became apparent that she had been bitten by the travel and writing bug.
From a passionate travel writer, it didn't take Simon long to become a social media addict beyond the point of recovery. She is told to be dangerous as her passion when she talks about social media (especially Twitter) is often contagious.
She developed an extensive knowledge of Digital Communications and Social Media Marketing and holds workshops and trainings by important companies, as well as consultancy (leveraging also on her previous 10 years experience in investment banking and 8 years in a PR firm).
More recently, Simon created the website for a mountain hut, Rifugio Mai Tardi. She also participated as a speaker at several events, talking about personal branding, destination digital marketing and collaboration with bloggers.
What is 'Wild About Travel'?
The mirror of my greatest passion: travel. And the wish to share my experiences and emotions.
I like adventure, the outdoors and wilderness, but I am also passionate about art and culture. To me, the beauty of travel is in the discovery.
Getting more personal
My kind of travel: mostly solo, often last-minute and without much planning, ready (and loving) to change plans according to my mood
The countries which most impressed me? Not easy but let's say… Yemen, Peru, Nepal, Brazil, Venezuela, South Africa
Favorite cities: Barcelona, Vienna, London, Rome, Paris
Scenery warming my heart: mountains, desert, wild beaches, canyons and volcanoes
The good luck charm coming along with me in all my travels? My jeans jacket
More things and places capturing my attention: street art, medieval hamlets, street performers, local costumes and old traditions
Activities I love to do: hiking, scuba diving, getting lost in the tiny streets of many cities
Things that scare the hell out of me and I'd never do: white water rafting, bungee-jumping
My greatest regret: I won't live enough to experience all the places I'd love to discover
At the top of my dream list? Exploring western Canada, seeing the humpback and killer whales, hike in the Canadian Rockies. The glaciers and icebergs in Patagonia and Antarctica. Seeing the Aurora Borealis. Exploring more of Africa (Mali, Tanzania, Mozambique, Malawi, …). A long trip to discover New Zealand. Going back to the USA, see again Grand Canyon, Bryce and Arches, visit Yellowstone and more Western National Parks and explore Hawaii. Drive along Baja California, visit Colombia, Ecuador and the Galápagos and… scuba diving with hammerhead sharks.
See now why I'm Wild About Travel? 🙂
I hope you'll enjoy reading my adventures!
Connect with me on Google