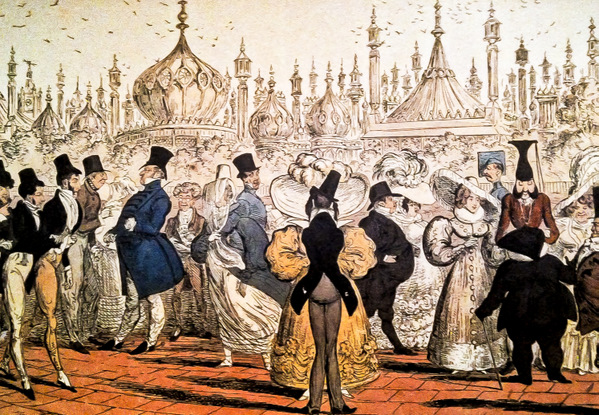 31 Jan

The Unique Charm of Brighton in Winter

I arrived in Brighton under a grey and rainy sky, so to speak not the most favorable conditions for a first visit to a new place, even less a seaside resort. Notwithstanding, as soon as the bus who drove me from Gatwick Airport entered the city, my first thought was: 'How pretty!'.

Believe me, coming from Italy, the 'Country of sun' (or supposedly so…) and deeply disliking rain, I was surprised by my first impression.

Luckily, the rain did not last long, and the last day I was even blessed by a ray of sunshine!
You might wonder… 'Why going to Brighton in winter?'
The sea in winter is special, it is something that has to do with our senses.
The sea in winter is special, the light is awesome, the sounds of the waves and the seagulls enchanting, and the salty tang of the sea exhilarating.
Moreover, since there are plenty of special offers in winter, Brighton is a perfect destination for a lovely short break from London and most European cities (from Gatwick Airport, the journey is only 45 minutes by train and less than 1 hour by bus). A good value for money option is the UMI Hotel, right on the waterfront and not far from the Pier, a budget accommodation with all amenities (en-suite bathroom, TV, Free Wi-Fi).
If it's your first visit, I strongly recommend to book a free tour of the city with one of VisitBrighton Greeters as it is a great way to have a general overview and then go and explore further according to your interests. Our Greeter, Chris Giles, is passionate about history and gave us plenty of insights and anecdotes on how Brighton grew up from a small fishing village to a fashionable seaside resort.
Brighton is a vibrant city that has so much to offer, and there's no time to get bored.
A little sunshine is enough to make a walk along the beachfront from Brighton to Hove extremely pleasant. On your way, you'll cross people walking their dogs, others jogging or cycling and some simply admiring the sea. There's life on the beachfront even in winter.
For those interested in history, art and culture a visit to the Royal Pavilion (unfortunately closed at the time of my visit), probably the most iconic building in Brighton, is a must. At the Brighton Museum and Art Gallery (Free admission) you'll find interesting exhibits about the town history and development as well as nice collection of objects ranging from Egyptian mummies to modern design.
If you like shopping and are looking for quirky objects, Brighton is the right place. Just loose yourself in the tiny streets of The Lanes or in North Laines. But keep your eyes open because you could stumble into other lovely shops like the Big Bead Boutique, in Dyke Road, close to the awesome St Nicholas Church.
As soon as you enter the boutique, you'll be welcomed by Joanna, who founded the boutique driven by her passion for vintage, hand-made jewelry, wedding accessories and unusual objects. And with the background music of the 1930s you'll feel like jumping back into the Belle Epoque.
As for restaurants, Brighton offers a wide choice, from old and cosy traditional pubs to trendy places with creative cuisine, like Food for Friends, where you can taste delicious vegetarian food presented in an exquisite fashion.
Since a visit to Brighton (and moreover to England, if coming from abroad) wouldn't be complete without an afternoon tea, the place to go is Stanmer House, an awesome 18th Century Manor House set in a beautiful park. Indulge yourself with delicious canapes and mouth-watering patisseries, sitting on the couch in front of the fireplace.
_______
Essential Information:
To reach Brighton from Gatwick Airport:
By train: National Rail Enquiries 
By bus (stops at both North and South Terminals): National Express
To book a free visit with a Brighton Greeter: Brighton Greeters Scheme 
All you want to know about Brighton: VisitBrighton
Disclaimer:
My trip to Brighton was kindly sponsored by VisitBrighton, Steve Lowry and UMI Hotel Brighton, who I'd like to thank for the opportunity to discover a charming city.
As always, opinions are exclusively mine.
Travel addict and passionate about photography, Simon Falvo started Wild About Travel back in 2009. Leveraging her strong PR background, she developed an extensive knowledge of Digital Communications and Social Media Marketing. Besides travel writing SImon holds workshops and trainings, she collaborated with tourism boards for digital marketing campaigns and participated as a speaker at several events.