Considered one of the most beautiful towns in Switzerland, Gruyères is a charming village surrounded by picture-perfect scenery. Gruyères is small, but you can easily spend there a full day strolling around, visiting the castle, and hiking in the surroundings.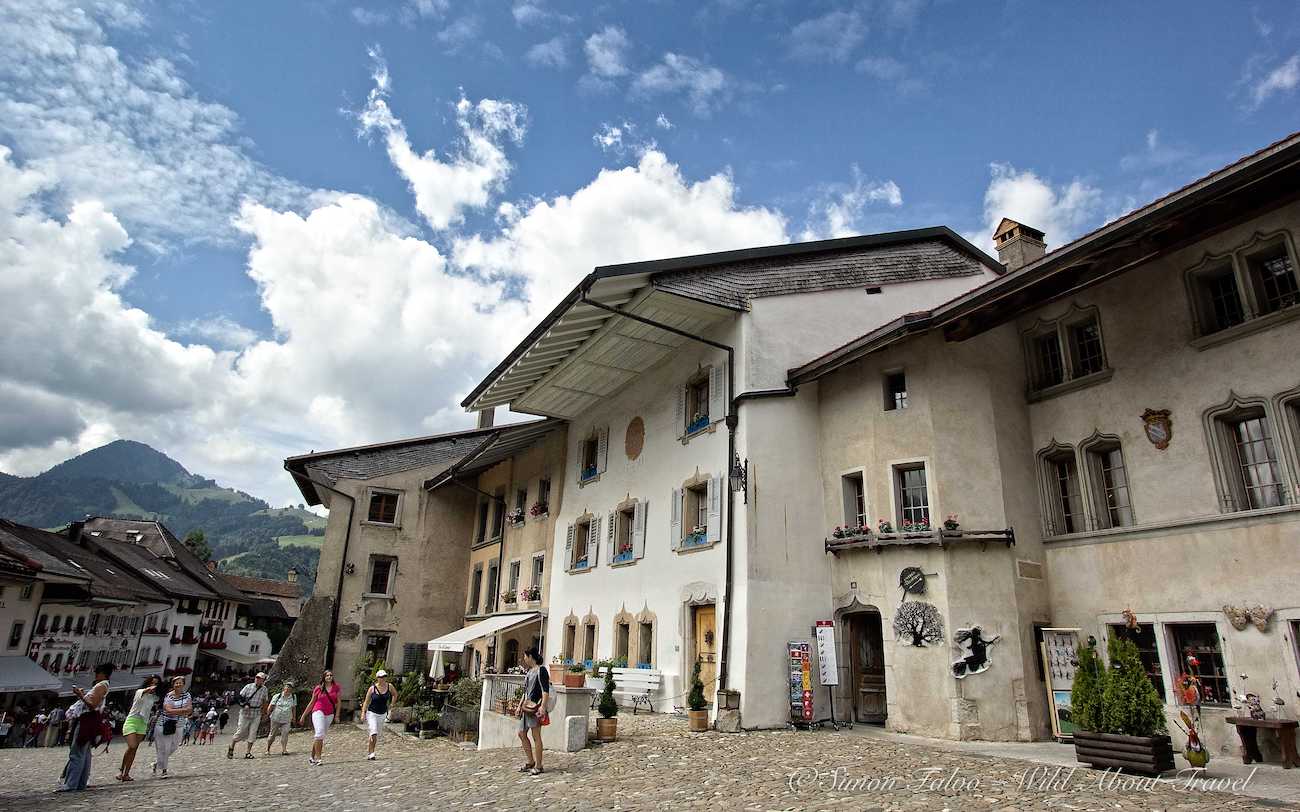 Gruyères, Switzerland: a beautiful medieval village
You may have heard about Gruyères, one of the most delicious Swiss cheeses. But Gruyères is also a charming medieval town in Switzerland, at the heart of the region where the cheese origins. Actually, Gruyères is regarded as one of the most beautiful villages in Switzerland.
Surrounded by the gentle slopes of the Pre-alps and overlooking the verdant valley, Gruyères is idyllic and, without a doubt, picture-perfect. Strolling along the main road is like walking in a fairytale town. The neat and well-kept houses are charming. The flowers decorating the balconies look like sprinkles of colors on a canvas.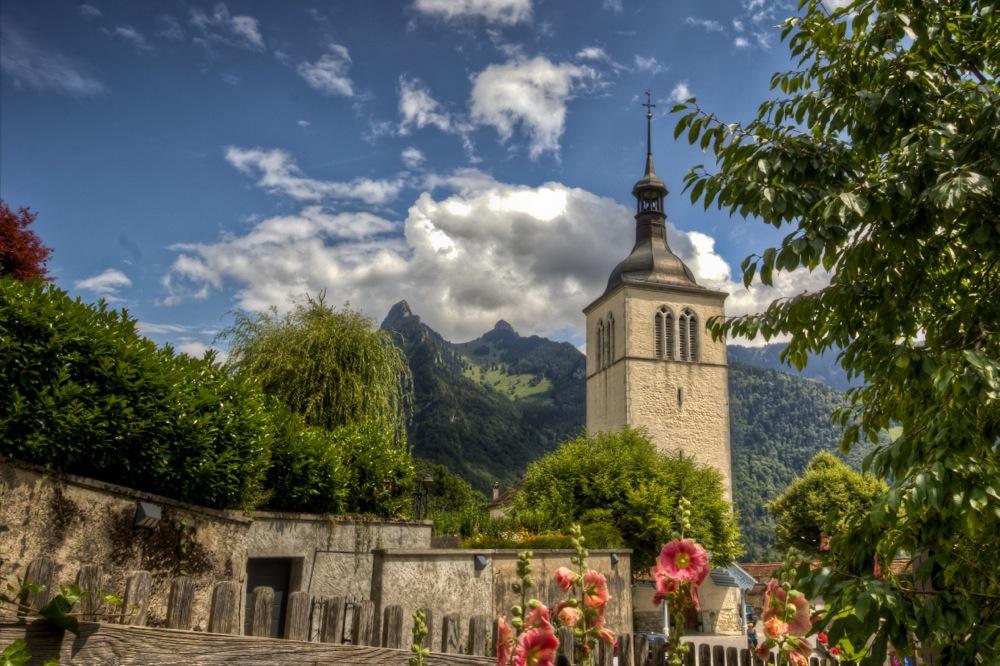 Gruyères is one of the loveliest day trips from Geneva. You can also easily visit in one day from Lausanne, Montreux, Bern. Zurich, Lucerne, and Interlaken are farther away, but in Summer, if you leave early, it's totally doable. And if you're planning to experience one of the most scenic train rides in Switzerland, Gruyères is only a short side trip along the Golden Pass line. On the leg between Montreux and Zweisimmen.
Things to do in Gruyères
Gruyères is a village, but that doesn't mean it's only worth having a quick look. On the contrary. There are many things to do in Gruyères and its surroundings.
Visit Gruyères castle
As was the custom in the Middle Age, in the 13th Century, the Count of Gruyères built the castle atop the hill so that he could control the valley. The town was separated from the castle and surrounded by defensive walls, part of which are still visible. Villagers were granted the right to hold markets, a privilege at those times.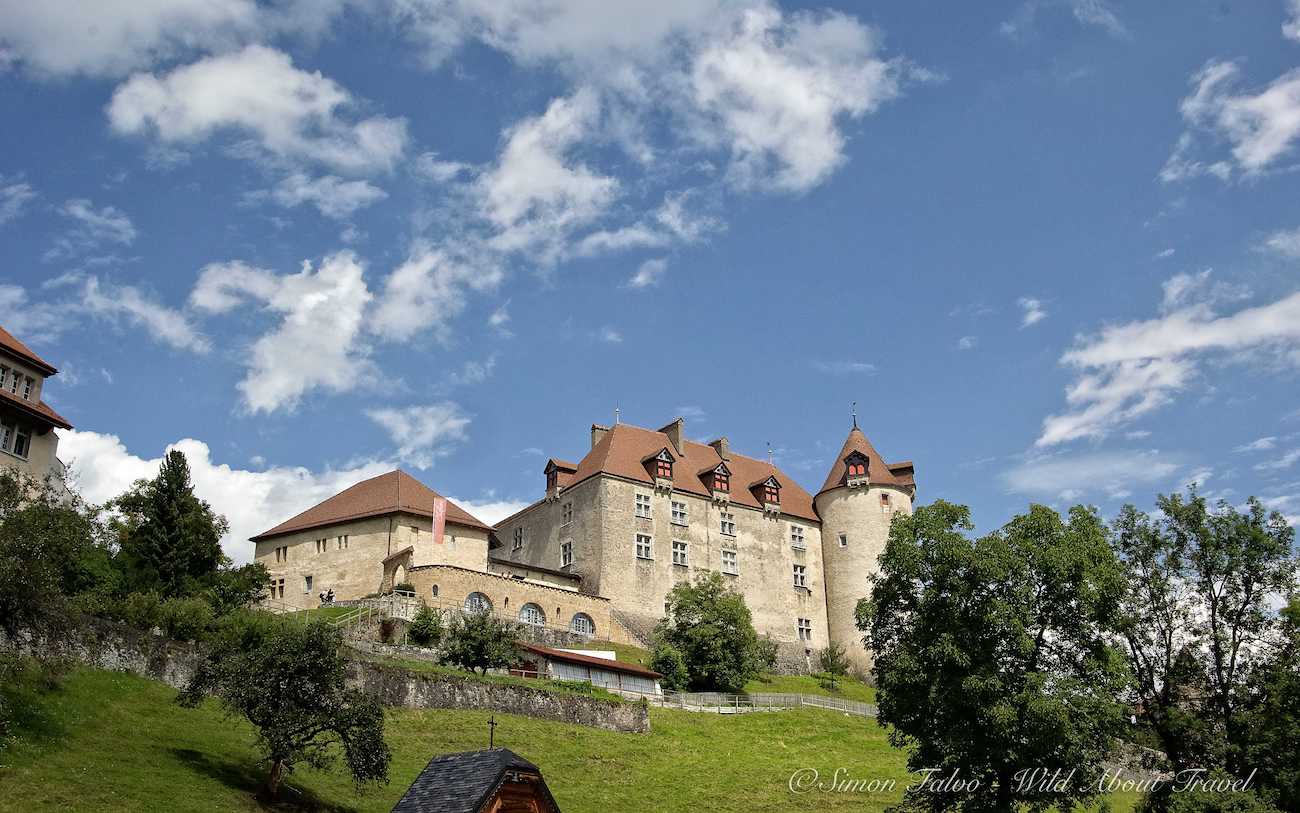 The castle esplanade offers breathtaking views. From the terrace created on the ramparts, you can let your eyes linger on the idyllic landscape, which, likely, resemble how you imagined Switzerland. And the charming French-style garden, with its manicured lawns and flowerbeds, is just lovely.
Inside, Gruyères castle boasts beautiful frescoes, stunning medieval stained-glass windows, and a collection spanning several centuries.
Opening hours: the castle is open every day of the year, including Christmas and NYE. From April to October, you can visit the castle from 9 am to 6 pm. November to March, opening hours are from 10 am to 5 pm.
Stroll in the old town
Everything is pretty and picturesque in Gruyères, and not a single detail seems out of place. The old wrought iron signs, the elegant architecture of the houses, the tasteful decoration of balconies, windows, doors, and terraces. If you only let your eyes wander around slowly, they'll catch endless delightful details.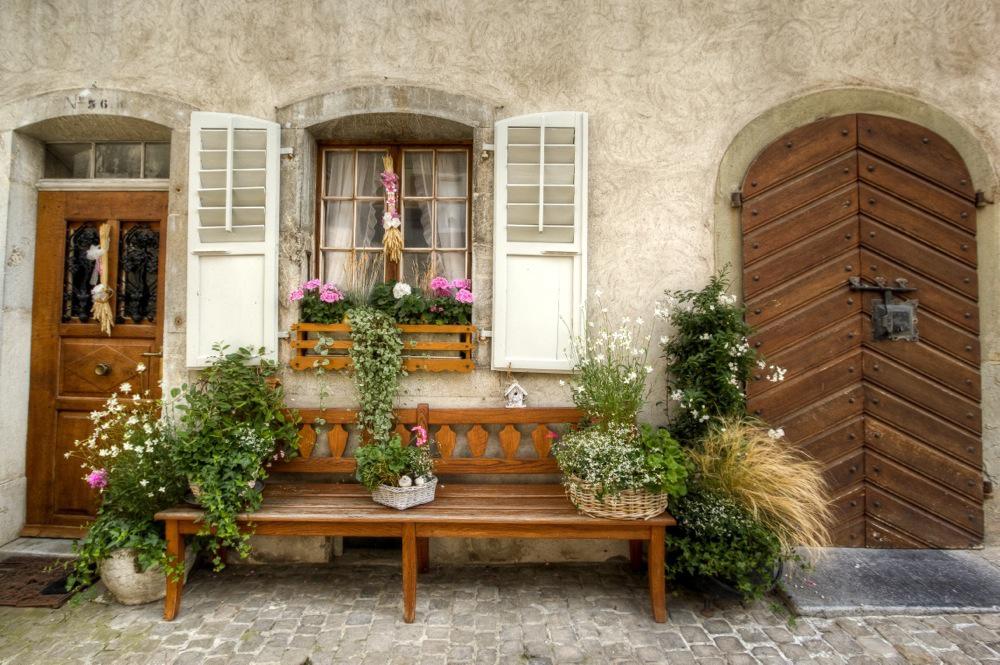 One of the (many) reasons I'm in love with Switzerland is their taste, the ability to create something pretty with very little. An old bench, worn working tools, pieces of wood, or cloth. Combined with flowers and other small objects, they make exquisite decorations.
The flocks of tourists roaming across the village can be misleading because Gruyères has largely remained what it always was. A rural town whose economy is still strongly based on cattle-breeding and milk and cheese production.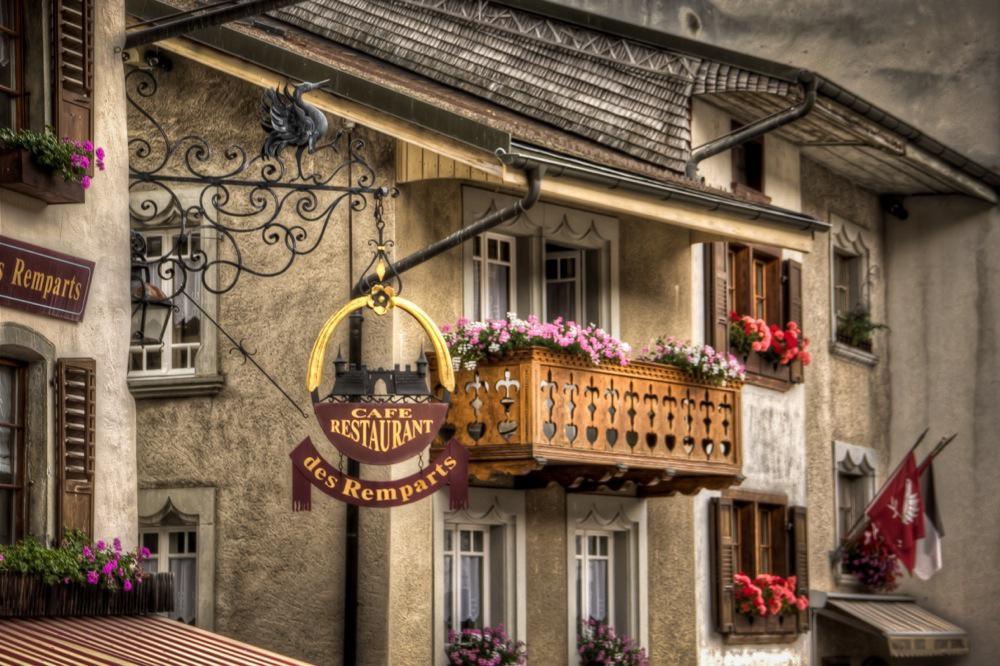 As soon as you get off the main street, you'll hear the soothing sound of the cowbells, peacefully grazing in the meadows.
Visit the Giger Museum and recall the cult movie Alien
Do you remember Alien, the science-fiction (and horror) cult movie of the late 1970s? It's Swiss artist H.R. Giger who designed the Alien creature, which earned him an Oscar back in 1980. Giger's paintbrush artworks, showing dark creatures part human and part mechanic, became iconic in the 1980s.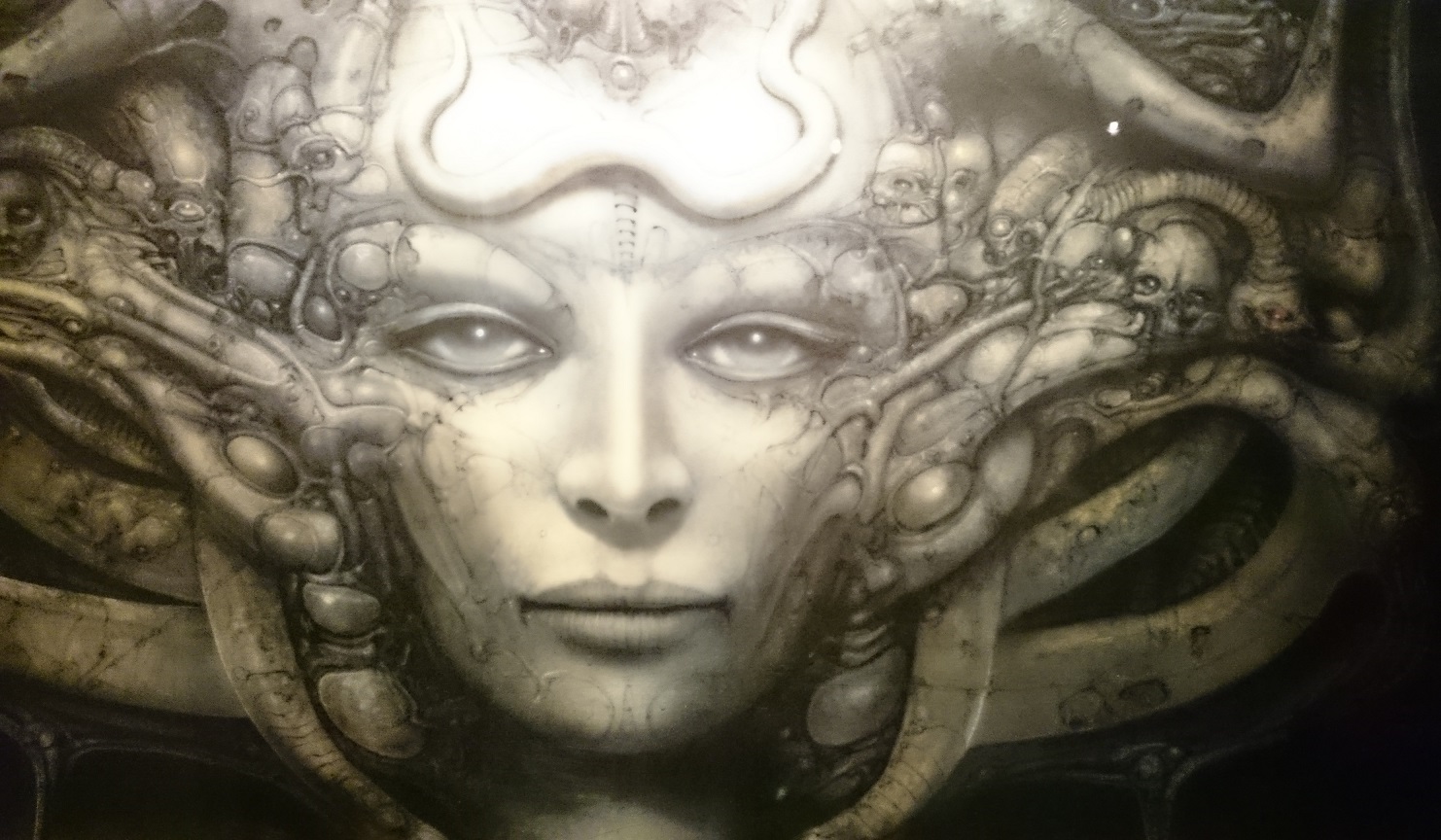 In 1998, the painter bought a castle in Gruyères, which now houses the H.R. Giger Museum, a permanent collection showcasing 250 works. DOn't miss to visit also the Giger's Bar, in front of the museum.
Discover how Gruyères cheese is made
Watching how cheese is made, following centuries-old traditions, is fascinating. At La Maison du Gruyères, the local cheese dairy, you can observe the cheesemakers and discover the secrets behind one of the most famous Swiss delicacies.
Taste a delicious cheese fondue or raclette
Unless you suffer from an allergy, you haven't experienced Gruyères without tasting at least one of its food specialties: a yummy fondue or raclette.
Fondue (fondue au fromage) is a dish consisting of melted cheese served in a shared pot setting on a small stove. With the help of long forks, you dip pieces of bread (and more recently also small potatoes) in the pot, turn a little bit, and then eat. You can prepare fondue with different sorts of hard cheese. Still, the tastiest one is called moitié-moitié and is made of 50% gruyères and 50% vacherin.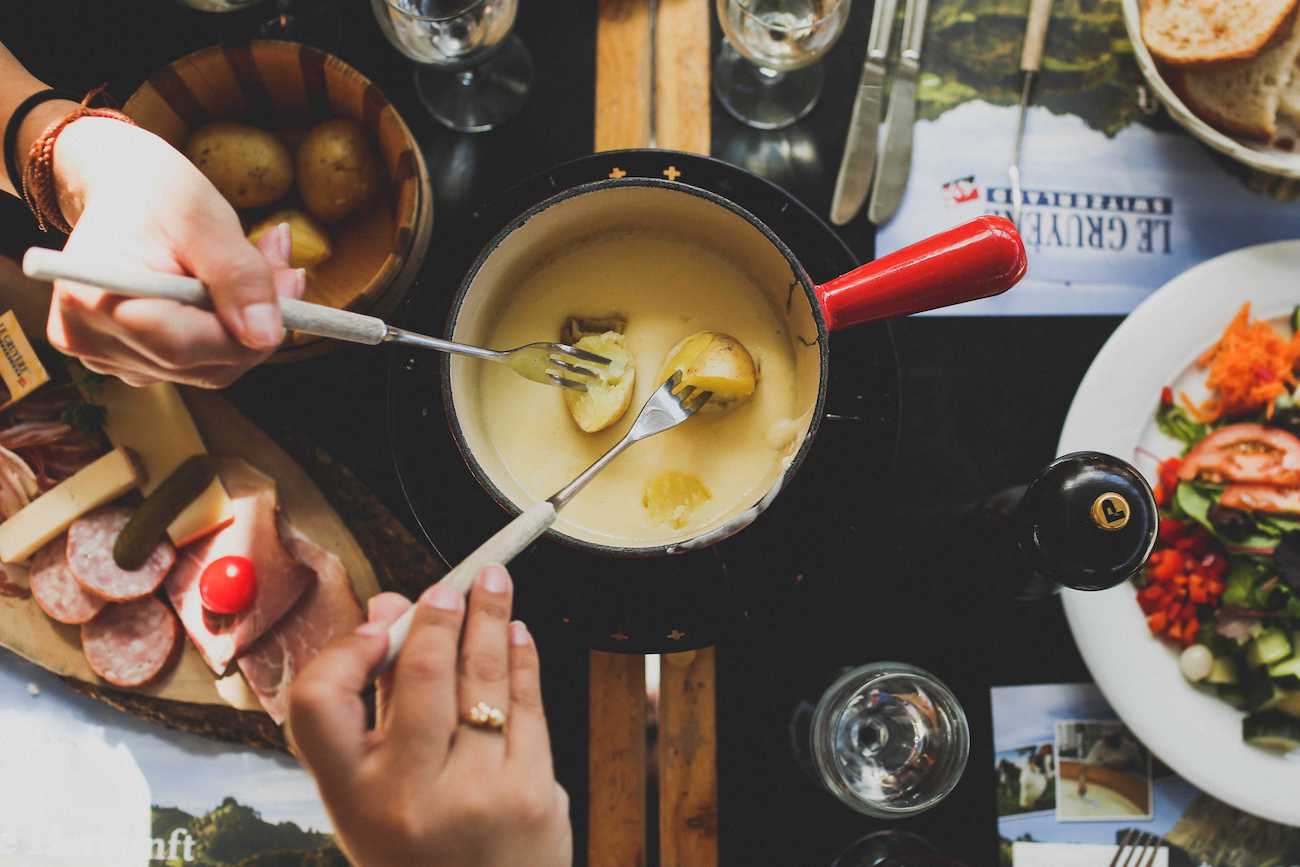 Raclette is made with a semi-hard cheese. Traditionally, people would put a half-wheel in front of the fire, scraping it as it melted. They would eat it with boiled potatoes accompanied by pickles and, sometimes, dry meat. In modern times, a raclette is generally made with a table grill. You lay slices of cheese in small pans, insert them in the grill, and once reached the perfect melting point, you scrape them on hot boiled potatoes.
Try to keep a little bit of space to taste the local dessert: mixed berries with crème double. This double cream is even yummier than you can imagine.
Take a walk to enjoy the idyllic landscape
The beauty of Gruyères goes beyond being a delightful village. The scenery is breathtaking, and there's no better way to enjoy it than a short walk.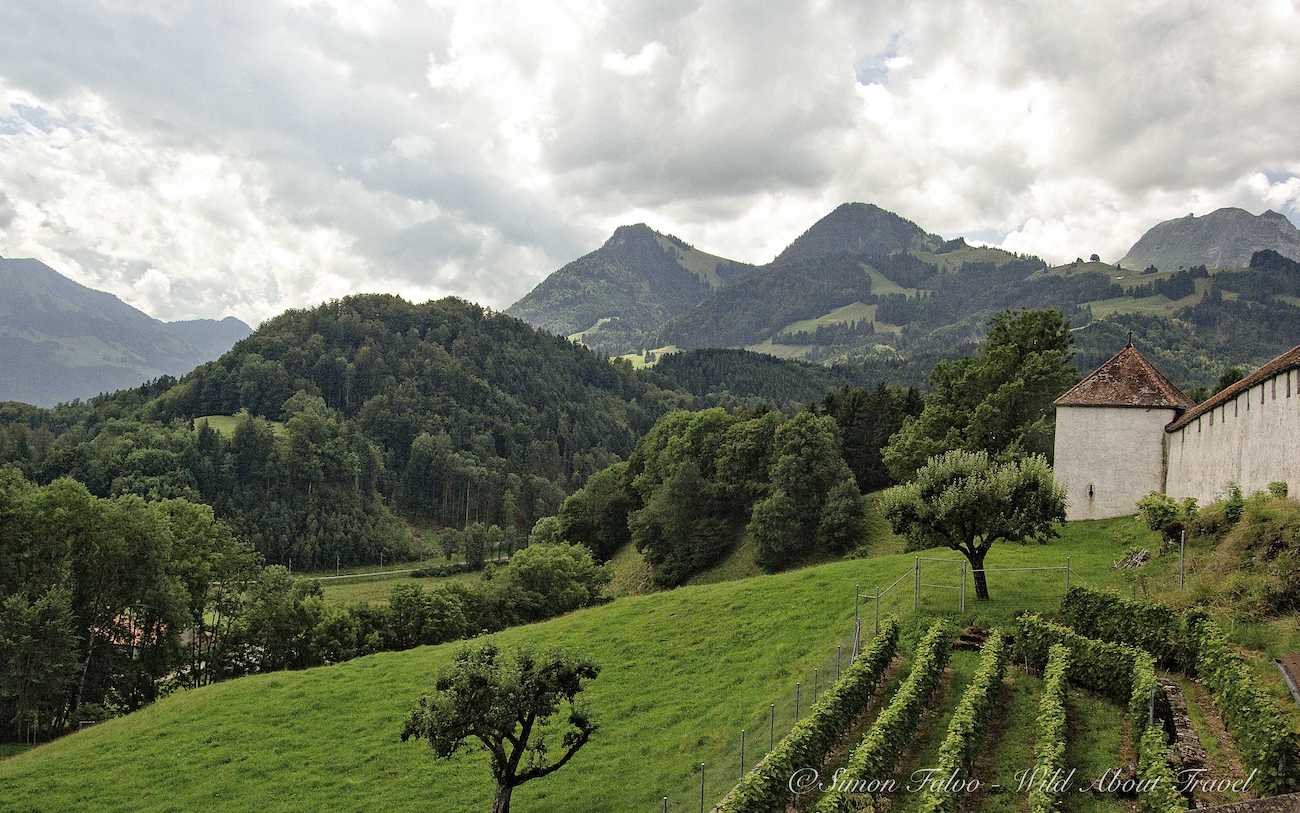 The short and easy trail "at the foot of Gruyères" is suitable for anyone, especially families with children, and doesn't require a particular level of fitness. Pop in the Tourism Office, in the village, and ask for a map and directions.
Go hiking the Gruyères region
Most people visit Gruyères as a day trip from Geneva, or other areas of Switzerland. If you decide to stay longer – which I recommend – you can head for one of the best hiking trails in the Gruyères region.
There are several options, and one of my favorites is the Charmey-Gruyères trail. Along the way, you'll see the artificial Lake Monsalvens. You'll immerse yourself in the wild Jogne gorge, crossing wooden bridges. And you'll discover enchanting, ever-changing landscapes.

Practical Information
How to get to Gruyères, Switzerland
By car: the town is 65 km (40 mi) from Bern, 173 km (107 mi) from Lucerne, 186 km (116 mi) from Zurich, 124 km (77 mi) from Interlaken, 122 km (76 mi) from Geneva.
By train: Gruyères is 2-2,5 hours from Geneva, 2,5 hours from Zurich, 3 hours from Lucerne, 2,5-3 hours from Interlaken, 1,5-2 hours from Bern.
Day trips to Gruyères
To maximize your time, you can also consider experiencing an organized tour, where you'll get to discover even more of the Gruyères region.
On the day trip from Geneva to Gruyères, you'll enjoy a van transfer, then a ride on the Golden Panoramic line, one of the most scenic train rides in Switzerland. You'll get to visit the Broc chocolate factory, leisurely stroll in Guyères, and admire the stunning scenery.
Another option is the private tour to Gruyères from Montreux. No train ride in that case, though, as you'll travel by private van, with hotel pickup.
There's also a similar day trip to Gruyères from Lausanne.
Where to stay in Gruyères
Au Soleil de Gruyères chez Chantal is a charming apartment, perfect if you visit Gruyères with children. Tastefully decorated, the flat features a private terrace and a children's playground.
Gruyère Rooms features cozy rooms decorated with wooden furniture. It's located a stone-throw from Gruyères castle and has a restaurant with terraces.
Check out more hotels in Gruyères.
_______
This post contains a few affiliate links. That means that if you make a purchase, I get a small commission at no extra cost to you.
Pin for later!