It takes a mere 20 minutes from the center of Zurich to the Uetliberg mountain, and you get so rapidly immersed in nature that it feels so far away from the city. People come up here for a hike or a run, for a tour in mountain bike or simply to chill out at one of the restaurants, sitting on the terrace and taking in the view of the lake and, on a good day, of the mountains range in the far backdrop. 
Uetliberg mountain is only a stone-throw from Zurich
From the station, I took the 10-minutes walk uphill leading to the Uto Kulm Restaurant and Hotel. Big and well suited for large gatherings, weddings, and other events, it's not exactly my kind of place. I'm more fond of small and cozy hotels or guest joules, with a special character. Notwithstanding, the terrace in front of Uto Kulm offers a pretty viewpoint and, most of all, the Hotel is right in front of the lookout tower.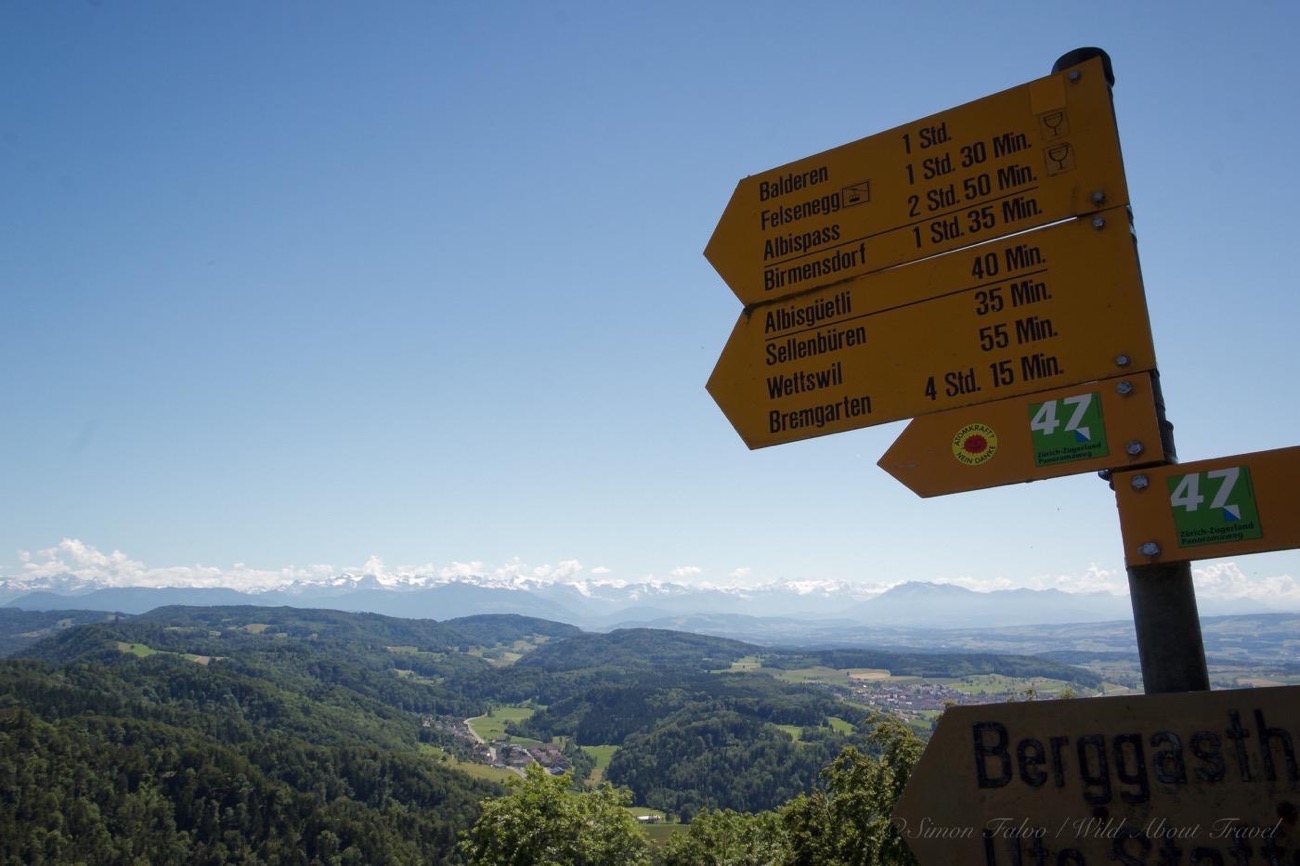 I climbed to the top, from which the 360 degrees view is beautiful: on one side the long and narrow lake Zurich, its blue water dotted with the white triangles of the sailing boats, on the left the city, built on the tip of the lake and along the river Limmat, on the back gentle hills, where the darker green of the forests alternates with the lighter patches of meadows and the farmed fields.
Back to the ground, I followed the trail to Felsenegg, an easy and short hike going through shaded forests and wide meadows, and opening up to pretty views of the lake and the hills. The walk takes about 1h 45 min, has little elevation difference and was perfectly suited for me, being totally out of shape. At Felsenegg, I stopped for a drink at Hotel Felsenegg's panorama  terrace, enjoying the landscape before heading down to  Adliswill with the gondola, and then back to Zurich. 
Getting a feel of Zurich local life at Uetliberg mountain
The view and the landscape are nice and the hike is enjoyable, but don't expect a scenery like you'd see in top mountains or lakes resorts in Switzerland. Along Uetliberg's trails, you won't meet many tourists. It's a place for locals, and you get a taste of what life in Zurich feels like, the advantages of a city offering lots of attractions and the local mountain, allowing an easy escape into nature.
Pin it if you like it!