Immense, wild, harsh, remote and incredibly fascinating: Patagonia Argentina is all this and a lot more.
I wrote a few stories of my journey across Patagonia, and more will follow. I have thousands pictures that I still have to select and edit. And when I feel nostalgia for Patagonia's dazzling beauty, I go through the moments I crystallised with my phone.
First glimpse of Ushuaia
My first glimpse of Patagonia went with a little thrill. Strong winds shook the plane like a can of coke, and the pilot had to abort the first landing attempt, regain height and approach the landing strip from a different angle. If it weren't for the breathtaking landscape, I would have been way more scared. But there I was: I was setting foot in Ushuaia, the southernmost city in the world, often referred to as "the end of the world".
https://instagram.com/p/yuxPI5kJ4j/
Blue and Purple in Ushuaia
As a city, Ushuaia is not particularly attractive, except for its natural setting and a few pretty houses, like that purple one standing out on a deep blue sky.
https://instagram.com/p/ywuXLLEJ19/
Boats ready for my dream destination… Antarctica!
Walking along the harbour, looking at the dramatic sky, I couldn't help looking at the boats ready to set sail so Antarctica, the destination I dream to see, as soon as I'll have enough money.
https://instagram.com/p/y2rTx5kJ8v/
Centolla: Ushuaia yummy food specialty
I'm a fish and seafood lover, so I absolutely had to taste Ushuaia's food specialty: Centolla (or giant crabs). Restaurants cook then in a variety of fashions but my favourite is the simple one. No sauces or other seasoning; only the delicate and delicious taste of the crab's meat. Unforgettable!
https://instagram.com/p/yx-VzskJ5B/
A tiny post office at the "end of the world"
Not sure which one to choose, I started my hike in the Tierra del Fuego National Park from here: an enchanting cove with a tiny post office. I wish I had a postcard with me to send it from here.
https://instagram.com/p/y0Lq9CEJ2a/
Hiking in the wild Tierra del Fuego National Park
A breathtaking scenery and a gorgeous day. Everything was perfect until… I found out that I had forgotten my memory card (yes, you got it well…).
Never had I felt so terribly dumb and I kept repeating to myself at least a hundred times how stupid I was. Then, I decided that there was no point to spoil such a special moment, blessed my iPhone and started a wonderful and rewarding hike.
https://instagram.com/p/y2UbypEJ5I/
https://instagram.com/p/y-ff3IkJ95/
Crossing the Magellan Strait
Grey, windy, rough: the scenery at the Magellan Strait is not particularly attractive but the thought of the explorers of the past, navigating this difficult and dangerous route, filled my heart with strong emotions.
https://instagram.com/p/y5Is1lkJzD/
Sunset on the steppe… from the bus
The journeys on the bus across Argentina Patagonia are endless, as is the steppe going as far as the eye can see. From the bus, I spotted some of the most beautiful sunsets, which seemed to last forever.
https://instagram.com/p/y6ChMwEJ_E/
Perito Moreno glacier: a dream comes true!
I had been craving to see the Perito Moreno glacier for years and was beyond excited when I finally stood in front of its majesty. I couldn't stop shooting photos, observing it from every possible angle, trying to catch every shade of a magic rhapsody in blue.
I listened to the wind's loud whistle and to the roar of the ice falling in the water, awe-inspired by the force of nature, mesmerized by a beauty that words can hardly describe.
https://instagram.com/p/y8as6KkJzy/
Floating icebergs at the Upsala glacier
More ice,  this time the Upsala glacier and the nearby Spegazzini, which can be reached only by boat. Braving the strong wind and the cold, I spend most of the time on the deck, not willing to lose a single moment of such a stunning scenery.
My favourite part of the journey, apart from the glaciers magnificence, was looking at the floating icebergs, with their ever-changing colors and shapes.
https://instagram.com/p/zBNda6EJ-F/
A breathtaking sunset in El Calafate
One of the main travel hubs in Patagonia, El Calafate grew quickly and during the high season tourists flock to this small city, mostly to visit the Perito Moreno Glacier.
Besides a stroll in the centre, a look at the boutiques and souvenir shops and, of course, a visit to the glaciers, there's no reason to spend much time in El Calafate. Still, from heights of the city, I enjoyed a wonderful sunset and beautiful views on the lake.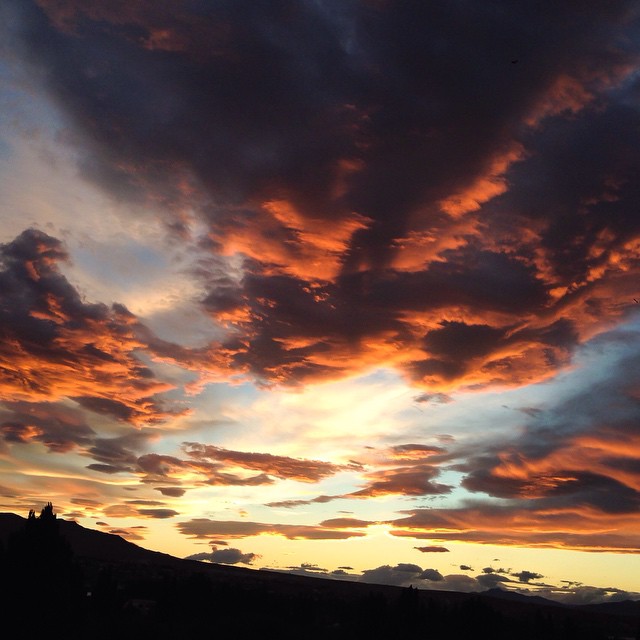 The journey is still long and there are more snapshots to share. Stay tuned. The next leg is coming soon!