When it comes to exploring Italy, most travelers have their eyes set on iconic destinations like Rome, Venice, and Florence. Sometimes also the Cinque Terre and the Amalfi coast. However, Italy has so much more to offer beyond these well-trodden paths. My country is a treasure trove, so let me take you off the beaten path to discover some of the most beautiful hidden gems in Italy.
This post contains affiliate links. That means that if you make a purchase, I get a small commission at no extra cost to you.
Jump to the relevant section [Show]
Hidden Gems in Italy: Map

Hidden Gems in Northern Italy

Mantua: Renaissance Splendor
Mantua, tucked away in southern Lombardy, is a beautiful city still little known even by Italians. Although rarely included among the top cities to visit, Mantua is one of the most precious hidden gems in Italy.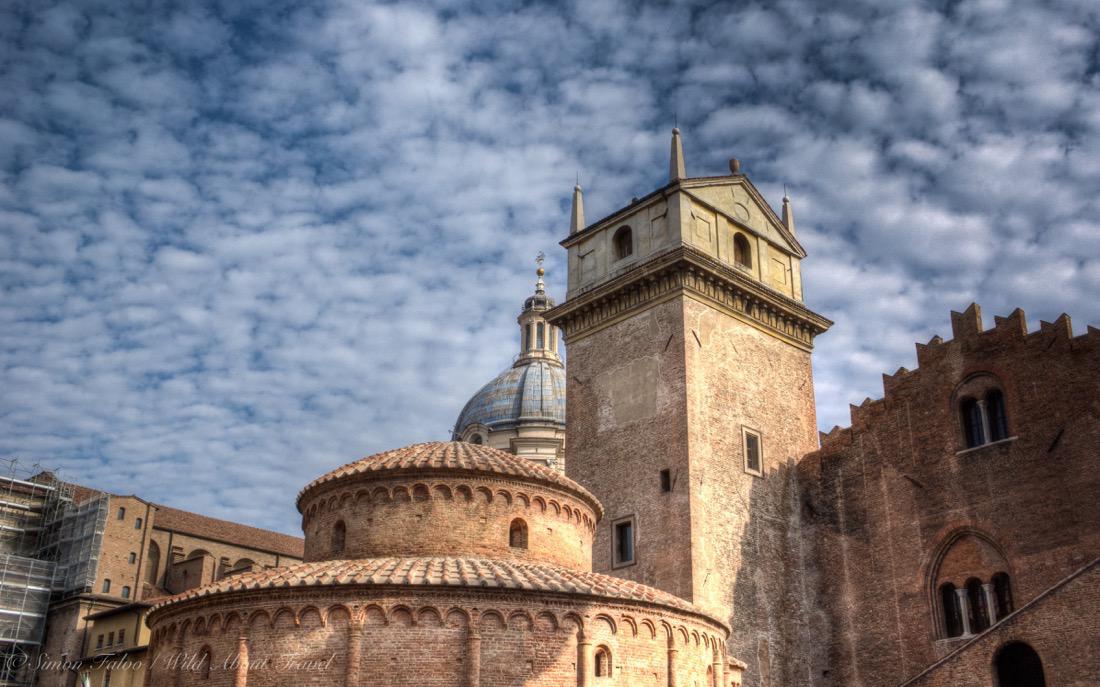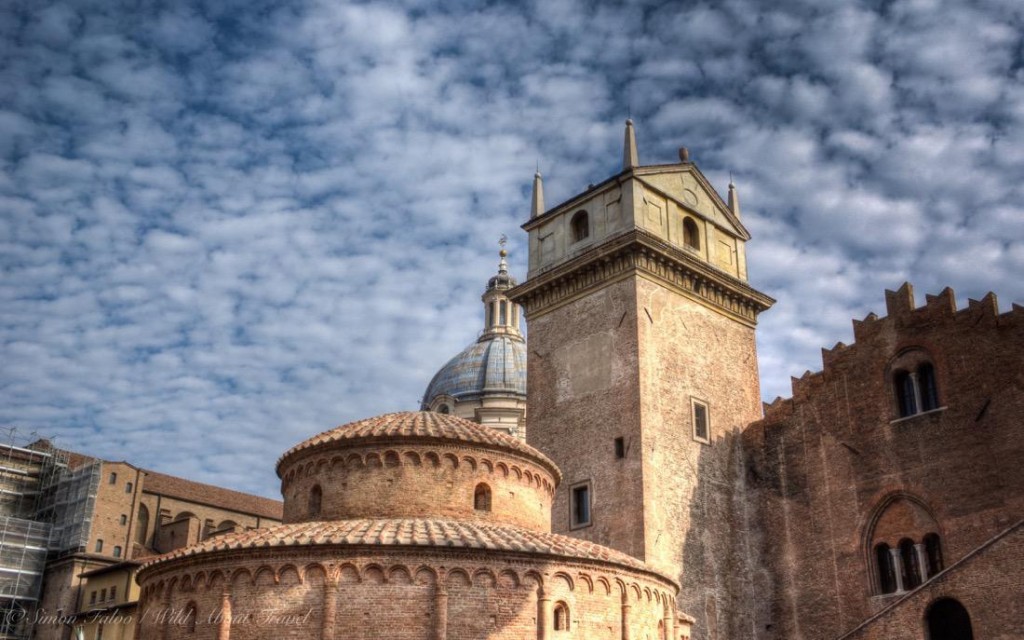 Its UNESCO-listed historic center boasts a wealth of Renaissance architecture and art, and you'll marvel while standing in the magnificent Piazza delle Erbe. For art and Renaissance lovers, there are many things to see in Mantua. Don't miss a visit to the imposing Ducal Palace, with its magnificent frescoes and intriguing history. Include in your Mantua itinerary the unique Palazzo Te, where you'll marvel at the spellbinding frescoes by Giulio Romano, one of the most influential artists of the late Renaissance (and a pupil of Raffaello).
There's more to Mantua than just stunning art and architecture. The artificial lake is a lovely spot for a walk, a bike ride, or a boat tour. Mantua is also a fantastic destination for food lovers, who can discover many culinary delights of its traditional cuisine, including the famous pumpkin-filled pasta dish, tortelli di zucca.
Read also: Mantua, one of the best cities to visit in Italy
Mantua: Top Tips
Getting there: by car (find the best rental car rates) or by train (check the timetable and buy tickets on Omio) from Verona, Venice, and Milan.
Best guided tours:
Where to stay in Mantua:
Modena: The Birthplace of Balsamic Vinegar (and a UNESCO Site)
Modena, a charming city in the heart of Italy's Emilia-Romagna region, is a must-visit destination in Italy for many reasons. Whether you like art, are a food lover, or are passionate about luxury cars, Modena won't disappoint you.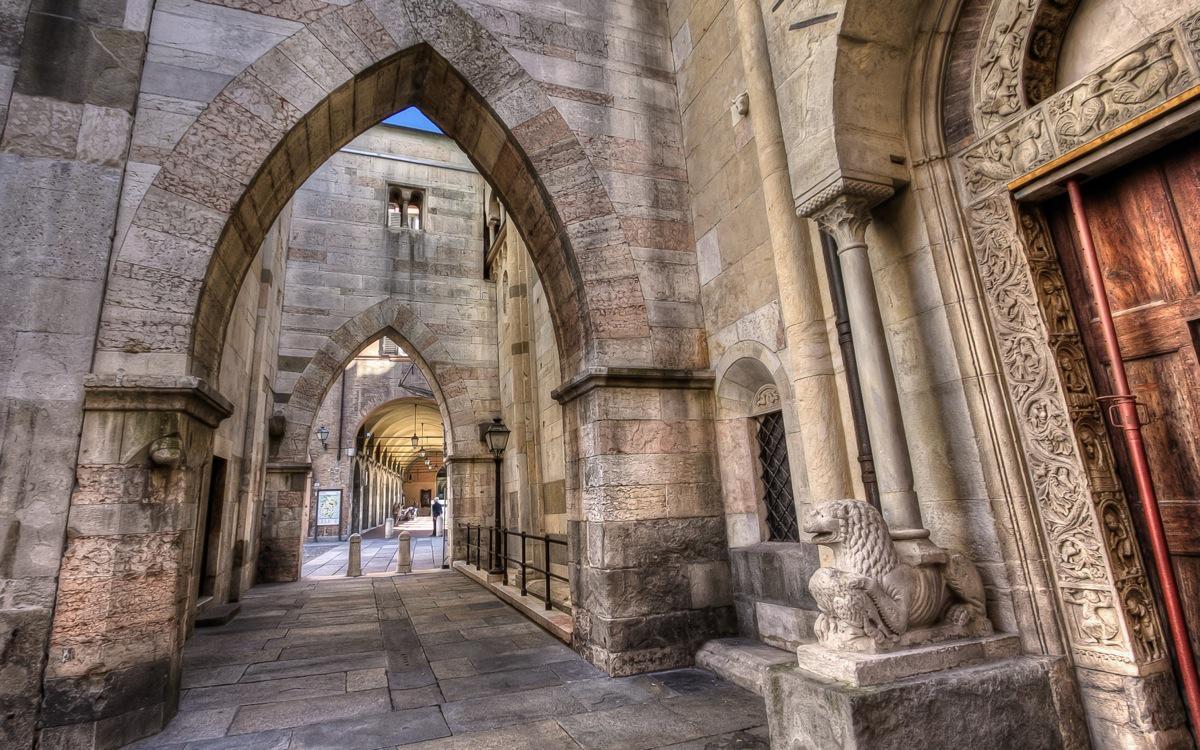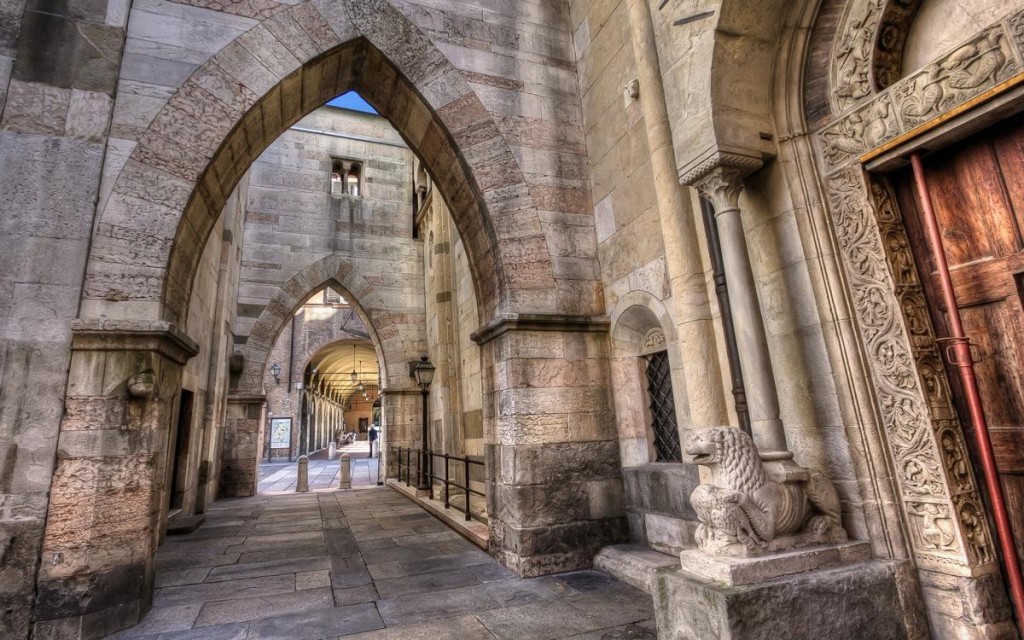 The city's historic center is a picturesque blend of medieval and Renaissance architecture, with highlights like the stunning Modena Cathedral and the iconic Ghirlandina Tower, both part of one of Europe's most beautiful UNESCO World Heritage Sites. Modena's laid-back atmosphere and friendly locals make it a delightful place to wander the charming streets, sip espresso in cozy cafes, and relish the authentic Italian lifestyle.
Foodies will love Modena, a gastronomic paradise renowned first and foremost for its traditional balsamic vinegar. Not to be confused with the industrial "balsamic vinegar" one can find in many supermarkets, traditional balsamic vinegar is an art and requires a years-long loving process. A visit to an Acetaia to discover the secrets of Aceto Tradizionale Balsamico is one of the most fascinating experiences I ever had. Traditional dishes you can taste in local restaurants include homemade pasta (tagliatelle, lasagne, tortellini, etc.), Parmigiano Reggiano, and various cured meats from Emilia-Romagna.
If you like luxury cars and racing, don't miss the chance to explore the Enzo Ferrari Museum, paying tribute to the legendary car manufacturer. Opera lovers might enjoy the Casa Museo Luciano Pavarotti and discover more about the life of one of the most beloved Italian tenors.
Modena: Top Tips
Getting there: by car (find the best rental car rates) or by train (check the timetable and buy tickets on Omio) from Verona, Venice, Bologna, and Milan.
Best guided tours:
Where to stay in Modena:
Read also: Modena, where beauty is set in stone
Brisighella: A Medieval Gem in Emilia-Romagna
When I arrived in Brisighella, it was love at first sight. This medieval hilltop village surrounded by smooth hills is nothing short of picturesque. Its winding streets, quaint houses, and the impressive Rocca Manfrediana fortress transport you back in time.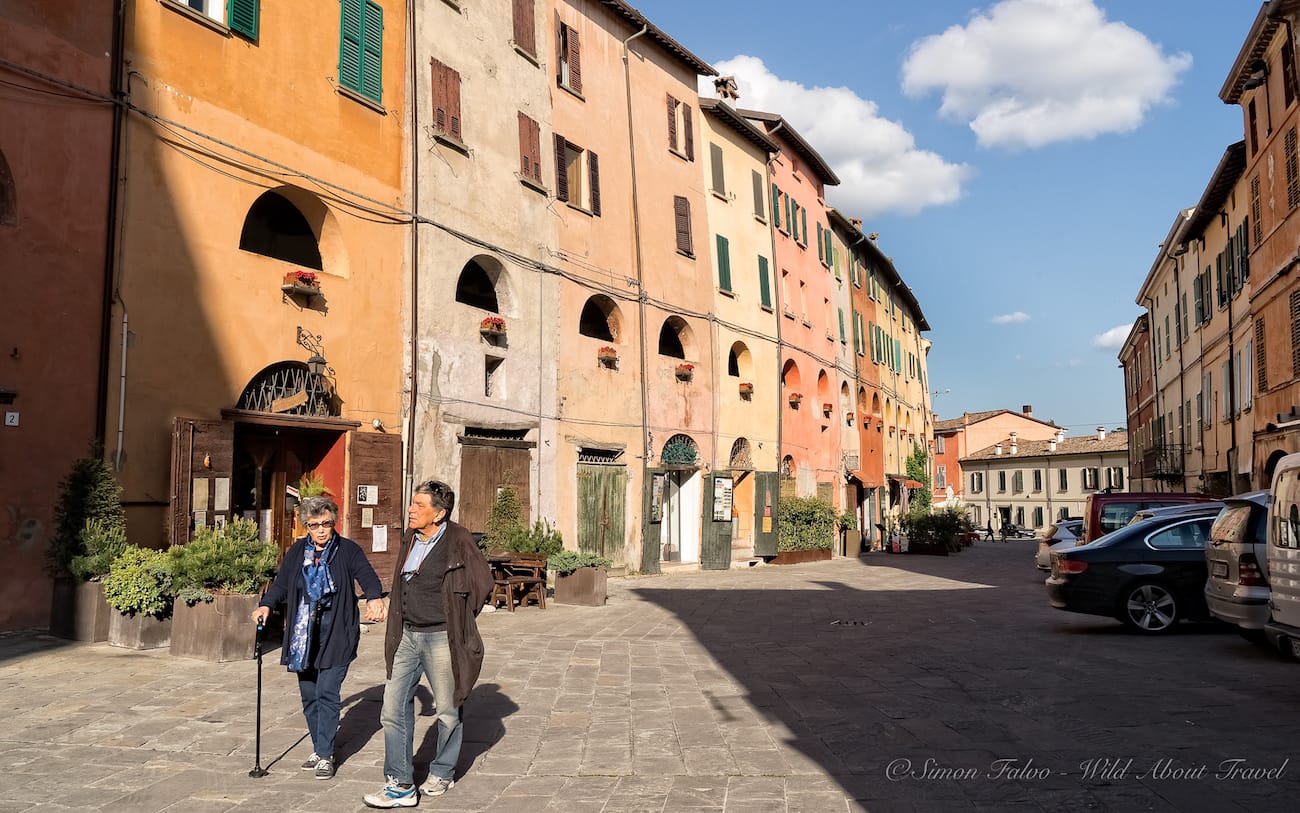 Don't miss to hike uphill to the Clock Tower and the Brisighella Castle for stunning panoramic views, and stroll in the tiny historical center with its colorful houses. Another must is to walk the Via Degli Asini (the Donkey's Alley), dating back to the 14th century.
Foodies won't be disappointed in Brisighella, as there are several local products worth tasting and even buying. Brisighella Extra-Virgin Olive Oil is a PDO product derived from a local variety of olives. Moretto Artichoke grows in the shrubs surrounding the town and is used in several typical dishes and to produce liquors. The very Brisighella dish not to miss is Spoja Lorda, a homemade filled pasta that women prepared in the past.
If you're an active traveler, you can have a lovely hike from Brisighella to the Rifugio Carnè in the Parco Regionale Vena del Gesso Romagnola.
Brisighella is also one of the stops along Dante's train, the scenic ride between Florence and Faenza.
Brisighella: Top Tips
Getting there: by car (find the best rental car rates) or by train (check the timetable and buy tickets on Omio) from Florence, Bologna, and Milan.
Where to stay in Brisighella:
Albergo La Rocca: right at the heart of the town, a tastefully decorated family-run hotel.
Bed & Wine: a charming bed & breakfast in the center of Brisighella.
Read also: 5 Things to Do in Brisighella, Fascinating Medieval Town
Parma: Beyond Parmesan Cheese and Parma Ham
Parma is known as the "City of Gastronomy" for its delectable prosciutto and Parmigiano-Reggiano cheese. Gastronomy plays such a relevant role that in 2015, Parma became part of the UNESCO Creative Cities Network. However, this charming city offers more than just culinary delights.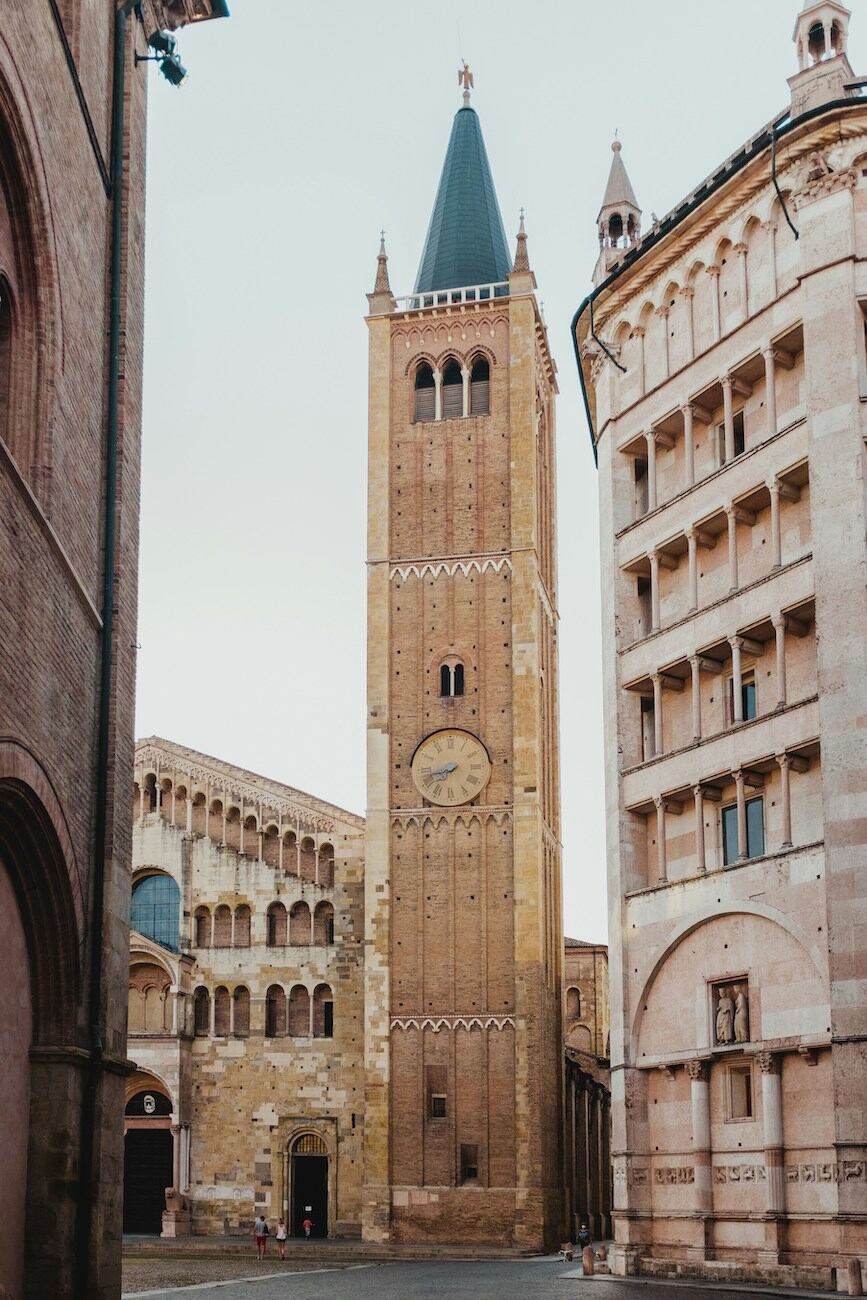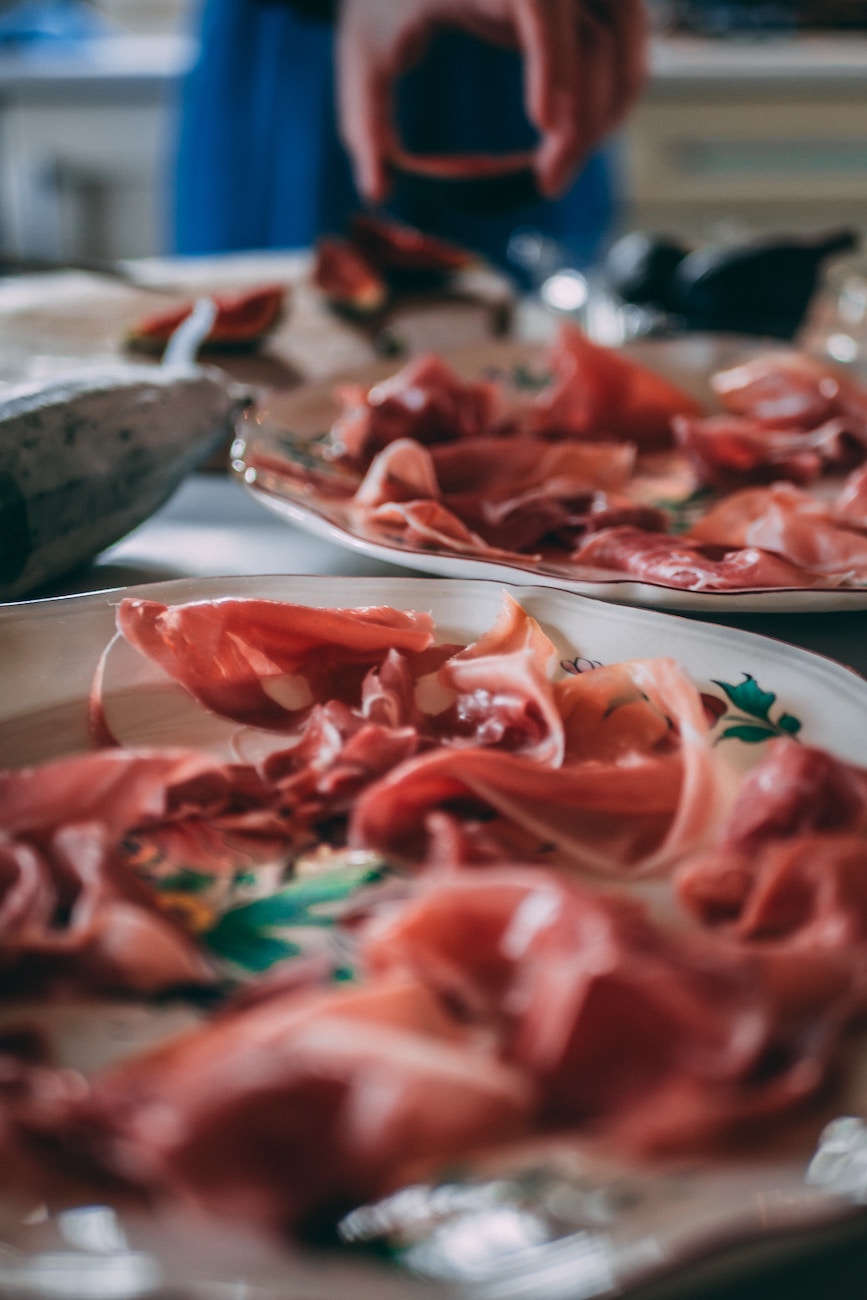 Therefore, while a visit to local dairies and food markets is a journey like no other, Parma is also steeped in history. You'll be surprised by the sheer number of breathtaking ancient buildings while strolling in the alleys of the old town. There are many landmarks in Parma that are a must-see. Don't miss visiting the impressive Palazzo della Pilotta and the Teatro Farnese, a marvel of Baroque architecture. Parma National Gallery boasts paintings and sculptures spanning the 12th to the 20th centuries, including masterpieces from Leonardo, Botticelli, Correggio, Canaletto, Tiepolo, and Canova. And then there's Parma Cathedral and the magnificent Baptistery, one of the most beautiful examples of Romanesque and Gothic architecture.
Parma: Top Tips
Getting there: by car (find the best rental car rates) or by train (check the timetable and buy tickets on Omio) from Bologna and Milan.
Best guided tours:
Where to stay in Parma:
Grand Hotel De La Ville: a converted pasta factory, it features modern and stylish decor, including iconic armchairs, sofas, and lamps from famous designers.
Palazzo Gozzi Bed & Beauty: a boutique bed & breakfast within walking distance of Parma's main attractions.
NH Parma: contemporary style, multiple amenities, close to the Parma cathedral.
Bergamo: A Tale of Two Cities
Bergamo is a charming city in Lombardy, northern Italy, that rightly deserves to be included among Italy's hidden gems. The city is divided into two distinct parts: the historic Upper Town (Città Alta) and the modern Lower Town (Città Bassa). The jewel in the crown is Bergamo Upper Town, with its charming winding alleys, piazzas, medieval and Renaissance buildings, and panoramic views.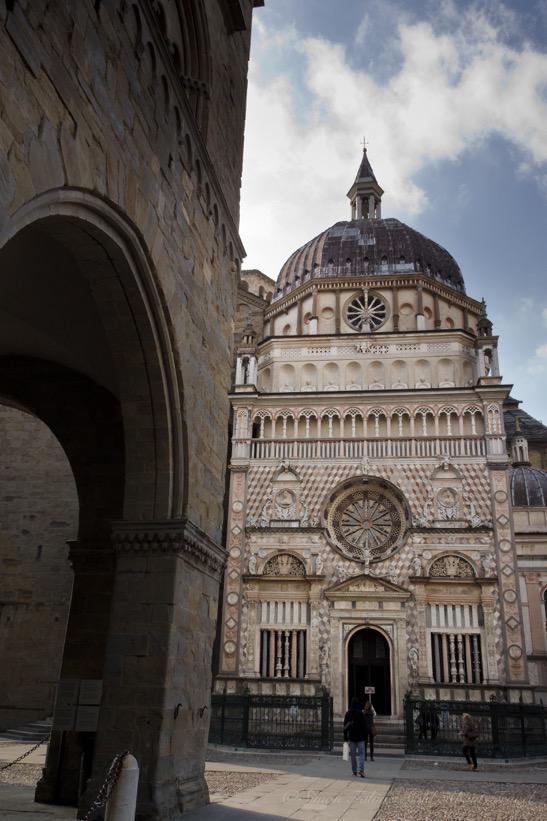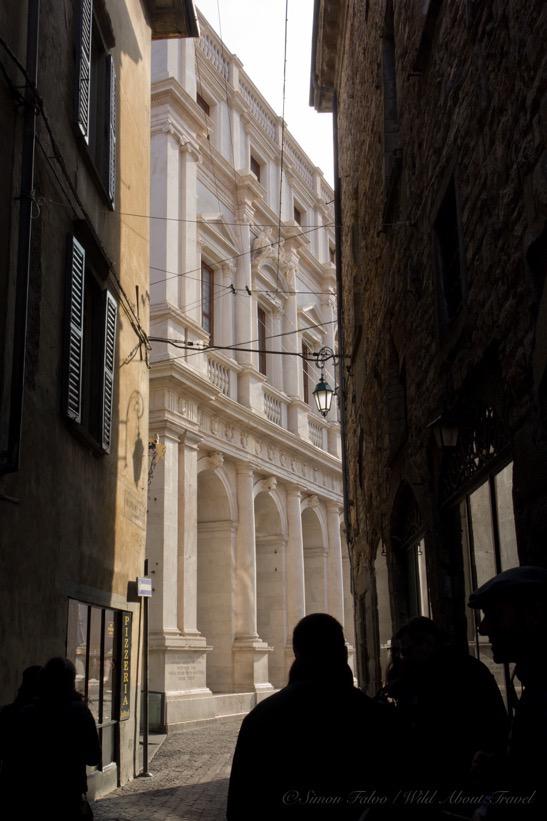 Ride the funicular to the Upper Town, get lost in the meandering narrow streets, and visit the splendid Bergamo cathedral and the nearby unique Cappella Colleoni. If you like art, I suggest you pop in the Accademia di Carrara, a small museum boasting a few remarkable masterpieces. Bergamo is one of the best day trips from Milan, within easy reach by train.
Read also: 10 Things to Do in Bergamo: How to Spend a Day in a Unique Medieval Town.
Bergamo: Top Tips
Getting there: by car (find the best rental car rates) or by train (check the timetable and buy tickets on Omio) from Milan.
Best guided tours:
Where to stay in Bergamo:
B&B San Lorenzo: a delightful bed & breakfast right in the middle of Bergamo old town.
Le Funi Hotel: contemporary style in Bergamo Upper Town, very close to the historic center.
Hotel Piazza Vecchia: located at the heart of the old town, in a 14th-century house, it has a unique charm.
Chiavenna: Alpine Beauty in Lombardy
If you're looking to discover Italy off the beaten path, you should definitely add Chiavenna to your bucket list. Chiavenna, nestled in the Lombardy Alps, is a charming town surrounded by breathtaking natural beauty and one of the most underrated hidden gems in Italy.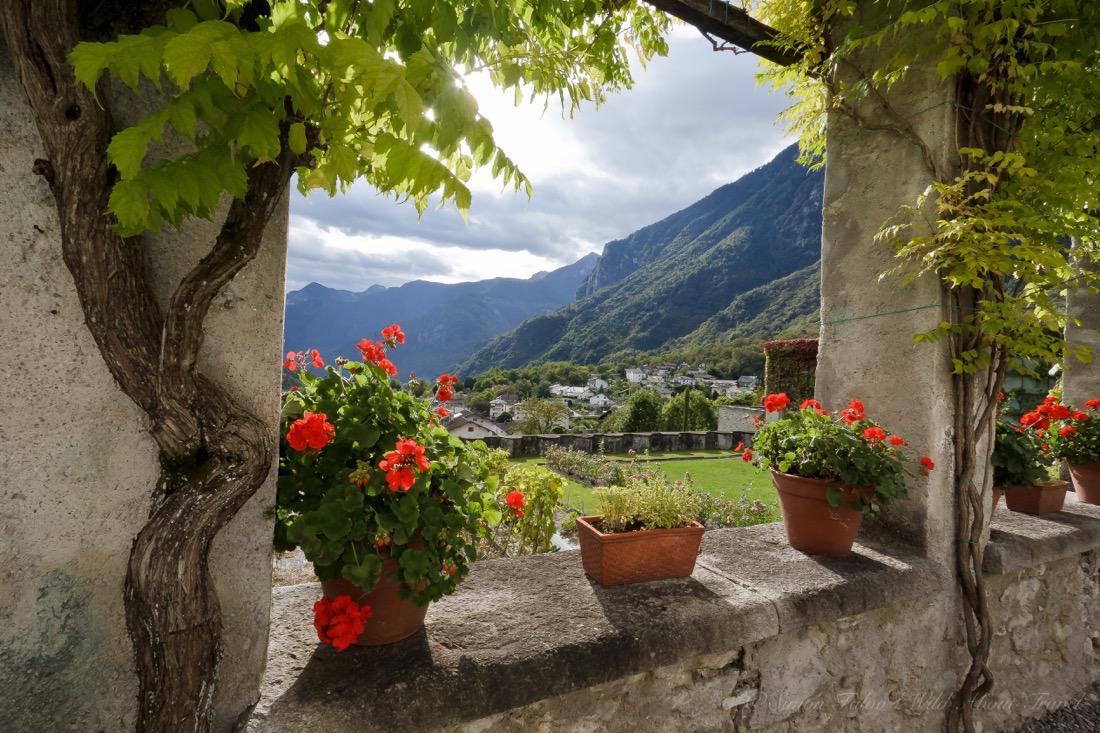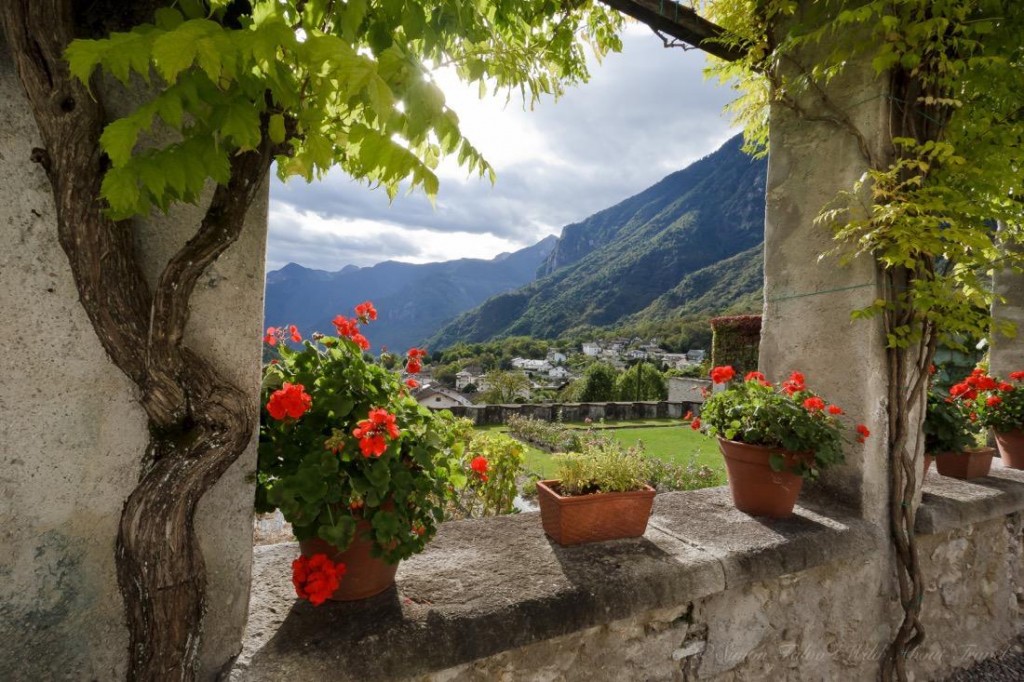 Explore the town's charming alleys lined with beautiful palaces and lovely houses. Visit the Collegiata di San Lorenzo and its beautiful portico, and discover the Crotti, the natural ravines used as cellars since ancient times. Marvel at the magnificent Palazzo Vertemate Franchi, with its stunning frescoes and period furniture, and enjoy the lovely Acquafraggia waterfalls.
Taste the delicious local specialties like pizzoccheri (short tagliatelle made with buckwheat and wheat flour, cooked with cubed potatoes, cabbage and seasoned with melted local cheese), brisaola (raw cured beef), and the excellent Valtellina red wines.
Chiavenna: Top Tips
Getting there: by car (find the best rental car rates) or by train (check the timetable and buy tickets on Omio) from Milan.
Where to stay in Chiavenna:
Hotel San Lorenzo: a lovely hotel with contemporary decor, close to the train station and the historic center.
Agriturismo Bio Ca' Pianazòla: it's a long walk from the center, so better have a car. Decorated in a tasteful contemporary alpine style, with stunning views of the mountains.
B&B Nonna Costantina: located in central Chiavenna, it features rooms with a fridge and microwave.
Read also: 9 Reasons You Should Visit Lombardy
Hidden Gems in Southern Italy

Matera: Ancient Cave Dwellings and a Unique City
In the little-known Basilicata region in the south, Matera is one of the hidden gems in Italy (maybe not so hidden anymore…) that everyone should visit at least once. I've been there twice, and I'd love to get back again.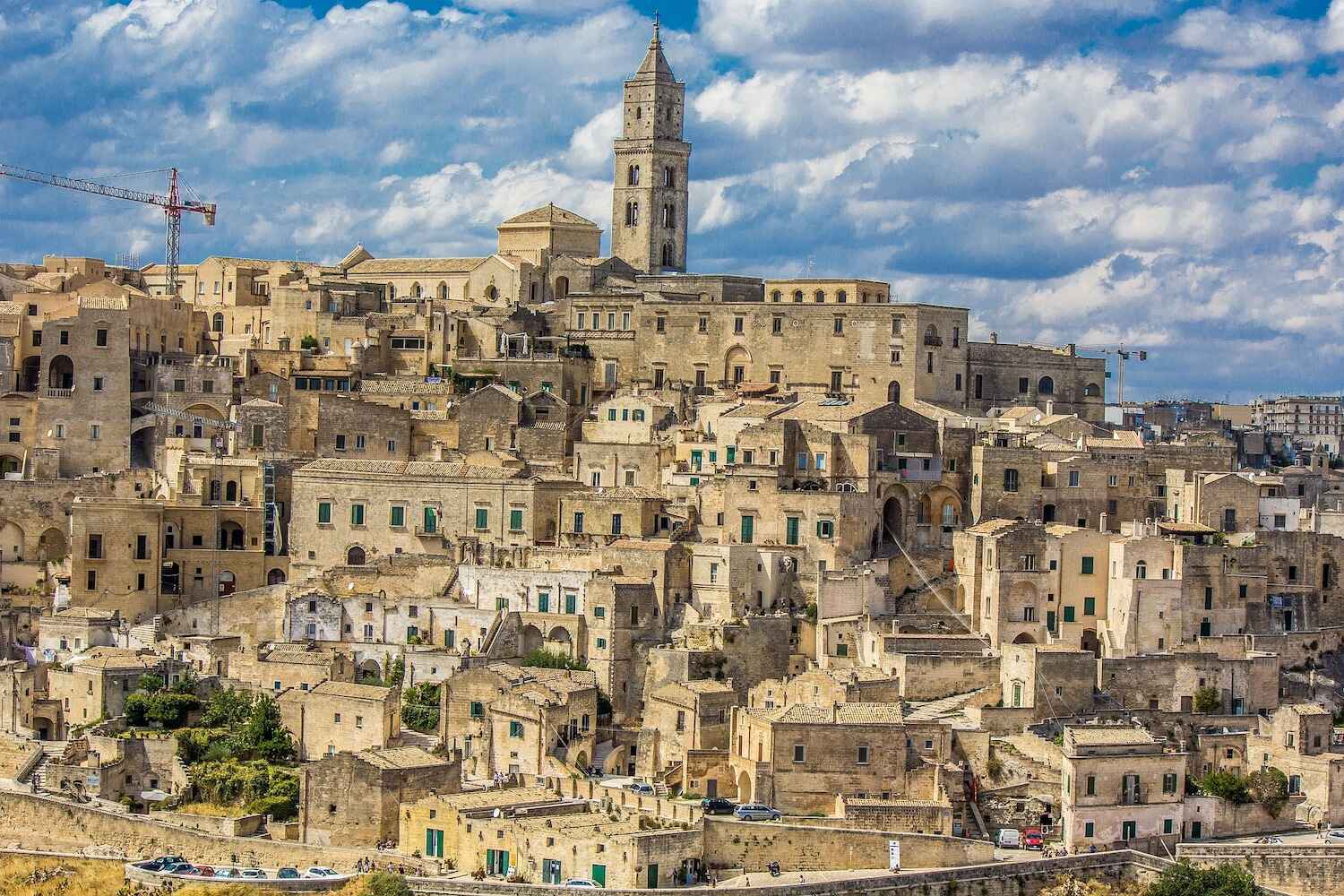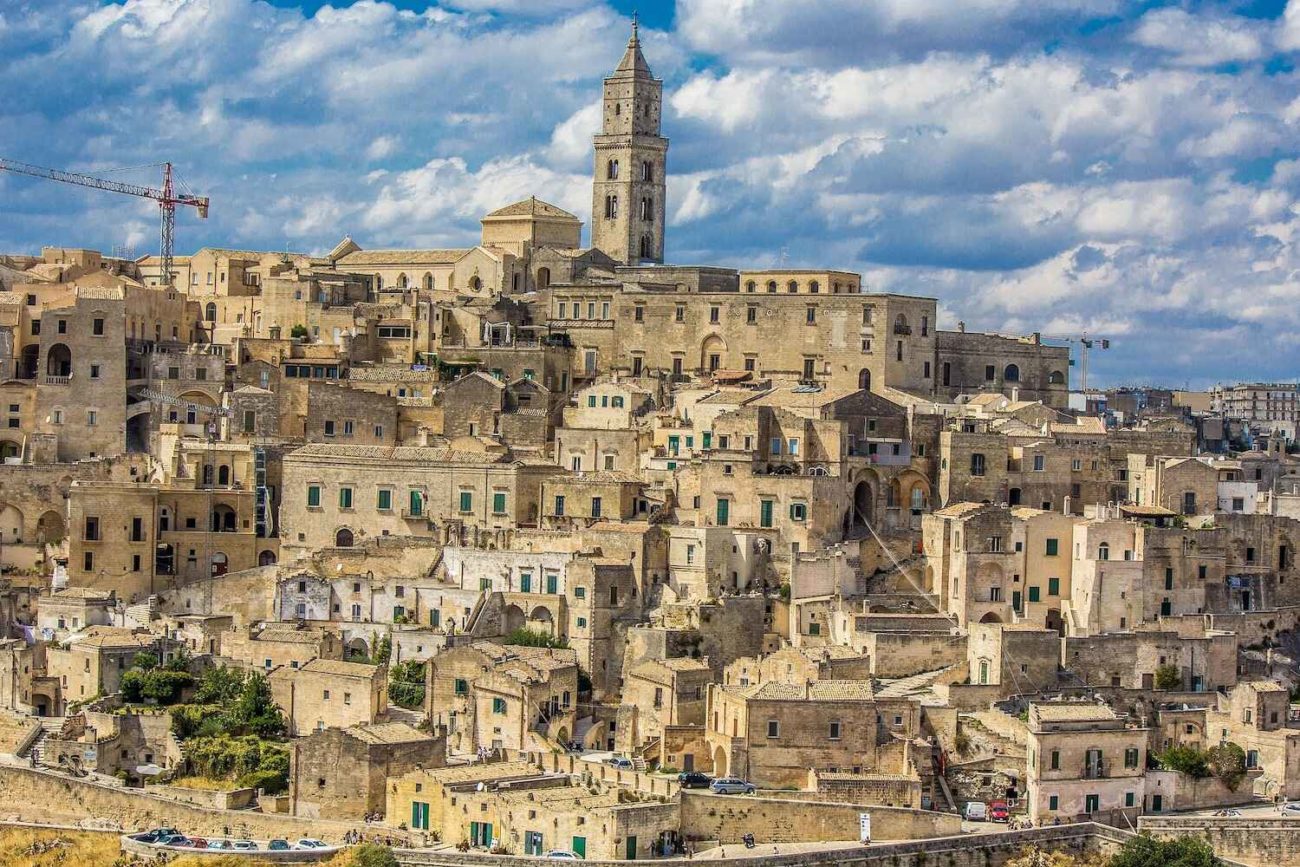 Matera is renowned for 'I Sassi,' an ancient labyrinth of cave dwellings with prehistoric origins. These remarkable dwellings earned the prestigious UNESCO World Heritage status in 1993, recognizing them as the most exceptional prehistoric human settlement in the Mediterranean region. This enchanting site is believed to be one of Italy's earliest human habitats.
Absolutely breathtaking! There's no better way to encapsulate the essence of this extraordinary city. Matera's enchanting golden-white tuff houses and winding alleys are undeniably charming. But its allure extends far beyond its architectural beauty. What sets Matera apart is also the backdrop of green and yellow rolling hills and the rugged Matera ravine.
I recommend starting your journey in the upper old city. From there, you can marvel at the stunning Matera cathedral and enjoy unparalleled vistas of the city. As you venture downwards into the lower part of the old city, get lost in the mesmerizing labyrinth of alleys and savor the countless picturesque corners that reveal themselves at every turn.
Matera: Top Tips
Getting there: by car (find the best rental car rates) or by bus (check the timetable and buy tickets on Omio) from Bari.
Best guided tours:
Where to stay in Matera:
Sextantio Le Grotte Della Civita: rooms and suites in ancient caves beautifully refurbished.
Pianelle Resort: contemporary style in an old refurbished cave. The stylish rooms are air-conditioned, a must during summer, and the resort offers many other amenities.
Corte San Pietro: housed in a renovated historical building, it's a charming boutique hotel where you can also visit the old underground cisterns.
Read also: Basilicata Region: A Journey To Discover Authentic Italy
Maratea: A Pearl of the Tyrrhenian Sea
Although having only 32 km of coast, Basilicata boasts gorgeous glimpses of the Tyrrhenian sea. Jagged shores, little coves, turquoise and deep blue waters, and the waves breaking on the rocks. Maratea is a small town and the only one in the Basilicata region overlooking the Tyrrhenian Sea.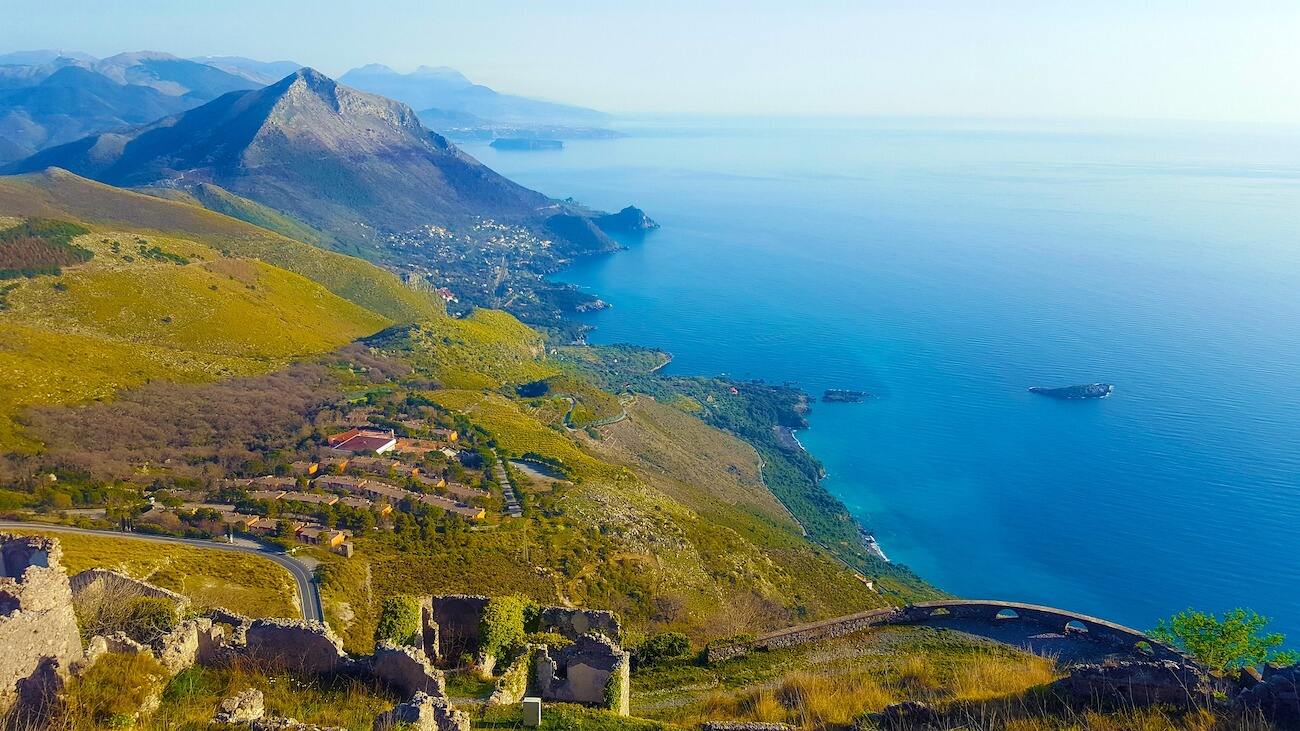 Don't miss visiting Monte San Biagio, which stands at an impressive 624 meters above Maratea. At its summit stands the monumental Redentore, an enormous marble representation of Christ, symbolically positioned with its gaze turned away from the sea and towards the inland mountains. It reminded me a lot of Christ the Redeemer in Rio de Janeiro, Brazil, although beneath, there's no bustling metropolis sprawling. Across from this statue, appearing as though it's about to be dwarfed by the giant's colossal presence, rests an eighteenth-century church, the Santuario di San Biagio, dedicated to the town's patron saint. On the second Sunday of May, locals carry a statue of the saint in a grand procession up the hill.
Maratea: Top Tips
Getting there: by car (find the best rental car rates) or by train (check the timetable and buy tickets on Omio).
Where to stay in Maratea:
Santavenere Hotel: a 5-star hotel with plenty of amenities, including 3 restaurants, a swimming pool, a terrace overlooking the sea, and a private beach.
Romantic Hotel & Restaurant Villa Cheta Elite: perfect for couples, the hotel features elegant rooms, a terrace with stunning views of the sea, and other facilities.
B&B La Torretta: a quaint, charming bed & breakfast with cozy rooms and a terrace offering a superb sea view.
Castelmezzano: Picturesque Town and Magnificent Scenery
I'm always keen to discover hidden gems in Italy, and when I visited Castelmezzano, I couldn't believe how such an enchanting hamlet could still be off the radar.
Castelmezzano is perched at an elevation of 750 meters above sea level, nestled against the rugged cliffs of the "Dolomiti Lucane" and surrounded by breathtaking natural beauty. The entrance to the town is nothing short of spectacular. As you emerge from a tunnel carved into the rock, Castelmezzano unfolds before you like a picture-perfect postcard. Its beauty simply took your breath away.
Remarkably, for a small hamlet with around 700 residents, Castelmezzano offers an array of captivating sights and activities. The best way to explore the village is by leisurely strolling along its steep, winding alleyways, where you'll encounter ancient aristocratic palaces and historic churches. Be sure to pause at the scenic vantage points, allowing you to admire the stunning landscape.
Also, whether you're into hiking, climbing, vie ferrate, mountain biking, or snowshoeing, you'll find that Castelmezzano and its surroundings have it all. Adrenaline enthusiasts should not pass up the chance to experience the "Volo dell'Angelo," a unique zip line connecting Castelmezzano to the nearby village of Pietrapertosa and back, reaching speeds of up to 120 km/h.
Castelmezzano: Top Tips
Getting there: you'll definitely need a car to get there. The closest cities are Bari and Napoli. Find the best rental car rates.
Where to stay in Bergamo:
B&B al Vico Pepe: a simple bed & breakfast right in the heart of the town.
Hotel Dolomiti is located in a lovely spot, and features simple but tastefully decorated rooms.
Locorotondo: A Whitewashed Puglian Delight
While the Puglia region and its beaches have become a popular holiday destination, Locorotondo is, to many people, still a hidden gem in Italy. This charming village, with whitewashed houses and flower-filled balconies, stole my heart, and I liked it more than the more famous nearby Alberobello. The latter is undoubtedly beautiful, and the Trulli are a fascinating kind of architecture. But aside from the crowds, I found that the town was a bit too polished, lacking life and authenticity.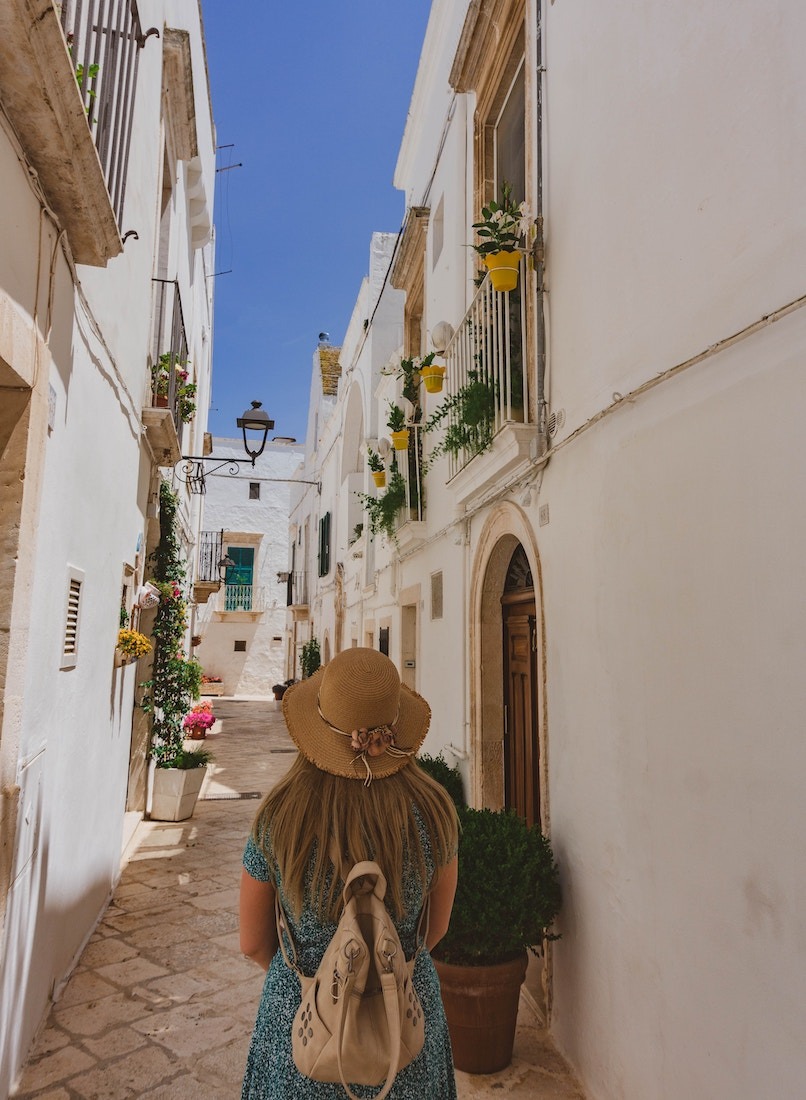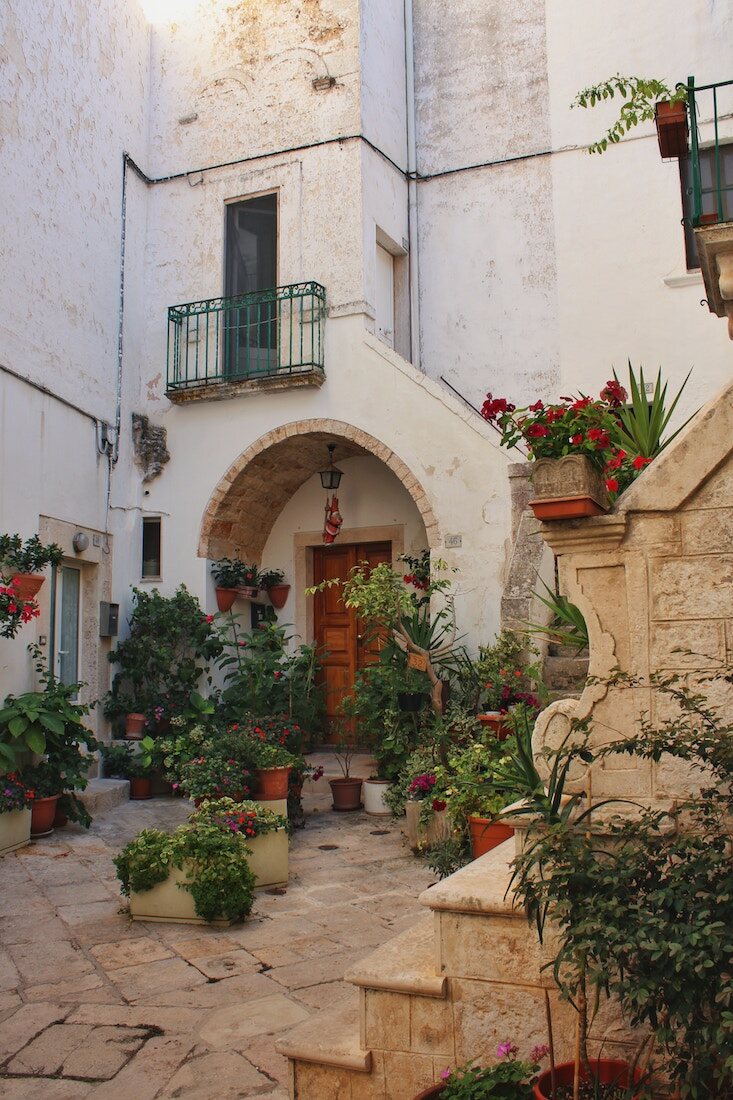 Locorotondo is somehow the opposite of Alberobello. There's no specific attraction or landmark to visit. It's all in its atmosphere and living like a local. Get lost in the charming winding alleys. Have your camera ready to snap shots of the many picturesque sights. Chill out at a café, or savor the delicious local specialties at one of the small restaurants. You'll get to love this quaint town.
Locorotondo: Top Tips
Getting there: by car (find the best rental car rates) from Brindisi or Bari.
Best guided tours:
Where to stay in Locorotondo:
Pietrabbondante: Unique Archaelogical Site
If you love art and want to discover Italy off the beaten path, you should add Pietrabbondante – in the little-known Molise region – to your Italy bucket list. This is truly one of the most unique hidden gems in Italy, unknown not only to international travelers but to most Italians.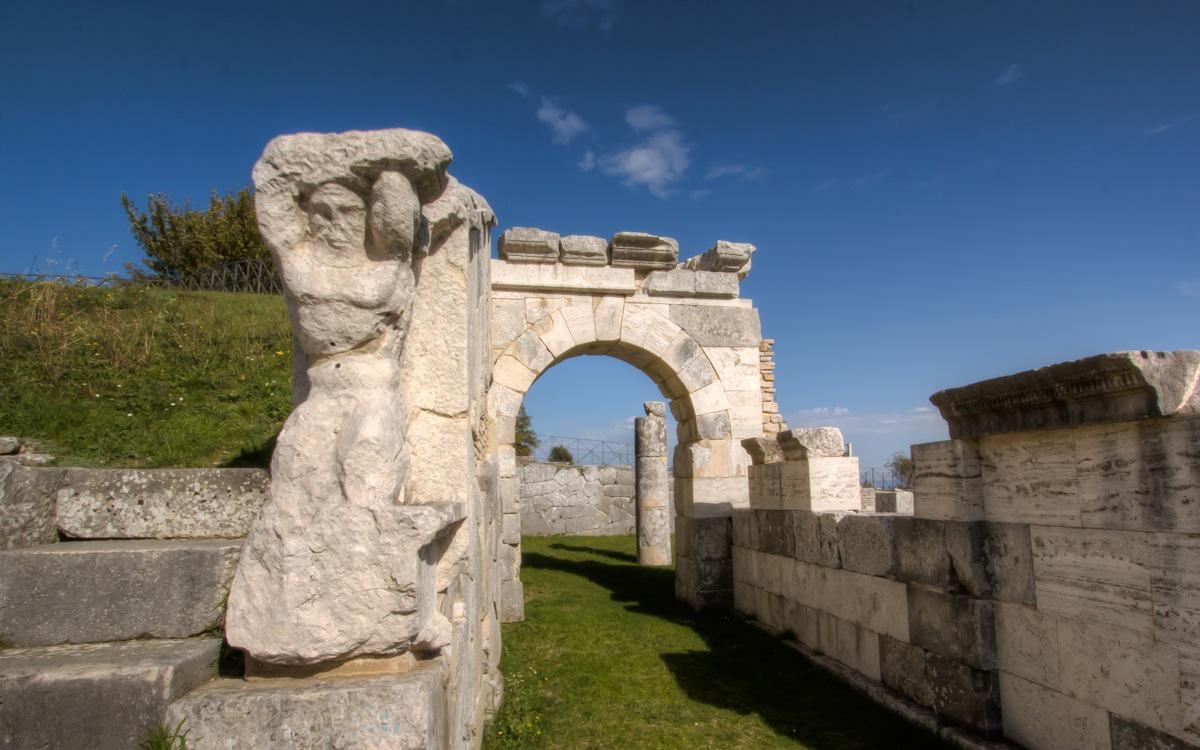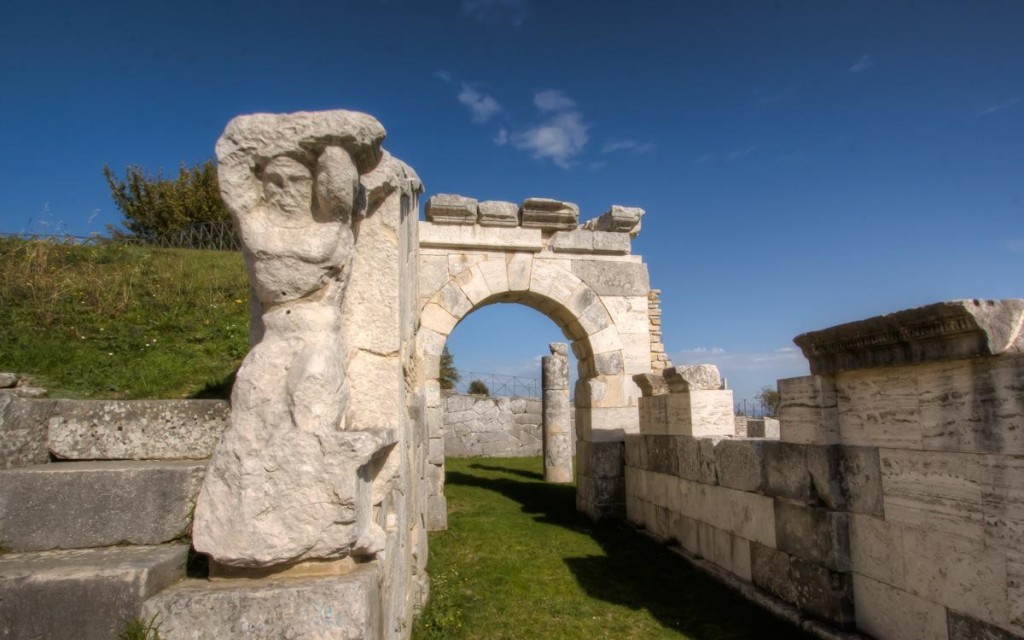 Nestled atop a hill approximately 1000 meters (3280 feet) above sea level, the Pietrabbondante archaeological site has ancient origins, tracing back to the 2nd Century B.C. Its architectural style represents a captivating fusion of classical Greek influences blended with Latin elements inherited from the Romans. This historical gem remained abandoned and concealed beneath debris for centuries until its rediscovery in 1857, marking the commencement of excavations.
The remarkably well-preserved theater, commanding a panoramic view of the valley, is nothing short of awe-inspiring. The cavea, or seating area of the theater, as termed by the Romans, could accommodate a substantial audience of up to 2,500 spectators, and the acoustic quality is renowned for its excellence.
Meandering through its captivating environs, it becomes evident why this site was chosen as a sanctuary. You won't find flocks of tourists here, which accentuates the site's allure, while the prevailing silence further amplifies its beauty.
Pietrabbondante: Top Tips
Getting there: public transportation in Molise is minimal. Therefore, you'll need a car to explore the region (find the best rental car rates).
Where to stay near Pietrabbondante:
Locanda La Campana: located in Agnone, a lovely hilltop town, La Campana features charming rooms in a traditional stone house.
B&B La Caruscia is located in Trivento, a town about 13km from Pietrabbondante. Rooms are simple but modern, and you'll enjoy the local atmosphere.
Brindisi: Gateway to the East
Brindisi, a port city in Apulia, has been a gateway to the East for centuries. Amidst its cobbled streets and ancient architecture, the best things to do in Brindisi include exploring the historic Roman column marking the end of the Appian Way, strolling along the picturesque waterfront, and indulging in fresh seafood and delicious typical food at local trattorias.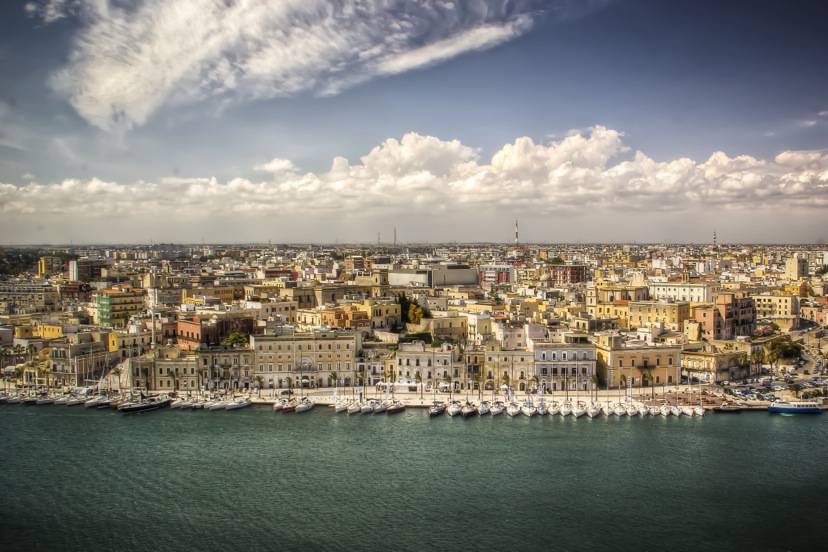 Don't miss to visit the Monument to the Italian Sailor and climb to its top for stunning views of the Brindisi waterfront. And take advantage of the Brindisi location to explore nearby locations on the coastline or inland.
Brindisi: Top Tips
Getting there: it's possible to fly to Brindisi airport from many Italian cities and also from other European destinations.
Best guided tours:
Where to stay in Brindisi:
Bova Superiore: Unique Greek Heritage
Regarded as the nucleus of Calabria's Grecanica region, Bova Superiore (distinct from Bova Marina along the coast) stands as a charming hillside village within the Aspromonte National Park. Despite its proximity to the coast, a mere 9 kilometers away, the hamlet perches at an elevation of 820 meters above sea level, so get ready for a twists and turns drive. The village, home to approximately 400 residents, exudes genuine charm, and the proud inhabitants maintain it meticulously.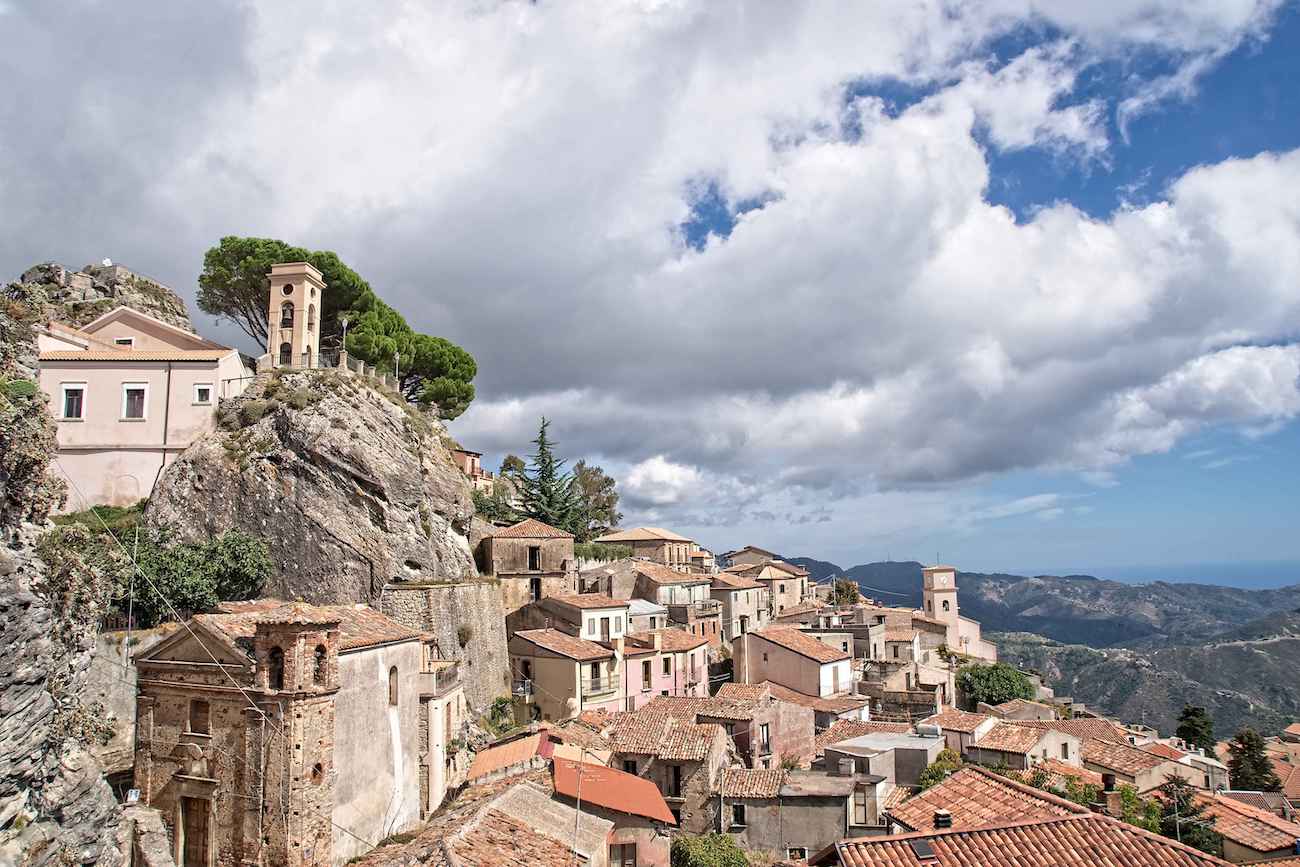 Given Bova's distinctive characteristics, I recommend a visit to the "Gerhard Rohlfs" Museum of the Greek-Calabrian language before immersing yourself in the town's beauty. Established in 2016, the museum pays homage to the German linguist and his extensive studies of the Greek-Calabrian language and culture, offering insights into the area's rich heritage.
Bova's allure is such that it merits an overnight stay to savor its unique ambiance fully. The village bathes in a warm and enchanting orange glow as night falls while the sunrise unveils a breathtaking panorama of rolling hills and the coastline. Bova Superiore is one of the most beautiful towns in Calabria and undoubtedly one of the most unexpected hidden gems in Italy.
Bova: Top Tips
Getting there: by car (find the best rental car rates) from Reggio Calabria.
Where to stay in Bova Superiore:
There are no hotels in Bova Superiore, but you can stay at one of the small B&Bs. There, you'll get a taste of local life and enjoy a warm welcome. Unfortunately, you won't find them on popular hotel portals; only a few have a website. Here are a couple of options
Read also: 9 Beautiful Calabria Villages That Will Surprise You.
There are many other hidden gems in Italy, many of which I still have to discover. If you're ready to explore Italy off-the-beaten-track, you'll uncover some of the most genuine areas of my beautiful country.
Pin for later!