Some hikes remain in your heart, and one of them is the trail from Col du Pillon to Arnensee. Not far from Gstaad, Switzerland, you'll walk amid a gorgeous landscape, where the view stretches from the glacier to the forest. And you can also have an invigorating swim in the lake.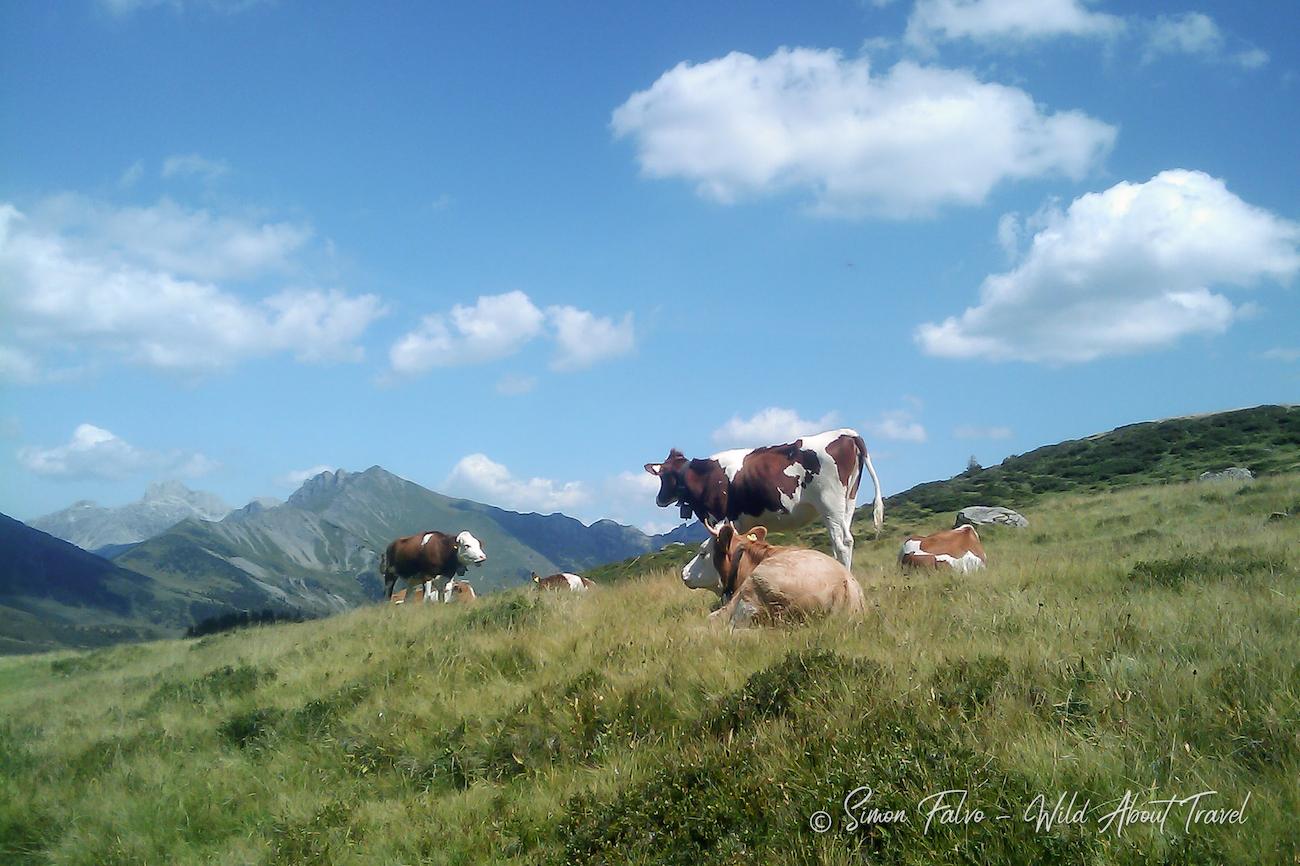 Together with the walk from Wispile to Lauenensee, the hike from Col du Pillon to Lake Arnensee and Feutersoey is one of the prettiest excursions in the Gstaad region and one of the most beautiful hikes in the Saanenland.
Furthermore, both hikes lead or go through charming alpine lakes, where you can have a refreshing bath and an invigorating swim. 
Never underestimate a day hike, and be sure to pack a few hiking essentials!
Where is Arnensee?
Arnensee (also called Lac d'Arnon in French) is located near Gstaad, the famous VIP mountain resort, in the Saanenland. In its turn, the Saanenland area is part of the Berner Oberland, one of the most beautiful alpine regions in Switzerland. Furthermore, Gstaad is one of the stops of the main panoramic trains rides in Switzerland: The Golden Pass.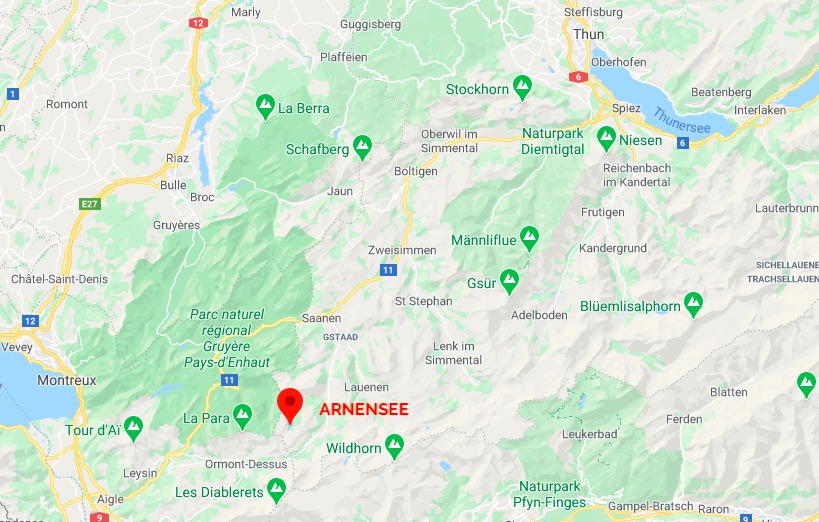 That is a region of outstanding beauty, and aside from the more touristy Gstaad, you'll soon find out how authentic it still is. Most of the Saanenland lays in the Prealps, with mountains' peaks between 1600m and 2200m (5250ft to 7218ft). For that reason, this region is perfect if you're traveling to Switzerland with kids, as well as for older people who might experience health issues at higher altitudes.
However, if you crave for Summer snow and a glacier, don't miss Les Diablerets Glacier 3000. There, you can admire stunning alpine scenery and even hike on the white snow blanket.
Col du Pillon-Arnensee-Feutersoey: Key Info and Hiking Map
| | |
| --- | --- |
| Distance: | 12.6km |
| Hiking time: | 4 hours |
| Ascent/Descent: | +467m/-871m |
| Difficulty: | Moderate |
From the bus stop, follow the signs to Lac Retaud (25 minutes), a tiny mountain lake where you can stop for a coffee. The ascent continues, mostly gently, to Col de Voré (1,918 m), the highest point of the trail from where you'll get a beautiful view of the surrounding valleys.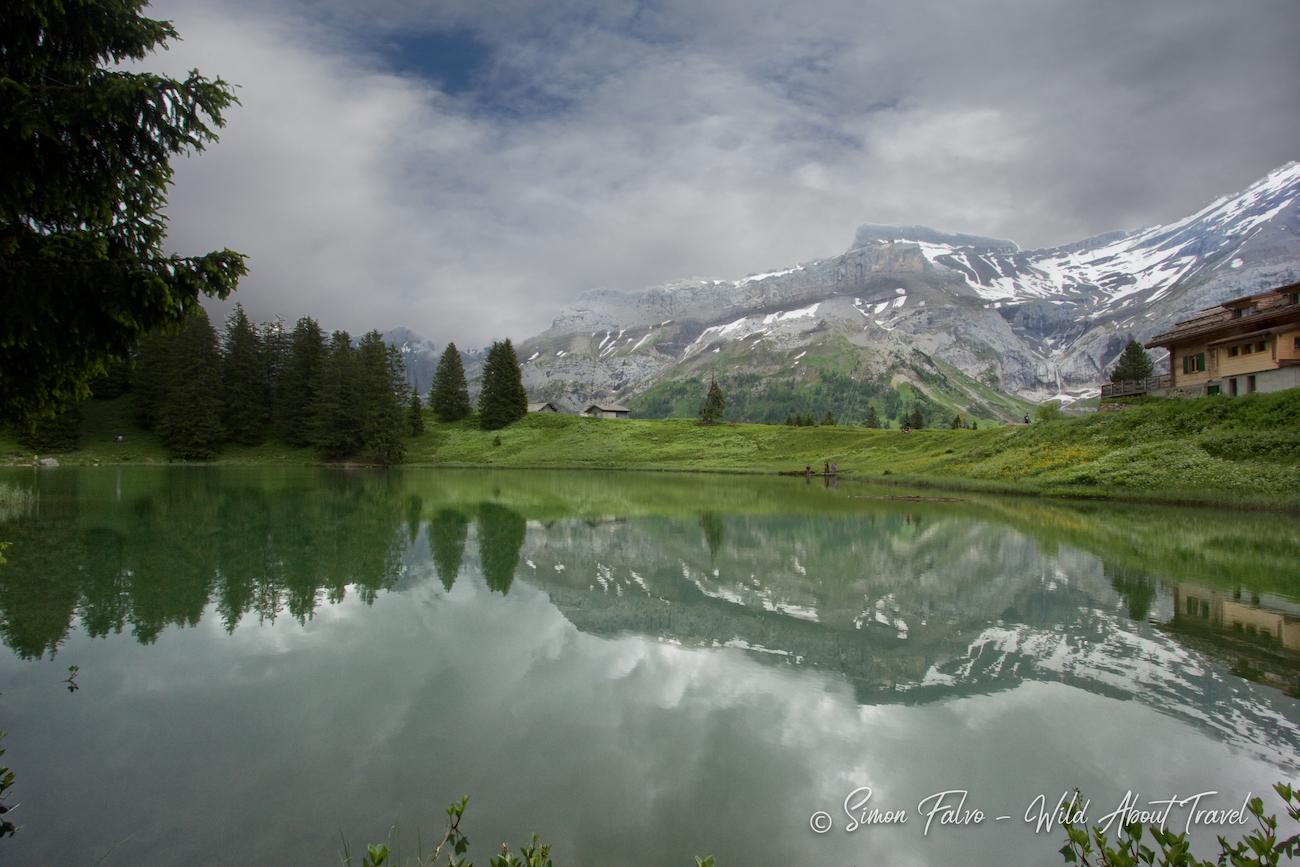 After a descent of around 30 minutes, you reach Seeberg (1,712 m), another small natural mountain lake, and a perfect spot for a picnic or a little rest.  From there, the downhill trail to Arnensee is gorgeous. Between mid-June and early July, blooming rhododendrons color the hills in extensive fuchsia sports. All around, emerald-green meadows, the darker spots of the forest, and the sound of the cows' bells.
After a while, the lake suddenly appears. And while looking at its blue-green water, you'll quickly start dreaming for a swim!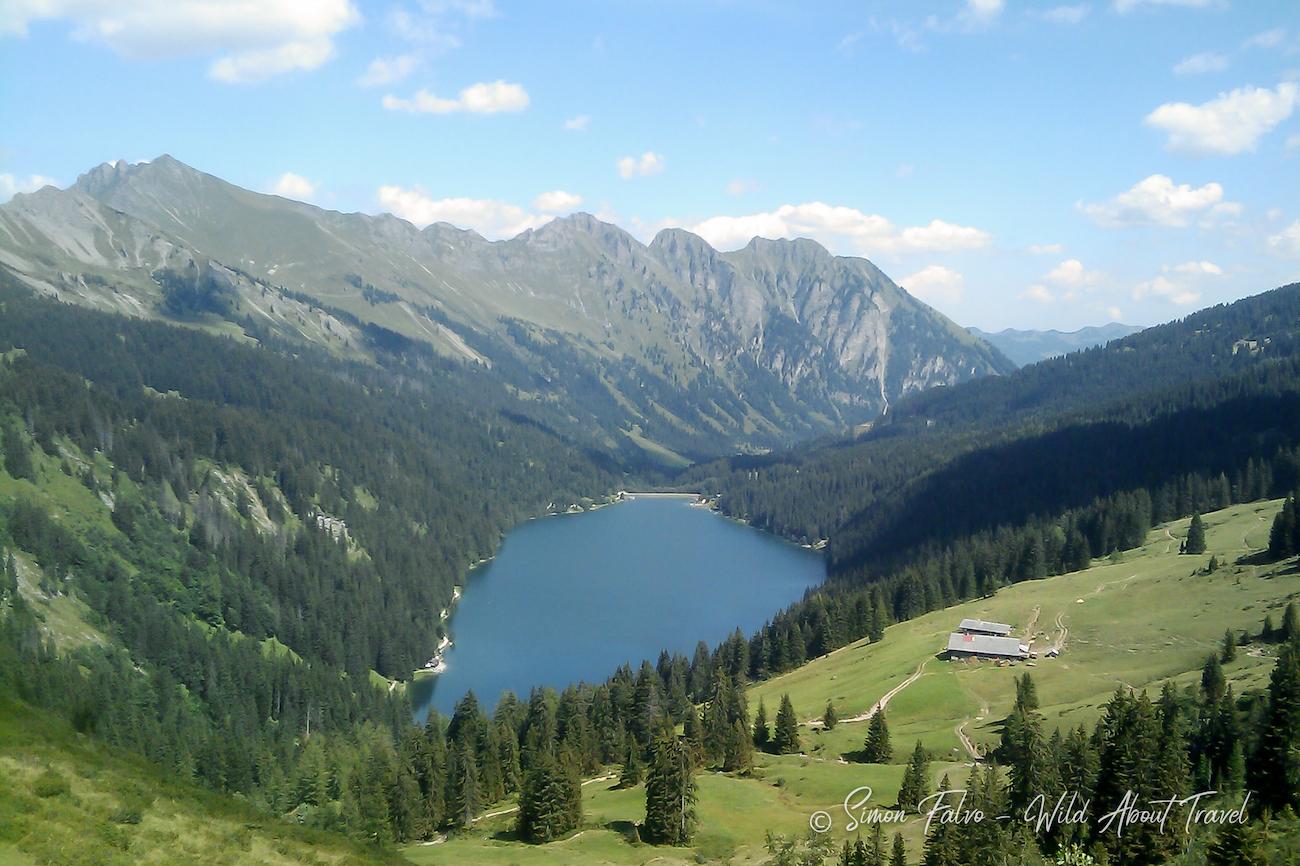 The trail eventually leads to Lake Arnensee's shore, where there is a little beach where you can rest or have a refreshing swim. From there, you can circle the lake either on the left side or alongside the right one until you reach Restaurant Huus am Arneensee. The restaurant has a lovely terrace overlooking the lake, but it's quite pricey and not as good as it used to be a few years ago.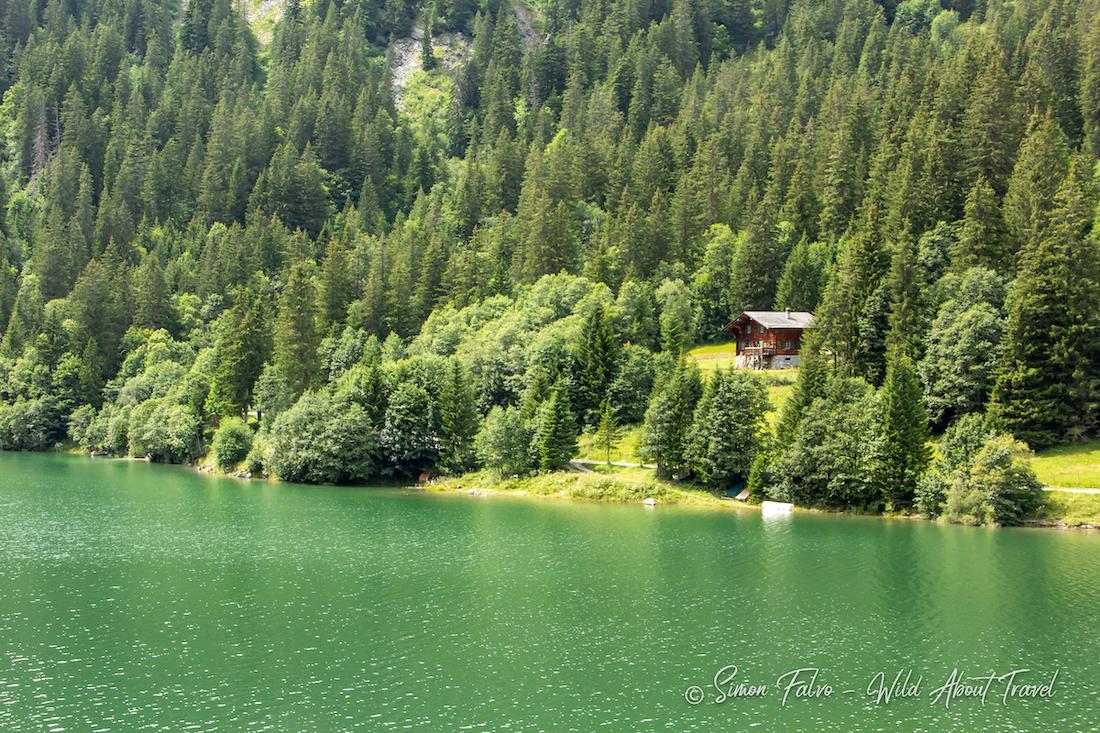 The last leg of the hike goes mostly through the forest, down to Feutersoey (1 1/2 hour), a delightful hamlet. From there, you can catch the bus to Gstaad. 
Arnensee with kids
You don't have to hike from the Col du Pillon to Arnensee (or from Feutersoey), to enjoy the lake. Being accessible by car (you'll have to pay a 5CHF entrance fee, though), it's a perfect place to spend a day with kids.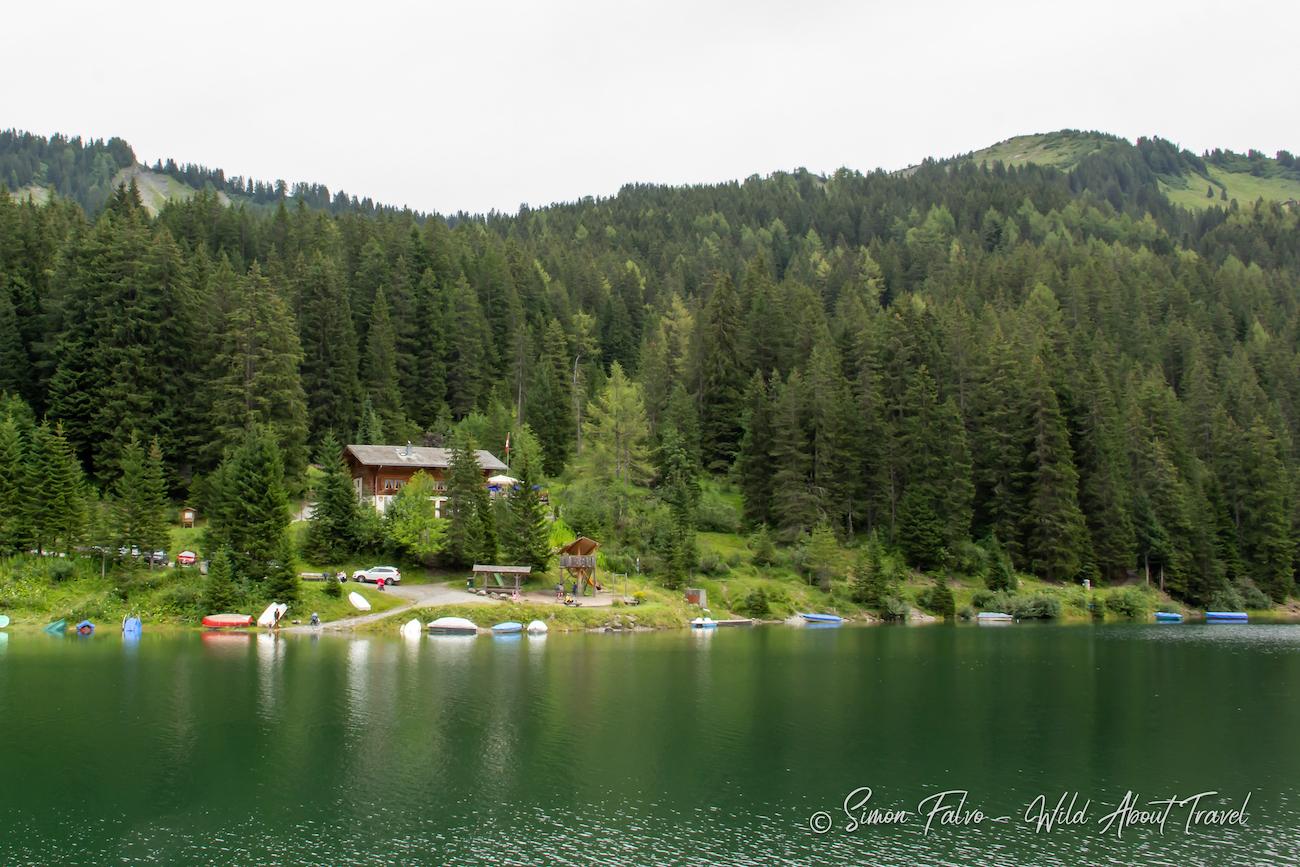 You can take the easy walk along the lakeshore, have a picnic under the trees, sunbathe lying on the small beach at the far end of the lake. And, of course, you and the kids can swim as long as you wish, or you can rent a boat.
Whether you want to have a fantastic hike or simply relax, Arnensee is one of the best excursions from Gstaad!
Practical Information
Getting there: 
You can reach Col du Pillon (1,546 m) with a 35 minutes bus ride from Gstaad. Then on the way back, you can catch the bus from Feutersoey to Gstaad. 
Where to stay:
Switzerland is beautiful but also very expensive, and Saanenland is no exception. Here's a selection of affordable hotels in Gstaad and its surroundings.
The Sun&Soul Panorama Pop-Up Hotel Solsana is located on the heights of Saanen, 3km from Gstaad. The view is stunning, and it's one of the best value-for-money accommodations in the region.
Hotel Landhaus is in the center of Saanen, only minutes from the train station and bus stop. It features alpine-style décor and has reasonable prices.
If you rather stay in Gstaad, have a look at Sporthotel Victoria. Located in the center, on the promenade, it features lovely alpine-style rooms and a small wellness area.
_______
This post contains a few affiliate links. That means that if you make a purchase, I get a small commission at no extra cost to you.
Pin for later!
Travel addict and passionate about photography, Simon Falvo started Wild About Travel back in 2009. Leveraging her strong PR background, she developed an extensive knowledge of Digital Communications and Social Media Marketing. Besides travel writing Simon holds workshops and trainings, she collaborated with tourism boards for digital marketing campaigns and participated as a speaker at several events.