If you want to feel like a VIP, you should add Gstaad, one of the most exclusive mountain resorts in Switzerland, on your bucket list. In summer, hiking in Gstaad is one of many outdoor activities, and there are plenty of trails to choose from. One of my favorites is the hike from Wispile to Lauenensee, a lovely small lake.
Having grown up nearby, and since I go back often, I know quite well the Saanenland, as the area around Gstaad is named. Each time, I explore new hiking trails in the region, never getting tired of the idyllic scenery. A bonus is getting around by public transport, enjoying the Golden Pass, one of the most beautiful train rides in Switzerland.
Exploring the hiking trails in Gstaad and the Saanenland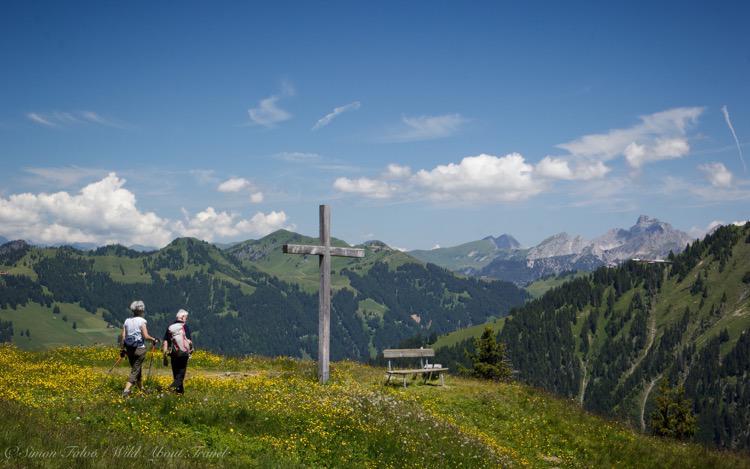 This area of the Swiss Pre-Alps isn't short of pretty and scenic trails. With a map in hands and internet ready, I regularly study the possible destination for my next walk. Every time, I wonder if I'll discover the best hike in Gstaad. Or maybe, I already walked along the most beautiful trail, but how could I know? I have a few favorites hikes in the area of Gstaad and the Saanenland, one of them is the trail from Col du Pillon to Arnensee and then Feutersoey.
Thankfully, several cable cars are open during the Summer season. That means more possibilities having the chance to skip a climb up or down, and being able to choose between different hiking paths.
The trail from Wispile to Lauenensee
For some unexplainable reason, I had never been up to the Wispile (except when I had my first paragliding experience), nor had I considered it as a good starting point for a walk with beautiful views.
What a surprise!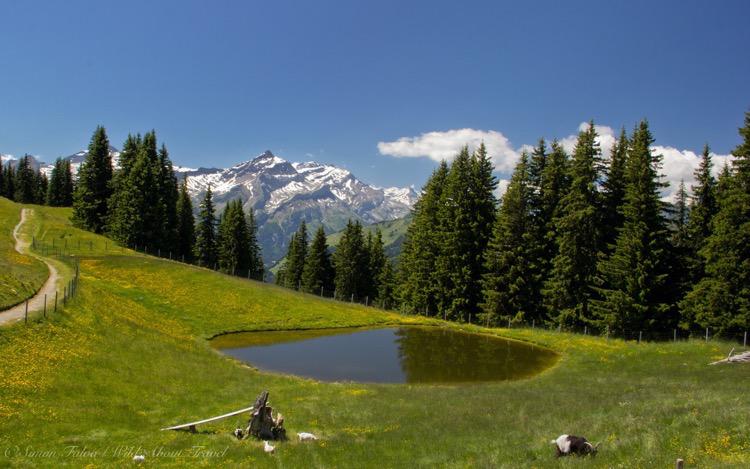 As soon as I stepped down the cable car, a glimpse was enough to know how much I had missed until then.
Before starting to walk, I stopped for a coffee on the mountain hut's lovely terrace. It overlooks a little pond around which goats and little lambs were grazing peacefully. Pure mountain cuteness.
TIP: If you're visiting Switzerland with kids, the Wispile is a perfect place. A few steps from the restaurants there's a fantastic children's playground all made in wood, where they can have a lot of fun while you relax on the terrace.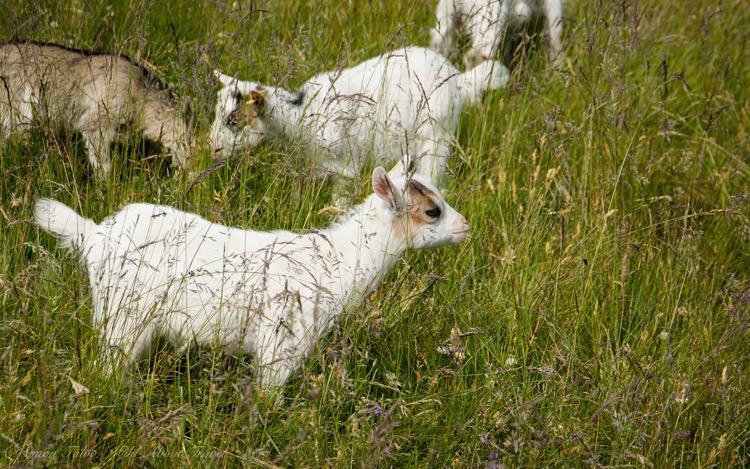 I grabbed my hiking poles, ready to start the 3 hours walk to Lauenensee (Lauenen Lake). But first, a compulsory stop to take a few pictures of the pretty goats.
The first part of the trail follows the ridge, amid meadows dotted with colorful flowers and surrounded by idyllic mountain scenery. Grey and silver rock walls, dark green forests, and the white Glacier des Diablerets – also known as Diablerets Glacier 3000 – make for a stunning contrast. Here and there, pretty wooden benches invite for a rest and to take in the beautiful view, but I decided to walk a little longer before making a pause.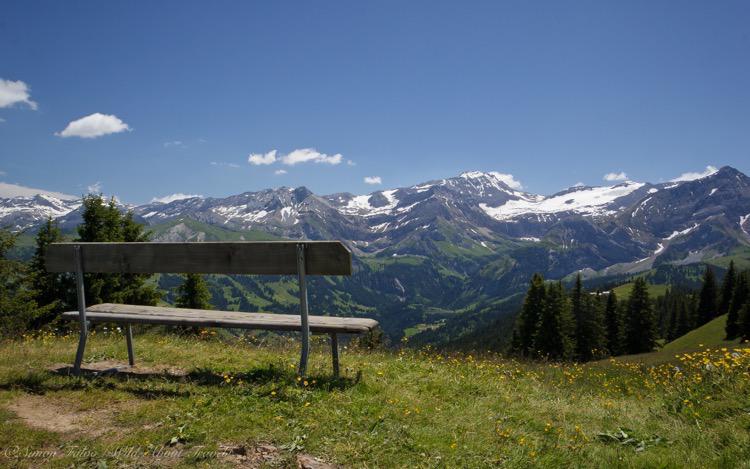 After a while, almost at the end of the ridge, the trail descends through the forest. I welcomed the change, not only because I love walking in the woods but also because it was a scorching day and I was craving for shade. After some time, the trail reaches a large pasture from where I enjoyed more superb views of the mountains.
Be careful, because from here, the trail splits. On the right, it leads to Gsteig, and the one on the left reaches the Lauenensee.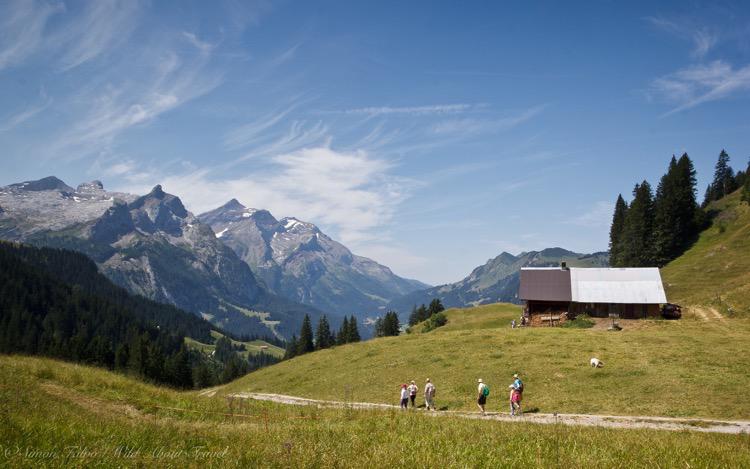 The sun was at the zenith when I slowly started to climb up to the spot overlooking the Lauenen valley. Useless to say that I wish I had started hiking earlier. Thankfully, the ascend was not too long, and I admit that once I reached the top, I felt relieved. It was worth the effort, though, as the view from up there is fantastic.
From here on, the walk is all downhill, and after a few minutes, I got the first glimpse of Lake Lauenen and its shades of green and blue.
Charming Lauenensee from above
During the descent, the lake plays hide and seek, every time reappearing in a different and always lovely fashion. At that time of the year, I stumbled into a picture-perfect spot. Pink and white wildflowers on the foreground, the lake's turquoise water, and the green-yellowish reeds at one of the edges.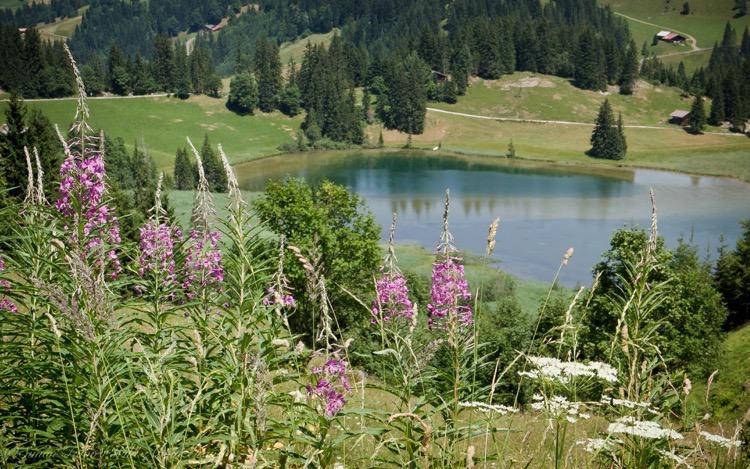 I eventually reached the lakeshore, where families were sitting under the trees, having a picnic, or enjoying a barbecue. A few kids were jumping in the water from the wooden jetty and happily swam in the refreshing water. So, don't forget your swimsuit for a refreshing bath after the walk.
I headed toward the restaurant overlooking the lake, sat on the terrace, and ordered a cold, refreshing beer. I couldn't think of a better way to end a fantastic day hiking in Gstaad.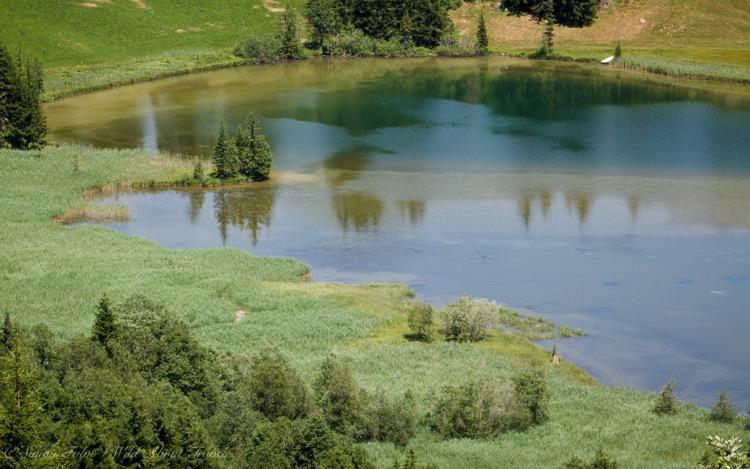 While sipping my beer, I thought of how much I enjoyed the trail and couldn't help wondering if this the best hike in Gstaad.
For sure, so far, the hike from Wispile to Lauenensee is one of my favorites. On par with a couple more in the area: the trek from Col du Pillon to enchanting Arnensee and the long walk from the top of Rellerli to Sparenmoos.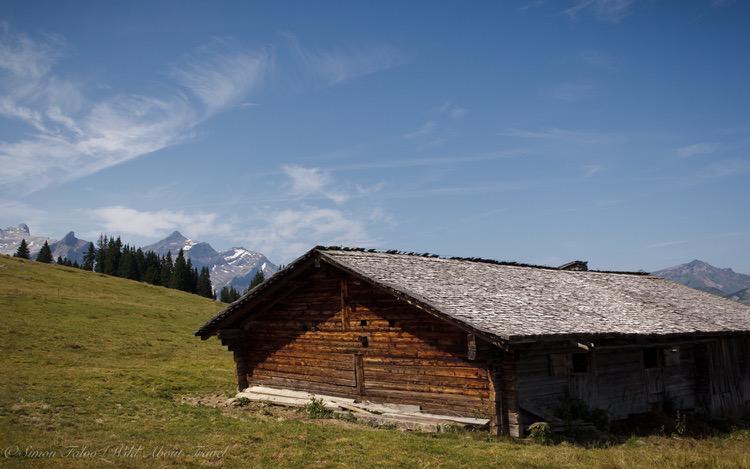 Gstaad: Practical Information
Getting there: Gstaad is on the Golden Pass train line, a scenic ride from Montreux to Zweisimmen, and further on to Interlaken.
Getting around: Gstaad is a small village, and you can walk everywhere. However, most of the roads are uphill. If you're tired, there's a bus service connecting the farthest areas.
TIP – The Swiss Travel Pass: Switzerland's public transportation i is very efficient, however expensive. If you plan to travel extensively, the Swiss Travel Pass allows unlimited use of train, bus, and boat transport, including Switzerland scenic trains. Moreover, you get free access to over 500 museums and up to 50% discount on other mountain excursions. Check out the Swiss Travel Pass prices for 4 days, 8 days, and 15 days.
Where to stay in Gstaad: Since it's one of the most exclusive mountain resorts in Switzerland, it doesn't come cheap.
The Gstaad Palace may well be the most famous hotel in town, but I prefer by far the Grand Bellevue. It features everything you can desire from a luxury hotel, including a big spa, and the Michelin-starred Lonard's restaurant.
If you're looking for more affordable accommodation, the Geniesserhotel Le Grand Chalet won't disappoint you. It features comfy rooms in alpine style with a balcony, a wellness area, and a gourmet restaurant.
Renting an apartment might be the best – and more convenient – choice if you're traveling to Switzerland with family or friends.
Check-out this beautiful apartment in a traditional chalet. It features two bedrooms, a living room, a dining space, a kitchen, and a modern bathroom.
Pin for later!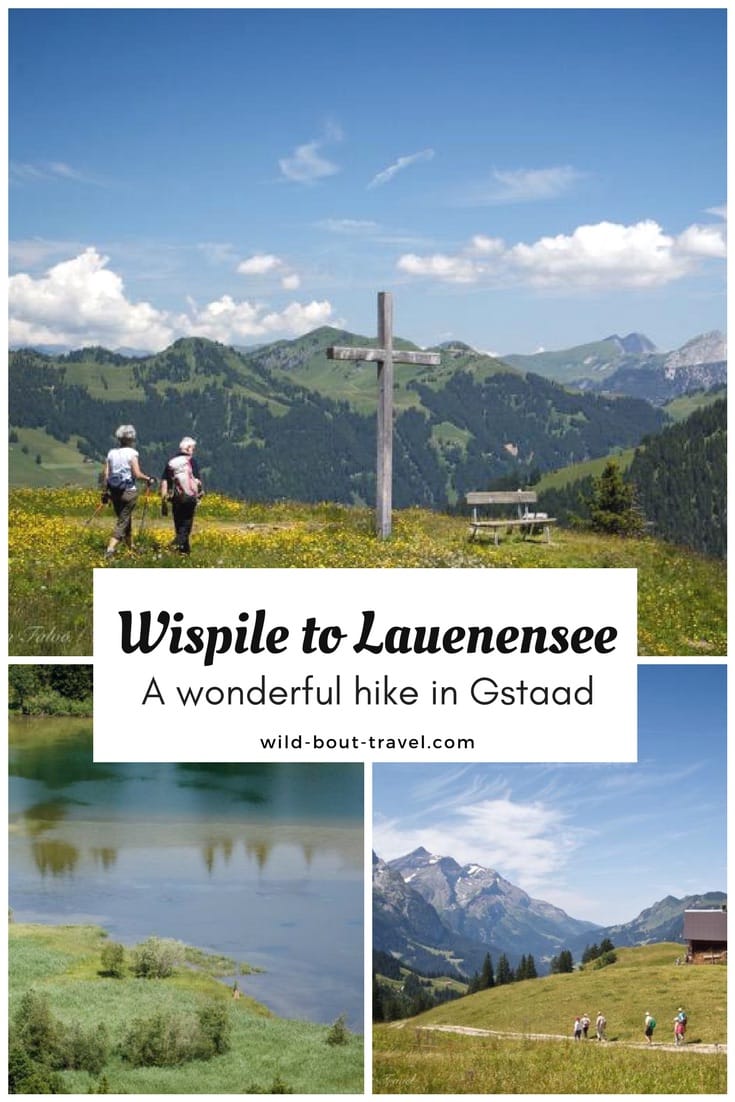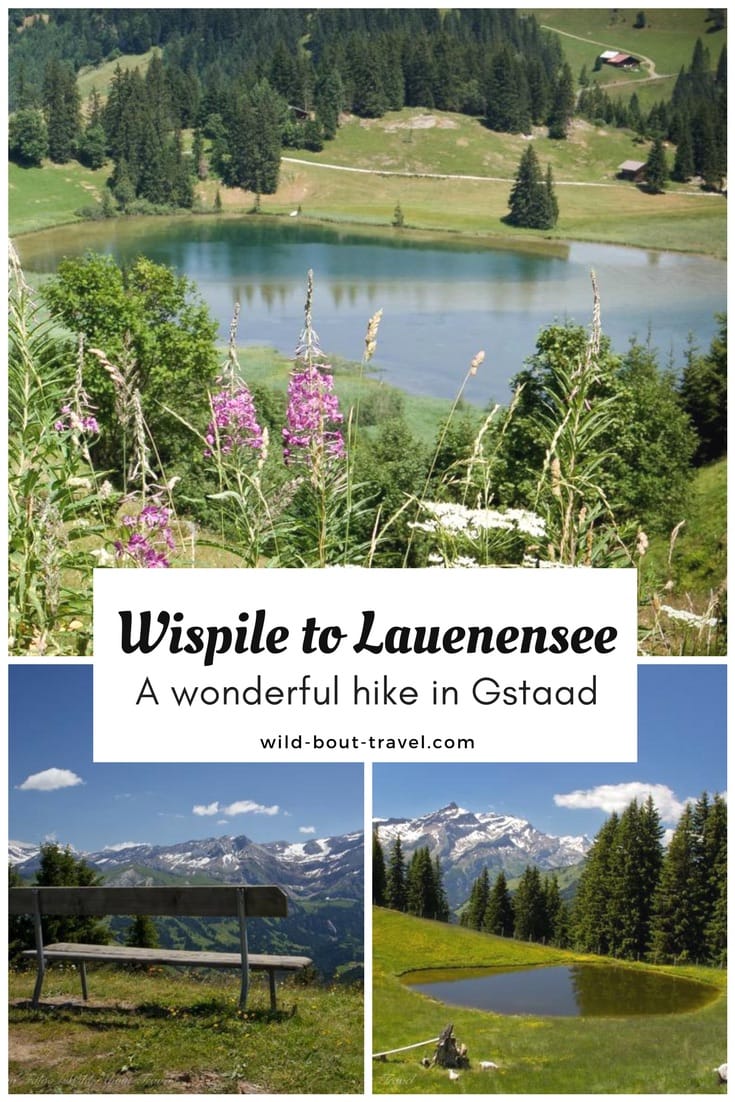 _______
This post contains a few affiliates links to carefully selected products and services. If you make any purchase, I get a small commission at no extra cost to you.
Travel addict and passionate about photography, Simon Falvo started Wild About Travel back in 2009. Leveraging her strong PR background, she developed an extensive knowledge of Digital Communications and Social Media Marketing. Besides travel writing Simon holds workshops and trainings, she collaborated with tourism boards for digital marketing campaigns and participated as a speaker at several events.