As soon as I caught sight of the river, bordered by pretty houses reflecting in the blue water, I knew that I had made an excellent choice. Discovering Stein am Rhein was one of the best day trips from Zurich I could ever have imagined.
One of the best-preserved medieval towns in Europe
With little more than 3,000 inhabitants, Stein am Rhein may well be a small village. Still, it is remarkable for the concentration of well preserved medieval buildings within such a compact area.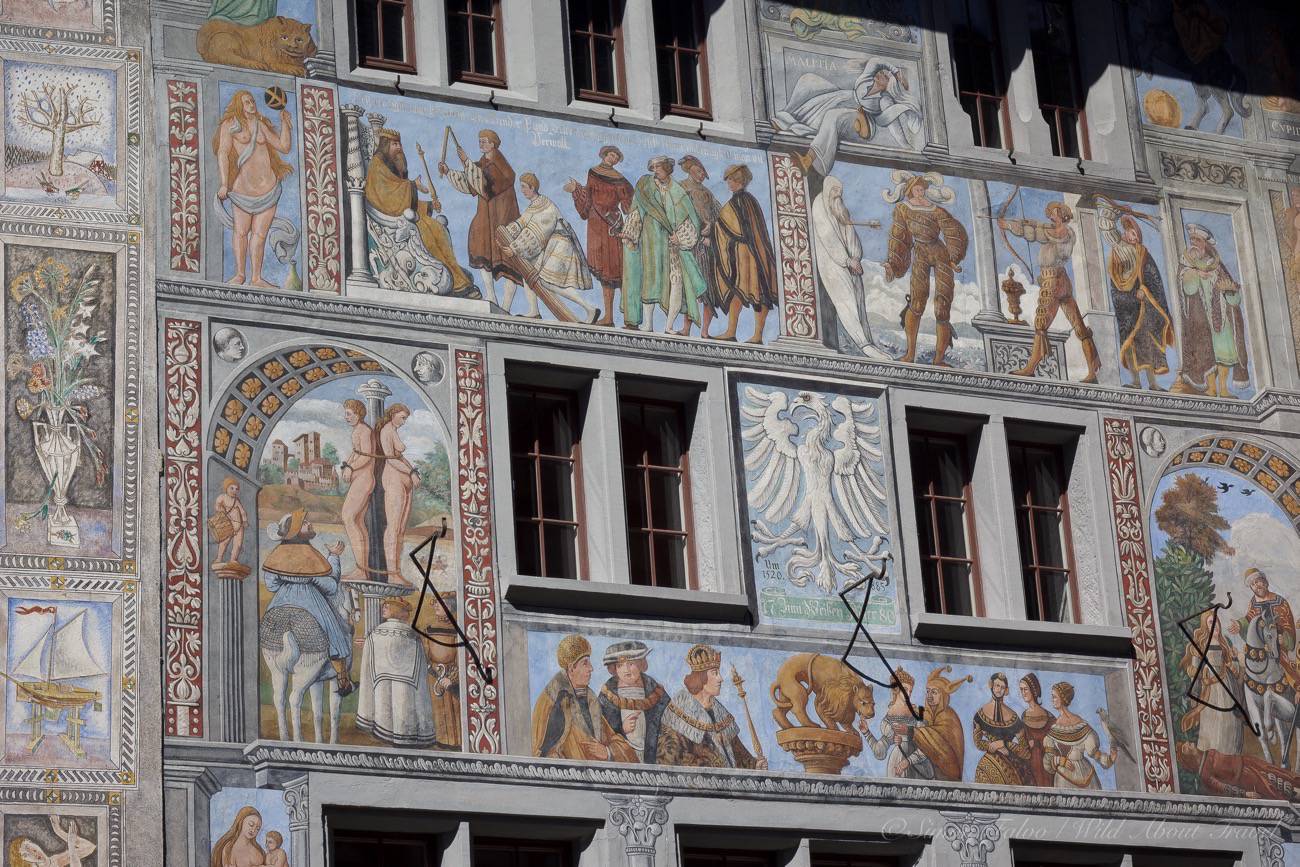 Few tourists from outside Europe know this tiny town, but believe me, it's a real hidden gem. Stein am Rhein is famous for its finely painted facades, the half-timbered houses, and the lovely countryside surrounding it.
Where is Stein am Rhein?
The town is located in the northernmost area of Switzerland, at the border with Germany. Built where the lower end of Lake Constance becomes the river Rhine again, you can visit Stein am Rhein as a day trip from Zurich or Konstanz on the lake's German shore. Indeed, Stein am Rhein is close to two of Switzerland's most beautiful lakes: Lake Zurich and Lake Constance.
The Austrian border is also not far away, and you could combine a trip to Vorarlberg (where a couple of years ago I walked the charming Architecture Path in the Bregenzerwald) with an excursion to Stein am Rhein.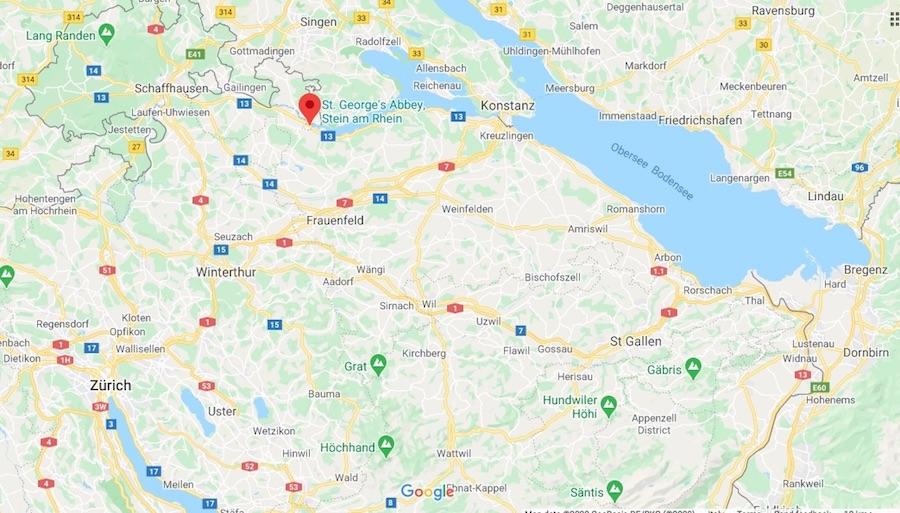 A little historical background
Stein am Rhein was originally a small fishing village built where the lower end of Lake Constance becomes the river Rhine again. The hamlet developed in the 11th century, when Emperor Henry II transferred the Benedictine St. George's Abbey due to its strategic location.
Emperor Henry II granted the Abbey ample rights. The trade developed at a good pace, and the town became a prosperous commercial center.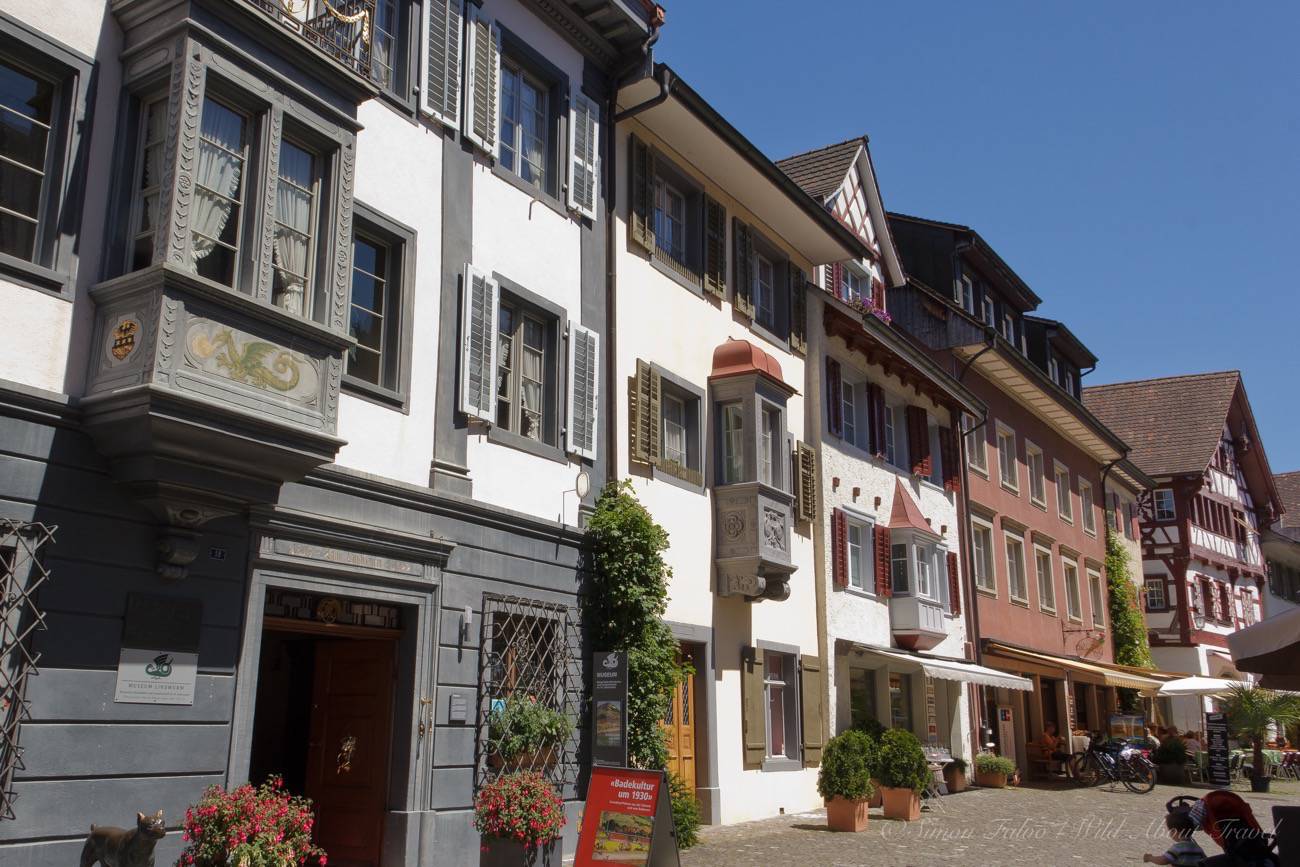 Looking at the beautifully painted façades and admiring the tastefully decorated protruding windows, it's easy to see the wealth, culture, and refined taste developed in what once was only a tiny village.
Things to see in Stein am Rhein
The Rathauslatz and its spellbinding painted houses
The crown's jewel is the Rathausplatz – the square of the City Hall – whose entire perimeter is lined by old houses with magnificent painted façades. Every building has a different architectural structure, the subjects, and colors of the murals vary. Still, the harmony is such that it is close to perfection.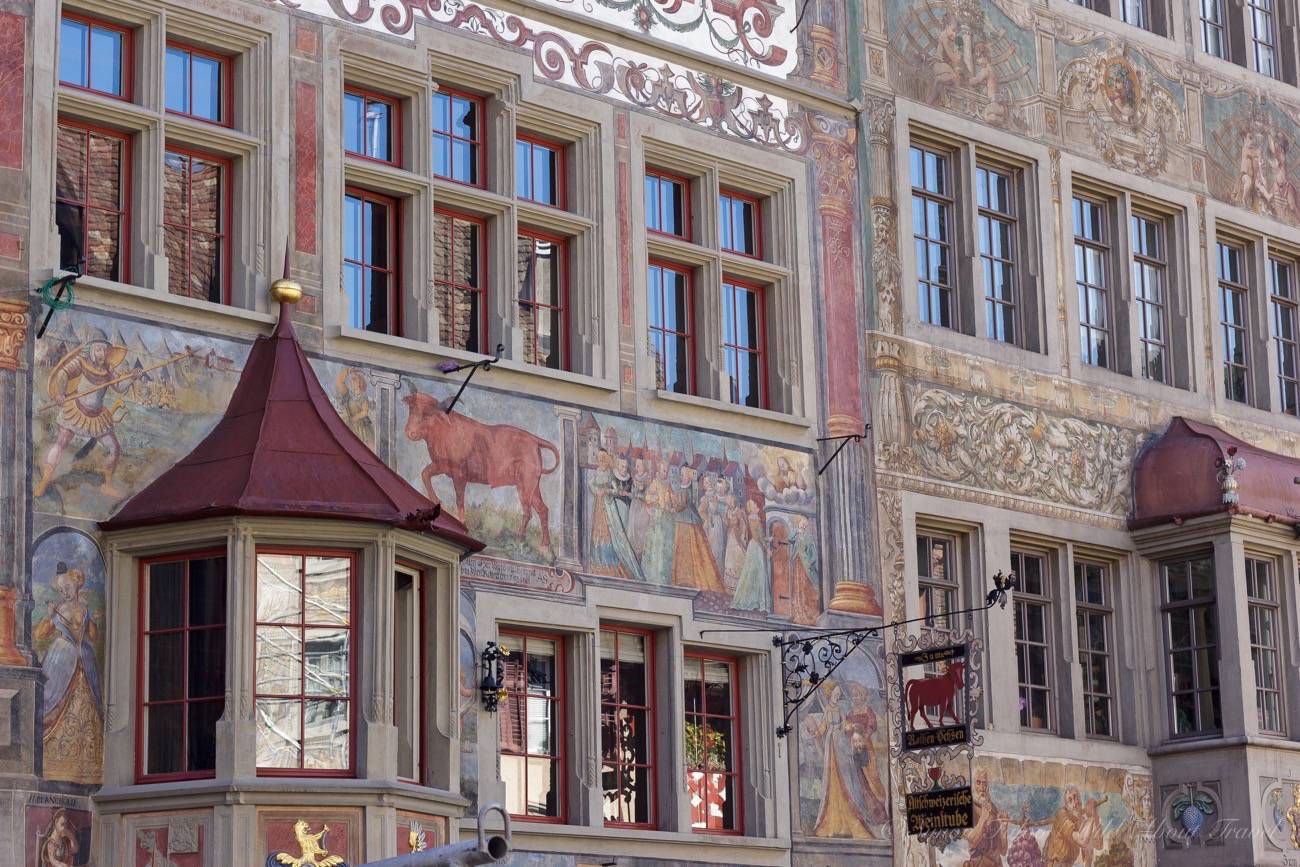 If you're only quickly passing by, the Rathausplatz is a must-see.
Unfortunately, when I visited the square, bleachers were set up for an event, and part of the view was hidden. Notwithstanding, I was spellbound. I loved the painted facades in Lucerne and did not expect the ones in Stein am Rhein to be even more beautiful. Most of all, I was stunned by the elegance of the drawings, the tasteful colors, and the perfect proportions.
Being hopelessly curious, I would have liked to know more about the architecture and the stories told by the frescoes. When I travel, I am first driven by instinct, but then I want to understand the frame and the background of what I'm admiring. Next time, I'll probably take the Stein am Rhein and Rhine Falls tour from Zurich.
Delightful half-timbered houses
The beauty of Stein am Rhein doesn't end in the Rathausplatz, though, and there's more to see in the meandering alleys. Here, the grandiosity is replaced by prettiness.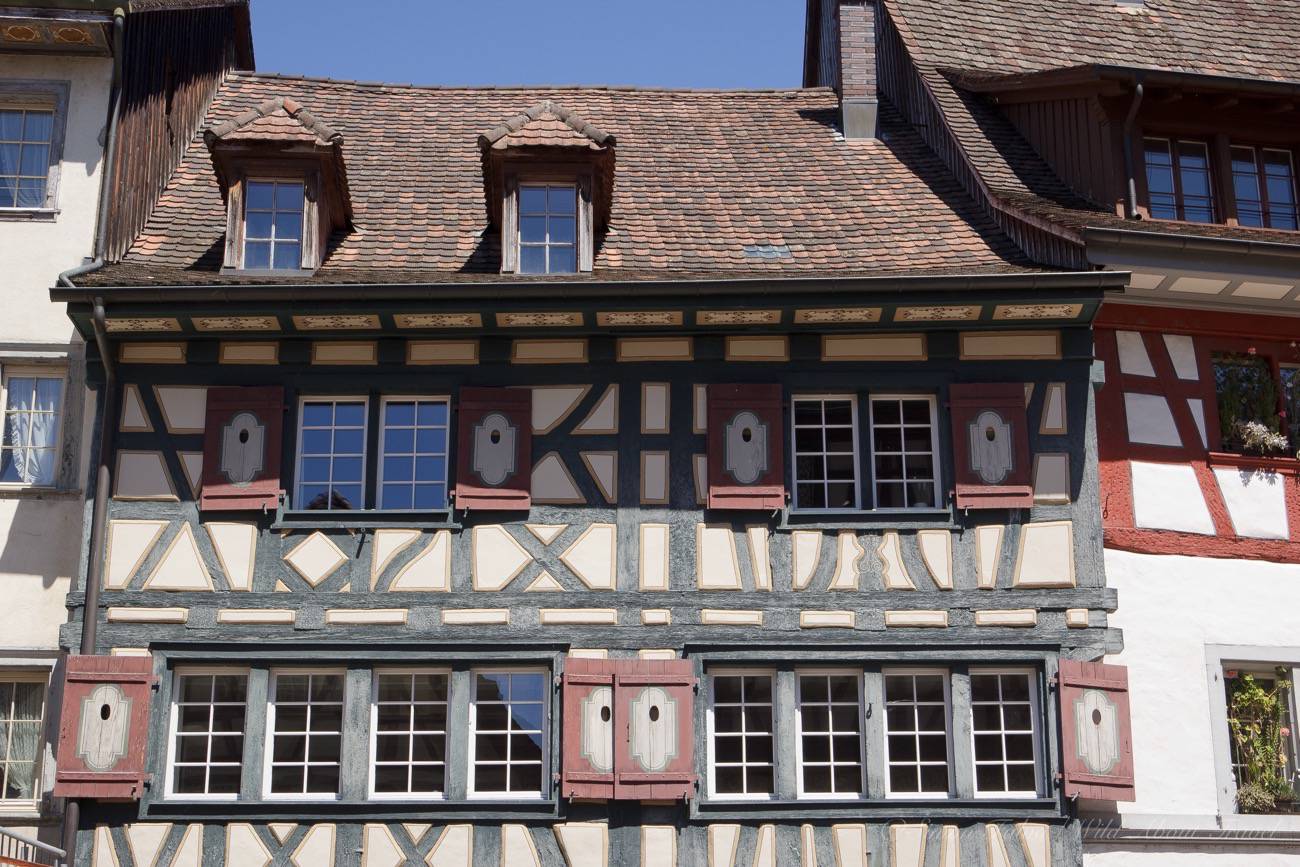 Although the painted facades are Stein am Rhein's top attraction, the half-timbered houses are charming. This peculiar method of building was widely used in China and Japan. In Europe, it's quite common in Germany (for example, in Tübingen) and France (in cities like Albi and Rouen). Half-timbered houses can be found as well as in some areas of England. 
While you stroll, take a break and chill out at one of the inviting alfresco cafés and restaurants, spot the gates and clocktowers that once were the entrance to the town.
Hohenklingen Castle and St. George's Abbey
Two places will give you a taste of Stein am Rhein in the Middle Age: the Hohenklingen Castle and St. George's Abbey.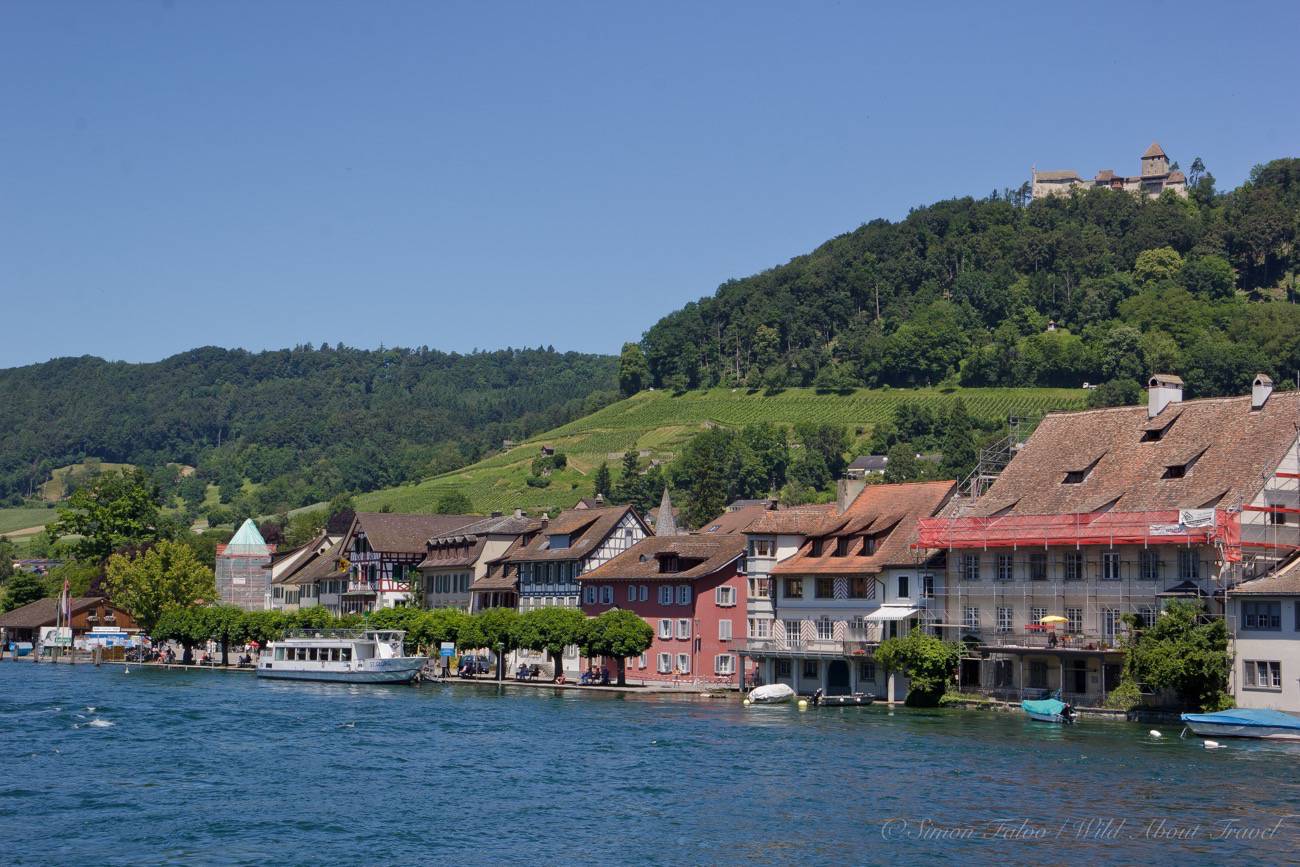 The castle is perched on a hill partially covered with vineyards and protectively overlooking the town and the river Rhine. It's been towering over the village since around 1200 and, for a long time, played a crucial defensive role. Once lost its military importance, the castle ended up neglected and underwent extensive restoration between 2006 and 2007. Today, it's a unique venue for celebrations, also open to visitors.
St. George's Abbey white facade, with the crow-stepped gables reflecting in the Rhine's turquoise blue water, is nothing short of charming. The Abbey dates back to the early year 1000 when Emperor Henry II moved it from its previous location to Stein am Rhein. Until the 16th century, the towns flourishing reflected on the Abbey. So much so that it was rebuilt in the 15th century in late Gothic style. In the same period, the interiors were decorated with beautiful Renaissance frescoes.
The Rhine riverbank
The charm of Stein am Rhein is also in its location. I ended up my day strolling along the riverbank, listening to the water's soothing murmur, watching the ducks and the swans gracefully gliding on the water.
Not to miss in Stein am Rhein: a boat tour on the Rhine
There's no better way to enjoy the picturesque landscape of this area than a boat tour. From October to April, you can cruise on the Rhine from Schaffhausen to Stein am Rhein. Or you can have a boat ride from the town in the opposite direction, to Kreuzlingen and, from there, get on a cruise on Lake Constance. If you want to visit more villages, it's possible to hop off along the way. I cruised to Schaffhausen to get back from my Zurich day trip, and simply loved the views and feelings.
I visited Switzerland multiple times, and I'm fond of smaller, lesser-known villages. Believe me: There are many lovely spots across the country, but Stein am Rhein might well be one of Switzerland's most beautiful towns. Whether you're traveling in south Germany or northeastern Switzerland, don't miss to visit Stein am Rhein.
Useful information:
Getting to Stein am Rhein:
By car, it takes less than an hour to reach Stein am Rhein from Zurich (55 km), while the train ride takes 1h20min – 1h30min. You can also take the boat from Schaffhausen to Stein am Rhein (or vice versa), which I strongly suggest.
Where to stay:
Although you can visit Stein am Rhein as a day trip from Zurich or around Lake Constance, the town is so pretty and romantic that you may want to spend a night.
Hotel Adler: Simple and spotless, Hotel Adler is right in the heart of the town, and from there, you can walk everywhere.
Hotel Rheinfels is located in a beautiful 14th-century historic building, overlooking the river. From there, you can easily walk to Stein am Rhein main attractions.
Organized tours:
If you are in Zurich and have limited time or simply prefer organized tours, you may want to check Get Your Guide's Best of Zurich City Tour: Rhine Falls & Stein am Rhein
Map:
______
This article contains affiliate links. Should you make a purchase, I earn a small commission at no extra cost to you. Thank you.
Pin for later!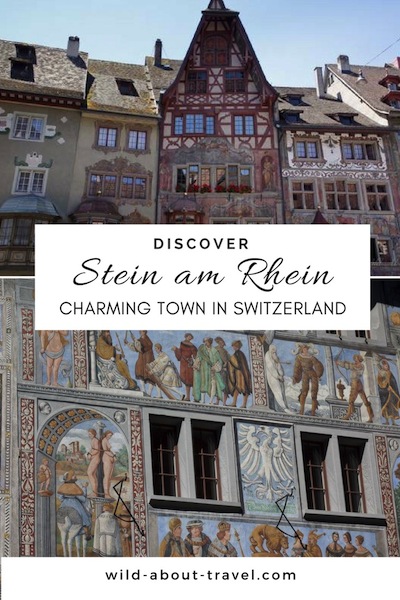 Travel addict and passionate about photography, Simon Falvo started Wild About Travel back in 2009. Leveraging her strong PR background, she developed an extensive knowledge of Digital Communications and Social Media Marketing. Besides travel writing Simon holds workshops and trainings, she collaborated with tourism boards for digital marketing campaigns and participated as a speaker at several events.