If you don't know what hot springs are, let fellow travel bloggers, Agness and Cez of eTramping catch you up.
These relaxing points of interest are bodies of water which tend to run (just a little) hotter than the ambient temperatures around them. This can be due to a huge range of reasons. Perhaps there's a volcano nearby, maybe they're linked up to a geothermal vent which heats the water to perfection, or perhaps someone's hooked up a pool heater to trick you into thinking it's a great holiday destination.

Barring the third possibility, hot springs are a great place to visit. Most of them are places where you can take a relaxing dip, yet there are a couple where it's impossible to go for a swim.
Nevertheless, sticking your hand in a warm pool of water – which feels like your bath at home – whilst being able to see incredible snow-capped mountains and (in one case below) icebergs in the background is incredible.
Uunartoq Greenland
Uunartoq's hot springs are unique in Greenland, in that, despite being located in a country whose average temperature in summer never exceeds 10 ° C (50 ° F), they are warm enough for you to go and bathe in them. Located between Qaqortoq and Nanortalik on an uninhabited island, the country's temperate means that going for a dip here comes complete with snow-tipped mountain peaks and icebergs in the background.
Uunartoq is just as it was left hundreds of years ago. Heading here, you might just feel as though you've entered into a time loop. The uneven trails created by rocks and outcroppings make you feel as though you've headed back to Norse times and are taking the weekend off.

If you want to head to this hot spa retreat, then it's easily reached from the towns of Qaqortoq, Nanortalik or Alluitsup Paa. Most travellers head here with tour groups. It's possible to find one of these in most of the places just mentioned. Simply ask around and you're sure to come across something.
Blue Lagoon Iceland
One of the most popular attractions in Iceland are its hot springs, and there are a lot of them. Due to a huge amount of geothermal activity here, several water sources are ripe for bathing and swimming. The most famous of these is Blue Lagoon.
Blue Lagoon is located in Grindavík on the Reykjanes Peninsula and is only a 21-minute drive from the Keflavík International Airport. It's one of the most visited attractions in Iceland for a reason.
The bright blue water emits steam as visitors lounge around within its waters. Behind them, some rocky mountains rise towards the sky, protecting the area from natural winds and outside influences. On a good day, snow can be seen on mountains even further away. All the while, your body is being kept warm by the 37–39 °C (99–102 °F) water.
Reykjadalur, Iceland
Usually, when people thinking about hot springs, they think about a lake or enclosed body of water. Reykjadalur challenges those assumptions because it is actually a river.
The name Reykjadalur translates into 'steam valley' and that's what this is.
Heading past the embanking greenery, you'll find yourself hiking next to a long-running river, whose water runs at variable temperatures depending on how much cold water it's mixed with. Because of this, you need to remain careful about where you decide to go for a dip. At its source, the water can rise to 100 °C (212 °F). It's not going to be so relaxing if you're thinking of diving in at a place where it's that hot.
Reykjadalur is one of the nearest hot springs to the capital of Reykjavík and besides having this incredible hot spring river, there is also a brilliant hiking trail for anyone looking to see Iceland's natural wonder whilst they're heading to it.
Jotun Springs, Svalbard
Svalbard's hot springs are the same as those in Iceland or Greenland. Unfortunately, visitors can't bathe in these. Rather, they can admire their incredible natural wonder and the occasional geyser burst from below.
Of course, who would want to bathe in the Jotun springs, especially when you consider that they are the northernmost hot springs in the world? Putting your swimming kit on here would mean exposing yourself to temperatures of around −13 and −20 °C (8.6 and −4.0 °F) in January, and as low as 3 and 7 °C (37.4 and 44.6 °F) in summer. Maybe not the best temperature.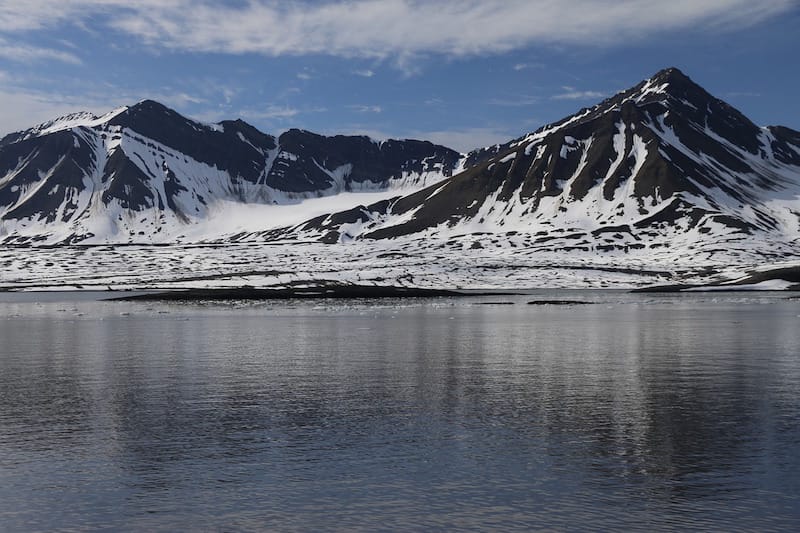 However, the Jotun springs are incredible. Located in the Nordvest-Spitsbergen National Park, the surface temperature remains 20 °C (68 °F) all year round. Of course, just like all hot spring at the edge of the world, these geothermal vents offer you a sight of Svalbard's incredible mountainscape. White mountains and clear blue sea make the location feel as though you've travelled to the Arctic.
Getting to the Jotun springs in Svalbard means you're probably going to need to look for a Svalbard cruise. They're easy to come by and usually mean starting a bit more South in Norway. However, this gives you a great opportunity to check out the incredible Aurora Borealis before you go hot spring hunting.
Ainsworth Canada
Heading out off to the other side of the planet (nearly) and Canada offers quite a few hot springs for anyone on the lookout for warm, relaxing bodies of water. The Ainsworth hot springs were originally discovered and used but the Ktunaxa natives, where they would relax and gather water after a hard day out hunting for food.
Today, the area has been turned into a spa, where you can relax without the worry of having to catch food before. Air temperatures in this area of British Columbia can drop just below 0 °C. However, inside the water, you'll find temperatures of 40–42 °C (104–108 °F).
Which hot spring most makes you want to go abroad?