I couldn't have imagined a better way to end my South East Asia trip than spending the last day at the wonderful Banyan Tree in Bintan. Also, I was very curious since I had heard many times about the Banyan Tree from a good friend of mine who stayed at a few resorts and talked about them enthusiastically, and I was thrilled for having my first chance to experience it.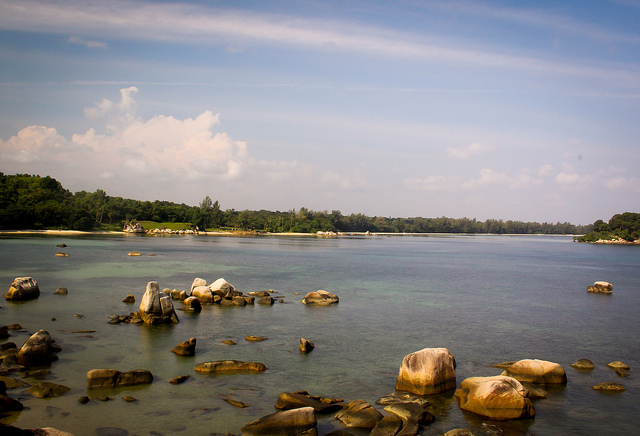 Set in the lush jungle on Bintan Island, a bare hour by speed boat from Singapore, and overlooking a secluded bay, the Banyan Tree Resort is a perfect choice for a few days of romance or total relax in an exclusive and breathtaking environment. After a lovely welcome with a delicious ginger and lime tea, I was driven to my Villa on the Rocks, one of the six lodging options along with the Seaview Villa, Sea Front Villa, Bayfront Pool Villa, Sanctuary Villa and the Spa Pool Villa.
Looking for wilderness, lush greenery, pristine beaches, awesome views and a special luxury treat? Banyan Tree in Bintan has them all
As soon as I set foot in the Villa on the Rocks I got captured by the breathtaking view on the South China Sea and the exquisite taste of the furniture and decor. The Villa blends luxury and sobriety, traditional Indonesian architecture and all modern amenities and offers exactly the kind of luxury that makes me wild. The terrace overlooking the rocks was a wonderful place to chill out with a book, cradled by the sound of the sea. It is also  perfect  to enjoy a private, romantic dinner. All you have to do is order your favorite dishes and the Banyan Tree staff will take care of everything for a special evening.
The Villas are spread out and guarantee a great privacy, and since there are no cars inside the resorts (transportation within the property is assured by electric golf carts, available any time to drive hosts from one place to the other) it is an oasis of peace.
The TreeTop Restaurant, with its fashionable decor and awesome outdoor terrace, is the perfect place for breakfast and lunch. At breakfast, guests are welcomed by a rich buffet able to satisfy every taste and tradition (including delicious Champagne cocktails), while the à la carte menu for lunch or dinner offers both traditional Indonesian dishes and International cuisine, with a touch of creativity. I liked to indulge on the TreeTop Terrace at breakfast, taking my time and enjoying the lovely view and found it a wonderful way to start a relaxing day.
Those looking for an active holiday can enjoy a variety of sea sports activities like catamaran sailing, water-skiing, canoeing, windsurfing and banana boat rides or head towards the superb 18-hole Laguna Bintan Golf Club, set in a lush and gorgeous scenery. If instead you're in the mood for pampering, treat yourself at the Spa where treatments will act as a wonderful balm for your body and make you feel the nicest peacefulness.
Apart from the wonderful views and the relaxing atmosphere, one of the highlights of my stay at Banyan Tree in Bintan was dinner at the Saffron Restaurant. Being Italian and a gourmet, I was looking forward to experiencing the signature restaurant offering Thai cuisine revisited with a contemporary touch, and I must say that it was a real wonder for the eyes and the palate.
If you're looking for a personalized and out-of-common experience you will love the Destination Dining, designed for unique and unforgettable moments through an intimate outdoor dining and the most romantic atmosphere. A gourmet candle-lit dinner on the rocks, or at the 8th hole of the Laguna Bintan Golf Club with its dramatic views, or in a traditional fisherman's boat for delicious seafood specialties are the perfect settings to propose or to celebrate a special occasion that will enrich your memories.
Unfortunately, I did not have enough time to fully experience all the amenities offered by the Banyan Tree in Bintan, where I would suggest to spend at least a couple of days and possibly even a few more. I had such a wonderful time that I wish I could have stayed longer and I'll certainly be back. Everything at Banyan Tree corresponds to my idea of luxury: an intimate resort with taste, character, personalized service, attention to the smallest details and a care to customers to respond and anticipate their need that I have rarely seen in other resorts.
Banyan Tree epitomizes my idea of luxury
A great place for couples or singles in search of peace and relax, Banyan Tree in Bintan is not, in my opinion, the most suitable option for families with small children who might feel isolated and a bit bored. In that case, I'd rather recommend the Angsana Resort, directly on the beach and more targeted to families.
Another important thing to keep in mind when staying at the Banyan Tree in Bintan is that the resort is set amidst the jungle, in a wonderful natural scenery and thus at direct contact with nature, which is what makes the place so unique. This means, however, that despite the extremely accurate cleaning of the villas, you may occasionally find an insect peacefully strolling in the room. Don't get angry, simply call the reception desk and they'll be happy to remove the unexpected guest.
If like me you're in search of a blend of wilderness, luxury and relax, a stay at the Banyan Tree in Bintan will make a memorable experience.
Prices and booking ➤ Booking.com 
_______
Note: I would like to thank the Banyan Tree in Bintan and especially the lovely Dia Son for the warmest hospitality I have ever experienced. My enthusiasm, however, only stems from the wonderful well-being I felt in a place that epitomizes my personal idea of luxury.