Welcome to the enchanting Turku Archipelago, a hidden gem nestled within the southwestern coast of Finland. Follow my journey through this stunning region, where thousands of islands, islets, and skerries create a breathtaking natural landscape. Discover the unique beauty of the Finnish archipelago and its magical atmosphere.
This post contains affiliate links to selected products and services. That means that if you make a purchase, I get a small commission at no extra cost to you.
'Why don't you visit us in our summer house in Korppoo? Finland islands are beautiful!'.
I was sitting in a restaurant in Milan with my friends Petri and Tuuli, and their invitation – which came totally unexpected – filled me with excitement and delight. Except for a super quick work trip to Copenhagen more than 20 years ago, where I managed to get only a glimpse of the city, I had never visited Scandinavia. A longstanding dream would come true, and discovering the Finland archipelago with my friends, living like a local, enhanced my thrill.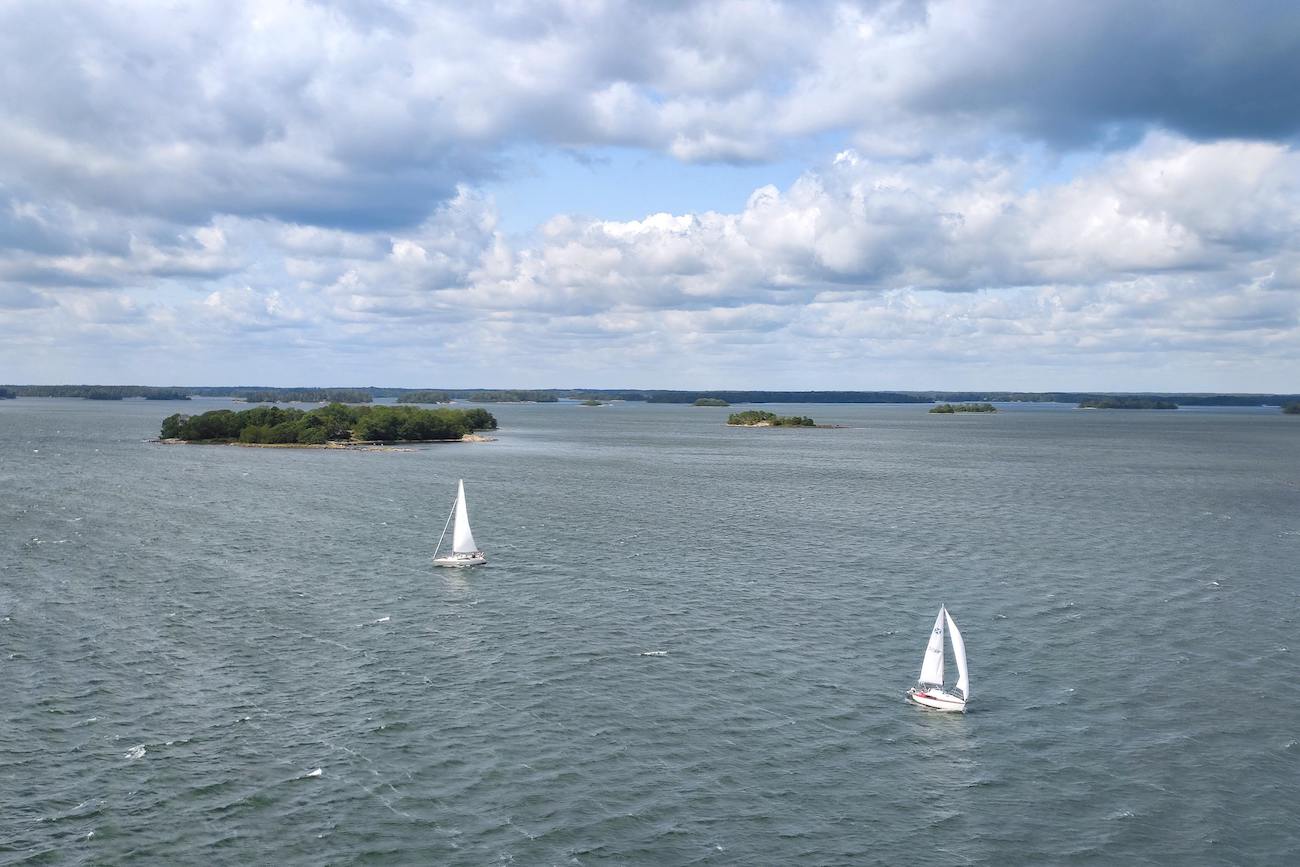 Jump to the relevant section [Show]
A Landscape of Islands
Islands, islets, and skerries dot the Baltic Sea around Finland's southwestern coast, appearing as far as the eyes can see. There are approximately 50,000 of them, making the Turku Archipelago the largest archipelago in the world by the number of isles.
Only a tiny portion of the archipelago is inhabited by about 60,000 residents. However, the population doubles during the summer as many Finns, like my friends, have a summer house or apartment on the islands.
Turku Archipelago: Immersion in nature
The Finnish Archipelago is a genuine paradise for nature and outdoor lovers. As you venture closer to the mainland, you'll find islands blanketed by forests and meadows. On the other hand, the outer archipelago is a striking contrast. Often swept by the winds, these islands feature sparse vegetation – mostly pines and juniper – or, in some cases, none. Wildlife includes three species of seals and moose.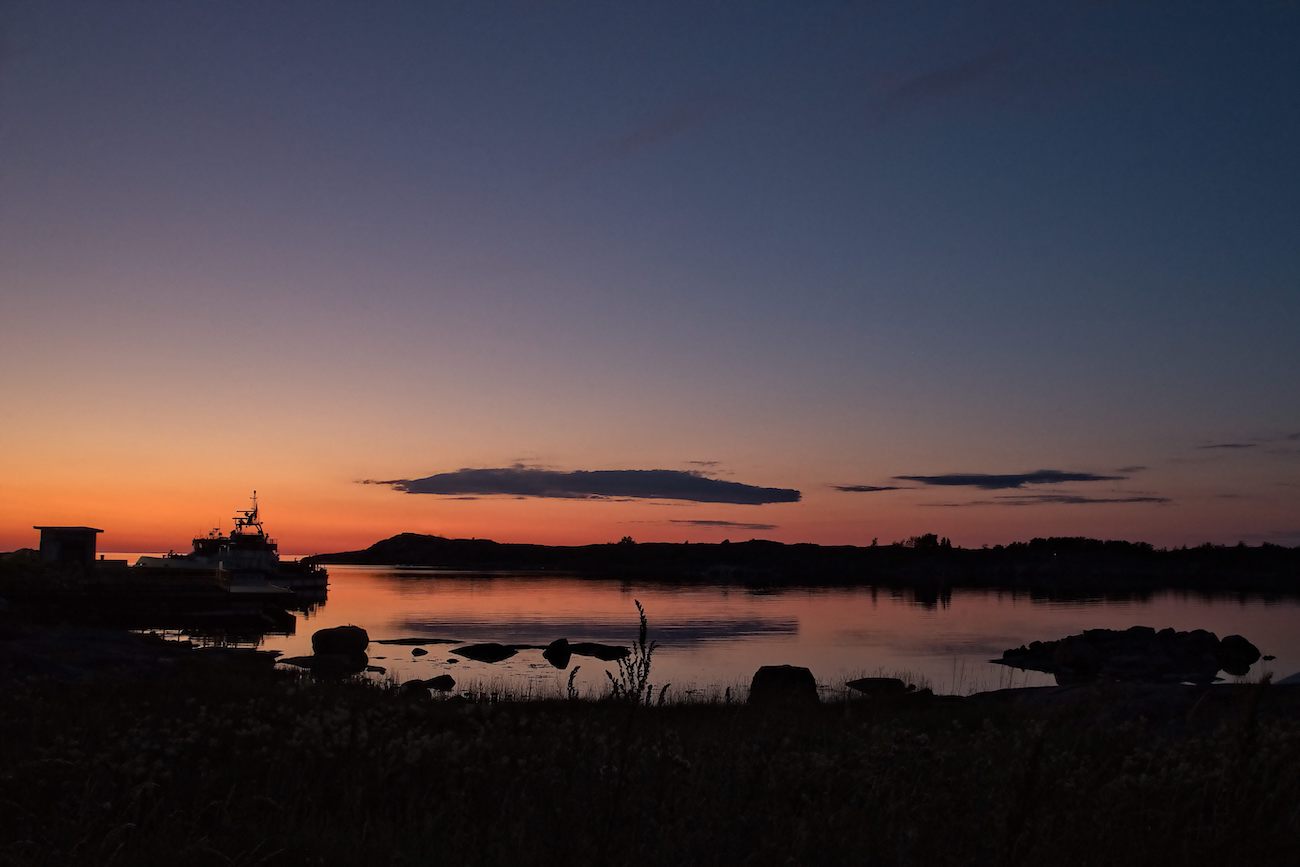 However, what sets the Archipelago apart is being a bird-watchers paradise. Aside from the ubiquitous gulls, whose various sounds accompany you at every time of the day… and night, there are 132 species of birds. You may spot the white-tailed eagle if you're lucky, so get your binoculars ready!
Turku: Gateway to the Archipelago
Whether visiting the Finland archipelago from Helsinki or Stockholm, your access will be Turku (Åbo, in Swedish). This charming city is much more than the gateway to the countless islands dotting the Archipelago Sea. Steeped in history, it's the oldest city in Finland.
Thanks to its privileged location, Turku was a trading hub during the Middle Ages. Under the Swedish rule, which lasted almost 700 years, from 1150 to 1809, its importance grew steadily. As a result of the 1809 Swedish War, Finland became a grand duchy part of Russia until 1917, when it eventually became an independent nation. In 1809, Turku became the capital, but only until 1812.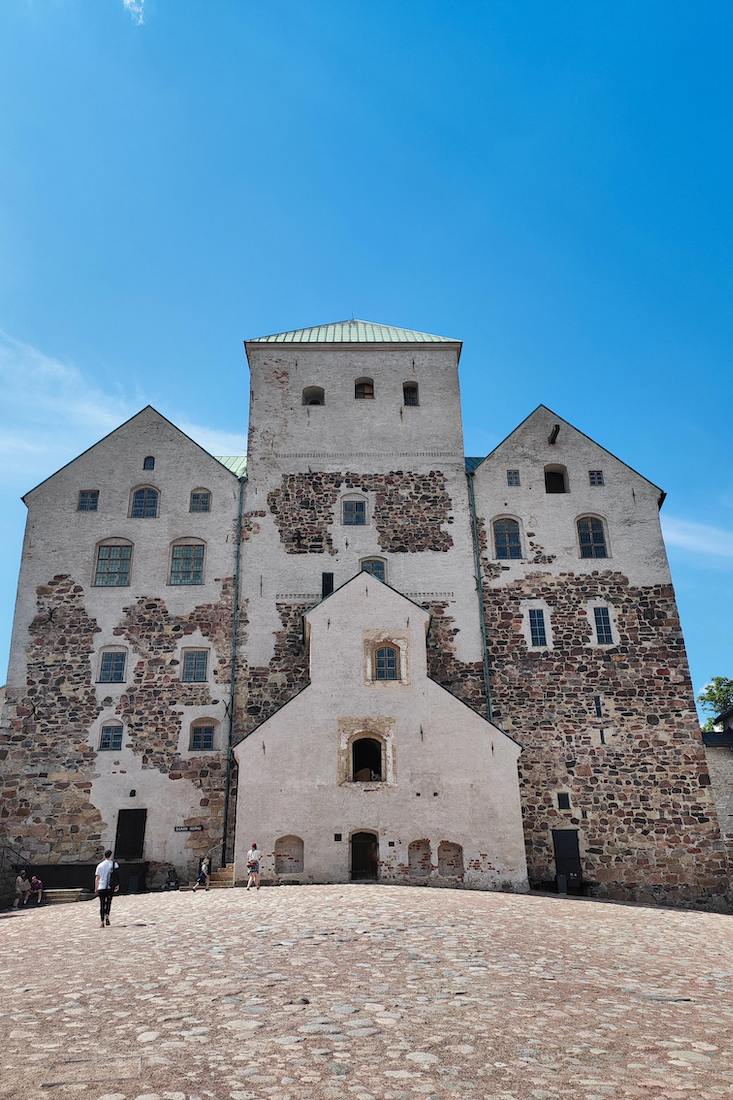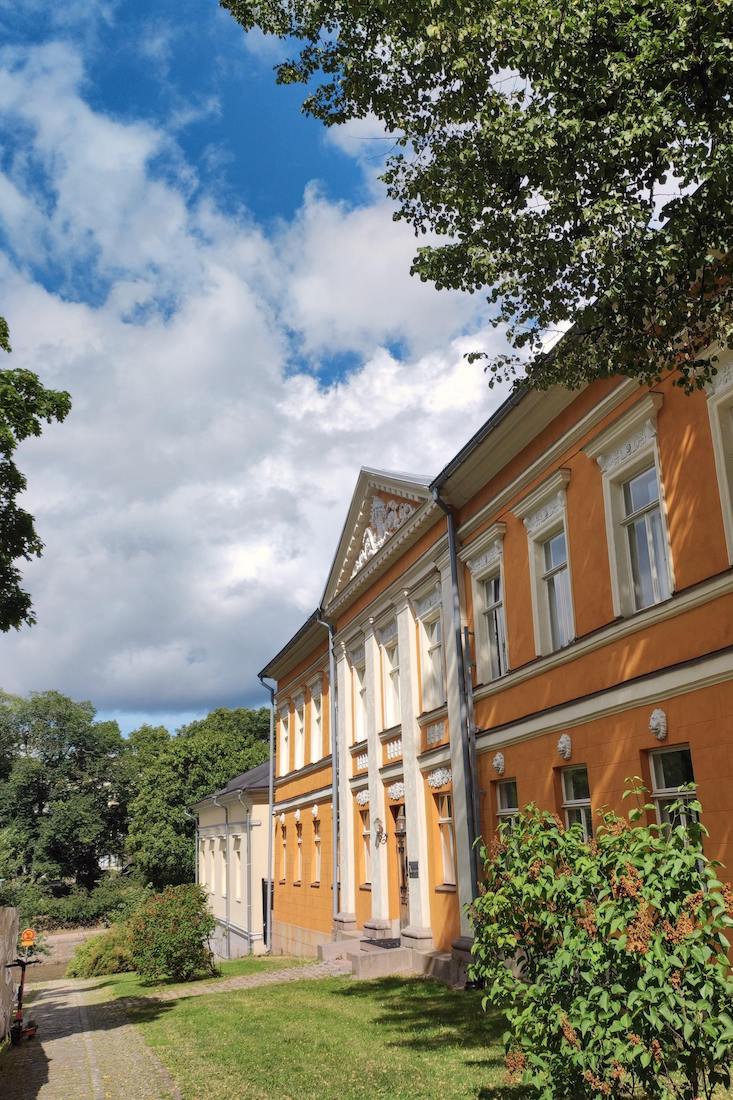 Unless you're short of time, Turku is worth visiting. I had a lovely time strolling along the Aura River, visiting the medieval castle and the cathedral, standing out for its characteristic shape. If you like markets, don't miss Market Square, where the stalls sell fresh local products and colourful plants, and locals gather at one of the al fresco cafes for a chat, a drink and pastries.
The Archipelago Sea
The Archipelago Sea stands as a unique haven for wilderness enthusiasts. The inner Baltic Sea, encompassing the Archipelago Sea, boasts an unusually low salinity level of approximately 0.5%. This distinction renders the water ideal for swimming and even for culinary purposes. The modest salinity also exerts a significant influence on aquatic life. Here, species typically associated with lakes thrive: perches, pikes, Baltic herring, and whitefish are abundant and frequently caught. So, get ready to eat plenty of delicious fish prepared in unique ways.
Finnish Archipelago: Best time to go
Summers in the Archipelago Sea usher in sun-drenched days and warm temperatures that can even get surprisingly hot. From mid-June through late August, almost endless days grace the archipelago, particularly around the midsummer juncture. That is undoubtedly the best time to go to the Finnish Archipelago, although I'd love to visit in winter, possibly when the islands are covered in snow and portions of the sea are iced. Despite the cold and short days, there must be a unique charm during the winter months.
Best things to do in the Finland Archipelago
A trip to the Finland Archipelago is all about relaxation, nature, local traditions and outdoor activities. Here are a few of the best things to do in the Turku Archipelago:
Explore the Archipelago trail by car, bike or hiking: this scenic 250-km ring road starting in Turku is accessible from mid-May to early September. However, you can visit many islands even when the circular trail is closed.
Discover the traditional Finnish sauna for a unique experience (and very different from what we're used to).
Enjoy water activities like fishing, kayaking, and canoeing.
Taste the delicious local organic food; don't miss eating lots of berries (I had the best strawberries ever in Finland!) and plenty of fish (salmon, herring and white fish) cooked in the traditional Finnish way.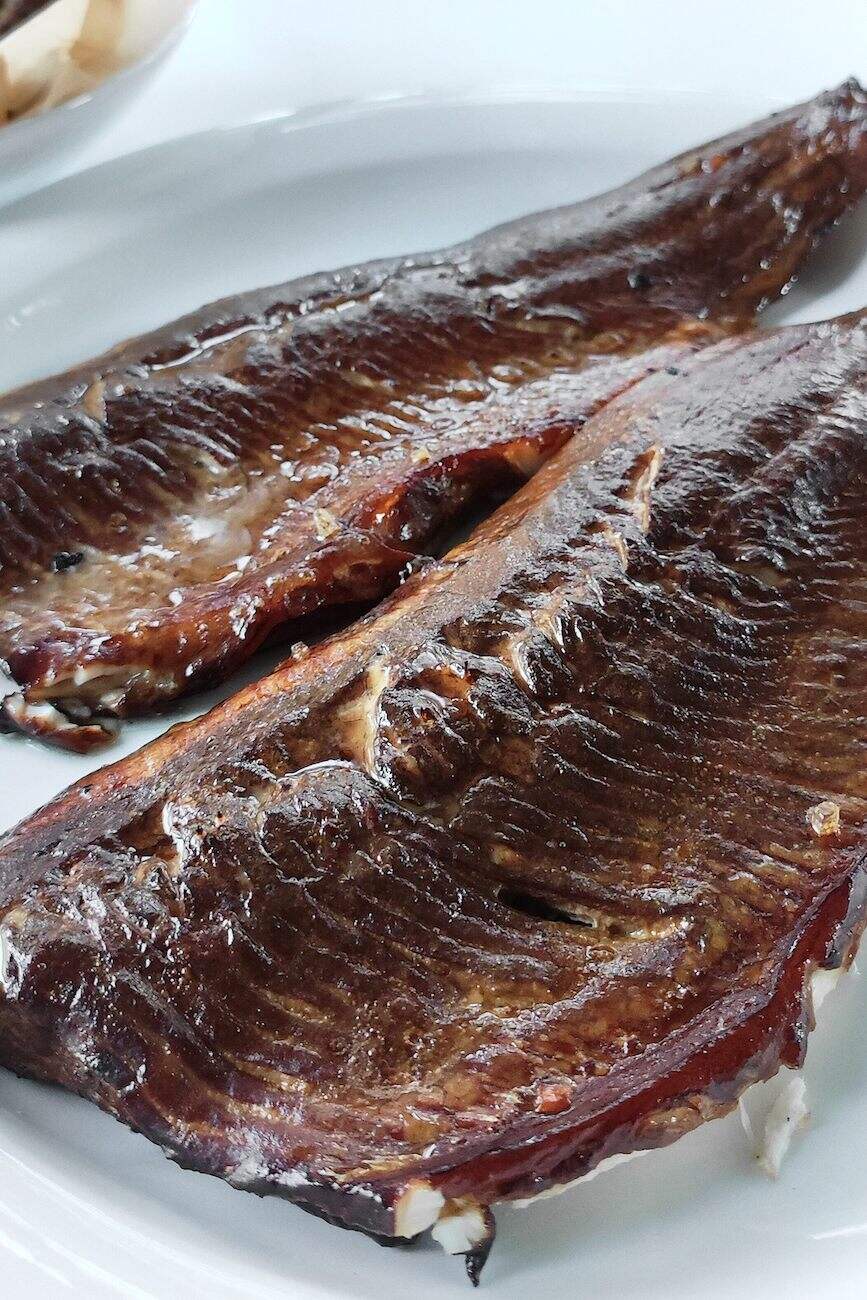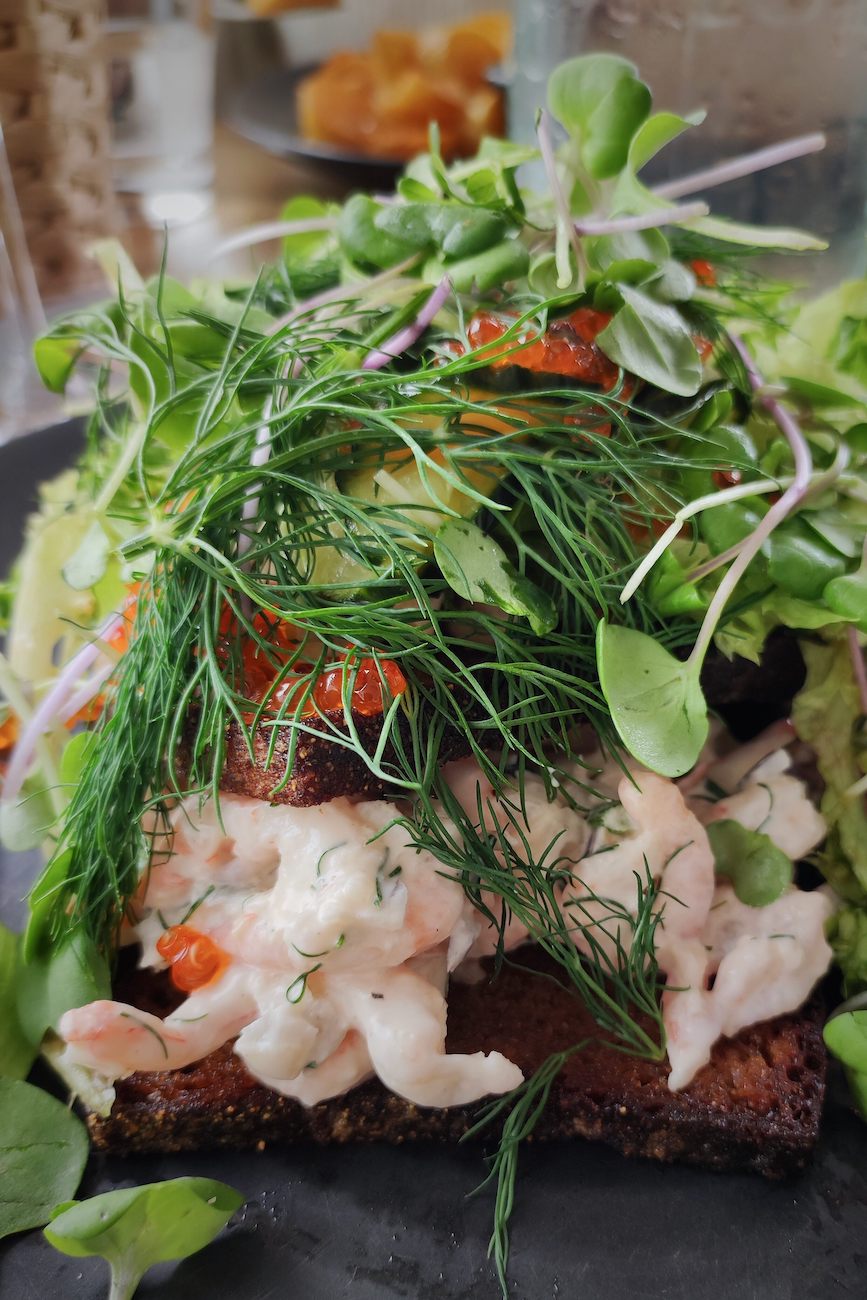 Island hopping in the Turku Archipelago
The true essence of the Turku Archipelago experience lies in island hopping. Travelling from one island to another by boat allows visitors to immerse themselves in the Baltic Sea's tranquillity and discover each island's unique characteristics. Whether you're seeking solitude or a lively atmosphere, there's an island that perfectly suits your preferences. Several of the larger islands in the Finnish Archipelago Sea are inhabited, and a handful of these are linked by ferries and bridges, facilitating exploration and connectivity.
With so many islands, one can only discover a few. I'll tell you about the ones I visited with my Finnish friends, among the most beautiful.
Korpo – Where Nature Meets Art
Korpo (Korppoo) is an excellent base to explore more islands, thanks to its three ferry harbours: Pärnäs, Galtby and Verkan. Although inhabited all year, it becomes busy, especially in summer, when many people from inland spend the holidays and weekends in their cottages.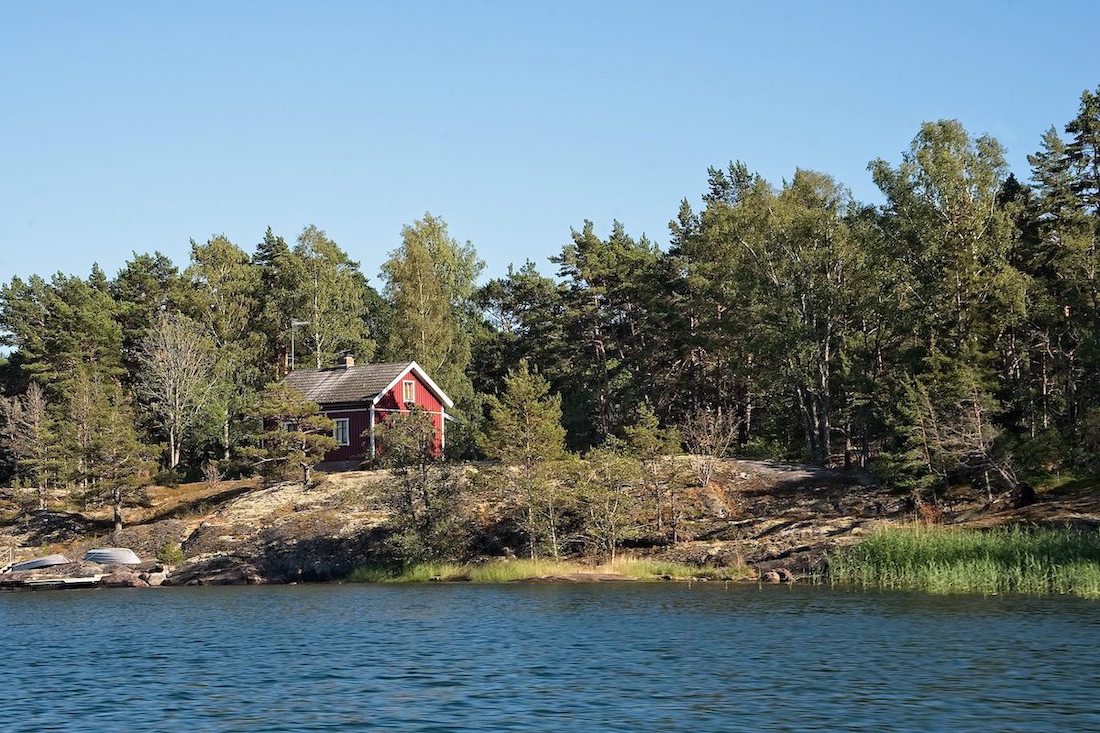 Don't miss to visit the ancient medieval church, Korpo's oldest building. Outside, the grey stone walls give the building an austere and elegant allure. It's, however, the interior that stole my heart. The beautiful internal architecture has an intimate and spiritual atmosphere, with its ogive arches and wooden benches. My friends married in this charming little church, and when we visited, they felt understandably moved.
The island is also known as a vibrant cultural and art centre, with several musical festivals, including the Sibelius Festival, organised by my friend Petri, and Korpo Sea Jazz (taking place mid- and late July, respectively).
Nauvo – A Tranquil Haven
Nauvo (Nagu) is a serene island renowned for its lush greenery and tranquil ambience. We went there with Petri's boat from Korpo, but you can easily reach the island by ferry from Pargas (Parainen).
The charming village of Nauvo welcomes visitors with its quaint wooden houses and picturesque harbour, where you can enjoy a drink or a bite at one of the al fresco restaurants. It's the perfect place to stroll along the scenic paths, bask in the calming atmosphere, visit the local shops and discover the beaches.
Utö – The Southernmost Island
Utö – not to be confused with the small island of Utö in Sweden, in the Stockholm Archipelago – was one of the highlights of my trip to southern Finland, and I strongly recommend visiting. This idyllic island – the southernmost inhabited island in the Archipelago Sea – is home to Finland's oldest operating lighthouse. Standing tall and proud, it has guided sailors since the 18th century, allowing them to navigate treacherous waters.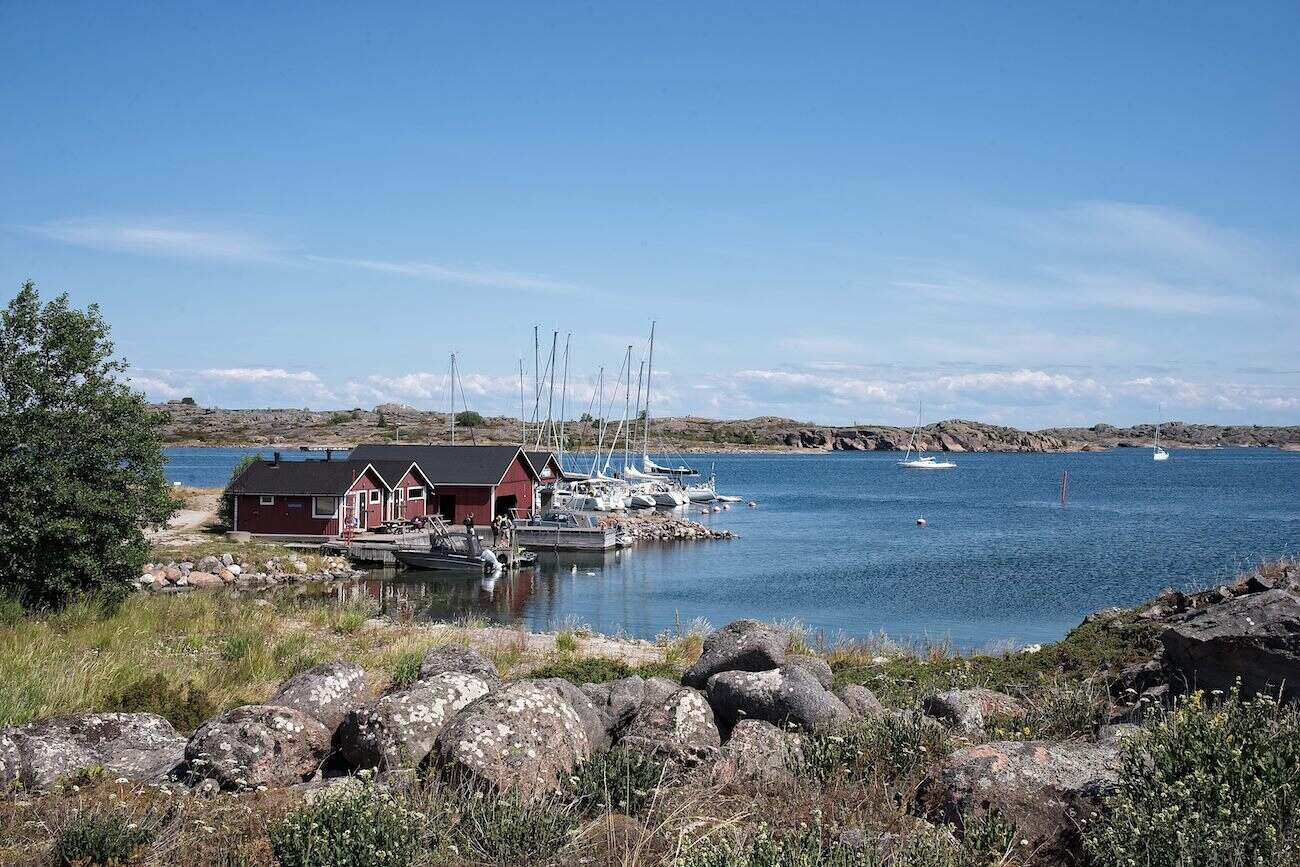 Unlike the islands closer to the mainland, the Utö landscape is rugged, barren and wilder. As no cars are allowed on the island, Utö is an oasis of peace that one can easily explore walking around. It's also a birdwatcher paradise, thanks to the many migrating birds.
Getting to know and spend time with Petri and Tuuli's friends, Markus and his wife, made my stay even more unique. Not only were they two of the kindest and most hospitable people I ever met, but I also found out that Markus Varesvuo is one of the most talented bird photographers in the world. If you visit Utö – which I hope – don't miss to look at the large posters with beautiful shots by Markus near Utö Havshotel "Sea Hotel".
Åland Islands
The Åland Islands offer a unique blend of history, culture, and natural beauty, so it's no wonder they're a trendy holiday destination.
Located in the Baltic Sea between Sweden and Finland, these islands have been a crossroads of cultures and a source of dispute for centuries. Over the centuries, Åland's strategic location made them a desirable target for both trade and conquest. For most of their history, the Åland Islands were under Swedish dominion. They were a part of the Kingdom of Sweden from the 13th century until 1809, when they became a part of the Russian Empire as a result of the Finnish War.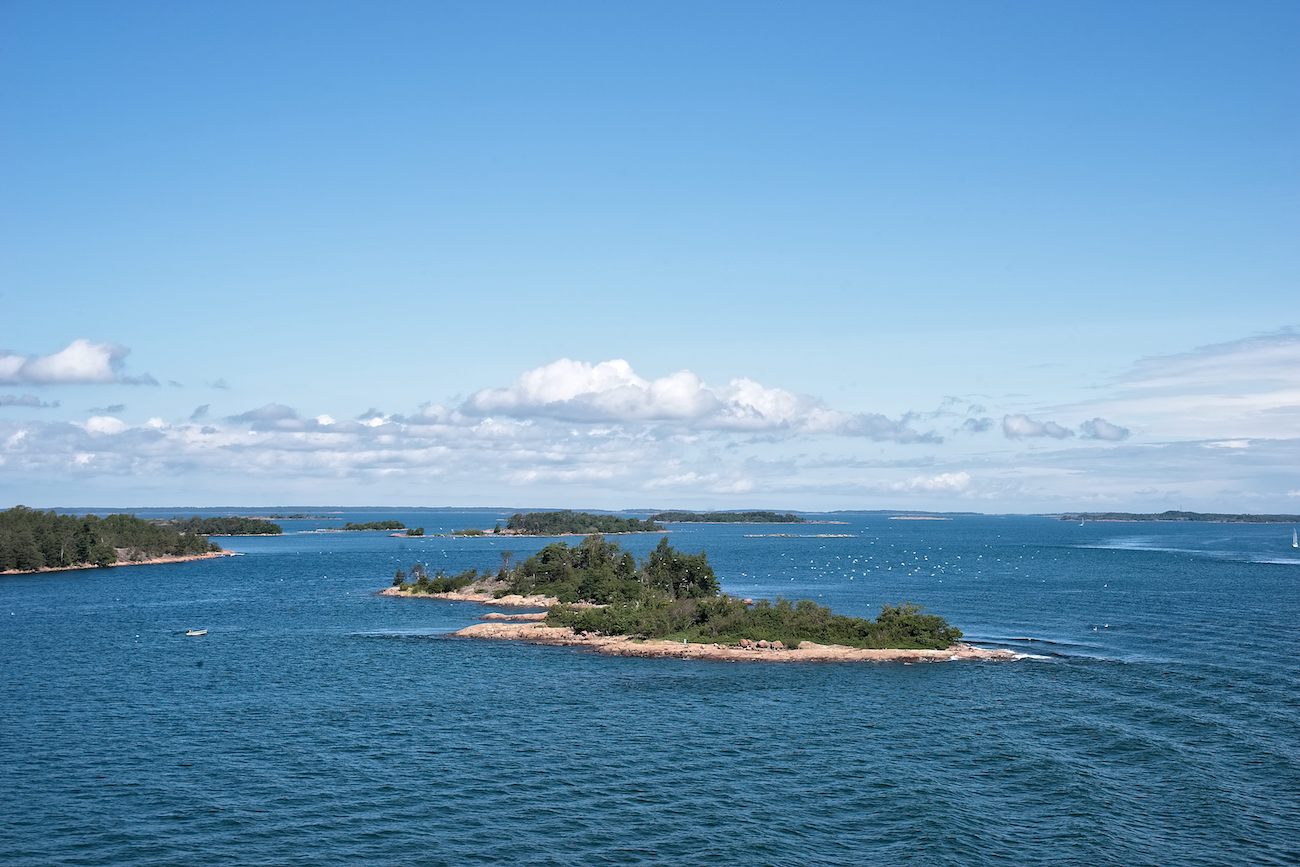 After Finland's independence from Russia in 1917, the Åland Islands gained a degree of autonomy within Finland. The islands have their own parliament and legal system, and Swedish is the official language.
Visiting Åland in July was utterly expensive, so I eventually gave up. However, as I travelled from Turku to Stockholm by boat, I could admire the natural beauty of the Åland Islands.
Turku Archipelago: Practical Information
Here's all you need to know to plan your trip:
Getting There:
By Air: The closest major airport is Turku Airport (TKU), which has domestic and limited international flights. Alternatively, you can fly into Helsinki-Vantaa Airport (HEL) and take a train or bus to Turku, taking approximately 2 hours. International flights to Helsinki are generally cheaper.
By Train: The Finnish railway network is efficient and well-connected. Trains run regularly from Helsinki to Turku. You can also take a train to Naantali, a town near the archipelago.
By Bus: Buses are another option, with services connecting Turku to various cities in Finland. They are comfortable and provide a cost-effective way to reach your destination.
Getting Around:
To explore the Turku Archipelago, you must rely on boats and ferries. Numerous ferry routes, water taxis, and even scheduled passenger boats exist. Foot passengers can travel on public ferries for free, while you'll need to buy a ticket for tourist ferries or taxi boats. In Turku and the larger islands, you can get around by bus; alternatively, you can rent a car.
CHECK OUT THE BEST CAR RENTAL OPTIONS
Best Time to Visit:
The best time to visit the Turku Archipelago largely depends on your interests:
Summer (June to August): This is the peak tourist season when the weather is good and warm, and most services and attractions are open. You can enjoy outdoor activities, festivals, and highly long daylight hours.
Spring (April to May) and Autumn (September to October): These shoulder seasons offer fewer crowds and more affordable prices. The landscape is beautiful, and you can still engage in outdoor activities, although some services may have reduced hours.
Winter (November to March): Winter can be pretty cold, and daylight hours are limited. While some visitors appreciate the snowy, serene landscape, many activities and accommodations may be closed.
Currency:
The currency used in Finland, including the Turku Archipelago, is the Euro (EUR). Credit and debit cards are widely accepted, and you'll find ATMs in most towns and villages for cash withdrawals (although you'll need very little of it).
Language:
The official languages of the Turku Archipelago are Finnish and Swedish. However, most people understand and speak English, especially in tourist areas.
Food:
Finnish cuisine is known for its simplicity and reliance on fresh, local ingredients. Some dishes to try in the Finnish Archipelago include:
Fish: As an archipelago, seafood is a highlight. Try smoked fish, salmon soup, or perch dishes.
Ruisleipä: Dark rye bread, a staple in Finnish cuisine.
Berries: Finland is abundant in berries. They're expensive but unbelievably delicious!
Local dairy products: Enjoy Finnish yoghurt and cheese.
Traditions:
Sauna: The sauna is an integral part of Finnish culture. Many accommodations in the archipelago offer private saunas for guests.
Midsummer: The Midsummer Festival (Juhannus) is a significant celebration in Finland, marked by bonfires, traditional dances, and festivities. It takes place on the Saturday between the 20th and 26th of June.
Cottage Life: Many Finns have summer cottages in the archipelago, and experiencing a traditional cottage stay is a unique cultural experience.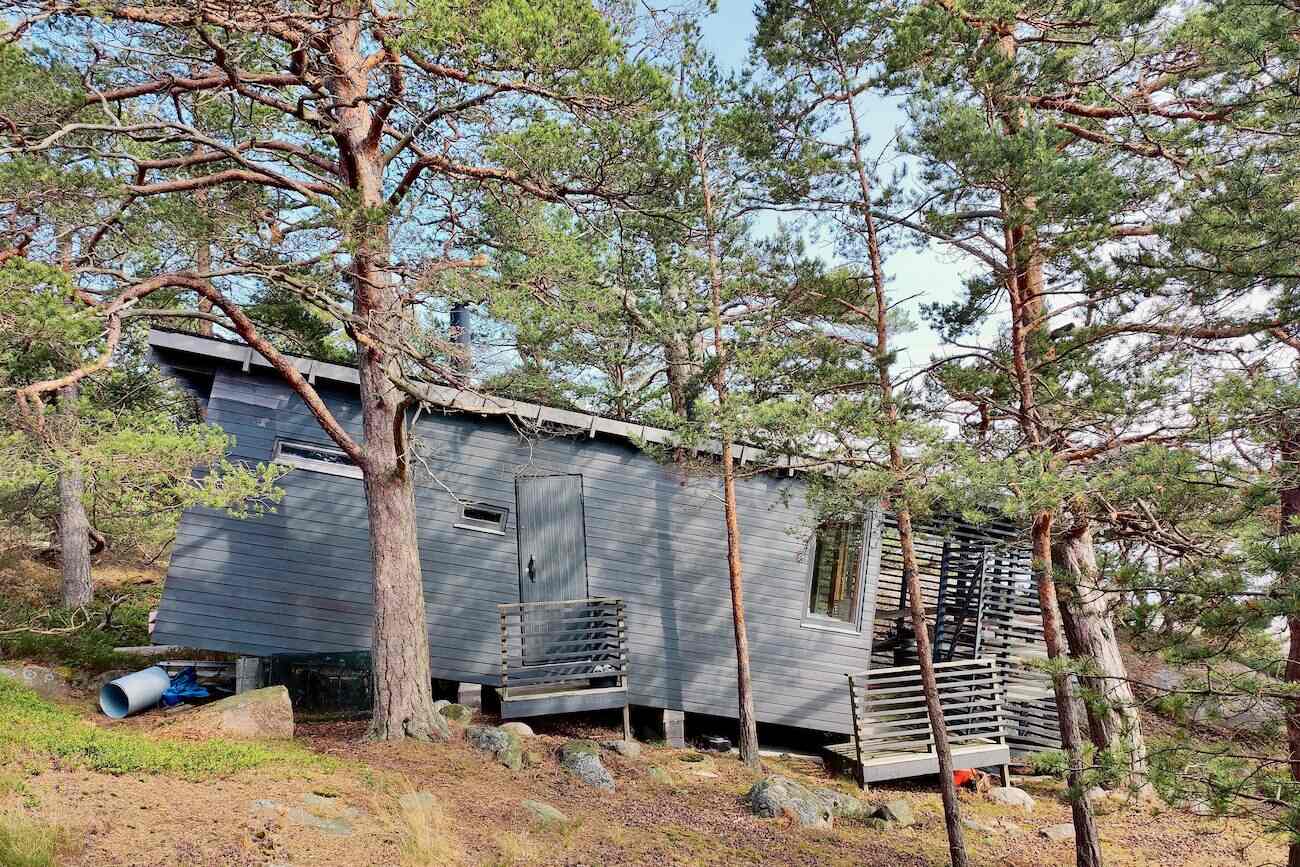 Where to stay in the Turku Archipelago:
Turku: Centro Hotel is located only 3 minutes from Market Square. It features modern rooms with breakfast included.
Korppoo: Hotel Nestor & Restaurant Back Pocket is set in a typical red Finnish house recently renovated. The rooms are cosy and tastefully decorated, and continental breakfast is included. The hotel features many amenities, including free parking and a private beach area.
Nagu: Hotel Stallbacken, surrounded by Manor Park, is the perfect choice if you seek to immerse yourself in nature. The hotel features a wooden-fired sauna, a private beach and bike, boat and canoe rentals.
Åland, Eckerö – Käringsund Resort is only a 15-minute walk from Berghamn Ferry Terminal. You can choose between cottages, bungalows, and villas with one, two, or three bedrooms. The resort features multiple amenities, including a private beach, a sauna, and a wooden hot tub, and provides bicycles, canoes and kayak rentals.
Åland, Geta – If you're looking for a unique and romantic place to stay in the Åland Islands, look no further than the Snäckö Canvas Hotell & Kajak. Beautiful tents, stunning sea views, and a total immersion in the untamed nature.
Don't forget…
Travel insurance, for your peace of mind. Issues can happen, and you want to minimize the negative impact they may have. Two good companies are Travelex and World Nomads.
A universal travel adapter, including USB-A and USB-C ports.
If you're travelling to Finland from a country outside the EU, consider buying an e-SIM to stay connected at a reasonable cost. However, check that your mobile phone model is compatible and supports e-SIM.
Pin for later