Last Updated on February 7, 2022 by Simon
Not sure where to stay in Zurich? Here's an overview of the main neighborhoods, and a selection of some of the best hotels in Zurich.
Switzerland is a magnificent country, but it's no secret that it's one of the most expensive destinations in the world. If you have a limited budget, deciding where to stay in Zurich to get the best value for money is essential. And even if costs are not a concern, you'll want to find the right hotel in Zurich and the best location.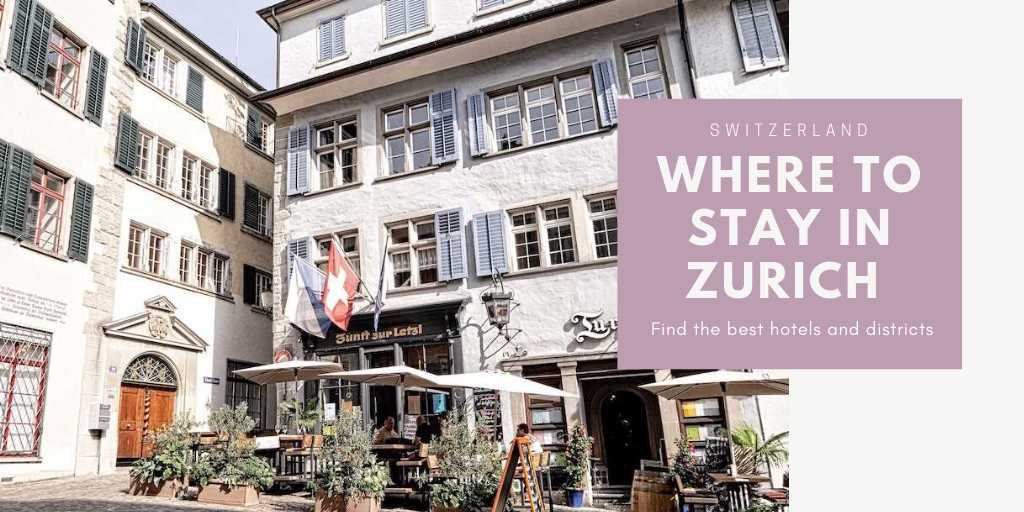 In any case, when you visit Switzerland it's worth spending at least one day in Zurich. The old town is beautiful, the lake is charming, and there are plenty of things to do.
Quick overview – Where to stay in Zurich
Zurich neighborhoods overview
Altstadt (District 1)
The old town encompasses the area from the Central Station to the lake, along both sides of the river Limmat. That is undoubtedly the best area to stay in Zurich if you're spending only one day. In fact, by choosing a hotel in the Altstadt, you'll be able to walk to the main sights. Additionally, if you wish to explore further, there's plenty of public transportation to quickly and easily reach farther areas, like the Uetliberg.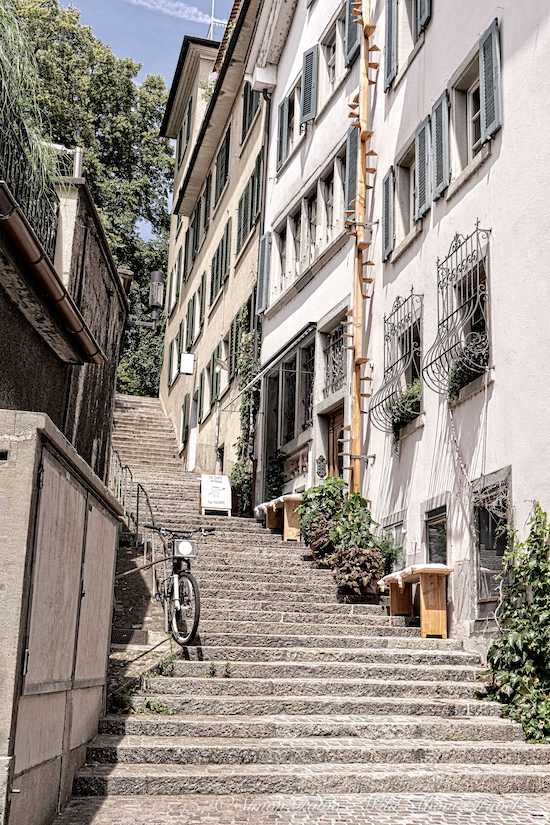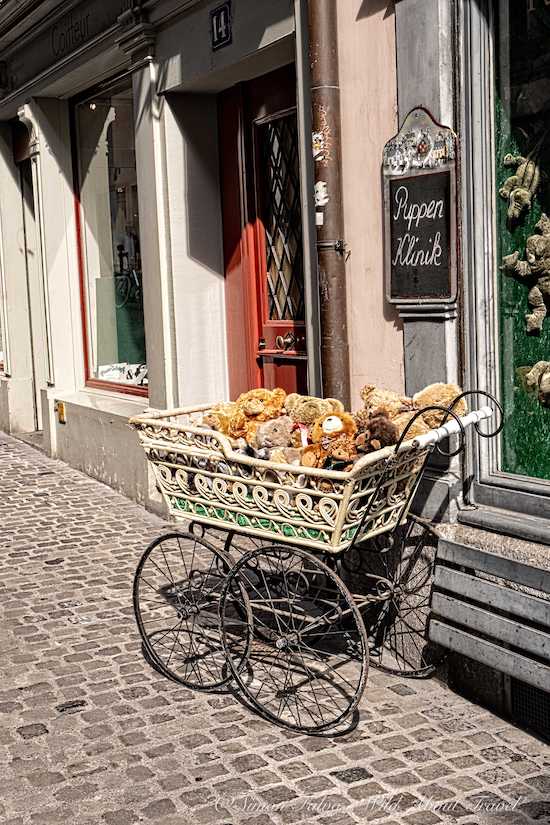 Things to do in Zurich Altstadt
– Get lost in the alleys of the old town
– Take a guided tour of the Old City and get insights into the city's fascinating history.
– Visit Grossmuenster, one of Zurich main landmarks, and climb the Karlsturm to admire the city and the lake from above
– Relax on a boat cruise along the Limmat River or on Lake Zurich
– Indulge yourself at the Confiserie Sprüngli
– Visit Kunsthaus Zurich, the city's most important art museum
– Explore the city with a private tuk-tuk tour
– Combine sightseeing, food and wine with a Swiss Cheese Fondue and Wine Tuk-Tuk Tour
Langstrasse (District 4)
As a matter of fact, the former red lights district has become a vibrant neighborhood west from the Central Station. Consequently, today Langstrasse has plenty of bars and international restaurants where local young people gather regularly. Hence, it's the area to go if you want to experience Zurich effervescent nightlife.
Enge & Wollishofen (District 2)
South of District 1 and on the left shore of Lake Zurich, the large District 2 is a great neighborhood if you want to stay close to the lakeshore but not far from the Center. That's a great area to stay in Zurich for families since there are many activities suitable for kids.
Things to do in District 2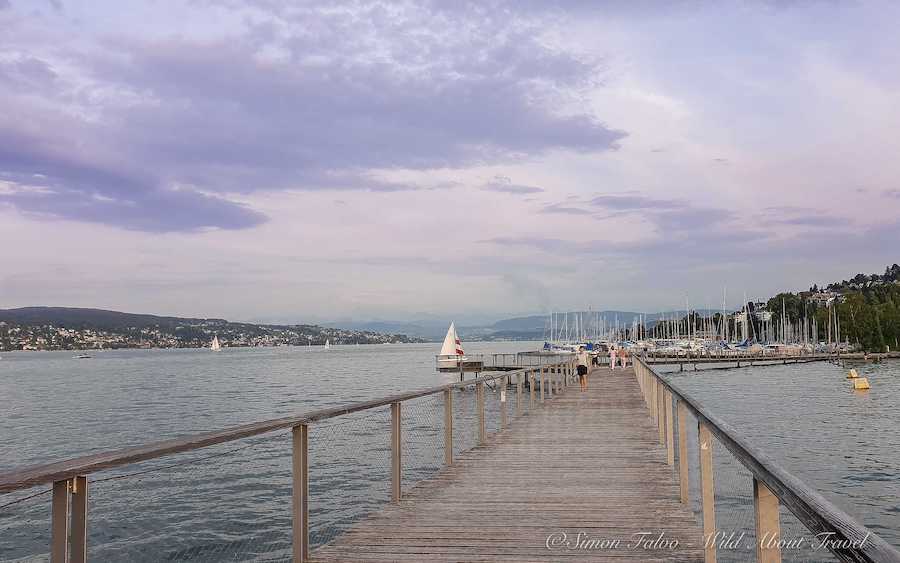 – If you're a football fan, you may want to visit the FIFA World Football Museum.
– Alternatively, art lovers may want to explore the Museum Reitberg. Set in a beautiful park, the Rietberg Museum indeed features an excellent collection of works of arts from Africa, Asia, America, and Oceania.
– Relax and pamper at the beautiful Thermalbad & Spa Zurich. Bath surrounded by the vaults of an ancient brewery and enjoy the rooftop pool.
Seefeld (District 8 )
Starting at the southern edge of the Altstadt, Seefeld develops along the right shore of the lake. Actually, you're still within walking distance to the Old Town but in a quieter and upscale neighborhood. Seefeld is indeed an excellent area if you want to stroll on the lakeshore promenade and enjoy a swim or a boat ride.
Airport (District 11)
Unless you have to catch a very early flight, there's no reason to stay close to Zurich Airport. However, overnighting near Kloten might be your only option, and you'll want to know which are the best accommodations near the airport.
Where to stay in Zurich: Best hotels by district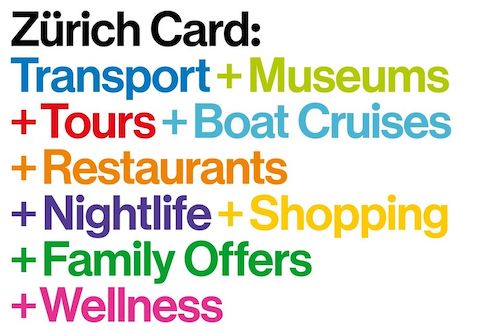 Even if you choose to stay in Zurich Old Town, you may want to explore the city further. Maybe a boat tour on the lake, or a cable car ride to the Uetliberg.
The 24- or 72-hours Zurich Card gives you access to all public transportation, including boats and cable cars. Additionally, you'll get free or discounted access to many museums, and you can see further Zurich attractions.
Best hotels in Zurich Altstadt
The Altstadt is undoubtedly the best area to stay in Zurich if you're visiting for only one day. Being within walking distance to the main attractions comes at a price though, and there's not much in terms of budget accommodations in the Old Town. You can, however, find good medium-price hotels and, of course, boutique and luxury hotels.
The area nearby the Central Station is the one I would recommend if you're staying a bit longer (or visit on a work trip) and plan to have one or more day trips from Zurich.
Tip: If you want to discover a charming town, I strongly recommend you visit Stein am Rhein. The small historic centre, with the painted facades, makes it one of the most beautiful and surprising excursions from Zurich.
citizenM Zürich is a modern and stylish hotel offering moderately priced rooms.
The fashionable Hotel Scheuble is close to the train station and in one of the most charming areas of Zurich Old Town.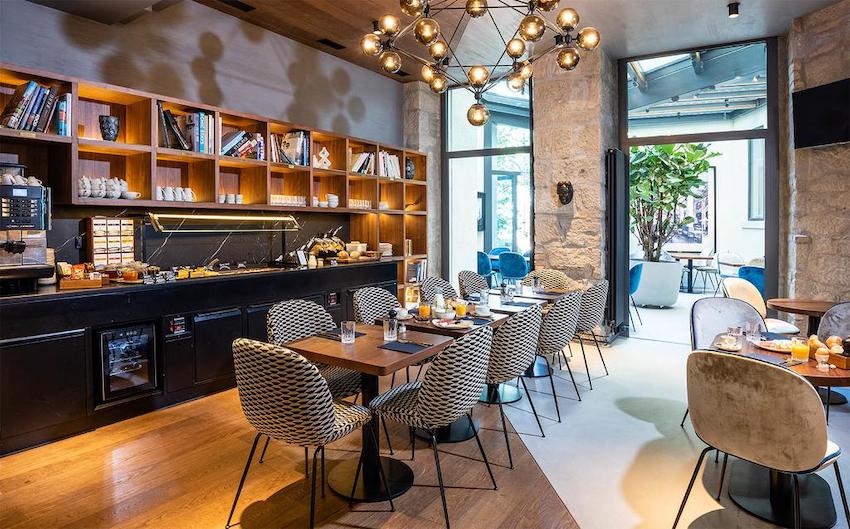 Hotel Scheuble, Zurich
Motel One Zürich is elegant and full of character. The hotel is excellent value for money, and you can treat yourself with a lovely stay without breaking the bank.
Hotel Florhof combines a contemporary décor with old furniture. Set in an elegant building dating back to the 18th century, the hotel features a charming patio, perfect for relaxing.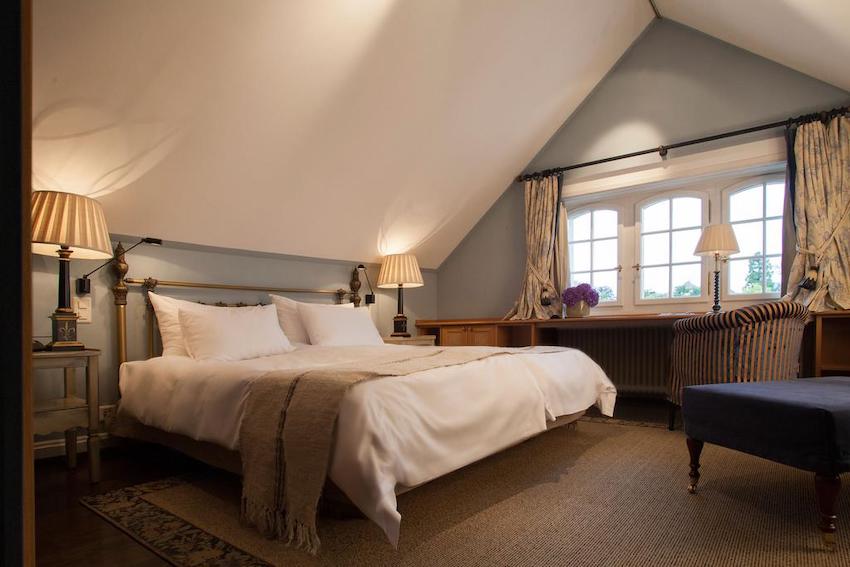 Hotel Florhof, Zurich
If you're looking for a romantic and luxurious getaway, Hotel Baur au Lac is the place to go. Baur au Lac features a private park and beautiful views of Lake Zurich. Furthermore, it boasts a fitness center and a 1 Michelin star restaurant.
The fantastic Le Bijou Penthouse is an excellent option for a small group of friends. In fact, it's an uber stylish apartment with a spectacular view of the Limmat river, where you'll feel at home.
Best hotels in Enge & Wollishofen
While you can walk to Zurich Old Town from Enge, Wollishofen is a bit too far. However, there's plenty of public transport, which in Switzerland is extremely efficient. In addition, from Wollishofen you can easily reach the Uetliberg, Zurich mountain, from where you get beautiful views of the lake.
B2 Boutique Hotel + Spa is set in a former brewery and features rooms with a contemporary design. Additionally, B2 has a rooftop pool and is a perfect choice if you want to experience a unique place.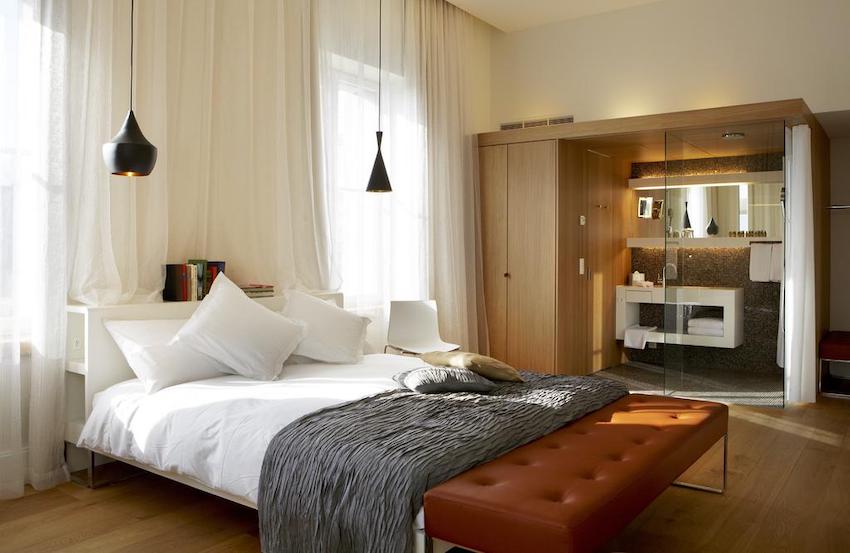 B2 Boutique Hotel + Spa Zurich
Engimatt City & Garden Hotel is surrounded by a beautiful garden and features large modern rooms. The Altstadt is a 15-minute walk, and it takes less than 10 minutes by tram to reach the Central Station.
In between the Altstadt and Enge, the Alden Suite Hotel Splügenschloss Zurich is a small 5-stars hotel set in an elegant old building. Indeed, it's a perfect choice if you want to be within walking distance from the Center in a quiet area.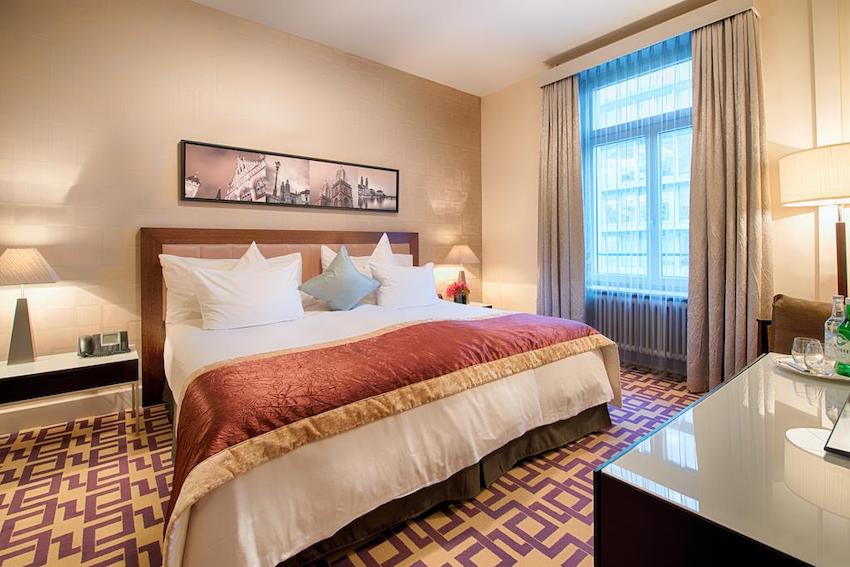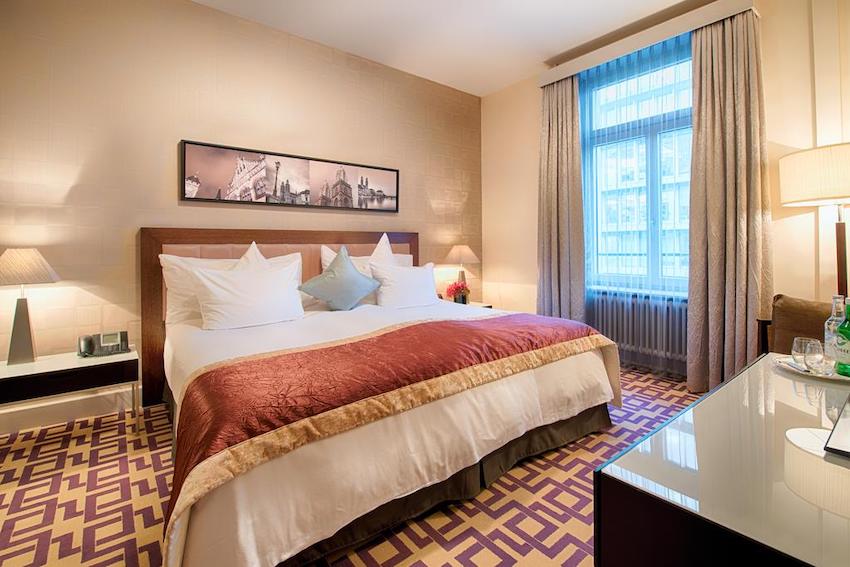 Alden Suite Hotel Splügenschloss Zurich
Best hotels in Langstrasse
Most hotels in the Langstrasse neighborhood are within walking distance from the Central Station and the Old town. In fact, in District 4, you are ideally located to combine sightseeing and nightlife.
25hours Hotel Langstrasse is a lovely hipster hotel with a unique flair. Quirky and colorful, it's one of the cool hotels in Zurich.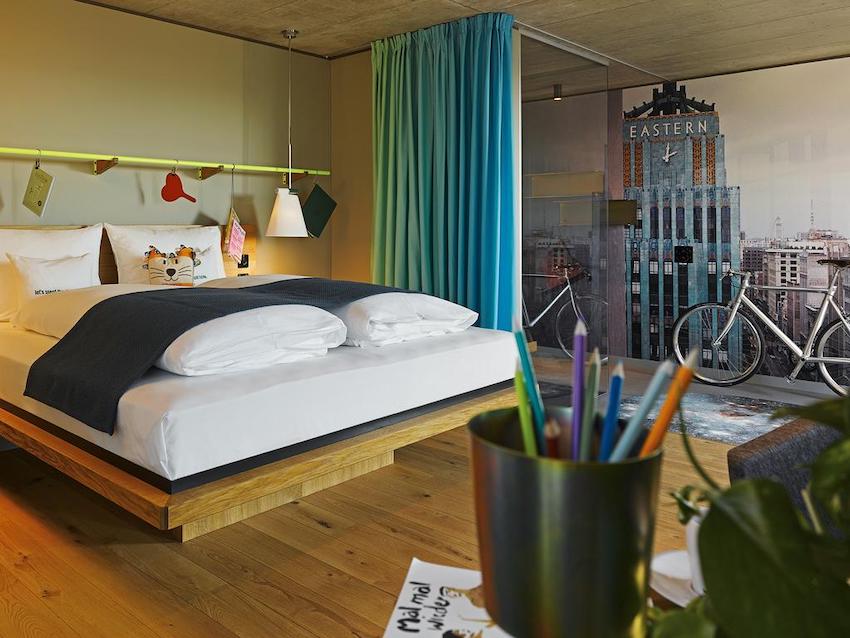 25hours Hotel Langstrasse Zurich
The stylish The Yard Zürich is located in an area boasting trendy bars and boutiques. The rooms are tastefully decorated, and the prices affordable.
Set in a modern building, Greulich Design & Lifestyle Hotel features rooms with a contemporary design. The hotel also features a terrace and medium-range prices.
Top hotels in Seefeld
A charming area with a lovely promenade on the lakeshore and perfect for swimming, sailing or sunbathing, Seefeld is actually close enough to the Center.
Modern and stylish, Hotel Seehof is located right being the Opera House, in between the Old Town and Lake Zurich.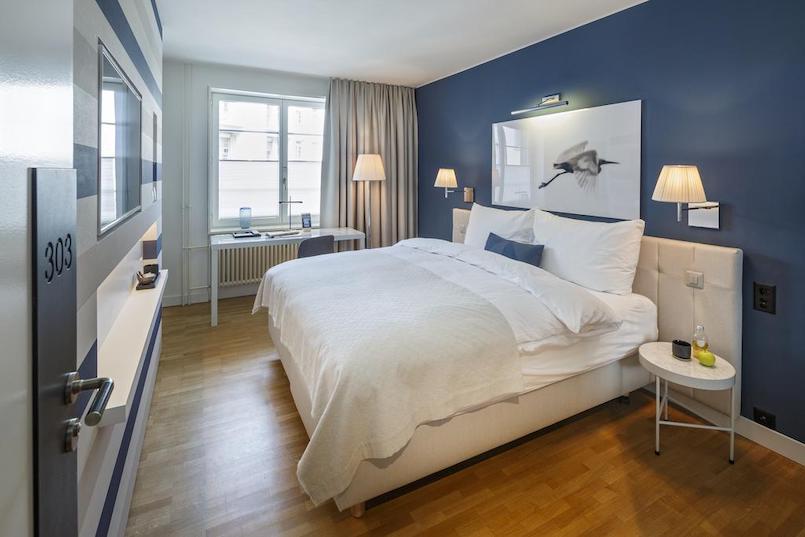 Hotel Seehof Zurich
Overlooking the promenade, Steigenberger Hotel Bellerive au Lac has classic and elegant décor. A plus is a terrace from where you can admire the lake.
Lady's First Hotel is only steps from the lake, in a quiet area within walking distance from the Altstadt.
Finally…
Hotels near Zurich Airport
As mentioned earlier, there's no reason to stay close to the airport, unless you have a very late arrival or departure. In any case, Zurich Airport is very well connected to the Central Station. Furthermore, the Zurich City Card includes transport from/to Kloten Airport. Alternatively, you can book a private transfer from Zurich airport to the city.
The Radisson Blu Hotel Zurich Airport has a direct walkway to the Terminal and features modern rooms, with all comforts.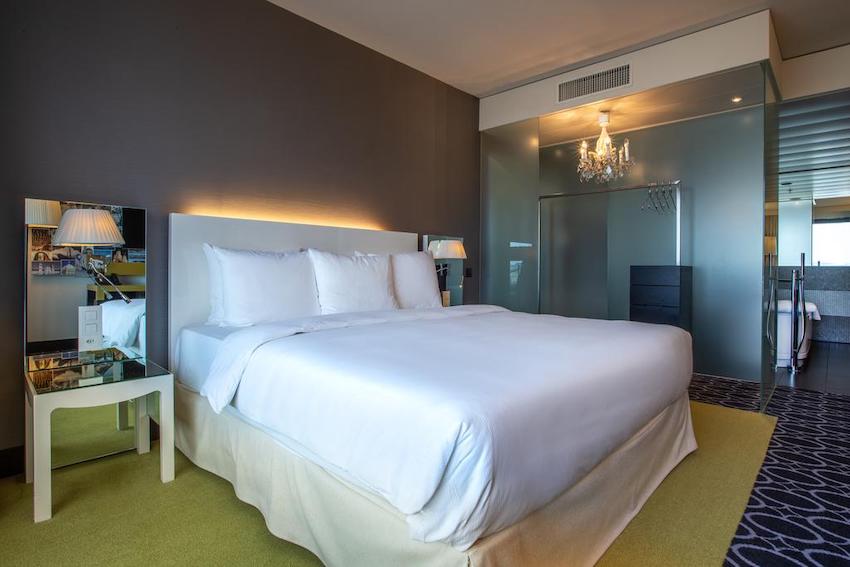 Radisson Blu Hotel Zurich Airport
Radisson Hotel Zurich Airport is cheaper, but also farther away. The hotel provides a shuttle service from 5:00 am to 11:30 pm.
Mövenpick Hotel Zurich Airport is a 5-minute drive from/to the airport and notably offers a free shuttle service every 15 minutes. The rooms are modern and elegant.
Wrapping things up
Zurich is much more than Switzerland financial hub. In fact, not only the city has a long history, reflecting in the charming Altstadt. It's also lively and pulsing creativity. Aside from the beautiful architecture, Zurich surprised me with its unique vibe.
Before you go
Don't forget to
– Buy a worldwide travel adapter
– Buy travel insurance
– Download the app Xe.com to check the value of your expenses while visiting Switzerland
_______
This post contains affiliate links to products and services I either tested or carefully selected. If you make a purchase, I get a small commission at no extra cost for you.
Pin for later!