Are you dreaming of ski holidays in Switzerland? From romantic alpine villages to glamorous towns, there are many fantastic mountain resorts in Switzerland. Choosing is not easy, so let me help you identify the best Swiss ski resort for you.
Whichever the destination, you can hardly go wrong in Switzerland. The alpine scenery ranges from beautiful to magnificent. Ski slopes for any level are abundant, and skiing in the Swiss alps is a real treat. And even if you're not a skier (or not yet), winter holidays in Switzerland are a lot of fun, and there's plenty to do.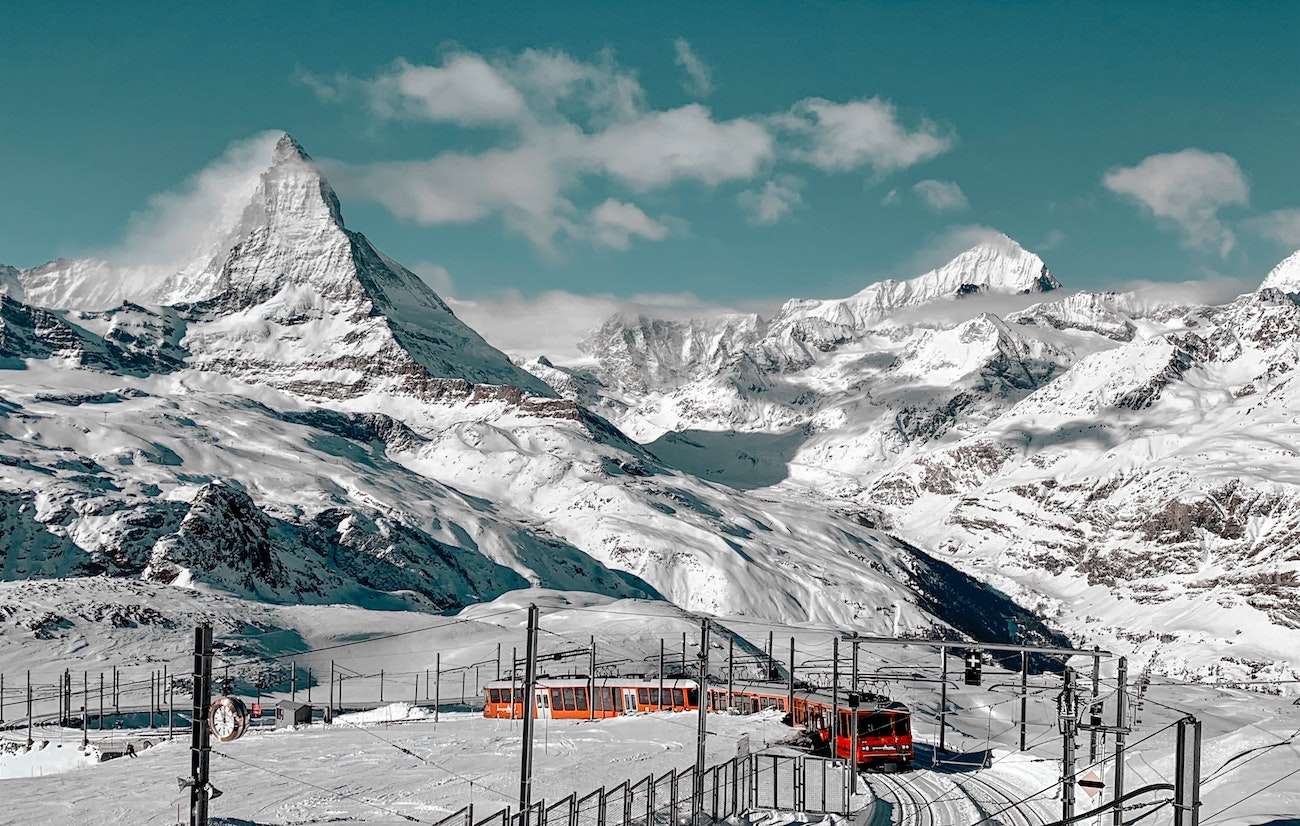 Jump to the relevant section [Show]
Which are the best ski resorts in Switzerland?
If you wonder which are the best places to ski in Switzerland, there's no straight answer to the question. Every resort is unique. Romantic villages like Gstaad. Glamorous destinations like St. Moritz. Or car-free Zermatt, with its views of the iconic Matterhorn.
Then there are the ski areas. While all of them offer various easy, intermediate, and challenging slopes, no doubt deciding where to spend your ski holidays in Switzerland should take into account your experience.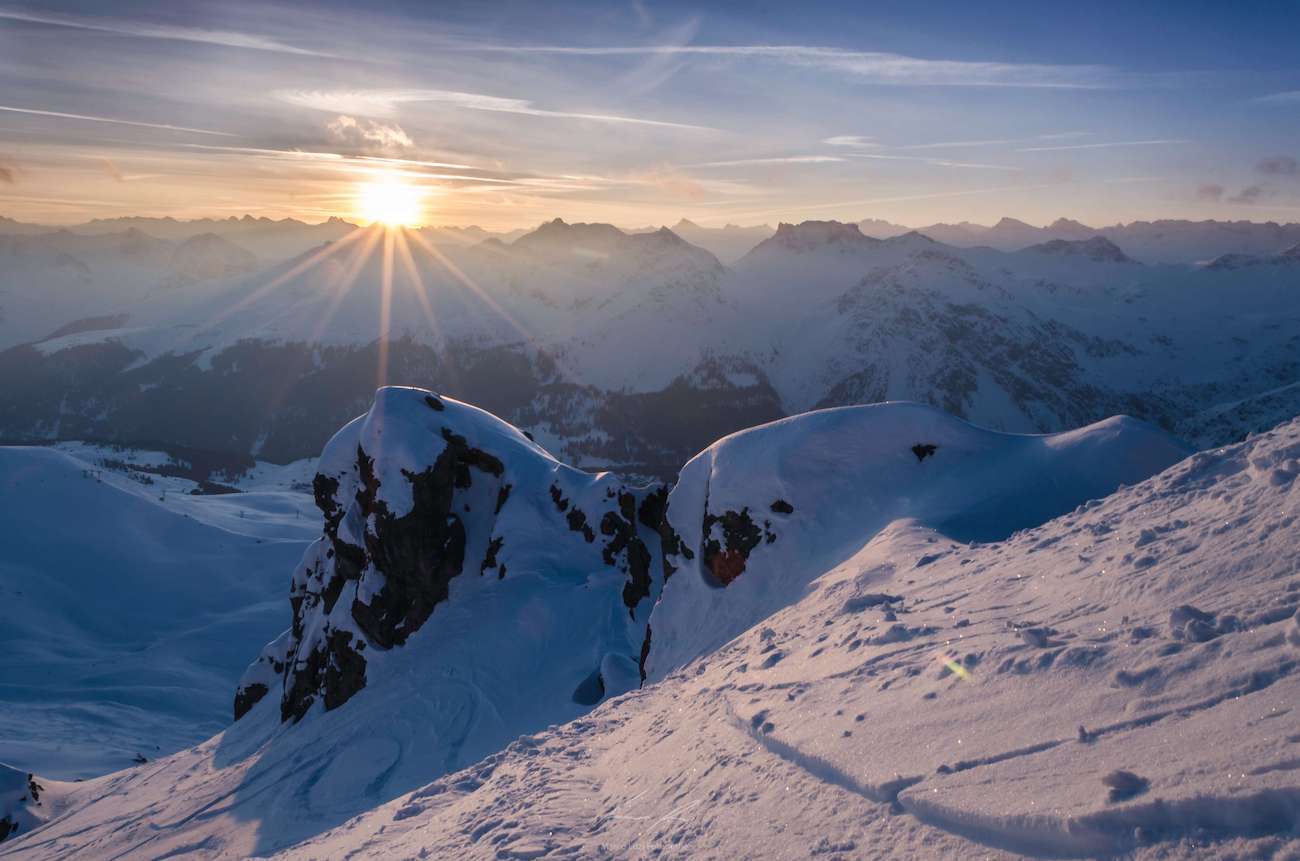 Altitude is another factor to consider. In Zermatt, St. Moritz, and Saas-Fee, you can ski well above 3000m (9843 ft). That means that even in a year with little snowfall, you'll enjoy favorable snow conditions. However, a possible downside is suffering from altitude sickness potentially. The best to do, in that case, is to reach higher altitudes progressively.
Swiss ski resorts below 2200-2500m (7220-8200 ft), like for example, Gstaad, are generally better suited for beginners or intermediate skiers. There are many gentler slopes, perfect if you're starting or if you want to improve your skiing skills.
All top Swiss ski resorts offer a wide range of accommodations: hotels, luxury chalets, guesthouses, and more.
Switzerland ski resorts map
Ski holidays in Switzerland: how to choose your ideal resort
I'm pretty sure you wish you could experience multiple ski resorts in Switzerland. In some cases, this is possible since they're not too far away. However, there are ski areas in Switzerland that are somewhat distant from one another. In that case, you'll have to pick one which is right for you.
The above-mentioned places are of course only a selection, including most of the best swiss ski resorts as well as lesser-known ski areas worth looking at.
Jungfrau Ski Resort
by Jurga, Full Suitcase
| | |
| --- | --- |
| KEY INFORMATION | |
| N. of slopes: | 131 |
| N. of lifts: | 63 |
| Length of slopes: | about 210 km (130 mi) |
| Best suited to: | Beginners, Intermediate, Experts |
The Jungfrau Region, with the backdrop of Eiger, Mönch, and Jungfrau mountain peaks is probably one of Switzerland's most picturesque mountain resorts! It's also one of Switzerland the biggest ski areas. It stretches over three mountain ranges and comprises three resorts: Grindelwald-First, Grindelwald-Wengen, and Mürren-Schilthorn. You can ski here for days without ever having to do the same run twice.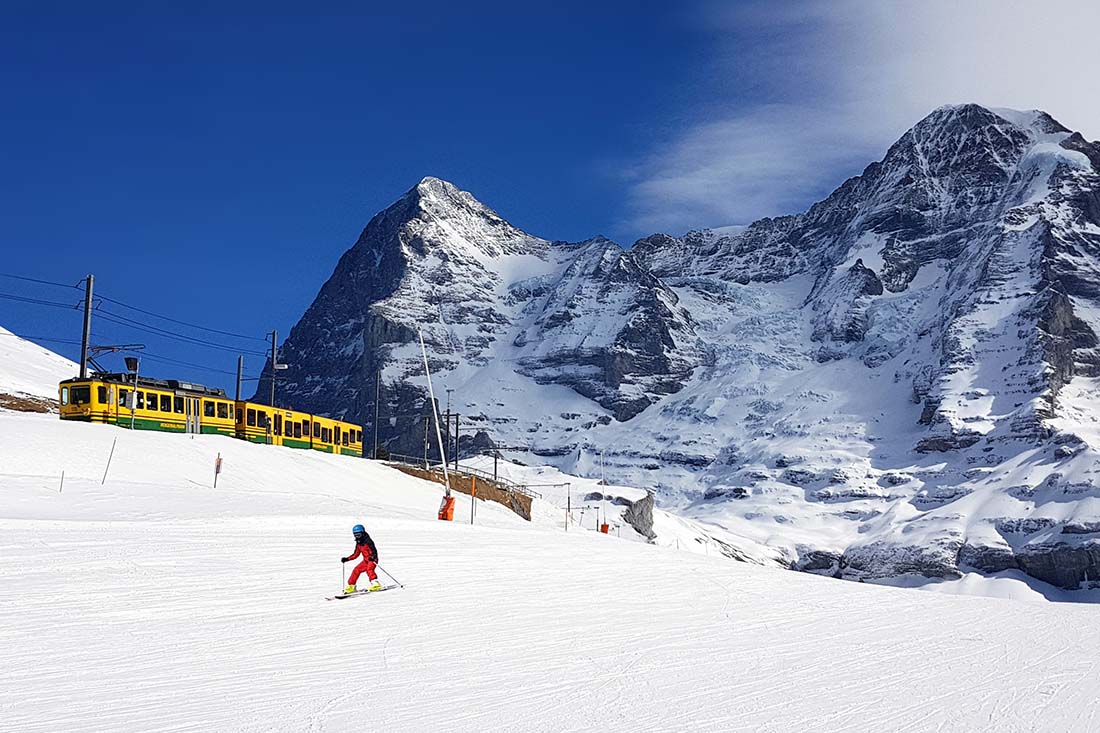 Also, the Meiringen – Hasliberg ski area officially belongs to the Jungfrau Region. However, it's farther away and does not connect with the main ski area's slopes. With 210km of slopes connected by trains, gondolas, and cable cars, and covering an area between 796 and 2970 meters above sea level, Jungfrau Region has plenty to offer to all types of skiers. There are some beginner slopes, but most runs here are long and categorized as 'red.' However, they are usually so wide that even a beginner will feel comfortable skiing there.
The biggest ski area of the Jungfrau Region and our personal favorite is the one between Grindelwald and Wengen. First, you have to make your way up to either Männlichen or Kleine Scheidegg. Once there, you have a choice of 102km of runs and 24 ski lifts. You can't go wrong with any of the runs there – the views are incredible, and skiing is always relaxing and fun. If you're up for it, you can also try the steep run that is used for the famous Lauberhorn ski race that takes place in Wengen every January. Those familiar with the alpine ski races know that the Lauberhorn is one of the top runs, together with the Streif in Kitzbuehel (Austria). Even if you're not a skier, keep in mind that Jungfrau Top of Europe is one of the most scenic alpine train rides. From the top, you'll get some of the most breathtaking views of the Alps.
But there's so much more to do here in winter than skiing! For more information, please check this guide to visiting the Jungfrau Region in winter.
Where to stay in the Jungfrau region
Waldbort Penthouse in Wengen is a stunning apartment close to several ski lifts. It combines stylish modern décor with an alpine atmosphere and boasts stunning views of the mountains from the living room and the balcony.
Alpine Boutique Apartments Fagus in Grindelwald has wood-paneled walls, wood floors, and wooden furniture. The kitchen is fully equipped, and the apartment is close to the Grindelwald-Kleine Scheideggbahn Cog Train.
Ferienwohnung Celina in Grindelwald is a perfect solution if you're planning ski holidays in Switzerland with kids. This spacious apartment features 2 bedrooms, a kitchen, a living room, and a balcony with gorgeous views.
Zermatt ski resort
by Claire, Stoked to Travel
| | |
| --- | --- |
| KEY INFORMATION | |
| N. of runs: | 145 |
| N. of lifts: | 53 |
| Length of slopes: | 360 km (224 mi) |
| Best suited to: | Intermediate, experts |
Zermatt is a stunning resort nestled high in the Swiss Alps, sitting under the magnificent and imposing pyramid-shaped Matterhorn mountain. (If you like Toblerone chocolate, you'll remember the drawing of the Matterhorn on the triangle packaging).
The highest altitude is at 3889 m (12,760 ft), making Zermatt the highest ski resort in Switzerland, boasting frequent near-perfect snowy conditions. Thus, the ski season is long, and diehard skiers and snowboarders take advantage of Zermatt summer skiing.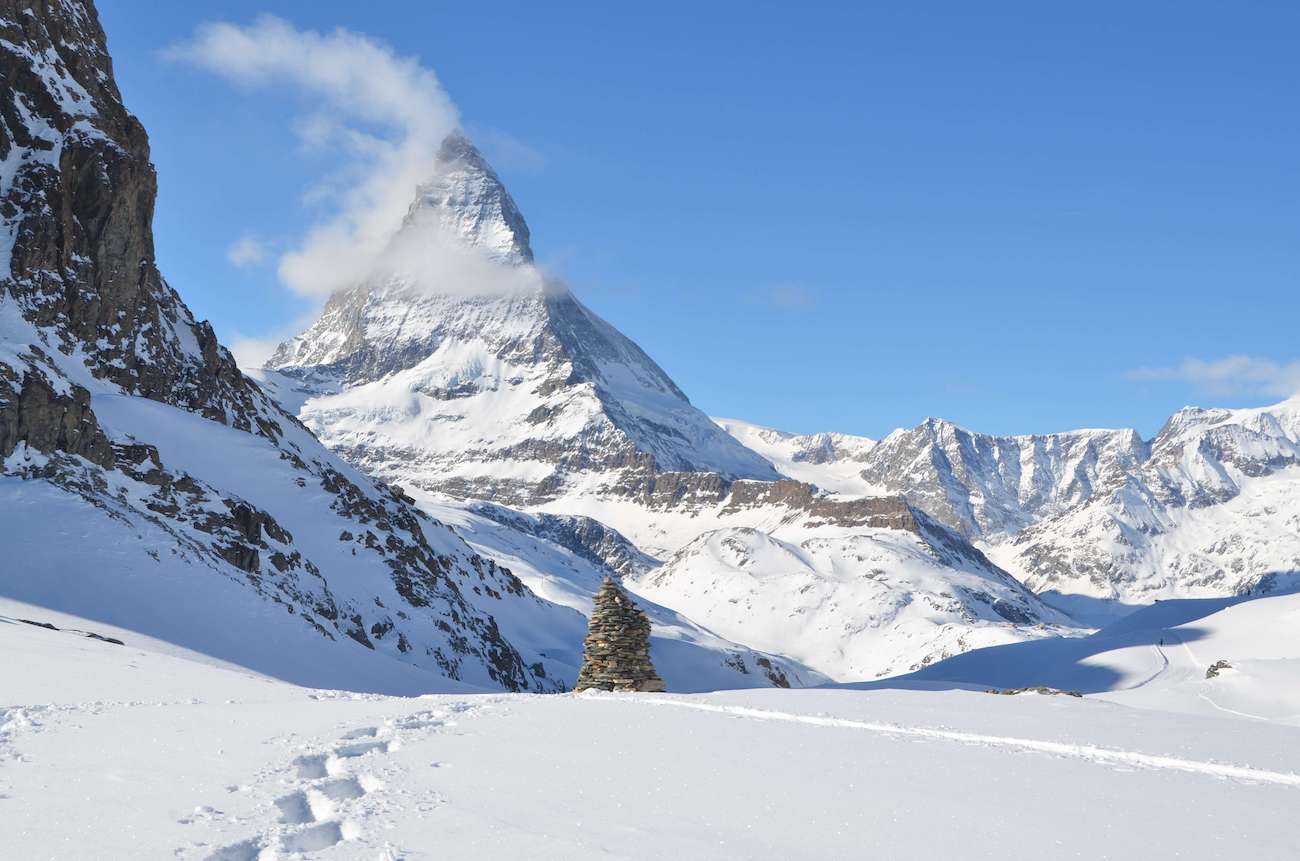 Zermatt has something for every skier or snowboarder level, with more than 360 km of slopes and 53 lifts. There's a wide variety of blue, red, and black slopes, and there's a dedicated Snowpark for snowboarders. For learners, Zermatt ski school is excellent, also if you want to experience snowboard. Furthermore, if you're an advanced off-piste skier, you can have an exhilarating Zermatt heli-skiing adventure. Another unique aspect of Zermatt is that it is located close to Italy. You can ski into the resort of Cervinia for lunch and back to Switzerland afterward!

Wherever you are in the resort, look up, and you can likely see the jagged slopes of the Matterhorn reaching high in the sky. No wonder Zermatt is one of the top ski resorts in Switzerland and the world. Apres-ski in Zermatt is a lively, fun, and very Swiss affair. But make sure to also cozy up in one of the tiny chalets such as Champagner Bar Teehäuschen Flora with a hot chocolate or glass of Champagne, with outdoor seating lined with reindeer furs and surrounded by towering snow-capped trees.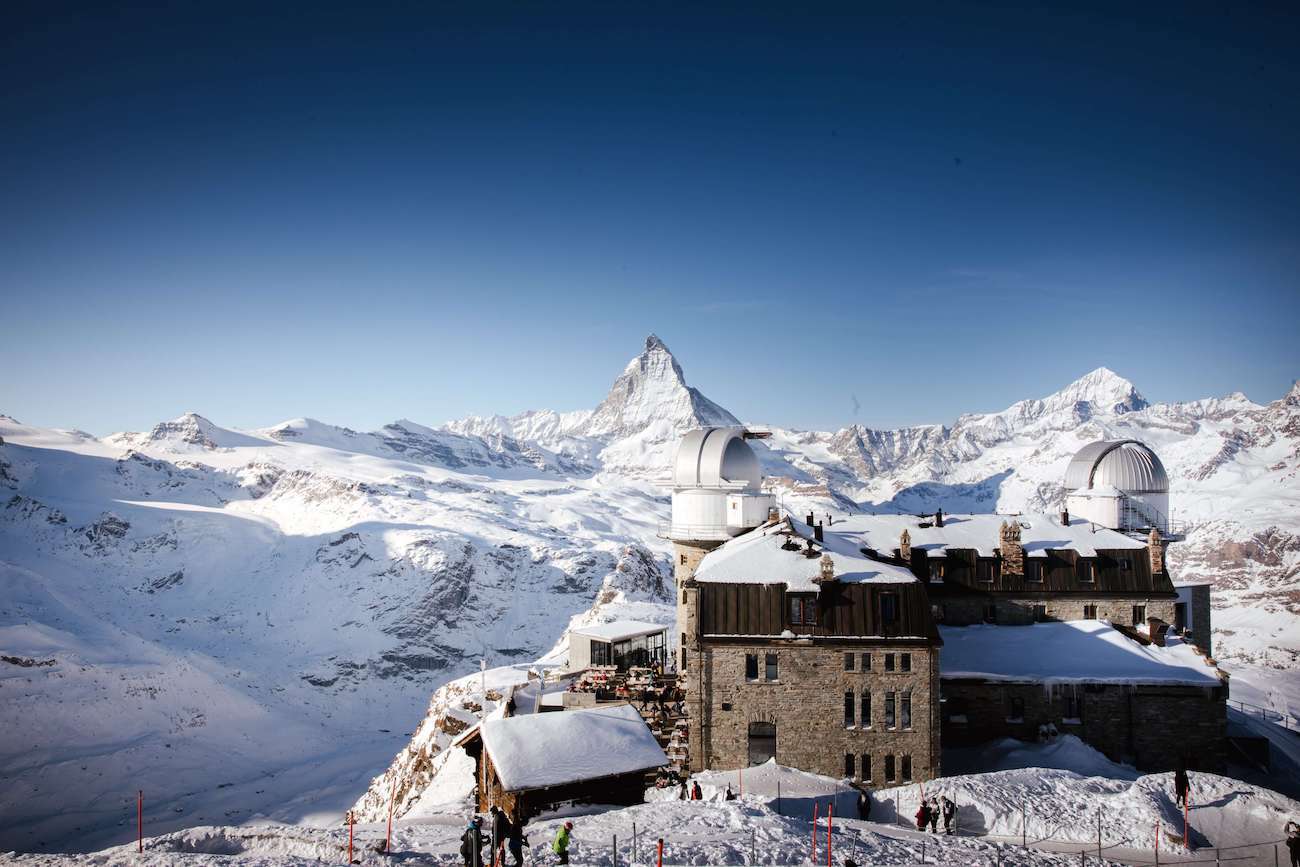 Back in the resort, enjoy a car-free environment as Zermatt is a pedestrian-only town. Take an afternoon to wander the picture-perfect streets, enjoy stops at local bakeries or wine bars and soak up all that makes Zermatt so unique!
Where to stay in Zermatt
The recently renovated Hotel Daniela is located in a quiet area and within walking distance of the ski lifts. It features a modern style with a charming alpine touch and provides guests with free access to the Spa.
The Matthiol Boutique Hotel is the perfect choice for a romantic holiday in Zermatt or if you're honeymooning in Switzerland. Waldbort Penthouse in Wengen is a stunning apartment close to several ski lifts. It combines stylish modern décor with an alpine atmosphere and boasts stunning views of the mountains from the living room and the balcony.
Hotel Dufour Alpin Superior – Adults only features alpine-style decor and is close to several ski lifts. The common areas are warm and cozy, and the hotel is good value for money.
Verbier and the 4 Valleys
| | |
| --- | --- |
| KEY INFORMATION | |
| N. of runs: | 94 |
| N. of lifts: | 89 |
| Length of slopes: | 410 km (255 mi) |
| Best suited to: | Beginners, Intermediate, and Experienced |
Verbier and the 4 Vallées, as the 4 Valleys are called in French, is the biggest ski resort in Switzerland. The town is not as charming as Gstaad, but you're sure to experience top-notch skiing. It certainly is one of the most fashionable ski resorts in Switzerland, although probably a little less than St. Moritz and Gstaad.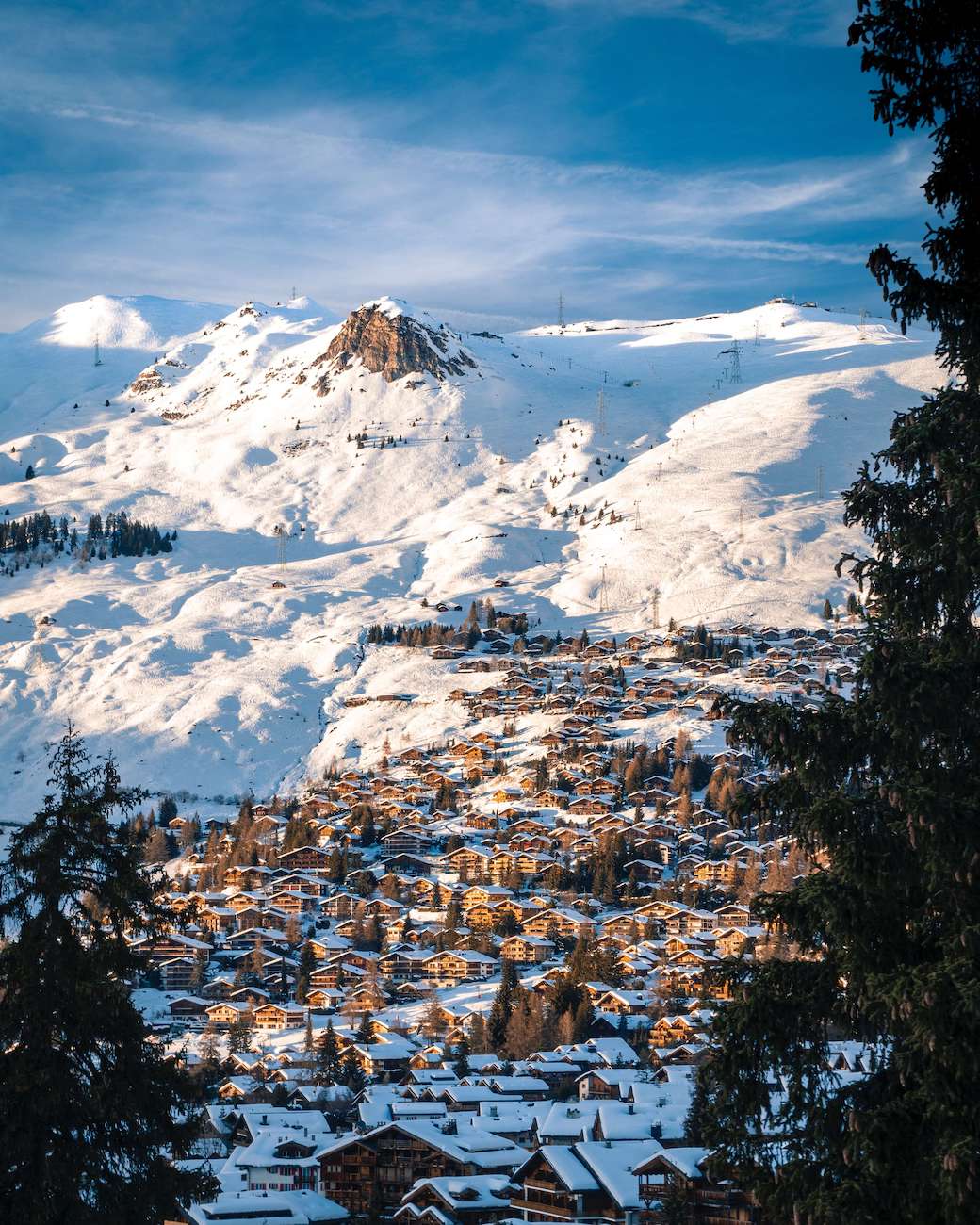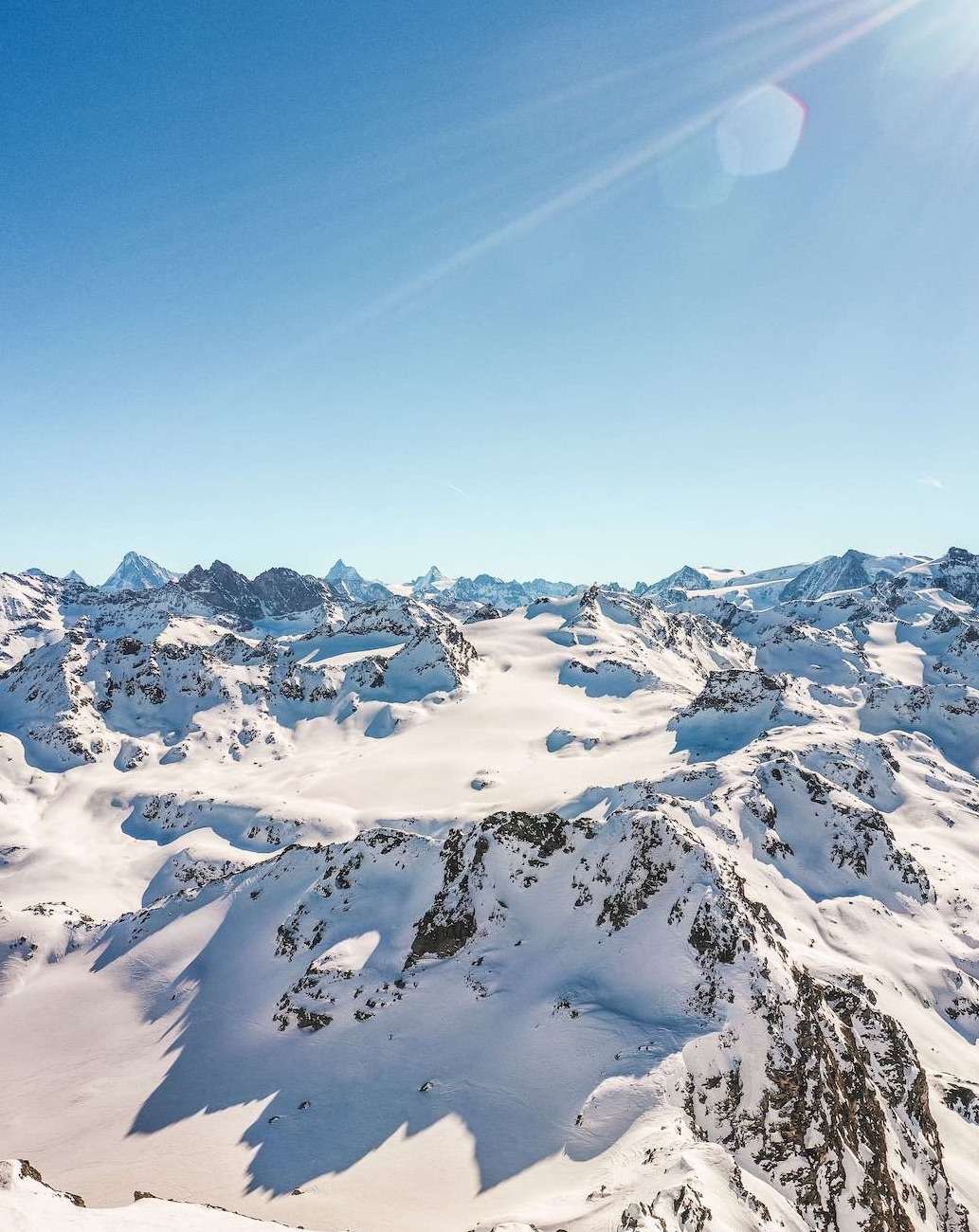 The altitude ranges from 1250 m (4,100 ft) up to 3300 m (10,827 ft) on the top of the famous Mont Fort. Runs are abundant and suitable for any level of skiers, although Verbier is incredibly popular with experienced skiers. If you're looking for a challenge, head to the Mont Fort run. Although I've been skiing for years and am quite good at it, I didn't dare to face the steep slope and the deep ditches.
Verbier is also a real paradise for off-piste skiing, and heli-skiing is extremely popular if you're looking for some exceptional freeriding.
Where to stay in Verbier
Verbier Medran is a cozy apartment only a few steps from the ski lift. The decor is stylish, and from the living room's large window panels, you can enjoy lovely mountain views. Featuring 3 bedrooms, it's the perfect place if you're planning to ski in Verbier with a large family or a group of friends.
Hotel Bristol Verbier is perfectly located in the main square, only a few steps from shops, restaurants, bars, and ski lifts. The decor is modern and stylish, with a touch of alpine atmosphere.
If you're passionate about design, Experimental Chalet in Verbier is the right place for you. Created by the famous interior decorator Fabrizio Casiraghi, the hotel is in the center of Verbier, close to the slopes, restaurants, and bars. It features a cocktail bar, restaurant, night club, and spa.
St. Moritz ski resort
by Rai, A Rai of Light
| | |
| --- | --- |
| KEY INFORMATION | |
| N. of runs: | 88 |
| N. of lifts: | 58 |
| Length of slopes: | 350 km (217 mi) |
| Best suited to: | Beginners, Intermediate, and Experienced |
The famous resort of Saint Moritz, found in a valley of the Engadine region, is home to some of the best scenery in the Southern Alps. As one of the oldest winter holiday destinations, it is filled with winter sports history.
This petite Swiss mountain town, situated at an elevation of over 1,800 meters, has twice hosted the Winter Olympics and is frequently the site of world ski events. Here you will find two main ski areas, namely Corvatsch and Corviglia, with a 30-minute bus ride connecting the two. There are more than 350 km of slopes for skiing and snowboarding, suitable for all skill levels.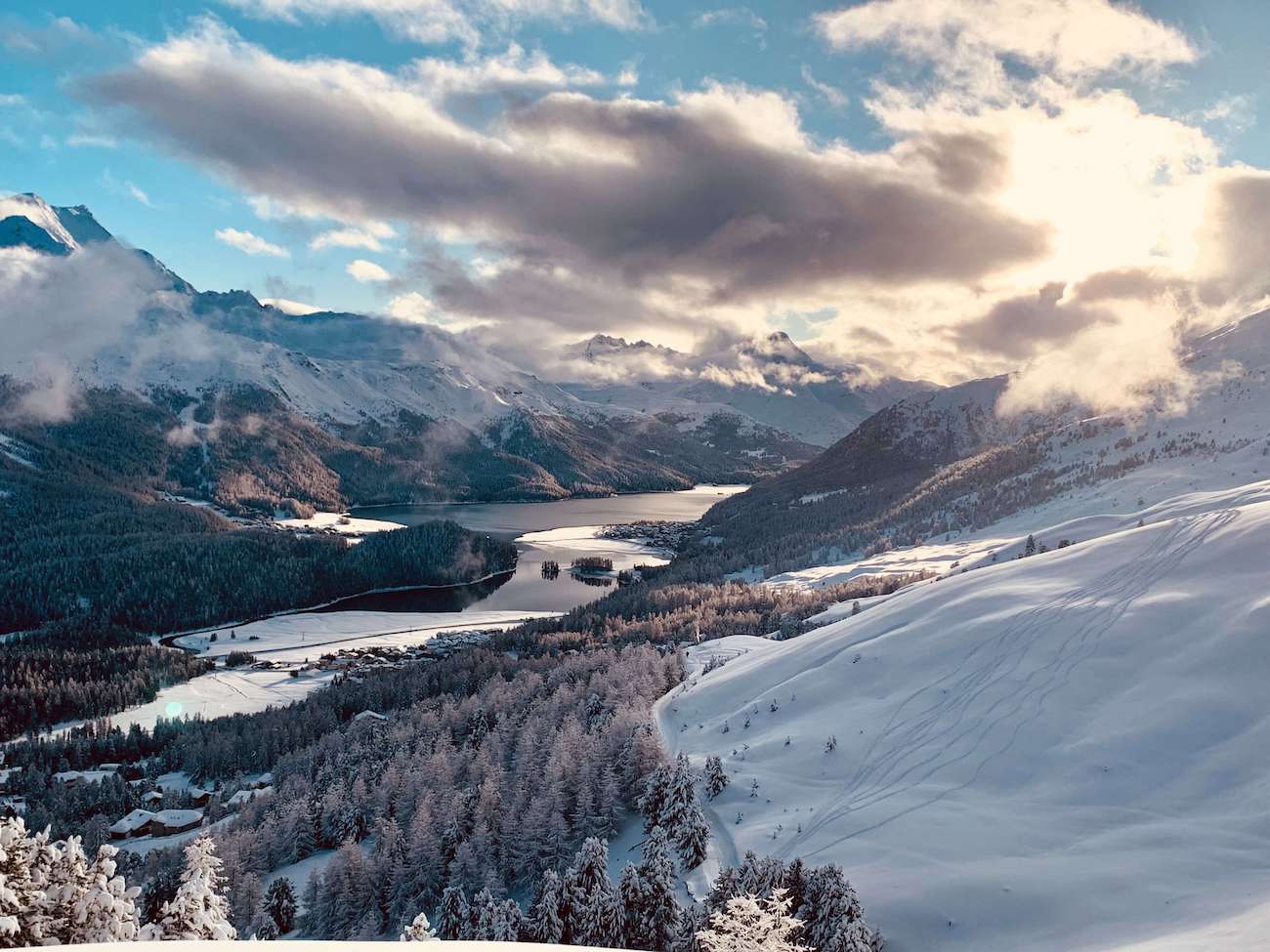 For beginner riders, the gentle three-kilometer Paradiso is ideal while the more experienced have the Corviglia Snow Park which has an abundance of obstacles. The resort also has a handful of very long intermediate runs.
In addition to skiing, I found a lot to do here the likes of ice-skating, kite skiing, and bobsledding. Fortunately, it is easily reached by bus or car averaging around 3 hours from the major cities in the region. Being world-famous, Saint Moritz is not cheap and not a great choice for those on a budget. However, for those who can afford it, it has a lot to offer and is worth a visit.
Where to stay in St. Moritz
Piz Medzi 15 is a lovely apartment only a short walking distance to Signalbahn, restaurants, and cafès. It features a fully equipped kitchen, free private parking, and a small balcony with charming views of the mountains.
Chesa Arlas is a beautiful recently renovated apartment only 400m from Signalbahn. The decor is modern and tasteful, and the apartment features a wide range of amenities, including free parking and a balcony overlooking the mountains.
Boutique Hotel Cervus stands in a quiet area close to the Signal Cable Car, thus perfectly located for skiing. It features large rooms decorated in alpine style, a sauna, a steam bath, and a small indoor pool.
Gstaad ski resort
| | |
| --- | --- |
| KEY INFORMATION | |
| N. of slopes: | 75 |
| N. of lifts: | 53 |
| Length of slopes: | 220 km (137 mi) |
| Best suited to: | Beginners-Intermediate |
This charming small village is one of Switzerland's most famous luxury ski resorts, together with St. Moritz. Royalties and many celebrities own a chalet in Gstaad, but you'll have few chances to meet any. What makes Gstaad unique is its understatement. It looks like many other pretty Swiss villages, except it's more than that.
Gstaad is chic and understated. A place like no other.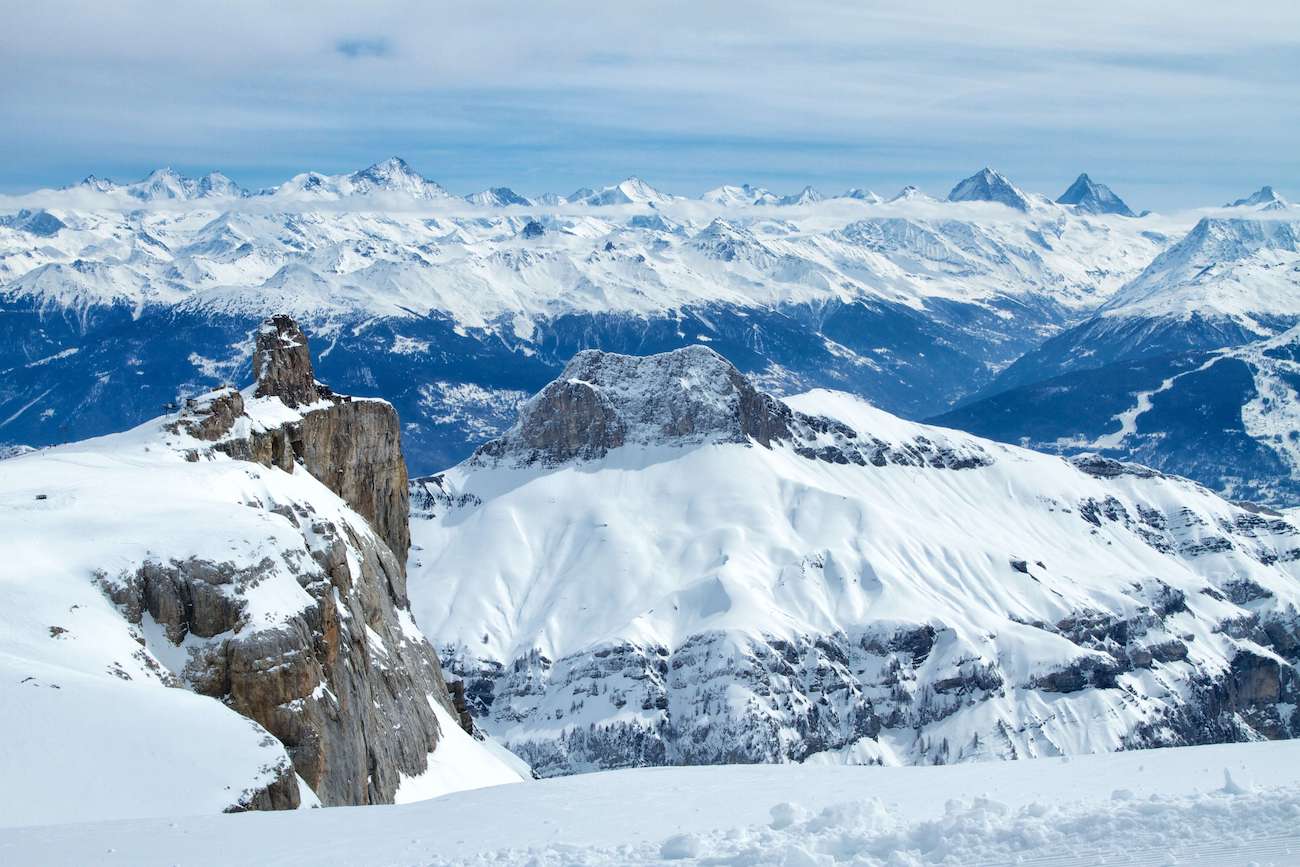 You can reach the different ski areas by train, boarding the Montreux Oberland Bernois line, one of Switzerland's most scenic train rides. However, if you wish to ski on Glacier 3000, you'll have to catch the bus.
The altitude of the ski areas around Gstaad barely reaches 2000 m (6562 ft), which can be an issue in years with little snowfalls. However, the Gstaad ski resort is well-equipped to guarantee artificial snow. If you want to ski at higher altitudes, head to Glacier 3000, where you can also walk on Les Diablerets glacier in Summer.
Gstaad is the perfect destination if you're looking for a romantic ski holiday in the Alps. Additionally, Gstaad is a friendly mountain resort for disabled people. I spent a week a few years ago with my beloved nephew, who has Down syndrome. Gstaad ski school has specific programs to prepare instructors to teach people with disabilities, and they do fantastic work.
Where to stay in Gstaad
It's hard not to feel at home at the lovely Apartment Margrit in Gstaad. Located in a charming old chalet close to several ski lifts, the apartment is warm and cozy and is also pet-friendly.
Chalet Mutzli features a 2-bedroom apartment perfect for a family. It is located in Schönried, close to Gstaad, and only 250m from the Schonried-Horneggli lift, part of the Gstaad ski area.
Hotel Kernen in Schönried is in a great location, a few steps from the train station and close to the Horneggli cable car. It features a delightful alpine style and is a perfect choice for couples and a romantic weekend in Gstaad.
Engelberg Titlis Ski Area
By Jurga, Full Suitcase
| | |
| --- | --- |
| KEY INFORMATION | |
| N. of slopes: | 19 |
| N. of lifts: | 25 |
| Length of slopes: | 82 km (51 mi) |
| Best suited to: | Beginners, Intermediate, Expert |
Engelberg ski resort is one of our favorite places to ski in Switzerland. There are several reasons for this. First, it's easy to get to by car and is just a short train ride from Lucerne. Second, there is snow certainty during the entire ski season. And third, the slopes are really nice and wide and usually not too busy.
Furthermore, the scenery is terrific, and your ski ticket also allows you to go all the way up to the top of the famous Mount Titlis. That's one of the most beautiful mountain tops to visit in Switzerland and separately visiting it will cost you a small fortune, so don't miss it if skiing in the area! With 82km of slopes and 25 ski lifts covering an area between 1.050 and 3.020 meters above sea level, Engelberg ski resort has a wide variety of ski slopes to choose from. However, you'll enjoy skiing here more if you are comfortable with intermediate, red pistes.
There are three ski areas in Engelberg; the biggest one is the Titlis Area. It's here that you'll find the widest variety of ski slopes. The most popular runs are around Jochpass, but the slopes at Stand are just as nice and much quieter. Our favorite place for lunch is the outdoor terrace of Hotel Trübsee. The views are stunning, and there is always such a great atmosphere here.
For more information, please check this complete guide to skiing in Engelberg.
Where to stay in Engelberg Titlis ski area
Hotel Waldegg – Adults only features contemporary decor and a wide range of amenities, including a spa area, indoor pool, fitness room, and a free charging station for electric vehicles. A free ski bus stops right in front of the hotel, making it a perfect choice for skiing in Engelberg.
Hotel Crystal is only a 3-minute walk from the train station and 5 minutes from the Titlis Mountain cable car. It features spacious rooms with tea/coffee makers, a small spa area, and a restaurant serving fresh pasta, pizza, and other dishes varying from day to day.
If you're looking for a romantic hotel in Engelberg, check out Alpenclub. The hotel is beautifully decorated and combines warm and cozy alpine style with contemporary touches. In the charming Käsestube you can savor raclette, cheese fondue, and other cheese specialties. The free ski bus stop is only a 2-minute walk.
Parpan and Lenzerheide ski resort
by Wendy Werneth, The Nomadic Vegan
| | |
| --- | --- |
| KEY INFORMATION | |
| N. of slopes: | 115 |
| N. of lifts: | 43 |
| Length of slope | 225 km |
| Best suited to: | Beginners, Intermediate |
Parpan is a tiny hamlet located in a valley near the larger mountain resort of Lenzerheide. It's a quiet place and makes a great base if you want to get away from the party scene. Parpan itself has six easy runs (blue), and three red (intermediate) runs, so it's best for beginner to intermediate skiers. But it's connected to the rest of the Lenzerheide ski area via the Heimberg lift, so there are plenty more options if you want to go further afield.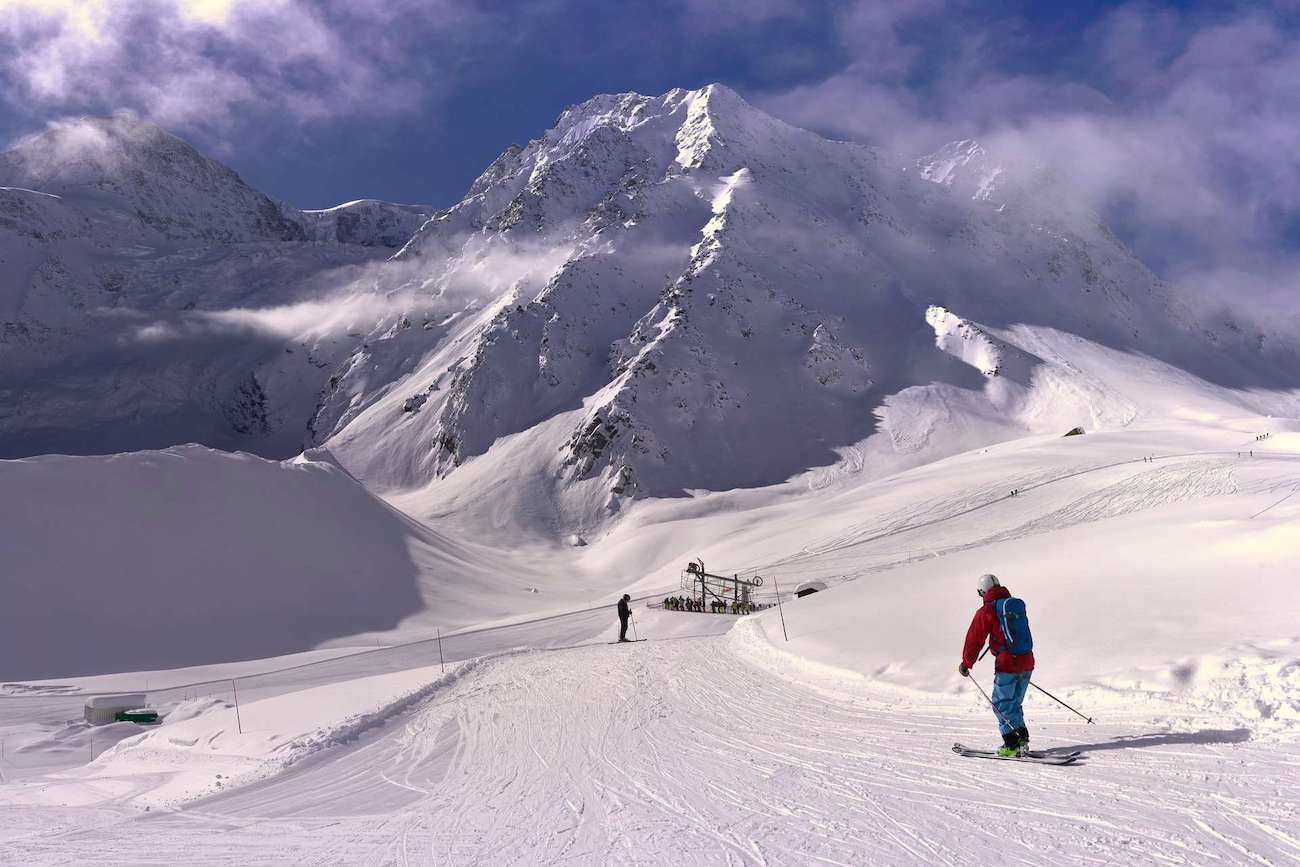 The runs from the Stätzerhorn chairlift, for example, are a bit tougher and usually have good snow. The Heimberg lift also serves as the finishing line for the World Championship ski races held here, so you can test yourself by skiing the same runs as world-class skiers.
In 2014, a connecting lift was also built between the Lenzerheide ski area and adjacent Arosa. A general ski pass now works in both of these areas, so it has become one huge resort. Parpan is just a small part of it and is conveniently located right in the middle. In total, there are 43 lifts and 225 kilometers of runs in the combined Lenzerheide-Arosa ski resorts. The highest lift is at an altitude of 2,865m.
Of course, other activities are on offer besides alpine skiing, such as winter hiking and cross-country skiing. And a 20-minute drive away, in the tiny town of Surava, is Skateline Albula, a 3-kilometer ice skating trail through a snowy forest.
Where to stay in the Parpan ski area
Bestzeit Lifestyle & Sport Hotel features a contemporary style and a wide range of amenities, including a spa with a panoramic relaxation room, a fitness area, a restaurant with a terrace, a cigar lounge, and a bar. The Parpan-Heimberg chairlift is just a 2-minute walk from the hotel.
Apartment Turrabuel 4-Bett Maisonette if you're planning ski holidays in Switzerland with kids. The apartment features beautiful contemporary decor, 2 bedrooms, a fully equipped kitchen, and a balcony. It is within short walking distance from Obertor and Heimberg chairlifts, close to the slopes.
_______
This post contains affiliate links to carefully selected services. That means that if you make any purchase, I get a small commission at no extra cost to you.
Pin for later!