Are you wondering what the best things to do in Coimbra are? Not sure if it's worth visiting as a day trip from Porto or Lisbon? Read further, and find out why you should spend one day in Coimbra. And even more.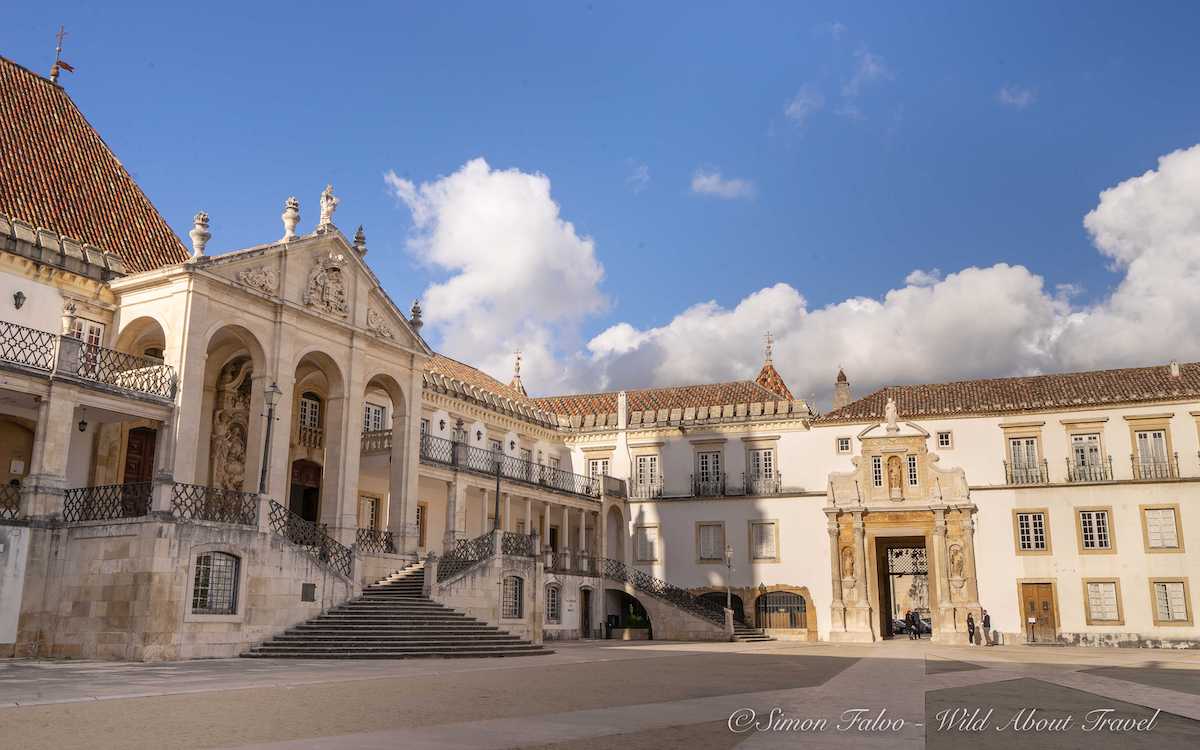 Impossible not to fall in love with Porto and Lisbon. But Portugal is much more than these two beautiful cities. Actually, one of the highlights of my 10-day trip across Portugal ended up being Coimbra. A charming town and a real surprise.
Famous for its ancient University, Coimbra boasts a lively atmosphere and plenty of attractions. It's one of the perfect destinations for an unforgettable day trip from Lisbon or Porto. And if you have enough time, it's certainly worth spending a night.
Here's a short Coimbra travel guide. But first thing first.
Where is Coimbra?
Coimbra is almost half-way between Lisbon and Porto, although slightly closer to Porto. While Lisbon and Porto overlook the Atlantic Ocean, Coimbra lays inland and is built on a hill above the Rio Mondego.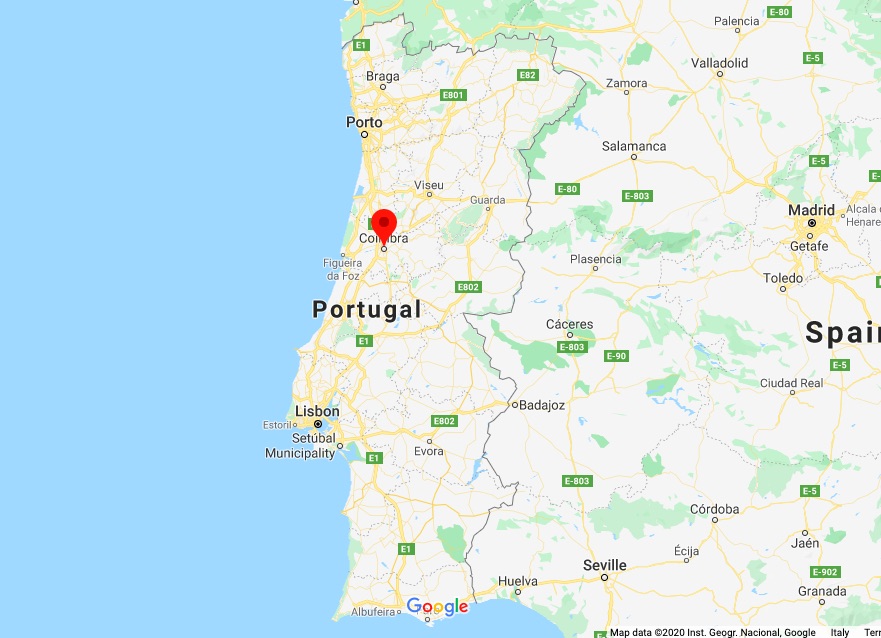 If you're planning a road trip to Portugal, it will take you about 80 minutes to drive from Porto to Coimbra, while the drive from Lisbon to Coimbra takes a little more than 2 hours. You can also reach Coimbra by train from Porto and Lisbon (like I did). The journey by intercity or Alfa Pendular trains takes almost the same time as driving.
Best things to do in Coimbra in 1 day
Coimbra was the first capital of Portugal, from 1139 to 1385. It's home to one of the oldest universities in Europe, which is one of the 14 UNESCO World Heritage Sites in Portugal.
Similarly to Bergamo, in Italy, the historical center of Coimbra sits on a hill overlooking Rio Mondego, with the University towering on the top. And like many other medieval towns, the modern city developed in the lower part (Baixa), along the banks of the Mondego river.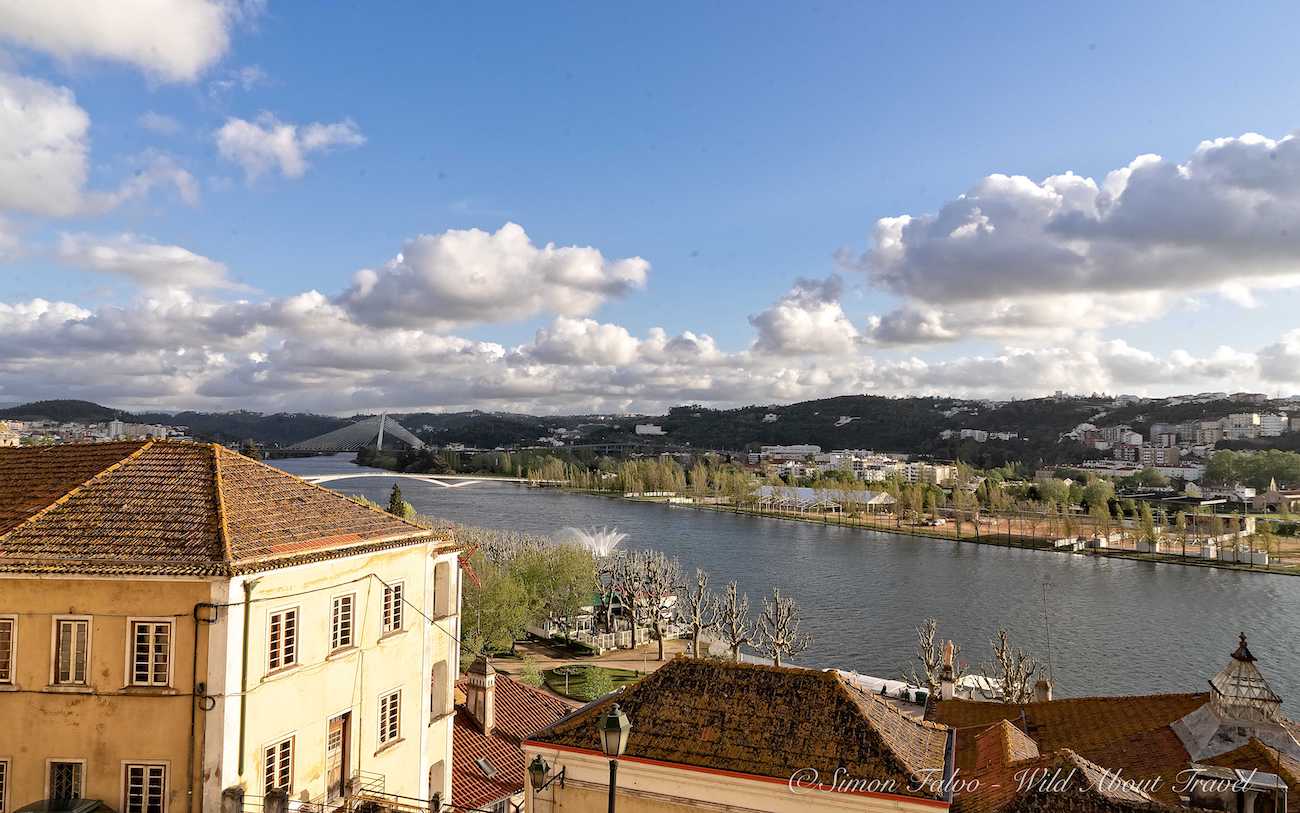 The historical center is rather small, and all Coimbra main attractions are within walking distance. However, keep in mind that like in Lisbon and Porto, you'll have to climb quite a bit uphill and downhill, often on cobblestone alleys. Coimbra's old town is charming, but you'll want to wear comfortable shoes. Not. A place. For high heels!
Despite the limited dimensions of Coimbra's old town, there's a lot to see and do.
Coimbra University
A visit to the Old University is unquestionably the best thing to do in Coimbra and a must-see in the city and Portugal.
The University, founded in 1290, is the most famous attraction in Coimbra. Although initially established in Lisbon, it was relocated to Coimbra in 1308. Located on the top of the hill, the old University of Coimbra is a complex of beautiful buildings from the 16th-18th centuries, arranged around the large Paço das Escolas. After walking under the imposing Porta Férrea, you'll reach the stunning University square.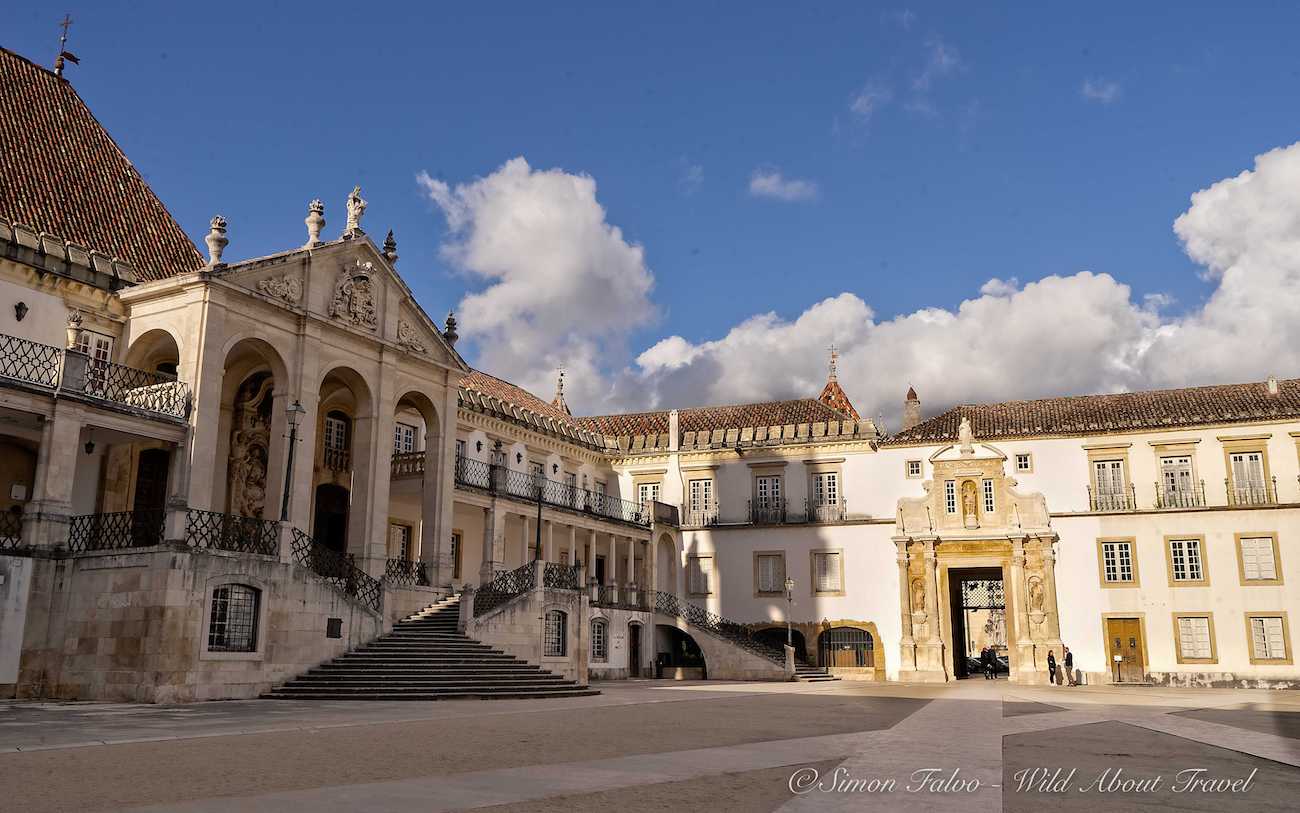 I visited Coimbra during Easter school holidays; thus, there were only a handful of students around. I lingered in the courtyard, admiring the exquisite architecture. I slowly walked around, clockwise. The Royal Palace, with its elegant proportions. The tower, whose bell dictates the rhythms of academic life. And the Joanina Library, at the far end of the courtyard.
You can discover a good portion of the University grounds by yourself. However, you'll need to buy an admission ticket to admire the most beautiful sights: The Royal Palace, the Tower, St. Michael's Chapel, and the Library.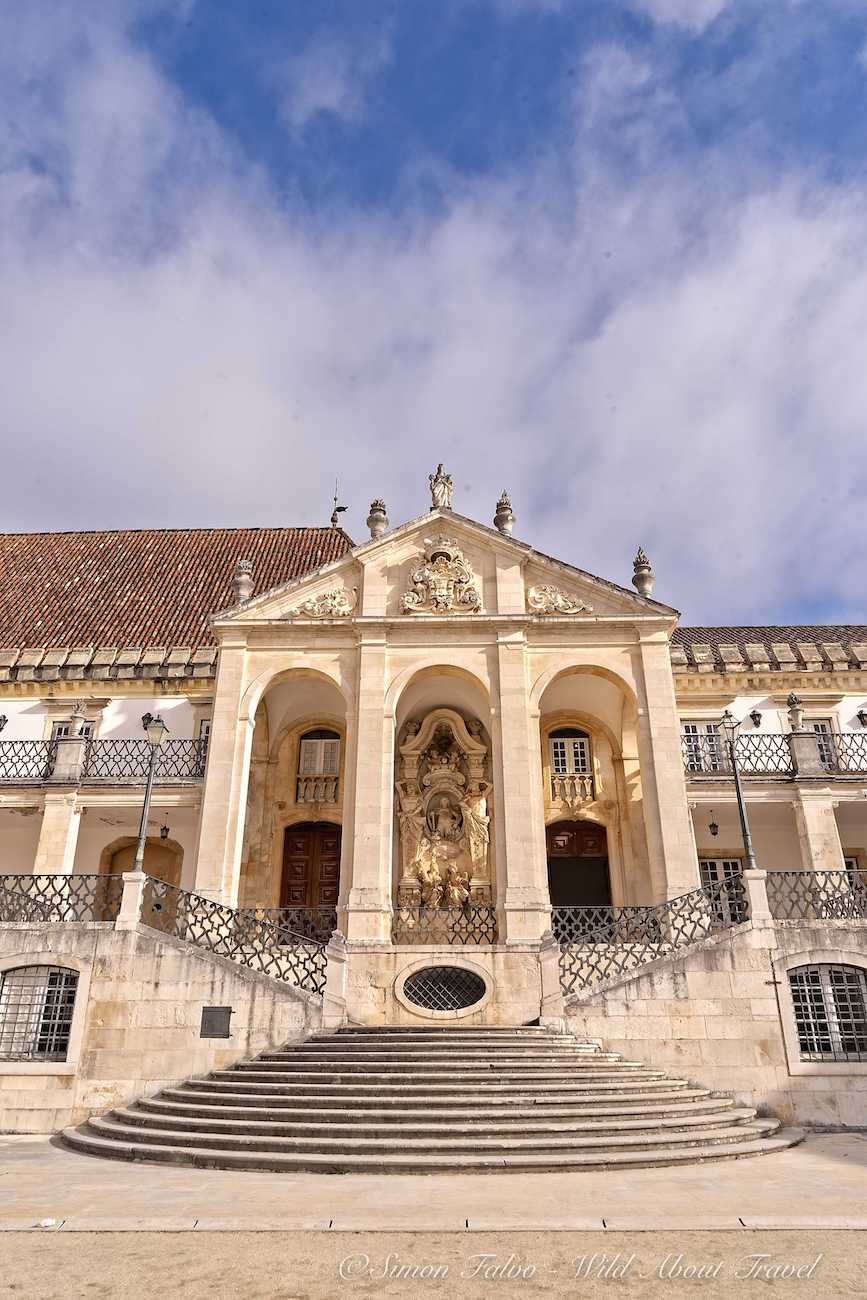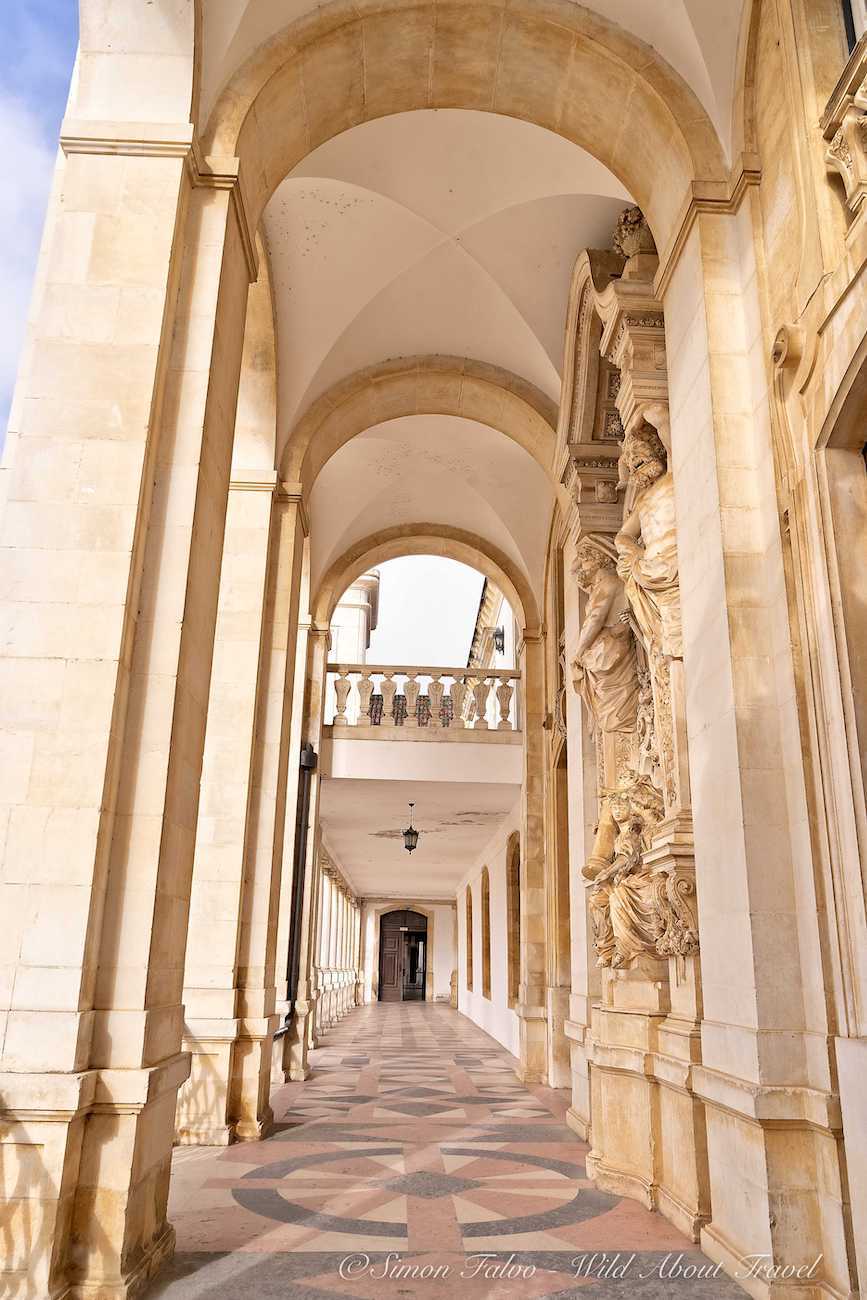 All of them are worth it, but if you have time for only one, a must-see is the Baroque Joanina Library. It is considered one of the most magnificent university libraries in the world. It holds 60.000 books from the 16th to the 18th centuries, including rare ones.
The University of Coimbra, which is a UNESCO World Heritage Site since 2013, has such a rich history and iconography that I strongly advise a guided tour. There's no better way to discover past and present secrets and fun facts about Coimbra University.
Old Cathedral
With its austere architecture, crenelated walls, and narrow windows, the exterior of Coimbra Old Cathedral resembles a fortress more than a church. However, as soon as you approach the entrance door, you'll notice the exquisite carvings decorating the portal.
You need to cross the main door, though, to discover the magnificence of the Sé Velha. The interior is a remarkable example of Romanesque architecture. As you walk along the nave, look up at the capitals, decorated with leaves and animals. Don't miss to admire the unique barrel-vaulted ceiling, a real jewel, and the retable, which is superb woodwork from the Renaissance.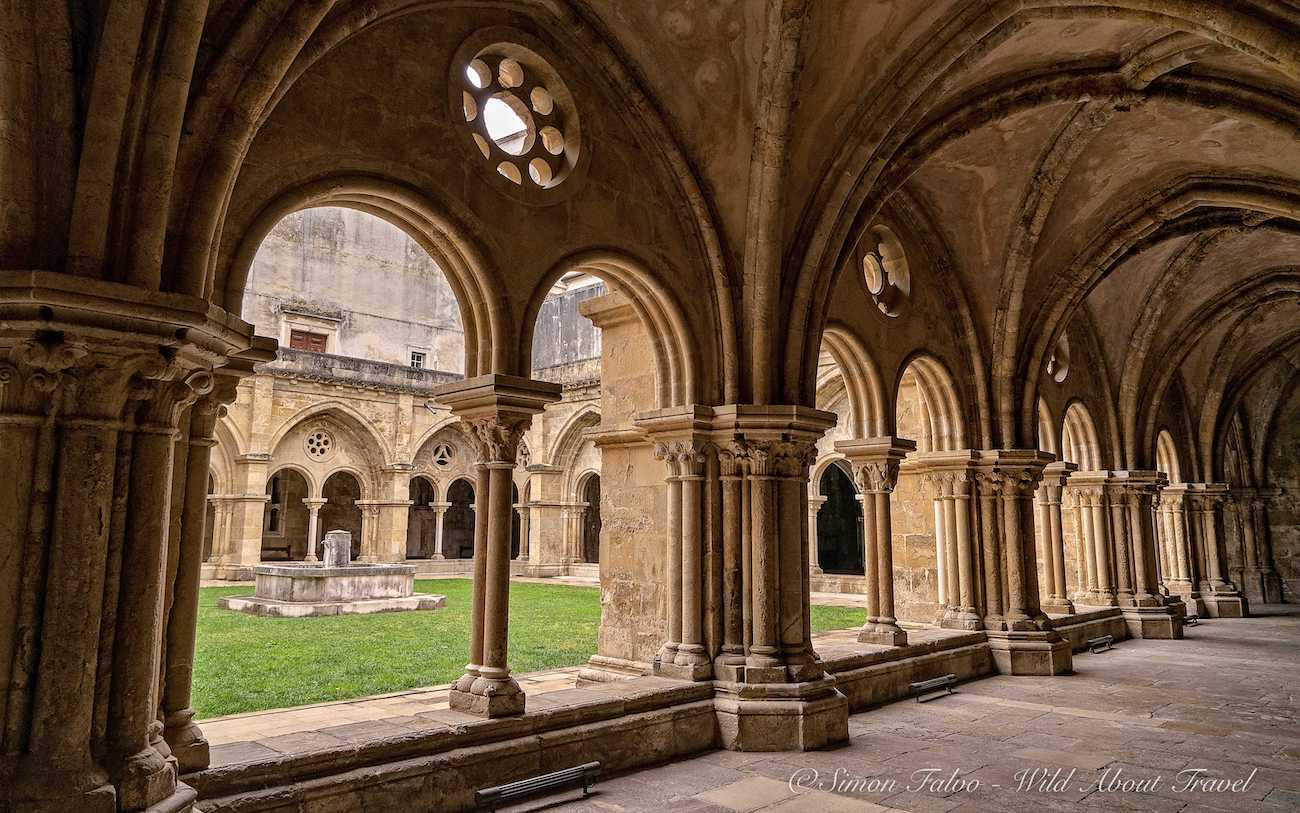 My preferred spot was the cloister, dating back to the 13th century. The architecture is a mix of Romanesque and early Gothic styles. It's worth spending some time there, enjoying the peaceful silence, marveling at the beautiful proportions and magnificent carvings.
When you exit Coimbra Old Cathedral, walk around the exterior to the Porta Especiosa, or Beautiful Gate, a masterpiece of the Portuguese Renaissance.
Coimbra Old Town
I don't know about you, but I love getting lost in the cobblestone alleys, and Coimbra's old town is incredibly picturesque. Although the historical center is tiny, it took me some time to explore it. Actually, I couldn't help pausing every few steps to let my eyes linger around.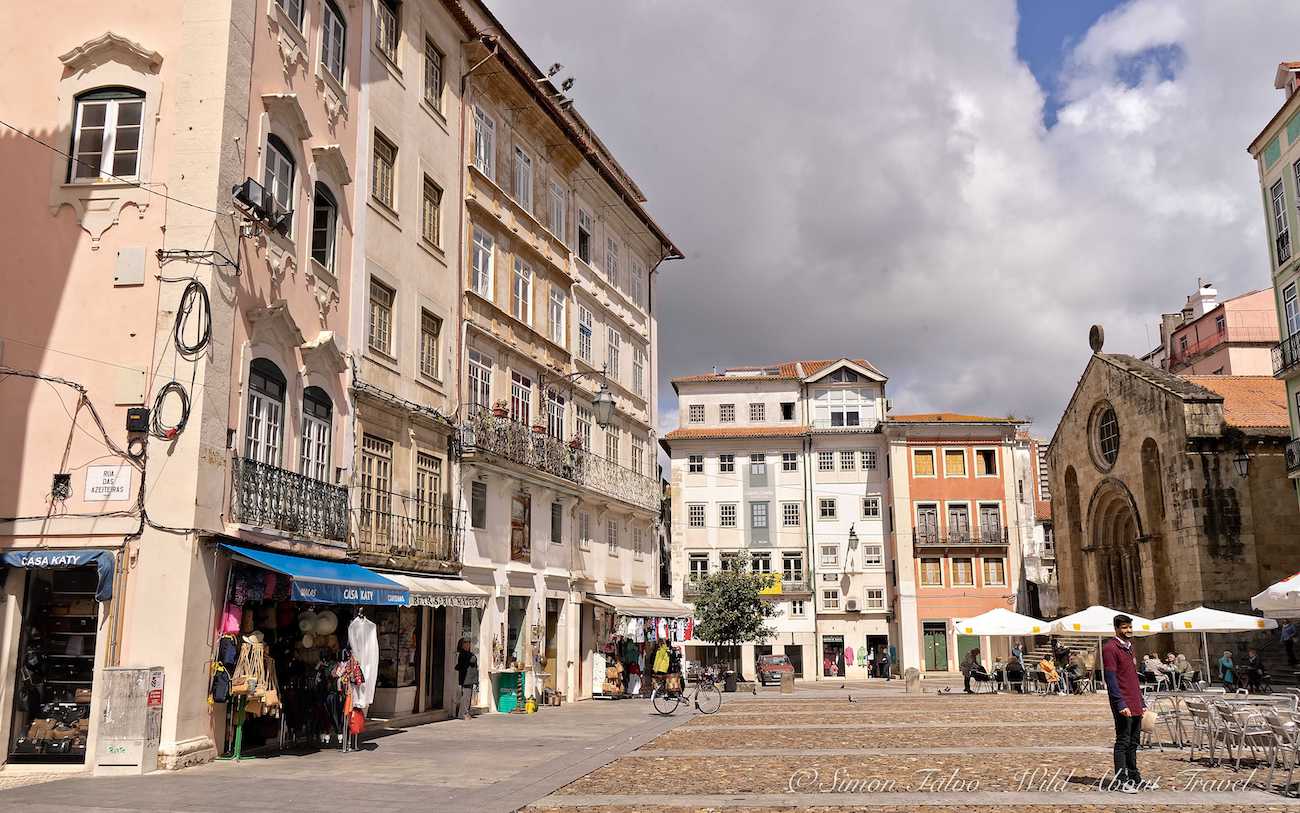 The maze of narrow streets reminds of the Moors occupation and give the old town an Arab flavor.
On Rua Borges, there are often street performers playing music and a few tascas where you can have a drink and take a break. And all over Coimbra Old Town, you'll meet students, draped in their black capes, contributing to the joyful and lively atmosphere.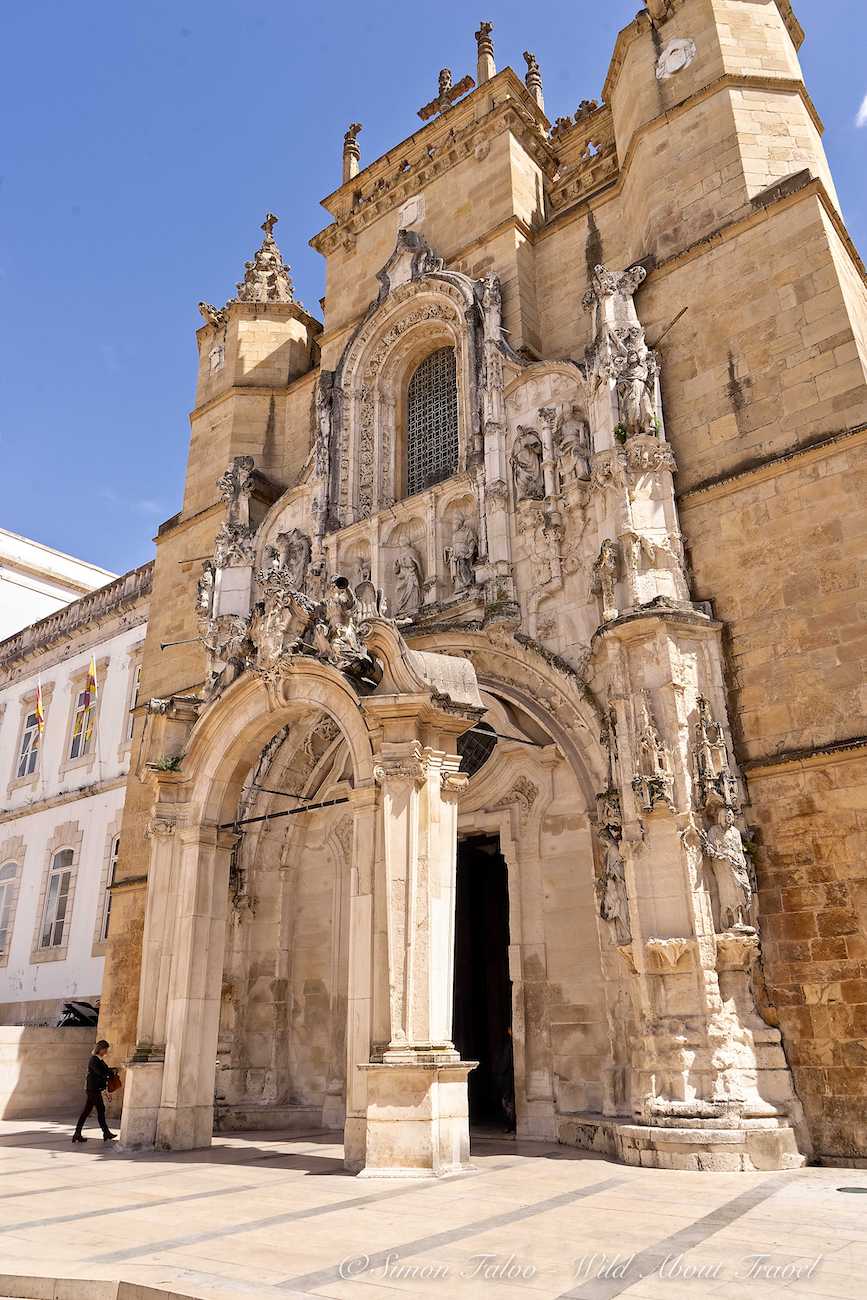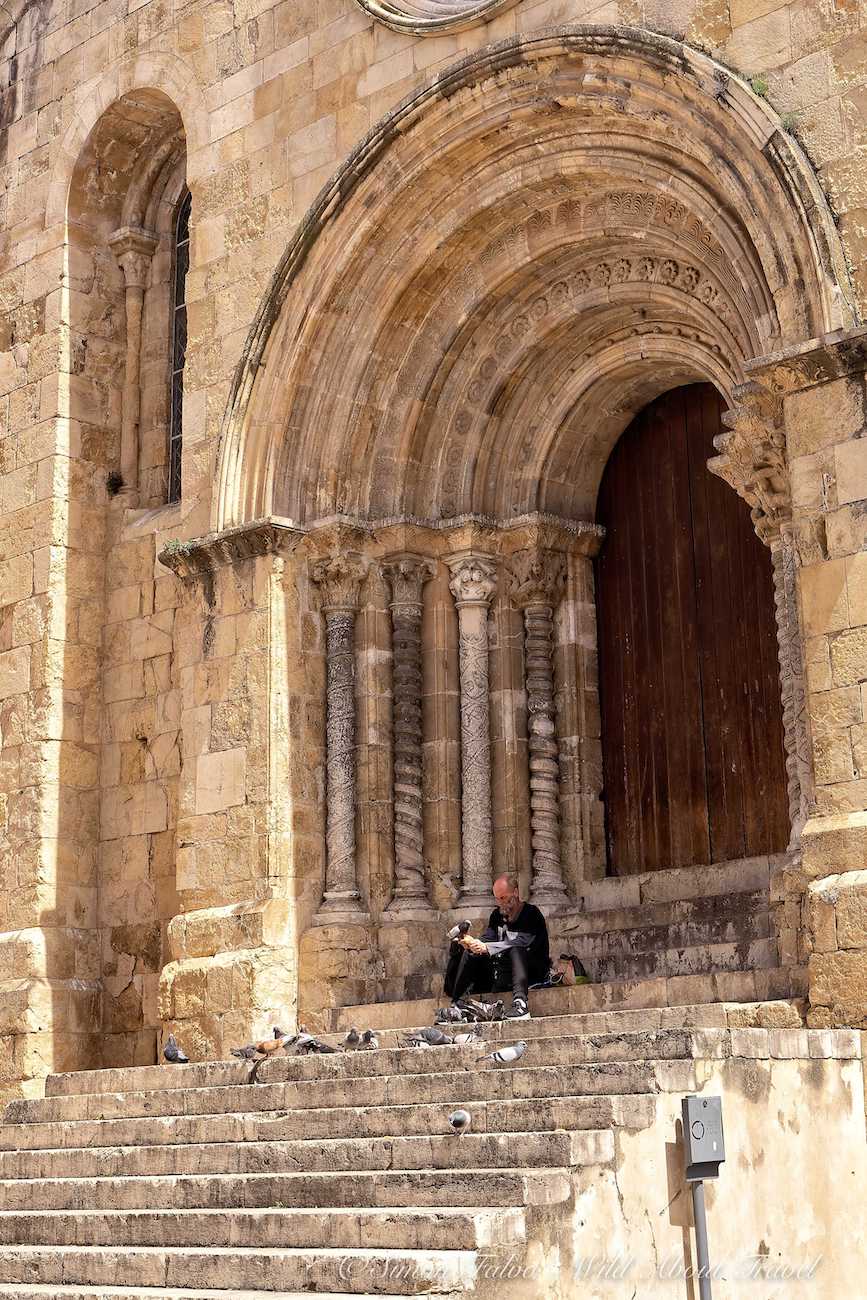 New Cathedral
When history goes back thousands of years, the concept of "old" and "new" are relative. The Jesuits founded the Sé Nova in 1598. After their banning from Portugal in the mid-1700s, the cathedral became the new episcopal seat. That's the reason it was and still is called the New Cathedral.
The facade is a beautiful example of classic architecture in its lower half. In contrast, the upper half is a delightful display of Baroque style. The interior mostly dates back to the 17th century, blending Baroque and Neoclassical styles.
Botanical Gardens
The beautiful Coimbra botanical gardens, dating back to the 18th century, are the perfect place for a stroll amid enchanting scenery. Considered one of the most beautiful gardens in Europe, it has several sections, including exotic plants.
One of my favorite spots was the Bamboo Grove, where I felt as if I was back in Japan. I also enjoyed resting for a while at Central Square, with its elegant fountain and romantic feel. And I liked a lot the Medicinal Plants Nursery, which, I learned, is used by Botany students.
Parque Manuel Braga
Who doesn't like a riverside walk? If you're tired of climbing up and down Coimbra Old Town, you can have a break by the river Mondego, strolling in Manuel Braga Park. It's a perfect spot to take a rest on a bench while enjoying the view and appreciating a little shade from the plane trees.
Santa Clara-a-Velha Monastery
Unfortunately, it was a closing day when I traveled to Coimbra; thus, I didn't manage to visit the Santa Clara-a-Velha Monastery.
Located on the opposite bank of the River Mondego, the gothic monastery dates back to 1314. Unfortunately, due to its proximity to the river, the monastery experiences repeated severe floods. So much so that it was eventually abandoned towards the end of the 17th century. And a new monastery was built further up the hill.
The original building ended up half sunk, and excavations of the ruins and subsequent restoration started only in recent years.
***
Although lesser-known, Coimbra is well worth visiting and one of Portugal's highlights. If possible, you should overnight to appreciate this charming city fully. But if you have limited time and need to skim further the best things to do in Coimbra, I suggest you focus on the University and the old town.
---
Planning a trip to Coimbra
Getting there
Travel from Porto to Coimbra by train: There are trains every hour, and the journey takes about 1 1/2 hour. Beware that the trains leave from Porto Campanha Station and stop at Coimbra B, which is about 2.5 km (1.6 mi) from the city center. From there, you can either catch a taxi or wait for the regional train connecting Coimbra B to Coimbra.
Travel from Lisbon to Coimbra by train: It takes a little more than 2 hours to get to Coimbra from Lisbon. There are trains almost every hour, and the fastest and more comfortable option is the Alfa Pendular. The train leaves from Lisbon Oriente or Santa Polónia stations. It stops at Coimbra B, where you'll have to catch another local train to the central station, close to the center.
Porto to Coimbra by car: The journey takes about 1h15 min. The shortest drive is through the A1 motorway, which has tolls.
Lisbon to Coimbra by car: If you're planning to rent a car, the trip will take you approximately 2 hours. You'll drive the A1 motorway, so get ready for tolls.
---
Day trips to Coimbra
There are several day tours to Coimbra, where everything is arranged, so you don't need to worry about the organization.
From Porto, you can have an exciting day tour combining Coimbra and Fàtima, one of the most important pilgrimage sites in Portugal.
If you're looking for a unique experience, have a look at this private day trip from Lisbon to Coimbra. The tour includes pick-up and drop-off at your hotel, private driver and private guide, and wi-fi in the car.
---
Where to stay in Coimbra
The old city is hands on the best area to stay in Coimbra.
The charming Sapientia Boutique Hotel features lovely modern rooms, stylish decor, and a beautiful terrace.
The small Republica Guesthouse features cozy rooms and a warm atmosphere. It's the perfect place if you want to feel at home.
At Casas da Comédia you can stay at one of the beautiful studios and apartments. They come with all the facilities and are an excellent option if you're traveling to Portugal with kids.
Check out more accommodations in Coimbra.
_______
This post contains affiliate links. That means that if you make a purchase, I get a small commission at no extra cost to you.
Pin for later!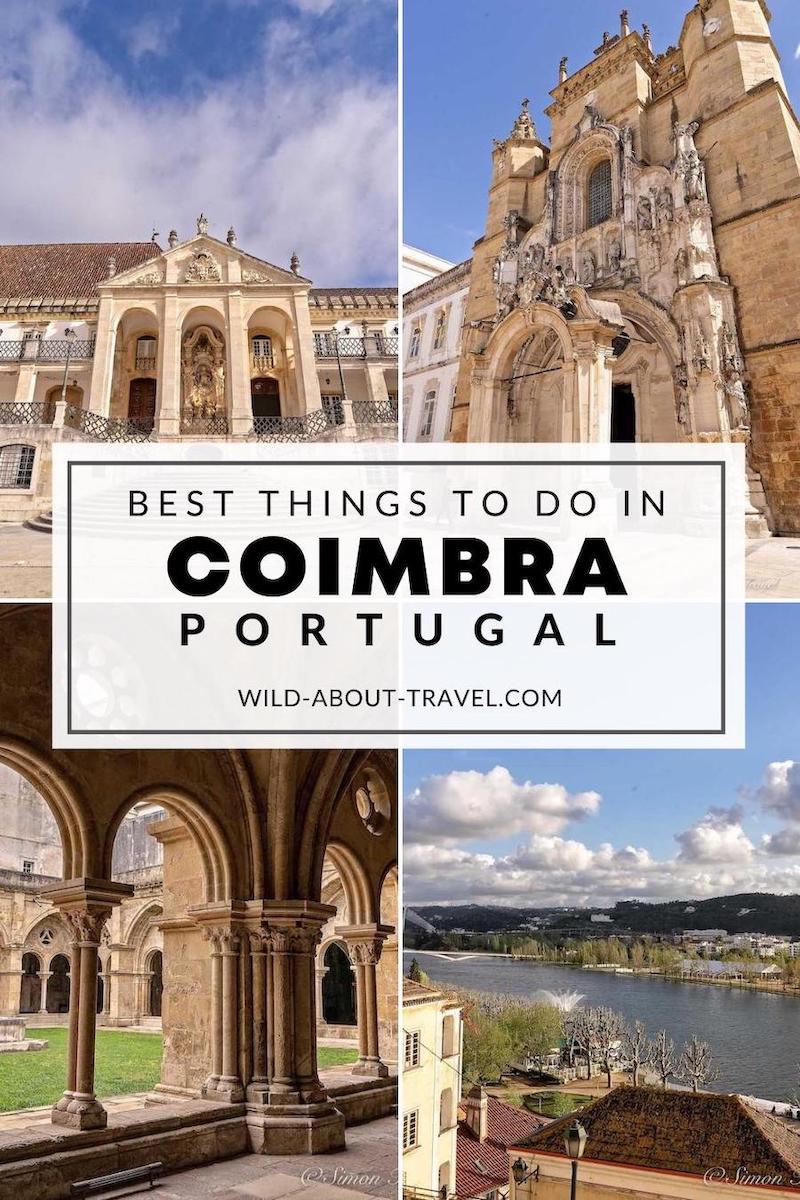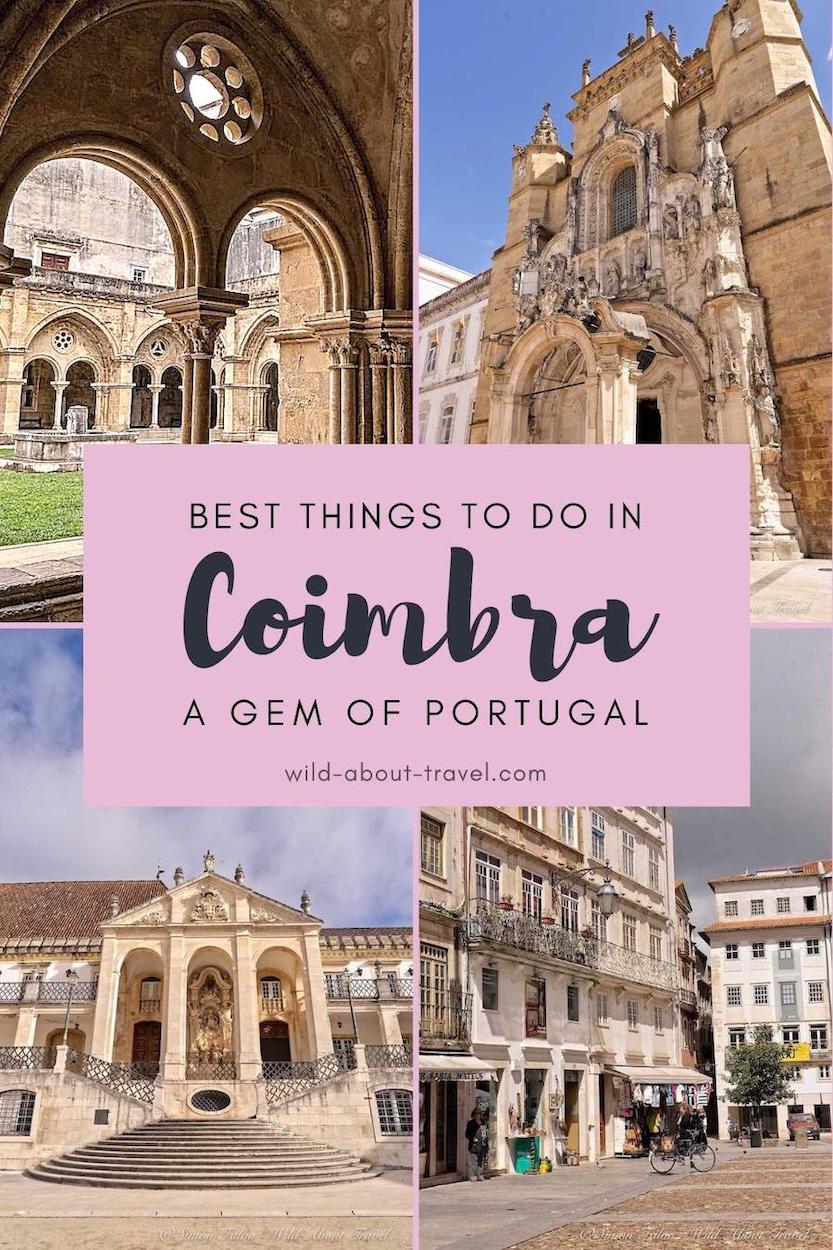 Travel addict and passionate about photography, Simon Falvo started Wild About Travel back in 2009. Leveraging her strong PR background, she developed an extensive knowledge of Digital Communications and Social Media Marketing. Besides travel writing Simon holds workshops and trainings, she collaborated with tourism boards for digital marketing campaigns and participated as a speaker at several events.