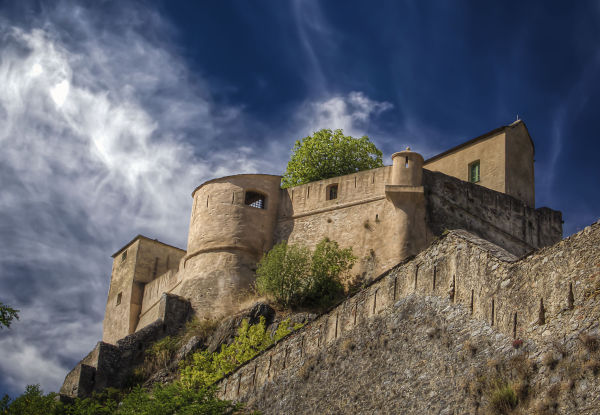 23 Sep

A Road Trip Across Corsica's Mountains and Villages

After years traveling mostly by public transportation, I was keen to make a road trip again,  free to stop wherever I felt like and to stay as long as I wished.
Don't get me wrong. I still love mingling with locals on the bus, the train or the boat , especially in faraway countries with a totally different culture. However, truth is that in some places getting around by public transportation means seeing very little and hiring a car is almost paramount.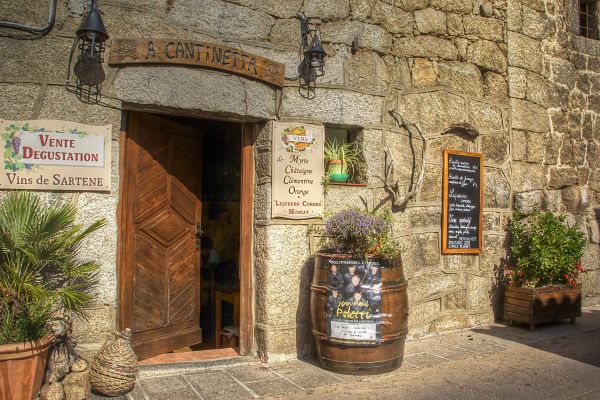 Corsica is one of those places, and only by car (or motorbike or, if you're not scared by steep climbs, by bike), one can discover the contrasts of the Ile de Beauté as the island is often called in French.
I had visited Corsica several times before, but it was a few years I hadn't been back and was keen to set foot again in one of my favorite spots in the Mediterranean. It was the perfect destination for a road trip to explore hidden corners of the island I hadn't visited before.
It's hard not to fall in love with Corsica because the island has it all (or almost). Breathtaking beaches with crystal-clear water, jaw-dropping mountain sceneries, delightful small villages where time seems to have stopped, beautiful forests and rivers, all in an area of about 8,800 sqm.
Leg 1: Ajaccio to Sartène
From Ajaccio airport, I went directly to the car rental boot where everything went smoothly. In a matter of minutes, I picked up my car and started my road trip heading south and inland, to Sartène.
Wild nature and isolated villages: Corsica is a perfect destination for a road trip
Perched atop a rock, with its medieval structure, narrow alleys and granite houses, Sartène somehow epitomizes the essence of Corsica: secluded, introverted, sometimes even a little rough, although also capable of great warmth.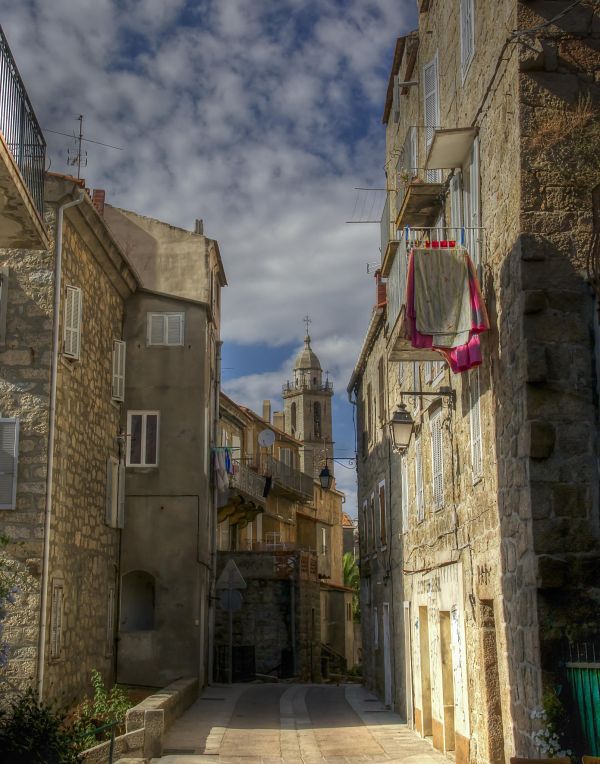 Leg 2: Sartène, Zonza, Bavella
Crossing the pretty village of Zonza, the winding road toward the mountains rewarded me with stunning views. Here and there, I spotted wild pigs walking alongside the road, sometimes even indifferently laying on the pavement and slowly moving away as I approached.
All of  a sudden, the Aiguilles de Bavella (the 'Bavella Needles') appeared on the horizon, beautiful rocks and peaks dominating the landscape. I had been anticipating a nice hike in one of the most scenic mountain areas of Corsica but when I arrived it was so unexpectedly packed that I gave up. The scenery is indeed breathtaking but it was far too crowded for my taste. Definitely worth going back in Spring or Autumn, though.
Leg 3: Corte and the Restonica Valley
Narrow streets leading up to the citadel, old houses looking a little unkempt and for that very reason all the most fascinating, this is Corte, the former capital of Corsica during the short period in which the island achieved the independence in the mid 18th Century.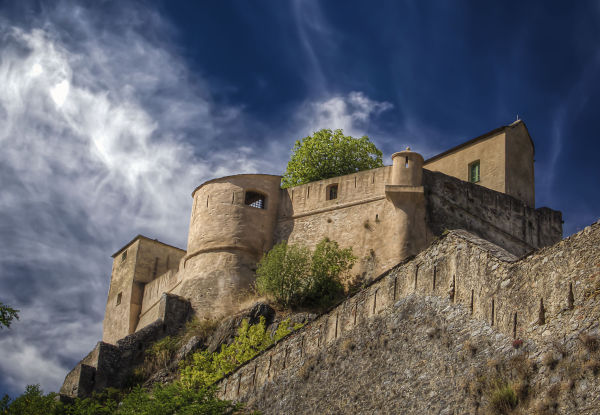 The Corsican Republic was short-lived, but the old town maintained its pride and scrupulously kept their traditions, starting from the language.
Seen from below, the houses perched atop the hill make for a lovely composition, while from atop the citadel overlooks the surrounding mountains and forests of the Regional Natural Park of Corsica.
The nearby Restonica Valley is breathtaking and well known for its beautiful hikes, with nothing but a wild scenery to admire while walking up one of the many trails. It was one of the highlights of my road trip across Corsica and a place I wouldn't have been able to reach without a car.
Leg 4: Corte to Ota
More winding roads through the mountains, until my eyes started to spot the blue sea. After a stop in Algajola for lunch and some good fresh fish and a walk along the white sand beach, I continued my journey heading back inland to the enchanting village of Ota.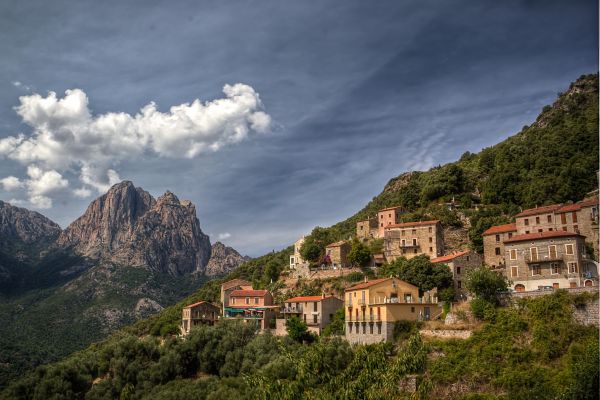 From the Gulf of Porto, sole UNESCO World Heritage Site in Corsica, the road climbs up to Ota, delightful village leaning against the mountain. It's an oasis of peace, popular with hikers coming here for daily excursions or stopping along the Mare e Monti hiking trail.
A  walk to the beautiful Gorges de la Spelunca,  a drink on the terrace overlooking the mountains and the village, Ota invites to stop for a couple of days to enjoy the silence, the beautiful scenery and the life of the locals along the streets or at the bar. A corner of authentic Corsica I thoroughly liked.
Leg 5: Ota to Ajaccio
The last leg of the Corsica road trip was also the most scenic. I left Ota short after the sunrise and reached the Calanques of Piana when the sun was still low and the rocks shaded in pink, contrasting with the deep blue of the water beneath.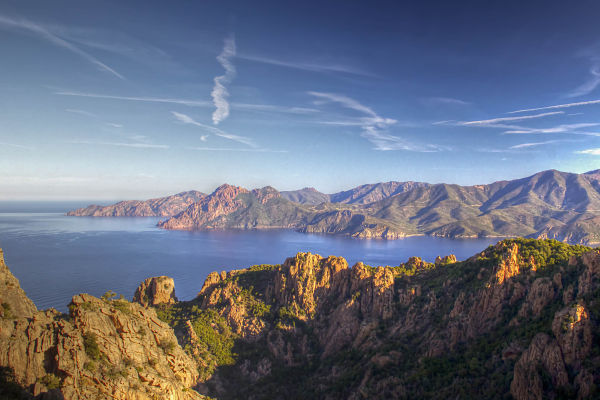 I stopped at a couple of viewpoints, striving to catch as much as possible of this awe-inspiring beauty, willing to fix in my eyes and memory the sight of one of the most beautiful sceneries in the Mediterranean.
Time to take the road again, down to Ajaccio. I feel already a little nostalgic. But also happy because after more than ten years, Corsica is as beautiful as I remembered it.
_______
 Note:
For my road trip across Corsica I was kindly offered a complimentary car by Auto Europe, a leading car rentals and service provider at competitive rates. I decided the itinerary and opinions, as always, are my own.
Pin it if you like it!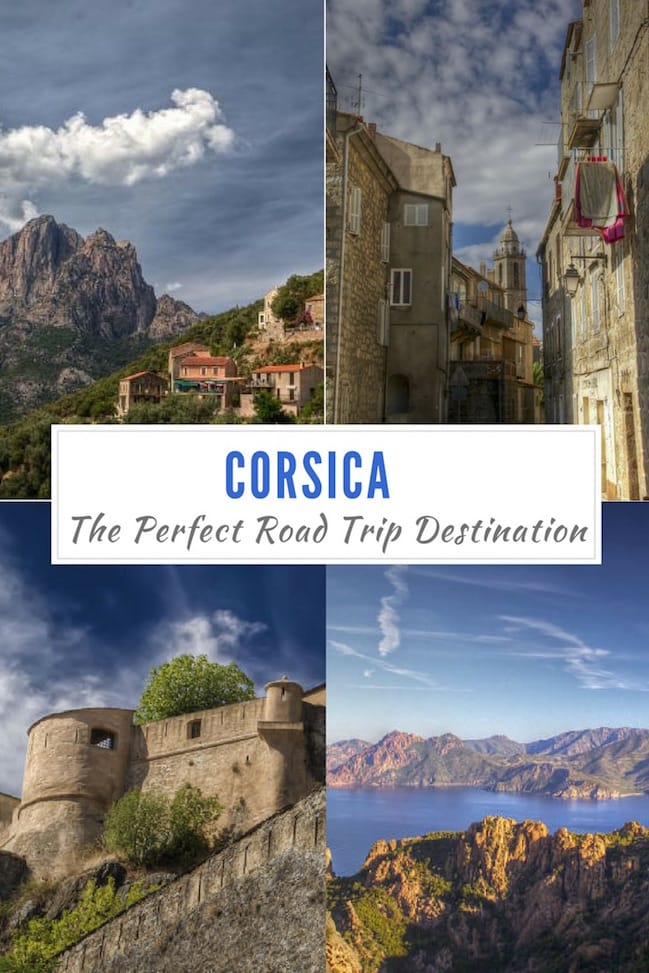 Map of my Corsica Roadtrip: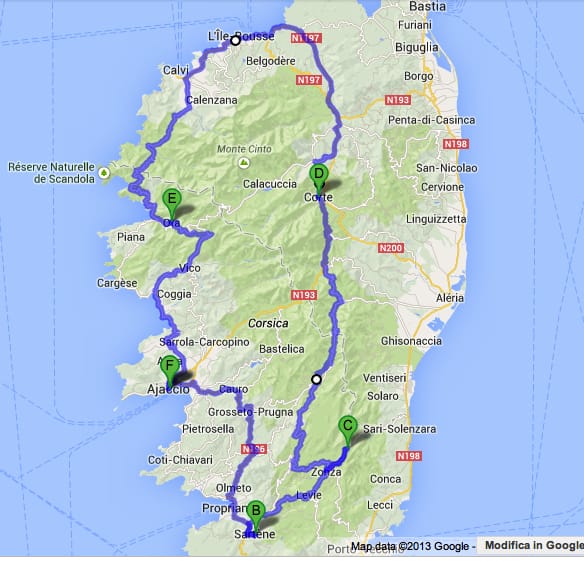 Useful Information:
Getting to Corsica: Bastia, Ajaccio, and Calvi are connected by boat from Italy (Savona, Genova, Livorno) and France (Marseille, Toulon). Flights to Corsica from France and other European cities must be checked as some of them are only seasonal.
Driving in Corsica: Allow plenty of time, as most roads are winding, often narrow and sometimes in poor conditions. The landscape is so beautiful that there's no need to rush.
Lodging: Corsica is not a cheap destination so if you're looking for budget accommodations, your best bet is staying at the Gites d'étape, hostels popular with hikers, mostly in small villages and offering half-board accommodation in dormitories.
Travel addict and passionate about photography, Simon Falvo started Wild About Travel back in 2009. Leveraging her strong PR background, she developed an extensive knowledge of Digital Communications and Social Media Marketing. Besides travel writing SImon holds workshops and trainings, she collaborated with tourism boards for digital marketing campaigns and participated as a speaker at several events.