Are you dreaming of holidays in Corsica? Follow my 7-day Corsica road trip itinerary. Discover the "Ile de Beauté", with its dreamy beaches, crystal clear water, jagged mountains, and charming towns. This Corsica itinerary will make you fall in love with one of the Mediterranean's most beautiful islands.
Hiking in the Dolomites or a road trip to Corsica? That was my dilemma when I had to choose the destination and the travel style for my birthday trip. I never get tired of the mountains, and I like traveling by public transportation. Indeed, I gave up having a car years ago. However, I was keen to make a road trip again, as I did in Northern Ireland along the scenic Causeway Coastal Route. It felt good being free to stop wherever I felt like and to stay at a place as long as I wished.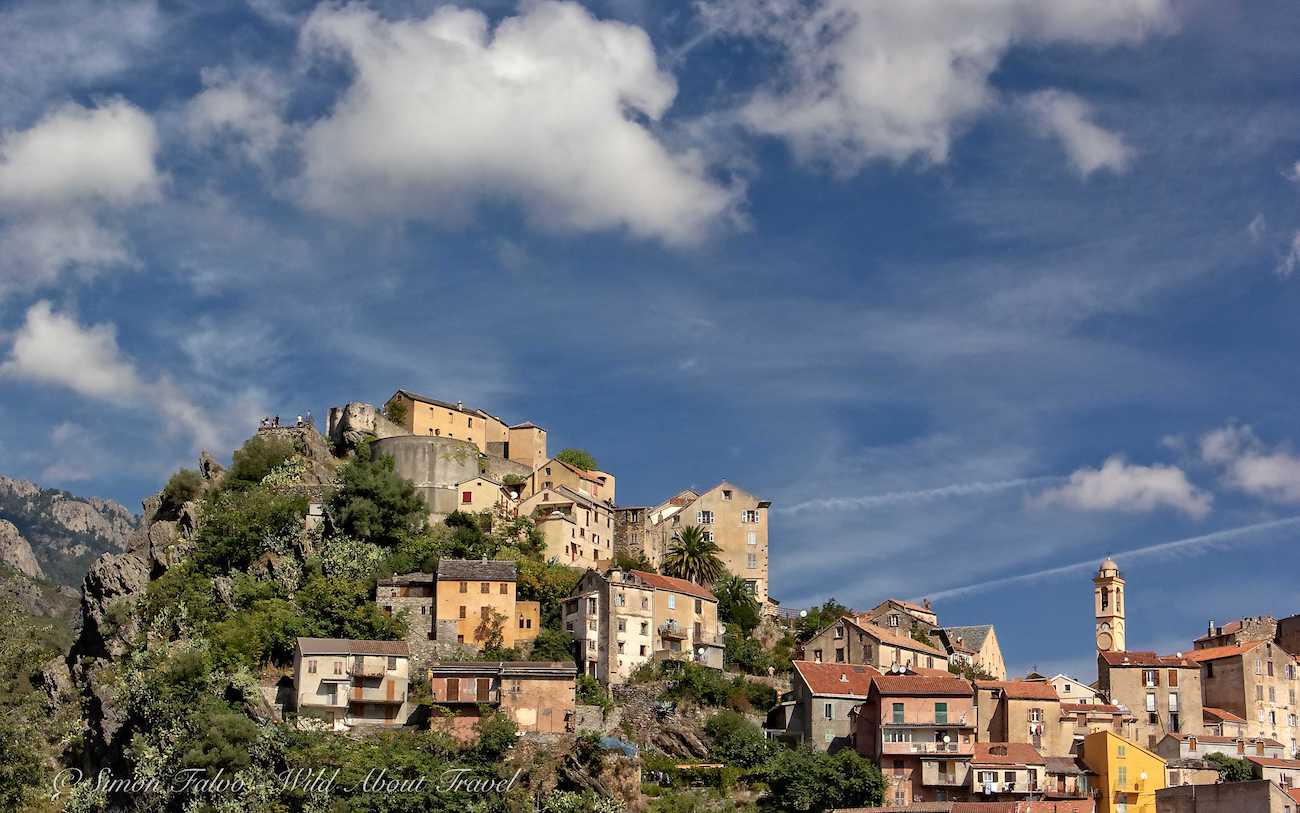 Don't get me wrong. I still love mingling with locals on the bus, the train, or the boat, especially in faraway countries with different cultures. However, the truth is that in some places getting around by public transportation means seeing very little, and hiring a car is almost paramount
Corsica is one of those places. Because only by car (or motorbike or, if you're not scared by steep climbs, by bike) one can discover the contrasts of the Ile de Beauté as the island is often called in French.
Visiting Corsica… Once again
So I decided. I would go back to Corsica, France, on a solo road trip.
I visited Corsica several times previously, but I hadn't been back for a few years. Being one of my favorite spots in the Mediterranean, I was keen to spend one week in Corsica and explore hidden corners of the island I hadn't visited before.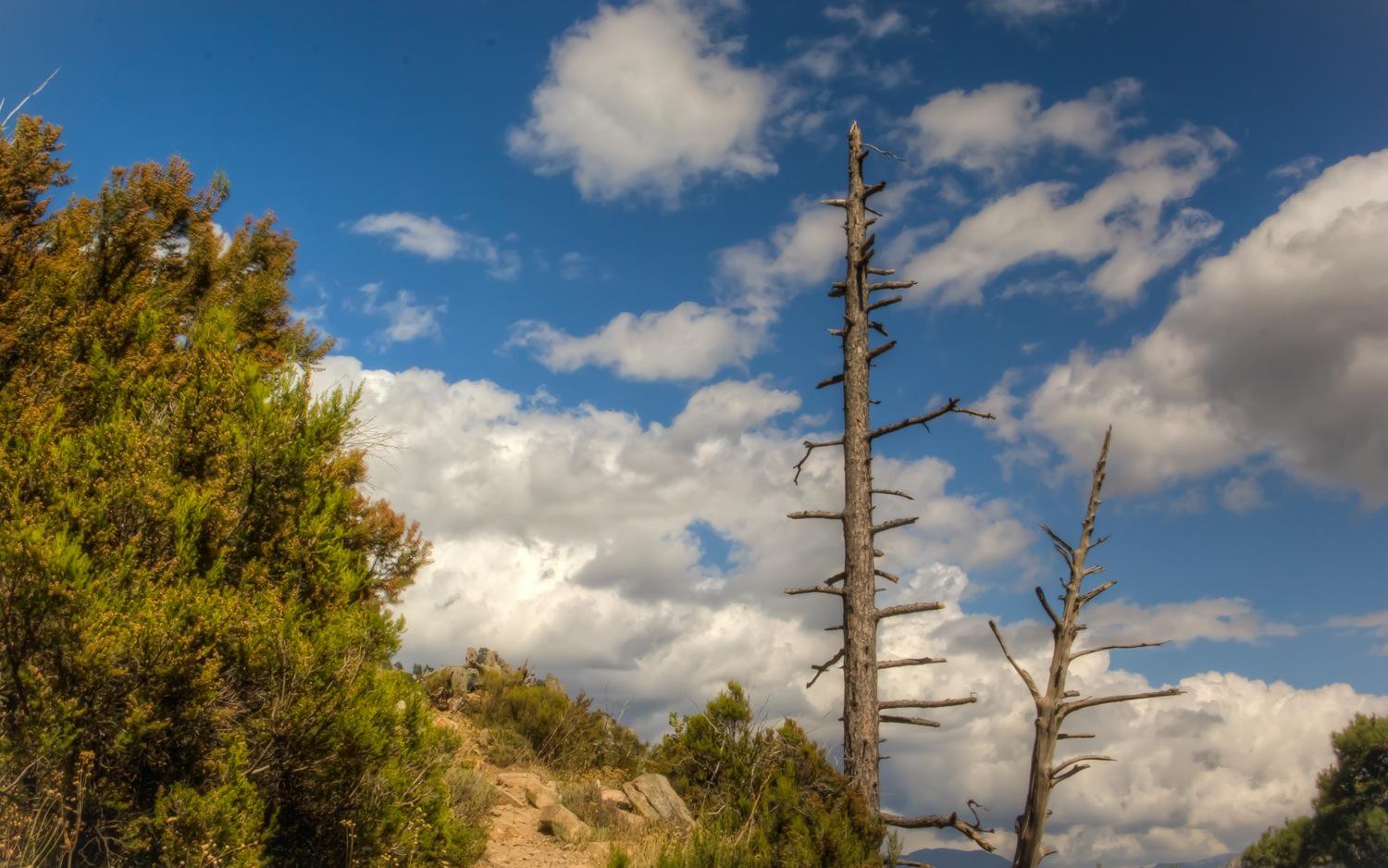 If you wonder why Corsica holidays are always a good idea, no matter how many times you have visited, let me tell you that it's hard not to fall in love with Corsica. The island has it all (or almost). Breathtaking beaches with crystal-clear water, jaw-dropping mountain sceneries, delightful small villages where time seems to have stopped, beautiful forests and rivers, all in an area of about 8,800 sqm.
How to plan your Corsica road trip itinerary
Once bought my flight to Ajaccio, I started studying the map to draw my Corsica road trip itinerary. I was willing to include some Corsica must see places, as well as spending time in the Corsica mountains. I had to make choices, though, as a week in Corsica is not enough to explore the entire island unless you want to spend all the time behind the wheel. Over the years, I grew more and more fond of slow travel, willing to see less but experience and taste more.
I eventually decided to focus on Corsica's western coast and cross inland almost in the middle of the island. I would drive along the coast and to the mountains, visit charming villages, and enjoy the beautiful beaches. And I also craved a couple of short hikes.
I like freedom when I travel, and I try to limit planning as much as possible so that I can change my mind along the way. However, Corsica in Summer gets busy. So I built up a 7-day itinerary to visit some of the most beautiful places in Corsica.
Corsica road trip: Know before you go

How to get to Corsica
By air: Corsica has four airports: Ajaccio, Bastia, Calvi, and the smaller Figari in the south. International flights are limited to Europe. Therefore, if you're coming from overseas, your most likely ports of call are Paris, London, Frankfurt, and Zurich. Many flights to Corsica from France and other European cities are only seasonal, so it's better to check and book as soon as possible.
By ferry: Bastia, Ajaccio, and Calvi are connected by ferry from Italy (Savona, Genova, Livorno) and France (Marseille, Toulon). If you plan to travel to Corsica with your car in high season (July-August), I recommend booking in advance for better fares.
Best time to visit Corsica
Although I'd be curious to see Corsica in Winter, the best time to visit Corsica is from April to late September, mid-October. If possible, avoid July and August, which are the busiest months and also very hot for hiking. Additionally, should you plan holidays in Corsica in July and August, choose your accommodation and book well in advance.
Driving in Corsica
Allow plenty of time, as most roads are winding, often narrow, and sometimes in poor conditions. Driving in Corsica can also be challenging due to animals crossing the streets (wild boars, goats, etc.). Drive slowly and with caution, and buy full-coverage car insurance.
Car rental in Corsica
Corsica airports have booths of several car rental companies. If you're envisaging a Corsica road trip in the high season, I recommend booking a car well in advance. Check the prices and book your car.
Accommodation in Corsica
Corsica accommodations range from simple guesthouses to luxury hotels and apartments. Camping in Corsica is also very popular, as well as basic lodging for hikers. Read further and find out where to stay in Corsica on this 7-day itinerary.
A week in Corsica by car: itinerary
Day 1 – Ajaccio to Sartène
From Ajaccio airport, I went directly to the car rental booth, where everything went smoothly. In a matter of minutes, I picked up my car and started my Corsica road trip heading south and inland to Sartène.
Perched atop a rock, with its medieval structure, narrow alleys, and granite houses, Sartène somehow epitomizes the essence of Corsica: secluded, closed, sometimes even a little rough, although also capable of great warmth.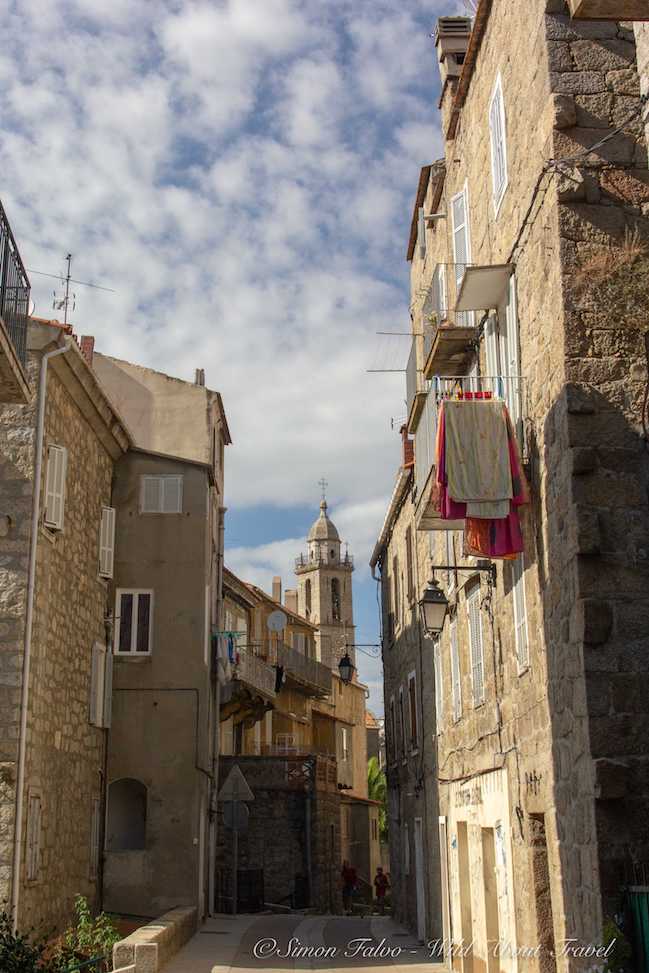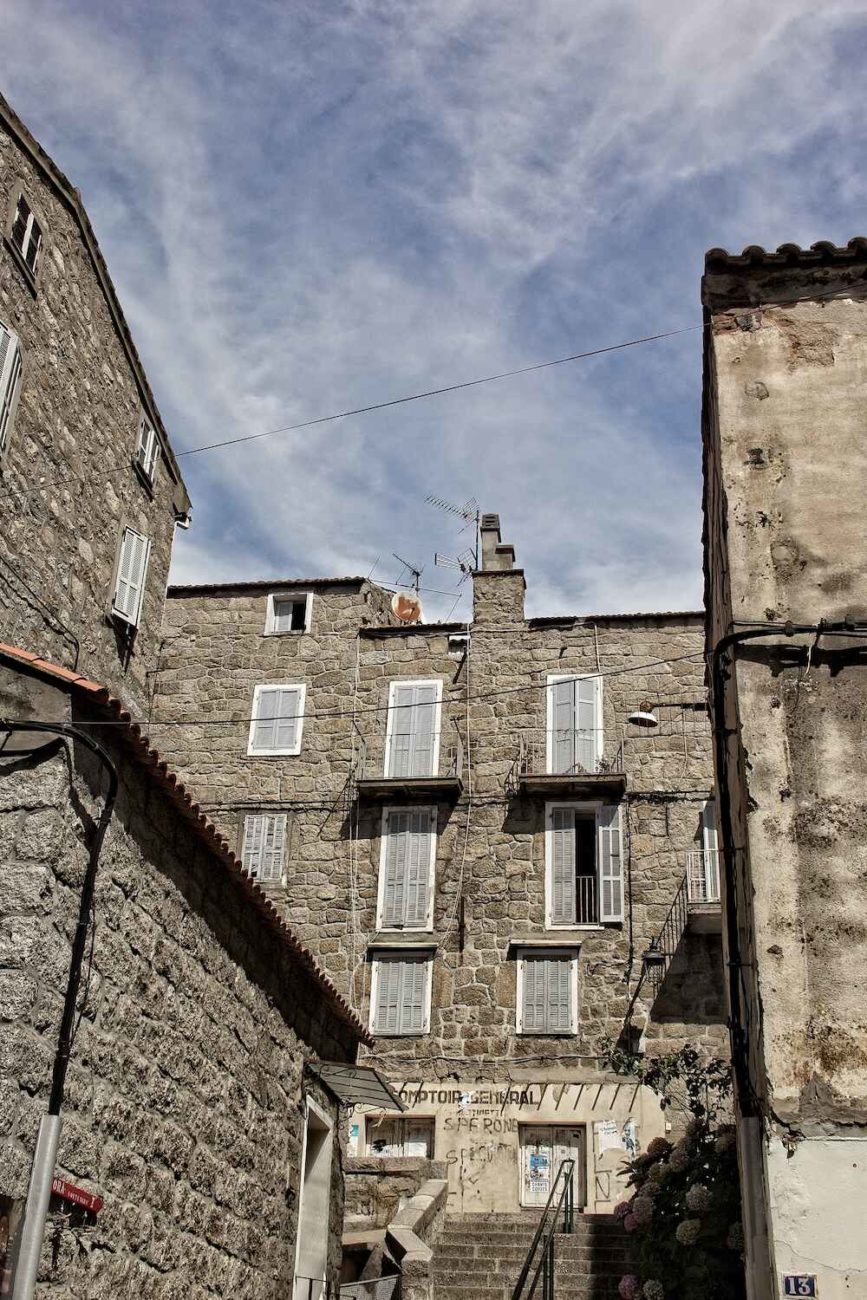 As I often do, I explored Sartène wandering around aimlessly, getting lost in the tiny streets, and admiring the tall granite buildings which date back to the 16th century. Camera in hand, I couldn't choose which corner I should take a picture of. They were all so pretty. The town is small, so even walking slowly and stopping every few steps, I didn't need much time to discover the nicest spots. I took a break sitting on the terrace of a cute cafè, people-watching and just taking in the sense of peace surrounding me.
Day 2 – Sartène, Zonza, Bavella
Crossing the pretty village of Zonza, the winding road toward the mountains rewarded me with stunning views. Here and there, I spotted wild pigs walking alongside the road, sometimes even lying unconcerned on the pavement and slowly moving away as I approached.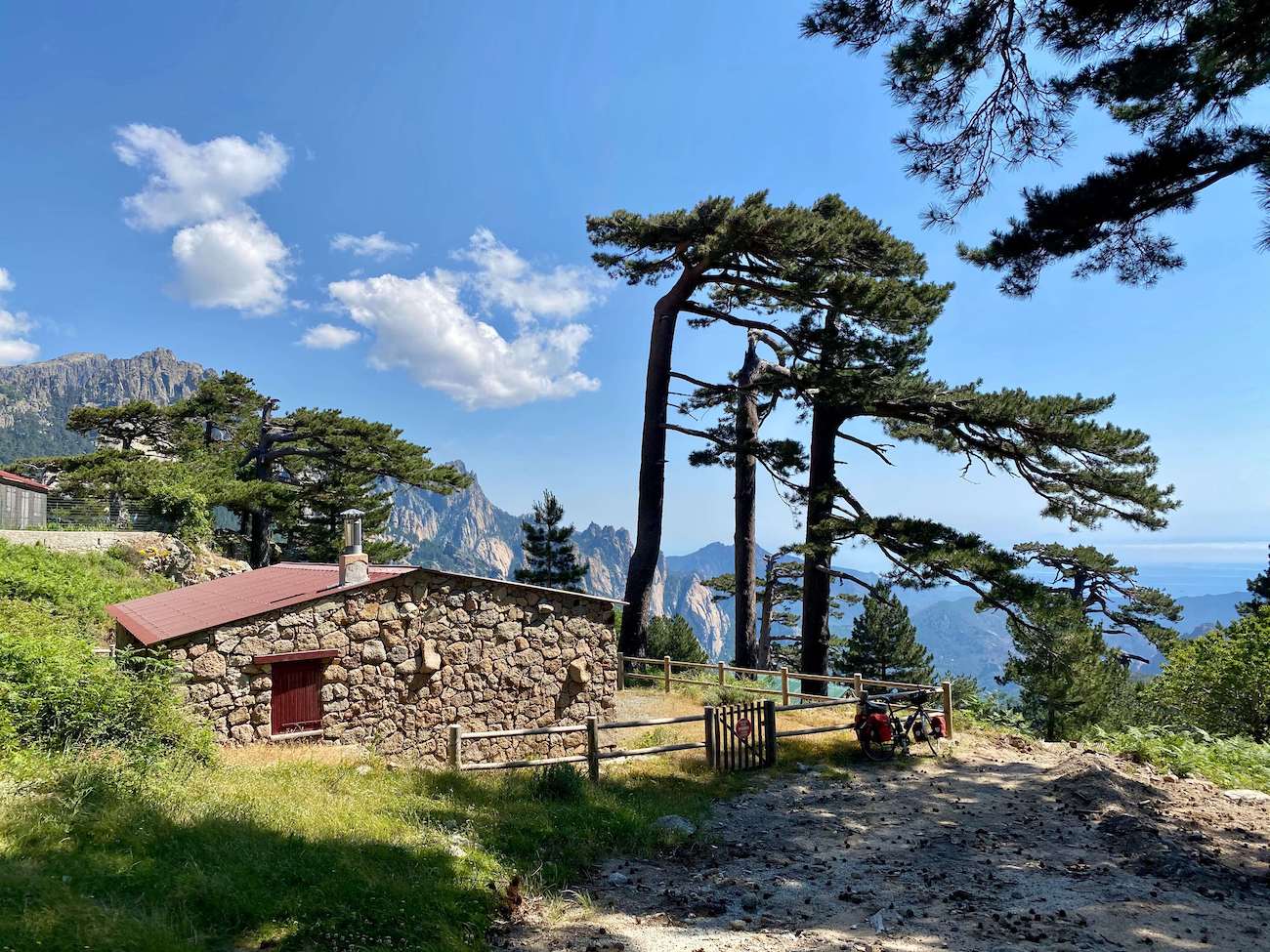 Suddenly, the Aiguilles de Bavella (the 'Bavella Needles') appeared on the horizon, with beautiful rocks and peaks dominating the landscape. I had been anticipating a beautiful hike at one of the most scenic mountain areas of Corsica, but when I arrived, there were so many people that I gave up. The scenery is indeed breathtaking, but it was far too crowded for my taste. It's worth going back in Spring or Autumn, though.
Day 3 – Corte
With its narrow streets leading up to the citadel and the old houses looking a little unkempt, Corte is charming. As you stroll this in the lovely alleys, you'll hardly think that Corte was the former capital of Corsica during the short period in which the island achieved independence in the mid-18th Century.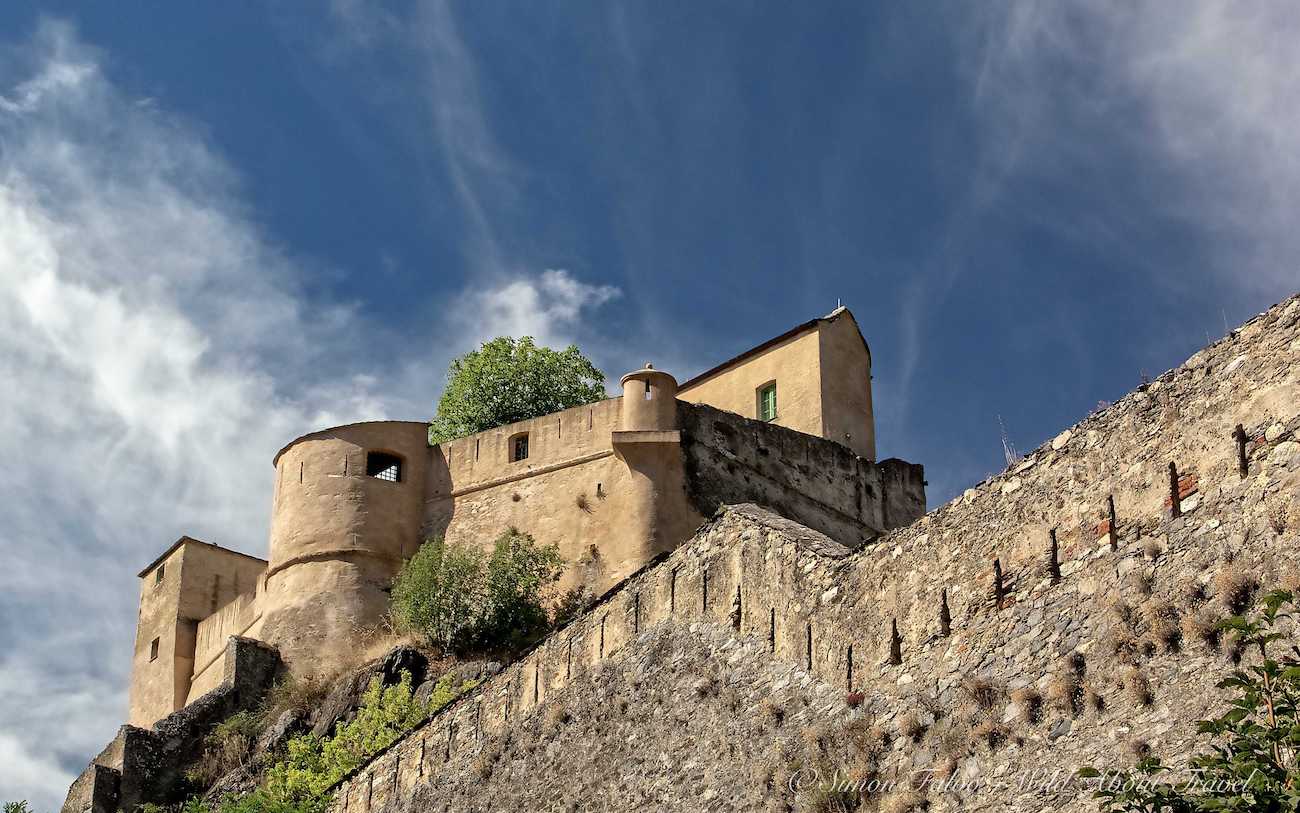 The Corsican Republic was short-lived, but the old town maintained its pride and scrupulously kept its traditions, starting from the language.
Seen from below, the houses perched on the hill make for a lovely composition, while from atop, the citadel overlooks the surrounding mountains and forests of the Regional Natural Park of Corsica. Corte is one of the most beautiful towns in Corsica and a must-see.
Day 4 – Hiking the Restonica Valley
The nearby Restonica Valley, which I had never visited before, is well known for its beautiful hikes. I couldn't miss it this time, and after breakfast, I started the drive along the narrow and somewhat bumpy road.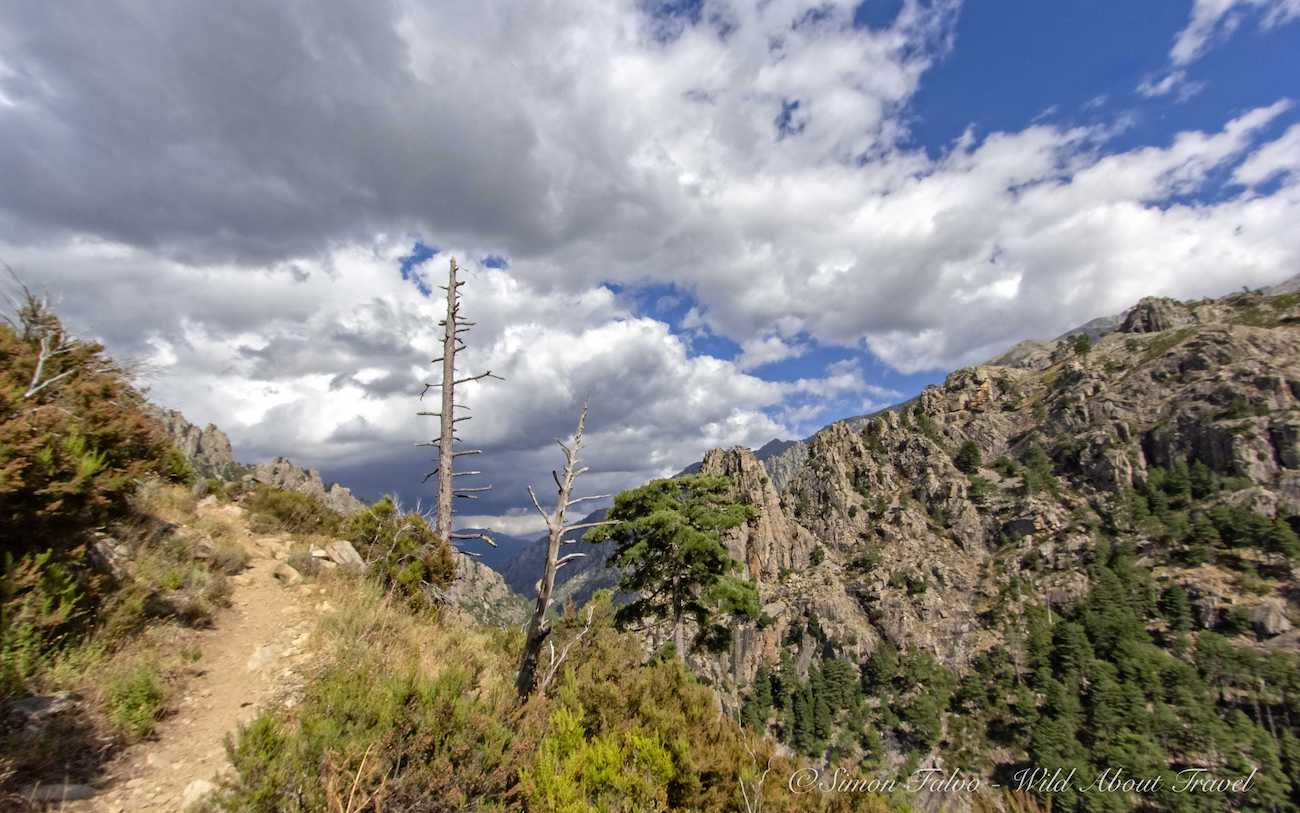 I picked up randomly one of the many trails crisscrossing the Restonica Valley and started the ascent, surrounded by breathtaking wild scenery. Rocks sculpted by erosion, green pine trees bent by the strong winds, and clouds running fast in a cobalt blue sky. Surprisingly, I met only a handful of people along the trail, which made my hike all the most enjoyable. Hiking in Corsica is extremely popular, and the island boasts the GR-20, one of the best long-distance treks in Europe.
The Restonica Valley ended up being one of the highlights of my Corsica road trip and a place I wouldn't have been able to reach without a car.
Day 5 – Corte to Ota
More winding roads through the mountains, and then, the blue sea appeared on the horizon. Time for a change of scenery, from the rocks to water. I could hear my stomach grumbling, reclaiming attention. Shortly after, I approached Algajola, a lovely fortified small town along the coast, almost halfway between Ile Rousse and Calvi, and a lovely spot for a lunch break.
I treated myself to a dish of delicious fresh fish and a glass of cold local white wine. The sandy beach was too tempting, so I went for a long walk and a short bath before entering the car once again. I continued my journey heading back inland to the enchanting village of Ota.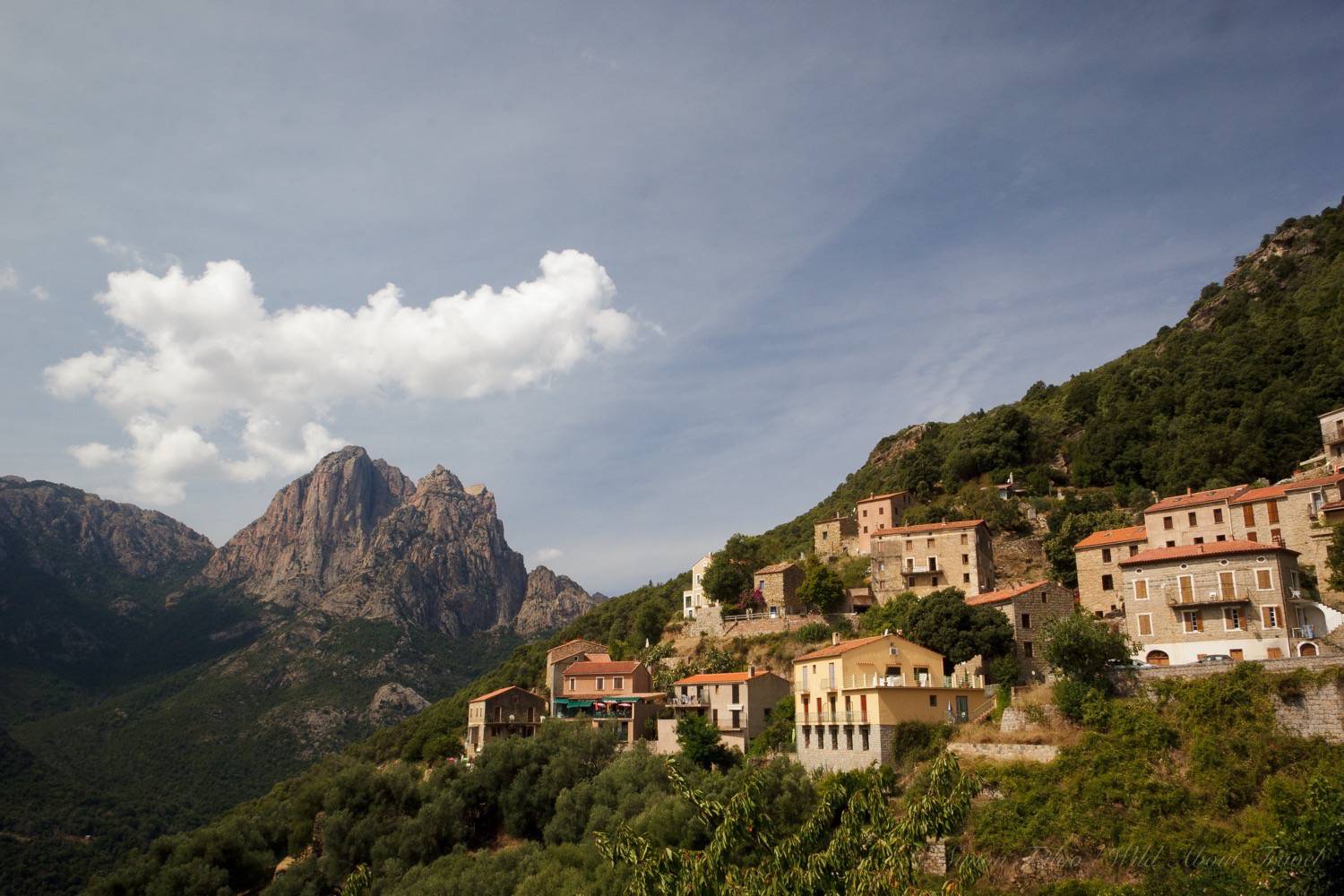 From the Gulf of Porto, the sole UNESCO World Heritage Site in Corsica, the road climbs up to Ota, a delightful hamlet leaning against the mountain. It's an oasis of peace, popular with hikers coming here for daily excursions or stopping along the Mare e Monti hiking trail.
Day 6 – Ota and the Gorges de Spelunca
Small and secluded, Ota was the perfect place to relax. Afterward, I went for a scenic drive and a day hike to the beautiful Gorges de Spelunca.
Back from my walk, I chilled out on a terrace overlooking the mountains and the village. Sipping a drink, I watched the colors of the houses getting warmer hues as the sun started setting down.
Ota invites you to stop for a couple of days to enjoy the silence, the beautiful scenery, and the life of the locals along the streets or at the bar. A corner of authentic Corsica I thoroughly liked.
Day 7 – Ota to Ajaccio
The last leg of my Corsica road trip was also the most scenic. I left Ota shortly after sunrise and reached the Calanques of Piana. The sun was still low. And the rocks, shaded in pink, made a beautiful contrast with the deep blue of the water beneath.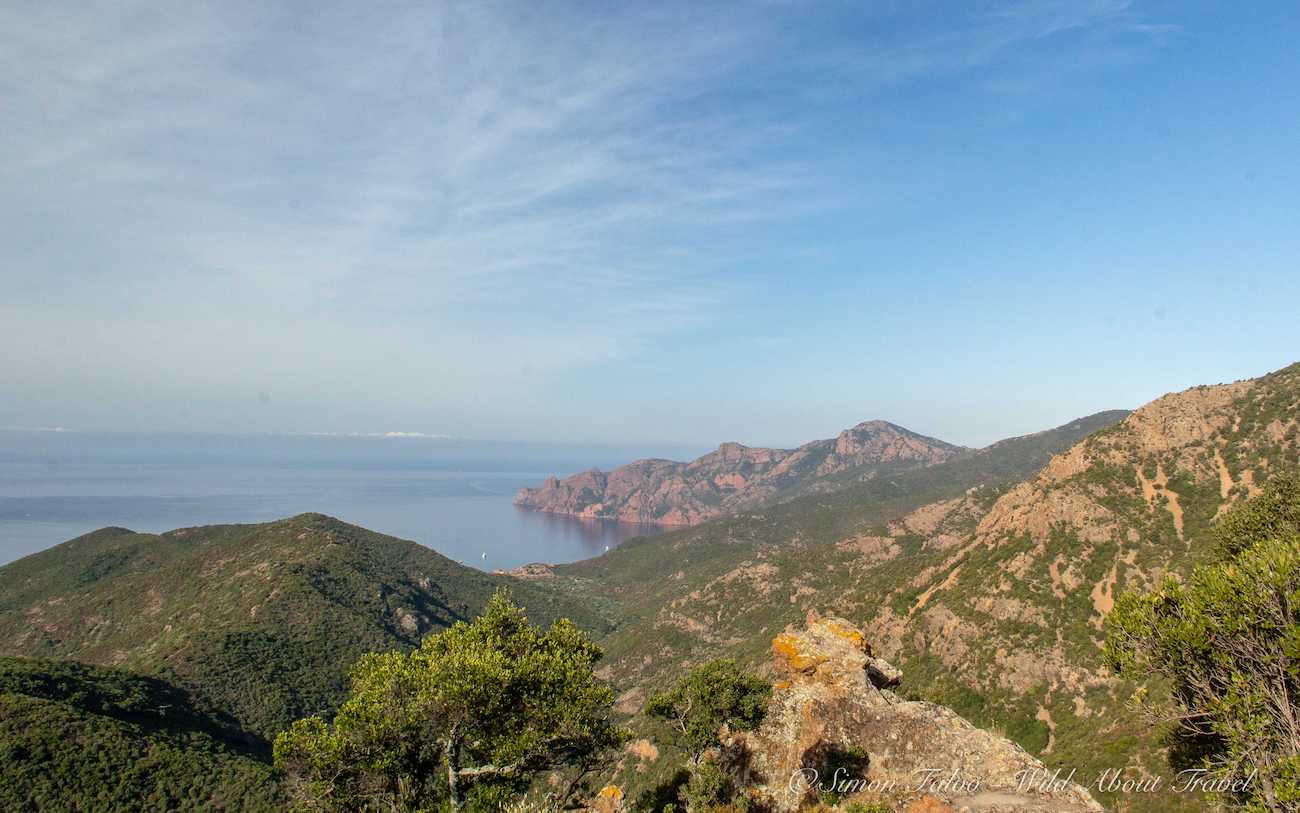 I stopped at a couple of viewpoints, striving to catch as much as possible of this awe-inspiring beauty. I was willing to fix into my eyes and memory the sight of one of the most beautiful sceneries in the Mediterranean. The Calanques de Piana are one of the unmissable attractions in Corsica and should be included in any Corsica itinerary.
Sadly, my Corsica holidays had come to an end, and I retook the road down to Ajaccio. As I drove back to the airport, I couldn't help feeling a bit melancholy. A week in Corsica passed in a heartbeat. At the same time, I was pleased because, after more than ten years, Corsica was as beautiful as I remembered it. It was only a goodbye. I know I'll be back.
Where to stay in Corsica

Corsica is not a cheap destination, especially if you are a solo traveler. If you're looking for budget accommodations in Corsica, your best bet is staying at the Gites d'étape. These are hostels popular with hikers, mostly in small villages, offering accommodation in dormitories, usually with half-board.
Although somewhat pricey, Corsica boasts many beautiful accommodations, often with stunning views. Here's a selection of hotels in some of the most beautiful towns and areas of the island:
Accommodation in Sartène and nearby
Sartène:
The colorful Rossi Hotel is only 1,2 km from Sartène. It features a terrace with panoramic views of Sartène and the countryside and an outdoor swimming pool, which is a good option if you're visiting Corsica with kids.
Maredda 2 is a charming apartment tastefully decorated. Located less than 1 km from Sartène center, it features several amenities, including air conditioning.
Best Western Plus San Damianu: The hotel features modern and bright rooms with a balcony, an outdoor swimming pool, and a large terrace with superb views of Sartène and the surrounding landscape.
Propriano (14 km / 9 mi from Sartène, 15-20 min drive)
Miramar Boutique Hotel: Modern and stylish, it overlooks the Gulf of Valinco and its beautiful beaches. Amenities include a heated outdoor swimming pool, a sauna, and a spa. Perfect for a romantic getaway and a relaxing holiday.
Résidence & Hôtel Aria Marina: Overlooking the Gulf of Valinco, Aria Marina Hotel and Residence features tastefully decorated self-catered apartments with a balcony and a terrace with superb views.
Olmeto (21 km / 13 mi from Sartène, 30 min drive)
L'Hostellerie du Moulin des Oliviers is a beautiful boutique hotel surrounded by a charming Mediterranean garden. The Hotel features all kinds of amenities, including a swimming pool, private beach, spa, and fine dining.
Accommodation in Piana and the Calanques
Hôtel Capo Rosso boasts a wide terrace with superb views of the Calanques de Piana and the Gulf of Scandola, one of the most scenic areas of Corsica.
Hotel Scandola features modern and tasteful décor and spacious rooms with a balcony. The charming terrace offers sweeping sea views.
Where to stay in Corte
Dominique Colonna Hotel: A stylish hotel with a wide terrace overlooking the river. Dominique Colonna features an outdoor swimming pool with a sundeck and a spa.
If you'd rather stay in nature, check out Hôtel de la Restonica. Rustic but tasteful, the hotel features a summer outdoor swimming pool and views of the mountains. It's a perfect choice if you want to do some hiking in Corsica since there are some trails nearby.
---
Corsica Road Trip Map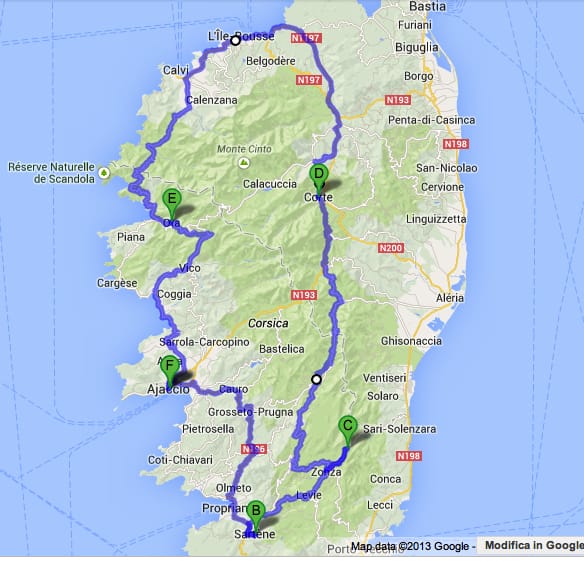 _______
Note:
This post contains affiliate links to carefully selected products and services, some of which I tested myself. If you make a purchase, I earn a small commission at no extra cost to you.
Pin for later!