Are you ready to spend 2 days in Milan? There is such an abundance of things to do in Milan that you'll soon find that time flies in the Fashion Capital. Although often overlooked, with its rich history, vibrant nightlife, and unique restaurant scene, Milan has something to offer to every traveler. As a local, let me help you build the perfect itinerary and discover the best of Milan in 2 days.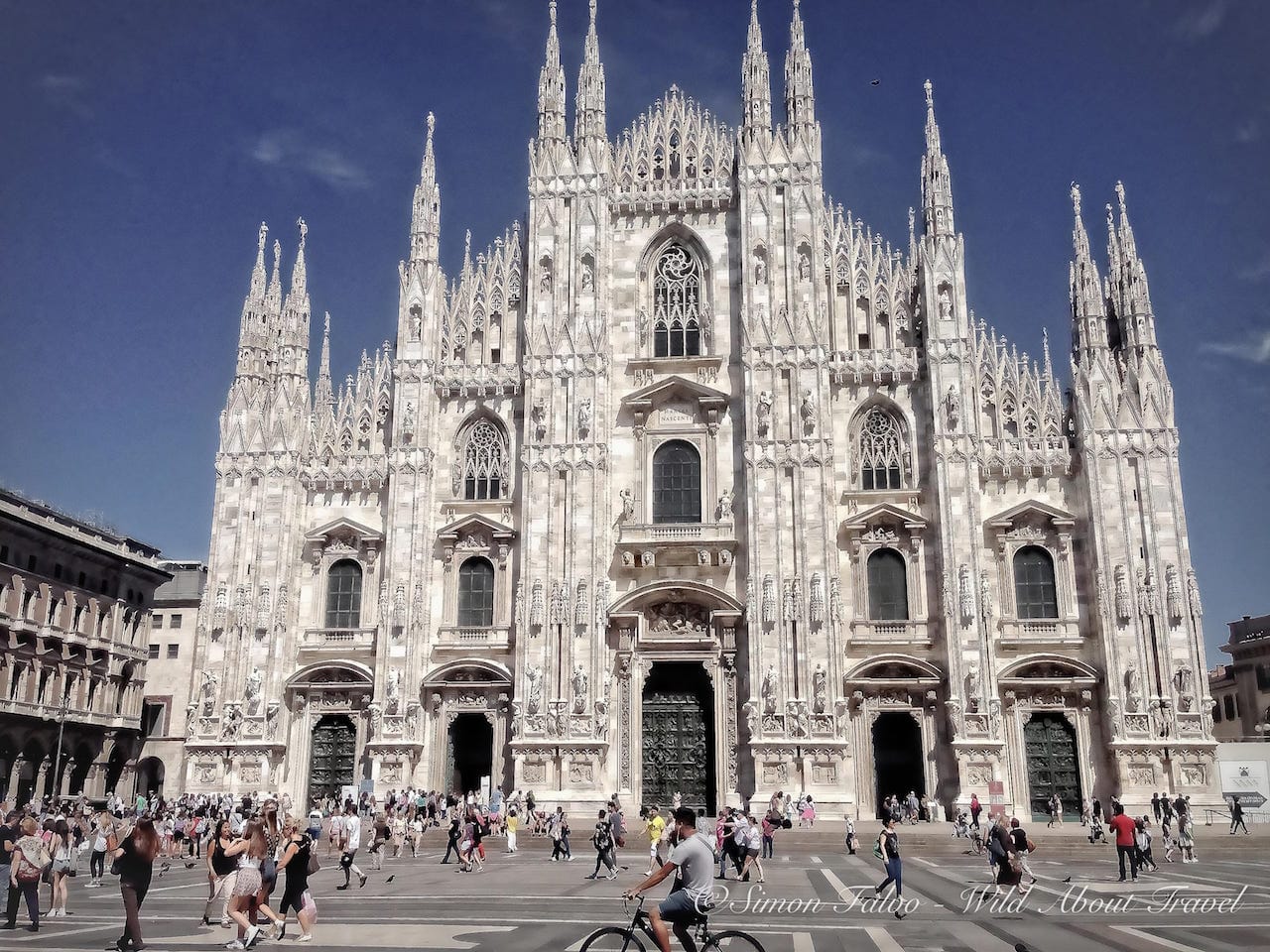 For a long time, Milan has been considered a business city, thus not very attractive for tourism. That changed over the last decade, especially since the Milan Expo in 2015. The event gathered international attention and attracted visitors from all over the world, who discovered how much Milan has to offer. Since then, except for the period at the peak of the Covid pandemic, the Fashion Capital, as Milan was dubbed, received an increasing amount of tourists. From Italy and, even more, from abroad.
As for me, having grown up in a small town in the Swiss mountains, living in Milan was hard at first. Although I'm Italian-born, I was not used to a big city and had to get familiar with a different culture. It took me some time to appreciate Milan. It seemed to lack Venice's uniqueness, Florence's elegance, or Rome's fascination. After a while, though, I understood that Milan is one of those cities whose beauty often needs some effort to be discovered. It took me some time, but I'm now deeply in love with Milan, its beautiful architecture, vibrant nightlife, and countless mouth-watering restaurants.
Jump to the relevant section [Show]
Information about Milan

Milan is a city of culture and fashion, with many attractions to explore. But if you still need to decide about visiting Milan, here's some information about Milan that should help you decide.
1. Is Milan worth visiting?
That's a common question.
Many people planning a trip to Italy wonder if Milan is worth visiting or if they should skip it. Being my birthplace and the city where I live, I'm partial. But believe me; there are many reasons to visit Milan: from its beautiful historical center to its vibrant nightlife, from its unique atmosphere to the palpable fashion and design trends.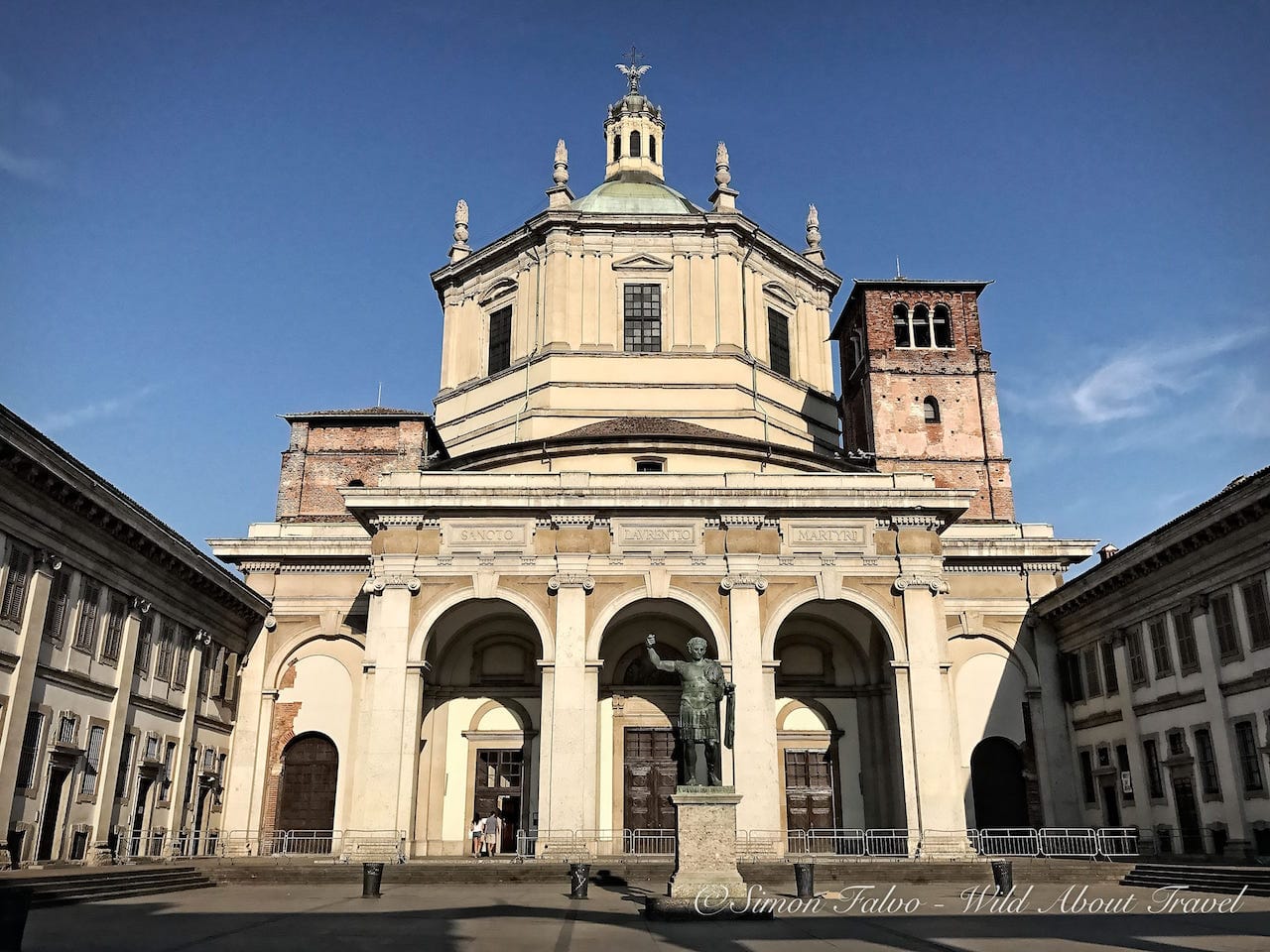 2. How many days in Milan?
If you can only spend 1 day in Milan, you'll be able to see the main attractions but not much more than that. Indeed, Milan is a multifaceted city. That's why you should stay in Milan for 2 days to scratch behind the surface. It's also worth visiting longer since the city enjoys a privileged location, and you can easily have fantastic day trips from Milan to Lake Como, Lake Garda, or Switzerland.
3. Safety in Milan
Milan is a safe city, so there's no need to worry, even if you're a solo traveler like me. Of course, like in any big city, common sense is recommended. Beware of your valuables, especially in crowded areas and on public transportation. Keep people from getting too close to you in the most touristy spots, and never accept a lift from unofficial taxis, especially at night.
4. What's the best area to stay in Milan?
Obviously, the closer you stay to the historic center, the best. You'd be near most of the famous landmarks in Milan, many within walking distance, and plenty of public transportation options on your doorstep. However, Milan is an expensive city. Thus, if you have a limited budget, you may have to stay a little farther away. Read my dedicated article on where to stay in Milan to get a better idea before booking.
5. Best time to visit Milan
Like many cities in Europe, Milan is a year-round destination. While there's no absolute best time to visit Milan, there are more favorable periods depending on your interests. Suppose shopping at reasonable prices is your primary draw. In that case, you should visit Milan in January or July, which is the sales period. However, beware that in Summer, the city can get very hot, especially in July and August. But Milan in August has a unique flare, as many locals go on holiday. Being emptier, it's all the most enjoyable.
From March to May or September to October, temperatures are mild and perfect for strolling. Winter is often chilly and sometimes foggy, the ideal time for more indoor attractions.
What to know before spending 2 days in Milan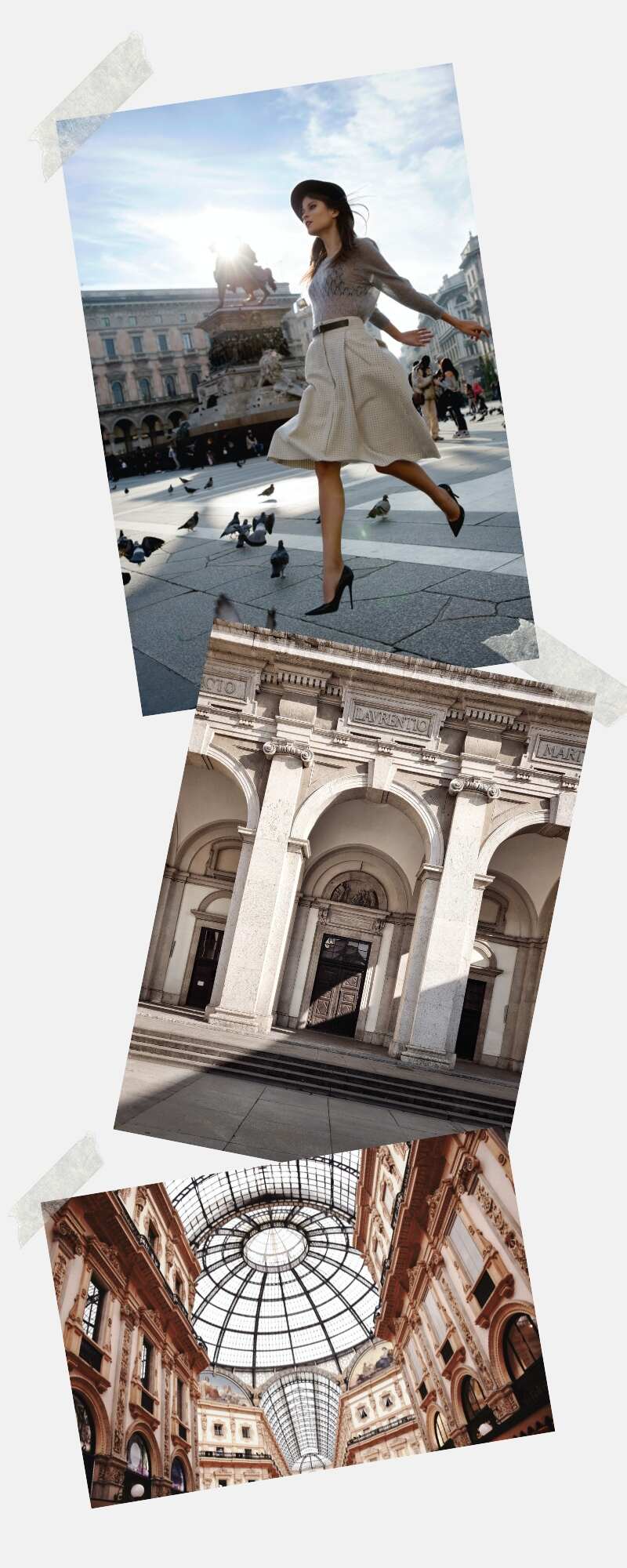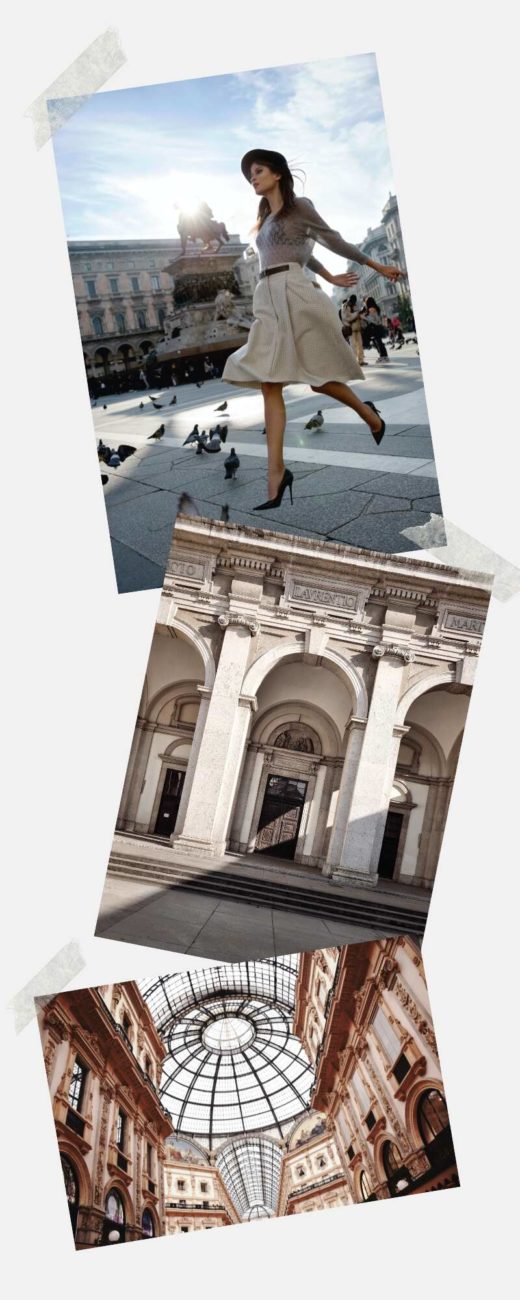 The one activity you must program is buying tickets for the Last Supper in Milan. It's a must, not only as it's one of the top tourist attractions in Milan, but because the access is limited to a small number of people simultaneously, in slots of 15 minutes.
In Summer, Milan can get scorching. Therefore, when visiting the Duomo di Milano and other churches, beware of the dress code. It requires men and women to cover their shoulders and knees and for men to remove hats. That's why I suggest always bringing one or two light sarongs, which will come in handy if needed.
Remember to bring a travel adapter with multiple USB ports to recharge your devices.
Although we always hope not, unforeseen events do actually happen. Unless you already have travel insurance, you should buy one (I always do!). Check out Travelex and find the Perfect Insurance Plan for Your Trip.
Milan history in a nutshell
Milan is one of Italy's most vibrant cities and has a fascinating history that dates back to pre-Roman times. Situated in the Lombardy region of northern Italy, Milan has been an important city since the Middle Ages, when it was a major center for trade and finance. In the 12th century, Milan was at its peak under the rule of the Visconti family, and it soon became a major European power, with political influence stretching across Europe.
The city was sacked by invading armies in the 15th century but eventually found itself as part of the Spanish Empire and fell under Austria's sovereignty in the early 18th century. After this period, Milan went through various periods of turmoil before becoming part of Italy in 1861. During World War II, Milan suffered heavily from bombing raids, with many of its monuments and churches destroyed.
Today, Milan is one of Italy's most important cities and a major cultural center. It boasts an impressive array of art galleries, museums, churches, palaces, and other architectural wonders. Fortunately for visitors, many of these have been restored to their former glory following the war.
Milan must-see attractions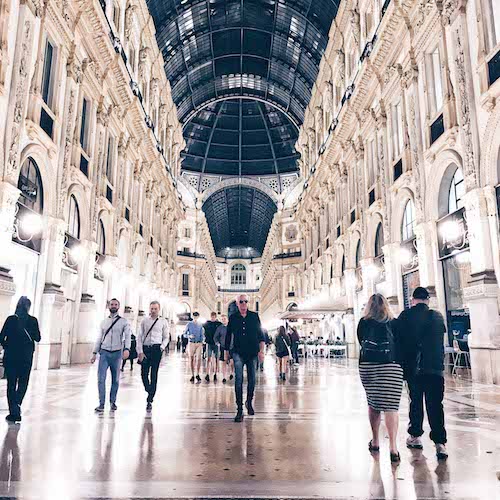 Milan Cathedral and Duomo rooftop terrace
Leonardo da Vinci Last Supper
Milan Fashion District
Sforza Castle, Parco Sempione and the Arch of Peace
Navigli District
S. Ambrogio and Santa Maria delle Grazie churches
Colonne di S. Lorenzo and Ticinese area
Brera district
Milan 2-day itinerary
Now you know which are Milan top attractions, but of course, there's more you can do in Milan in 2 days. However, I suggest you pick the additional things following your interests. Now that you know what to do in Milan and where to go, it's time to plan your 2-day itinerary in Milan. Here's an example:
Day 1:
Discover the Duomo di Milano and Galleria Vittorio Emanuele II
Wander the stylish streets of the Milan Fashion District
Visit the world-famous Leonardo da Vinci Last Supper and take a tour of the adjacent Santa Maria delle Grazie church
Stop by the gorgeous Romanesque S. Ambrogio Basilica
Admire the beautiful Colonne di San Lorenzo
Enjoy Milan nightlife in the vibrant Navigli District.
Day 2:
Explore the Brera district and its many galleries, boutiques, and cafes
Step back in history at the Castello Sforzesco (Sforza castle)
Stroll in Parco Sempione
Visit the Design Museum
Marvel at the magnificent Arco della Pace (Arch of Peace) and enjoy an aperitivo at one of the alfresco bistros.
Milan attractions map
Milan itinerary: Day 1

A guided tour provides a great introduction to the best of Milan, but if you prefer to do everything independently, here's my suggested Milan itinerary on your first day.
Milan Duomo Square
Day one of this Milan itinerary is sure to be a memorable experience. Kick off the day by exploring the Duomo di Milano, a must-see in Milan and the surrounding area. That's the heart of the city, and the Cathedral is one of the top attractions you should include in your Milan bucket list. I've seen Milan Cathedral more times than I can remember, sometimes quickly walking by, others enjoying the view. No matter. Every time I marvel at its splendor.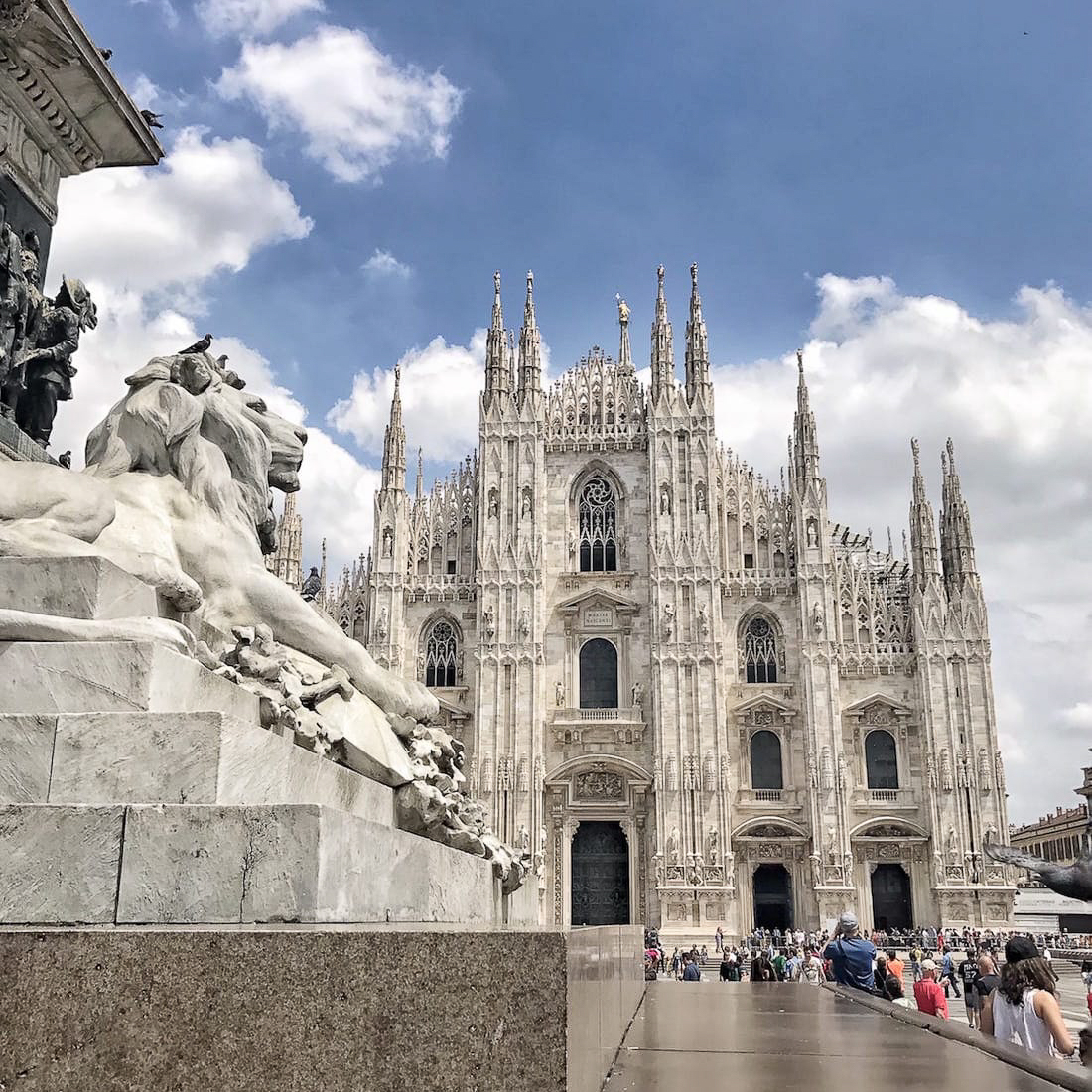 Piazza del Duomo – the Cathedral square – is lined with beautiful historical buildings and dominated by the Duomo, whose shape and elaborate decorations make it unique. One of my favorite viewpoints of the Duomo facade is the one you get near the sculpture of the lion in the Piazza. From there, you can embrace all the magnificence of the Cathedral, one of the largest in the world, before getting a close-up view of the majestic marble statues and sculptures as you approach. Before entering, I suggest you spend a few minutes admiring the impressive doors sculpted in bronze.
Milan Cathedral and rooftop
The Duomo di Milano—or Milan Cathedral—is a stunning Gothic building that has become an iconic symbol of Milan. Built over the course of nearly six centuries, this magnificent cathedral is an impressive sight to behold, so get your camera ready!
When you first enter the Cathedral, you will be awed by its sheer size and grandeur. The interior is filled with intricate details and works of art, including stained glass windows, sculptures, and even marble inlays. Don't miss exploring the Milan Duomo rooftop terrace from where you can get stunning panoramic views. From there, you will be able to admire the bustling Piazza from above and get fascinating close-up encounters with the Duomo statues and gargoyles.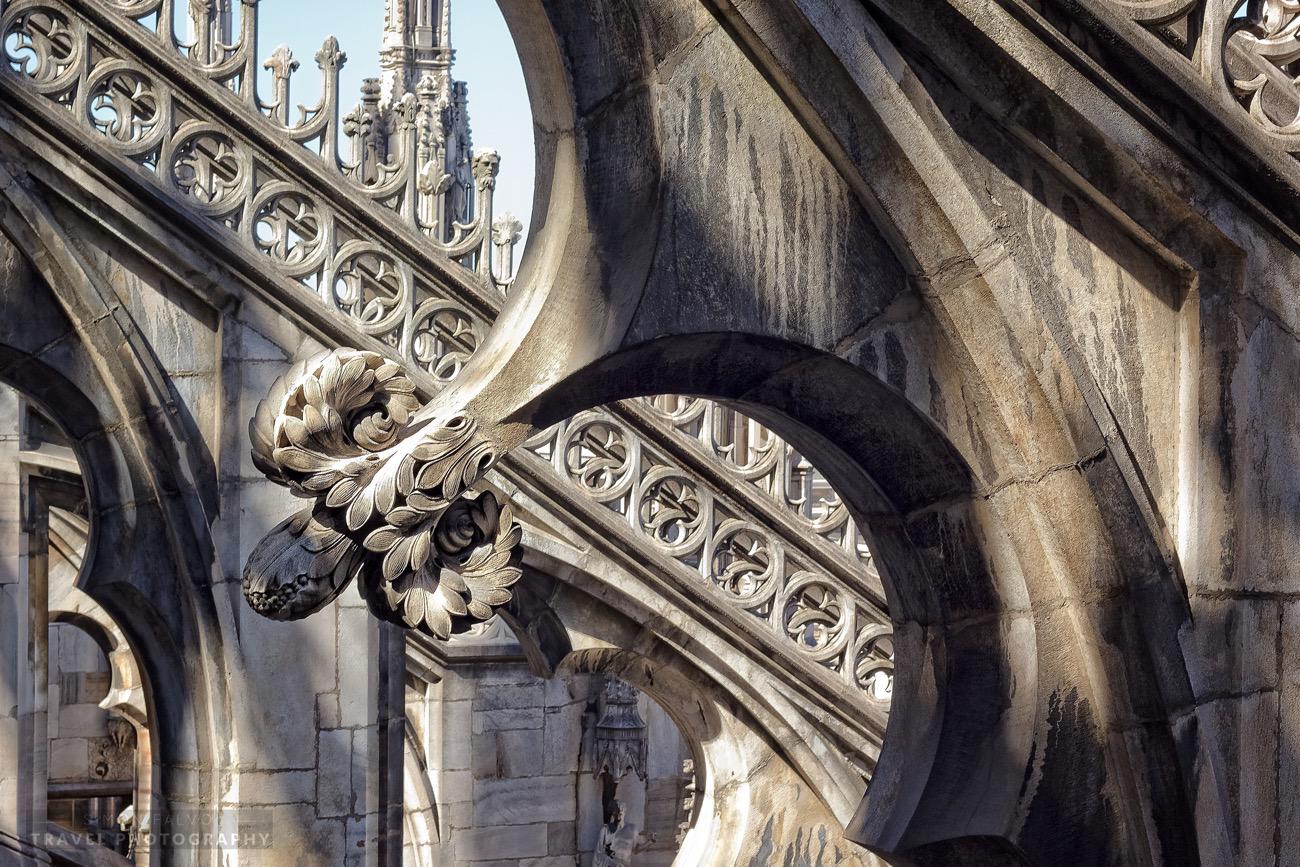 The history of Milan Cathedral is so fascinating that it's worth taking a guided tour to discover all the secrets of this unique landmark. If you prefer to visit the cathedral on your own, I suggest you buy your ticket in advance to avoid wasting time.
Galleria Vittorio Emanuele II
After a stroll to admire Piazza del Duomo, head towards Galleria Vittorio Emanuele II. This glass-domed gallery is a magnificent 19th-century shopping arcade that has been a cultural icon of the city since it opened in 1877. So much so that for a very long time, it was dubbed as Milan's drawing rooms, where VIPs gathered. It houses some of the most luxurious brands in the world, like Prada and Gucci. With its intricate mosaics, vaulted glass ceiling, and ornate sculptures, it's a sight that will take your breath away.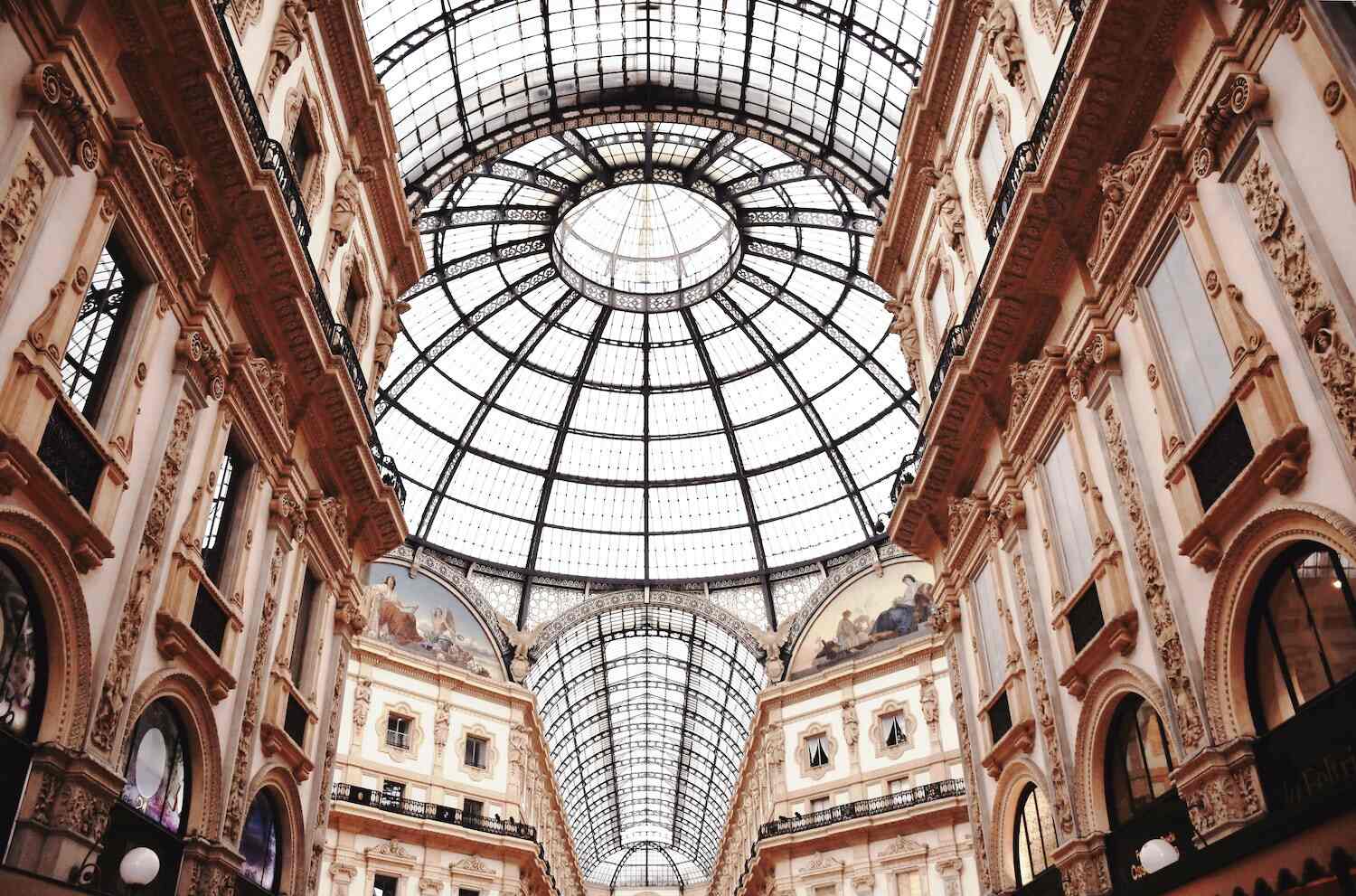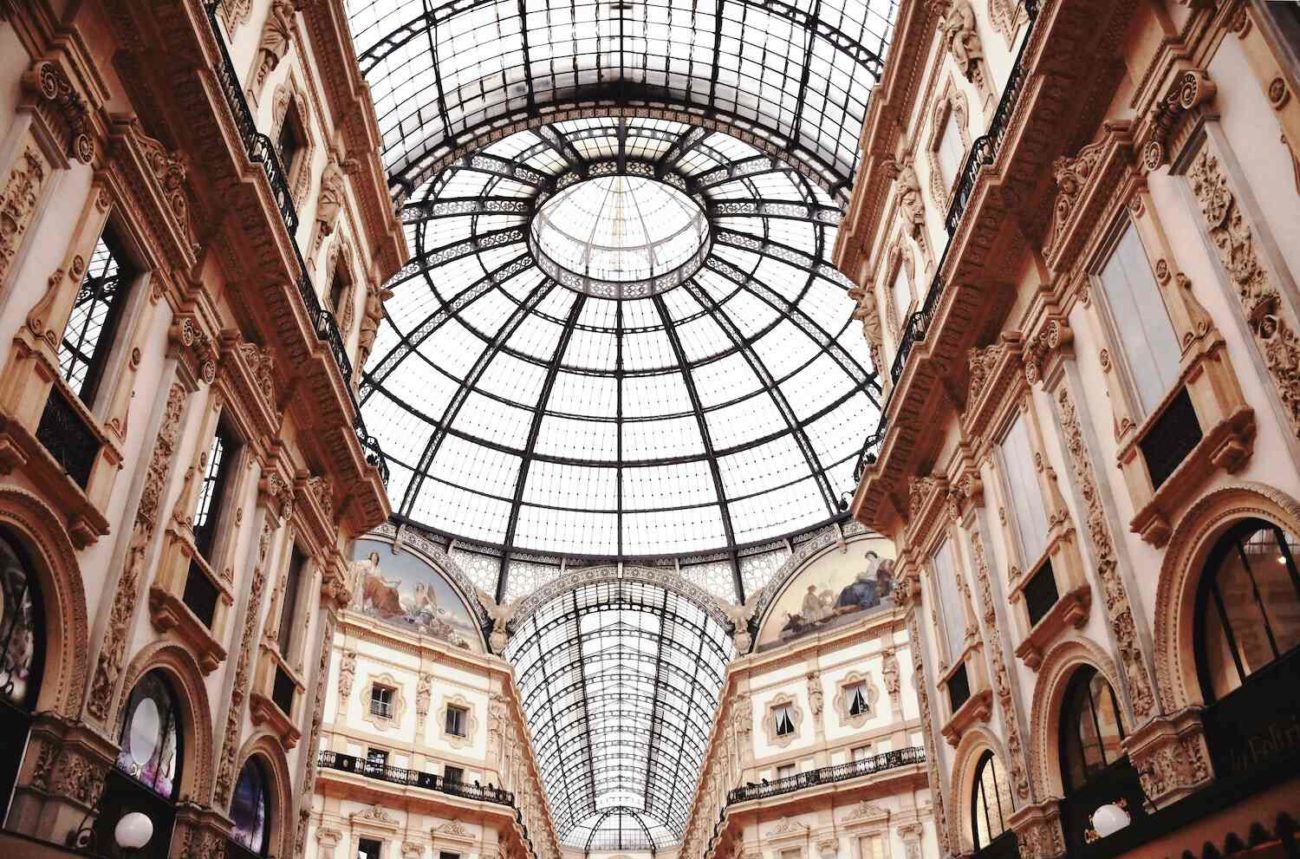 Entering the Galleria from the Duomo square, at the left corner, you'll see the Camparino Cafè. Camparino dates back to 1867 and is one of the oldest cafés in Milan. If you're traveling to Milan on a budget, enjoy delicious Italian coffee like locals do, quickly and at the counter. However, if you want to do something special, treat yourself to a classic cocktail sitting at a table while admiring the stunning décor of this magnificent cafe.
Stepping onto the bull balls in Galleria Vittorio Emanuele II is a must-do experience for any traveler to Milan. The iconic mosaic of a bull – the emblem of Turin -, located at the center of the Galleria has become an important symbol of good luck for those who dare to step on its balls. Legend has it that if you manage to turn three times on your heel on the bull's balls, your wish will come true! This unique and symbolic tradition continues today as visitors from all over the world flock to this intriguing landmark in search of luck and fortune. So why not give it a try? You never know what could happen!
La Scala Opera House
Teatro alla Scala, more commonly referred to as La Scala is one of the most famous opera houses in the world. While the exterior shows the elegant neoclassical architecture, the interior of La Scala is opulent and magnificent, and you must visit the theater inside to fully appreciate its beauty.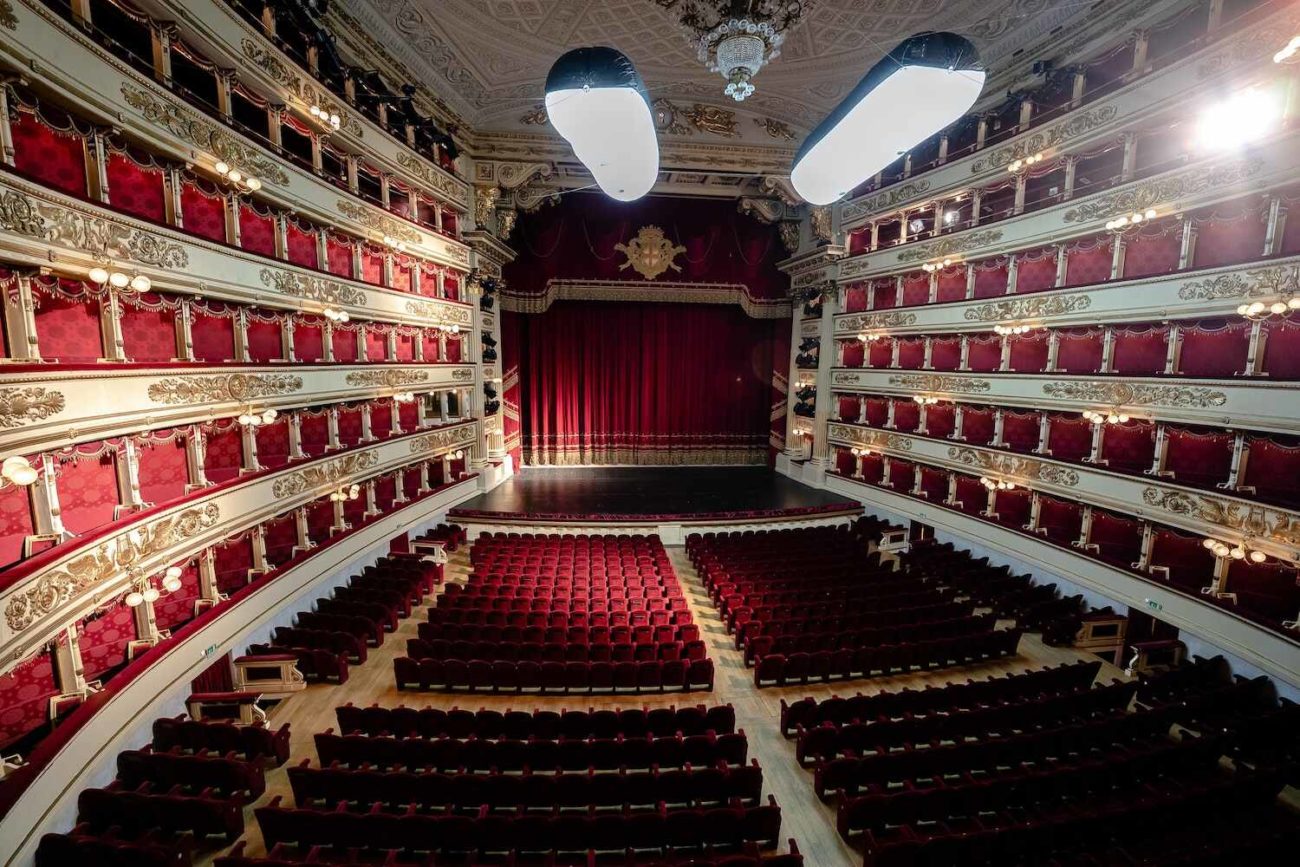 The opera house has hosted many outstanding composers and musicians over the years, including Giuseppe Verdi and Toscanini, while singers like Maria Callas have graced its stage too. The theatre is also renowned for ballets and concerts, performed all year long in-between operas.
Milan Fashion District
Milan is a fashion mecca, and its fashion district is the beating heart of Italian style. Located in the center of Milan, this vibrant area is home to some of the world's most iconic luxury stores, from Gucci and Prada to Versace and Dolce & Gabbana. Known as the Golden Rectangle (Quadrilatero della Moda), it includes some of Milan's most beautiful streets like Via Montenapoleone, Via della Spiga, and Via Gesù.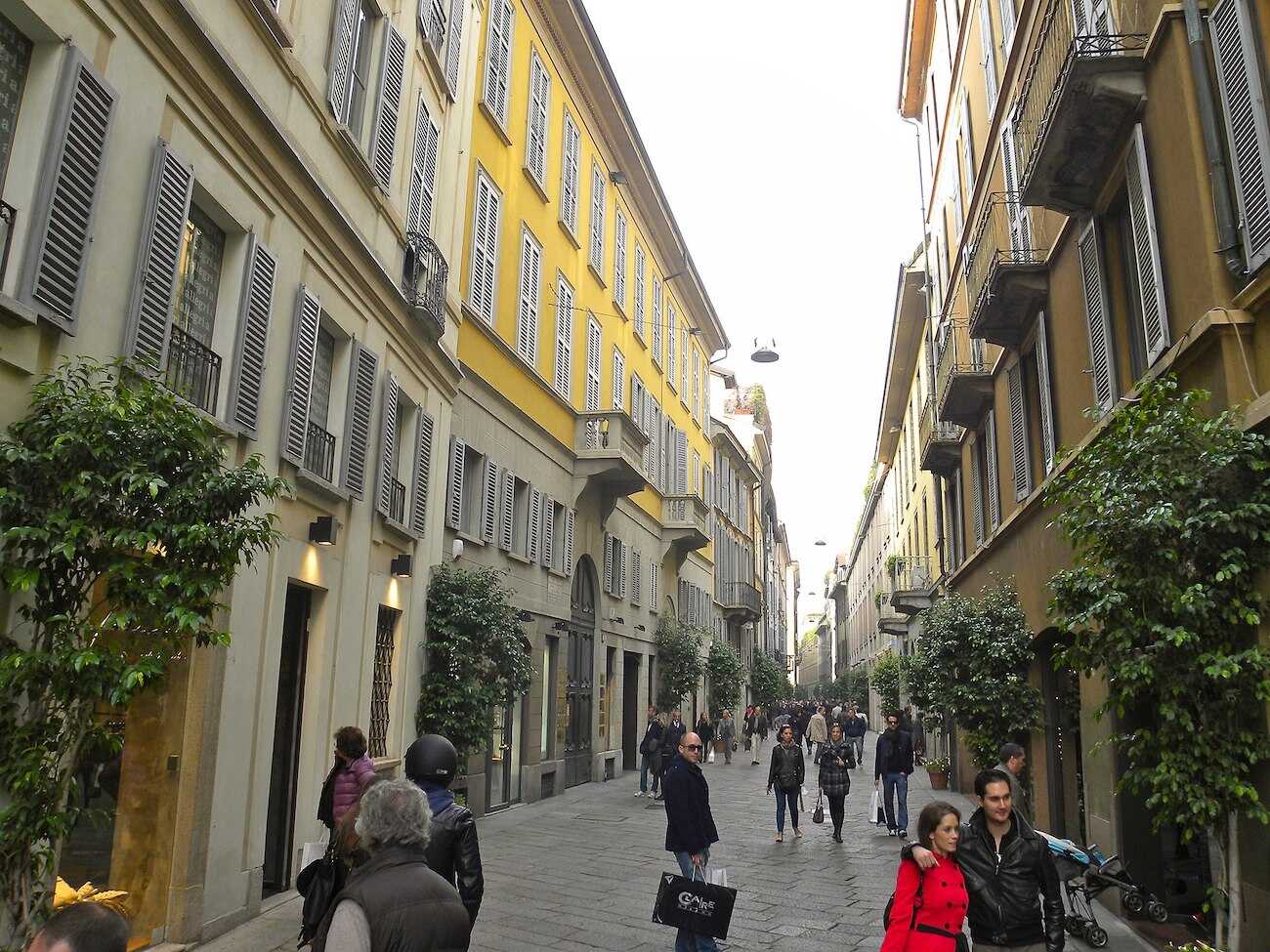 Stroll along the streets lined with high-end boutiques, where you can see the latest collections from top designers. Whether you're looking for couture pieces or just want to do some window shopping, browsing these stylish shops will give you an insight into the world of Italian fashion.
Leonardo da Vinci Last Supper
Leonardo da Vinci's Last Supper is one of the most famous works of art in the world and one of the most important landmarks in Milan. It is a large fresco that depicts Jesus Christ and his disciples during their final meal before his crucifixion. The painting is located in the refectory of the Santa Maria delle Grazie church in Milan, Italy, and has been designated as a UNESCO World Heritage Site.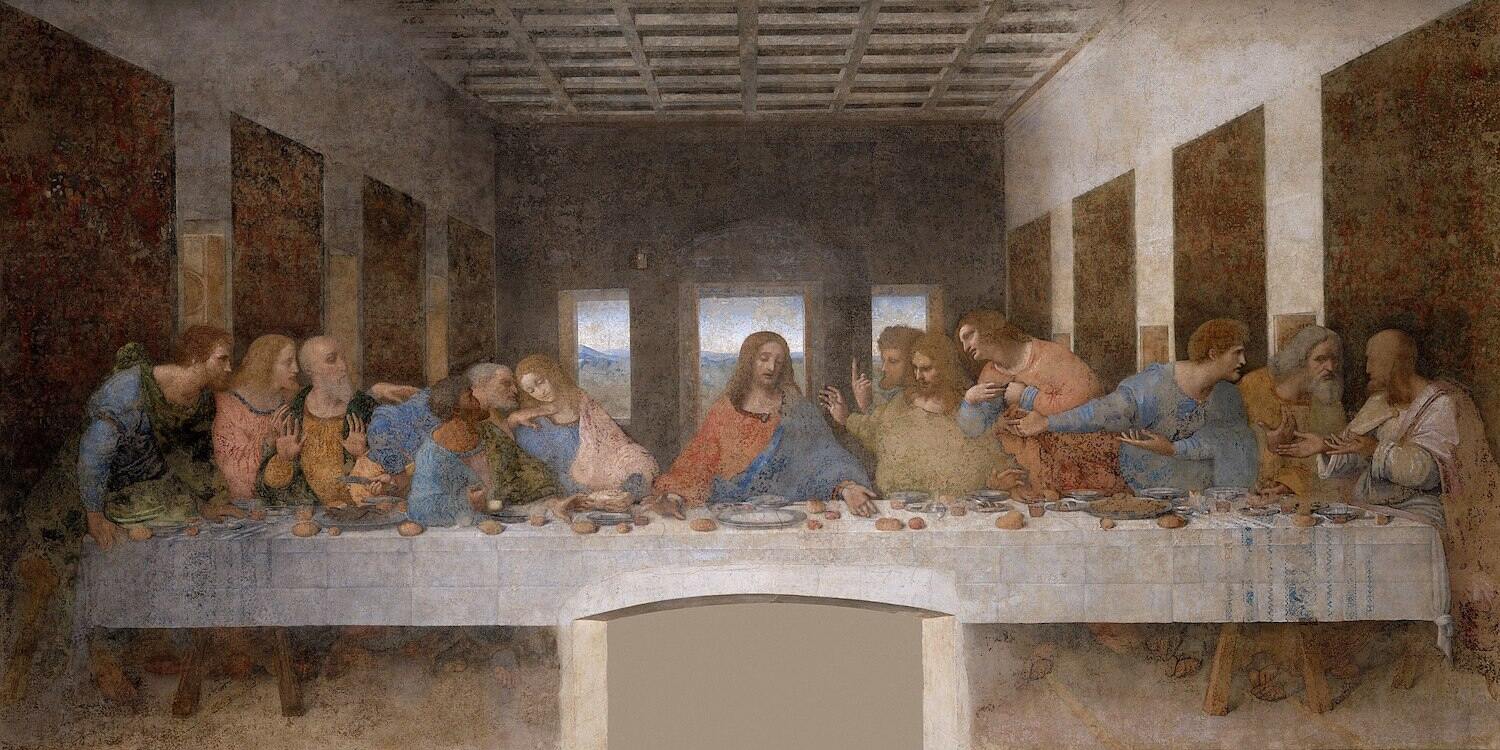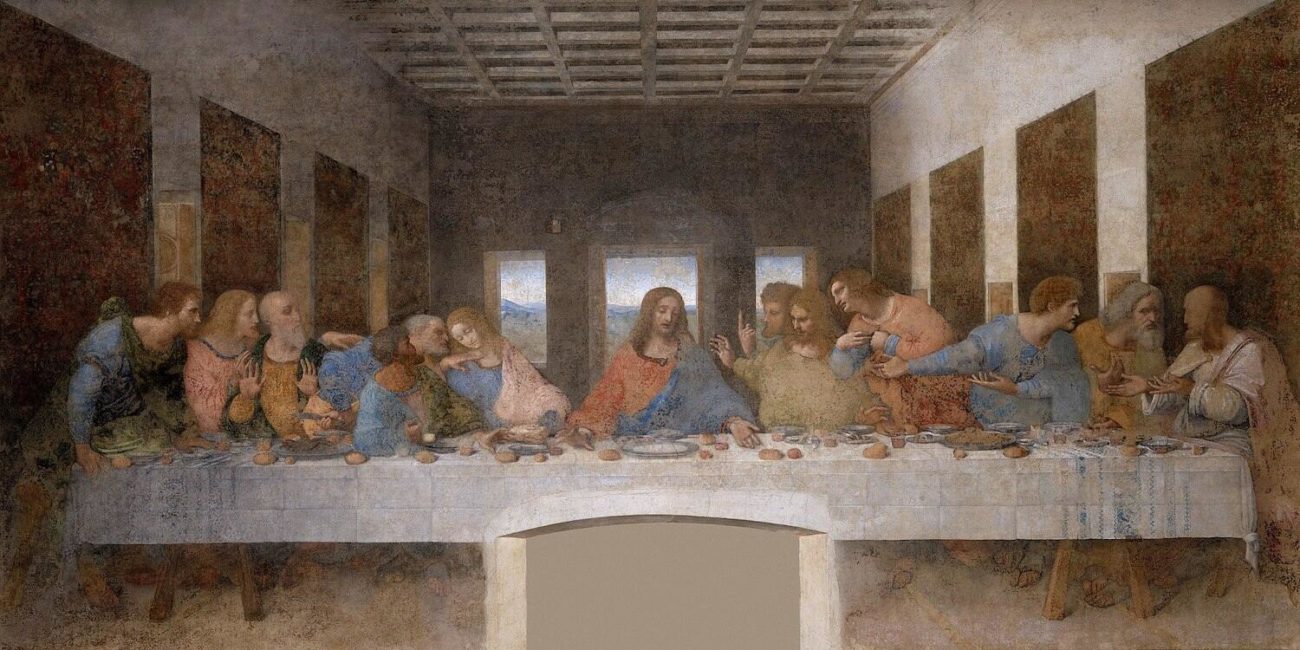 Visiting the Last Supper is a unique and unforgettable experience that offers a glimpse into the genius of Leonardo da Vinci. To preserve this unique work of art, only a limited number of people can admire the mural at the same time. Therefore, plan ahead and book your tickets in advance. Even better, take a guided tour of the Last Supper to fully appreciate the beauty and significance of this iconic work of art.
Santa Maria delle Grazie
While The Last Supper is the main attraction, don't miss visiting Santa Maria delle Grazie, one of the most beautiful churches in Milan.
The church was built between 1463 and 1497 and was designed by renowned architects, among whose Donato Bramante. It is a perfect example of Renaissance architecture, characterized by its symmetrical proportions, classical motifs, and emphasis on mathematical precision.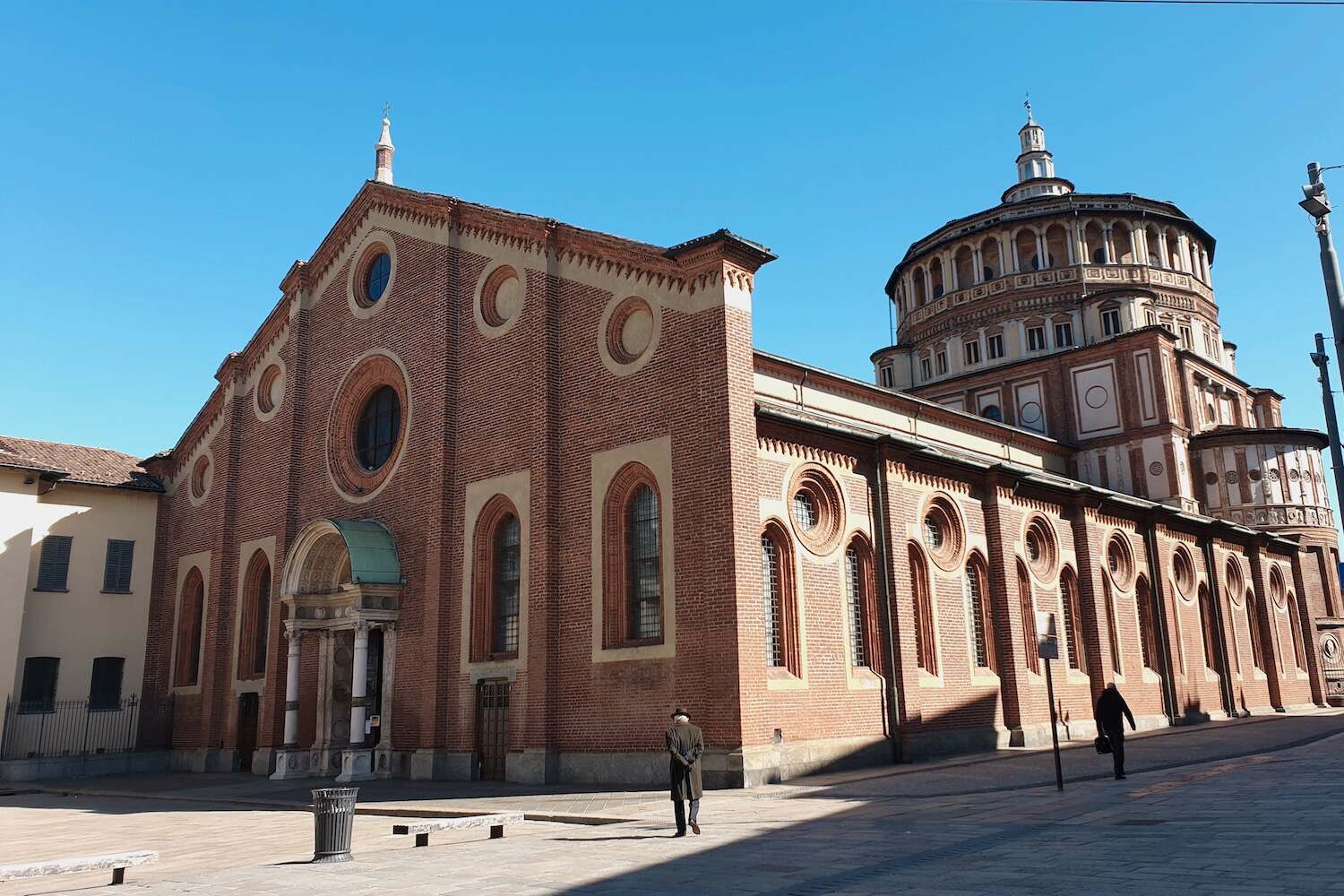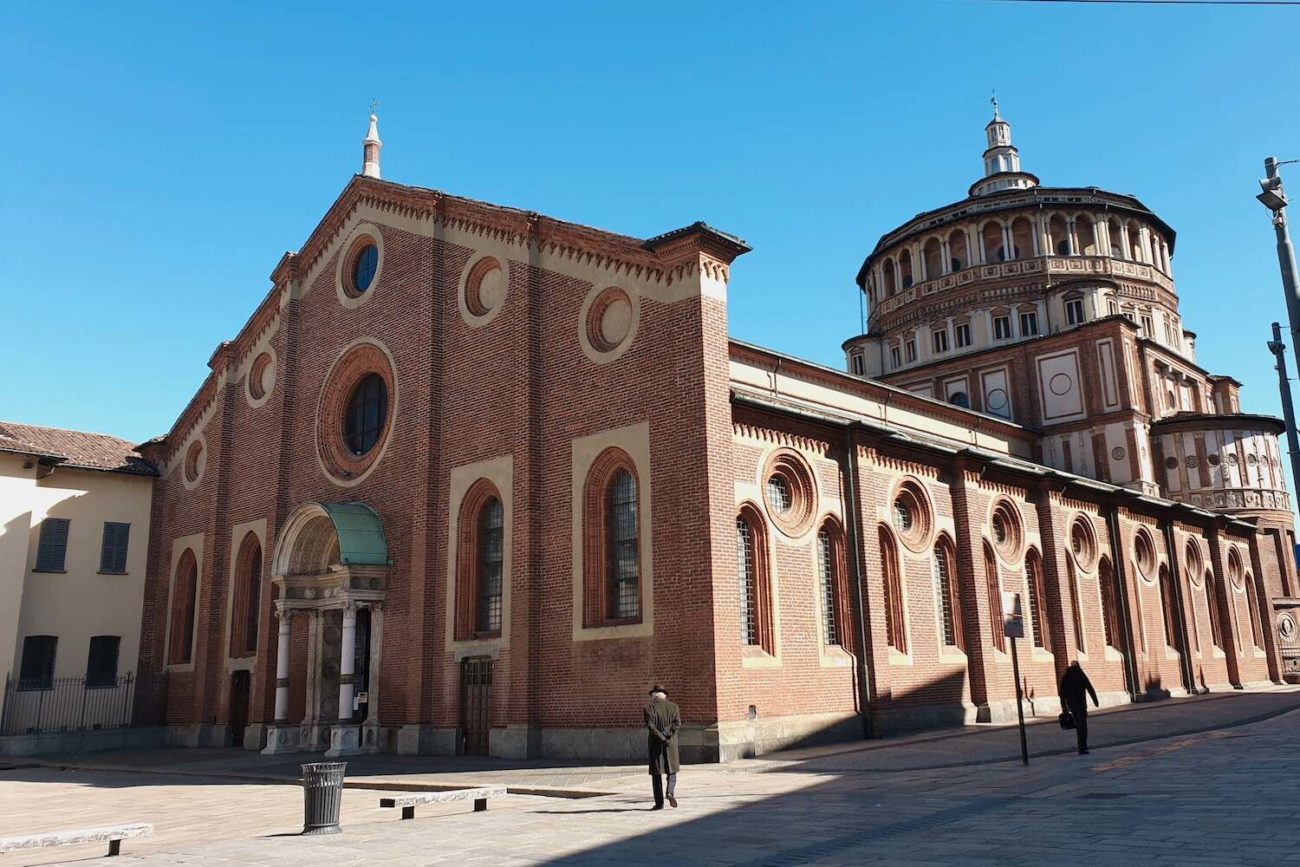 The cloister is a tranquil oasis in the middle of bustling Milan, with beautiful arches and columns adorned with ornate decorations. The church's façade is also a masterpiece in its own right, with its intricate carvings and beautiful rose window.
The interior of Santa Maria delle Grazie is just as impressive as its façade and exterior. The church has a grand and spacious nave with a vaulted ceiling supported by massive pillars that create a sense of grandeur and scale. The central nave is flanked by a series of chapels, each one richly decorated with frescoes and intricate sculptures.
S. Ambrogio
After the magnificence of the Duomo and the elegance of Santa Maria delle Grazie, the S. Ambrogio Basilica strikes as a unique example of Romanesque style. Indeed, it's one of my favorite churches in Milan, so much so that I got married there.
Sant'Ambrogio, dedicated to Saint Ambrose, the patron saint of Milan, is one of the oldest in the city and, in terms of importance, comes right after the Cathedral. Its foundation dates back to 375 AD, although the current appearance is the result of 12th-century renovations.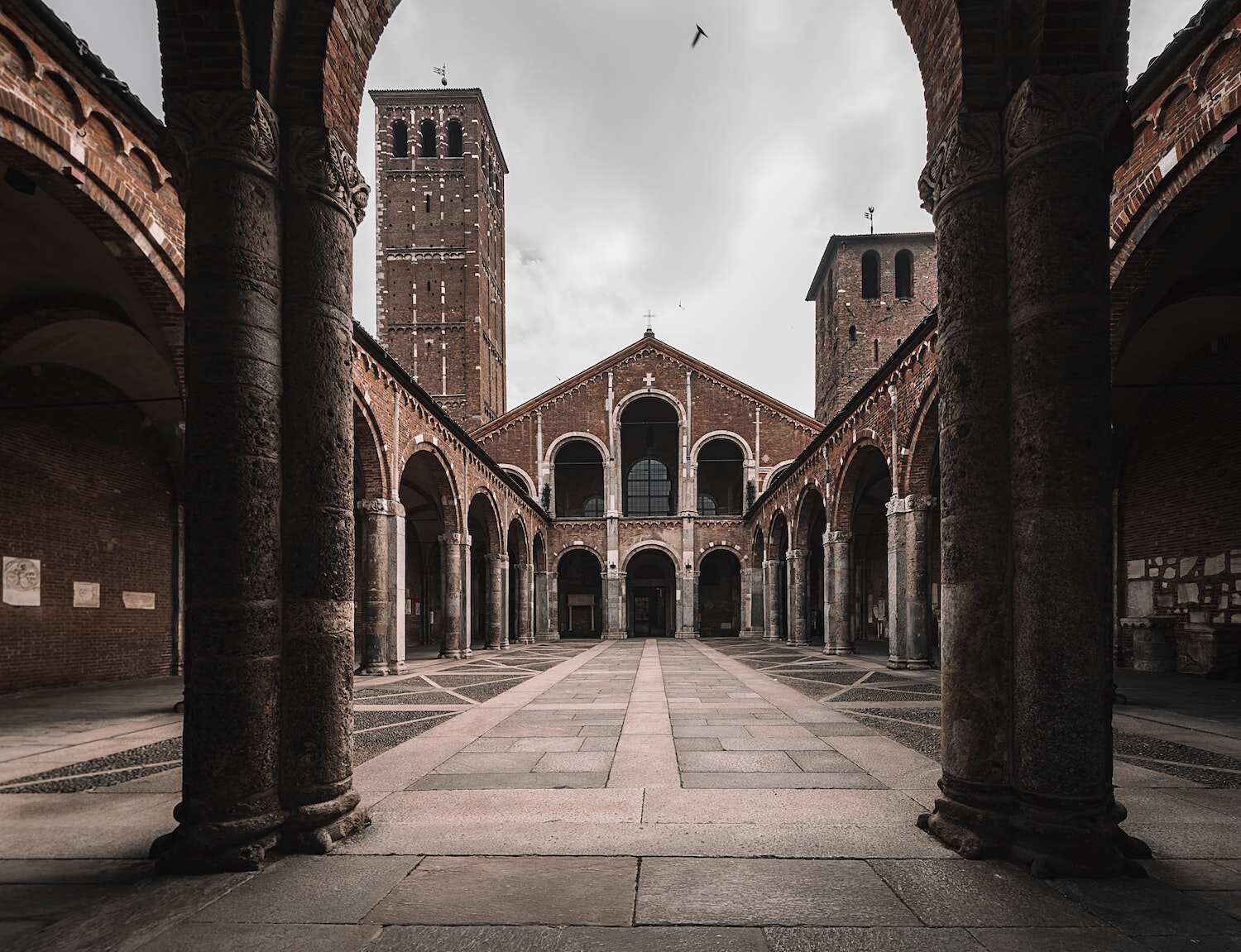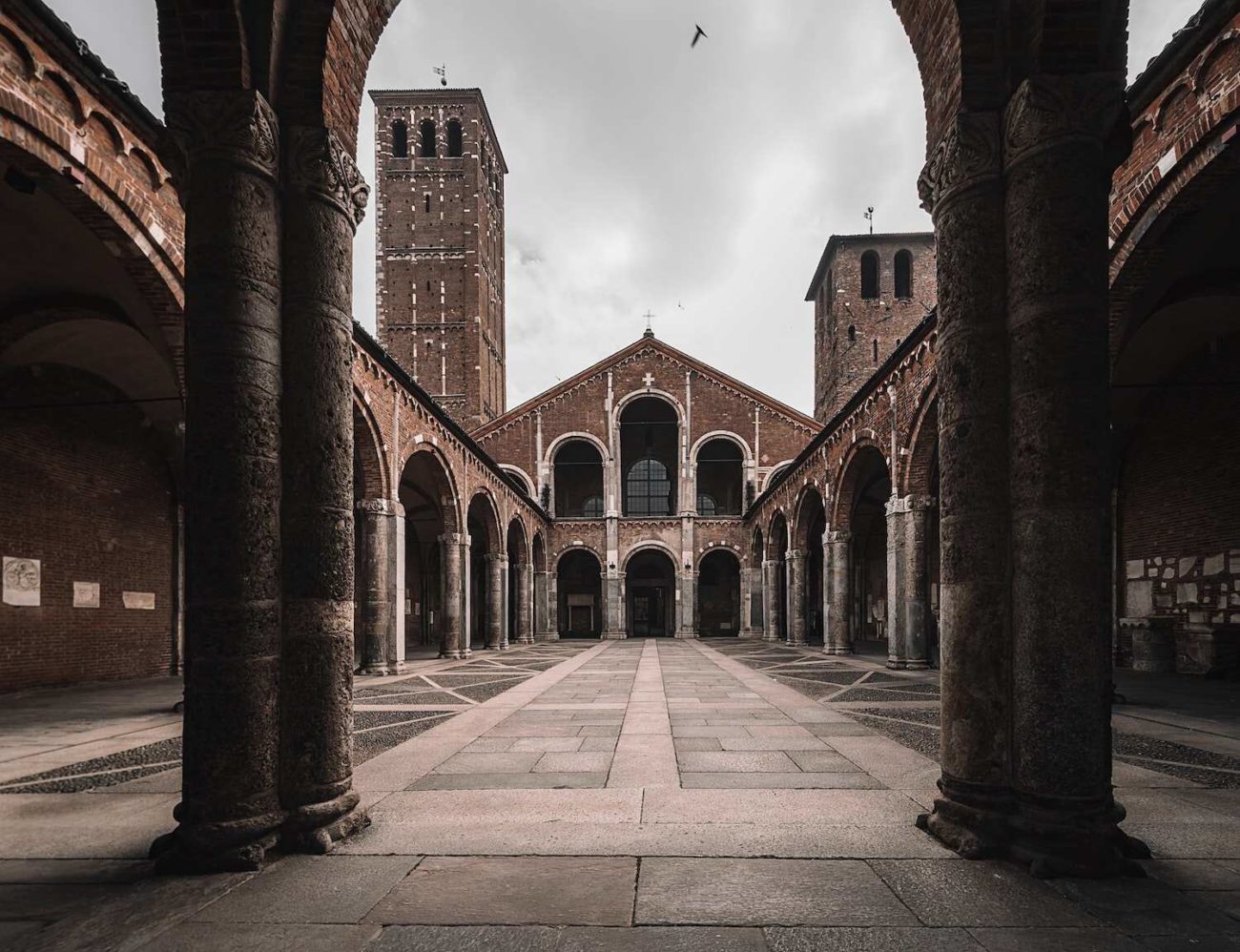 The exterior of the church features rather unique architecture, with elegant symmetrical porticoes leading to the facade featuring beautifully carved capitals.
The interior is just as beautiful and houses many remarkable masterpieces, among which the lavish Sant'Ambrogio altar from the 9th century, the apse mosaic dating back to the 9th-13th centuries, and the magnificent Sarcophagus of Stilicho from the 4th century. Don't miss to visit also the crypt, housing the remains of Ambrose and built in the 9th century.
Colonne di S. Lorenzo, Porta Ticinese
Almost halfway between Milan Cathedral and the canals, Colonne di Lorenzo and Porta Ticinese are one of the attractions in Milan you shouldn't miss. This beautiful Piazza is surrounded by picturesque pastel-colored houses and becomes very lively in the evening when people gather for a drink or a bite in one of many cafès and restaurants.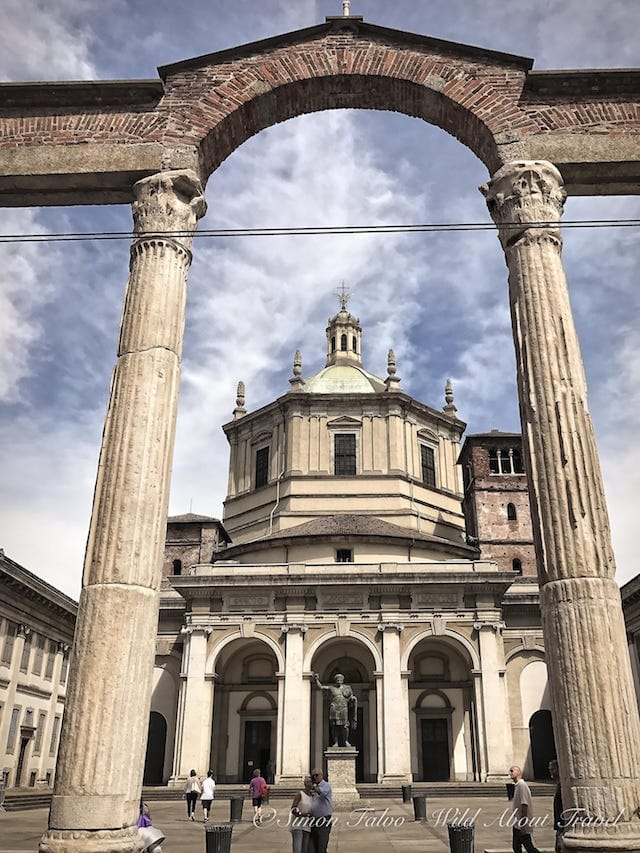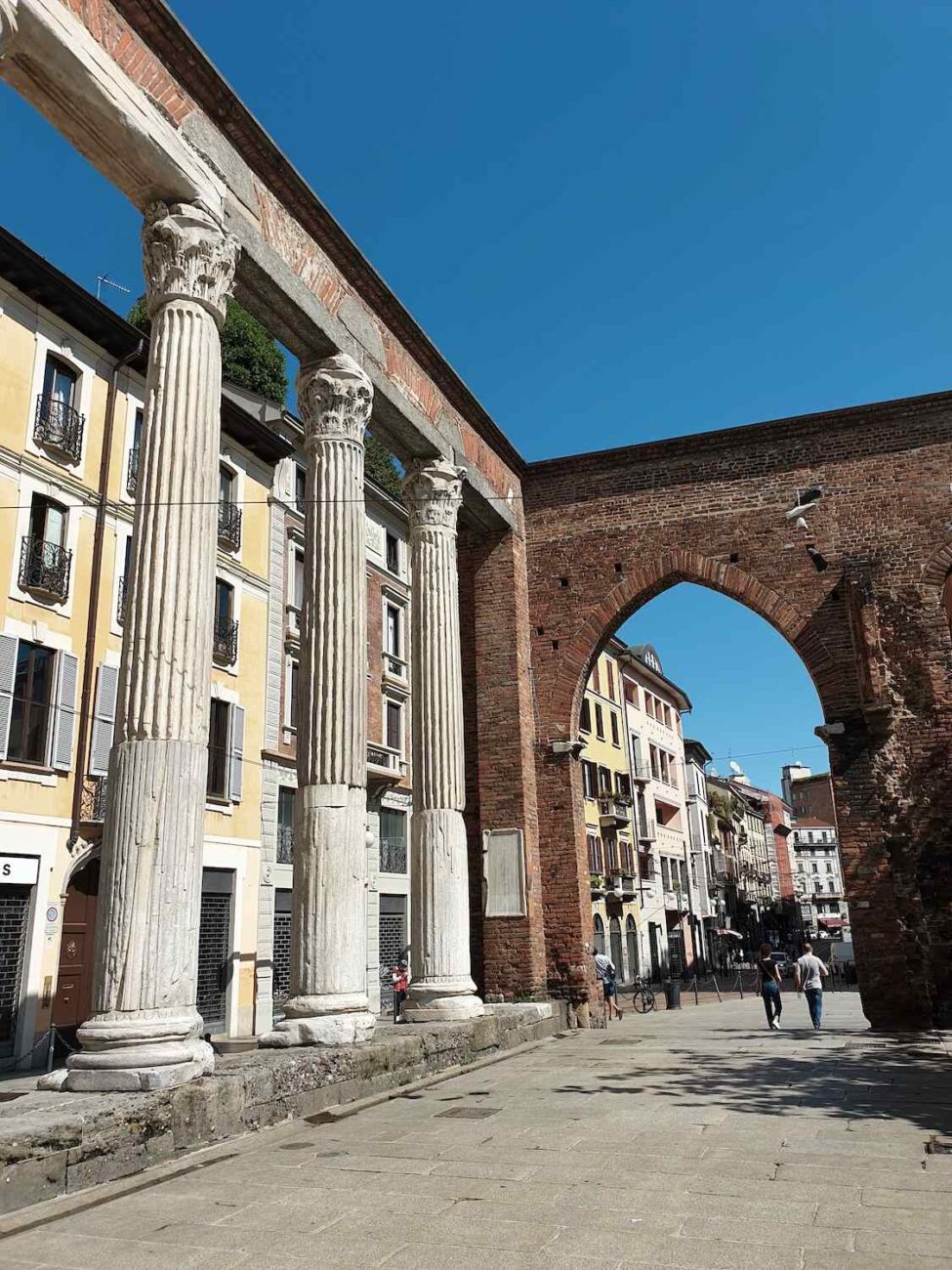 The sixteen marble columns date back to the late Roman era (2nd-3rd centuries) and face the San Lorenzo Basilica, another magnificent church worth visiting. From here, once you walk through Porta Ticinese, it's only a short walk to reach Milan canals. If you're keen to do some shopping in Milan and are keen to find trendy but unusual items, have a look at the boutiques lining Corso di Porta Ticinese.
Navigli, Milan canals
Milan's Navigli district is one of the most vibrant and popular areas of the city, especially at night and during weekends.
Famous for its beautiful canals, trendy bars, and vintage boutiques, the Navigli District is one of the most lively areas for nightlife. Whether you want to sip an aperitivo al fresco or have a bite, there are plenty of places to go. Check out the bars on the Ripa di Porta Ticinese and the Alzaia Naviglio Grande, and choose the bar or restaurant that most inspire you. Beware, though, that being very popular not only with locals but also tourists, prices are often a bit higher, and the level of quality varies. But if you're looking for a picturesque spot and having fun, more than sipping a good cocktail or savoring excellent food, the Navigli district is a good choice to spend a night in Milan.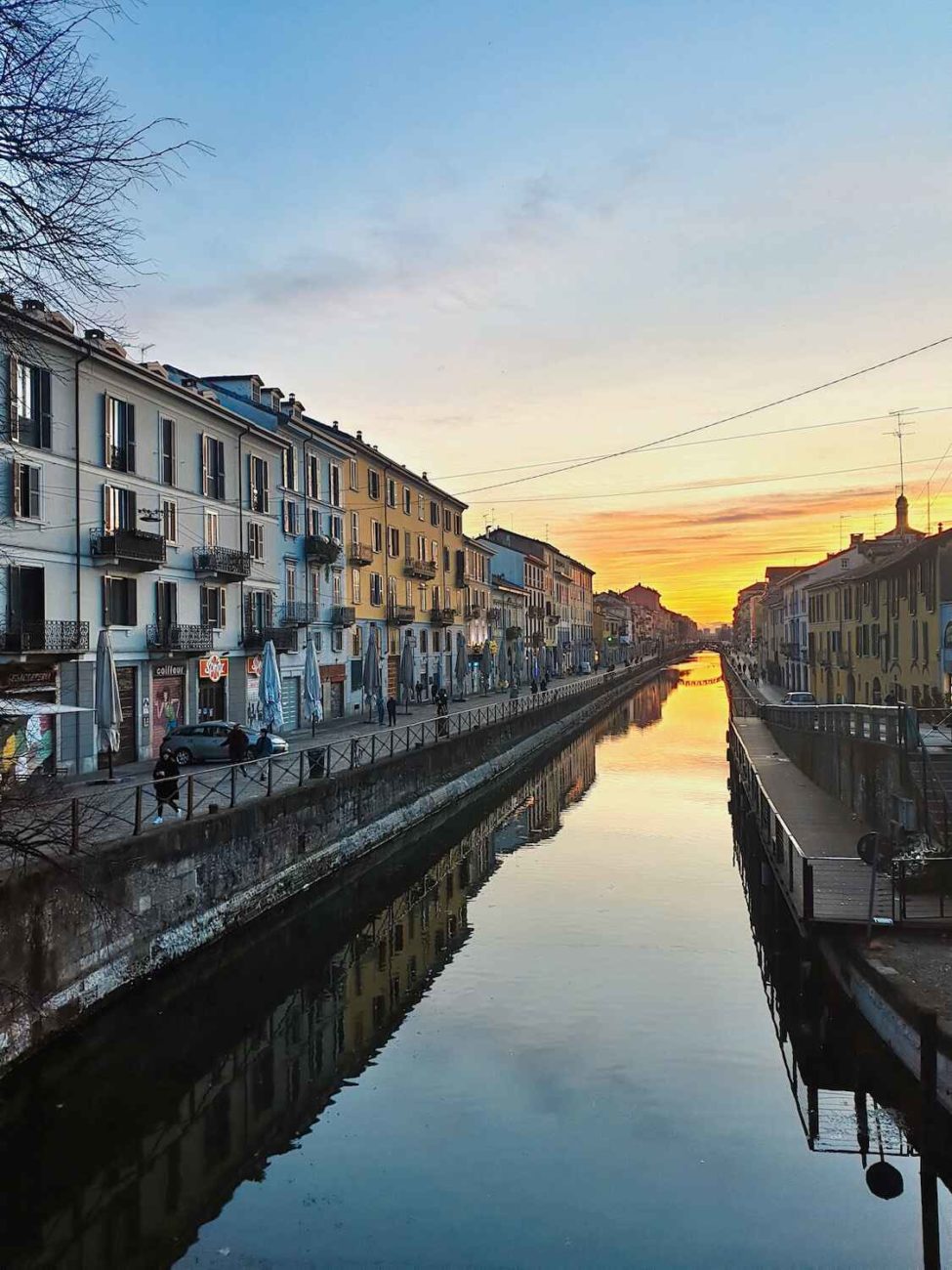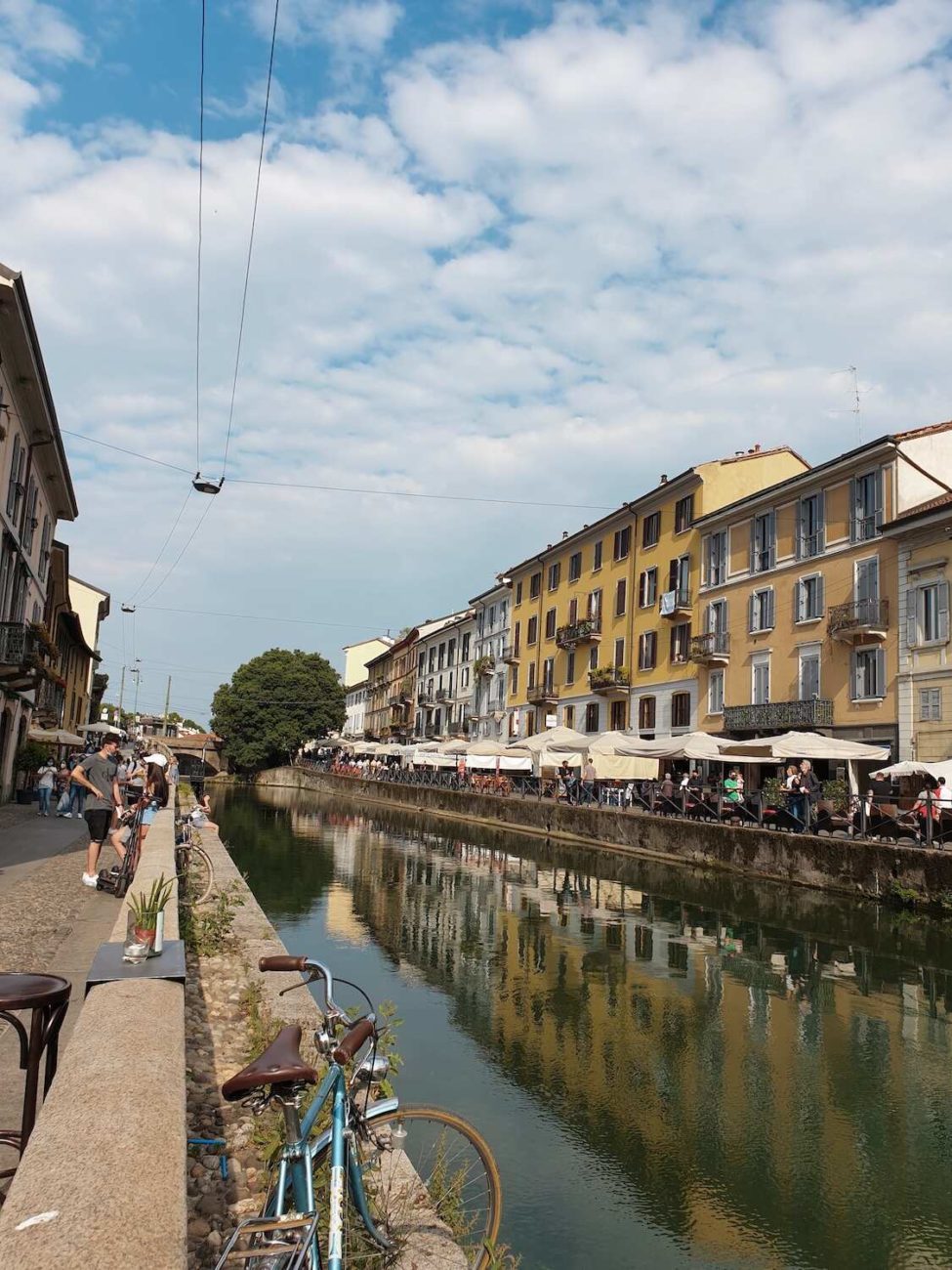 There's, however, more to Milan canals than nightlife. In its heyday, Milan had five bustling waterways which carried goods and materials from afar (including marble for Milan Duomo). Nowadays, only two remain – Naviglio Grande and Pavese – forming an iconic triangle in the city known as the Navigli district.
Milan itinerary: Day 2

Some people say – and may have told you – that there are not many things to see in Milan. Do you still believe it? There's more to discover, as you'll see, and you won't regret spending 2 days in Milan. Here are my suggestions for Milan attractions to include on your itinerary. I envisaged a more relaxed day, which leaves you time to visit one of Milan's museums or for some shopping.
Brera District
The Brera district in Milan is a charming neighborhood filled with history, art, and culture. It was a center of intellectual and artistic life during the 19th and early 20th centuries, with the Academy of Fine Arts and the Brera Art Gallery attracting many artists and writers.
Today, Brera is less of an artistic quarter, but it's still beautiful, with its narrow streets lined with art galleries, antique shops, and designer boutiques. It's also home to the famous Pinacoteca di Brera, one of Italy's most prestigious art museums that houses an impressive collection of paintings, including works by Raphael, Caravaggio, and Rembrandt.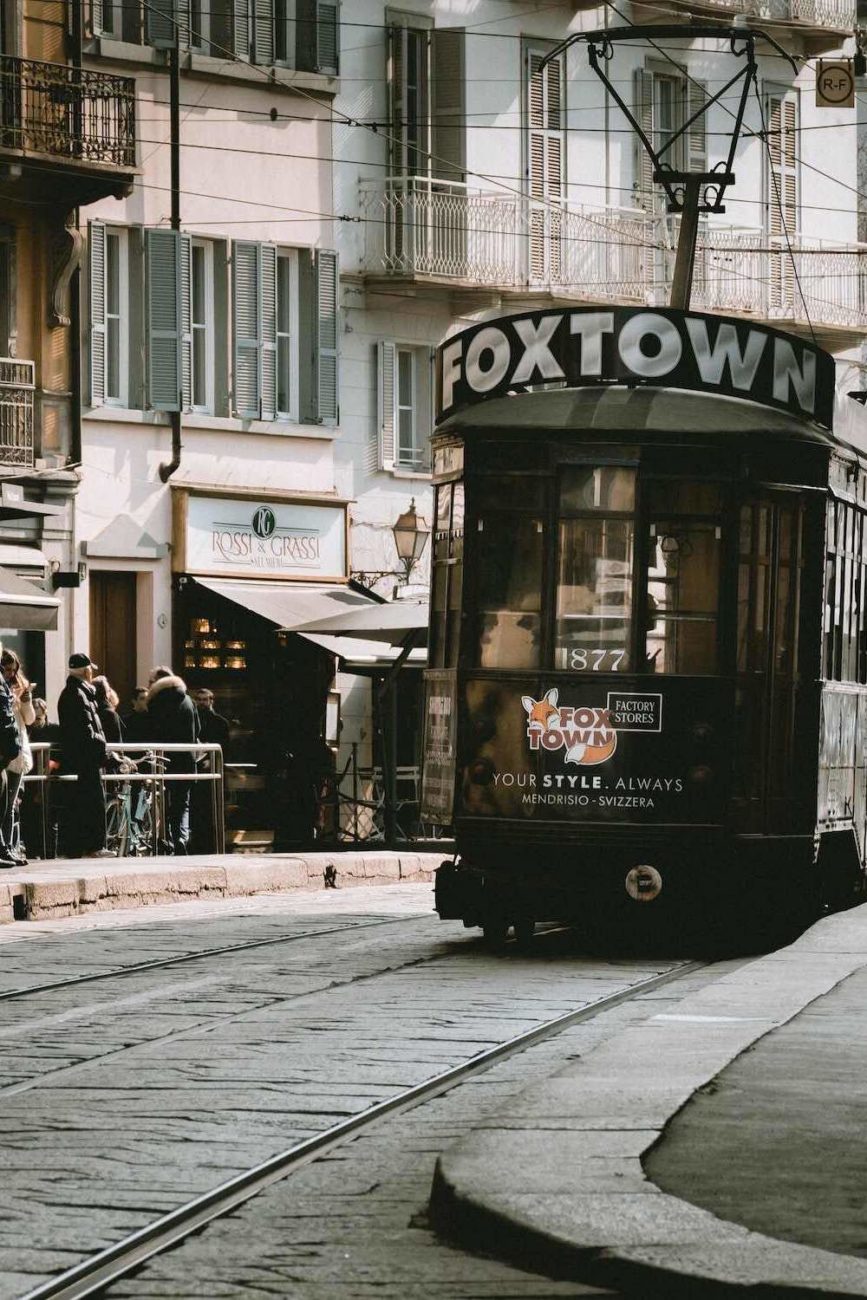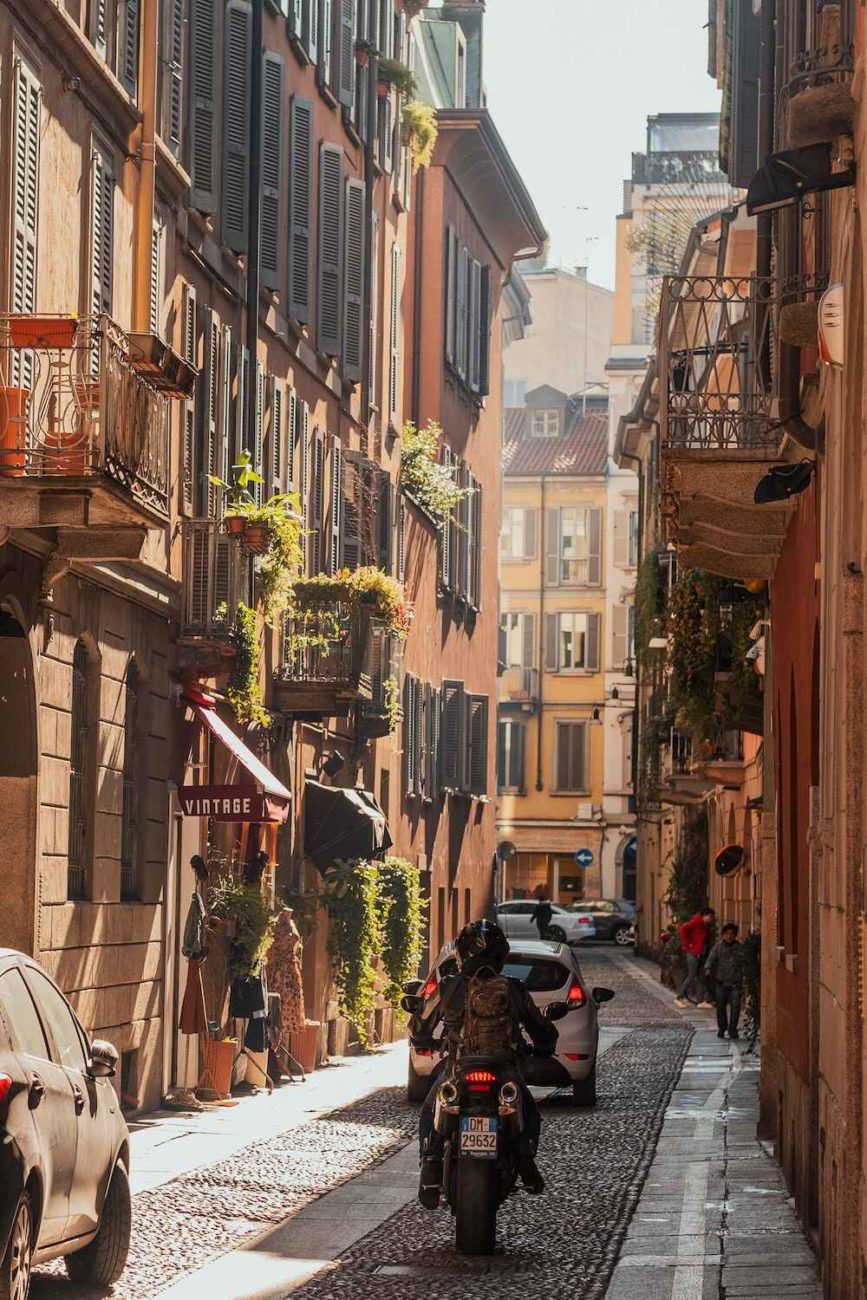 Aside from its artistic and historical significance, Brera is a beautiful neighborhood with stunning architecture and charming courtyards. The area's buildings are mostly from the 18th and 19th centuries, and they are among the most beautiful – and expensive – in Milan. The neighborhood's main square, the Piazza del Carmine, stands out for its beautiful ancient church and the modern statue in front of it, making for a stunning mix. That's another spot in Milan I particularly like.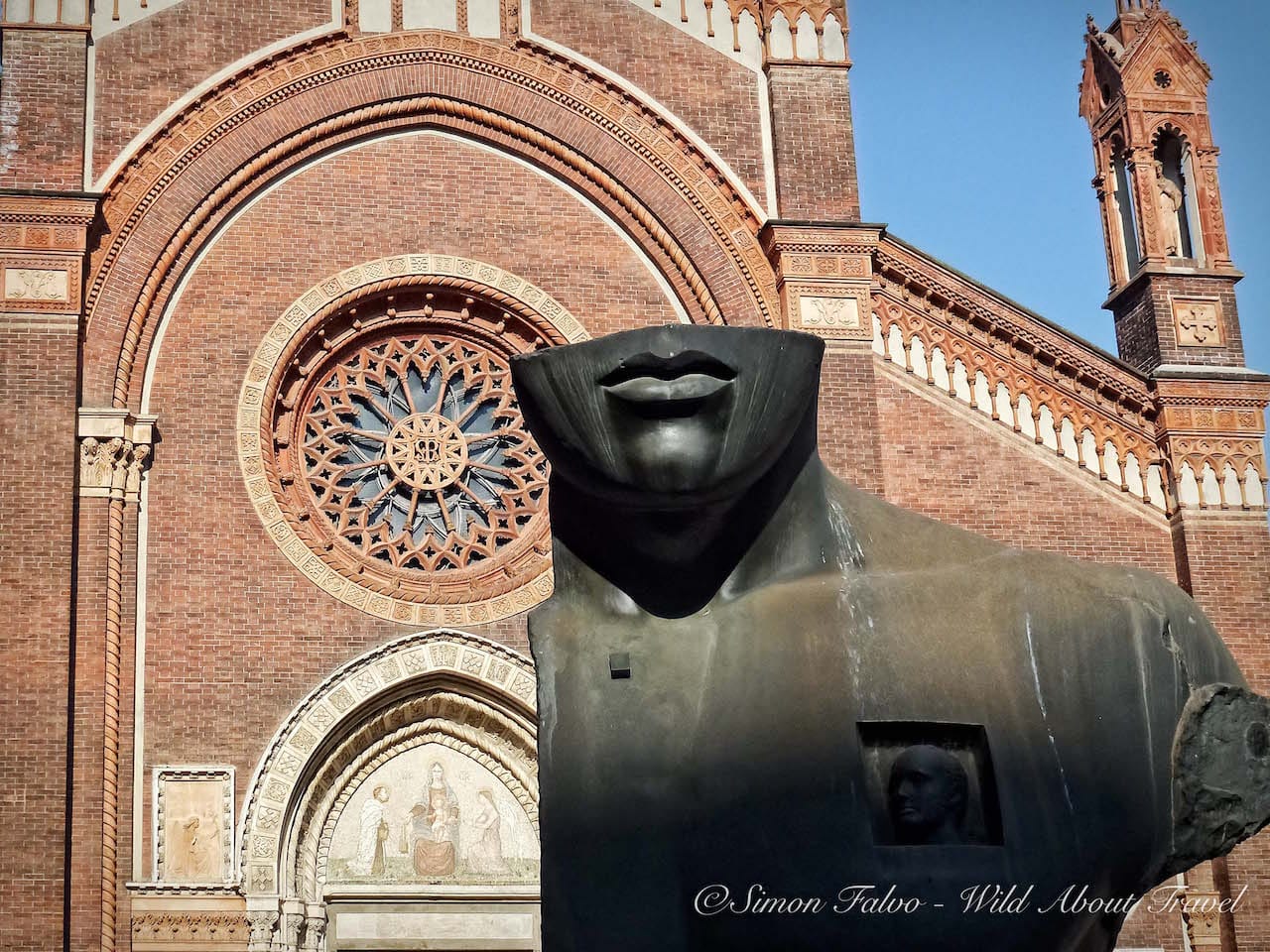 Brera's charm extends beyond its architecture and art. The neighborhood is also home to many restaurants, cafes, and bars. The area's nightlife is also vibrant, with its many bars and clubs staying open until late. However, as it happened with the Navigli District, Brera has become quite touristy, and it's quite common to meet people outside "inviting" you to have a drink or a bite. As a local, I wouldn't go there for good food, but the Brera district has an undisputable charm, so you might decide to stop by for the view and the atmosphere.
The Sforza Castle
The Castello Sforzesco is a magnificent 15th-century castle located in Milan, Italy. This historic fortress was built by Francesco Sforza, Duke of Milan and the father of Ludovico il Moro. It has served as a symbol of power throughout its long history, surviving numerous sieges and invasions.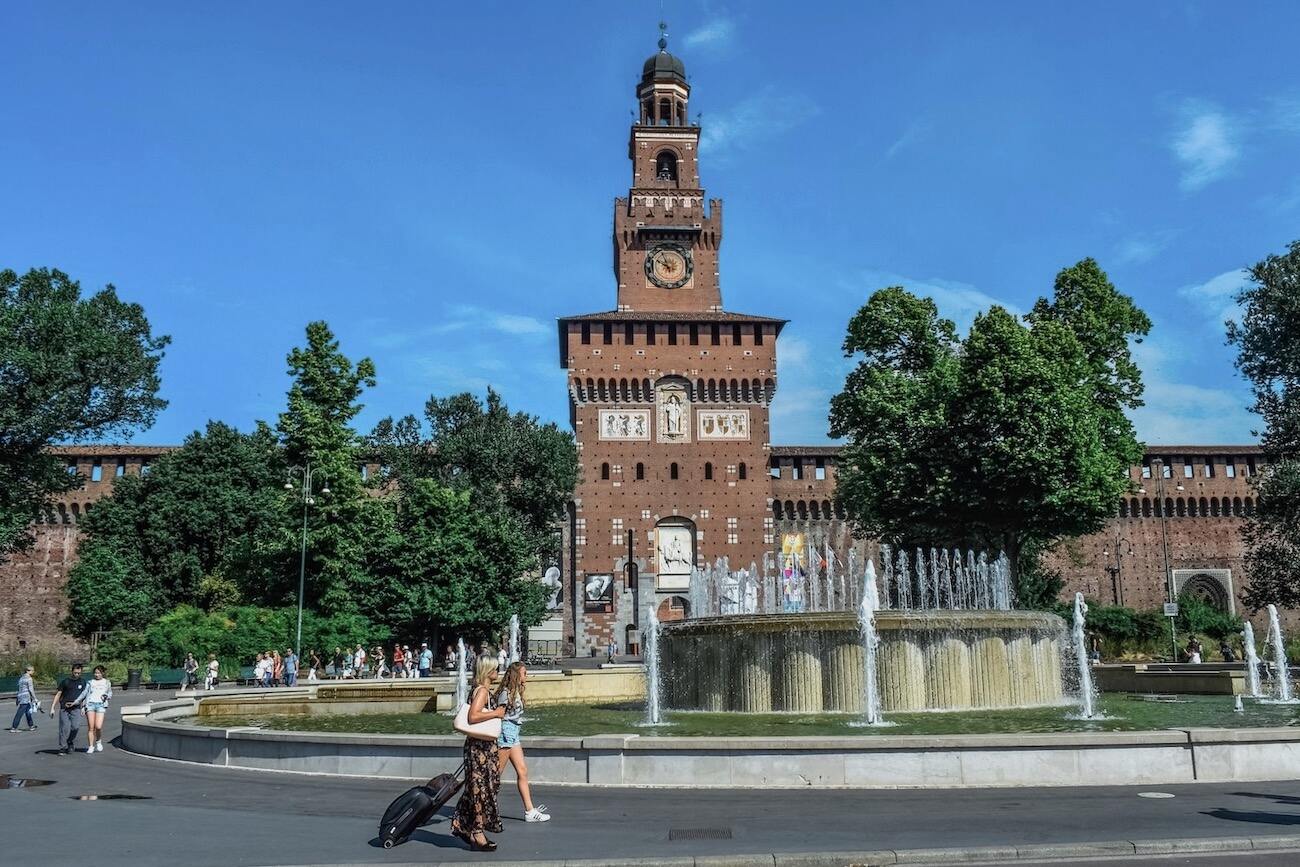 Today it's one of the famous Milan landmarks and is open to visitors who want to explore its rich past. Inside you will find an impressive collection of artworks, sculptures, and artifacts from various eras – all housed in museums within the castle's sturdy walls. Take some time to visit this remarkable structure for a fascinating glimpse into Milan's history!
Parco Sempione
After crossing the Sforza Castle, you'll get to Parco Sempione, one of Milan's largest parks. Its size is certainly not comparable to Central Park in New York or to Hyde Park in London, but you must consider that Milan, as a city, is way smaller. Anyway, it's a popular spot, and as soon as there's a ray of sunshine, you'll see people playing, picnicking, running, or just relaxing.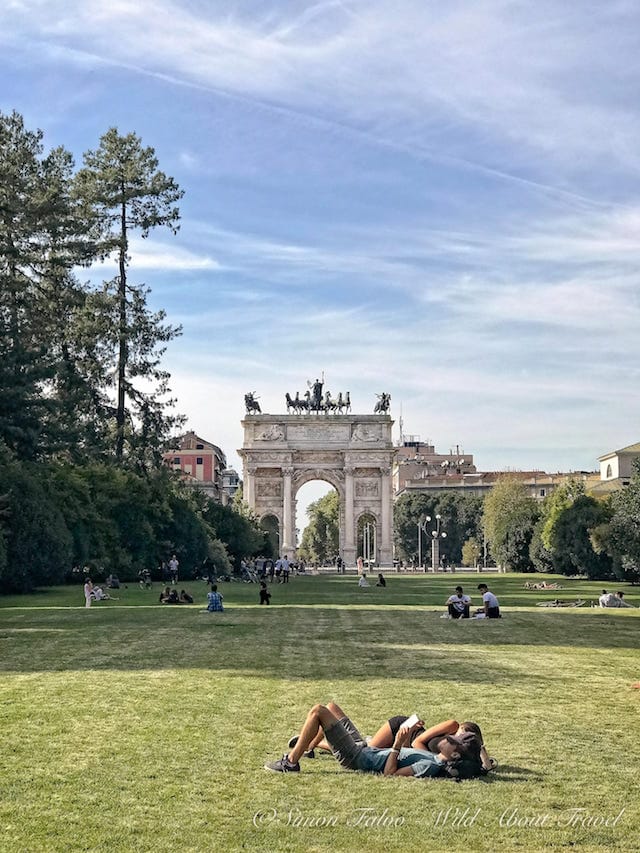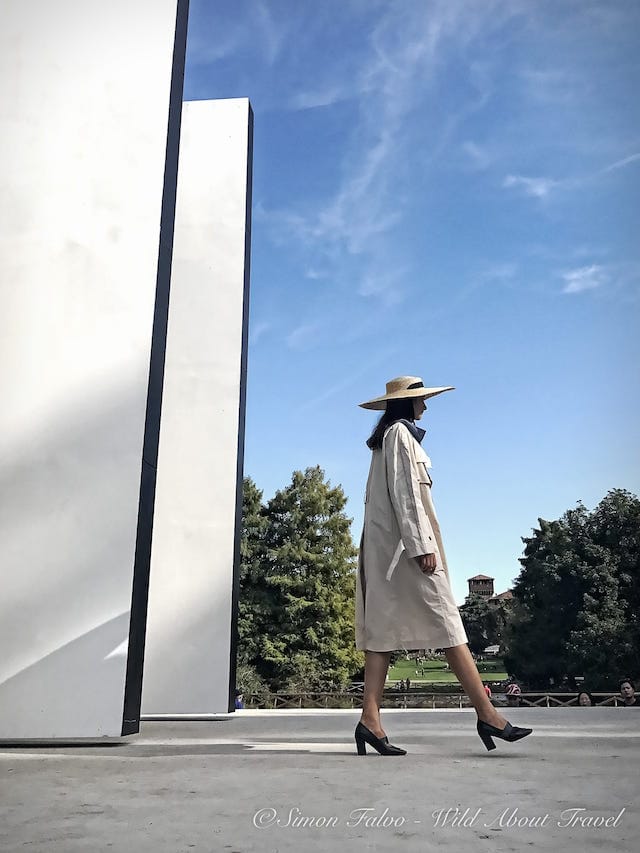 It's worth wandering across Parco Sempione to have a glimpse at local life and to reach the Arco della Pace, the Arch of Peace. Furthermore, if you're tired, this is a nice place to take a break, either sitting on one of the benches or having a drink at one of the cafès.
TIP: If you like design, don't miss visiting the Triennale Museum, which overlooks Parco Sempione.
Arco della Pace
Arco della Pace, also known as the Arch of Peace, is a magnificent triumphal arch. It was built in the early 19th century to commemorate the victory of the Napoleonic army, and it stands at the end of Parco Sempione.
The arch is a beautiful example of neoclassical architecture, with its grand and imposing structure featuring Corinthian columns, intricate reliefs, and on top, a stunning bronze chariot led by four horses. The chariot is a symbol of peace, and it is driven by a statue of the goddess of peace, which is an impressive sight to behold.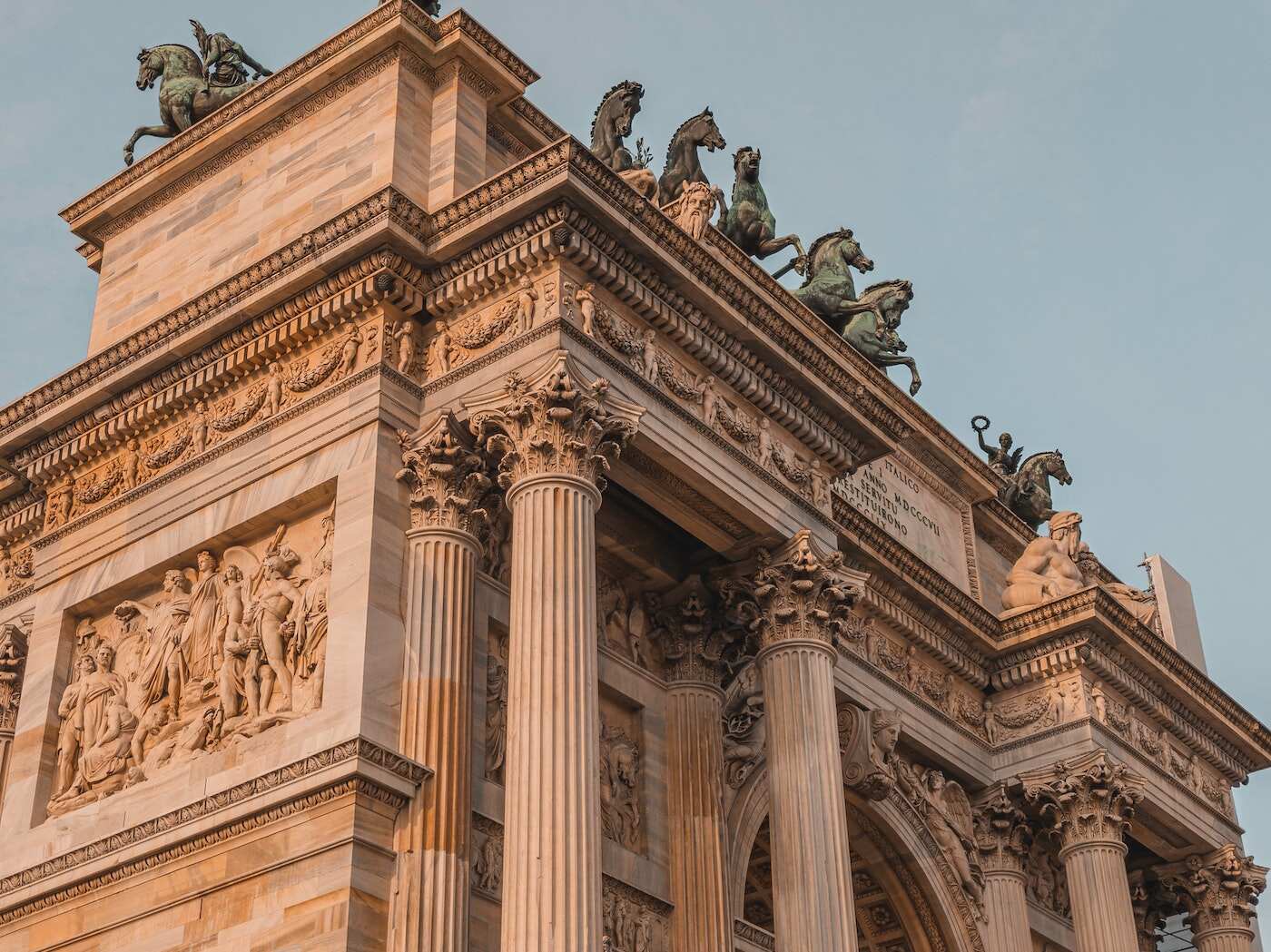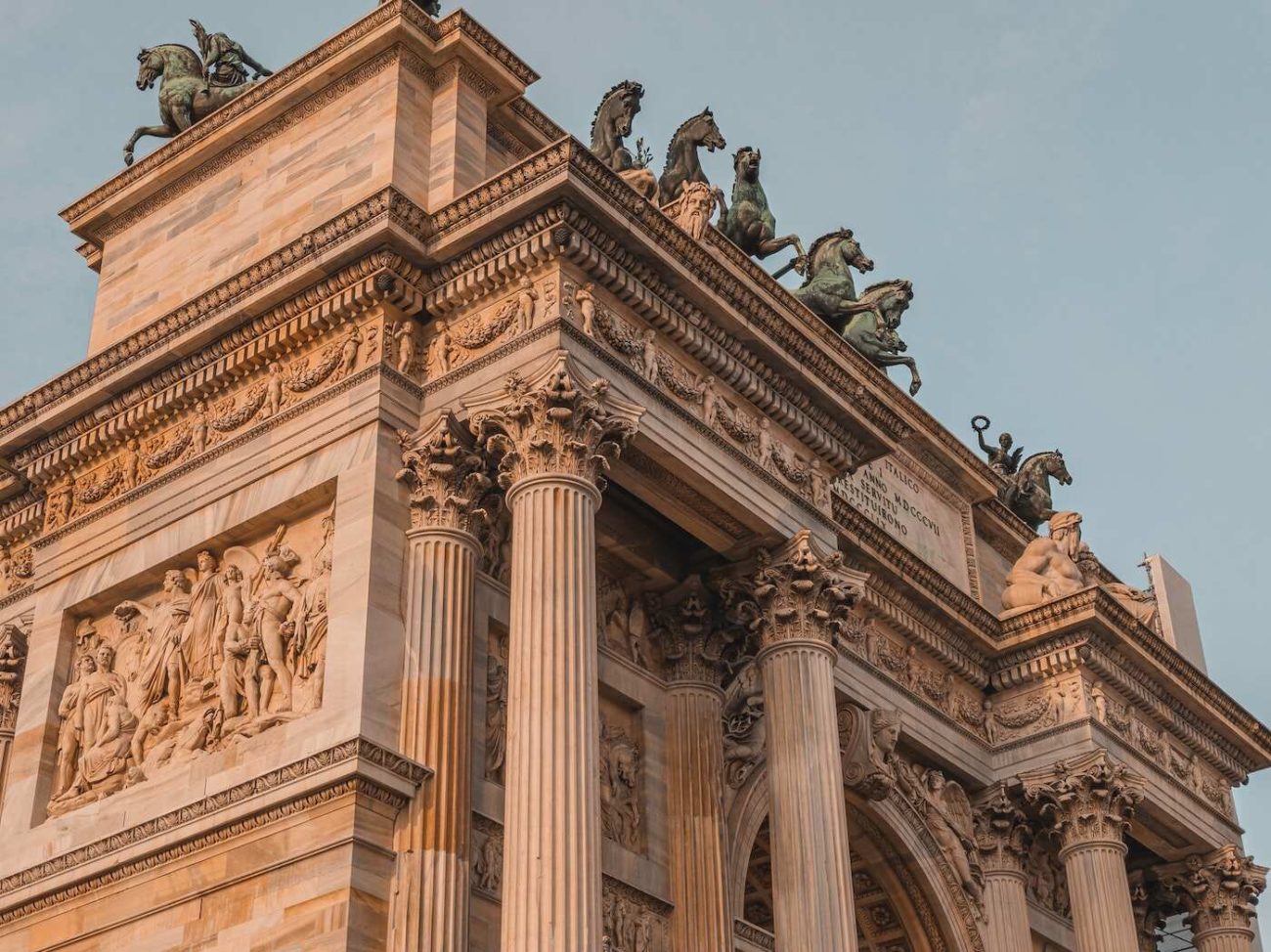 Stand in the middle of the arch, and you'll see the stunning perspective leading your eyes to the Sforza castle. The Arch of Peace is a popular spot for photos, and if you're lucky, you might see a wedding or top models having photographic shoots.
Right after the Arch, the first stretch of Corso Sempione is a boulevard lined with cafes and restaurants, all with al fresco spaces. It's another popular spot to experience Milan nightlife, so why not chill out with an aperitivo?
And if you stay longer than 2 days in Milan…
No worries, you won't get bored.
There are many fantastic day trips from Milan that you can have, either by yourself or by taking a guided tour. Keen on shopping? Aside from the Fashion District, the main shopping streets in Milan are Corso Vittorio Emanuele, Via Torino, and Corso Buenos Aires. If you're looking for good bargains, your best option is to head to Serravalle Outlet, where you'll find a wide array of shops and great discounts.
*****
There's so much to do and see in the Fashion capital that 2 days in Milan are not much. However, this Milan itinerary will let you discover the city's main attractions and landmarks.
Milan: Practical Information
Getting there
Milan has three airports: Milano Linate, the one closest to the city center; Milano Malpensa, where long-haul flights arrive; and Bergamo, generally for low-cost carriers. Find the best airfares on Trip.com.
There are several options to reach the city from the airport, and which is the best choice depends on where you stay in Lisbon, your arrival time, and how much luggage you have. The city center is connected by bus and train, depending on the airports.
Getting around in Milan
Milan city center is not that big, and most landmarks are within walking distance. In any case, there's plenty of public transport in Milan, including trams, buses, and the metro. The single ticket costs 2,20 euros and is valid for 90 minutes (but only one time in the metro). Daily tickets cost 7,60 euros and are a great option if you plan to use public transport a lot. Beware that you must buy your tickets beforehand, and you can find them at most Tobacco shops.
Taxi in Milan is expensive, and during the most important events – like Milan Fashion Week or Milan Design Week – it's often difficult finding one, especially at peak hours and in the evening/night.
Where to stay in Milan
Milan offers a wide range of accommodations, from hostels to luxury hotels. There's something for any budget, although overall, Milan is an expensive city. Hotels in the center of Milan are more pricey, but the plus is being close to almost all Milan landmarks. Budget accommodations are further away, so carefully choose an area well connected by public transport.
Hereunder I mention a few options, but if you want to know more, read my article on where to stay in Milan and the different neighborhoods.
Tiaré Home Milano is a small and charming bed&breakfast in a residential area not far from Milan historical center and well connected by public transport. Rooms are modern and tastefully decorated.
Moscova Luxury B&B is located at the heart of Milan Brera District, within short walking distance of La Scala Opera House and Milan Cathedral. It features stylish contemporary rooms and many amenities (coffee machine, slippers, and more).
Speronari Suites is a fantastic option, only 200m from Milan Duomo Square. The property features stylish contemporary decor, rooms with all comforts, and air conditioning.
_____
This post contains a few affiliate links. That means that if you make a purchase, I get a small commission at no extra cost to you.