Have you ever dreamed of trying tandem paragliding but felt intimidated? Read about my exhilarating paragliding experience, what to expect, and why you should try a tandem paragliding flight once in your life.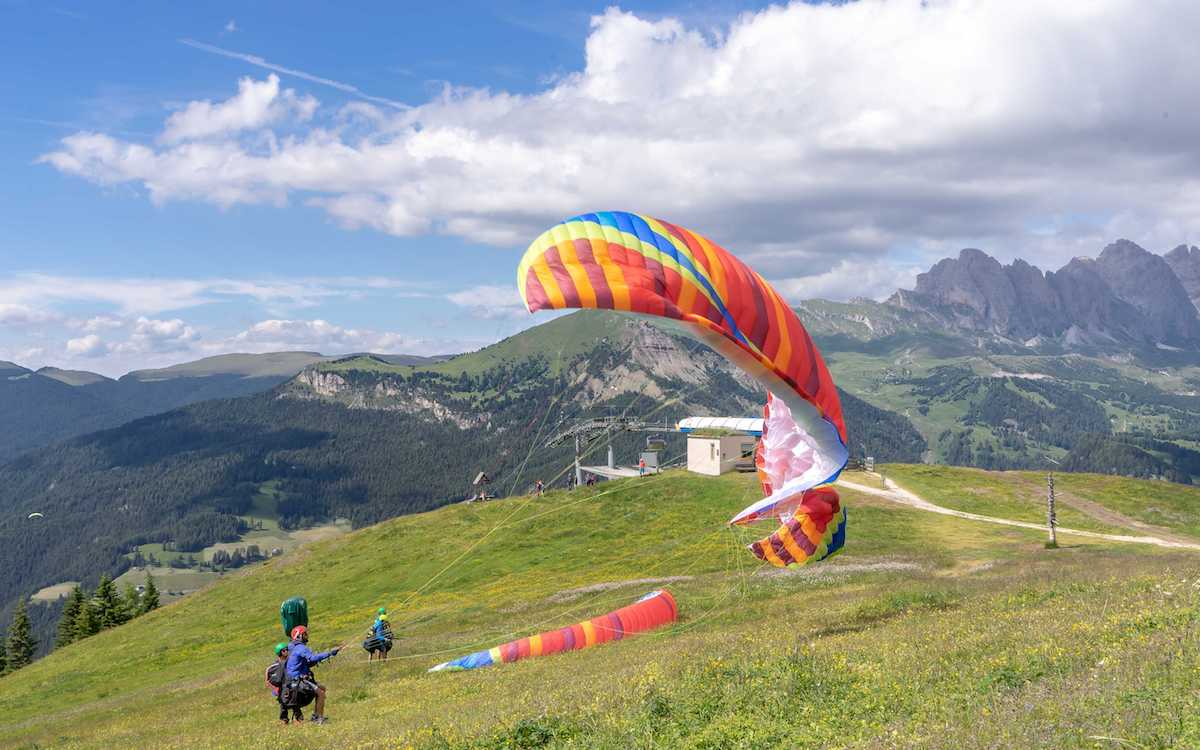 It all started a few years ago. I spent some time in Switzerland, enjoying the mountains and the beautiful hikes in Berner Oberland. As I looked at the colorful wings gracefully dancing and swinging in the air, I couldn't help thinking that I wanted to experience paragliding at least once. And that's how I decided to get my first paragliding flight over the mountains.
I booked a tandem paragliding flight feeling high excitement and a little bit of worry. Would I be scared of the height? How about vertigo? Would I like it? There was no way to know without trying.
Jump to the relevant section [Show]
My first tandem paragliding experience
I met my instructor in Gstaad, and together we rode the cable car up to Wispile, from where you can have one of the most beautiful hikes in the Saanenland. During the cable car ride, Fabrice, the instructor, began his briefing, explaining what would happen.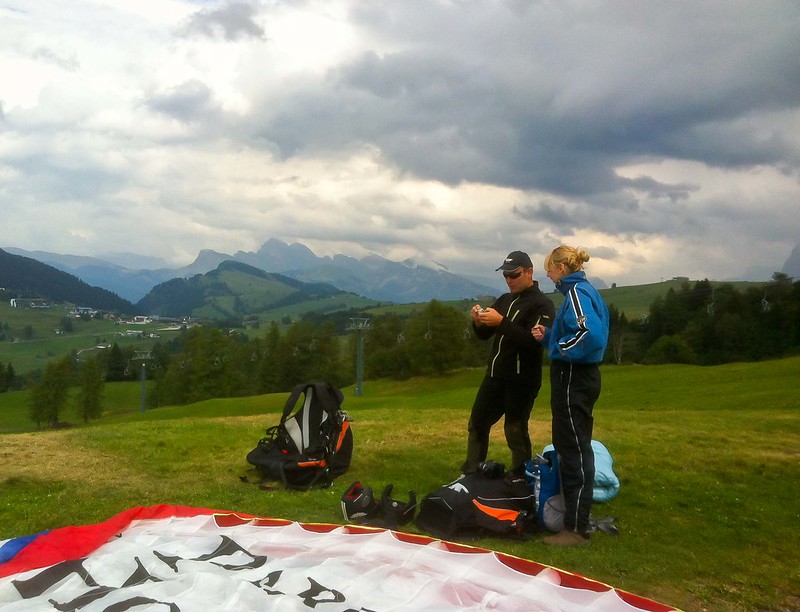 While he prepared the inflatable canopy, arranging it on the ground, I wore the coveralls and the helmet. Fabrice helped me fix the harness, and after checking all the gear, we were ready to go. Take-off was much easier than I thought. Just a few steps running down the gentle slope and… we were hanging in the air! We started flying, driven by the wind, admiring the mountains around us and the villages beneath.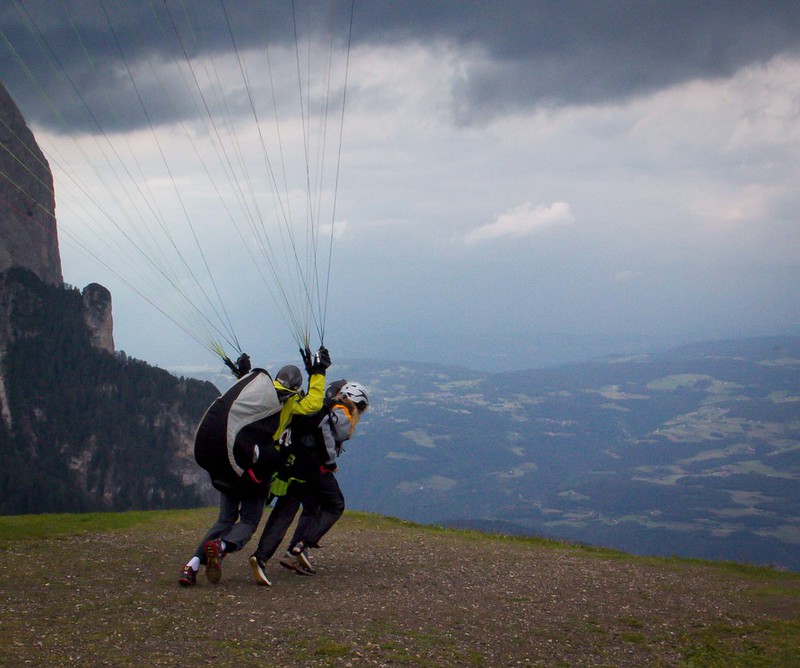 It was a feeling like no other I had ever experienced: a mix of thrill, fascination, and wonder. The initial fear didn't last for long, swept away by a unique sensation of freedom. The weather conditions were ideal, so during the flight, Fabrice let me handle the controls. What an emotion!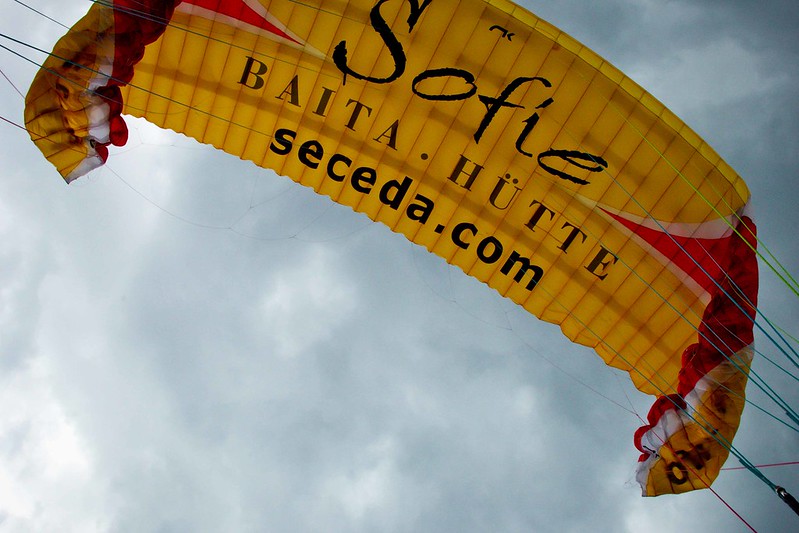 From above, surrounded by beautiful alpine scenery, I savored every moment of the gentle flowing, enjoying the silence, which is so dear to me. It was a perfect time, and I wished it would last forever. But all good things come to an end, and after a long while, we began the slow descent.
The paragliding landing was thrilling. During the briefing, the instructor explained that once touching the ground, we just had to run a few steps. The truth is that while up to the last moment, the flight was a gentle gliding, once we approached the ground, it felt like the speed was increasing. I guess that for a couple of seconds, I must have blanched with fear. But then, the speed reduced quickly, and the landing was eventually very smooth.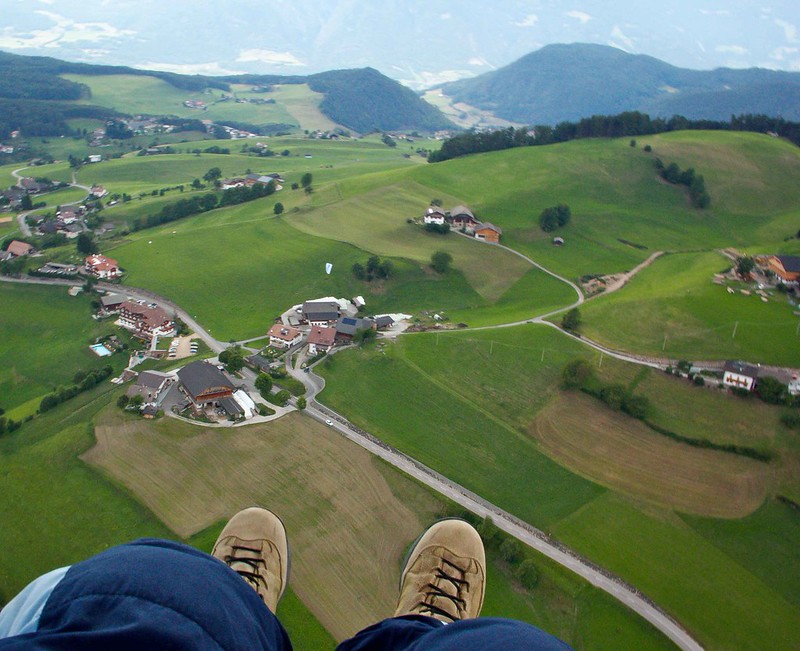 My first tandem paragliding experience was one of the most exhilarating adventures I ever had. And afterward, I knew that my tandem flight would not be the last. That's why I wanted to learn more about paragliding and share my curiosity with you.
What is tandem paragliding?
Paragliding is a free flight done with the help of a lightweight wing inflated by the wind. The pilot sits in a harness below the fabric canopy, held by suspension lines, and flies, exploiting thermals to gain height. In the case of tandem paragliding, the equipment is larger and more resistant, designed to carry a pilot and a passenger.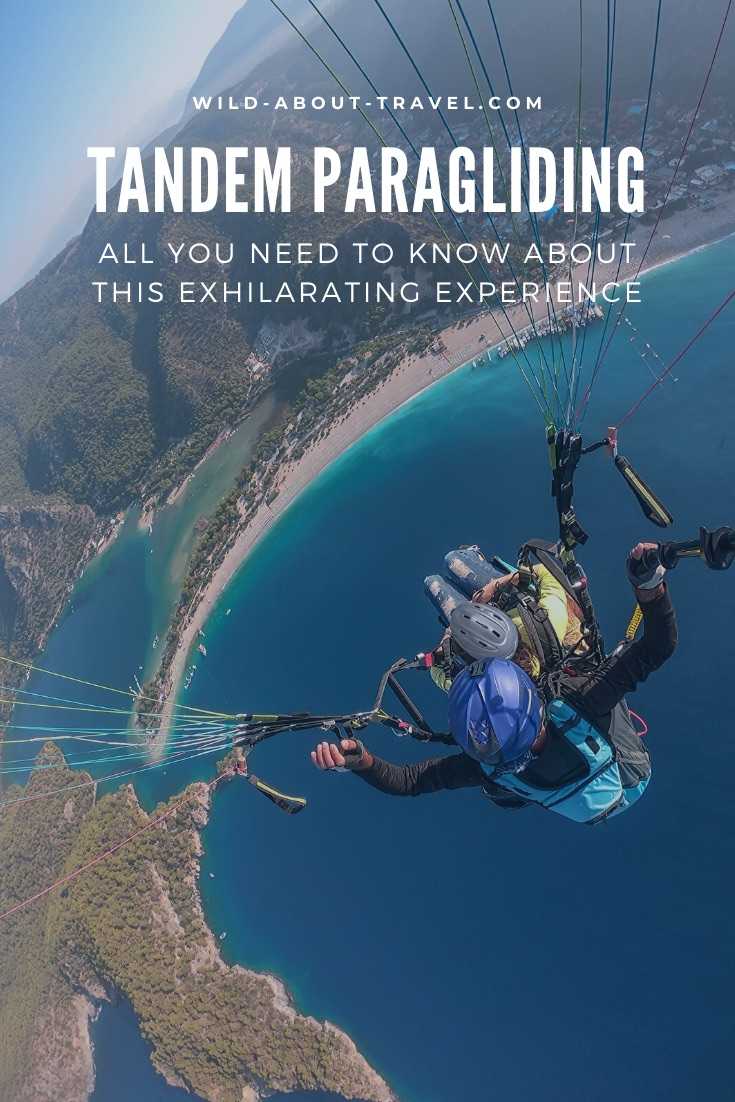 Although paragliding has become increasingly popular as an adventure sport, it requires a vast number of skills. Becoming a pilot is a long and expensive process, and the gear is quite pricey.
Which are the best places for paragliding?
My direct experience is limited to the Alps. I loved so much my first thrilling tandem paragliding flight in Gstaad, so I went a few more times.
Paragliding in the Dolomites
If you want to discover breathtaking alpine sceneries, you should plan a holiday in the Dolomites. This area of Italy is unique and utterly different from the rest of the country. Additionally, if you like active travel, this is one of the best places in Europe for adventure sports. It's a climbers' paradise, and there are plenty of activities to do: rafting, mountain biking, canyoning, and so on. Tandem paragliding in the Dolomites will reward you with unique views of the mountains.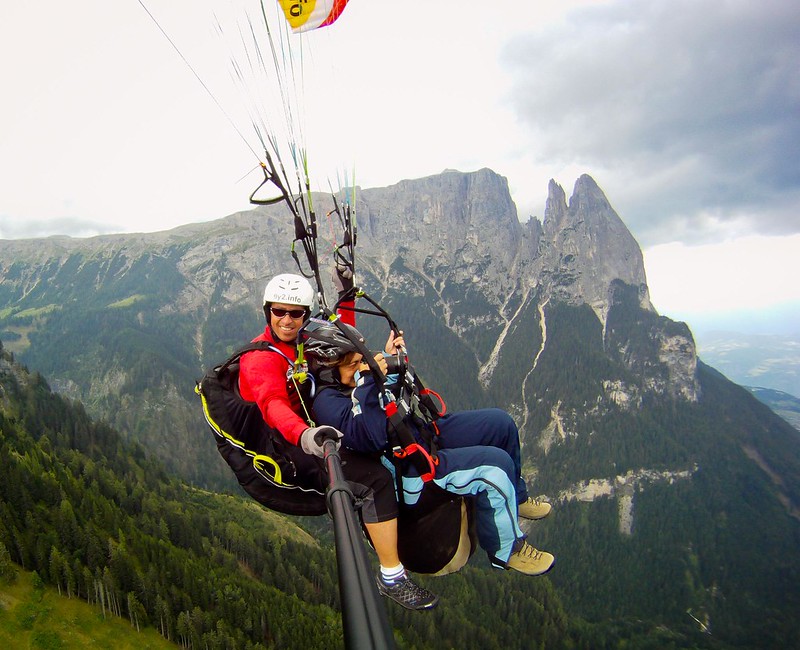 I had a fantastic tandem paragliding flight at Alpe di Siusi (Seiser Alm in German), where the main draw is the sight of the Sciliar mountain and the plateau. Unfortunately, the weather was rather bad, and until the last minute, we didn't know if the activity would be canceled. We waited for some time until the instructors established it was safe enough, and off we were.
Paragliding in Interlaken
Without a doubt, this was one of the most exhilarating experiences ever. I had the unique chance of a tandem flight during Swiss National Day, when a group of paragliders gathers and fly together, each holding a flag of one of the Swiss cantons.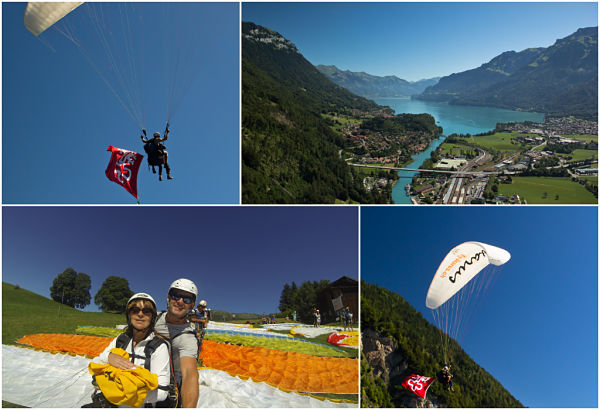 Although you're unlikely to visit Interlaken on August 1st, tandem paragliding in Interlaken is extremely rewarding at any time. While gently dancing in the sky, you'll see the turquoise water of Lake Thun and Lake Brienz, the snow-capped peaks of the Jungfrau region, and the green meadows dotted with grazing cows. 
Other top paragliding destinations
Other popular paragliding destinations in Europe include Alanya in Turkey, where you'll get stunning views over the blue lagoon and the picturesque Stubai Valley near Innsbruck in Austria. If you're visiting Bavaria, there are many beautiful day tours from Munich, including paragliding at the charming Lenggries.  The Canary Islands are another favorite spot, and you can go for a tandem fight in Southern Tenerife. 
There are also many top destinations for paragliding around the world, Nepal, the USA, some areas in central and South America. I wish I had made tandem paragliding in Cape Town, when I traveled to South Africa, as well as in Rio de Janeiro, during my trip to Brazil. But I'm grateful that I had the opportunity to experience tandem paragliding a few times, and I'm looking forward to the day when I'll be able to enjoy another flight.
How much does tandem paragliding cost?
The cost for a tandem flight with an instructor varies depending on the locations around the world. The average price is around 110-180 USD (100-160 Euro), although it might be slightly cheaper or more expensive in selected countries.
Although it's not cheap, tandem paragliding is an affordable once-in-a-lifetime experience. Actually, it's not more pricey than other adrenaline-pumping activities like bungee jumping (which comparatively is very short).
Is tandem paragliding safe?
Well, no adventure sport is entirely safe, but the likelihood of an accident is minimal. To give you an idea, the risks of paragliding are similar to driving, and it's statistically safer than motorbiking and even horseback riding.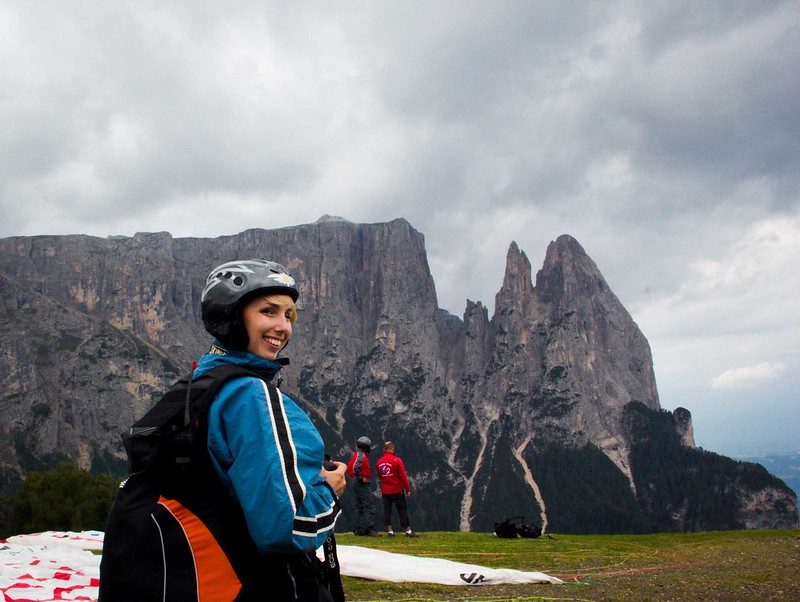 Like climbing, rafting, canyoning, and any other extreme sport, it's paramount to book a tandem paragliding experience with a well-established operator and professional instructors. This is definitely not the kind of activity where you want to spare a few bucks and increase risks.
Also, remember that paragliding is strongly related to weather conditions. The instructor has the last word in deciding if it's safer to call off the activity and plan it on another day.
Are there age limits for tandem paragliding?
There are virtually no age limits, and people as old as 90 can experience a tandem paragliding flight. The only possible limitation is not related to age, but to weight, as for safety reasons, the maximum weight for a tandem flight is 135 kg.
*****
Should you give tandem paragliding a try? If you're looking for an activity combining an adrenaline rush with a lot of enjoyment, a bit of fear with calmness and a feeling of freedom, then give it a go. You'll have an unforgettable experience.
_______
This post contains affiliate links. That means that if you make a purchase, I get a small commission at no extra cost for you.