Valencia combines ancient architecture with the stunning contemporary buildings of the futuristic City of Arts and Sciences. Whether you decide to spend two days or stay longer, find out the best things to do in Valencia. And get ready for a beautiful city.
Valencia had whispered at me for a long time, but I always ended up temporarily dismissing it, telling myself, "next time." I guess that one of the reasons is that for years, I've been so deeply in love with Barcelona that I feared I might feel disappointed.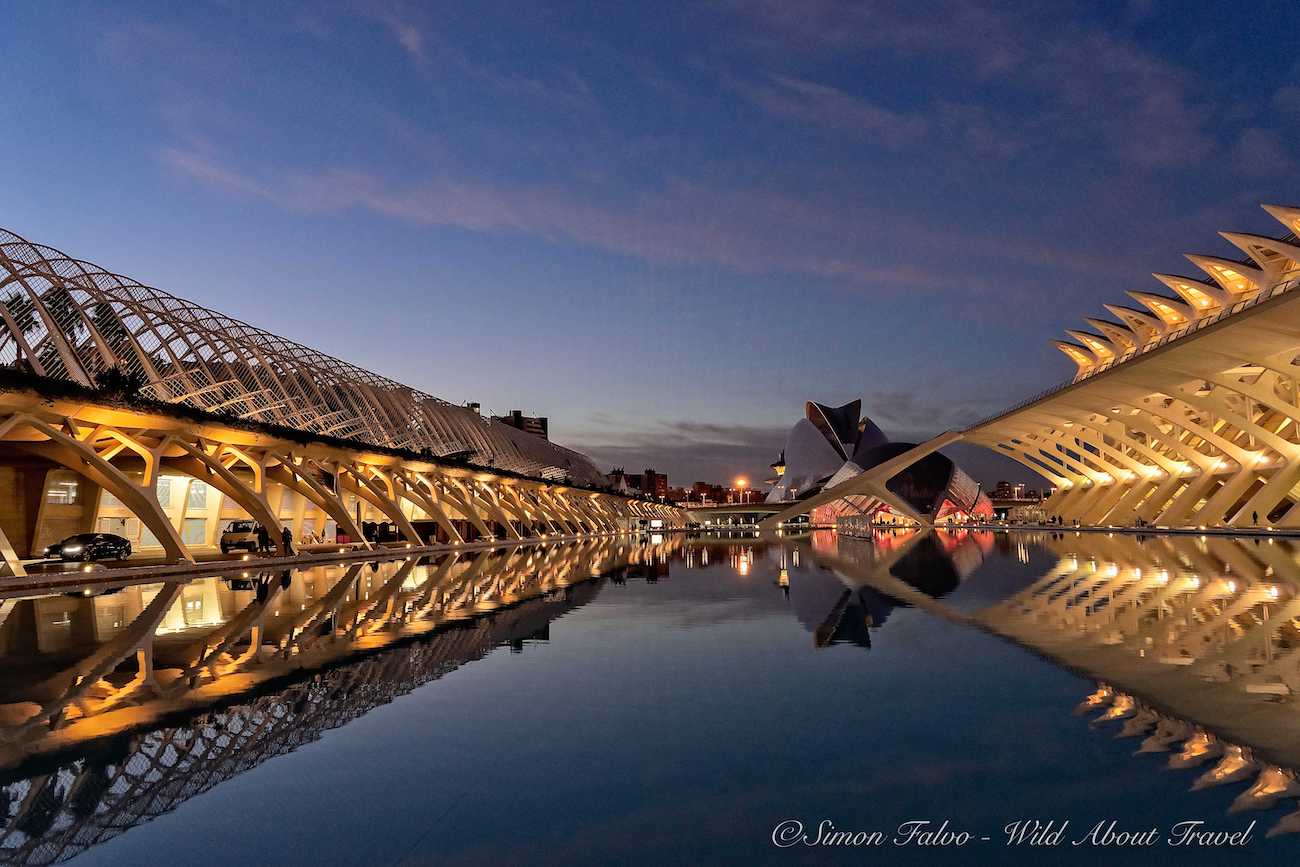 When I eventually visited Valencia, it didn't take me long to find out how wrong I was. In a matter of hours, Valencia caught my heart. It's not only about Valencia attractions. The city has a unique vibe. In Valencia, old and new blend in one of the most interesting city planning I've ever seen. The modern area around the City of Arts and Science is more than just an outstanding architectural project. And the immense Turia River Park is not only beautiful, but it profoundly affects the lifestyle of the people living in Valencia.
Being an easy city break in Europe, most people end up spending 2 days in Valencia. However, it's well worth staying longer, enjoying a relaxing week in Valencia, as I did. It's a destination that has something for anyone, and if you're visiting Valencia with kids, you'll be surprised at how children-friendly the city is.
Jump to the relevant section [Show]
Valencia history in a nutshell
Like it happens in many European cities, what Valencia has become is the result of several layers from different historical periods. Here are the min events which shaped the city.
Best things to do in Valencia
You can undoubtedly visit Valencia's main attractions in 48 hours. However, if you only can spend 2 days in Valencia, here are some of the best things to do and see. That will help you build your Valencia itinerary.
Valencia Best Tours and Activities
___________
There are plenty of things to do in Valencia, and subsequently, many excellent tours and exciting activities. Here's a selection of some of the best.
1. Stroll in Valencia Old Town
Valencia's historic center is relatively small but beautiful. As you stroll in the charming alleys and admire the main plazas, you'll make a journey through history. Indeed, in Valencia Old Town, you'll get to see different layers, from the Middle Age to the 15th century (the age of Spanish explorations), all the way to the early 20th-century Modernism.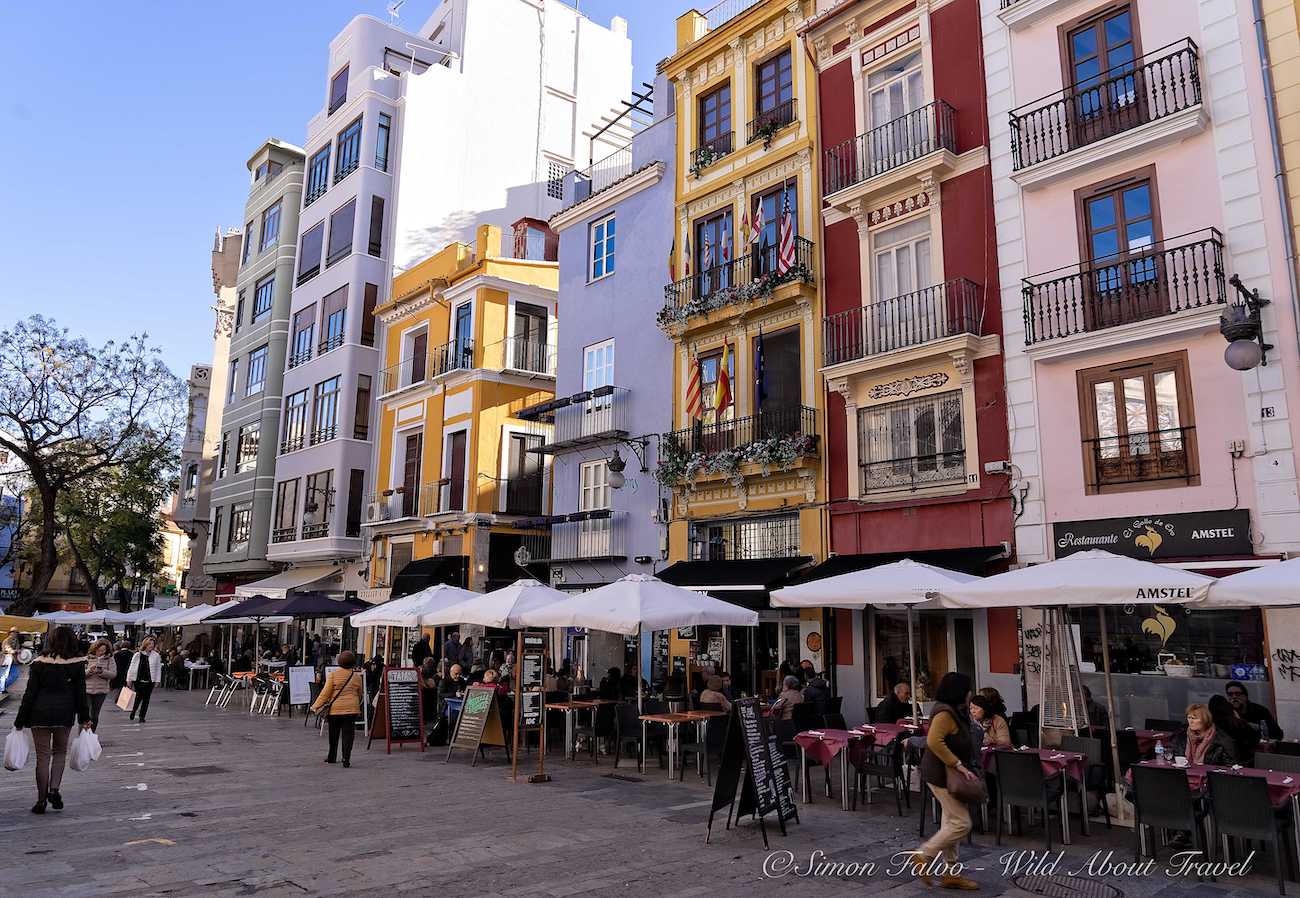 Aside from strolling around and enjoying the vibrant life, there are a few places in Valencia's old town that you should visit.
Plaza de la Virgen, Cathedral, and Miguelete tower. Valencia Cathedral was built between the 13th and 15th centuries, and while it is primarily gothic, you'll also see some Romanesque and Baroque styles. Inside the cathedral, you can see the Holy Grail, the chalice that is said to be the one from which Jesus drank during the Last Supper. You have to climb 207 steps of the spiral staircase in the Miguelete tower, but from atop, you'll get a superb bird's eye view of the city.
Opening hours:
Cathedral => Monday to Sunday: 10am – 6:30pm.
Miguelete Tower => Apr-Oct: Monday to Sunday, 10am – 7:30pm. / Nov-Mar: Monday to Saturday, 10am – 6:30pm, Sunday, 10am-1pm and 5:30pm-7pm.
Llotja de la Seda: the former market for Silk Exchange is one of the most remarkable buildings of secular gothic style.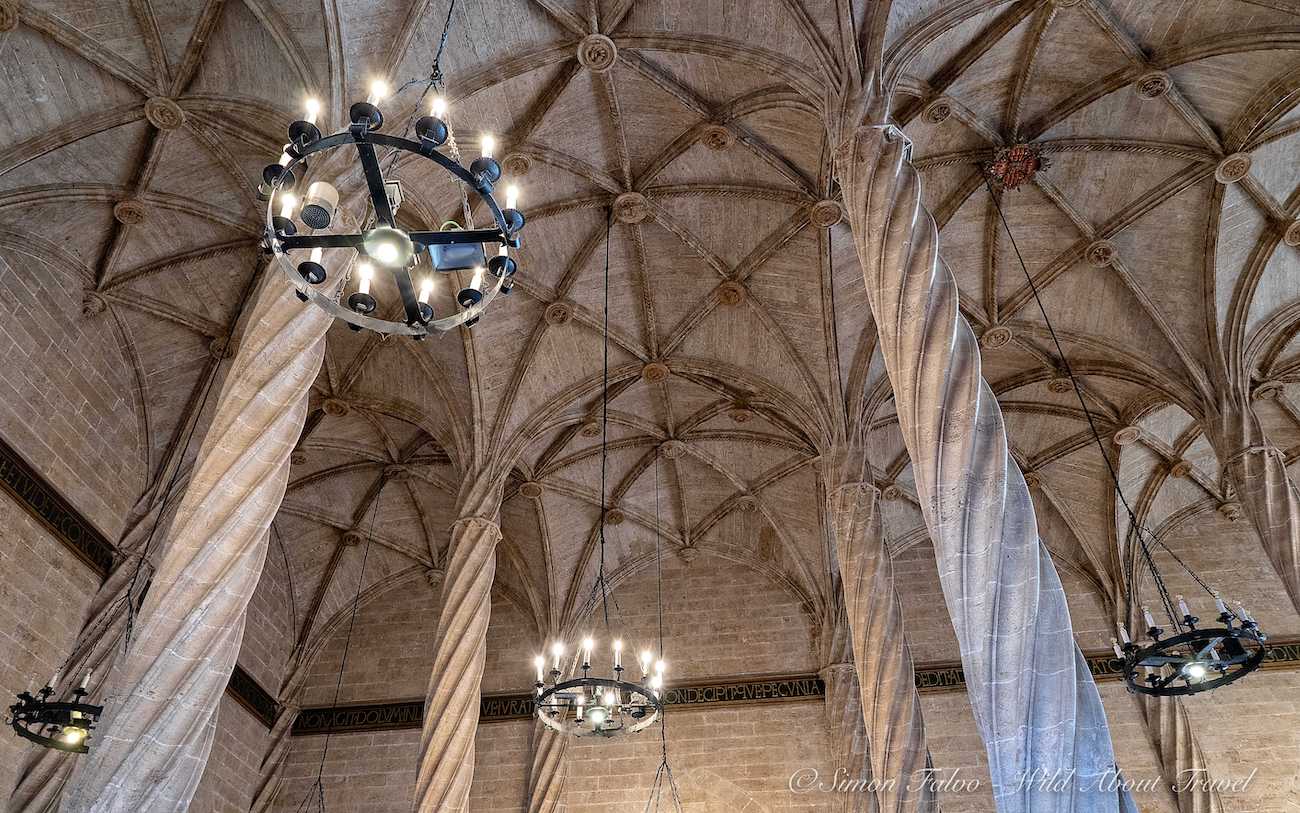 The building dates back to the late 15th century, when Valencia's economy and trade were flourishing, The thin and high twisted columns, with their exquisite elegance, and the roof, are enthralling. The silk market is a must-see in Valencia, besides the fact that it was listed as a UNESCO World Heritage Site back in 1996. It's unique.
Opening Hours:
Monday to Saturday: 10 am – 7 pm / Sundays and Holidays: 10 am – 2 pm
Mercat Central: not only the Central Market is an interesting example of Modernism, but it's also one of Europe's largest markets. Don't miss visiting it also inside, especially the fresh fish stalls, and get ready for mouthwatering food.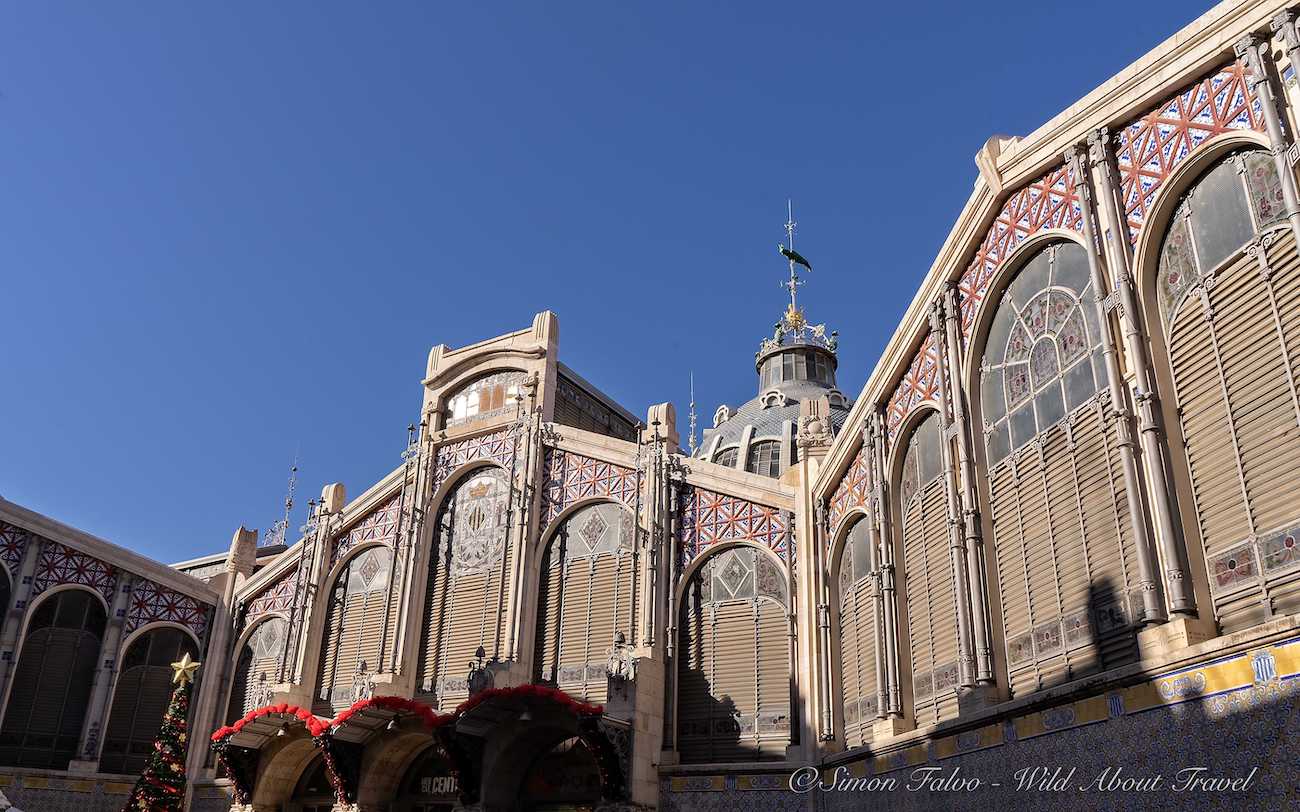 Opening Hours:
Monday to Saturday: 7am – 3pm
Palace of the Marqués de Dos Aguas: daring back to 1740, it boasts one of the most impressive Rococo facades you can imagine. Even if you're not a fan of the Rococo style, it's worth stopping by and looking at the imposing alabaster statues and intricate carvings.
Barrio del Carmen: the Carmen district takes its name from the Carmen convent and is one of the most charming areas in Valencia's old city. It's the perfect place to get lost in the winding alleys during the day and to experience Valencia nightlife.
In Barrio del Carmen, you'll find plenty of cafes, bars, and restaurants for a fun night in Valencia.
2. Get up close with Valencia Modernism
Valencia may not have masterpieces from Gaudì, like in Barcelona, but there are many beautiful examples of Valencia Modernism. The cradle of the city's Modernism is the Eixemple district, born in the early 20th century after the demolition of the walls.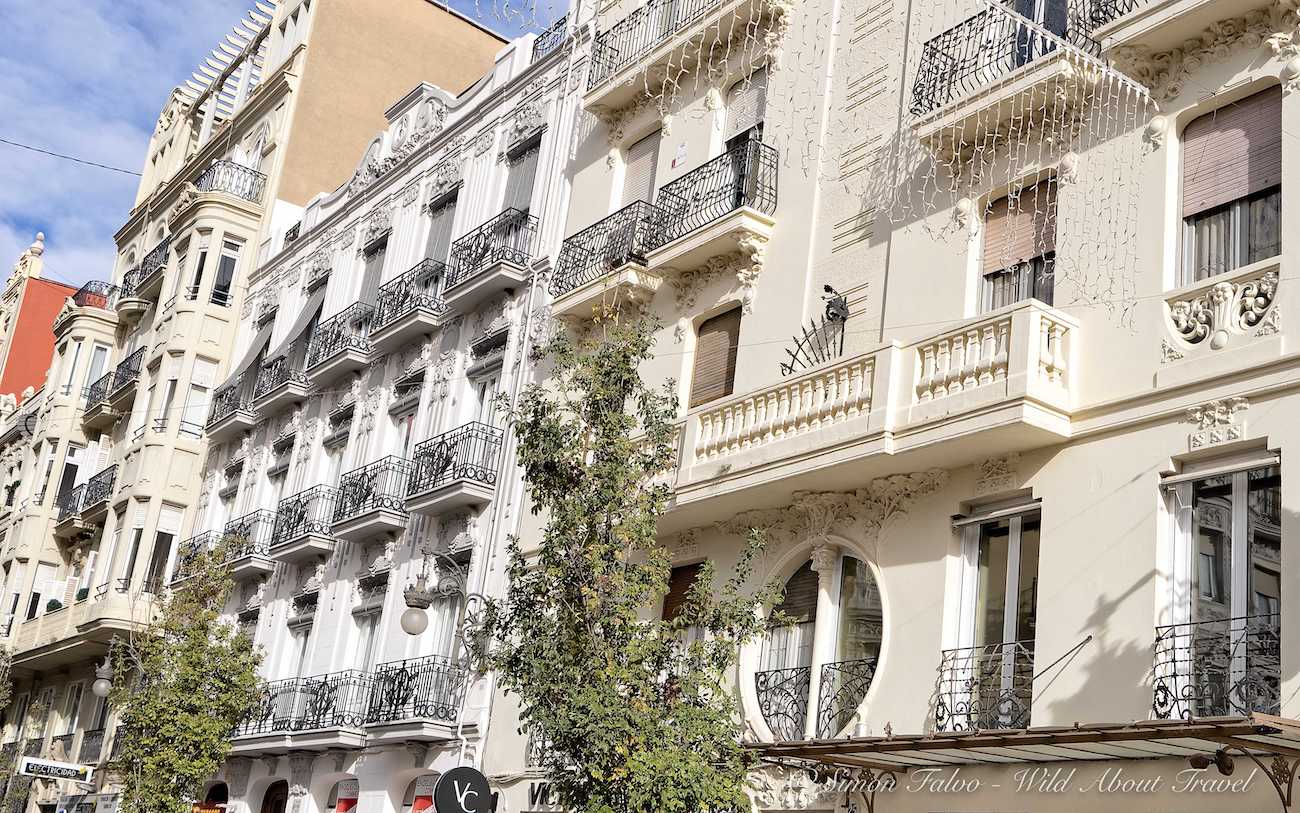 When strolling in the elegant Eixemple district, let your eyes look up to get in all the exquisite details of the buildings. Modernism is a very decorative style, and you need to linger to appreciate the architecture fully.
3. Marvel at the dazzling City of Arts and Sciences
Wondering what to do in Valencia if you have time for only one thing? Look no further. The City of Arts and Sciences is unquestionably THE must-see in Valencia. It's that incredible, futuristic architectural project that truly sets Valencia apart from other cities in Spain.
Designed by world-famous architect Santiago Calatrava, partly with his teacher Félix Candela, the Ciudad de las Artes y las Ciencias was built between 1996 and 2005. The unique architectural complex comprises stunning buildings.
L'Hemisfèric, the first one to be completed in 1998, hosts an IMAX cinema and a planetarium. Shaped like an eye, the Hemisfèric is also called the "Eye of Knowledge." The reflection in the surrounding pool creates a fantastic effect of seeing the entire eye.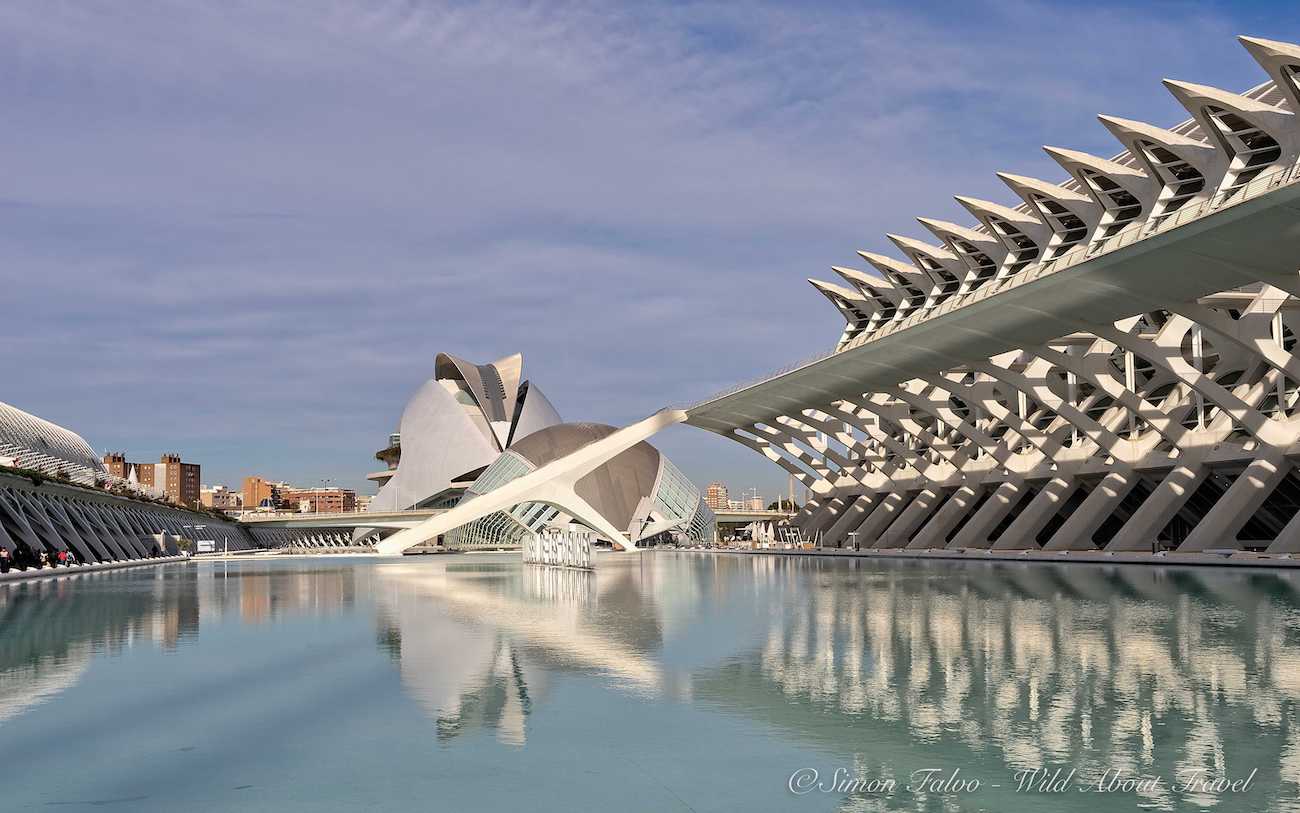 Visit the Hemisfèric during the day and again at sunset. Wait until it gets dark to admire the beautiful night collard lighting. It was a warm, bright red when I visited Valencia in December, possibly a tribute to Christmas.
The Principe Felipe Science Museum is shaped like the skeleton of a whale and somehow reminded me of Giger's drawings, which inspired the film Alien. The interactive museum is one of the top things to do in Valencia with kids, being both instructive and entertaining. The reflection of the Science museum in the water is simply beautiful, and it's not surprising it's one of the most photographed spots in Valencia.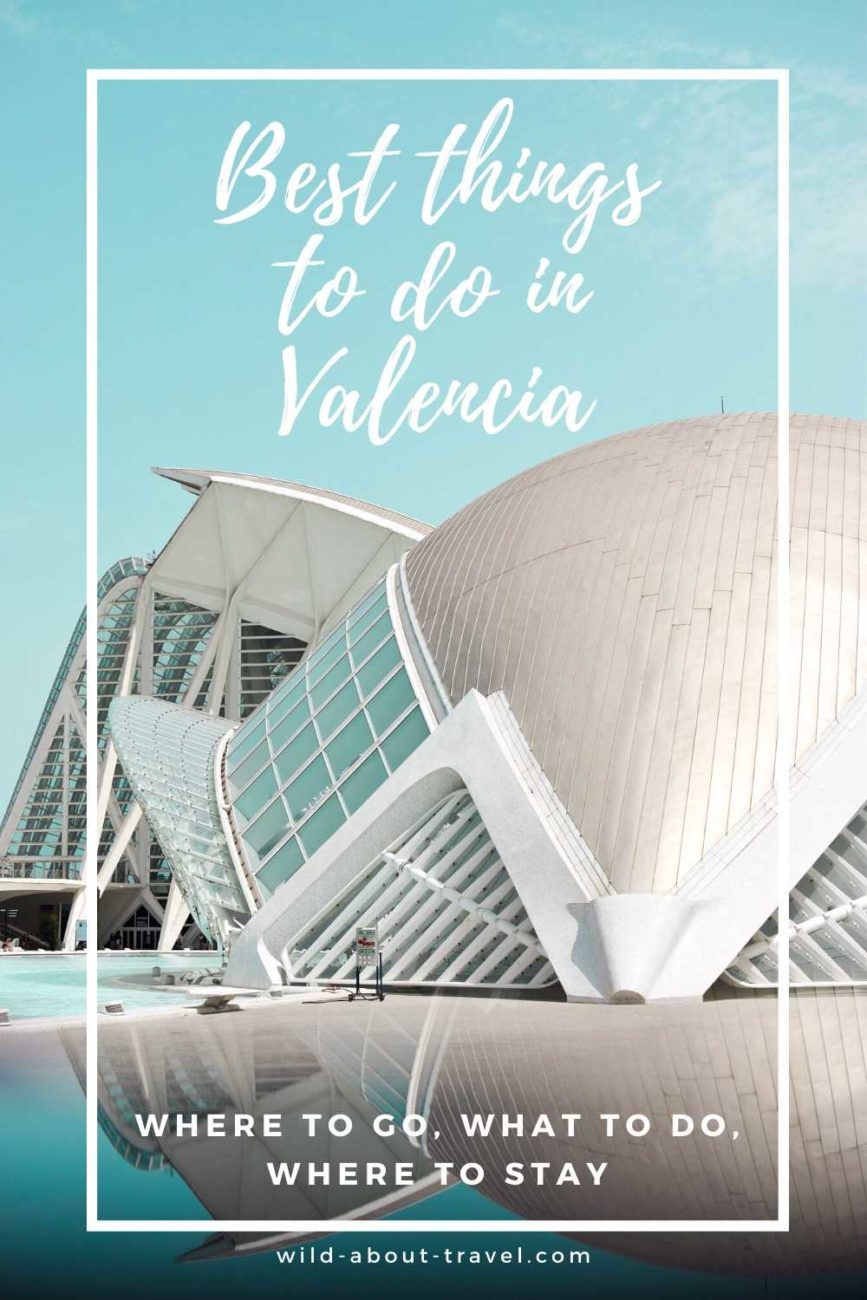 The Umbracle makes for a very relaxing walk in what looks like an outdoor greenhouse. Being on an upper level, it also boasts beautiful views of the Hemisferic.
The Oceanographic, inaugurated in 2003, is another remarkable architectural project. It hosts Europe's largest oceanographic aquarium and is one of the top attractions when traveling to Valencia with kids. Shaped like a water lily, it houses marine environments and subsequent species. The Oceanographic is home to many species, including sweet water dolphins, penguins, sea turtles, and sharks. To optimize your time, you can buy your Oceanogràfic Entry Ticket in advance.
Even if classical music and opera are not your things, you'll marvel at the architectural structure of the Palau de Les Arts. Like the other buildings in Valencia City of Arts and Science, the building is surrounded by water, creating stunning optical effects.
The Pont de l'Assut de l'Or, spanning the former Turia riverbed, is one of Santiago Calatrava's signature bridges.
The Agora, inaugurated in 2009, reminded me of a tridacna without curves, and for a short while, I imagined myself scuba diving again, surrounded by awe-inspiring marine life. The building hosts concerts, exhibitions, congresses, and sports events.
Santiago Calatrava: a controversial archistar. The world-famous architect designed some of the most iconic buildings in Europe and the United States. Aside from the City of Sciences and Arts in Valencia, his creations include the dazzling Oculus in NYC Lisbon Oriente station and the Milwaukee Art Museum. Despite his fame, in recent years, Calatrava faced increasing criticism, the fiercest in Valencia, due to the futuristic City of Arts and Sciences ballooning costs.
4. Bike in the Turia Park
The Turia Gardens – "Jardín del Turia in Spanish – are one of the main attractions in Valencia. The largest urban park in Spain was inaugurated in 1986 and created following the great flood, which devastated the city back in 1957. The plan envisaged a re-routing of the Turia River and the creation on the former riverbed of a giant park.
Today, the Turia Gardens are a giant green lung where you can spot Valencians doing any kind of activity. From strolling with kids to yoga, from running to exercising in athletics. It's a beautiful place for a gentle stroll or a bike ride while observing how the park shaped the lifestyle of the locals.
Valencia is one of the best cities in Europe to have a sightseeing bike tour. Also, there's no better way to discover a city full of history than a guided walking tour.
5. Savor the charm of El Cabanyal
Once a fishermen's neighborhood, El Cabanyal is a picturesque quarter near the sea. The narrow alleys, lined with two stories colorful houses, will make you feel like stepping back in time. El Cabanyal also reminded me of Brazil and Latin America. Although gentrification is underway, this is still one of the poorest neighborhoods, as well as one of the areas where you'll get to see the Valencia authentic lifestyle.
Have a look at the bars and cafes where locals have cheap and hearty desajunos and at how life here flows at a slower pace.
6. Discover the secrets of Paella
Somehow, paella is to Spain what pizza is to Italy: one of the best-known national dishes. However, as happened with pizza, paella evolved.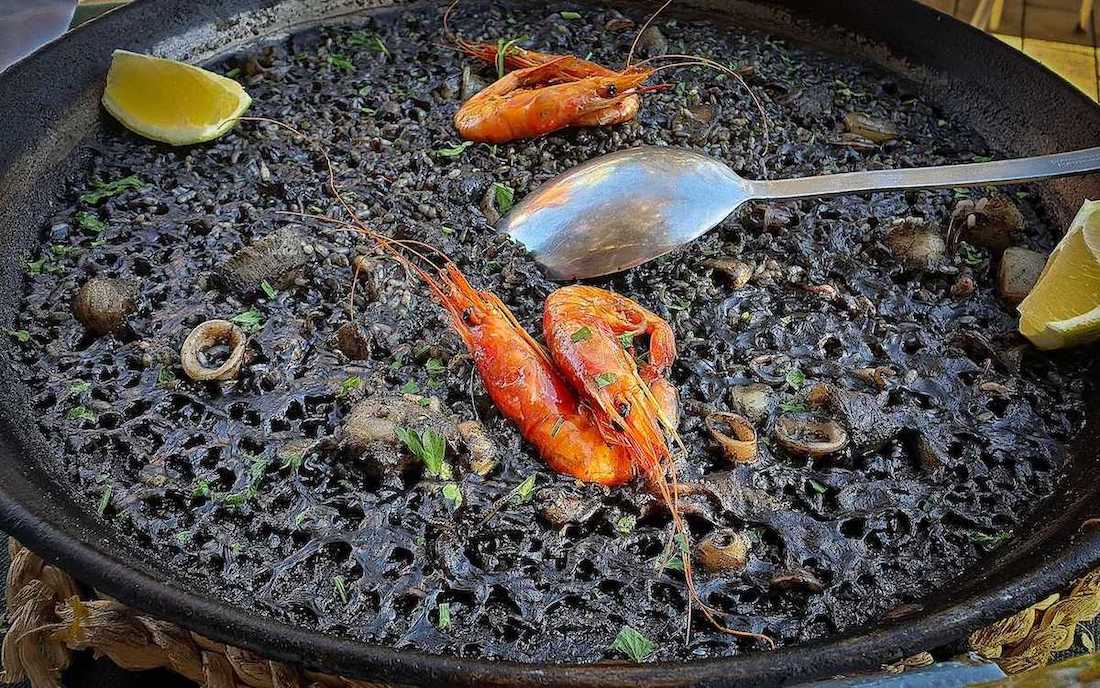 Still, Spanish people consider paella a traditional dish from Valencia. Although there are many variations, nowadays, the best known is the one combining rice with seafood, meat, and vegetables. However, the traditional Valencian paella recipe consists of rice, different green beans, and meat (usually chicken, rabbit, and sometimes snails).
7. Chill out at the beach
Thanks to its mild winters and abundant sunshine throughout the year, the beaches are one of the main Valencia attractions during any season.
Even in winter, you can often chill out at one of the bars along the seashore, and from mid-Sping to mid-Autumn, Valencia is an excellent destination if you travel with kids.
8. Chase the colorful Valencia Street Art
In many cities across the world, street art has become one of the many attractions, and Valencia is no exception. You can discover beautiful examples of urban art in the Ciutat Vieilla, especially in the Barrio del Carmen.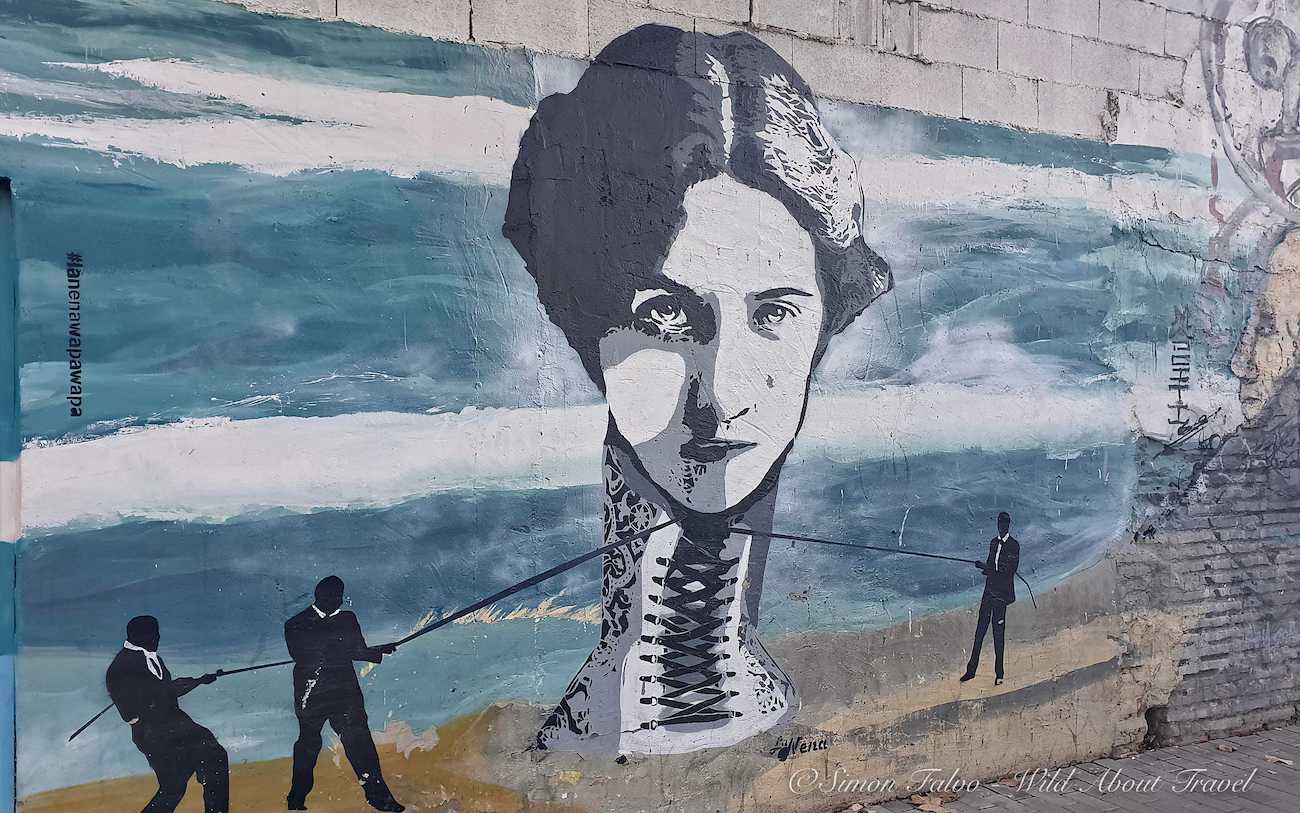 Don't miss Plaça de Sant Jaume and the adjacent Carrer de Baix, Calle Baja, Carrer del Pou, Carrer del Cabrit. Get lost in the nearby alleys to discover more colorful murals.
And if you don't feel like chasing the best murals, you may want to join a free tour of Valencia street art.
9. Take a cooking class
While Valencia is a city inviting you to stay outdoors as much as possible, you may wonder what to do in Valencia when it rains. Why not take a cooking class to learn how to cook traditional Valencian paella?
*****
As you can see, there are plenty of things to do in Valencia, and you certainly won't get bored. Whether you're traveling solo, visiting Valencia with kids, or having a short break with friends, there's more than enough to keep you busy and let you have a great time.
---
Start planning your trip to Valencia
Getting to Valencia
Flights are abundant, including by low-cost carriers, from all over Europe.
Best time to visit Valencia
Valencia is a year-round destination with mild winters and hot summers. I visited Valencia in December and enjoyed the pleasant warmth during the day, while as soon as the sun sets, it gets chillier.
Where to stay in Valencia
Budget
Mid-range
Luxury
Check out more hotels in Valencia
_______
This post contains affiliate links to carefully selected services or products. This means that if you purchase any of them, I get a small commission at no extra cost to you.
Pin for later!