Barcelona is one of the most famous cities in Europe, and for a reason. Barcelona is beautiful, lively, charming, and a lot more. But it's also become overcrowded and often suffers from over-tourism during the year. Find out how to get the most out of 3 days in Barcelona and plan a fantastic itinerary.
The city has so many tourist attractions that 3 days in Barcelona are barely enough. That's why I'd like to guide you through the places not to miss and show you how to build a perfect 3 day Barcelona itinerary. Most of all, I'd like to help you optimize your time and experience the best the city offers.
I visited Barcelona multiple times, and every trip was an occasion to discover something new. And although I recently "betrayed" Barcelona to discover Valencia, which I loved, the capital of Catalunya will always hold a special place in my heart.
Jump to the relevant section [Show]
How to plan a 3 day itinerary in Barcelona (and skip the lines)
Barcelona is quite large but has an excellent public transport system. However, to avoid wasting time traveling from one district to another, I suggest you focus on one neighborhood at a time.
Also, some of the top Barcelona landmarks, like the Sagrada Familia, are more accessible and subsequently less crowded at certain times.
The suggested Barcelona itinerary is based on my experience and will allow you to enjoy the best of Barcelona in 3 days. Avoiding the queues at Barcelona's top attractions is hard. Still, I'll try to help you minimize wasting time and, whenever possible, skip the lines (or at least reduce them).
Unusual things to do in Barcelona
Aside from strolling around and visiting Barcelona landmarks, there are many unusual things to do in Barcelona. It's a great way to discover the city from a different perspective and have fun. Here are a few cool activities to do in Barcelona.
Barcelona Itinerary Day 1: The Old Town (Gothic Quarter, El Born, Raval)
On the first day, I suggest focusing on Barcelona's historic center and the famous landmarks in Barcelona that are either within walking distance or easy to reach with a short bus or metro ride.
When I traveled to Barcelona for the first time many years ago, I fell in love with the Old Town and the Gothic Quarter in a matter of minutes. Full of history and charm, the Old Town is THE place where I go every time I visit Barcelona.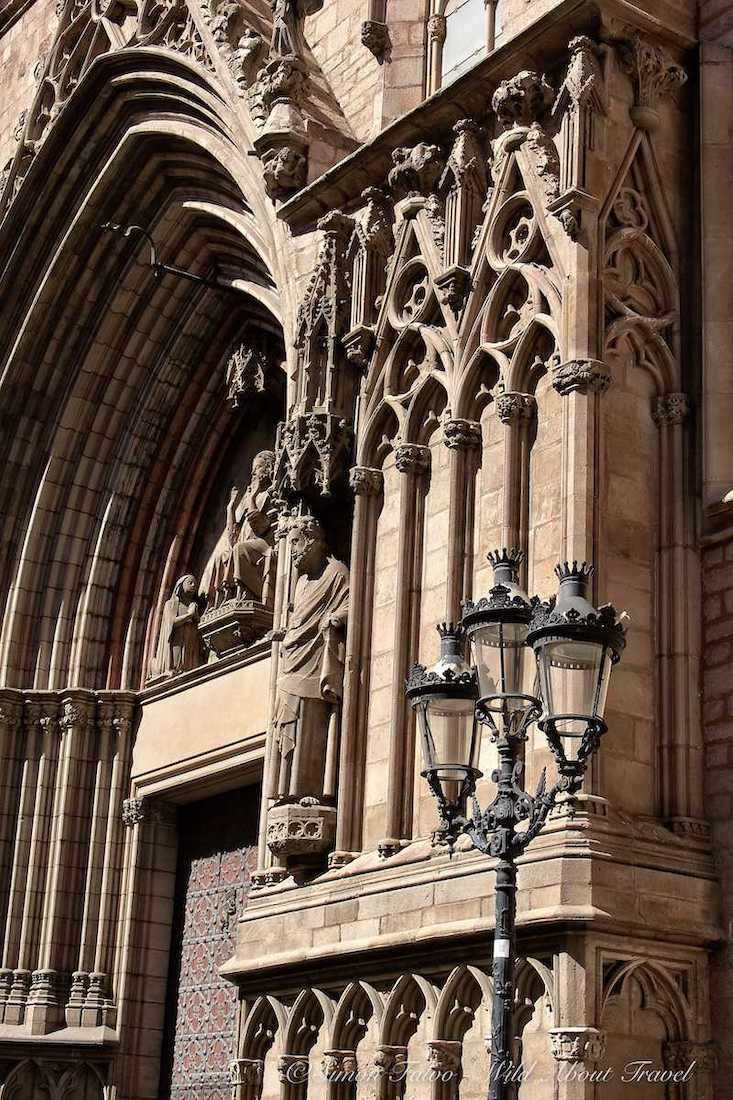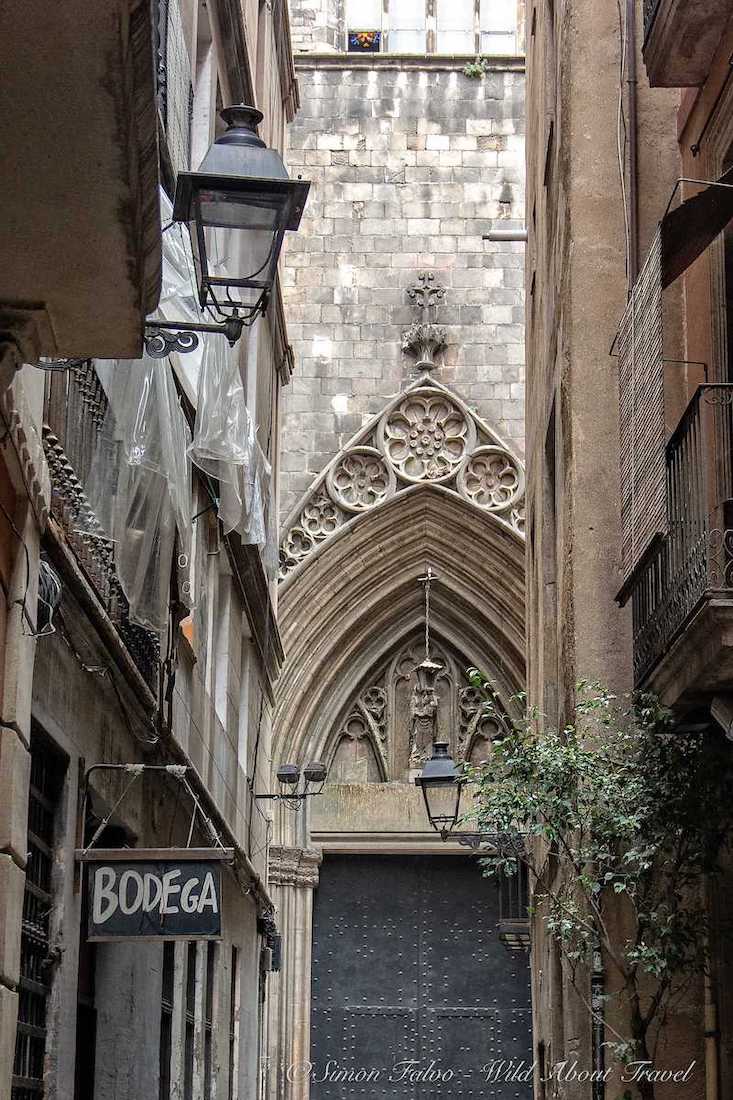 There's no better way to explore Barcelona Ciutat Vieilla than getting lost and admiring some of the city's more remarkable landmarks.
Gothic Quarter
Discover Barcelona's oldest neighborhood, its winding alleys, and its unique atmosphere. As you leisurely stroll around, there are a few attractions that you shouldn't miss.
Barcelona Cathedral
I can't imagine anyone visiting the historical center of an old European city and skipping the Cathedral.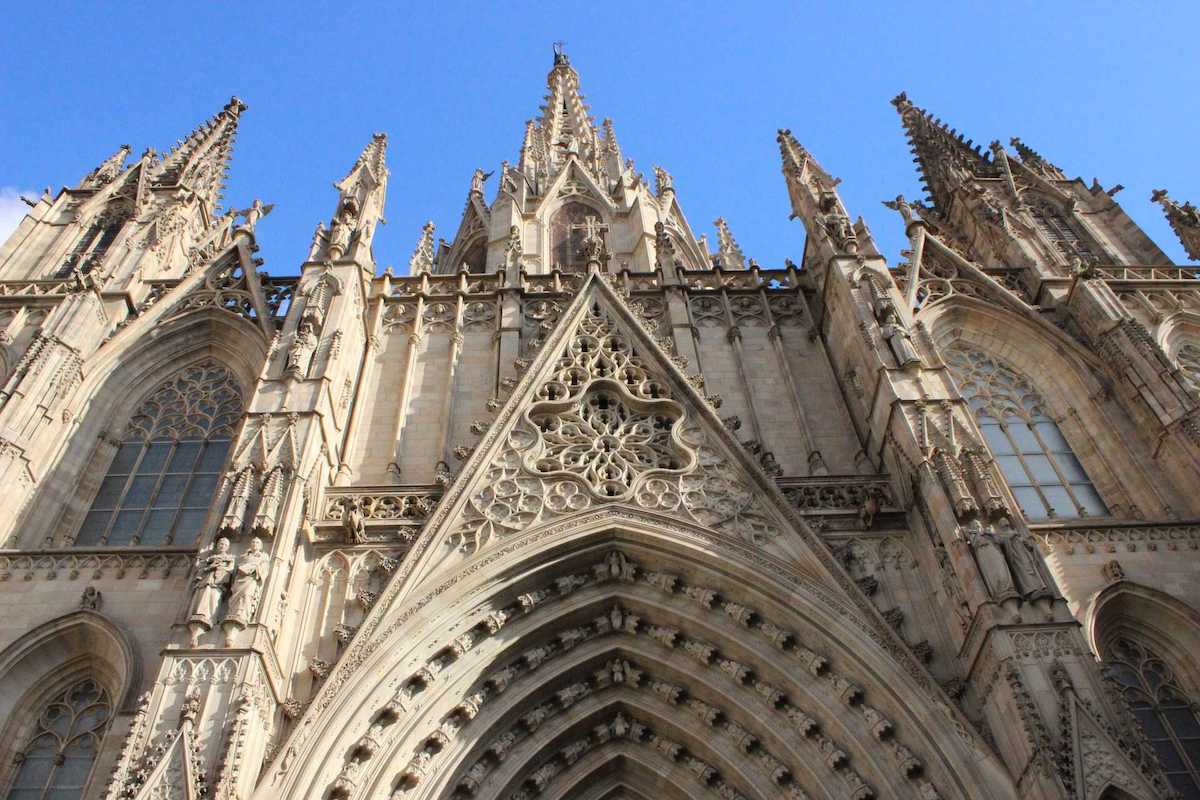 The Catedral de la Santa Creu i Santa Eulalia is dedicated to Saint Eulalia, the patron saint of Barcelona. (And it's not to be confused with the Sagrada Familia. More on this further on).
The bulk of the Cathedral was built between the 13th and 15th centuries. However, its completion happened much later, similarly to other important religious buildings, one above all, Milan Cathedral. Therefore, the gothic facade was built much later, in 1889. And the cathedral's central spire was finished only in 1913.
While it's certainly worth visiting the imposing naves and the chapels, don't forget to spend some time in the cloister. The garden and fountains are lovely, and the resident gooses have become legendary. Lastly, climb to the terrace for unforgettable views over Barcelona and close-ups of the gargoyles.
Tip: Barcelona Cathedral is quite conservative; therefore, be sure to wear appropriate clothes. No shorts or miniskirts, or bare shoulders are allowed if you want to visit the cathedral inside. To cope with that, I always travel with a couple of light sarongs and have them ready in my day backpack or bag.
Palau de la Musica Catalana
Anton Gaudì is undoubtedly Barcelona's most famous architect from the Modernism period, but other buildings are stunning. A must-see in Barcelona is the Palau de la Musica Catalana, one of the most beautiful concert halls in the world. Designed by Spanish architect Lluís Domènech I Montaner and built between 1905 and 1908, it was inscribed as a UNESCO World Heritage Site in 1997. It's one of the most important Barcelona landmarks, and you should include it in a 3 days Barcelona itinerary.
The external architecture is impressive, but you have to visit the Palau inside to get a full grasp of its beauty. The stained-glass skylight is one of the most mind-blowing architectural pieces of the early 20th century.
I strongly recommend a guided visit to the Palau de la Musica Catalana to learn all the secrets of this impressive building and Modernism masterpiece. And if you get there around lunchtime, have some tapas at the Bistrot. They're excellent, and you'll have a bite surrounded by unique decor.
La Rambla
On par with Pasèig de Gracìa, La Rambla is one of Barcelona's most famous boulevards. As such, it's flooded with people most of the day and even more at night.
To tell the truth, I used the like La Rambla a lot, years ago, and before Barcelona became such a tourist hotspot. Nowadays, I'm not too fond of crowds. I find packed places overwhelming and prefer to stroll in other areas. However, if it's your first time in Barcelona, La Rambla is one of the places to visit.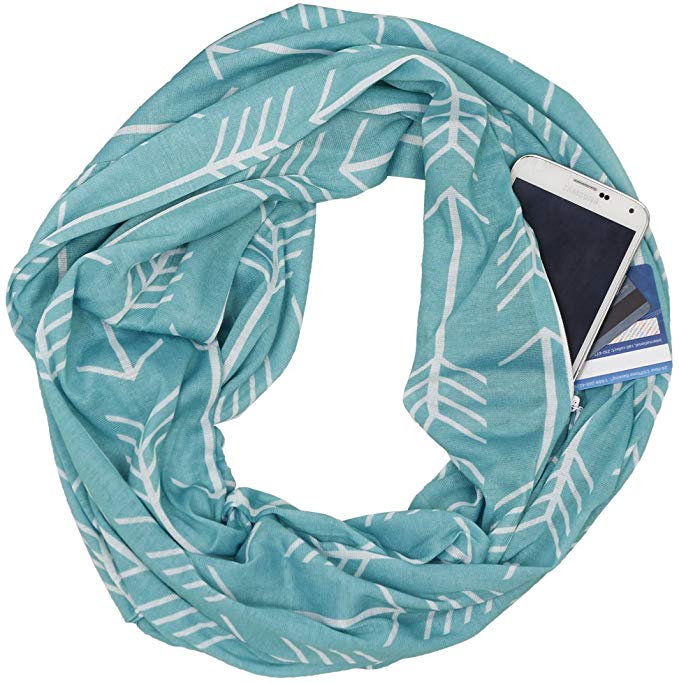 Tip: I never experienced any problems, but La Rambla, like other tourist areas, is a fertile ground for thieves. Therefore, always pay attention to your wallets and never leave bags or expensive items unattended. You may consider buying an Infinity scarf with a wallet pocket. to protect your belongings while giving your outfit a fashionable touch.
La Boquerìa
About halfway down La Rambla, you'll find La Boqueria, Barcelona's oldest and most famous market. And also one of the most popular landmarks in Barcelona. In ancient times, La Boqueria was located just outside the old walls. It was popular because it was the market to find goods that were unavailable elsewhere.
Today, La Boqueria is still beloved by the locals, despite its appeal to tourists. It remains one of the city markets with the widest choice of good food: from meat and fish to fruits and desserts. La Boquerìa is an excellent place to grab freshly squeezed fruit juice (try fruit popsicles, too) or have a snack. Or just admire the 19th-century modernist design, which is definitely worth a visit.
Mirador de Colom (Colombus monument)
While strolling along La Rambla, you'll see Palau Güell, another building designed by Gaudì. As you walk toward the sea, you'll reach the Mirador de Colom (Colombus monument) at the far end of the Ramblas. On the large column at the center of the square stands a statue of Christopher Columbus, the famous Italian (Genoese) explorer who discovered America in 1492.
Built for the Universal Exposition of Barcelona in 1888, today, the statue serves as both a monument and a tourist attraction. You can indeed climb the stairs inside the tower and, from the top, enjoy a beautiful view of the city's southern side.
Plaça Reial
It's one of the most beautiful squares in Barcelona and one of the liveliest, especially at night. A Neoclassical quadrangle, it's the perfect place to take a break and for people-watching.
El Born
A little further from Plaça Reial, you'll find El Born, one of the most charming districts in Barcelona Old Town and one of my favorite neighborhoods.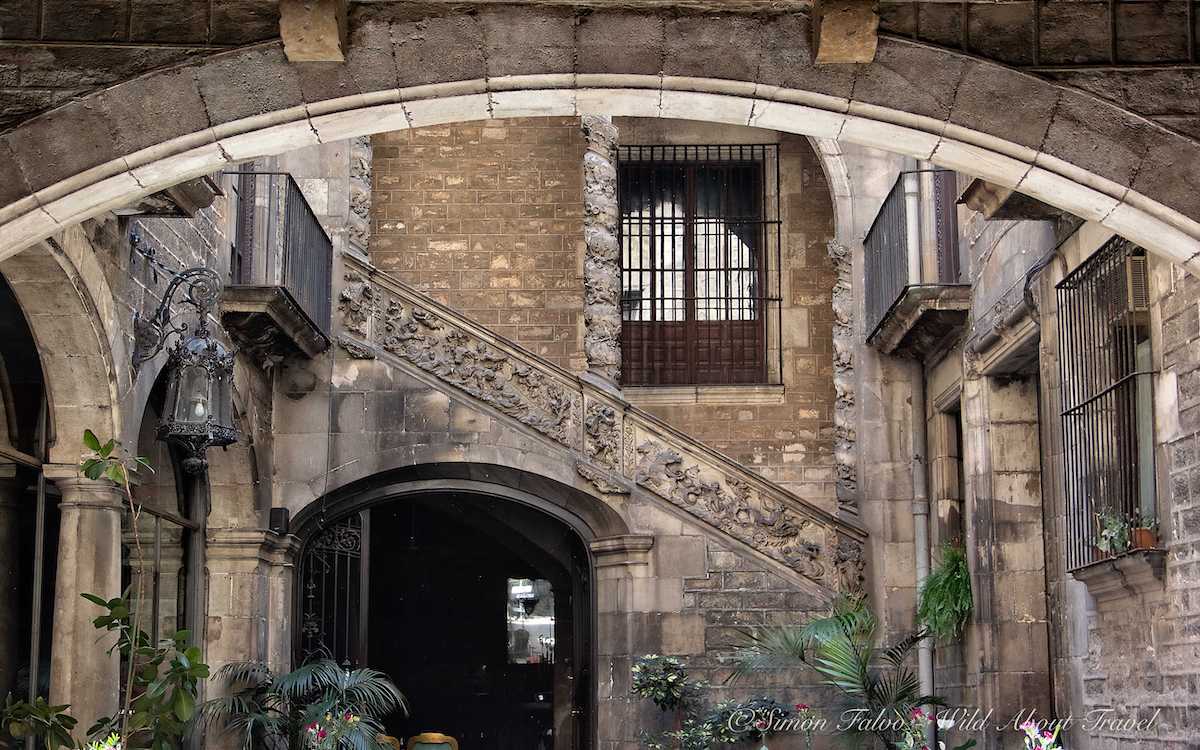 Take your time to wander around and enjoy the picturesque streets. And don't forget to visit the beautiful Santa Maria del Mar Basilica and its magnificent internal architecture.
I love art almost as much as nature, so I had to visit the Picasso Museum, one of the most extensive collections of works by the Spanish artist.
Barceloneta
The sandy Barceloneta beach is a great spot to have a drink and a few tapas and chill out after a long day sightseeing in Barcelona.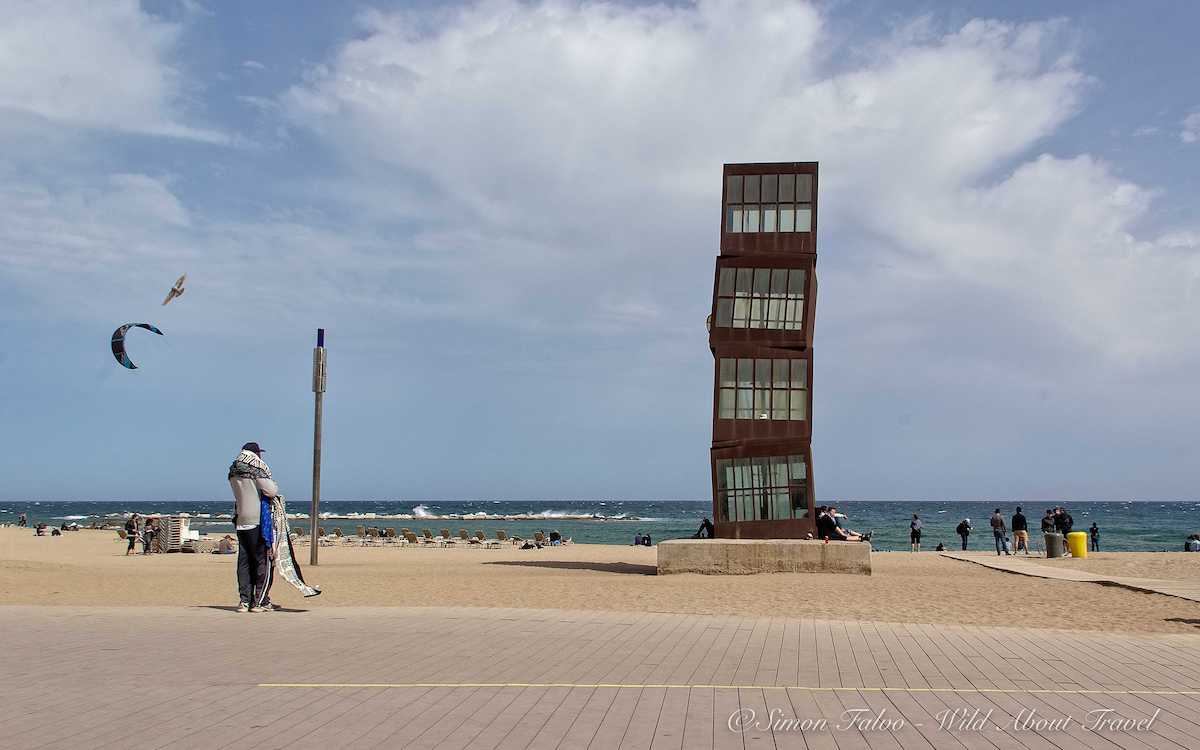 Barcelona Itinerary Day 2: Discover the best of Gaudì architecture.
The Barcelona itinerary during the first day is focused on a compact (although not so small) area. On the second day of this 3 day Barcelona itinerary, you'll move around quite a bit and rely on public transportation.
Impossible to travel to Barcelona without visiting at least the main Gaudí masterpieces. They're one of the most remarkable Barcelona landmarks, and you can't think about spending 3 days in Barcelona without discovering at least a few of them. However, you must consider that those places are incredibly touristy, and you'll have to plan your day accordingly to skip the lines or at least minimize them. This is a must, especially if you travel to Barcelona during the high season.
Casa Milá (La Pedrera)
Being one of the most famous landmarks in Barcelona, Casa Milá is always very crowded. That's why I suggest you get there early in the morning.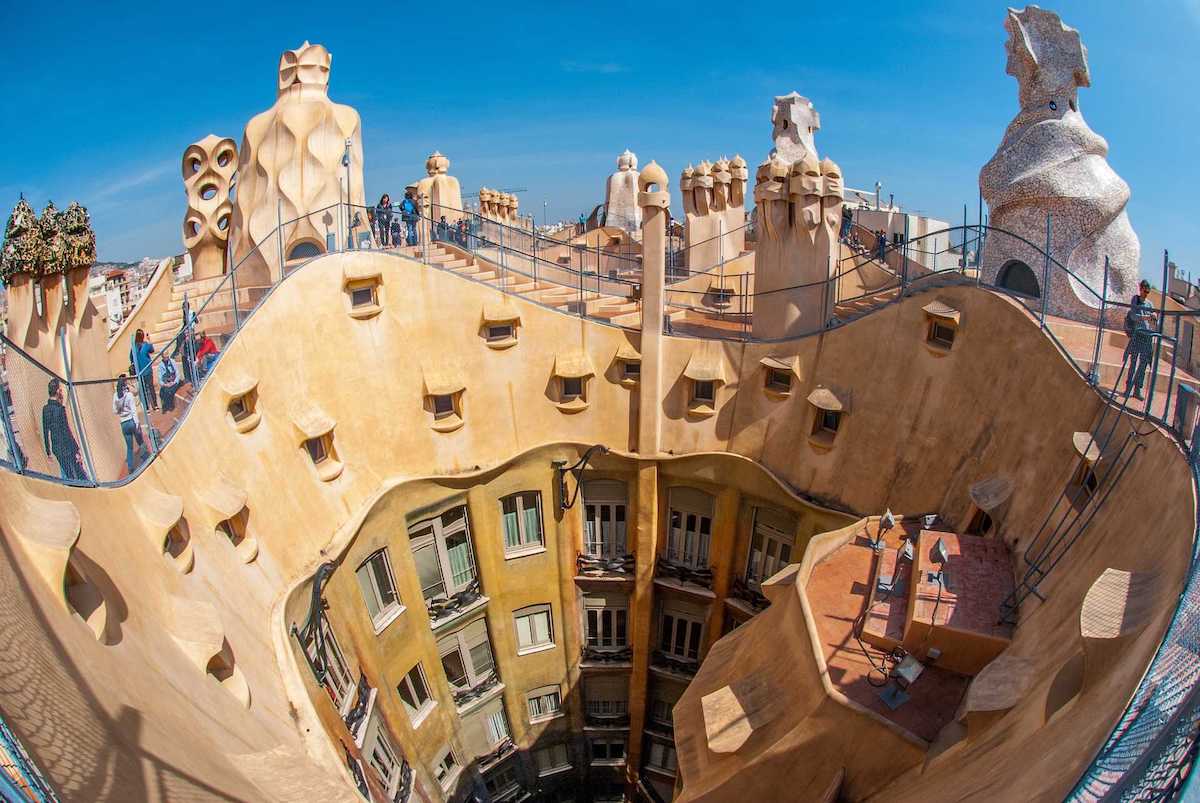 Casa Milà's nickname La Pedrera (the Cave) originates from its self-supporting undulating limestone facade. Built between 1906 and 1912, Casa Milà is one of Gaudì's most iconic buildings. As odd as it may sound, Casa Milà was neglected until it was declared a UNESCO World Heritage site in 1984. This led to a long and accurate restoration, and by 1996 La Pedrera reopened to the public, now able to admire it in all its splendor.
One of the highlights of Casa Milà is the rooftop terrace with its chimneys. These latter are not only decorative elements but are the innovative solution created by Gaudì to manage the building's insulation, lighting, and ventilation. From the La Pedrera rooftop, you can also enjoy gorgeous views of Barcelona.
If you don't mind an early start, the best way to visit Casa Milà before it gets flooded is to book the small group tour with early access.
On the other hand, if you want to experience Barcelona's nightlife and prefer to take it easy, you should consider buying a Skip the Line ticket for Casa Milà. You'll have 1 hour to enjoy your visit and can select your preferred time of the day at the time of booking. Given the popularity of Casa Milà, I suggest you book your tour as soon as possible.
Casa Batlló
Like La Pedrera, Casa Battlò is one of the most visited monuments in Barcelona. And once again, the advice is to get there early in the morning and possibly buy a Casa Battlò Skip the Line ticket, allowing you to choose the date and the time slot. The ticket doesn't come cheap, but it includes an audioguide available in 15 languages. Since you won't be able to visit both Gaudì's masterpieces early the same morning, you'll have to choose one. Although both are mind-blowing, I have a soft spot for Casa Batllò.
The facade is famous for the balconies reminiscing Venetian masks. At the same time, the rooftop terrace is modeled to represent a dragon, one of Gaudi's favorite icons. Built between 1904 and 1906, Casa Batllò is one of Barcelona UNESCO World Heritage Sites and undoubtedly one of the most important Barcelona monuments.
Park Güell
Located on the hills north of the city, Park Güell is a large park with several works to explore and visit.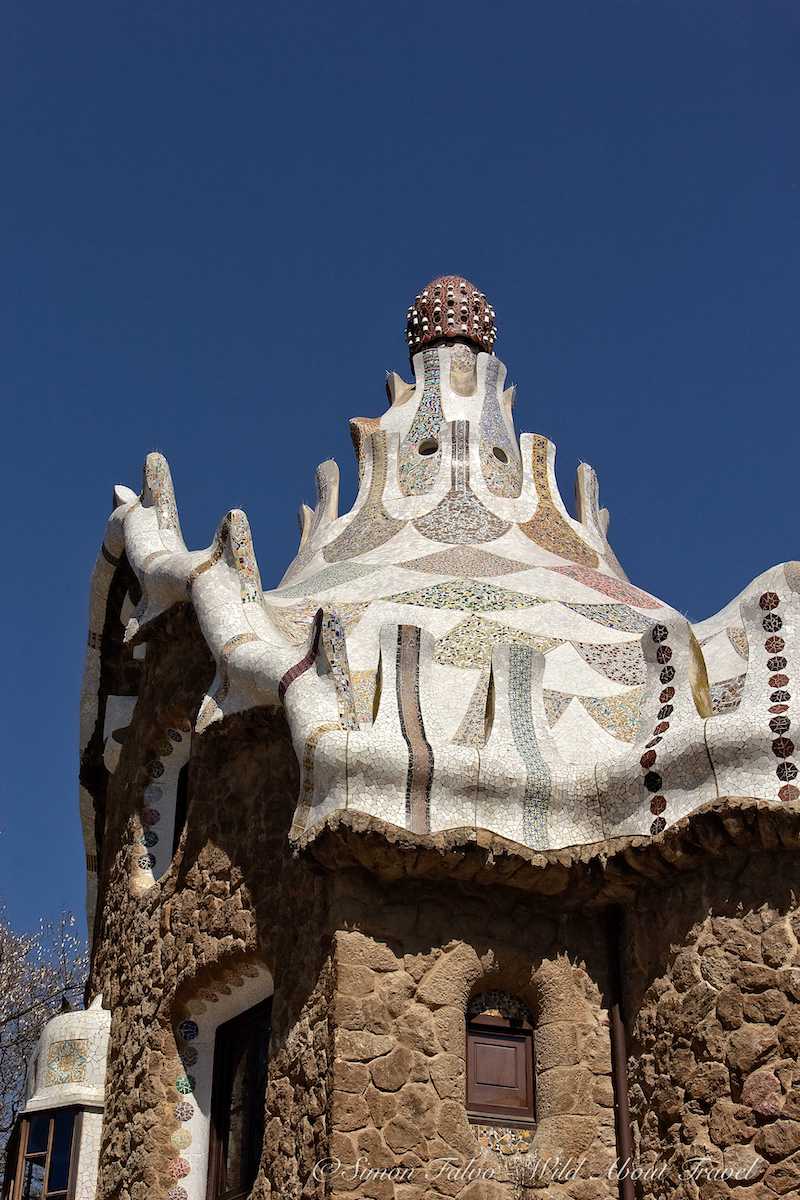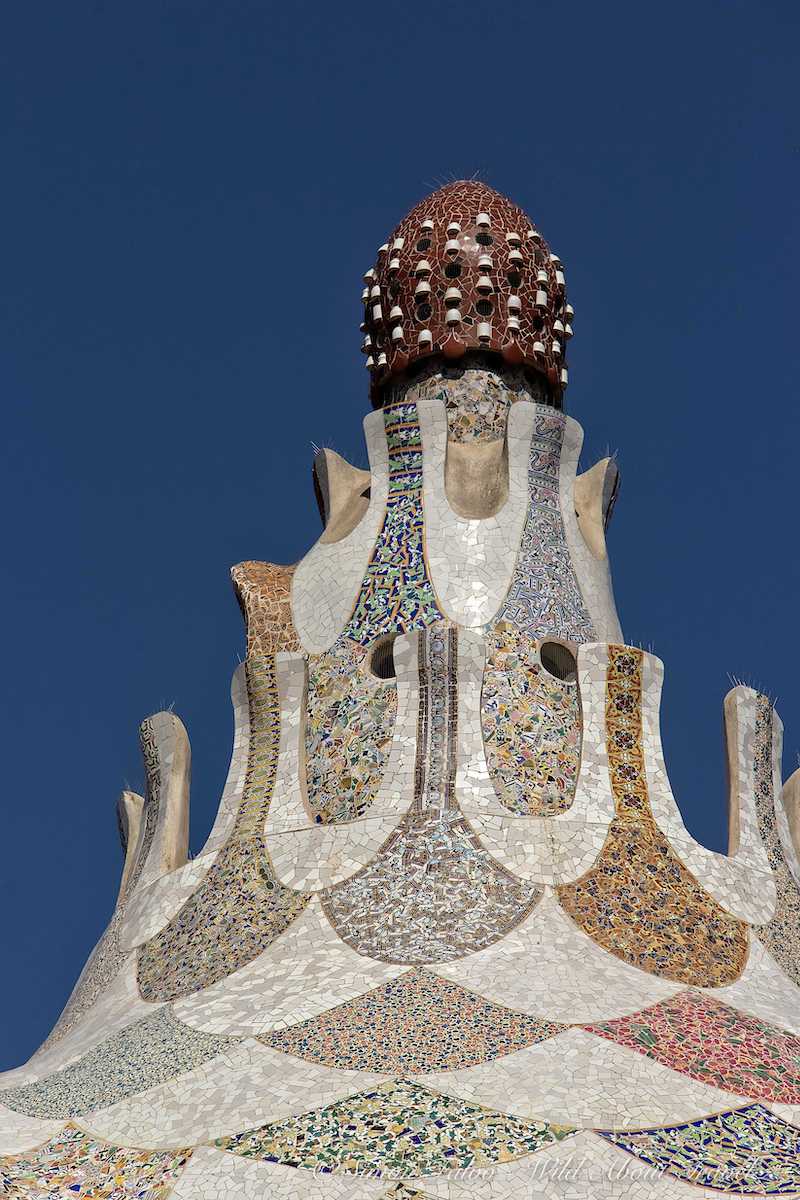 The original project envisioned the creation of a residential complex with 60 luxury villas inside a unique park, with spectacular views of Barcelona and the Mediterranean Sea. The real estate project never took off, and eventually, only two houses were completed, and only one was purchased by Gaudi himself. The architect and his family lived there from 1906 to 1926, and the house now hosts the Gaudì House Museum.
Park Güell is nothing short of impressive and has become another iconic project by Gaudì. The buildings, benches, and other architectural elements combine with nature in a remarkable way. And the decorative symbolism is at its finest.
Some parts of Parc Güell are free, but you'll need to buy a ticket to visit the main attractions. The park is another of Barcelona's main attractions, so I strongly recommend you purchase your admission ticket in advance. Don't forget that the entries are timed, so carefully choose when you want to visit.
Sagrada Familia
The Sagrada Familia is considered Gaudi's masterpiece and most important work. While I'm not going to deny the importance and fascination of a mammoth project whose construction is still underway, I can't say it's my favorite work of art. Having said that, the Sagrada Familia is a must-see in Barcelona, and many even consider it THE one Barcelona landmark.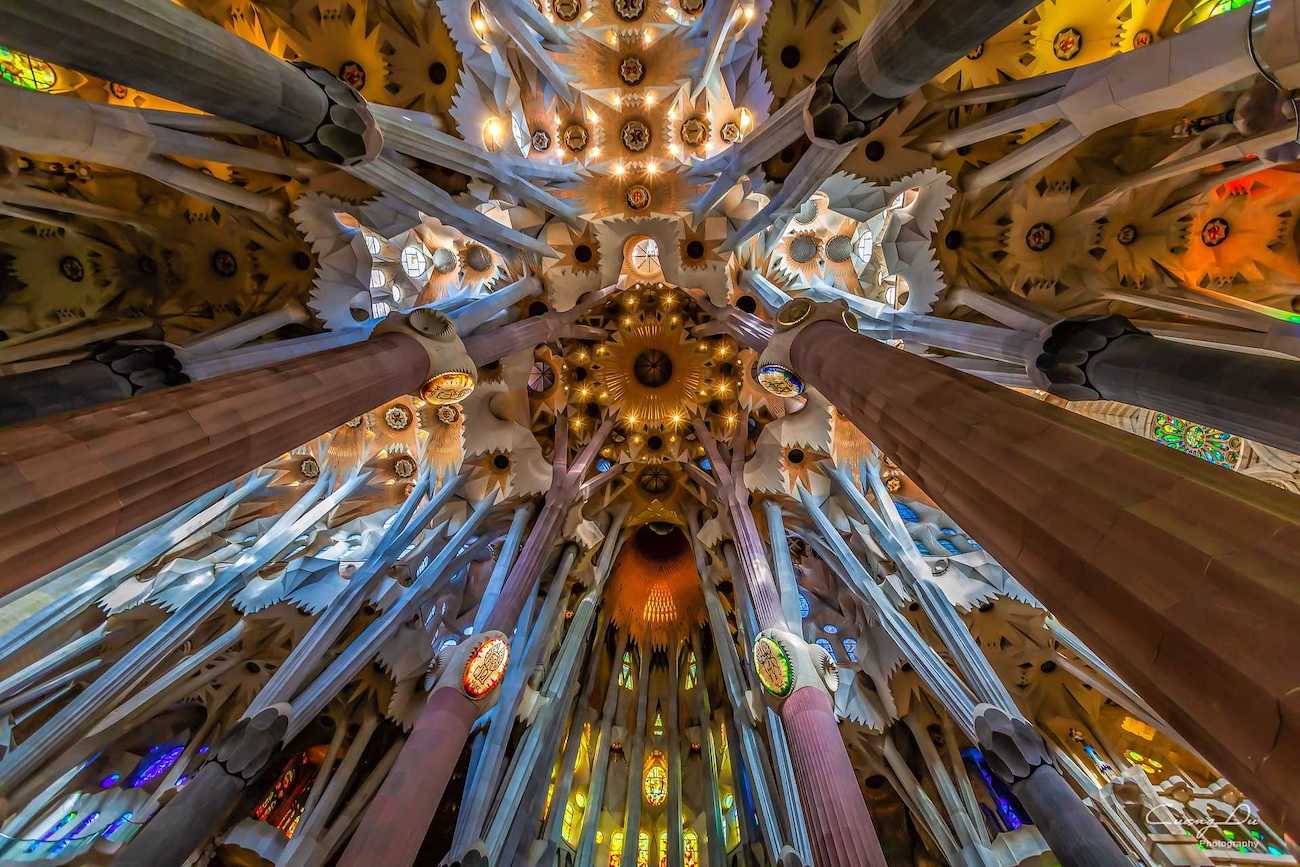 If there's one place where the queues can be disheartening, it's the Sagrada Familia. Therefore, buying the Sagrada Familia Skip the Line tickets is a MUST. When booking, you'll get to choose your preferred entrance time between slots of 15 minutes, starting from 9 a.m. until the evening. Alternatively, take a guided tour of the Sagrada Familia and learn everything about this incredible building, Gaudì's latest unfinished masterpiece.
An excellent option you should consider is the combined guided small group tour (max 12 people) of Parc Güell and the Sagrada Familia. This Skip the Line tour also includes the transfer between the two sites so that you'll save time and energy.
Barcelona Itinerary Day 3
If you followed my itinerary during the first two days in Barcelona, you'd have covered most of the city's main attractions. There's more to do in Barcelona, though. And while you can squeeze a lot into 48 hours, it's well worth spending 3 days in Barcelona (and even more).
What to do on the last day depends on your interests, as well as the season and possibly the weather conditions. That's why I suggest a bunch of things to do to end your 3-day itinerary for Barcelona.
Parks and the beach
Visit the beautiful Parc de la Ciutadella, where you can relax and even have a picnic on the grass. It's a charming spot, and you can also rent a boat and row on the pond. Parc de la Ciutadella is also an excellent spot if you're visiting Barcelona with kids.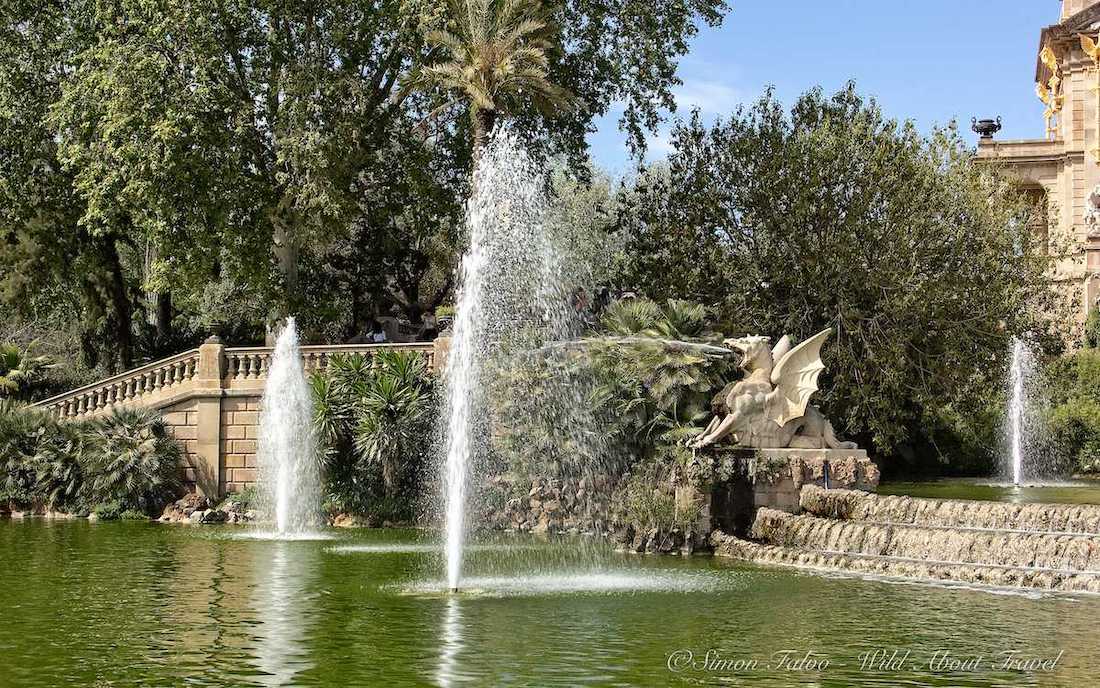 Have a stroll in the alleys of the Barceloneta district. It's mostly a working-class neighborhood but full of character and a great place to spot the local's daily life.
Chill out at Barceloneta beach. Depending on the season and the temperature, you can just lay on the sand and sunbathe, have a swim, or enjoy water sports. There are many cool bars and restaurants on the beach and the beachfront, where you can sip a drink or savor Paella, fish, and seafood.
Montjuïc
Take a cable car ride to Montjuïc, the hill overlooking Barcelona, from where you'll enjoy beautiful views of Barcelona. There are many things to do in Montjuïc, which literally means Jewish Mountain. And it's another perfect spot in Barcelona for families.
The main attractions include the Castle, the Magic Fountain, the beautiful Palau Nacional, which hosts the Catalonian National Art Museum, and one of the many gardens. Also, don't miss visiting the Joao Mirò Foundation, one of the top attractions in Barcelona for art lovers.
El Raval
On the opposite side of La Rambla from the Gothic Quarter, El Raval is one of the most authentic neighborhoods. And also very controversial. The district is full of color, cool bars, and restaurants, but it's also the area with the highest risk of petty crimes and not the cleanest. However, it's one of my favorite districts in Barcelona. On my several trips to Barcelona, I never missed going for a walk, and I admired the stunning architecture of the MACBA Modern Art Museum each time.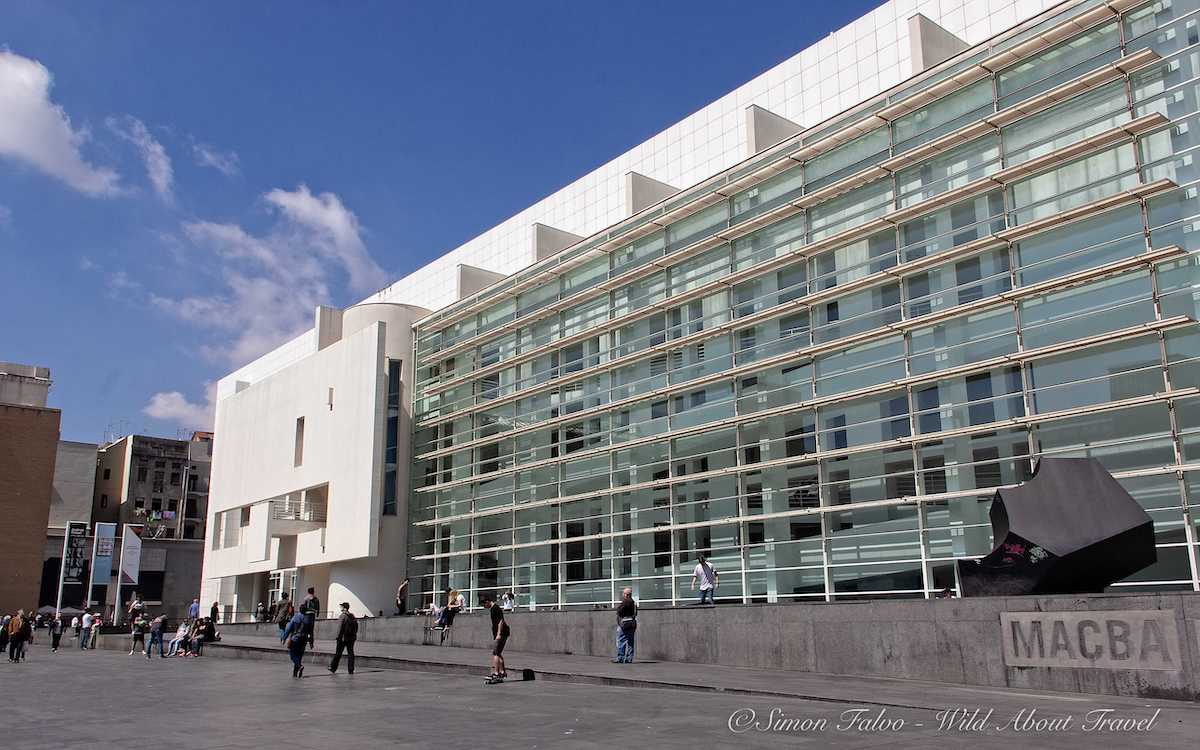 It's up to you to decide if you want to explore the charming Raval. Just take all the necessary precautions, and avoid carrying and wearing any unnecessary valuables.
FC Barcelona

Museum
Here's another idea, probably more appealing to men, young boys, and kids. If you have a passion for football (soccer), you should add to your itinerary a visit to the FC Barcelona Museum. Discover Barça's rich history, legendary players and trophies. Take up the Robokeeper challenge, enjoy six thrilling attempts and score as many penalties as possible.
Day trips from Barcelona
If you're planning to spend 3 days in Barcelona but want to see more than just the city, there are lovely day trips from Barcelona that are worth looking at.
---
Useful Information
Best time to visit Barcelona
With so many diversified attractions, you can visit Barcelona at any time of the year. However, keep in mind that from late Spring to early Autumn, it's the high season, thus likely crowded.
There are definitely fewer tourists in winter, although the weather conditions are a gamble. I visited Barcelona a couple of times during winter and experienced a mix of rainy days and others with sun and mild temperatures. If possible, I suggest planning a trip to Barcelona in the shoulder season, avoiding Easter when the city is a popular destination for short breaks in Europe.
Where to stay in Barcelona
Barcelona has plenty of choices, from (relatively) budget accommodations to luxury hotels. Since it's such a popular destination, I recommend you book your stay in Barcelona as soon as possible, especially if you want to get good deals.
Budget
Cami Gallery Barcelona is located in the Eixample district, close to Barcelona's main attractions (La Rambla, Boqueria, Casa Batllò, etc.). It features modern and stylish rooms and is only a 3-minute walk to the Metro station.
Medium
Eco Boutique Hostal Grau is located in Barcelona old town near la Rambla. It features bright modern rooms, while the common areas are colorful and lovely.
Located in the El Born district, near the Parc de la Ciutadella, Motel One Barcelona-Ciutadella features modern, comfortable rooms.
High-end/Luxury
Praktik Èssens boasts a fantastic location, about 300m from Casa Batllò and Paseig de Gracìa. The hotel features modern rooms and a lovely terrace.
Hotel Seventy Barcelona is located in the Eixample, close to La Pedrera (Casa Milà) and the Metro station. The hotel features stylish contemporary decor and a spa and wellness center.
---
This article contains affiliate links to carefully selected products and services. If you purchase any of them, I get a small commission at no extra cost to you.
Pin for later!