Provence, in France, is famous for its rolling hills, purple lavender fields, and enchanting hilltop villages. But there's a lesser-known area of Provence which is beautiful: the Ochre Trail in Roussillon. You'll get to walk in canyons streaked in yellow, orange, red, and brown, reminding of Colorado.
When I first saw pictures of the Ochre Trail, nicknamed the 'Colorado Provençal,' I could hardly believe this was Provence. The images stroke my imagination, and I knew that I wanted to see this stunning scenery. The images reminded me of my fantastic road trip in the USA West and the unique landscapes of Arizona, Utah, and Colorado.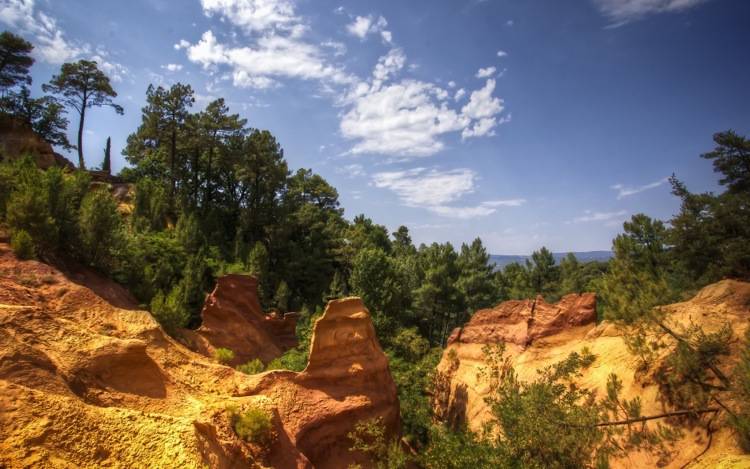 I eventually explored this unique spot during a week-long road trip in Provence. After spending two days in Avignon, the beautiful city famous for the impressive Palais of Popes, I wandered along the winding roads in search of the most beautiful spots in Provence.
One of the reasons I like being a solo traveler is that I don't have to worry too much about having a fixed plan. I want to have the freedom to change my mind and follow my instinct (which often proves to be right).
Before hitting the road, I studied the map to trace a tentative itinerary and pinpointed the Ochre Trail, which I didn't want to miss.
After driving along smooth hills, enjoying the purple lavender fields, I approached Roussillon, considered one of the most beautiful villages of Provence and France. As I approached, my heart bumped when I spotted the ochre ridges popping out from the landscape, providing a new and completely different scenery.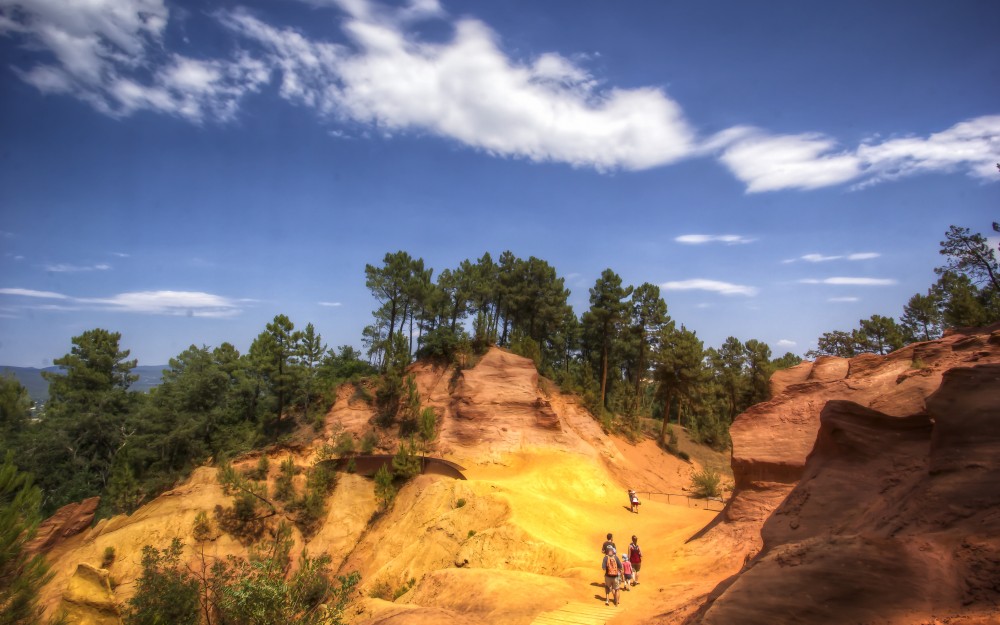 The Ochre quarry: a natural wonder
The magnificent landscape surrounding Roussillon stems from an incredible geological phenomenon. The result is a breathtaking scenery. Cliffs streaked with yellow, orange, and red hues. And the contrasting green patches from pines and oaks. Add a bright blue sky, if you're lucky, and you'll get one of the most amazing natural color palettes.
This unique area of Provence was a former ochre quarry. The mining activities ceased long ago, and the quarry has become a tourist attraction and a must-see in Provence.
The importance of ochre pigments in art dates back to the prehistoric age when they were used for cave paintings. The ancient Egyptians used red and yellow ochre to decorate the tombs. And many painters during the Renaissance utilized ochre to create frescoes. Ochre was also (and in some cases still is) used for body painting by several ethnic groups, like the Himba in Namibia.
Walking the Provence Ochre Trail
Wandering along the Ochre Trail is a mesmerizing experience, all the most since you're surrounded by a scenery you wouldn't expect. When thinking of Provence, the first things that come in mind are purple lavender fields, rolling hills, and charming hilltop towns. That's why the area surrounding Roussillon is such a surprise.
You can choose between two loop trails to explore the ochre canyons. The shorter is a 35-minute walk, while the longer option takes a little less than an hour. You don't need to be particularly fit to walk the Ochre Trail. Moreover, it's a fantastic place to go if you're traveling to Provence with kids.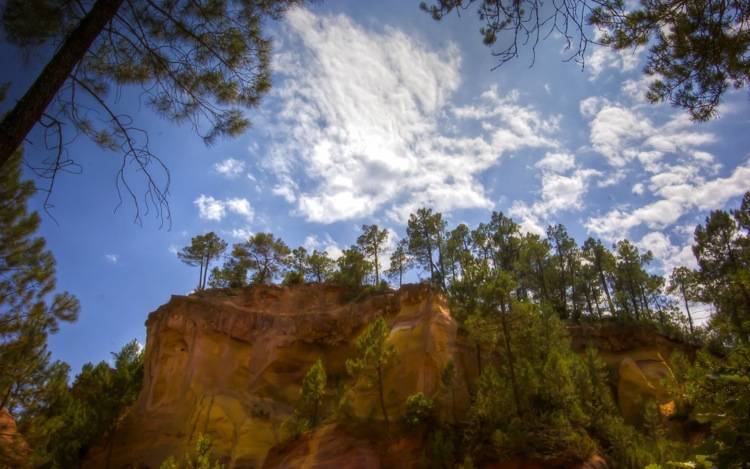 Since I love hiking and nature, I went for the longer trail to explore every inch of this incredible natural wonder. I strolled, admiring the beautiful shapes of the ochre ridges and their orange, red, and brown hues.
I found out that there are more ochre quarries in Rustrel and a few nearby villages. However, unfortunately, the time was too short, and I didn't manage to see them. Well. One more reason to go back to Provence.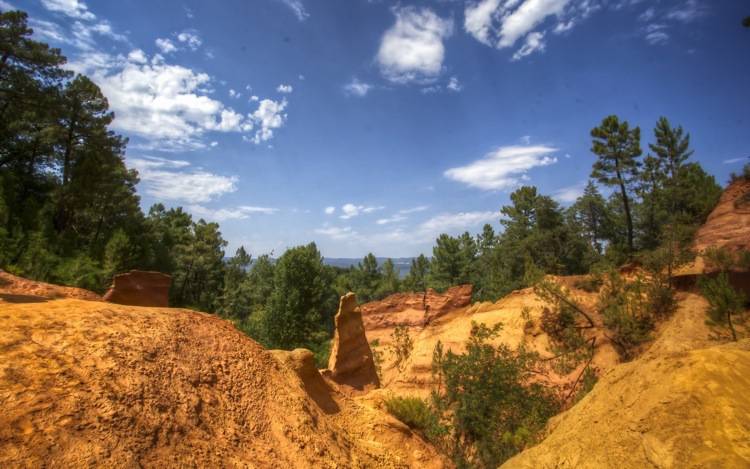 What's sure is that the ochre ridges, their beautiful shapes, and warm colors will stick to my memories for a long time. The images of the 'Colorado Provençal' are not easy to forget.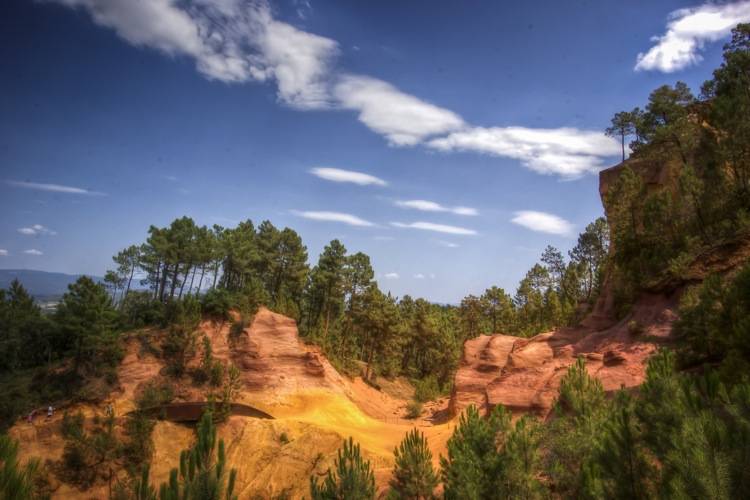 Practical information:
Getting there: Roussillon is about 50 km from Avignon and 55 km from Aix-en-Provence. The best way to reach this area of Provence is by car since there's no public transportation (at least, as far as I can tell) connecting Roussillon to the main cities in the immediate surroundings.
You can visit Roussillon and Provence Ochre trail as a day trip from Avignon, Aix-en-Provence, and even Marseilles. If you have limited time or don't feel like hiring a car, you can visit Roussillon and the Ochre trail during day tours from Avignon, Aix-en-Provence, and Marseilles. However, while you'll discover some of Provence's most beautiful areas, you'll have little time for the Ochre Trail. And likely you'll have to choose between visiting the village or having a walk.
Provence Ochre Trail Entrance Fees: Euro 2,50, free for children under 10
_______
Note: I'm grateful to Atout France Italy and Provence Guide for the opportunity to have a road trip to discover this wonderful area of Southern France. As always, opinions are only mine.
This post contains affiliate links. This mans that if you make any purchase, I get a small commission at no extra cost for you.
Pin for later!