Are you looking for cool gadgets for travelers that will make your trips more comfortable and safer? Look no further. I have a thing for travel accessories and never stop researching for must-have travel items.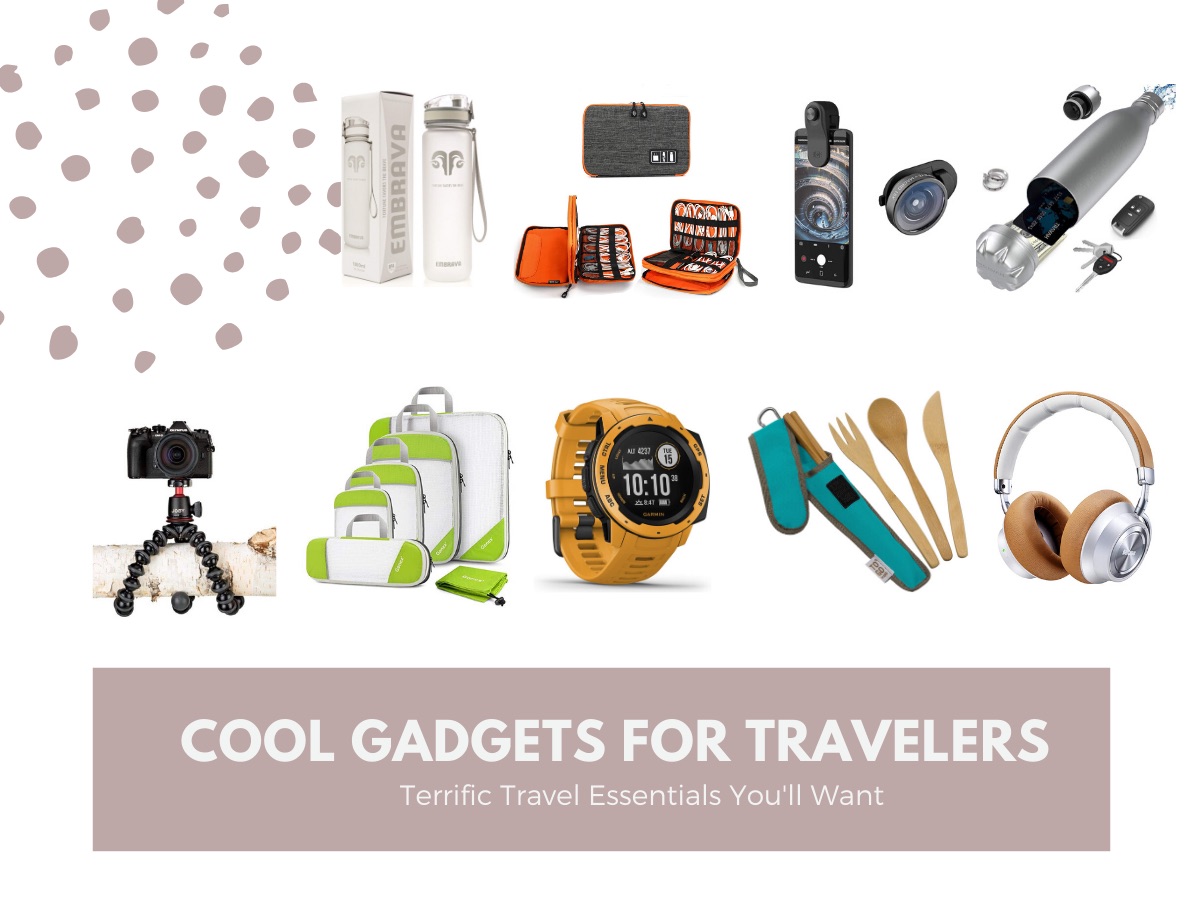 Cool travel gadgets are one of my passions. Whether it's tech travel accessories, items for better packing, or something to have more fun on the road, the choice seems never ending.
Check out my list and find the perfect, essential travel gadgets for you.
Jump to the relevant section [Show]
Tech Travel Gadgets
Over the years, I learned – sometimes the hard way – what a difference tech travel accessories can make. That's why I'm always on the lookout for the latest more useful gadgets for travelers.
Multiple USB Charger
One of the things I find most frustrating when traveling, even at some upscale hotels, is the limited number of plugs to recharge my devices.
I solved the issue with a multiple USB charger, allowing me to recharge my smartphone, tablet, Kindle, and power bank from a single plug. A multiple USB charger is particularly useful if you travel as a family, and likely carry with you an even higher number of electronics devices.
My favorite item is the RAVPower 60W USB quick charger, with 6 USB ports.
Another excellent option is Anker PowerPort 6. It also had 6 USB ports, and like the RAVPower, it optimizes the charge for all your electronic devices.
If you're looking for a cheaper but still decent option, have a look at the Key Power 6-Port Desktop USB Charging Station. It comes with 6 USB ports, two of which provide quick charge.
Thanks to a multiple USB charger, I eventually ensured no device would let me down because out of power.
Intro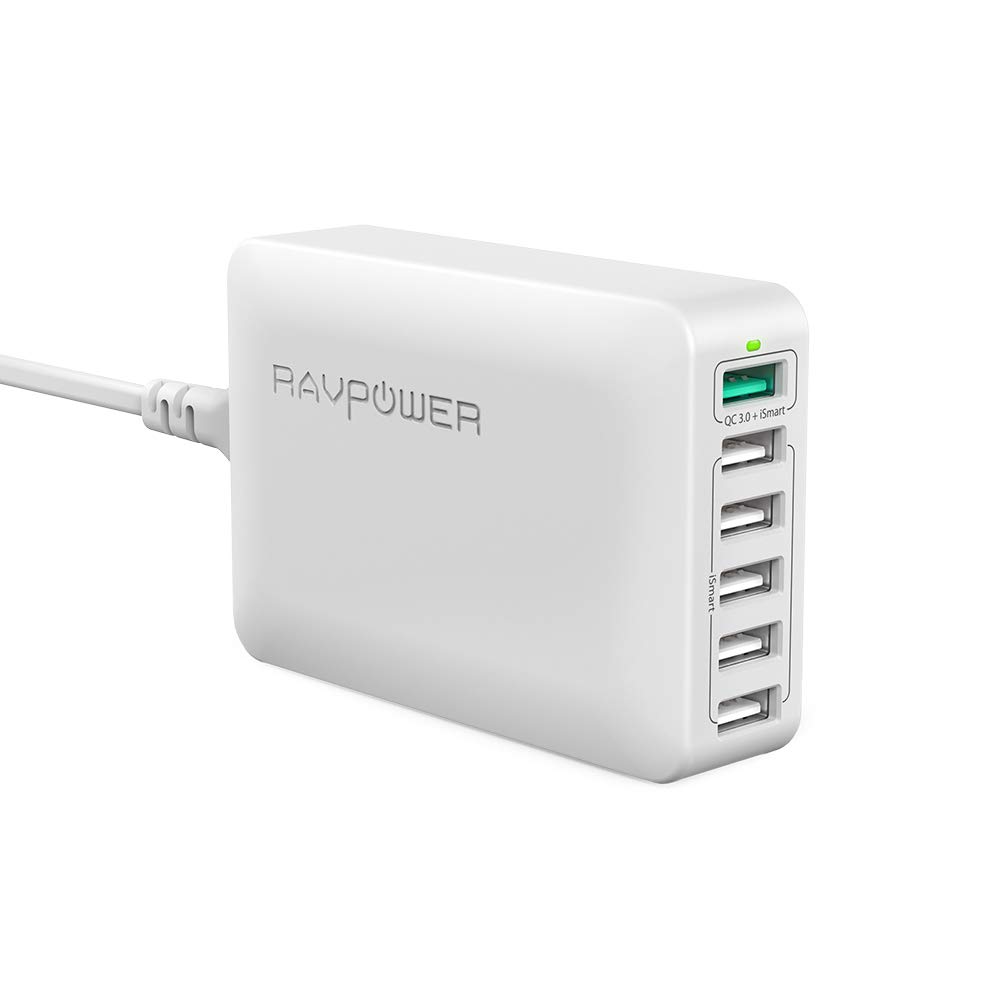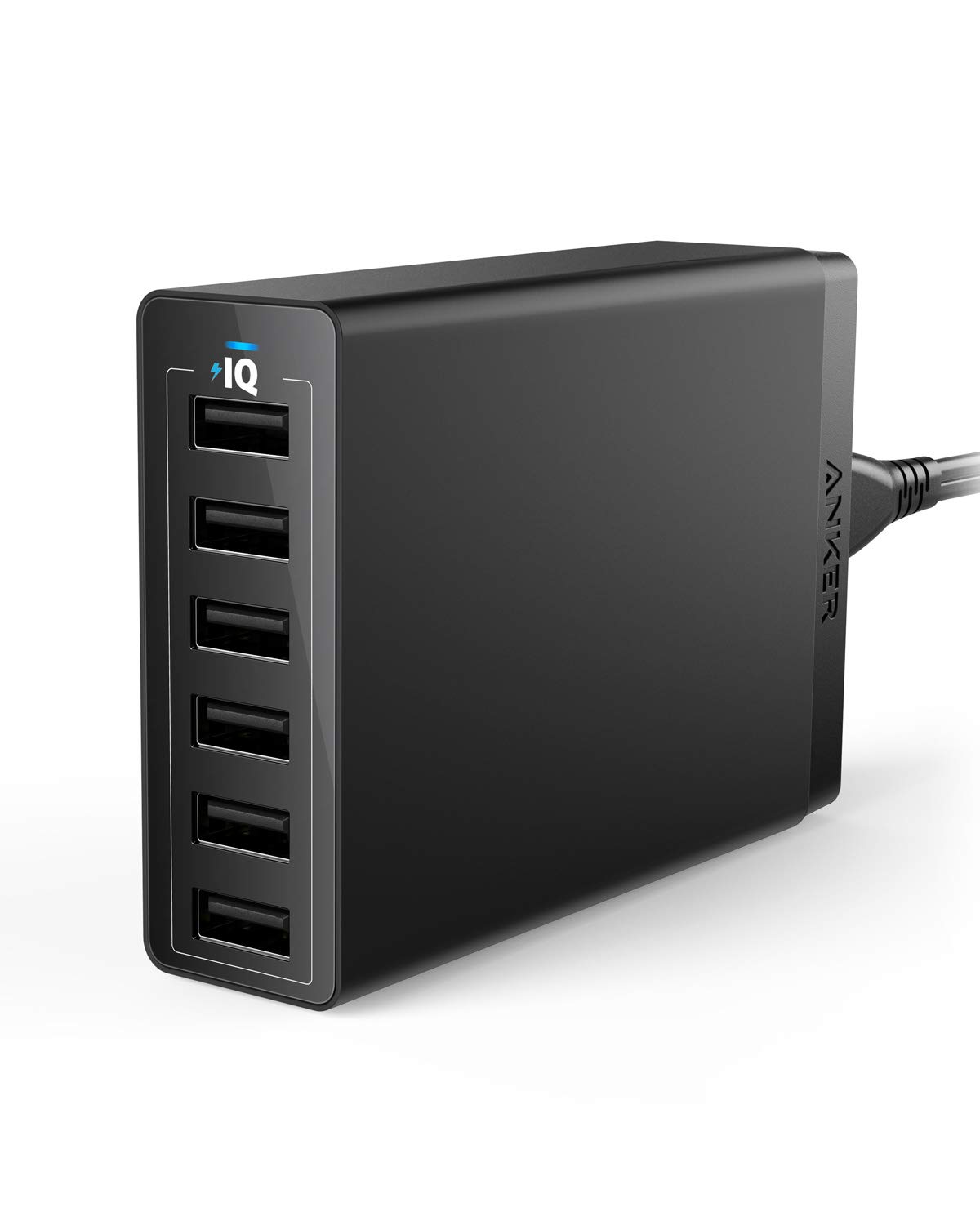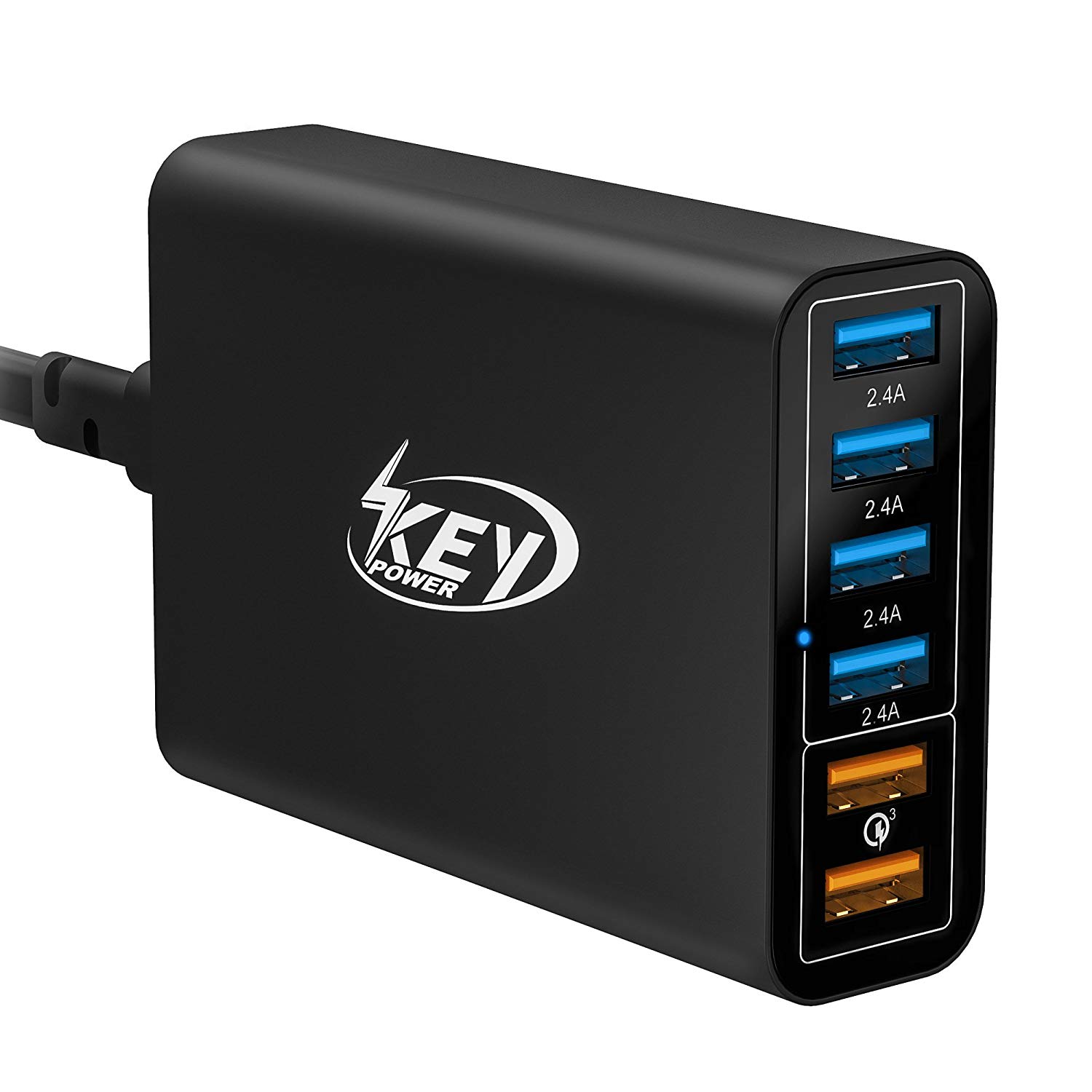 Objects Finder
When you travel and find yourself in an environment which is not familiar, it's easy to forget where you put the keys of the car or your phone. That's when an object finder comes handy.
Tile Pro is a powerful Bluetooth tracker that will help you find your things within a range of 400 ft.
It's a beautifully designed object and, to be honest, it's useful not only when you're on the road, but also at home.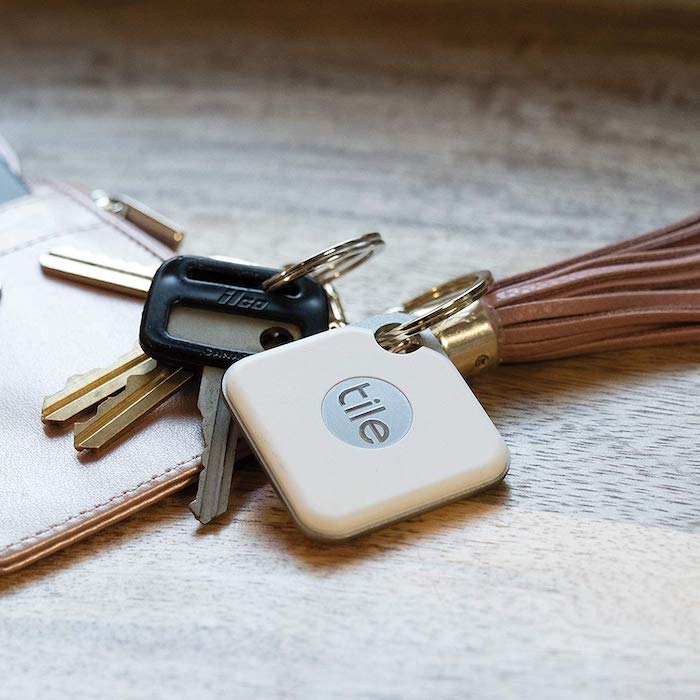 Power Bank
Even if you have a smartphone with a long-lasting battery, you may find yourself with a device out of power before the end of the day. Indeed, this happens to me quite often while traveling, when I use my phone extensively to snap photos, record videos, use google maps, and other apps. In the past, more than once, I ended up out of battery. And of course, this happened at the wrong time, like short before a fantastic sunset. Useless to say that I felt stupid and angry at myself. I didn't want to miss out again, and I bought a power bank.
Even more importantly as a solo traveler, I want to be sure that my phone always has enough charge. In case of danger or of an emergency, there are good chances that my phone will be my best – and probably only – resource.
Therefore, without a doubt, the portable charger was one of the best purchases of the last few years. Mine is an Anker, one of the most reputable brands, and I never leave without it. There are several types of power banks you can choose from, and here are my three favorites.
If you're looking for a powerful and fast portable charger, with 3 USB ports, check out the Anker PowerCore 26800 Portable Charger, 26800mAh External Battery. With it, you should be able to charge charges your phone about 6 times and a tablet at least 2 times.
Another excellent option is the Anker PowerCore 20100mAh – Ultra High Capacity Power Bank with 4.8A Output. It is, however, a little less powerful, slightly lighter, and only has 2 USB ports.
Anker PowerCore 10000 is one of the lightest and smallest portable chargers. However, it comes with only 1 USB port. Therefore, I only would recommend it if it's a tech travel gadget you plan to use only occasionally.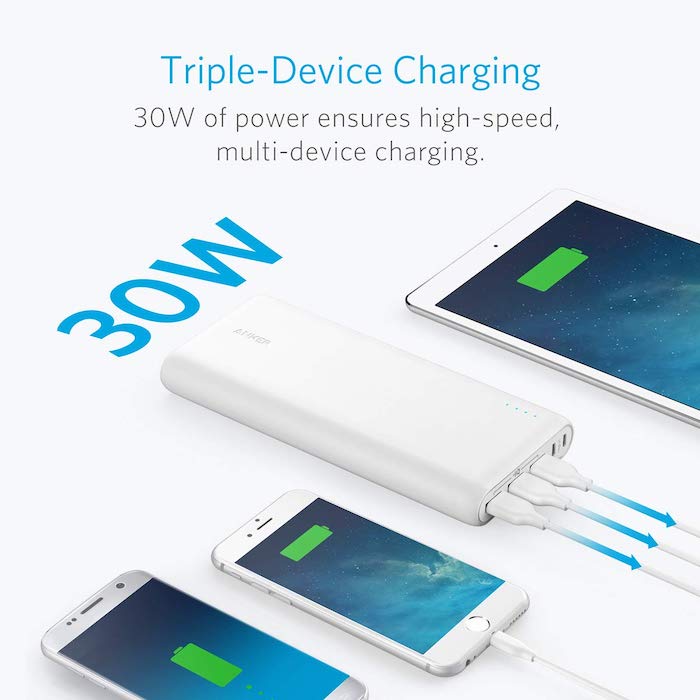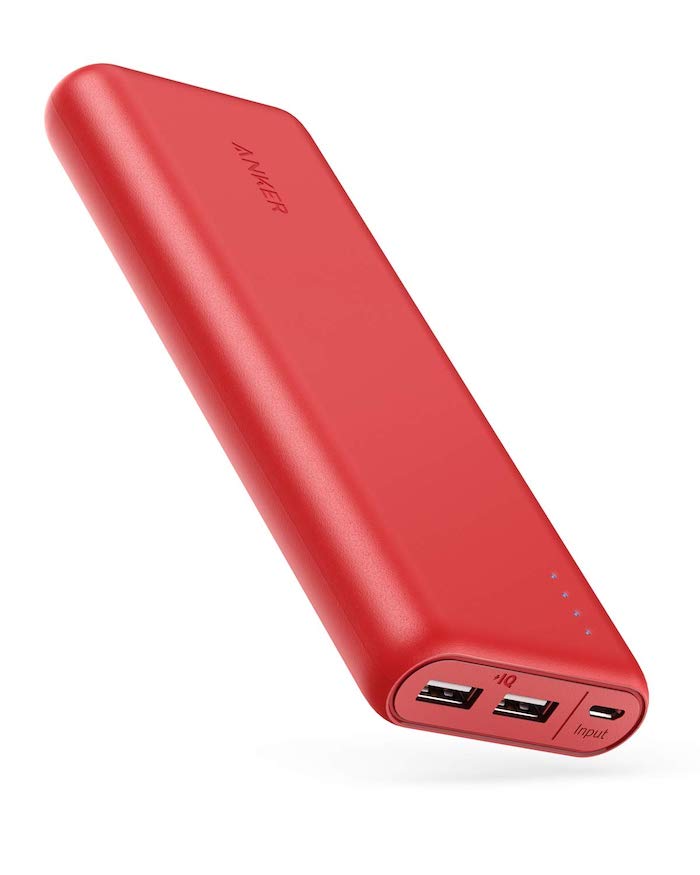 Portable WiFi
One of the recurring questions on Facebook travel-related groups from overseas travelers is: "How do you use your phone abroad without breaking the bank?"
There's not just one right answer to this question. And much as I dislike saying "it depends," the truth is that… it depends. Of course, the first thing to do is to check your mobile phone provider to know what kind of international traffic charges they apply and for what.
What I learned from my experience is that outside of Europe, where I'm based, often the best solution is to buy a local SIM card. I could undoubtedly swap cards on my phone, but I don't like the idea that in that case, people can't reach me for urgent matters. I found out the best option for me when I traveled to Japan: portable wifi. That way, I could still keep my phone active (and decide when I would answer a call or not), and being connected all the time. I even taught my elderly mother how to use WhatsApp, and thanks to the portable wifi, I had video calls with her from a lot of beautiful places around the world.
Beware that you'll need an unlocked device, though, to use it with any SIM card. Here's a decent option:
Huawei E5577Cs-321 4G LTE Mobile WiFi Hotspot. The device supports 4G LTE in Europe, Asia, Middle East, Africa, and 3G globally. It is unlocked. Therefore you can use it with a local SIM card all over the world.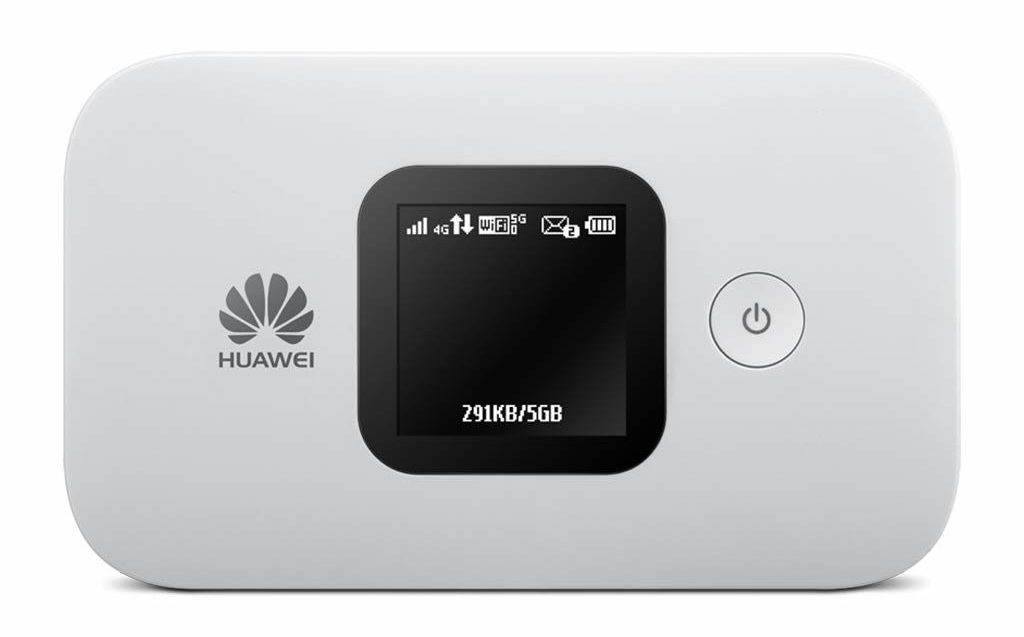 Tip: Mobile hotspots are fantastic. However, it's not only a matter of inserting a SIM card since they usually need some configuration. Play with your device before leaving for your trip to get familiar with its features.
Bluetooth Headphones
Whether you want to listen to podcasts, enjoy your favorite music, or survive a snoring neighbor on your flight, you'll be happy to have Bluetooth headphones.
Navigating between the hundreds of models and selecting the right one takes time. That's why I decided to do some research and share it with you. I considered several factors, among which design, wearability, size and weight, and price.
COWIN SE7 Active Noise Cancelling Headphones have a lovely design and several color options. They're lightweight, comfortable, and foldable. Definitely a plus when you travel and don't want to pack bulky objects. Furthermore, they have a long playtime. They're a great choice if you wish to buy decent headphones with great features at a fair price. Last, but not least, Cowin SE7 headphones come with a beautiful package that makes them a cool gift for her or him.
For those who're on a tighter budget, the Mpow 059 Bluetooth Headphones are an excellent value-for-money alternative. They don't feature Active Noise Canceling (not possible for the price). Still, they're foldable and have a moderate playtime autonomy. The design is pretty, and you can choose between 8 different color combinations.
In case you don't know, I am Italian. And Italians are known for having a unique eye to aesthetics. If you're looking for noise-canceling Bluetooth headphones that are both good and stylish, then have a look at Boltune. With less than 1 hour charge, you can enjoy 30 hours of playtime. They feature HD sound quality, captivating bass, and they're one of the most stylish headphones for men and women.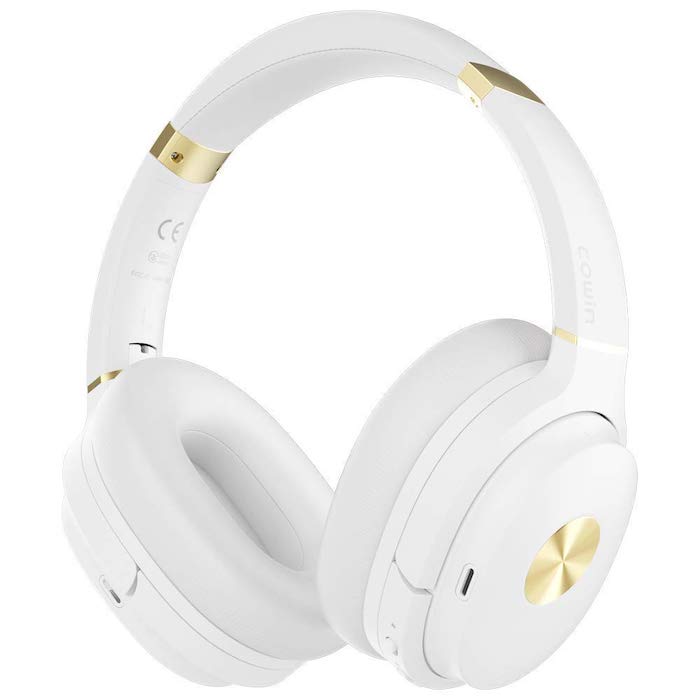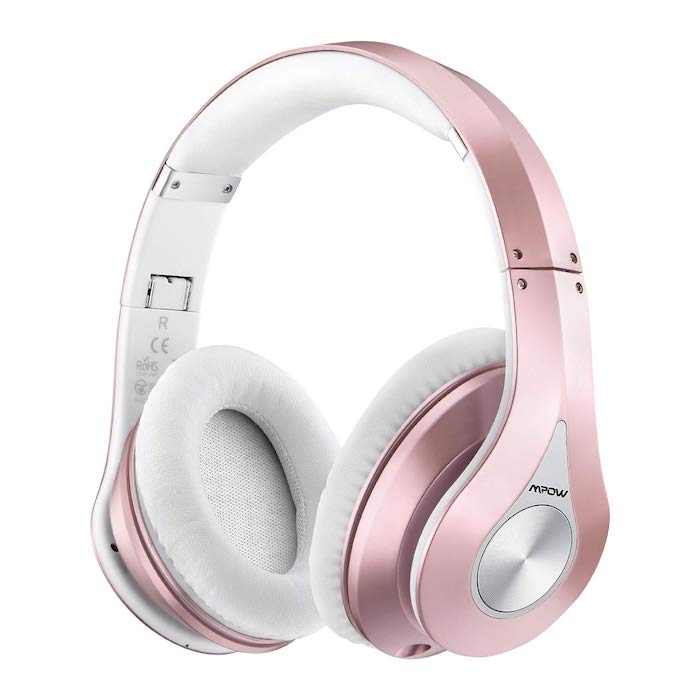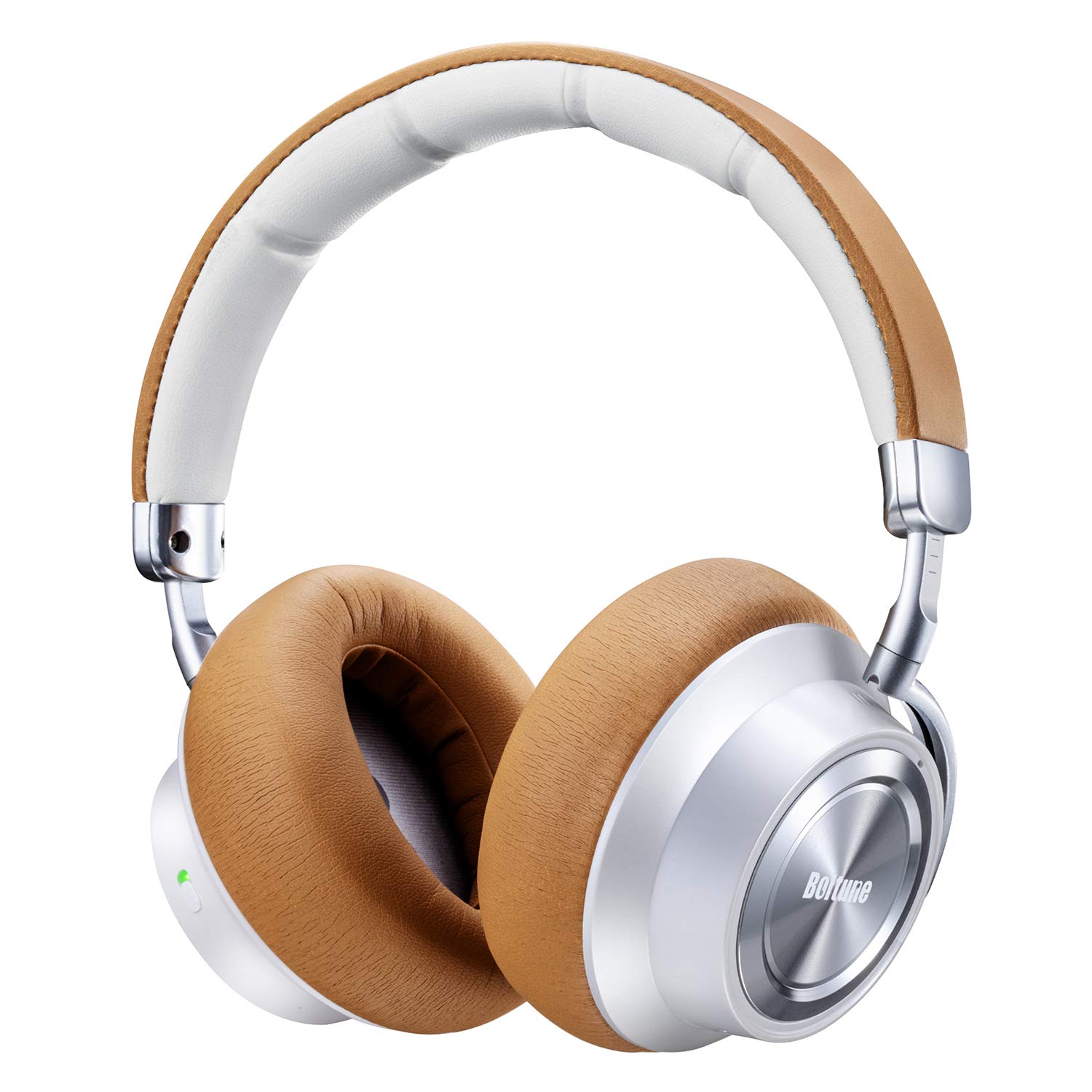 GPS
I'm a nature and outdoors lover, and since I like hiking a lot, a GPS is one of the gadgets on my list. Little by little I'm building up my hiking equipment, trying to have the best technical gear even if only for a day hike. Therefore, I did some research.
Two items caught my attention, and one of them may well be my next purchase.
The Garmin Instinct, Rugged Outdoor Watch with GPS may not be the most feminine accessory, but I love it nonetheless. It has a lot of features, including multiple global navigation satellite systems. More importantly, at least to me as a solo hiker, it is equipped with the TrackBack feature, helping you navigate the same route and go back to where you started. Ain't that a cool gadget for outdoor lovers?
On top of that, the watch looks beautiful and comes in different colors, my favorite being sunburst yellow, and tundra.
Another item to watch is the Garmin Foretrex 401 Waterproof Hiking GPS. It's a wrist-mounted GPS navigator, with several features. You can keep track of the path you covered, and retrace your steps back to the starting point. The battery life is up to 17 hours, enough to be sure of being able to get back.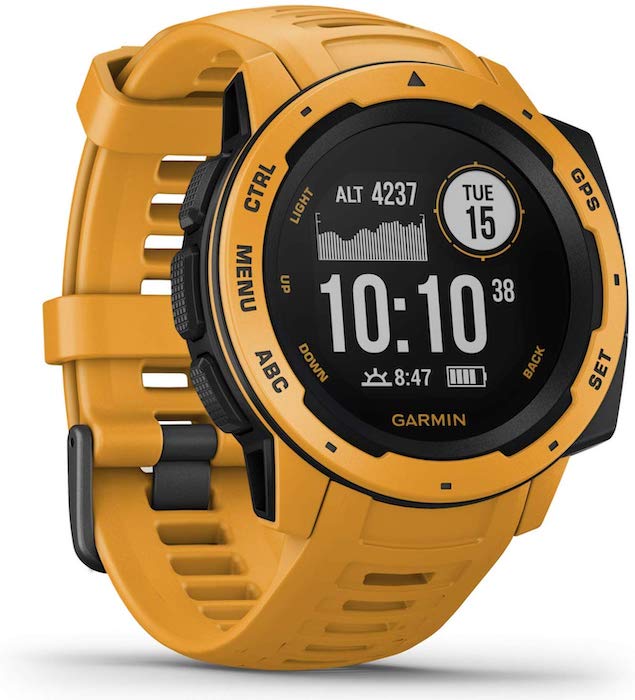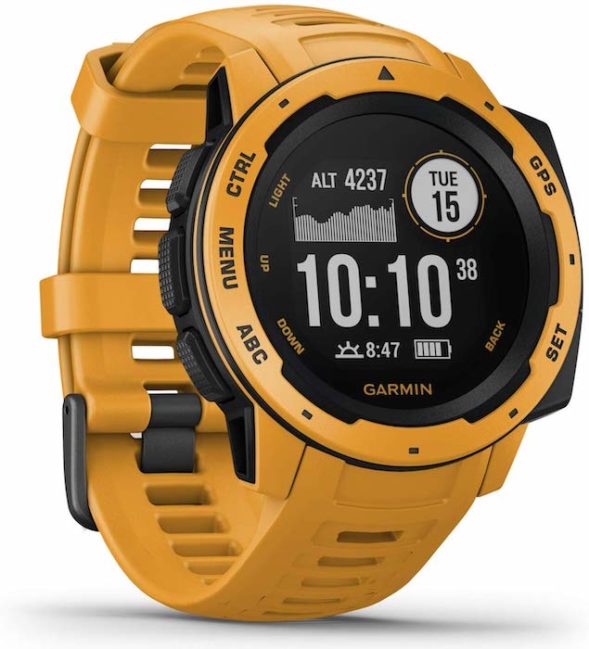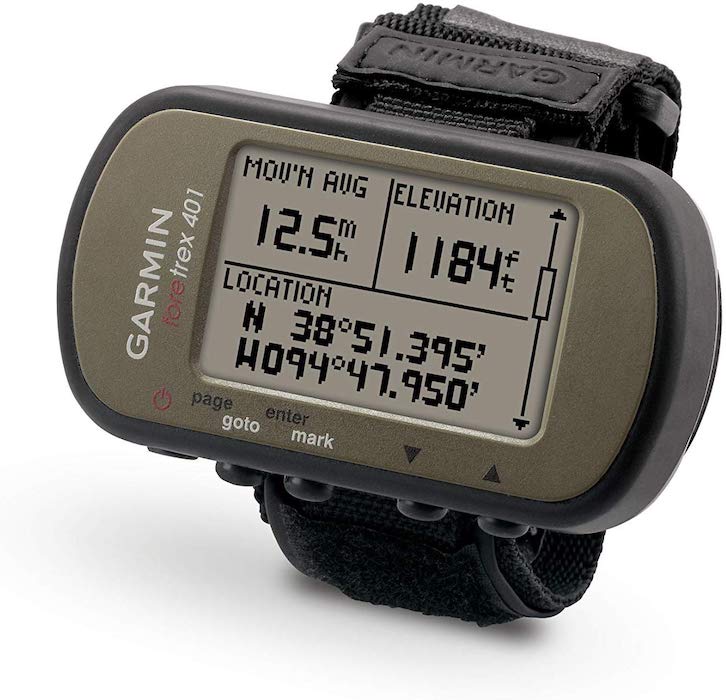 Smartphone Lenses
If you're really serious about photography, there's nothing like a premium DLSR or Mirrorless camera. I'm in love with my Sony Alpha 7ii https://amzn.to/2NiPIcW equipped with a 24-70mm Zeiss Zoom Lens, and never regretted the investment.
However, there's now a multitude of smartphones equipped with quality cameras. You can do a lot with a decent phone, and have even more fun with a few accessories like smartphone lenses.
Xenvo Pro Lens is a kit of 2 lenses, wide-angle and macro, compatible with all phones mounting a single or dual camera. It comes with a travel case to store and protect your lenses and a quick-release lanyard, which you can wrap around your neck.
Olloclip Multi-Device Clip is a 3-in-1 bundle with Super-Wide, Macro, and Fisheye lenses. It's compatible with most smartphones and will enhance your video, live broadcasting, time-lapse, and panoramas. It doesn't come cheap, though, but Olloclip is one of the leaders in high-quality smartphone lenses.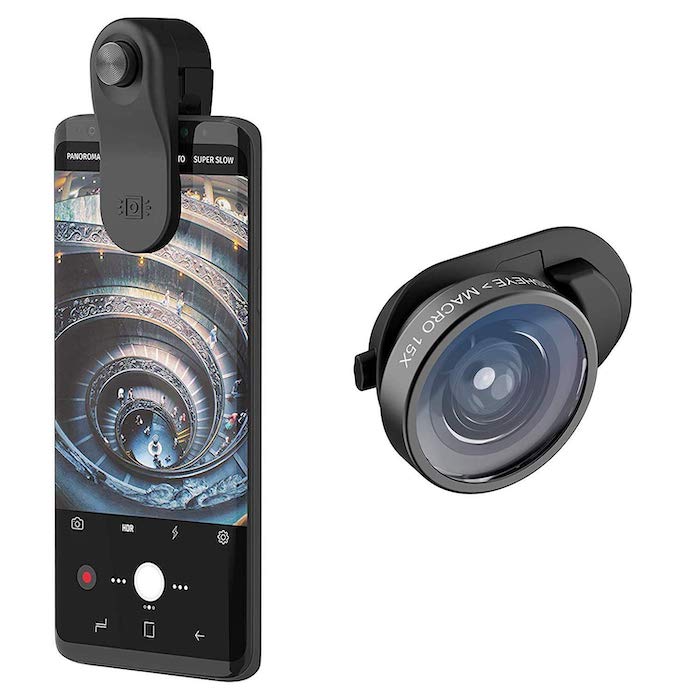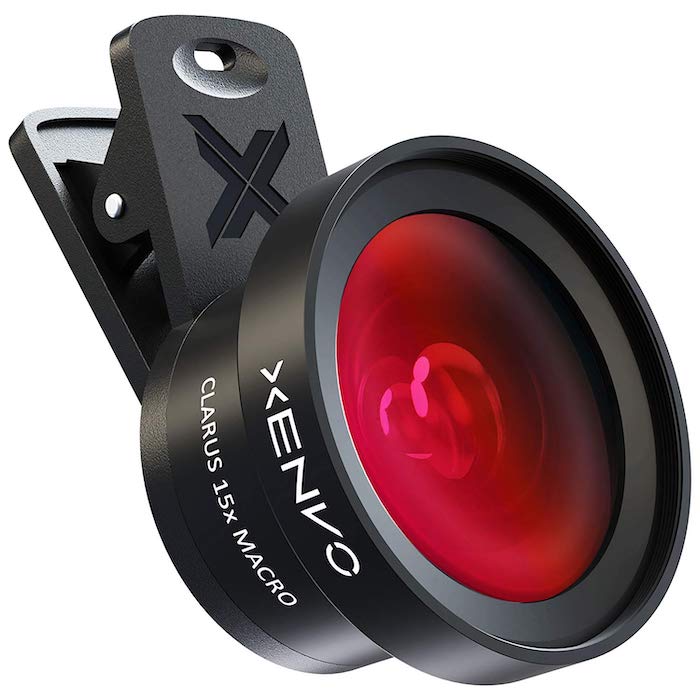 Electronics organizer
How many devices do you bring with you when you travel? I think nothing is more annoying than searching for cables, wires, rechargers, memory cards, and electronic accessories when they're all mixed up. The best solution to pack all these easily lost little things is an electronics organizer.
I like Bagsmart organizer because of the simple, practical and unisex design, suitable for holidays and for office too. The two-way zipper closure makes it always easy to reach the inside of the bag, even if you are on the move. Bagsmart is available in 5 colors (pink, black, blue, gray, teal) and 5 different sizes: small and large with 1 layer, medium, large, and extra-large with 2 layers.
Looking for more colors and size options? Take a look at the Jelly Comb Electronics Organizer Bag. I find that the large+medium set is handy because you can travel with two different organized bags and use them both, or one by one, depending on the situation.
https://amzn.to/2pmvrex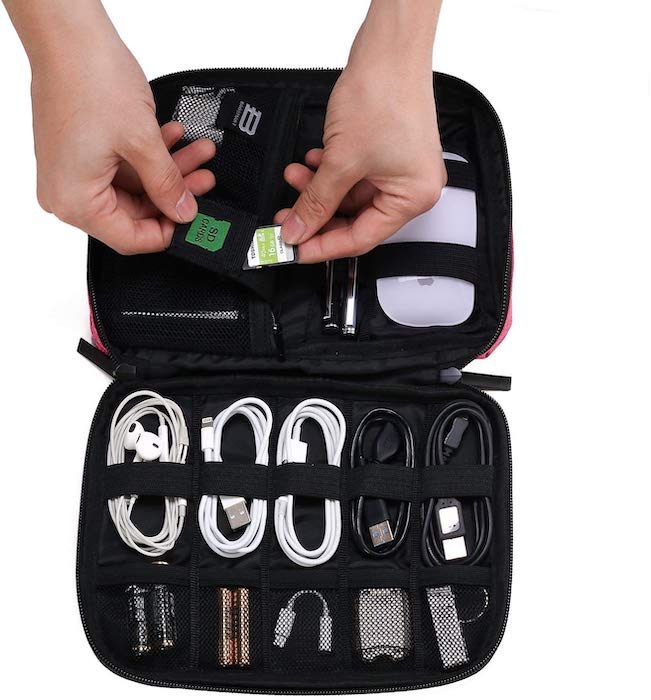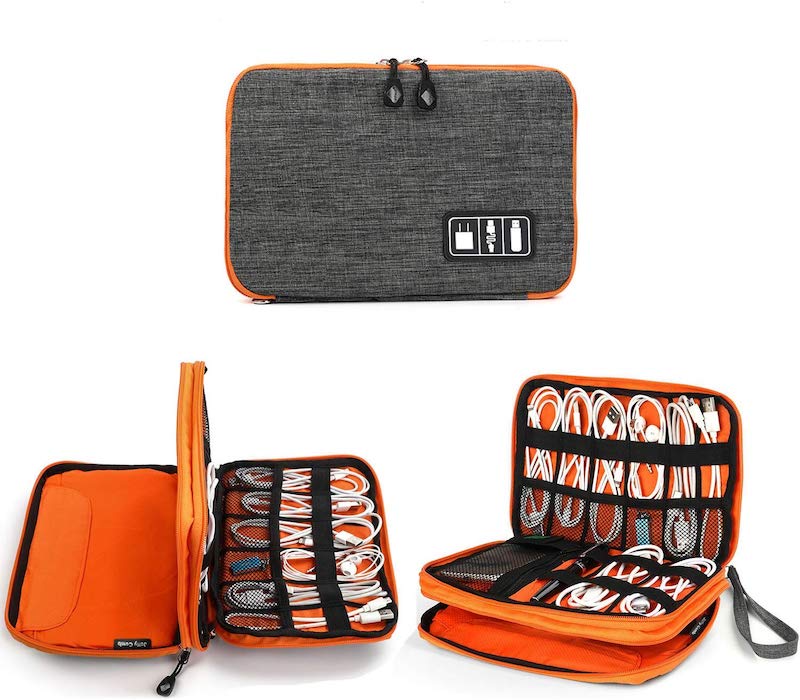 Mini tripod
Even if you travel with only your smartphone or a small point-and-shoot camera, you'll want to take the best possible photos and videos. For that, a must-have travel item is a mini tripod. Forget shaky videos or blurred pictures at sunset and in low light conditions. With a mini tripod, you'll be able to catch and share more travel memories.
UBeesize Tripod S is a flexible tripod compatible with most smartphones and action cameras. While it might support a small compact camera, you won't be able to use it with a DLSR or mirrorless. The tripod has flexible legs, comes with a wireless remote shooter, and weighs only 6.4 ounces (181 grams).
JOBY GorillaPod 3K Kit is a compact, flexible tripod that can hold up to 3 kg. It's the perfect solution if you're looking for a tripod that you can use with multiple devices, including a professional camera. Furthermore, it's sturdy and stable and provides an excellent grip. It doesn't come with remote control, though, but you can buy one like the CamKix Camera Shutter Remote Control, which is very cheap.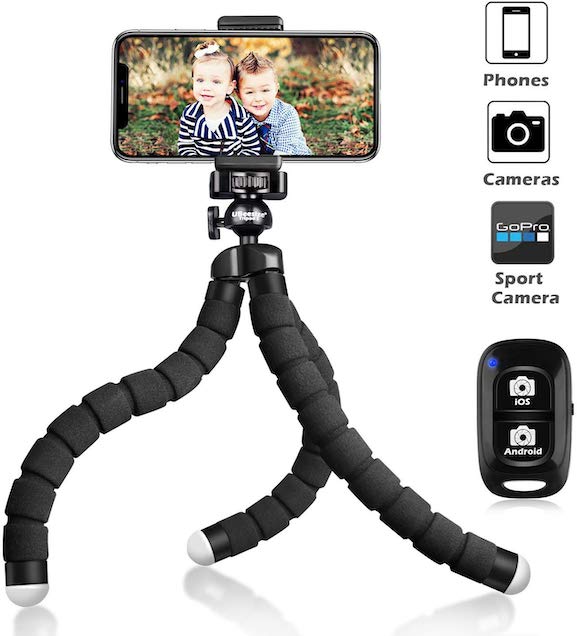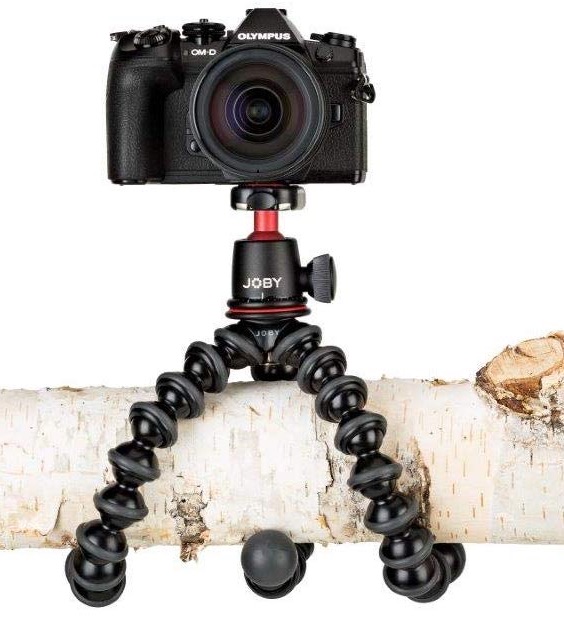 Universal Travel Adapter
This is a classic travel must-have item, since plugs are different in almost every country, even within the EU.
My choice is for these three models.
Newvanga is an all in one Worldwide Travel Adapter, sturdy and reliable.
Alternatively, have a look at the plug adapter from SublimeWare, for its cubic, compact design, and the color options.
Another option is Ougrand universal travel adapter. Besides its lovely apple green, it can quickly charge five devices simultaneously.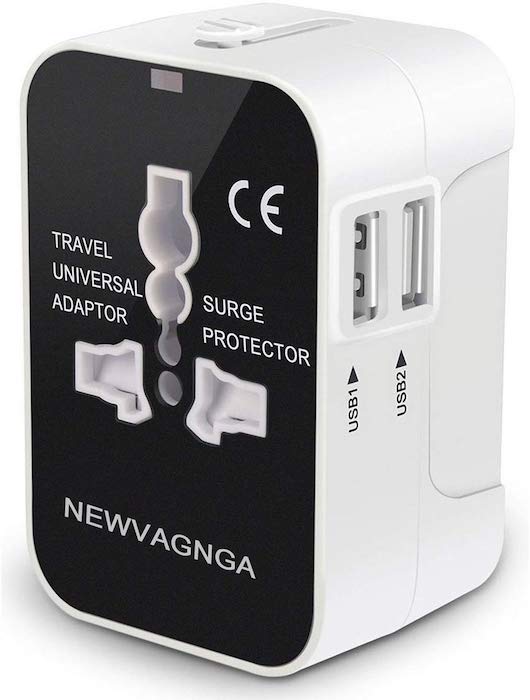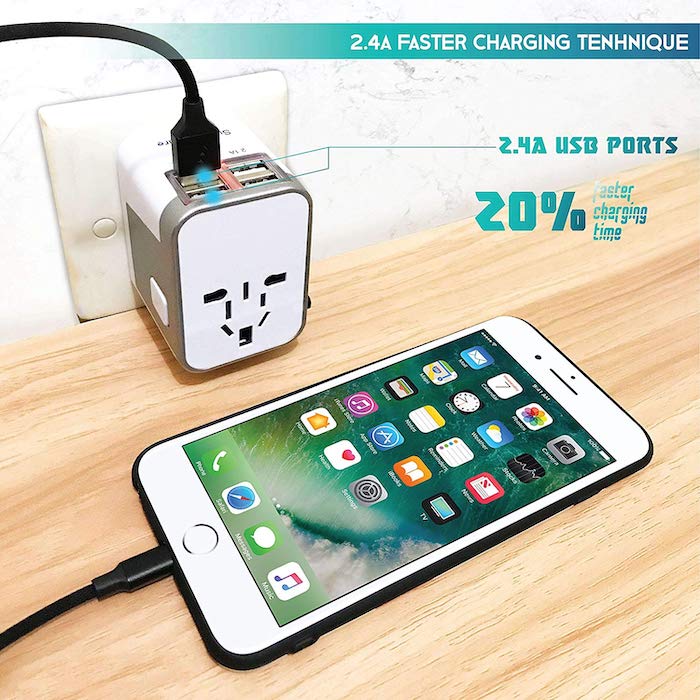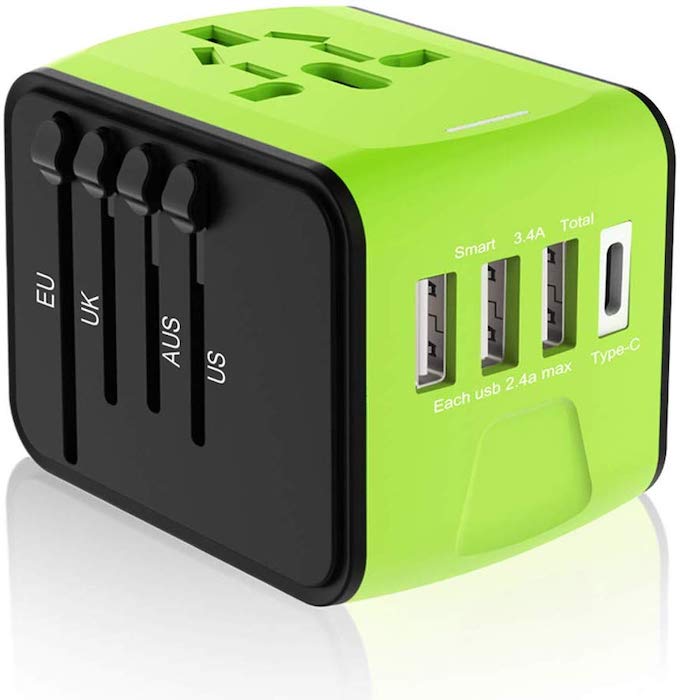 Must-have travel items
There are a few travel items that will make packing easier and come handy during your trips.
Furthermore, there are anti theft travel accessories you should consider buying for stressless holidays.
Travel Scarf with pocket
Would you like wandering hand free, but still bringing safely your passport, wallet, mobile phone, and hotel room keys? A travel scarf with a secret pocket is the solution you are searching for.
One of my favorites is Pop Fashion's infinity wrap scarf. Available in 14 colors and different patterns, it's easy to match with almost any outfit. On a chilly Summer evening, it will protect my neck and belongings at the same time, making me look great. No bother, useful fashion is the new black!
If you prefer solid colors rather than patterns, have a look at Elzama's Infinity Loop Scarf.
And, since I wanted an alternative for Autumn and Winter, with a more classic color, I chose this one from Genovega, perfect to wear with a jumper. The generous size (14″ x 34″) surely fits every neck with a 2 times twist.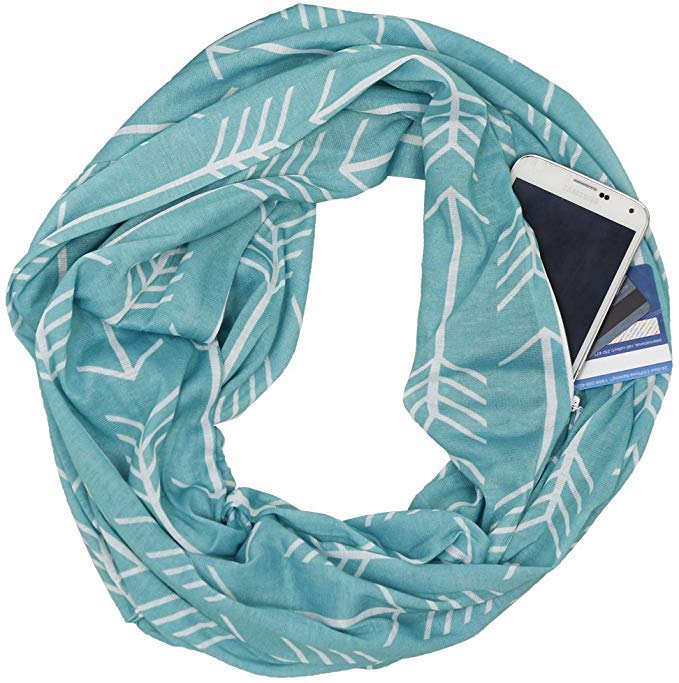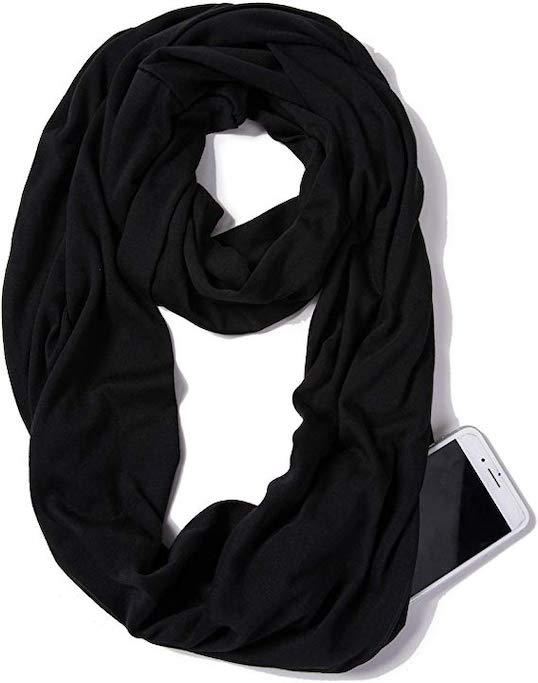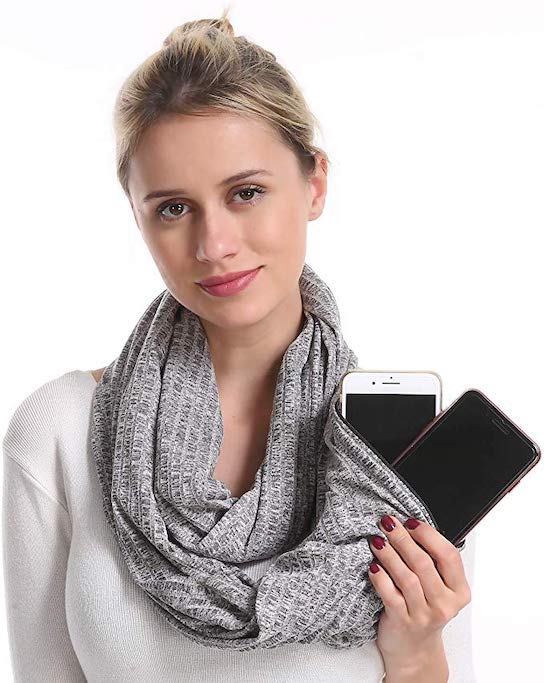 Peak Gear Travel Money Belt with RFID Block
Pickpocketing is one of the dangers you have to face when traveling. And this includes electronic theft.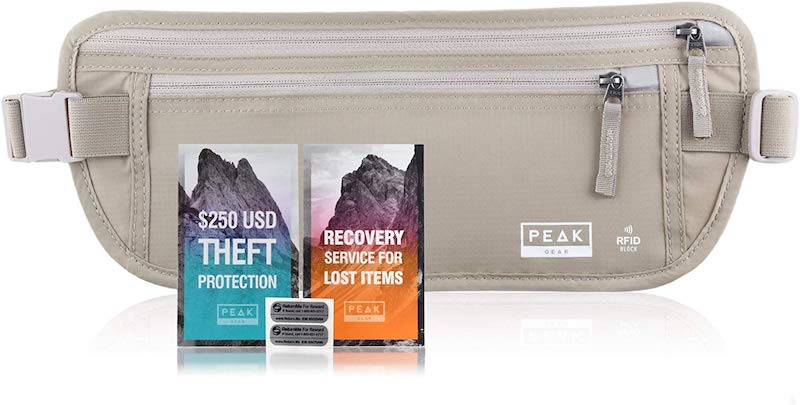 Luckily, Peak Gear updated the classic travel money belt with a useful RFID block. Thanks to it, you'll safely bring with you all your credit cards (along with your passport, ID, and a little cash for emergency), keeping your hands-free.
Diversion Safes
Even if you keep them to a minimum, storing valuables when traveling is often an issue. A funny and clever solution is to buy a diversion safe. If you never heard about it, it's basically a commonly used object which is built to hide bills, jewelry, and other small expensive items.

Among the several diversion safes, the hairbrush by Stash-it is an excellent option for women.
Recently improved with a new stronger handle, it looks and feels like a real hairbrush. This means you can use it every day on your hair and leave it in the bathroom, among other beauty products, cosmetics, and accessories. Your money, jewelry, and valuables will be safely hidden in plain sight. Just remember, it is not a brush only. And in case your friend forgot her brush, do not lend it outside your bathroom!
Save the world from plastics and microplastics, stay hydrated, and keep your belongings safe with this diversion stainless water bottle.
This bottle keeps water fresh, is easy to wash, and is perfect for the seaside, outdoor activities, or when you are on the go. Nobody will suspect your bottle has an insulated secret compartment which can contain money, credit cards, or jewelry.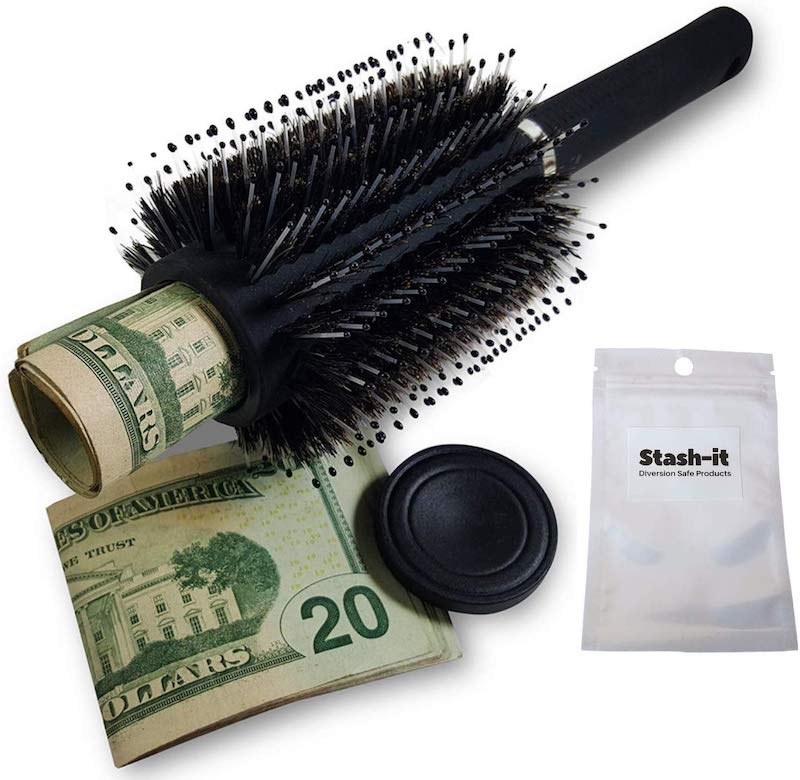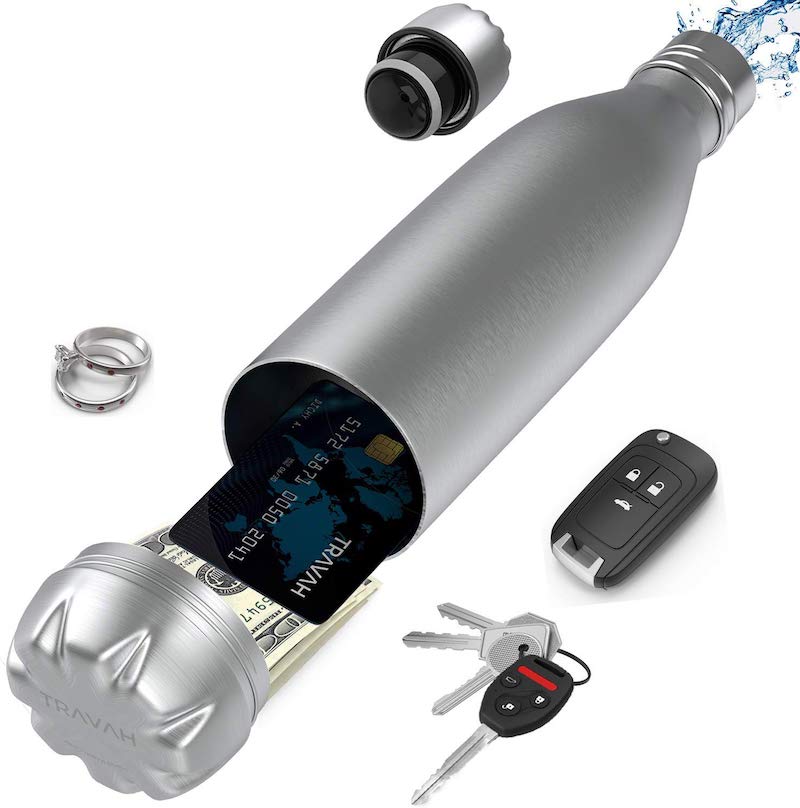 Compression Packing Cubes
Say goodbye to overpacking – once and for all.
The 5-piece set of Gonex compression packing cubes really cuts down on the space needed for clothes. The soft mesh fabric makes them breathe, letting you glance at the content, while the different sizes of the cubes make the organization easier. Use the large one for jackets, sweaters, and trousers, the slim one for socks. A laundry bag is included (really useful).
For a larger wardrobe, I'd choose the six-piece set by Tripped Travel Gear, made in sturdy Polyurethane fabric. https://amzn.to/2pm8fNt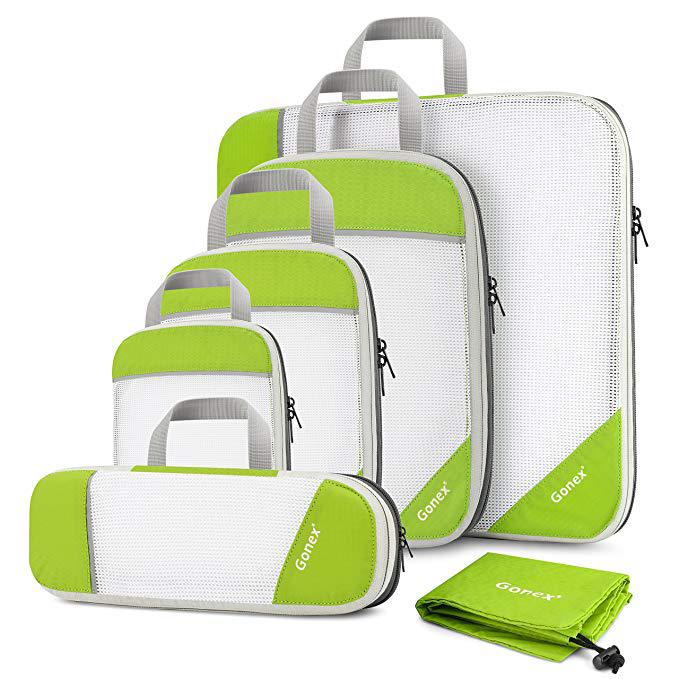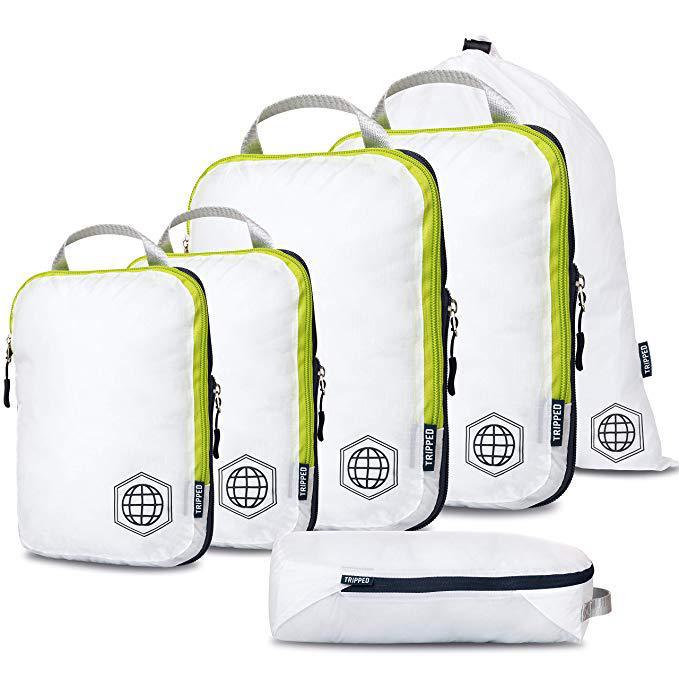 Clear toiletry bag TSA Approved
As you may know, if you travel carry-on only, there are specific rules regarding toiletries you have to follow. Liquids must be in bottles no more than 100ml, and all items have to be stored in a transparent bag. You can, of course, use a sealable plastic bag (you find them at almost all airports), but then you'll have to put them back in your beauty bag.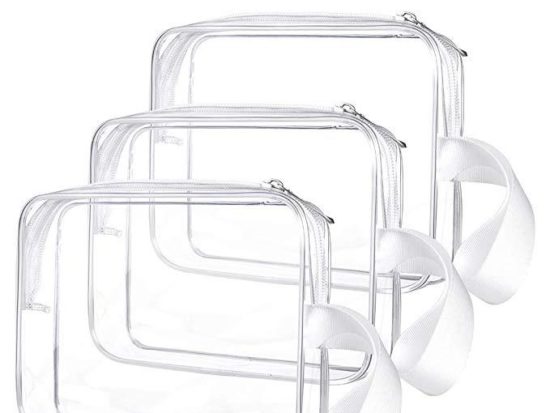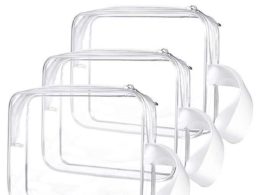 The best solution is thus a clear toiletry bag.
Sariok's clear toiletry bag with zipper is a 3-pack set approved by TSA, made in soft eco-friendly PVC material. Thanks to it, you'll say goodbye to all your worries about airport security, no matter the destination.
Travel pillow
This is undoubtedly one of the best travel accessories for long flights. Unless you can afford a Business or First Class ticket, a long journey in Economy is tough. While there's not much one can do about the limited space, a good travel pillow can make quite a difference in your comfort.
MLVOC Travel Pillow is a fantastic memory foam travel pillow that will support your neck and relieve neck pain. Comfortable and featuring breathable cloth, it's a light-weight travel gadget that will make a big difference. It comes with a compressible bag, 3D contoured eye mask, and earplugs.
If you're looking for a multi-purpose item, have a look at the Twist Memory Foam Travel Pillow. Shaped like a "sausage", it's incredibly versatile, and you can easily customize it to support your neck, back, and more. Last but not least, you can refresh the cover in the washing machine.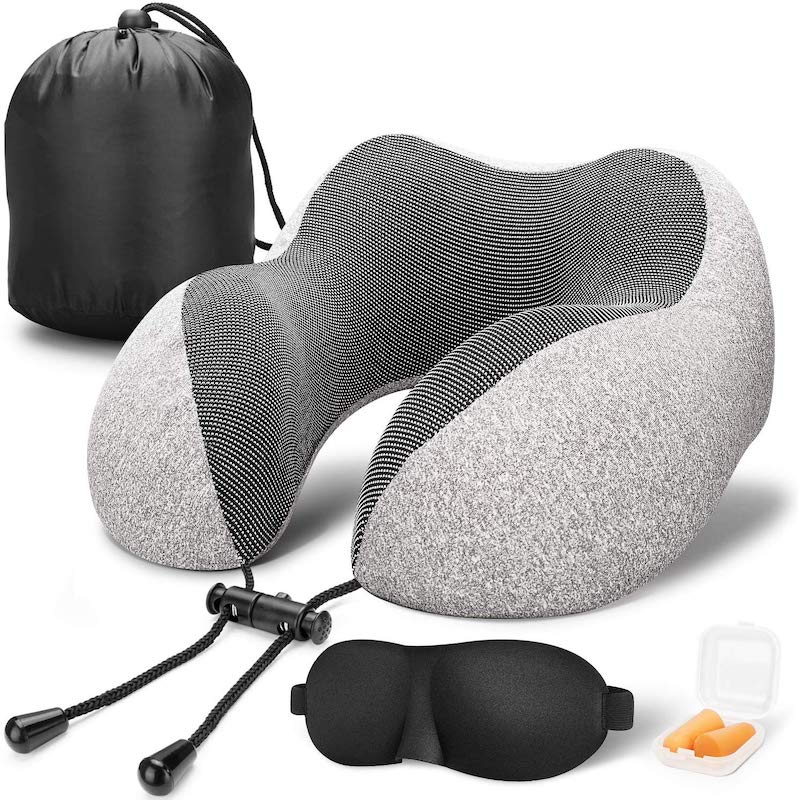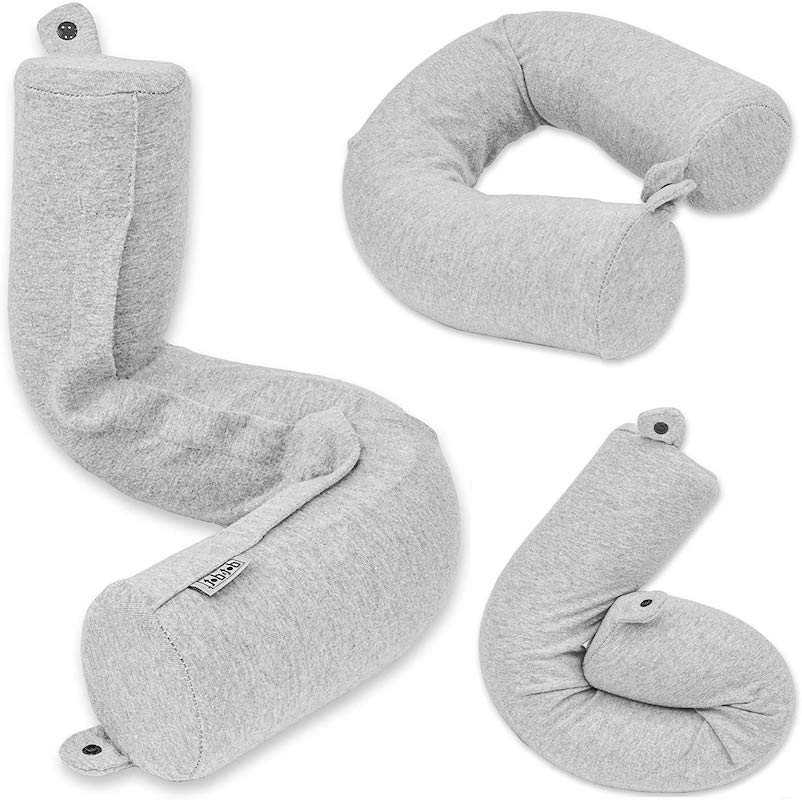 Windproof Foldable Travel Umbrella
Traveling in a windy, rainy day can be really tough sometimes. How many times did you happen to fight with your foldable umbrella turning inside out?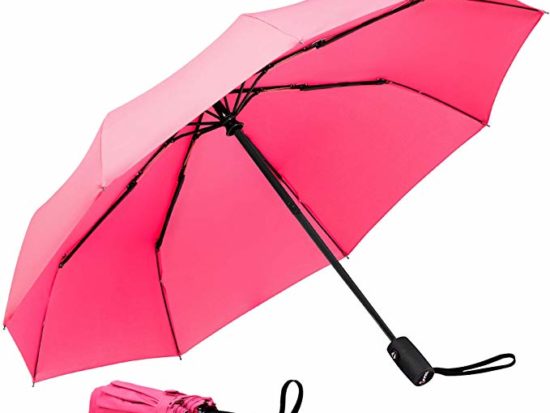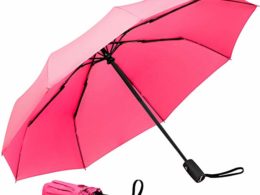 A windproof foldable travel umbrella is, without doubt, one of the most useful travel accessories.
Repel is a compact, lightweight windproof umbrella. It's fortified with 9 fiberglass ribs that make it resistant to wind gusts.
Thanks to its automatic open/close button, you can easily handle it with just one hand. A Repel umbrella will really save your day.
Portable Clothesline with Clothespins
Regular hikers, campers and travelers should never forget to bring with them this useful little item.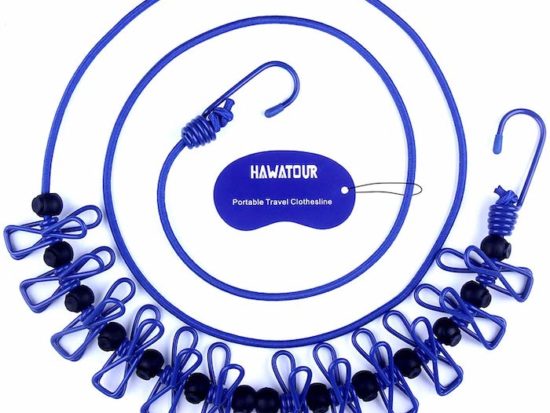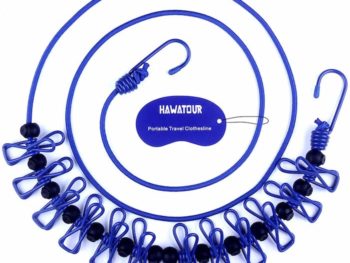 Hawatour Portable Travel Clothesline is made of stainless steel and is ideal for indoor and outdoor use. It's elastic (can be stretched up to 10 feet), and its black clips restrain the 12 clothespins from sliding. So, you can hang your underwear, socks, and bathing suits to drain and dry wherever you want: bathroom, boat, balcony, or even trees. Simple, practical, and effective!
Cool travel gadgets for reponsible travelers
We should all commit to reduce our environmental impact, at home and when we travel.
One of the first steps to be a responsible traveler is to avoid plastic as much as possible. If you care about our planet and want to preserve it, you'll love these travel accessories
Water bottle and water purifier
No one wants to get sick while traveling, and in many countries, the first caution is toward food and drinks. Cooked food is recommended since the heat kills food bacteria, and in many places, tap water might not be safe. The general recommendation to travelers is to drink bottled water. But there's a BUT. Bottled water may be right for your health, but not for the environment. (On this topic, I suggest your read this excellent article on the evoluion of plastic bottles from National Geographic)
That's why if you care about being a responsible traveler, I strongly recommend you buy a water bottle and a water purifier. This is the purchase I'm most happy and proud abound I used both on many occasions.
Let's start with the most critical piece: the water purifier.
Thanks to UV, Steripen Ultra destroys 99.9 percent of the viruses, bacteria, and protozoa in a matter of seconds, without altering the taste of water. The device is small, rechargeable, and can hold up to 50 water treatments per charge.
With a water bottle, you'll reduce your impact on your environment. There are plenty of options to choose from, and one of the most popular is the Embrava Sports Water bottle. It comes with 32 Oz (almost 1l) capacity and in different colors.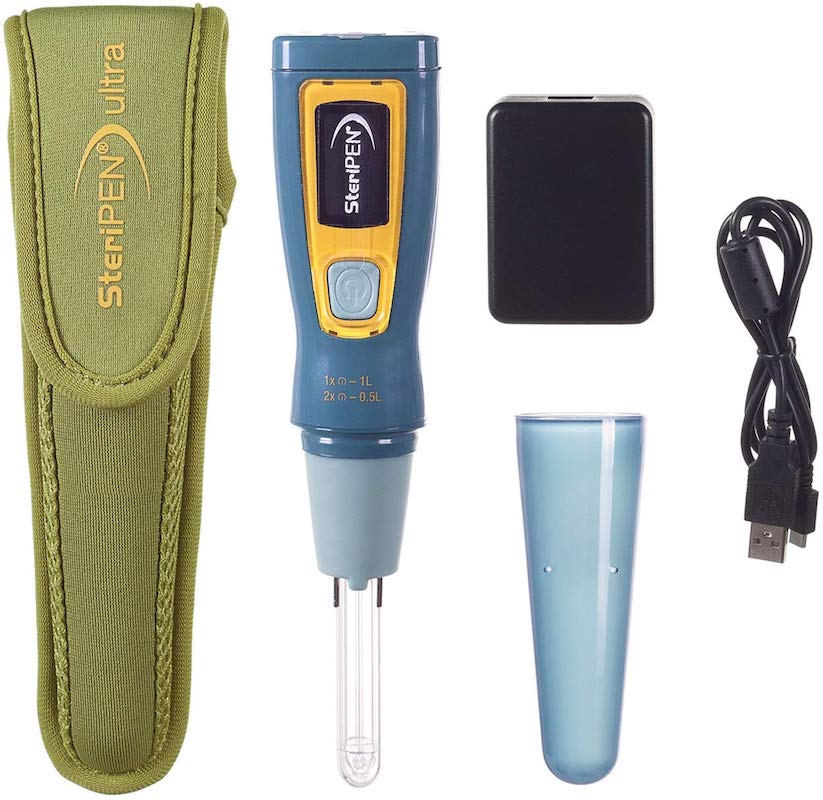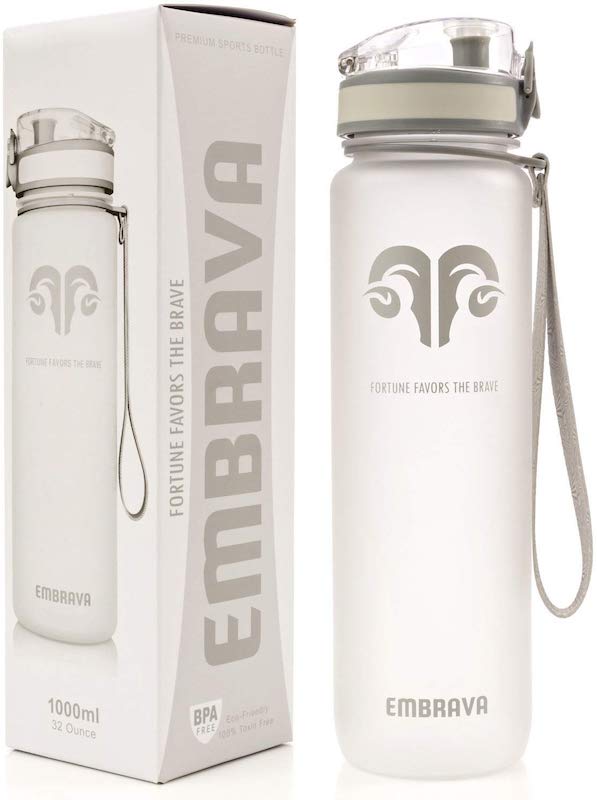 Reusable Bamboo Travel Utensil Set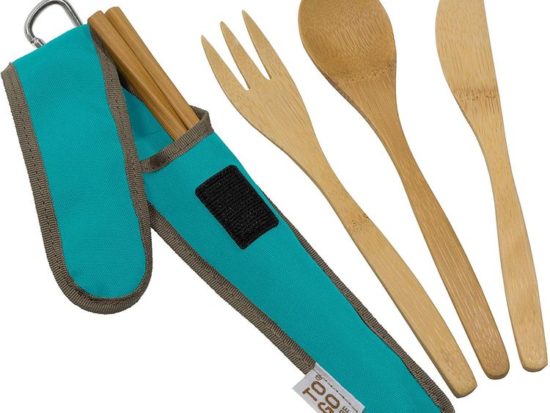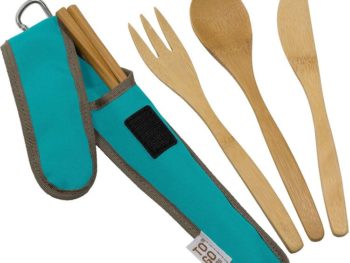 There are many ways to be a more responsible traveler, and even things apparently small matter. Whether you're hiking or just sightseeing on a beautiful day, having a picnic or street food is often appealing. Instead of buying disposable plastic tableware, why not purchase a set of bamboo reusable travel utensils?
To Go Ware bamboo travel utensils are pretty, you can wash them time and again, and you won't leave waste behind you.
_______
Note: This post contains affiliate links to products I either use, or are on my wish list. If you buy any of them, I earn a little commission at no extra cost for you.
Wild About Travel is a participant in the Amazon Services LLC Associates Program, an affiliate advertising program designed to provide a means for sites to earn advertising fees by advertising and linking to amazon.com.
Pin for later!