Fairy-tale Bruges is one of the most beautiful and romantic cities in Europe. Although you can visit the main sights and landmarks in one day, the historic center is so charming that you should consider spending 2 days in Bruges. Indeed, there's no better way to enjoy the magic of Bruges to the fullest.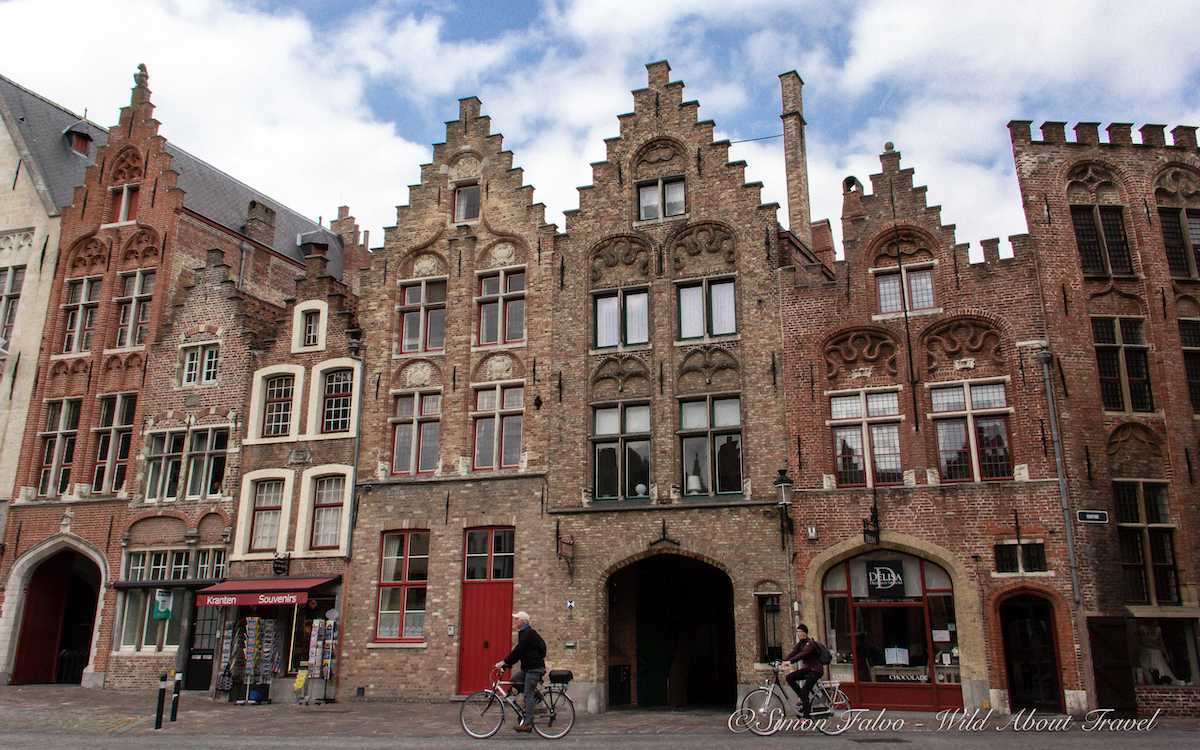 On par with Venice, Bruges is one of the most romantic cities in Europe. Many consider Bruges as an open-air museum and the prettiest town in Flanders. The historic center of Bruges is so well preserved that it became a UNESCO World Heritage Site in 2000.
Surely, Bruges old town seems to have come out of a fairy tale, and this is particularly true in the evening. When the buildings light up, walking through the canals on the cobblestone alleys, you'll feel like you are in a different dimension.
Being such a stunning city, Bruges is also very touristy; therefore, in high season you have to get ready for the crowds. Like Venice, Bruges is affected by overtourism. That's why although you can visit the city as a day trip from Amsterdam or Brussels if you get the chance, you should spend 2 days in Bruges to discover its magic.
Bruges is like a glass of fine wine: you should savor it slowly to capture all its beauty.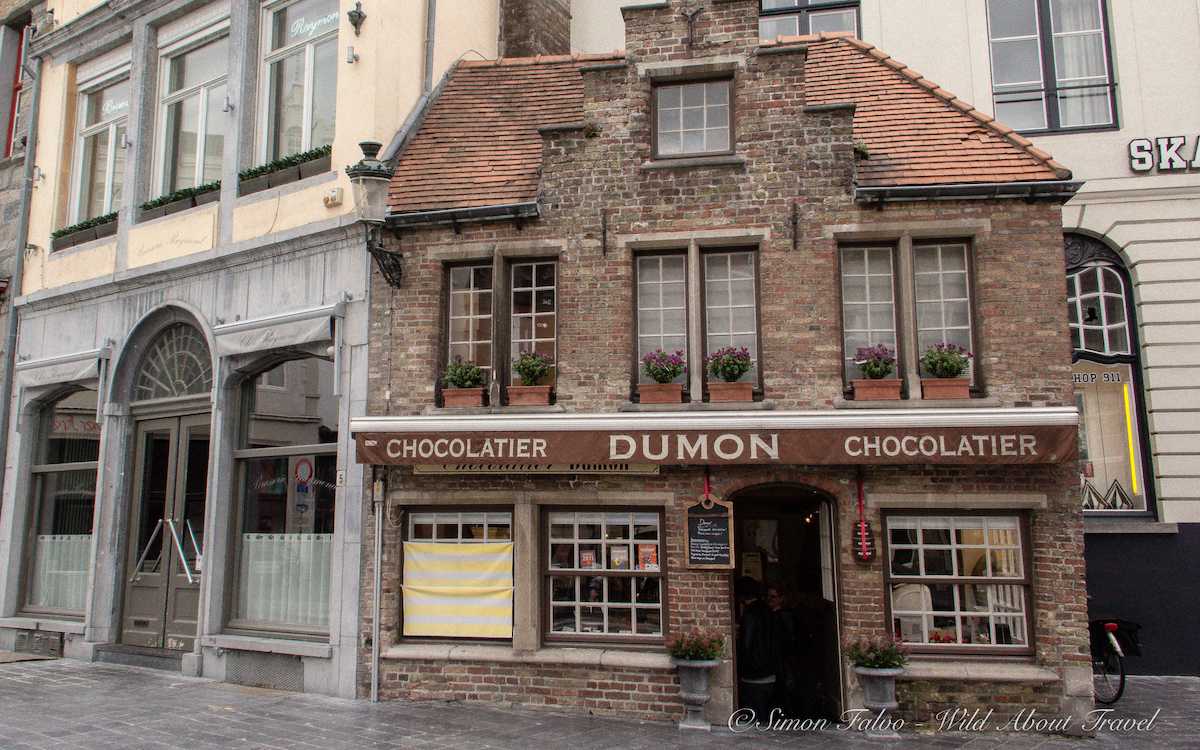 2 Days in Bruges: What to see and do
As soon as you step foot in Bruges historic center, it won't take you long to understand why it's well worth spending 2 days in Bruges. Read about the best things to do in Bruges, and build your own itinerary.
Take a guided tour of Bruges
Though I've been a solo and independent traveler for years, I've grown increasingly fond of guided city tours. Whether by bike, tuk-tuk, or walking, it's a fantastic introduction to a new place. It gives me an averview, and afterwards I go back to spend more time to the best locations at my own pace.
Here are a few guided tours of Bruges you may want to check:
Visit Grote Markt, the main square of Bruges
Every European city has its main square, gravitating around the Cathedral or a market. This is true in Milan and the wide Piazza del Duomo, or in Bath, in front of the Cathedral. Main squares are actually focal points in many towns across the European continent.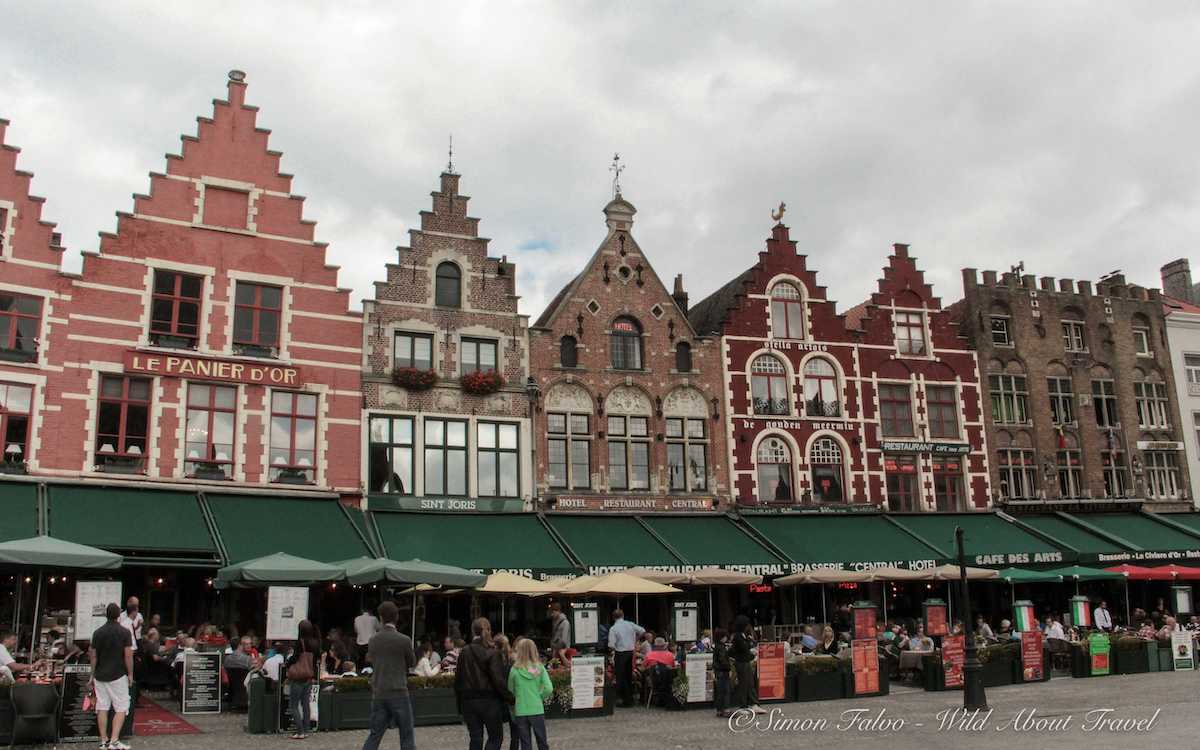 Grote Markt – the Market Square – is considered the heart of Bruges. Lined with colorful houses displaying the typical stepping roofs, and the belfry tower overlooking the square, Grote Markt is an excellent starting point to begin exploring the city. Furthermore, as you stroll around, you're likely to find yourself crossing the square many times.
The Market Square was the area where the most important events in Bruges took place during the Middle Age. This was indeed the area where they used to sell goods, and hold festivals and tournaments. On a darker note, Bruges Market Square was also the place where people would gather for uprisings and to (sigh!) watch executions. Nowadays, Grote Markt is a gathering place full of history, where most ancient guild houses have become restaurants and charming cafes. There's nothing like chilling out sitting at one of the cute bars and restaurants, enjoying a drink or having a bite, while taking in the view of the colorful medieval buildings.
Climb to the top of the belfry tower to enjoy the magnificent panorama
One of the must-do in Bruges is to watch the city from atop the belfry tower. You need to get ready to climb the 366 steps set into a narrow corridor, though. But the reward, once you reach the top, is a spectacular view of the medieval city. It's hard to beat the sight of a city's historical center from above. I love looking at things from a different perspective. That's why I experienced many times the aerial view from Milan cathedral's rooftop or St Mark's bell tower in Venice.
Take a romantic tour on a horse-drawn carriage
If you fancy a romantic ride on a horse-drawn carriage, you'll find plenty in the Market Square, ready to drive tourists on a tour of Bruges historical center. As a solo traveler, this is not my thing, but I saw many couples and even families enjoying the ride.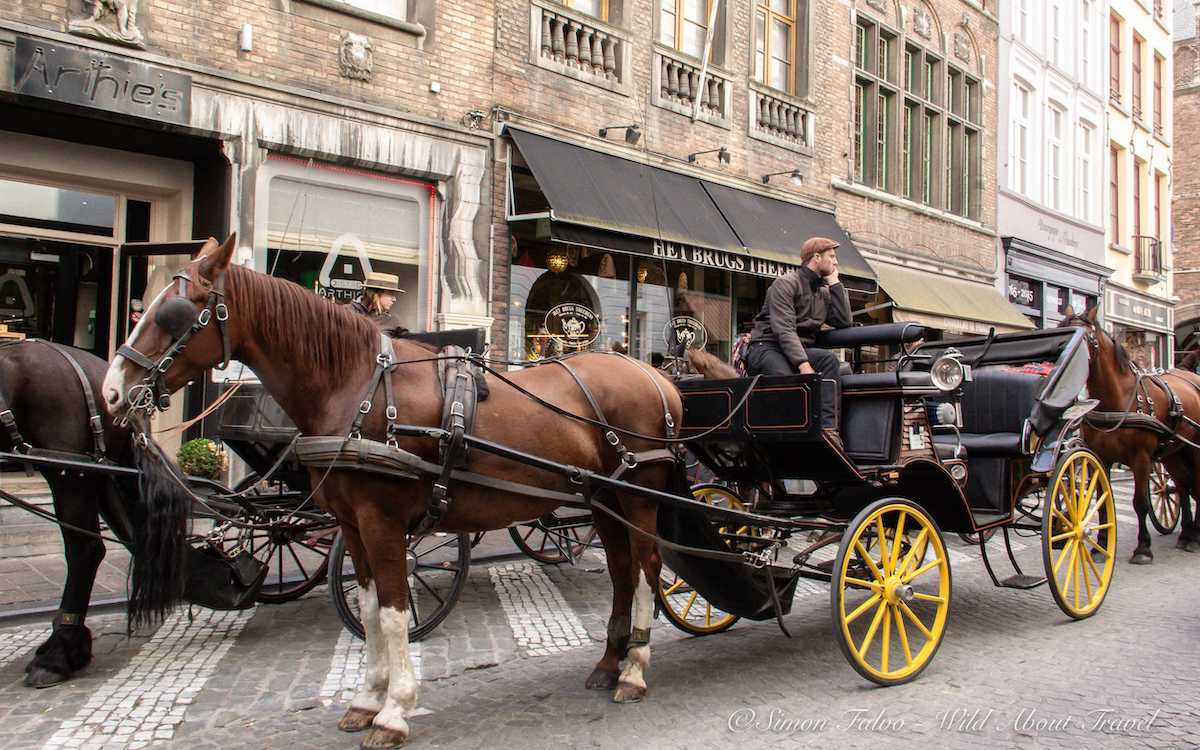 Admire the beautiful Burg Square
Nearby Market Square, you will find Burg Square, another site which is a must-see in Bruges. You'll find yourself in one of the earliest settlement of the city, admiring buildings from different periods. The architectural styles in Burg Square range from Gothic to Renaissance to Neo-Classic, and it's up to you to decide which one is your favorite.
Without a doubt, the Gothic Town Hall is the most striking building. Dating back to 1376, the Town Hall has been the city's government center for more than 600 years. Aside from the Town Hall, while all buildings lining Burg Square are lovely, there's the one you really shouldn't miss: the Basilica of the Holy Blood. Nested in a corner, it's one of the smallest constructions in the square. Statues representing the Counts of Flanders ornate the facade while inside the Basilica, you can marvel in front of the Romanesque crypt and the Gothic upper chapel.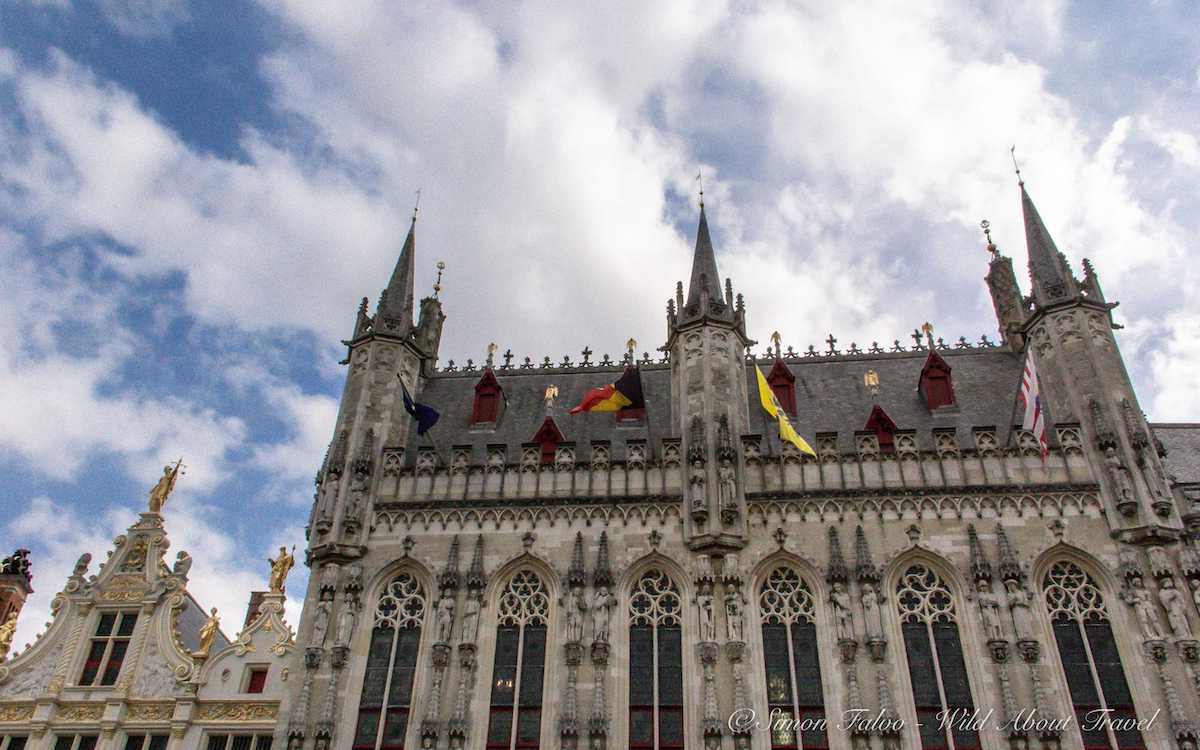 The Basilica's name stems from a relic brought back to Bruges by the Count of Flander after the Crusades. It's a tiny vial in which there's a small piece of cloth stained with blood, said to be of Jesus.
Stroll by boat on the canals of Bruges
No trip to Bruges would be complete without a tour by boat along the canals. I waited until late afternoon to avoid the crowds and enjoy a better light. Possibly one of the most touristy thing one can do in Bruges, it's still worth doing as it offered a different perspective of the city and a gave me a few ideas of spots to visit later, on a further solitary stroll.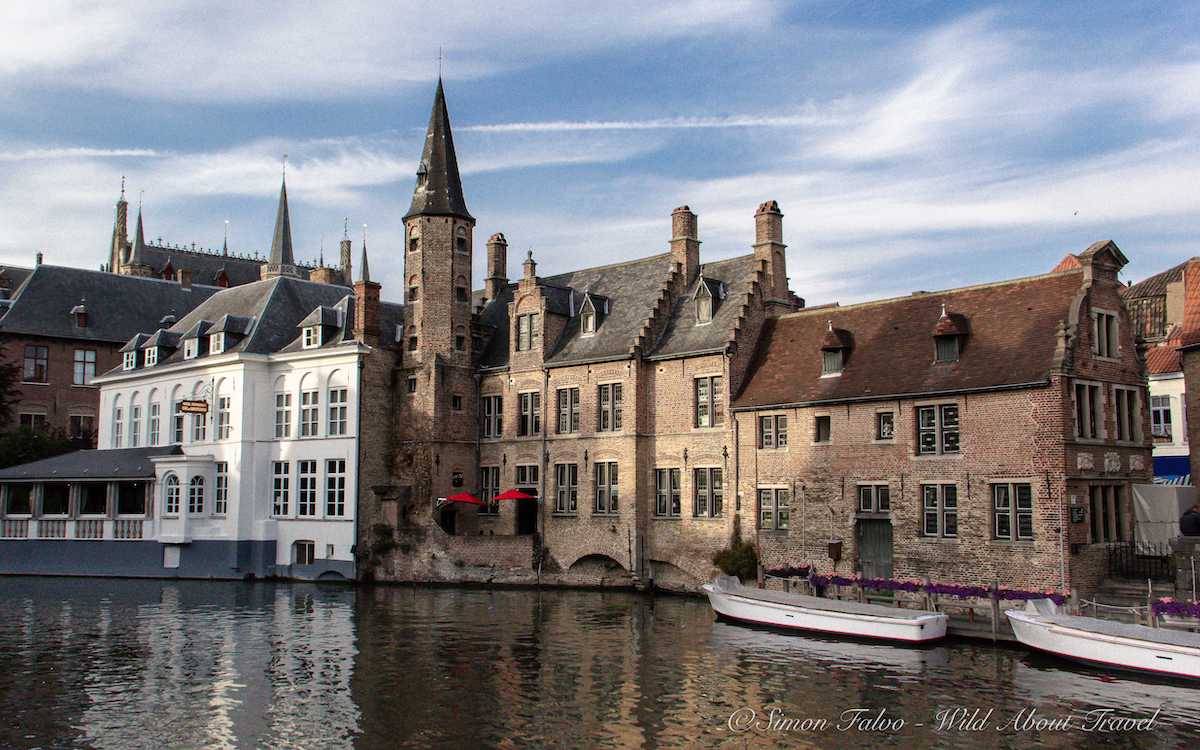 Clichéd as it might be, I really enjoyed the tour of Bruges canals. However, keep in mind that if you're visiting in winter, you may not be able to have a boat tour if the canals are frozen. Never mind, though. Frozen canals only mean a different charm. And for sure, in winter, Bruges is way less crowded. Something I'd really like to experience since I visited this lovely city in summer when it was jam-packed with tourists.
Visit the peaceful Begijnhof
Away from the bursting life of the main streets and squares, Bruges Begijnhof (or Béguinage) is an oasis of peace where time seems to have frozen. This was my favorite area of Bruges, and as I strolled along the road flanking the canal and leading to the Béguinage, I felt fascinated by the old buildings reflecting in the water and the sense of peace surrounding me.
The béguinages were established in the 12th Century, and they're one of the most typical traits of the so-called Lower Countries. They were a tradition in Belgium and the Netherlands, North and North-Eastern France as well as West and North-Western Germany. As wars took the life of a high number of men, the surplus of women favored the creation of convents. Indeed, it was often the only option left for the ones who had lost their husbands or could not aspire to marriage.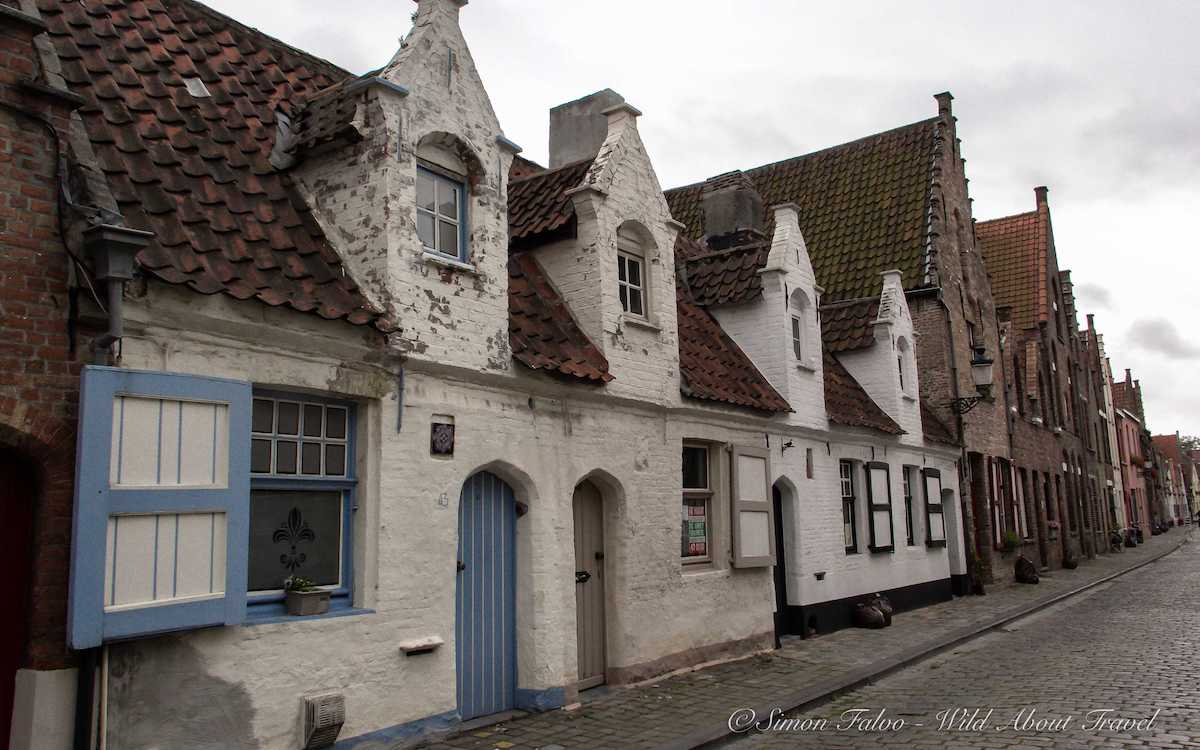 Once inside Bruges Begijnhof, with its white-washed little houses forming a lovely courtyard, I tried to imagine what the life of the béguines was. Differently from other religious orders, the béguines did not need to make vows. As a result, they were involved in ordinary life, providing services like taking care of sick people. Lacking from the severity of other convents, often looking like a surreal world, the Begijnhof in Bruges enchanted me with its serenity and the sense of harmony between spirituality and everyday life.
The Flemish béguinages and their underlying tradition are so unique that they became a UNESCO World Heritage site back in 1998.
Admire the gothic Church of Our Lady and Michelangelo sculpture
Between the many magnificent historical buildings of picture-perfect Bruges, the Church of Our Lady was one of my favorite landmarks.
The church's brick tower, dating back from the 13th to 15th Centuries, is 115,6 meters (379 ft) high and dominates the city.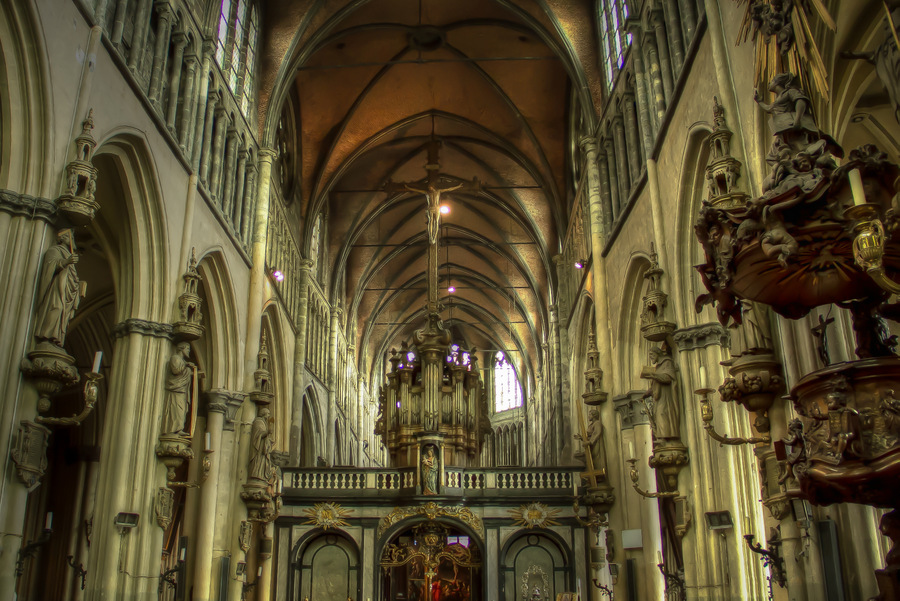 The superb gothic architecture of the Church of Our Lady interior hosts many beautiful works of art. While many of them are remarkable, the masterpiece you shouldn't miss is Michelangelo's sculpture of the Madonna and Child, also called the Madonna of Bruges. Michelangelo carved the statue in white Carrara marble in the early 1500s.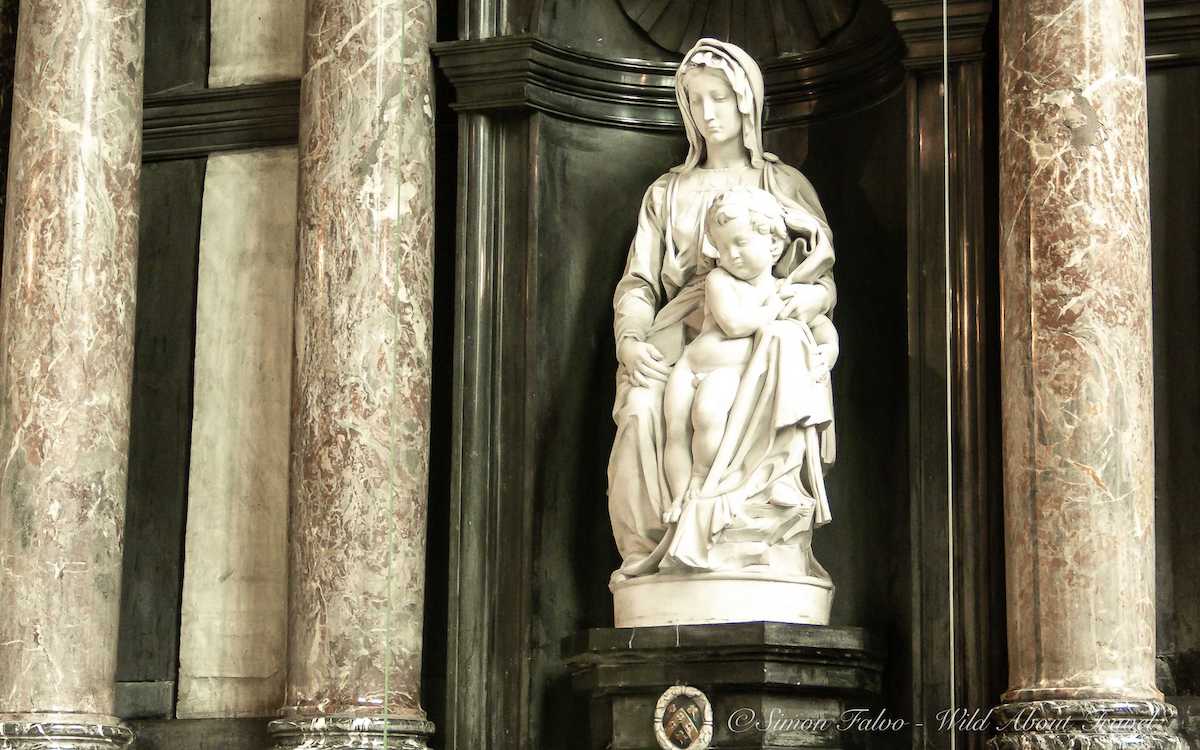 Don't miss to have a look at the choir. This is the resting place of Charles the Bold and his daughter Mary of Burgundy, whose tombs are masterpieces of late gothic style.
Discover the fascinating history of chocolate at the Choco-Story Museum
Since I grew up in Switzerland, I'm a real chocolate addict. Still, the fun thing is that I never really thought about how chocolate is made and what its origins are.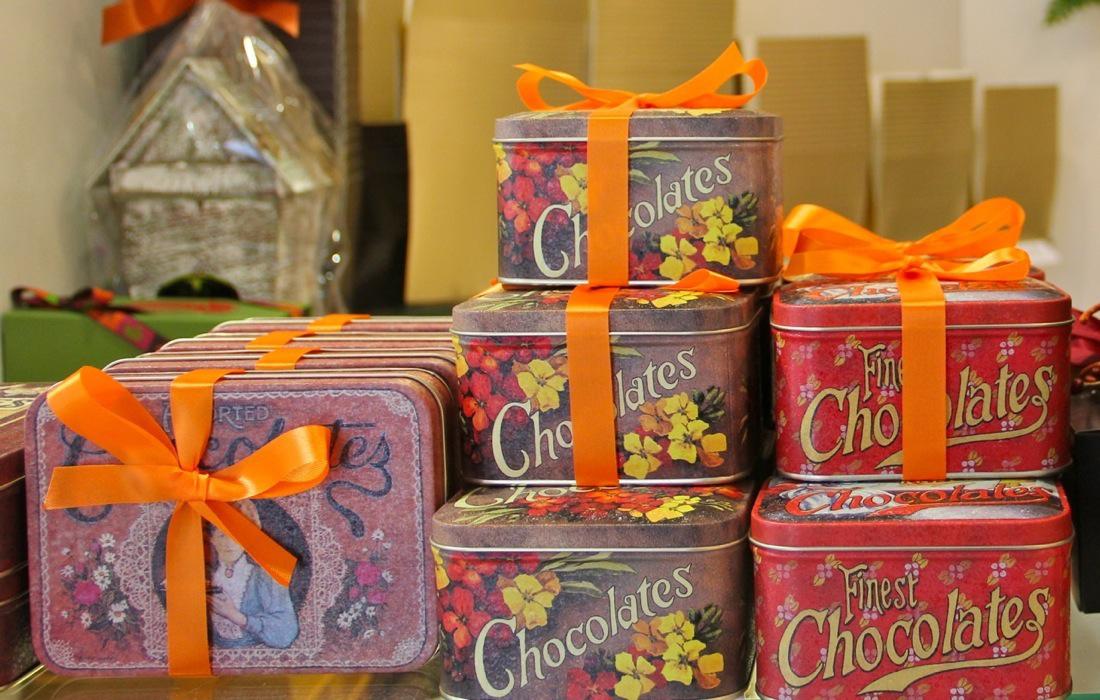 I stumbled into the Choco-Story Museum totally by chance and liked it a lot. While visiting the museum, I learned about the fascinating history of chocolate across the centuries. Who knew that the cocoa beans come from Mexico? And that until the end of the 18th century, chocolate was consumed only as a beverage?
If you're visiting Bruges with kids, they'll surely have fun at the chocolate museum, where there are activities tailored for children. Furthermore, the visit ends with a demonstration of how chocolate is currently made. And the possibility to taste some of the products.
Get lost in the cobblestone alleys
I have very little sense of directions; therefore, I get lost all the time, even close to home. Over time, though, I somehow developed the art of getting lost, especially when visiting a city. It's while aimlessly wandering that I discovered charming areas in many European cities and towns.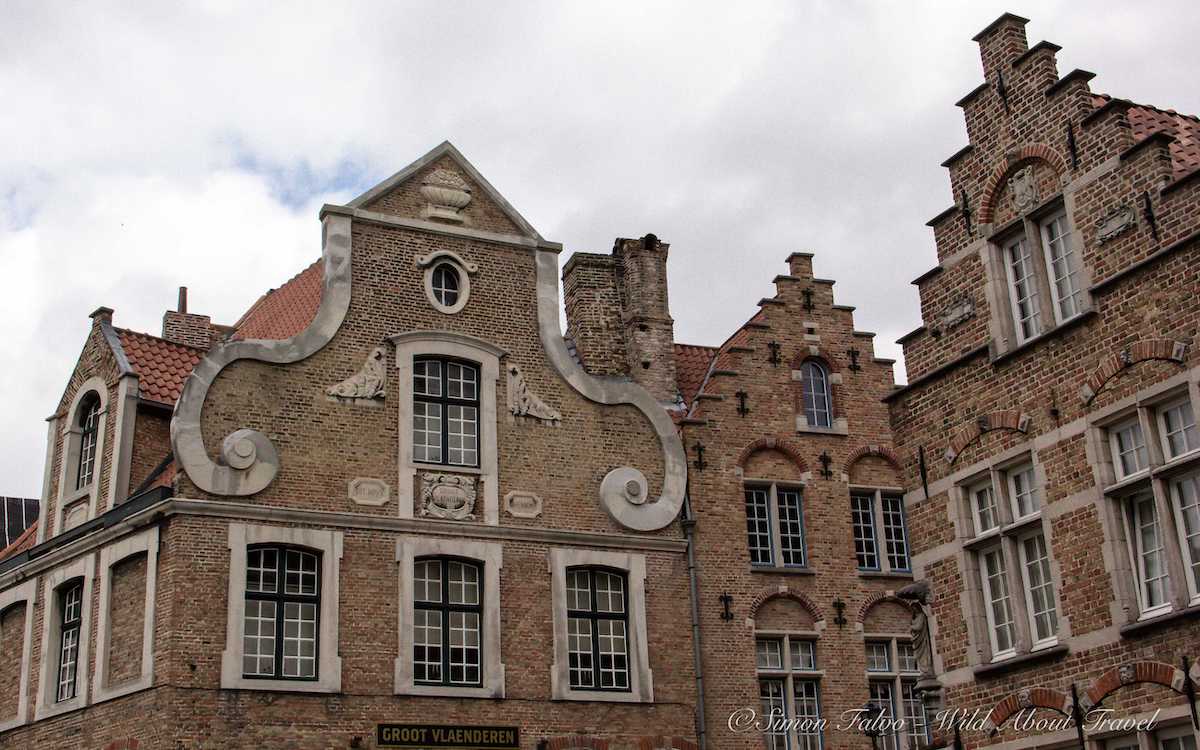 Tired of the crowds, after a little while I decided to wander along the tiny cobblestone streets. Only a few steps away and I felt like in a different world: quiet and silent. The sky was stormy and the color of lead, throwing a beautiful light both warm and cold surrounding the houses built in yellow and red bricks.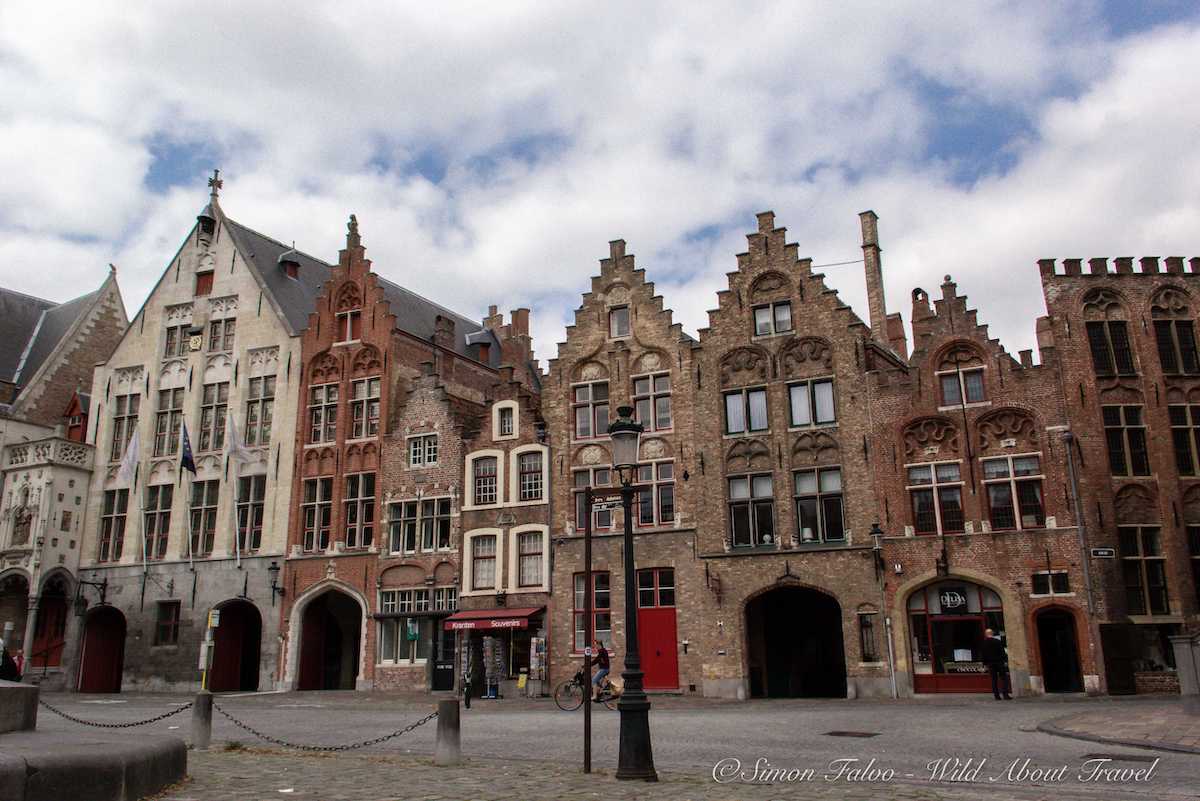 I continued my walking tour of Bruges and reached Van Eyck Square, with the big statue rendering homage to the great Flemish painter, considered one of the most important artists of the 15th Century from Northern Europe. I stopped here for a while, admiring what is one of my favorite corners of Bruges, trying to retrace with my mind some of the most beautiful paintings by Jan Van Eyck.
How to plan your trip to Bruges
Best time to visit Bruges
Although Bruges is an all-year-round destination, the best time to visit Bruges is in the shoulder season: Spring and Autumn. July and August are certainly warmer, but you'll find the city jam-packed with tourists. If this is the only time, you get to spend 2 days in Bruges, get ready for the crowds. In Summer, if possible, avoid at least weekends since Bruges receives lots of visitors on day trips or weekend breaks.
Getting to Bruges
Brussels is the closest airport, and it's very well served by low-cost airlines from all over Europe. Furthermore, you can easily access Brussels when traveling from overseas.
You can get to Bruges from Brussels by train. There's a regular service, and the journey takes less than 1 hour.
Getting around in Bruges
Bruges historic center is small, and you can walk everywhere, especially if you're visiting Bruges in 2 days. Wear comfortable shoes and get ready to explore the city on foot.
Where to stay in Bruges
At the B&B Exclusive Guesthouse Bonifacius, you'll feel like staying at a place coming from a fairy tale. Check out the prices of one of the most charming and romantic guesthouses in Bruges.
B&B Alphabet – Luxury Guesthouse and Art Gallery is beautifully decorated and has a unique character.
Huis' T Schaep is set in a building from the 17th century. It features antique furniture and is one of the top-rated guesthouses in Bruges.
The Pand Hotel – Small Luxury Hotels of the World is the perfect choice for a romantic getaway in Bruges. Check out the prices offseason since they're very affordable.
Exclusive Suites The Secret Garden is a little gem. You'll love the tasteful décor, the garden, and the Summer outdoor swimming pool.
Check out more hotels in Bruges at the best prices.
——-
Note: A big thank you goes to Visit Flanders and their kind invitation to discover a corner of Europe I hadn't visited yet. As always, opinions are my own.
Some posts on this site contain affiliate links. This means that if you book or buy something through one of these links, I may earn a small commission (at no extra cost to you!).
Pin for later!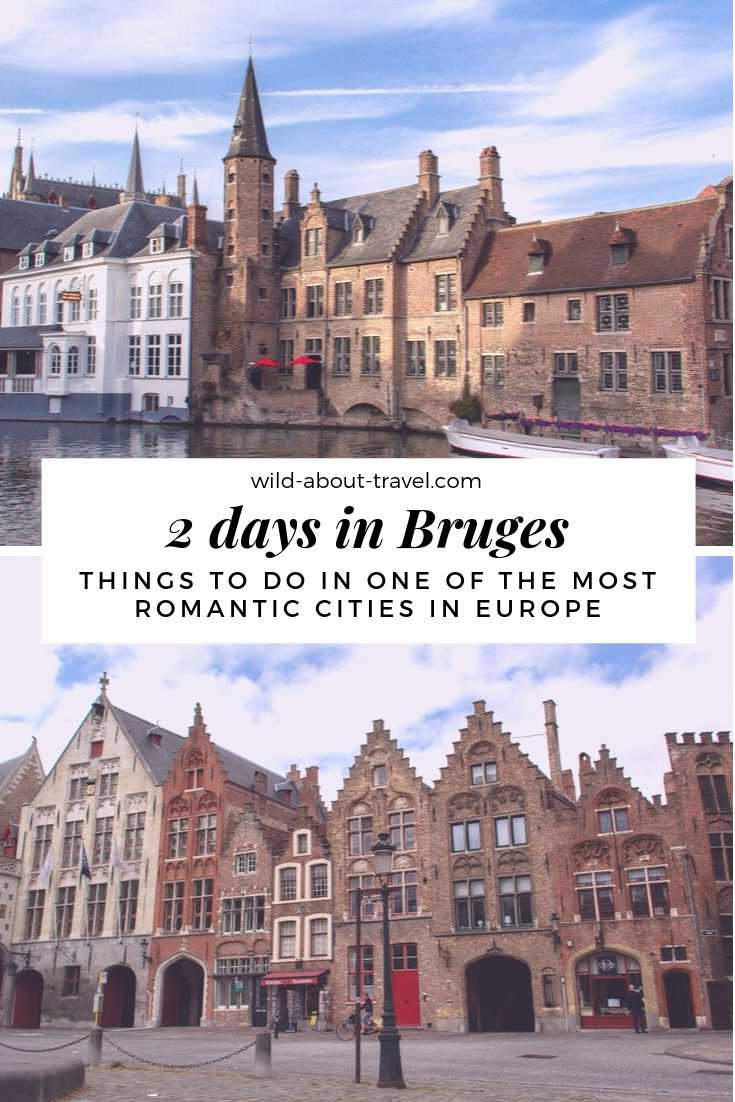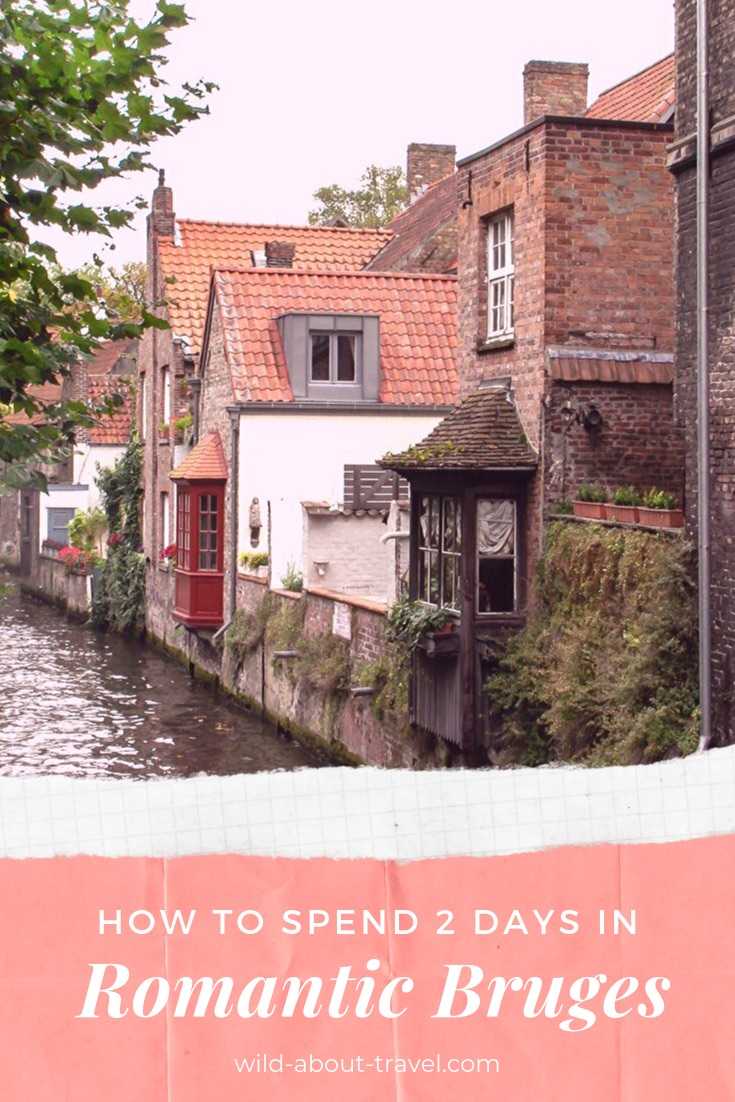 Travel addict and passionate about photography, Simon Falvo started Wild About Travel back in 2009. Leveraging her strong PR background, she developed an extensive knowledge of Digital Communications and Social Media Marketing. Besides travel writing Simon holds workshops and trainings, she collaborated with tourism boards for digital marketing campaigns and participated as a speaker at several events.