Last updated on November 21st, 2021
A popular beach resort on the Adriatic sea, there's much more to Rimini holidays than just sunbathing. From Rimini old town to charming villages nearby, from a day hiking or biking to a cooking class, there are many things to do in Rimini, besides lying on the beach.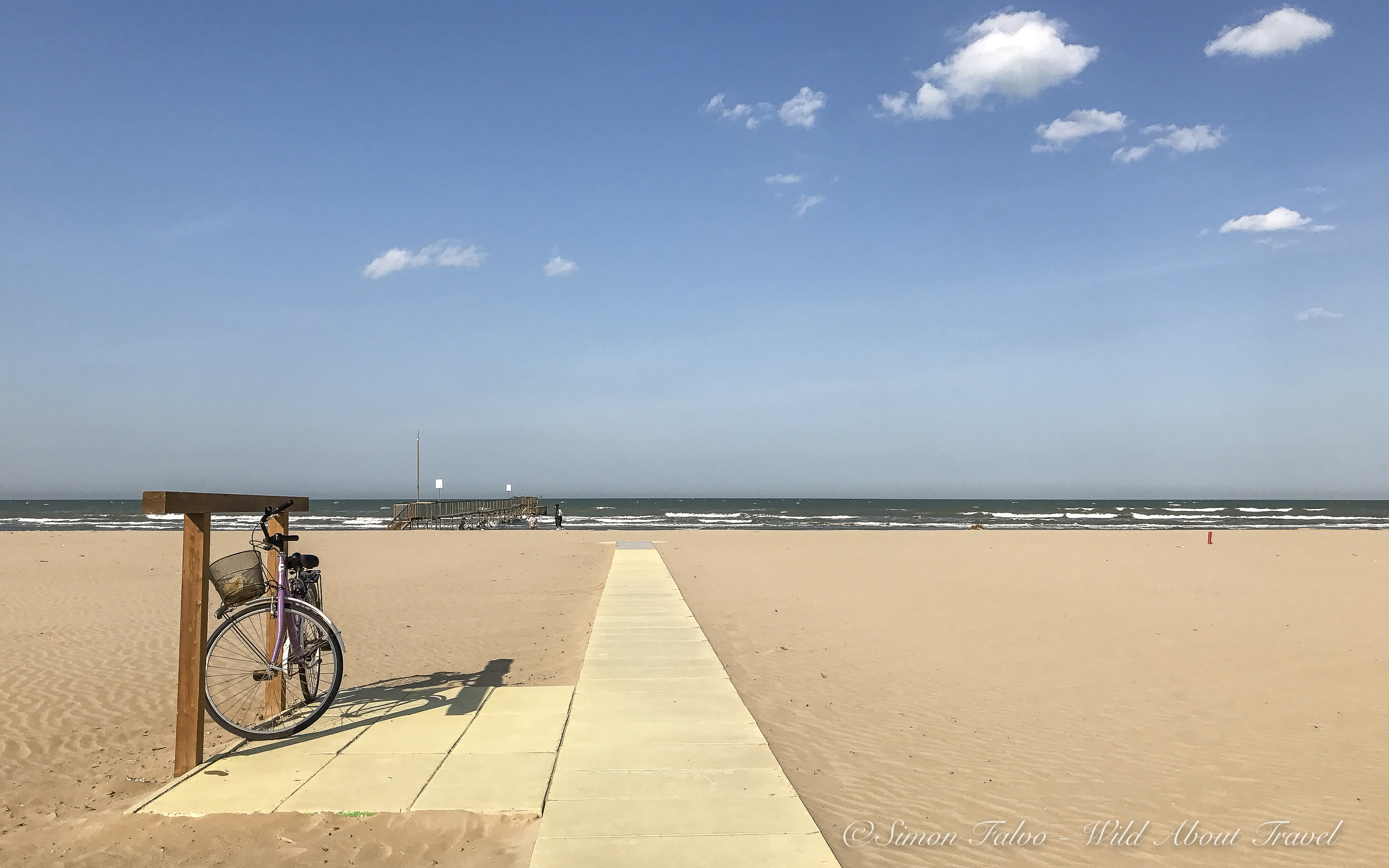 I used to go on holidays in Rimini and nearby Riccione as a kid and a teenager with my dad. Rimini was a famous beach resort, particularly loved by tourists from Northern Europe. They used to drive across Europe as early as April and as late as October, searching for a bit of warmth. They loved the hospitality typical of the Emilia Romagna region and the excellent local food.
Rimini had it all. Prices were affordable (and still are). The vast sandy beaches and the shallow water of the sea made Rimini a fantastic spot for families with small children. Furthermore, Rimini nightlife attracted young people like a magnet.
However, tourism changed dramatically over the past 30 years as many tourists want to experiences different things during their holiday.
Notwithstanding, Rimini managed to adapt, broadening its appeal to people with different tastes and interests.
As I discovered, Rimini is indeed much more than just a beach resort. The backcountry, with its rolling hills, the vineyards, and the charming hilltop towns, is beautiful. Also, there are many options for active travel or day tours from Rimini. And you can find things to do in Rimini even when it rains.
First things first: Where is Rimini?
Rimini is a city on the Adriatic coastline, about 120 km (75 mi) from Bologna, the capital city of the Emilia-Romagna region, and 215 km (134 mi) south of Venice. San Marino, one of the smallest countries in the world, is easy to reach and just 20 km (12 mi) from Rimini.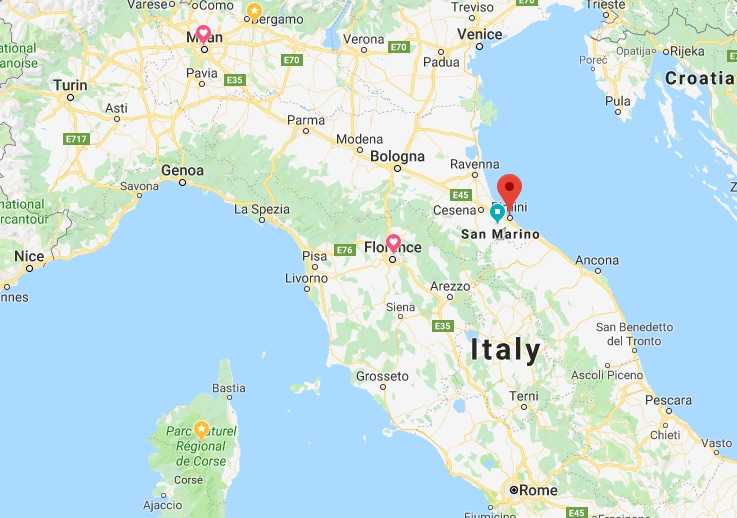 The Apennine mountain range is on the backdrop, starting with gentle hills and progressively gaining elevation.
Thanks to its geographic location, Rimini is an excellent destination to enjoy various landscapes: wide sandy beaches, undulating hills, and mountains. As a result, more and more people visit Rimini not only for the beaches but also as a base to explore the surroundings.
Best things to do in Rimini, aside from going to the beach
If you get tired of the beach, there are plenty of things to do in Rimini and its surroundings.
1. Visit the old town
Rimini historical center is well worth spending a few hours, and as you stroll around, you'll discover a different and more fascinating side of the city.
The main attractions include the landmarks of the Roman era, beautiful buildings from the Renaissance, and the colorful Borgo S. Giuliano, once the fishermen's hamlet.
Old town Rimini attractions not to miss:
The Tiberius Bridge (Ponte di Tiberio) dates back to the Roman times. The Tiberius Bridge is one of the most remarkable Roman bridges in Italy and a masterpiece of engineering. The construction started in 14 A.D. under emperor Augustus and ended in 21 A.D. under Tiberius' rule. With its elegant five arches, the bridge spans over 70 meters and connects the center to the picturesque Borgo San Giuliano.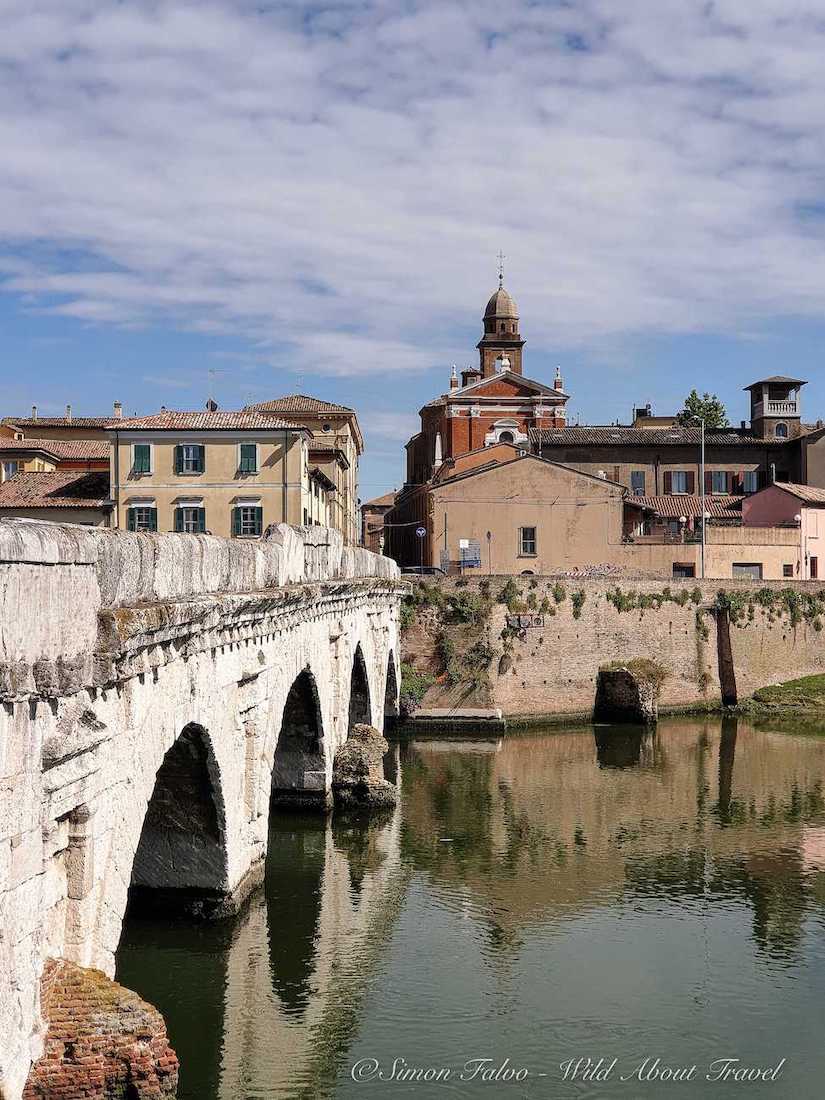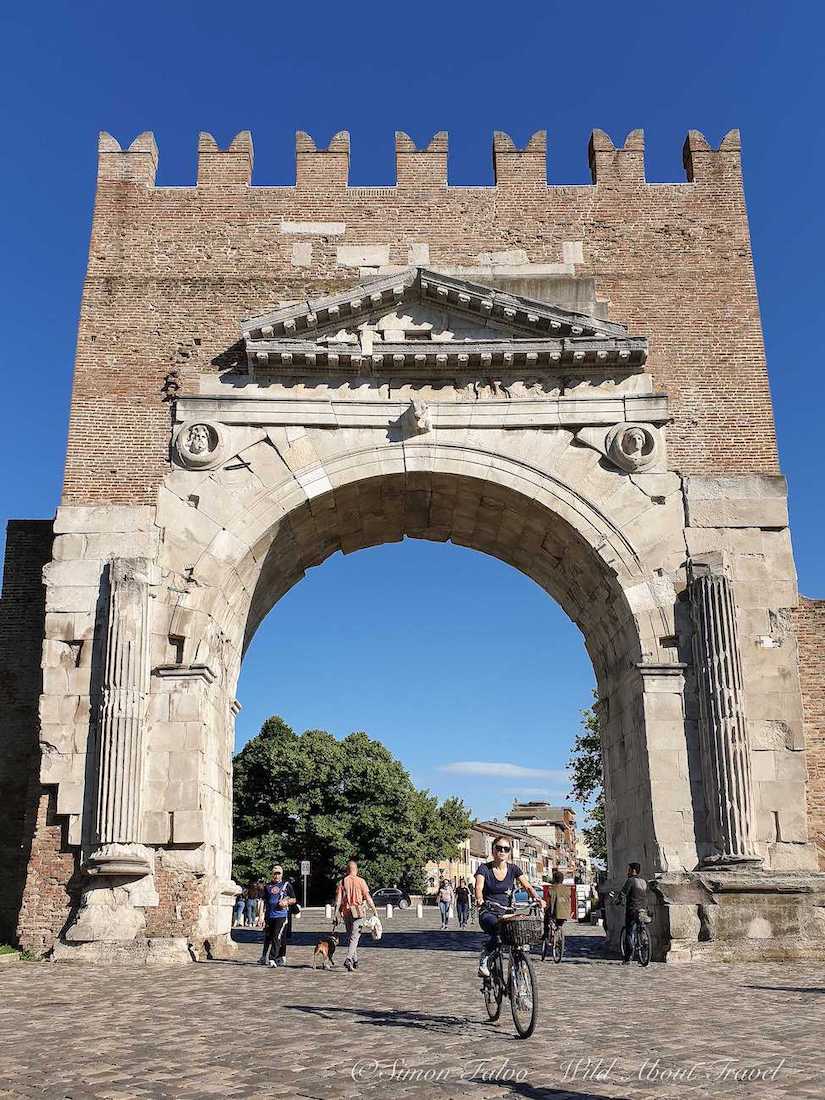 Augustus Arch (Arco di Augusto): Emperor Augustus commissioned the 17m high triumphal arch in 27 B.C. It's the oldest Roman arch in Northern Italy and once marked the ending of the ancient Via Flaminia, which started in Rome and ended in Rimini.
Malatesta Temple (Tempio Malatestiano): initially built in the 13th century as a Gothic-style church dedicated to St. Francis, the Malatesta Temple underwent a complete transformation in the mid 15th century. In 1450 Sigismondo Malatesta, the lord of Rimini, hired the Florentine architect Leon Battista Alberti, one of the fathers of the Renaissance, to redesign the church. Although the building remained uncompleted when Sigismondo Malatesta's popularity faded, the Malatesta Temple is a masterpiece of early Renaissance architecture.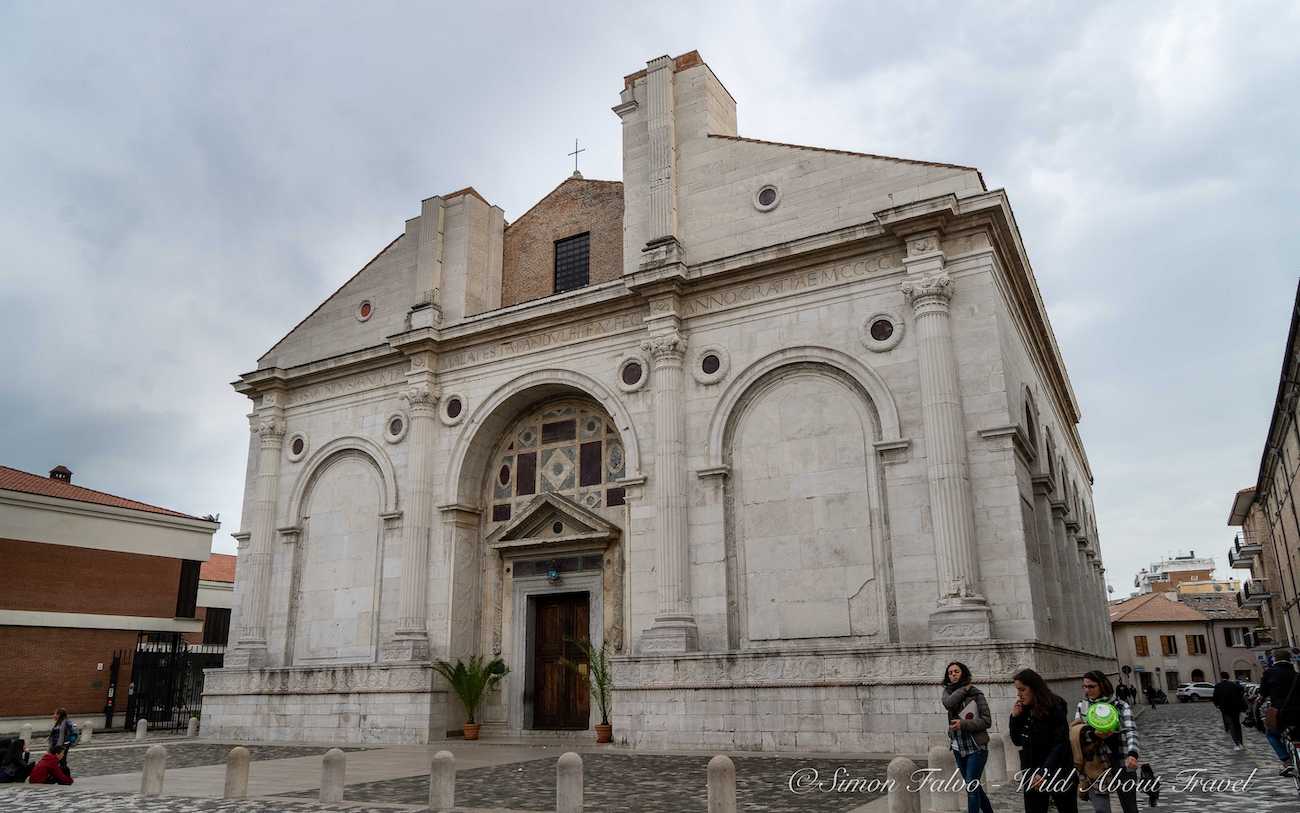 The picturesque Borgo San Giuliano is one of Rimini's oldest districts, dating back to the 11th century. Once a poor fishermen's neighborhood, today Borgo San Giuliano is beautifully restored and a charming area to stroll along the cobblestone alleys. Wandering across Borgo San Giuliano is indeed pure bliss. It's hard not to love the pastel-colored houses, and the beautiful murals, most of which are dedicated to Italian film director Federico Fellini who was born in Rimini.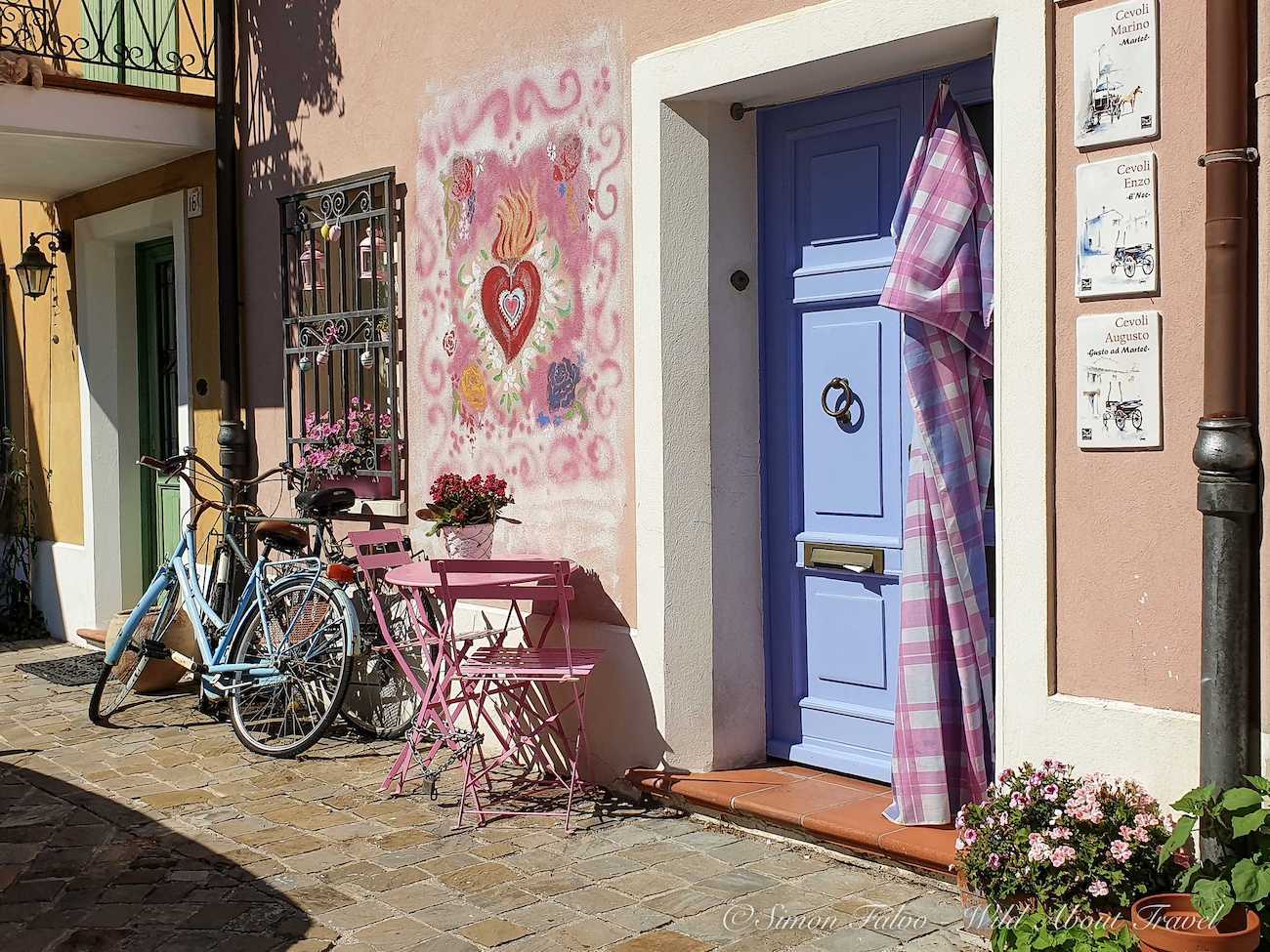 You can easily explore Rimini old town on your own, although a guided tour will provide you with a lot of insights into the city's history and traditions.
Here are a few Rimini guided tours that might interest you:
2. Experience an e-bike tour in Rimini or around

If you want to be active, but are not in great shape, an electric bike tour is an excellent option. There are several itineraries, from a leisurely ride along the flat coastline to pedaling up and down the green hills right behind Rimini. You can also decide to visit one of the pretty towns nearby, like Cesenatico and its charming old port, and stroll on a bike.
3. Take a cooking class
In case you don't know it yet, the Emilia Romagna region is food heaven. We're talking about the Italian area where they make Parma ham, Parmigiano-Reggiano, traditional balsamic vinegar, to mention only a few local food specialties.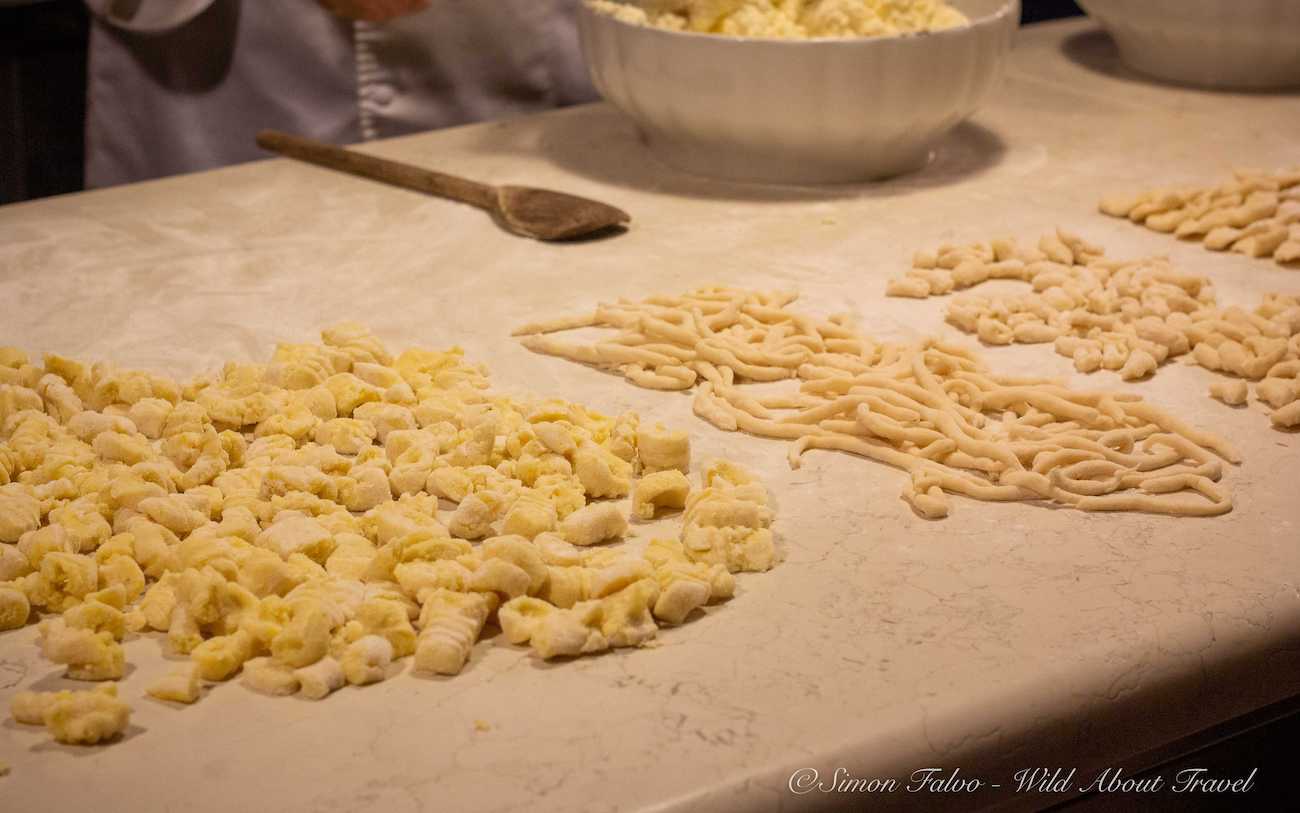 Emilia Romagna is also the realm of homemade pasta. Simple, with filling, small, large, and showing a lot of different shapes, every town has its unique recipe. While the ingredients are simple, like in most Italian traditional dishes, cooking is a matter of experience.

I took several cooking classes in Emilia Romagna, to learn how to make homemade pasta, and other recipes. Every time I am fascinated by the expertise of the local women, who seem to do everything without effort. I can't say I have the same manual skills, to be honest, even though I am Italian. But over time, I'm bound to improve.

There are several cooking classes options you can choose from. It all depends if you're keener to learn the secrets of homemade pasta, or if you'd rather amaze friends and family preparing pizza and tiramisu once back home.

Pasta & Tiramisu Masterclass at a Cesarina's home with tasting in Rimini
Private Market tour and cooking class with lunch or dinner in Rimini
Cooking Class with Lunch or Dinner in Rimini
4. Visit San Marino, one of the world smallest country
In case you never heard about it, San Marino is a microstate within the Italian peninsula, somehow like the Vatican. San Marino is one of the world's smallest countries and a pretty one.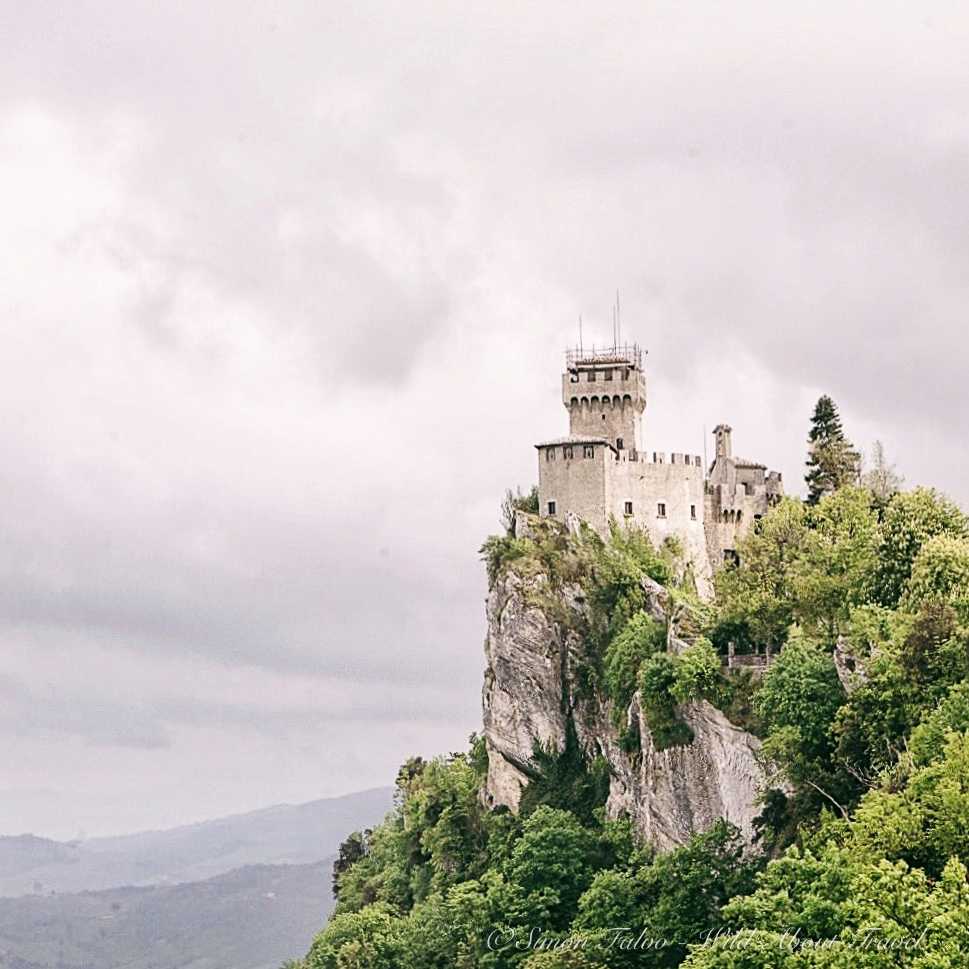 A tiny enclave into the Emilia Romagna region, the San Marino Republic is perched atop a steep hill of the Apennine mountain range. Small as it is, San Marino became a UNESCO World Heritage Site in 2008, and this small country is one of the most popular day trips from Rimini.

A visit to San Marino is one of the best things to do in Rimini, and you should, without a doubt, take a day off from the beach to get there. Indeed, the small Republic is near and an easy day trip from Rimini. Although you can easily get there on your own, it's such a fascinating destination that you may wish to take a guided tour. That way, you would learn more about this unique tiny country and explore it from a different perspective. Furthermore, San Marino is a fantastic destination if you like active travel and hiking.

Here are a few San Marino guided tours you may want to check:

Private Tour of San Marino: UNESCO World Heritage Site
Republic of San Marino – Guided Tour of the UNESCO Historic Center
San Marino – eBike excursion 2 hours with a guide
Trekking on the Path of the Rock of Mount Titano – Republic of San Marino
5. Take a day trip to Ravenna and discover its breathtaking mosaics
It only takes one hour by train to reach Ravenna, one of the most beautiful cities in northern Italy. The historical center is lovely, with more bikes than cars, but what sets Ravenna apart is the magnificent Byzantine mosaics. In its way, Ravenna is indeed as unique as Venice since no place in the world can boast such heritage from the 5th and 6th centuries.
Eight buildings from the late Roman to early Byzantine periods form Ravenna UNESCO World Heritage Site. You can undoubtedly visit many of them on a day trip from Rimini since most are close to one another. However, if you only want to focus on a couple of them, the Basilica of San Vitale and the Galla Placida Mausoleum are a must-see in Ravenna.

The mosaics of Ravenna are so fascinating that I strongly recommend taking a guided tour to learn all the secrets behind these unique art masterpieces.

Private Walking Tour: Discover Ravenna's Stunning Mosaics
Ravenna and its Enchanting Mosaics Full-day Tour
Ravenna, the most beautiful mosaics in the city of Paradise
6. Explore the charming small towns of Emilia Romagna
Italy never fails to surprise me, and I recently discovered a few delightful hamlets in Emilia Romagna I had never heard of. Some of them are in Rimini's backyard, as I found out when walking the Way of St. Francis from Rimini to La Verna.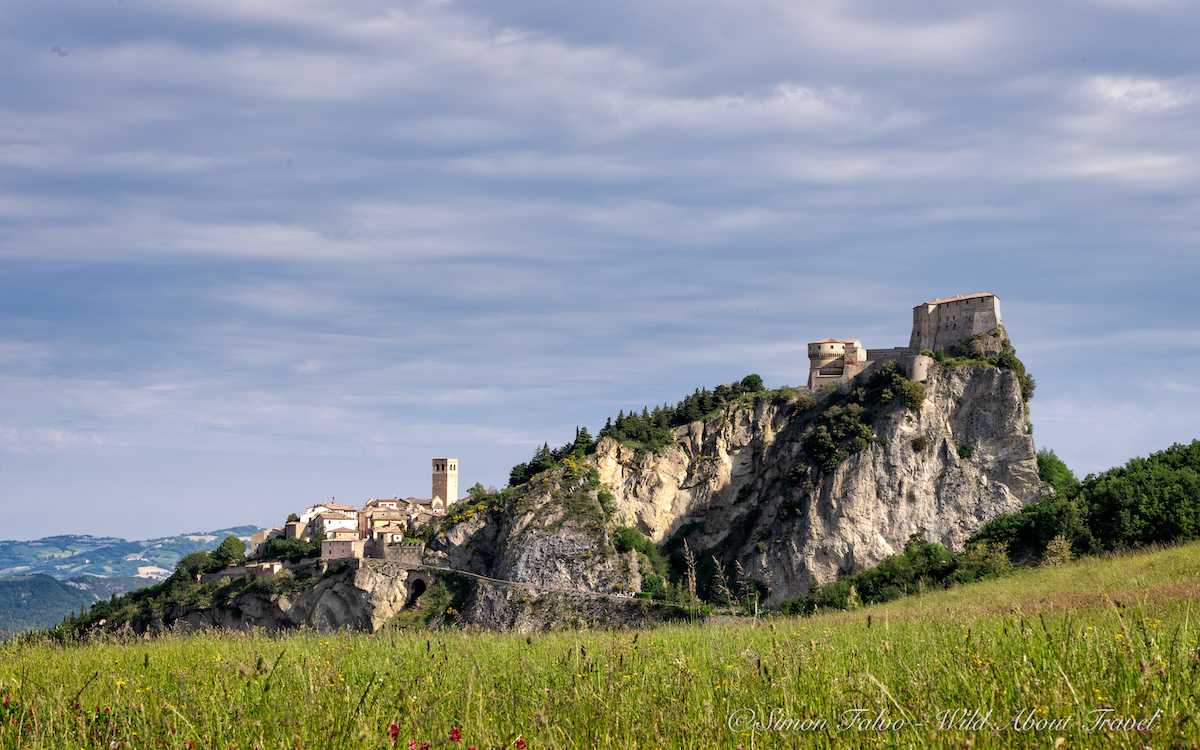 San Leo is a delightful town about one hour from Rimini, and the hilltop hamlet of Verucchio is even closer. Colorful Brishigella, surrounded by green rolling hills covered with vineyards, is charming. And there are more. You can find inspiration to spice up your Rimini holidays in an article I recently wrote about some of the most enchanting towns of the Emilia Romagna region.

An interesting day tour from Rimini allows you to visit both Santarcangelo di Romagna and Verucchio. To visit other towns like lovely Comacchio you're better off hiring a car since they're not easy to reach by public transportation.
7. Have fun in the hills on the back of Rimini
Thanks to its geographical location, Rimini is a fantastic destination for fun or active days on the nearby hills and mountains.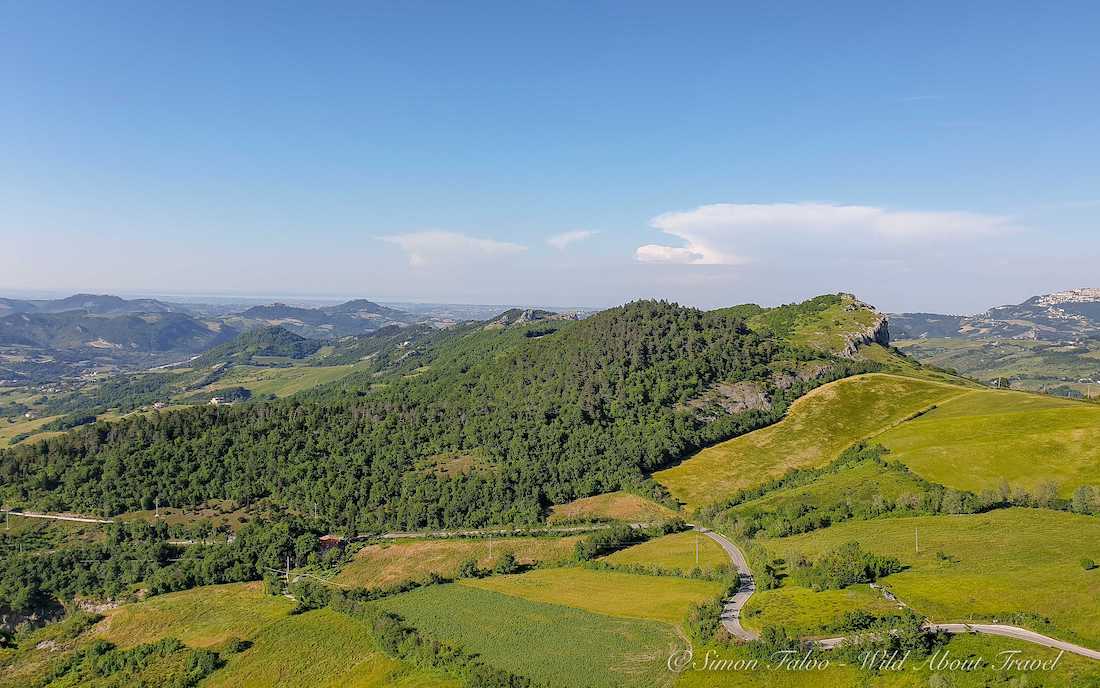 You can take lovely day hikes, or go mountain biking in the woods. If the ups and downs of the terrain worry you, there's the option to stroll riding an electric bike.

As you can see, there are plenty of things to do in Rimini, and in the surroundings. All in all, it doesn't take much to make your Rimini holidays memorable.

_____

Note: This post is part of a recent campaign developed with iambassador and Emilia Romagna Turismo to promote slow travel in the region, and the beautiful towns and landscapes near Rimini. As always, Wild About Travel retains all editorial control.

This post contains affiliate links to carefully selected products or services. Should you buy any of them, I earn a small commission at no extra cost for you.

Pin for later!