Last updated on September 27th, 2021
Are you wondering how Venice in November looks like? Gorgeous! November is one of the best time to visit Venice. And if you're lucky enough to have a foggy day, you'll discover all its magic.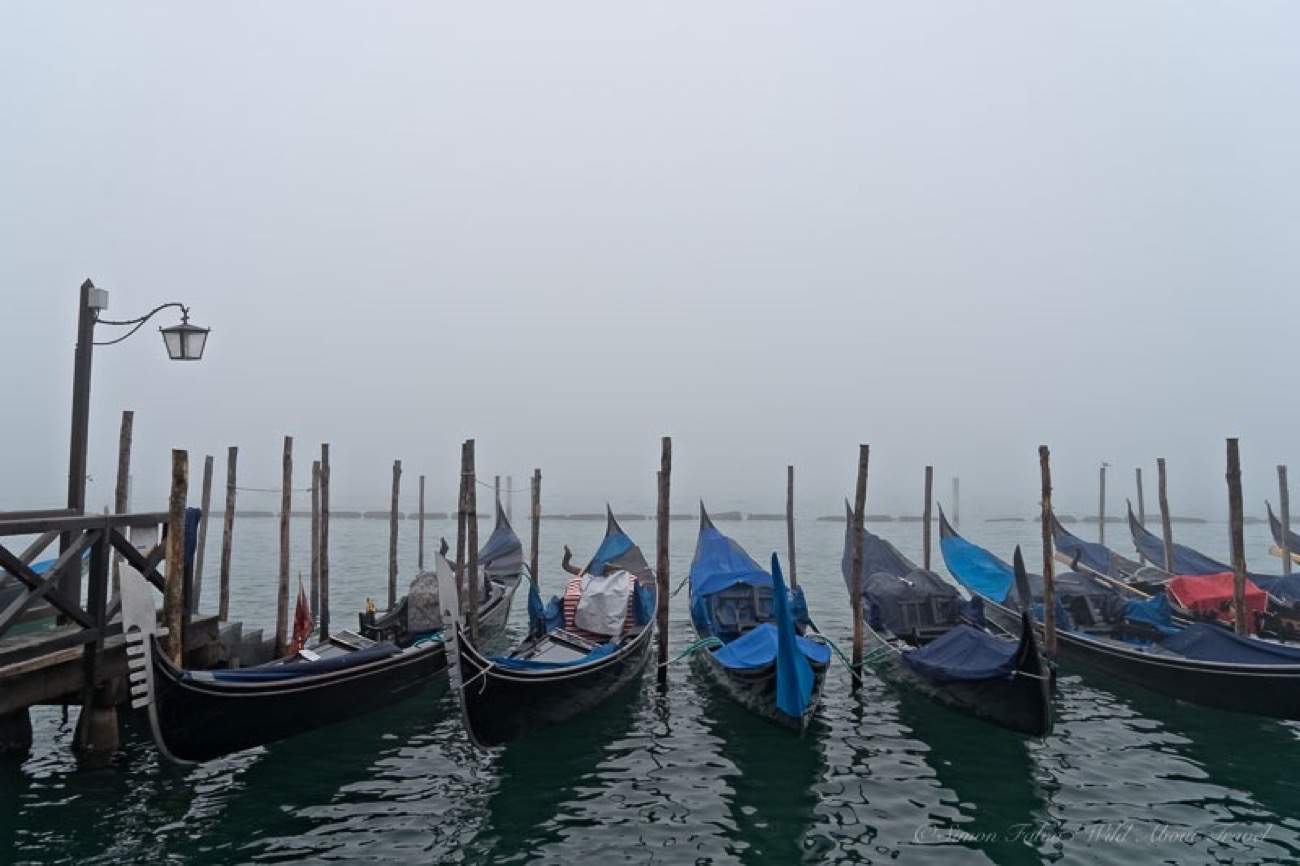 "How about a weekend in Venice?"
I immediately accepted because I love spending time with Stefano, my travel pal in the few occasions when I'm not traveling solo. The "where" and the time of the year were not relevant. I was happy to enjoy a couple of days with my best friend.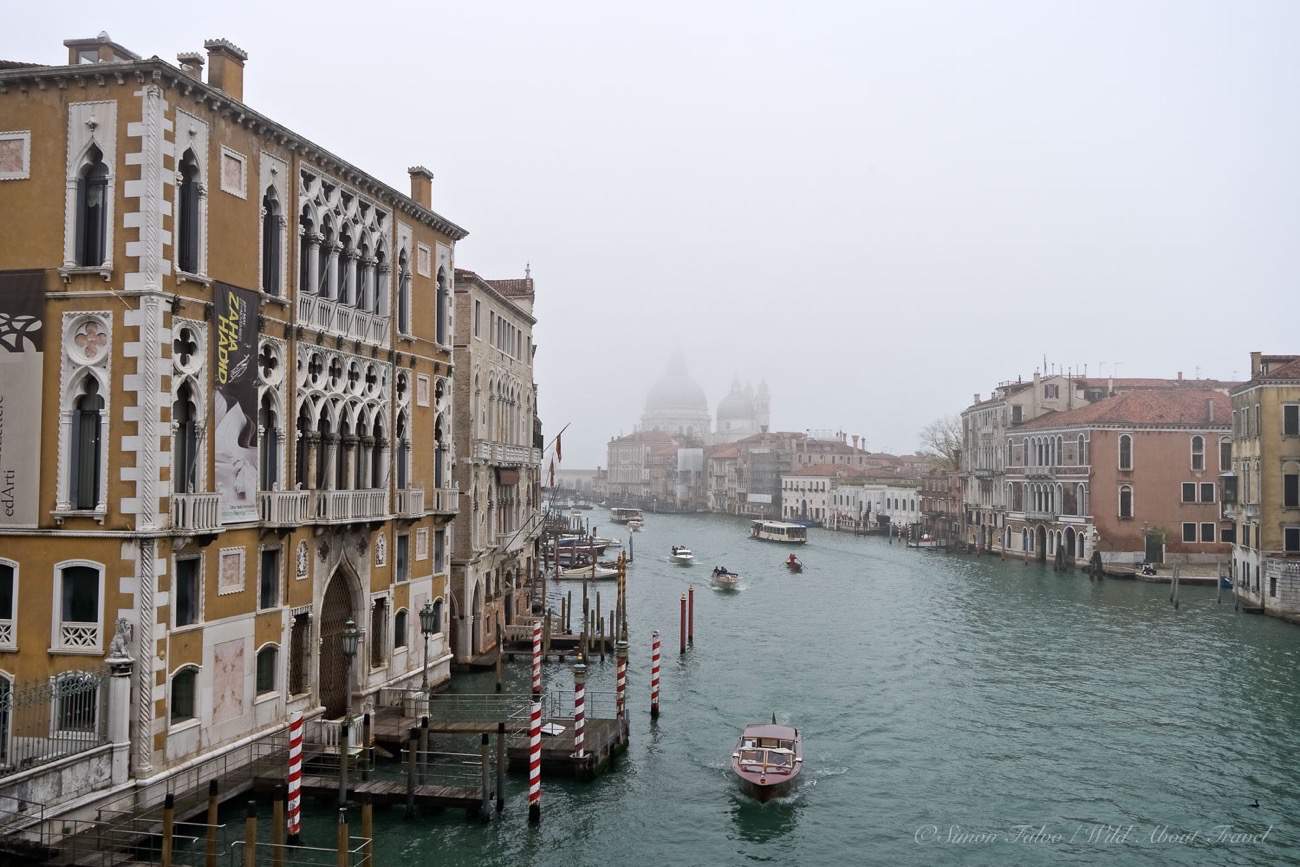 To tell you the truth, though, at first I felt a little puzzled at the idea of spending a weekend in Venice in November. I always thought that November is possibly the worst month to travel (at least in the Northern hemisphere). Days are short, the weather is often wet and humid, and I overall wish I was a bear, going to hibernation and waking up at the first signs of Spring. Thinking of strolling along Venice canals as winter approached, I feared I would feel chilled to the bone and oppressed by a dull sky.
I was so wrong.
Shrouded in fog, Venice in November is incredibly romantic
I soon found out that without the crowds and shrouded in fog, Venice in November is magical and more charming than under a bright blue sky. And I thought it was incredibly romantic.
Too often I chose a destination based on weather conditions, and only recently I realized how much I have been missing in the past years. Certainly, given the choice, no one would visit a country during the monsoon season, or risk getting caught in a typhoon or a tornado.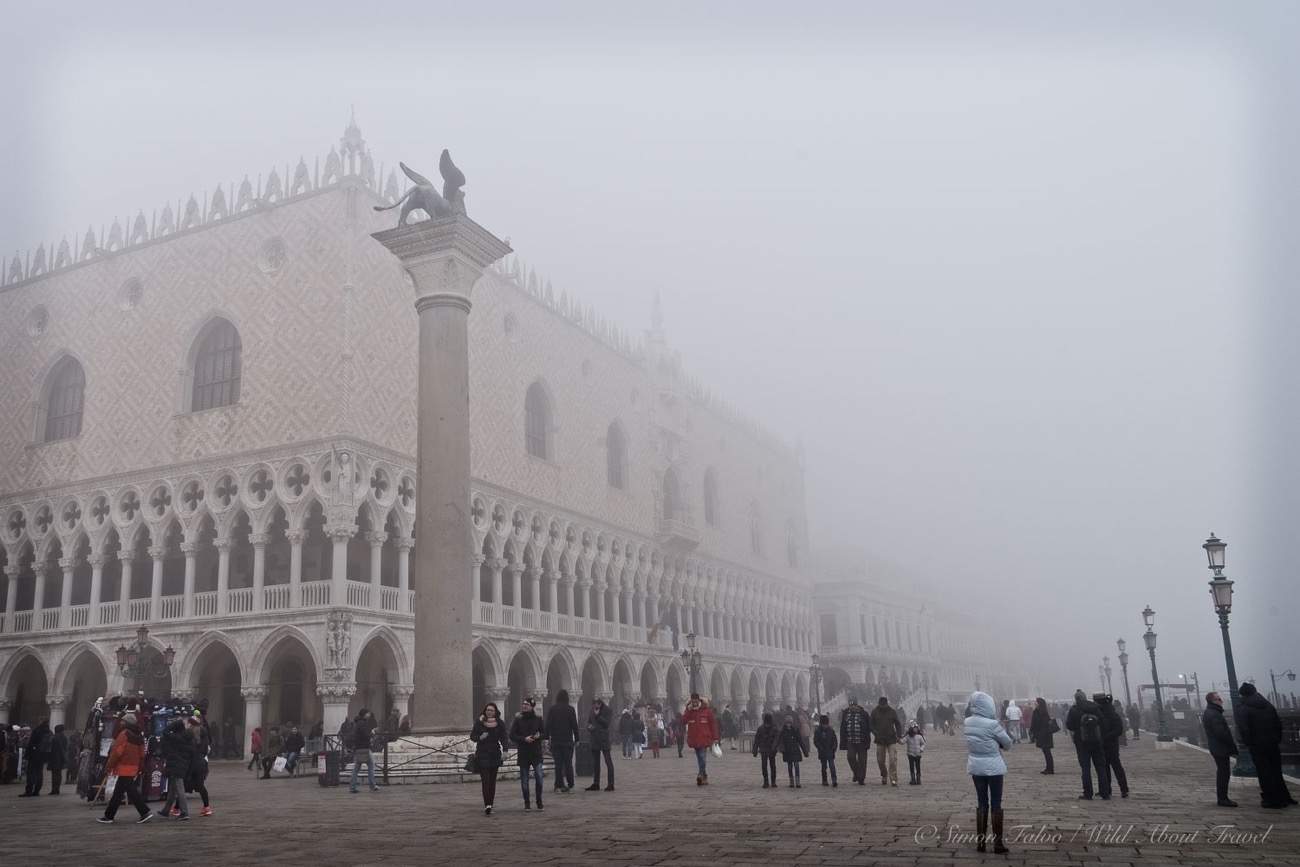 Still, some countries are blessed with more sunny and warm days than others, and since I live in Italy and benefit from the Mediterranean climate, I try to avoid as much as possible rainy and gloomy days.
That's what prevented me for years to visit Scotland and Northern Ireland. For the same reason, I wouldn't have spontaneously envisaged a weekend in Venice in November, during what I consider the worst month of the year.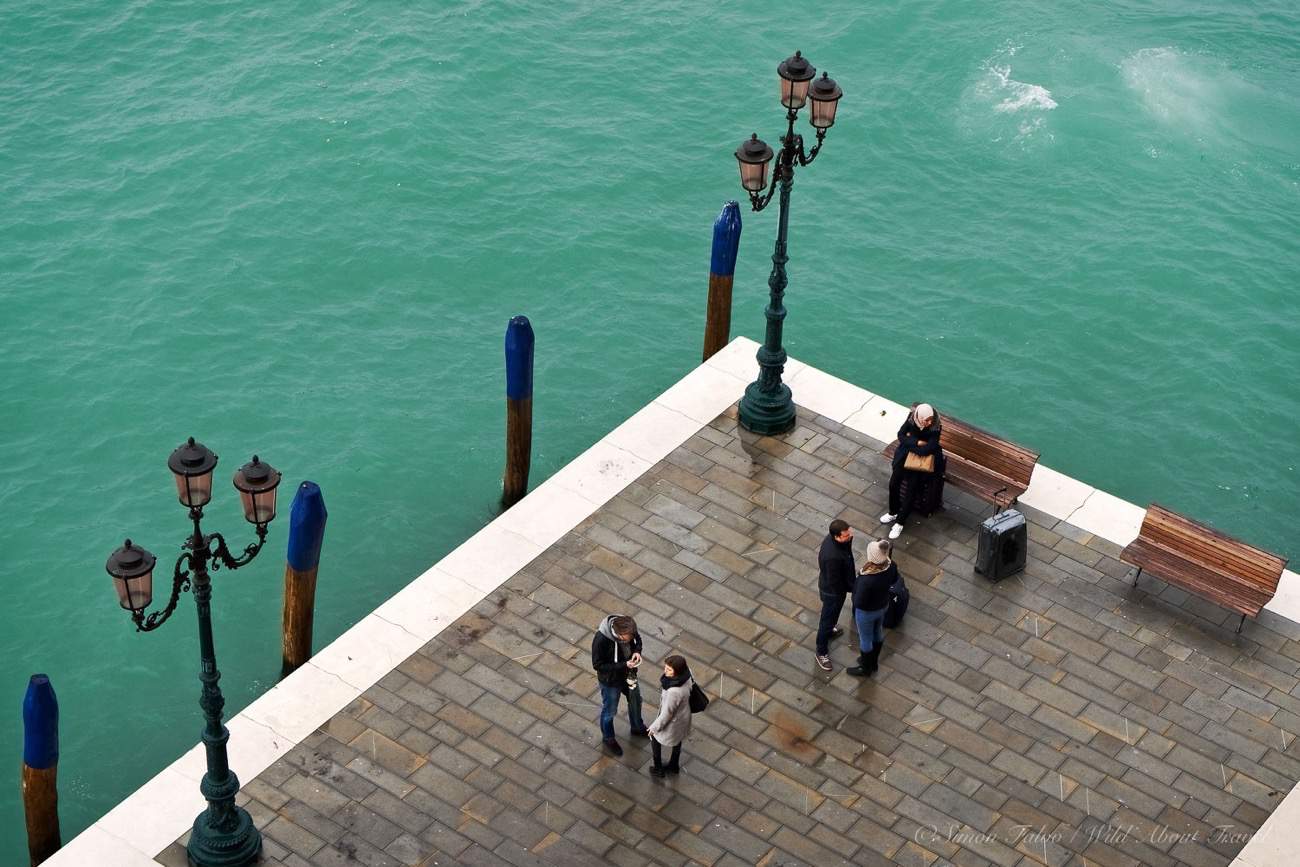 After the recent long distance hike along the West Highland Way in Scotland and a fantastic road trip in Northern Ireland, I had to admit that I was biased and that some places get even more beautiful under certain weather conditions.
That was my first thought when we woke up on a Saturday morning at the Giudecca and saw Venice shrouded in fog. The main island was barely visible, and the pretty lampposts, with their pink-purple glass, stood amid the thick mist like pastel-colored brush strokes.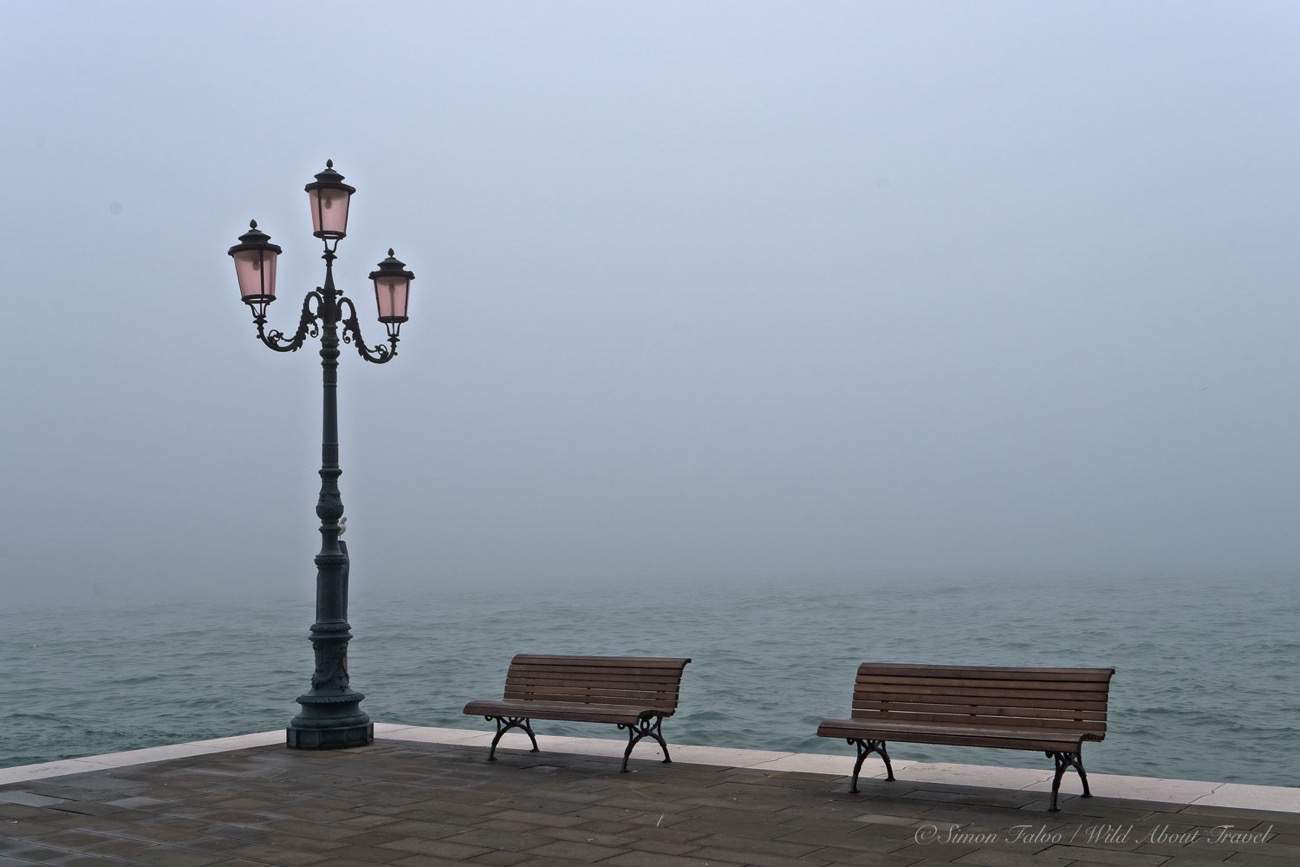 We went for a walk along the deserted streets of La Giudecca, listening to the muffled sound of the sea and the cries of the seagulls.
With fewer tourists, Venice in November is all the most enjoyable
After a short ferry ride to San Marco, we started to roam around, enchanted by the sight of the fog almost swallowing up the top of San Marco's tower bell and wrapping the famous lion, which looked like floating in the sky. Along the Grand Canal, the exquisitely carved old buildings looked softened, their colors more pastel, the shapes delicately dissolving in the white mist.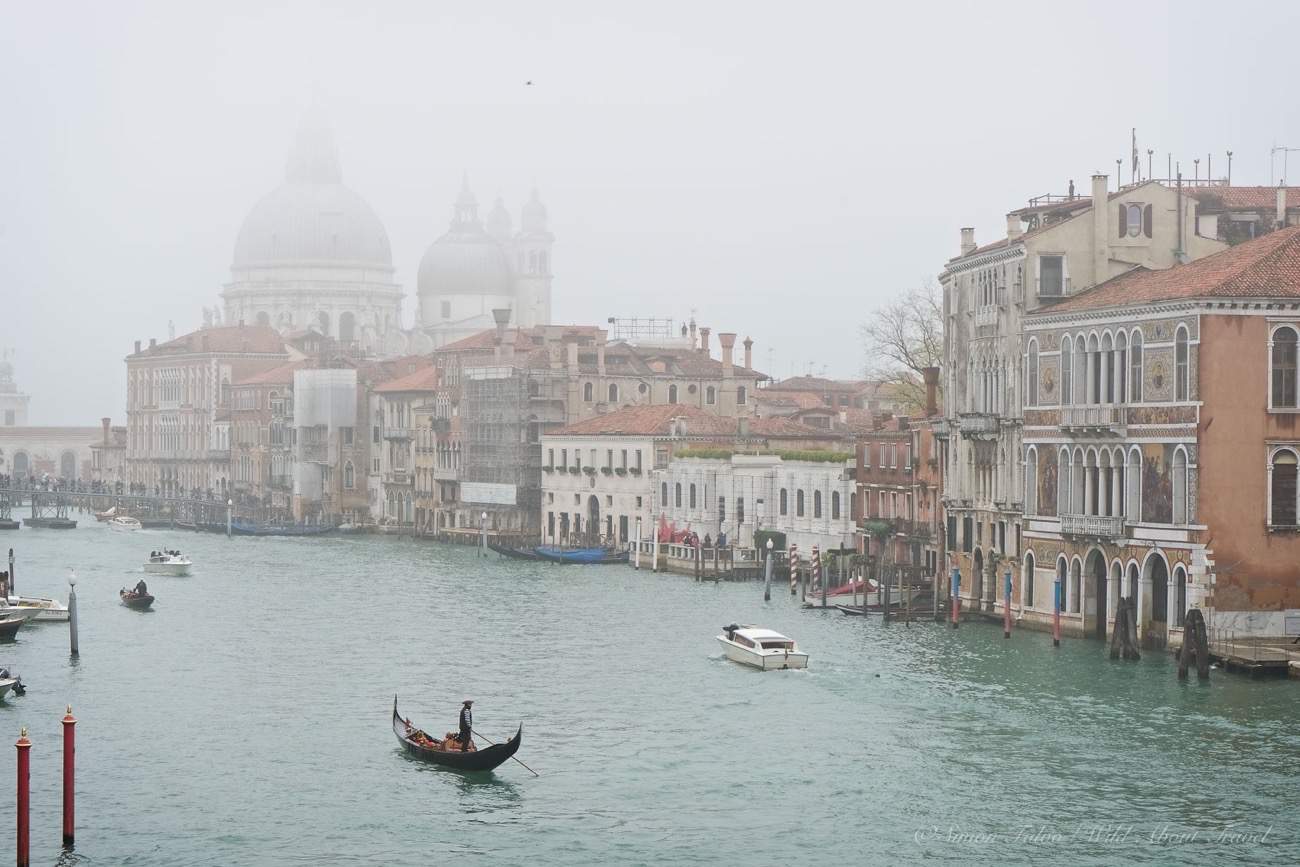 Away from the landmarks and most famous spots, the atmosphere became even more suggestive. Beautiful squares (called "Campi" or "Campielli") without a soul, gondolas silently appearing and slowly gliding on the emerald water of the narrow canals, a few locals greeting each other in the streets in Venetian dialect.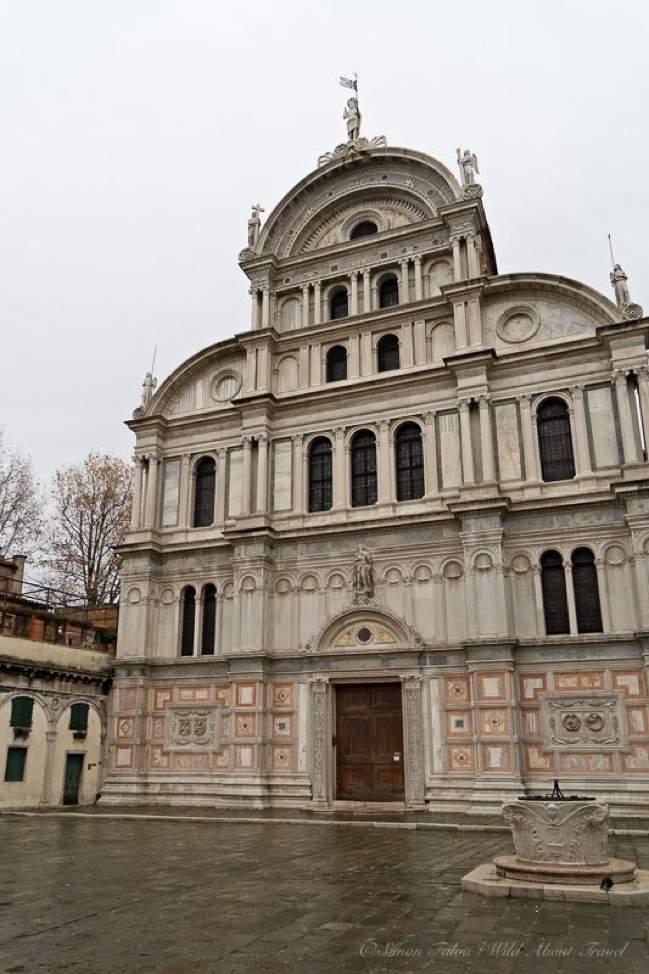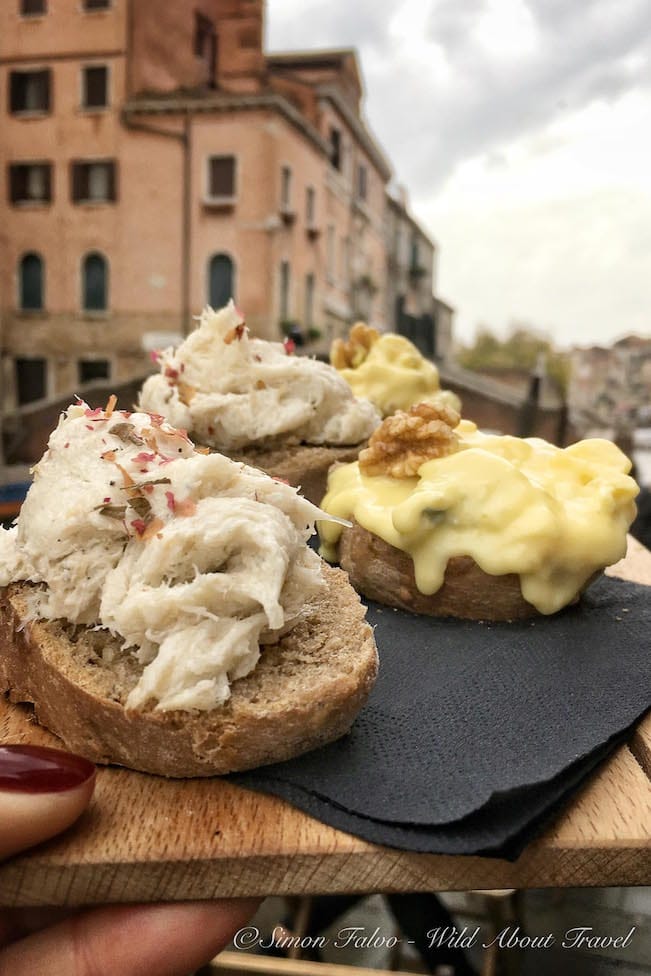 We stopped for a light lunch in Cannareggio, sipping a glass of wine and savoring a few cicchetti, small bites similar to tapas in Spain. Farther from the main Venice attractions and off-season, we sat with a few locals enjoying the peaceful atmosphere.
At sunset, Venice became a kaleidoscope of colors.
Later in the afternoon, the fog dissolved, and as the sun began to set the sky turned golden and then orange, wrapping the houses with a wonderful warm light, their colors more vivid. The dim glow of the lampposts added even more charm, and I imagined people wrapped in a large black cape, wearing the typical spiked Venetian hat, silently and suddenly appearing from a corner, like mysterious characters.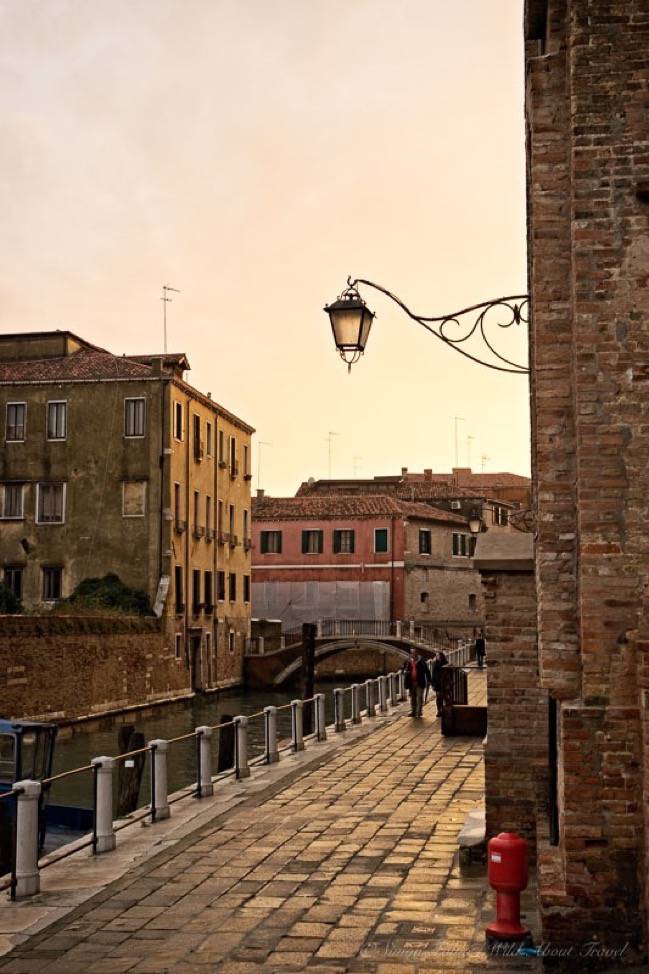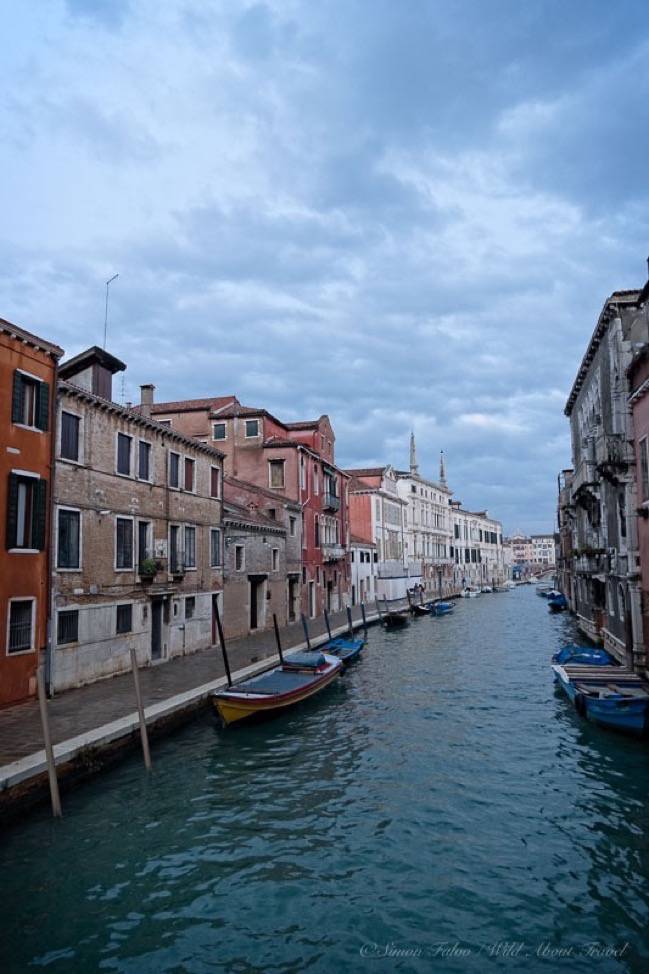 I think I never loved Venice more than on that late Autumn foggy day when the city looked as if time had stopped, crystallized in an eternal beauty. Venice in November, as I found out, can bring incredible emotions. And I owe all this to Stefano. A weekend of beauty and friendship!
Pin for later!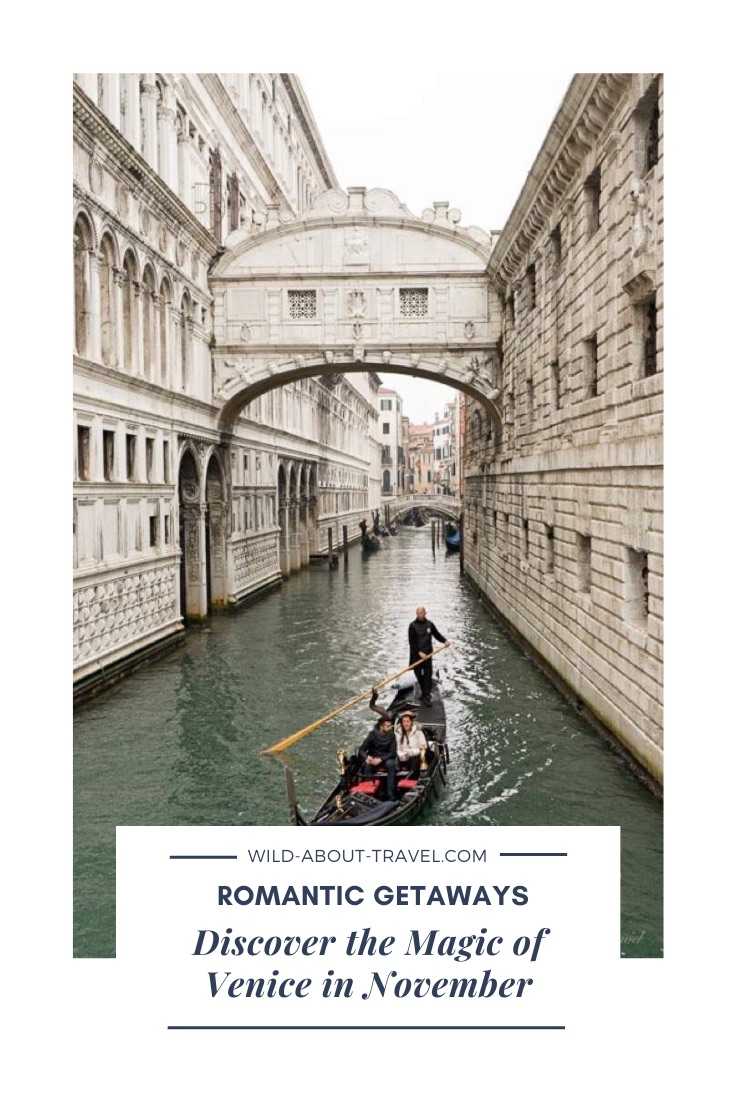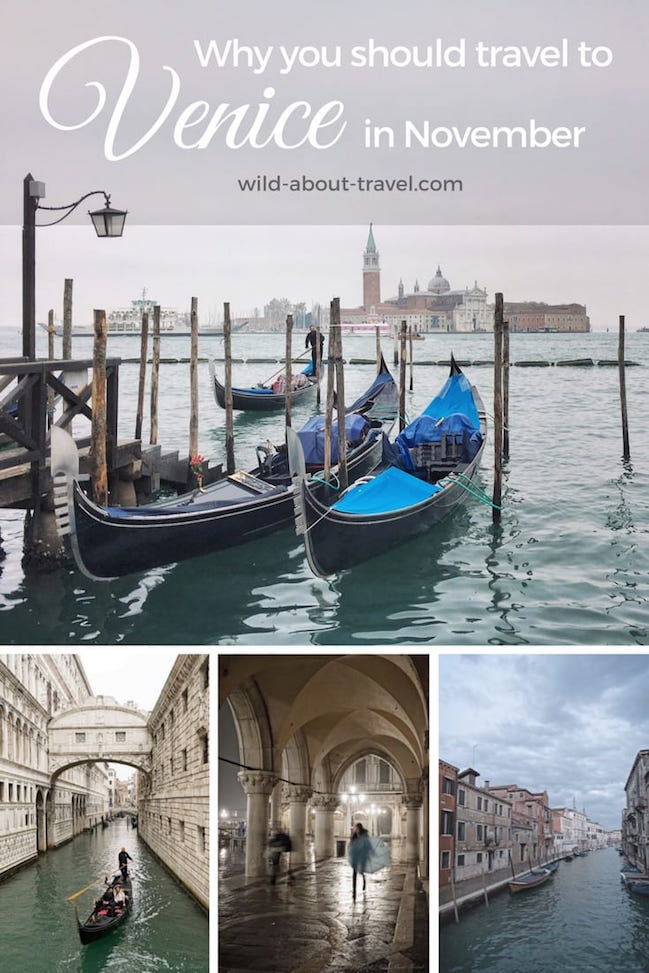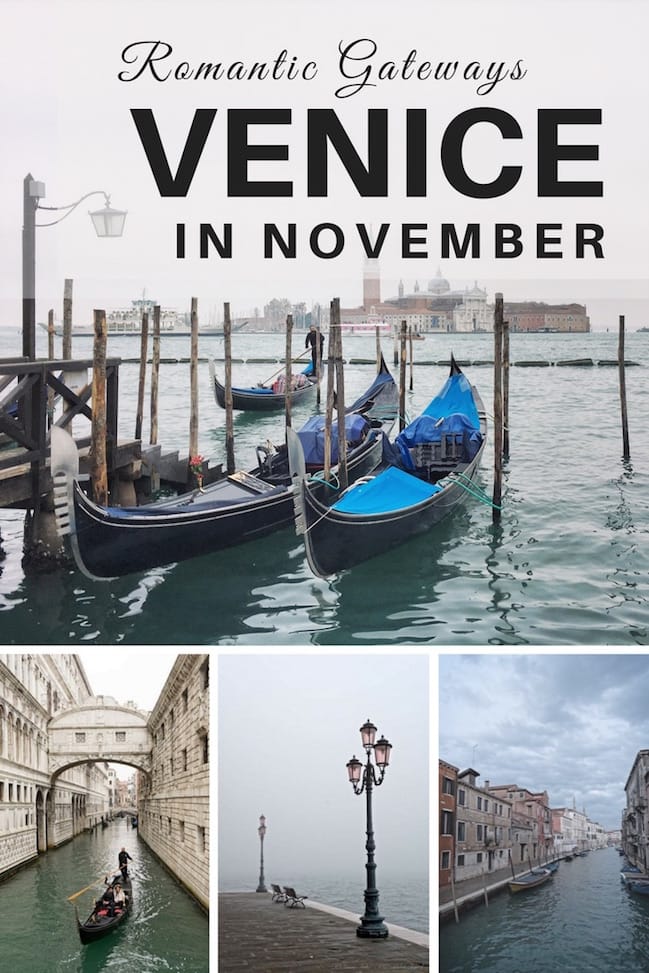 Venice: Practical Information
Getting there by air: Venice Marco Polo airport has several domestic and international connections with European cities.
From/to Venice airport: A regular bus service connects the airport to Piazzale Roma and the ferries. Duration: about 20 min. Cost: Euro 8. Timetable: every 20 minutes, from 5:20 am to 0:50 am.
Marco Polo Airport to/from City Center Express Bus Transfers
Getting to Venice by train: Frequent trains travel to Venice Santa Lucia from all cities. It takes 3h 45 min from Rome to Venice by train. Also, from Venice to Florence it's just above 2 hours and in 2 1/2 hours you get to Milan.
Getting around
There's no better way to explore Venice than walking and getting lost along the canals. However, although the city is small, you often have to walk a long way in the maze of alleys and canals, ending up feeling tired. Add to this that Venice in November can get quite chilly, and at some point, you'll be happy to rest and enjoy the views from the ferry.
Public transportation in Venice is expensive, and the best option is to buy a 24h, 48h, or 72h ticket, allowing you unlimited access to the ferries. Don't miss to take Ferry N. 2 (check), for a scenic ride along the Canal Grande.
Venice Public Transportation 24, 48 or 72-Hour Ticket
November weather in Venice
If you travel to Venice in November, you can expect almost every kind of weather. From a perfect blue sky to thick fog. From chilly winds to floods, the infamous "acqua alta". If you're not sure what to wear in Venice in November, I suggest you to pack at least a warm fleece (better with a zip), a waterproof and windbreaker long jacket, quick-dry pants, Gore-Tex comfortable shoes. Don't forget a scarf, a beanie cap, and gloves to protect you from the wind when riding the Vaporetto.
Where to Stay in Venice
I stayed at the Hilton Hotel Molino Stucky at La Giudecca. An old flour mill totally refurbished, Molino Stucky is a perfect solution if you want to escape from the crowds, and the hotel has a regular taxi service to San Marco Square.

Find Accommodations Deals in Venice
Where to Eat
Venice is expensive – sometimes even outrageously expensive – and so touristy that finding a really good restaurant is not easy.
Trattoria Altanella, La Giudecca: small and cozy, we had excellent fish and seafood local dishes. Ask for advice on the house specialties, which change according to the season and available products, you won't get wrong. Prices on the high end, like almost everywhere in Venice, but the dishes are really excellent.
For something more informal and yummy, stop for lunch or dinner at one of the many "Cicchetti" bars. "Cicchetti" are small bites, similar to the Spanish "Tapas" or "Pintxos": pieces of bread covered with delicious ingredients, usually washed out with a glass of good wine. Don't miss the codfish (baccalà), it's heavenly! Avoid the ones in the touristy areas, and head to the charming Jewish Ghetto.
______
This post contains a few affiliate links to carefully selected services. Should you buy any of them, I earn a small commission at no extra cost for you.
Wild About Travel is a participant in the Amazon Services LLC Associates Program, an affiliate advertising program designed to provide a means for sites to earn advertising fees by advertising and linking to amazon.com.