Is Venice the most romantic city in the world? Many think so, and I have to agree. Although small, there are so many things to do and see in the City of Canals. However, if you can only spend a day in Venice, let me help you get the most of your time in the city of canals.
Venice is famous for its elaborate labyrinth of islands and canals navigated by black gondolas and spanned by hundreds of bridges. Other cities worldwide have been dubbed "the Venice of the North," or the West, and so on. However (I know that being Italian, this may sound partial), Venice in Italy is unique, and it takes more than a few canals to reclaim a resemblance.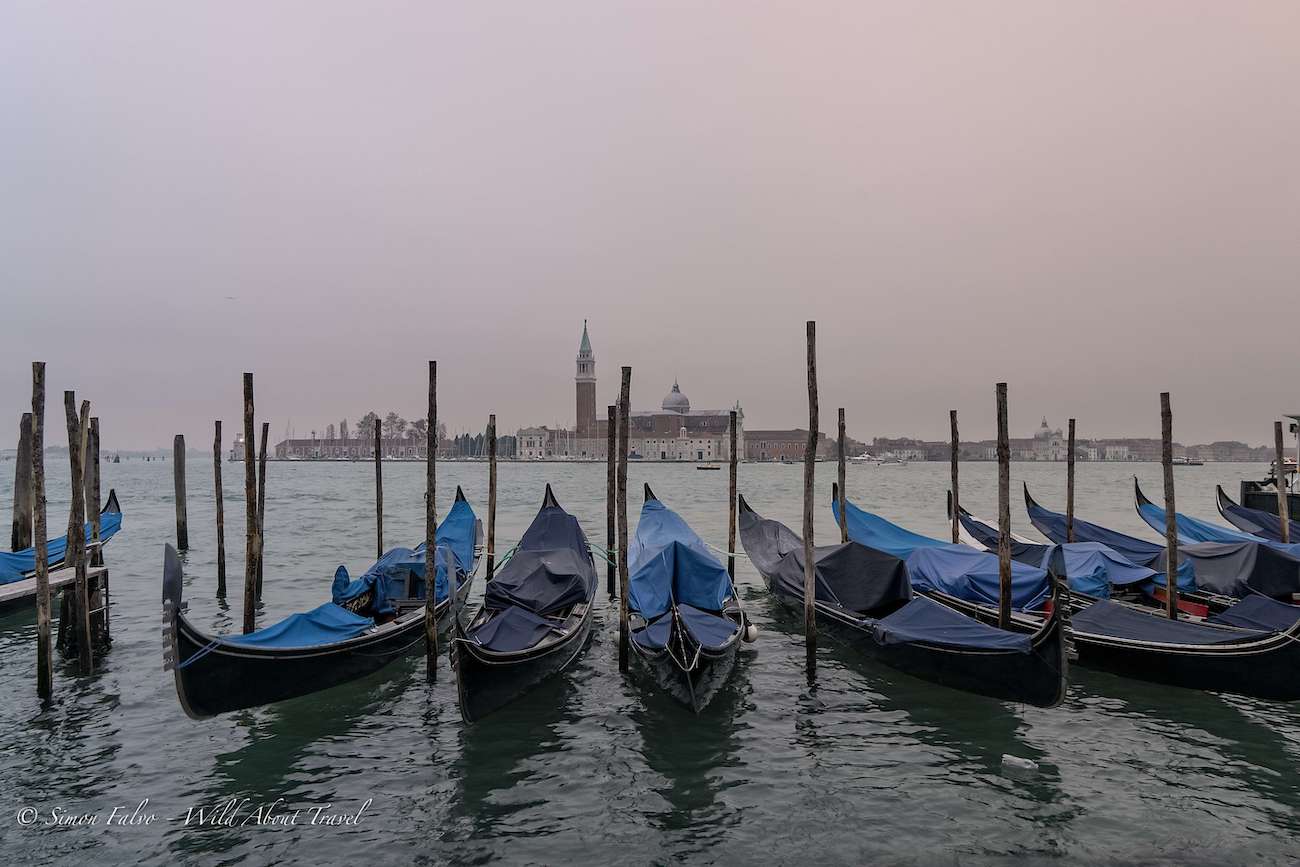 Venice became a UNESCO Site in 1987 and is one of the most beautiful World Heritage Sites in Europe and the world.
Jump to the relevant section [Show]
Fun facts about Venice
There are many fun facts about Italy, and a few are related to Venice.
For example, did you know that The Republic of Venice is the longest-lived republic in history? It was founded in 697 and dissolved by Napoleon in 1797, exactly 1,100 years later.
Also, Venice is actually built over 118 tiny islands, connected by bridges or ferries.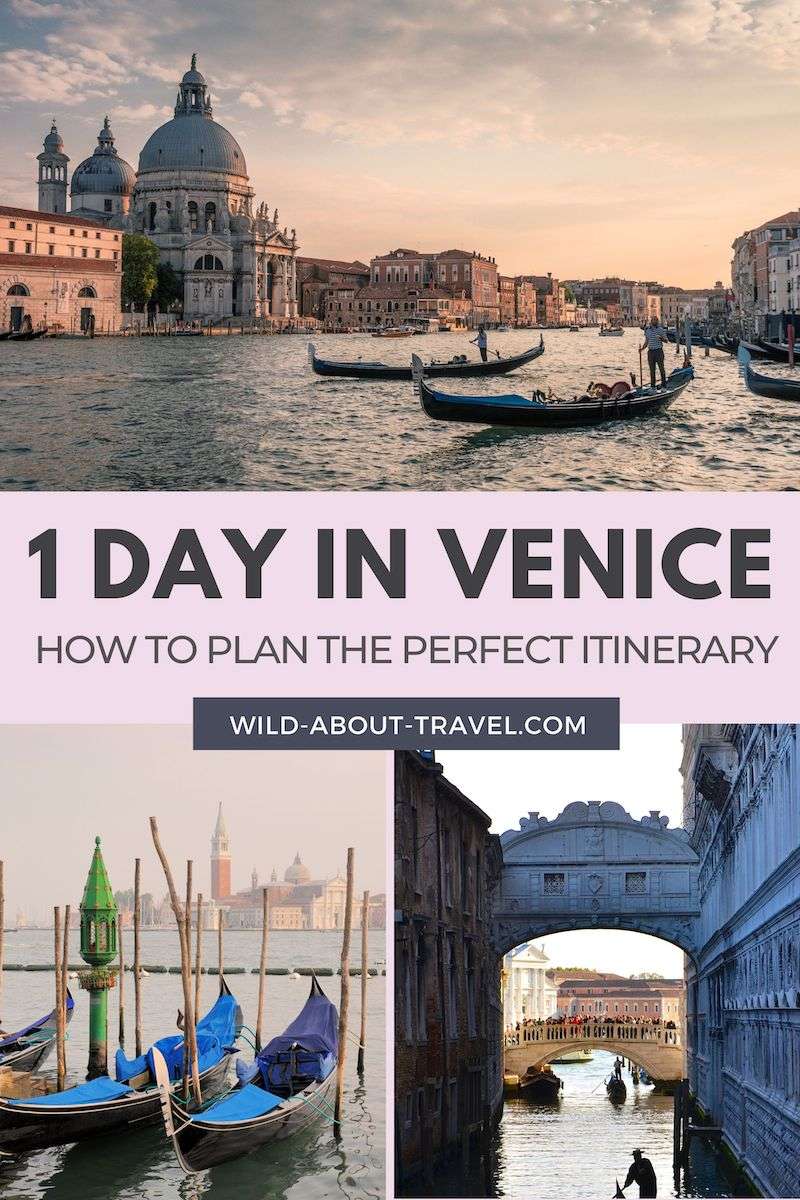 Two famous Italian historical figures were born in Venice: the explorer Marco Polo and the adventurer Giacomo Casanova. The first is known for The Travels of Marco Polo, the book in which he describes the wonders and mysteries of the Far East, which he discovered in the 12th century. Casanova is famous for his multiple and often intricate love affairs, so much so that his surname has become a synonym for "womanizer." Aside from that, Casanova's memoirs are one of the most intriguing sources of social life and customs in Venice in the 18th century.
A day in Venice: what you shouldn't miss
Touristy as they may be, a few spots and landmarks in Venice are a must-see. And it won't take you long to see that they are for a reason.
St Mark's Square: one of the most beautiful piazzas in the world.
St Mark's Basilica: with its opulent decorations, it's one of Venice's symbols.
The Doge's Palace: a unique example of Venetian gothic.
Rialto Bridge: one of Venice's icons and the city's oldest bridge.
The Bridge of Sighs: possibly the most photographed spot in Venice
A tour of Venice canals: the best (and only) way to discover what makes Venice so unique.
One day in Venice is a short time; thus, you'll have to focus on the city's top attractions and carefully plan your visit.
Venice 1-day itinerary: A few tips
Remember that having just one day in Venice, the earlier you start exploring it, the better. Not only will you have more time to spend in the beautiful city of canals, but you'll have the opportunity to enjoy it without the large crowds that characterize it. Therefore, start your day as early as possible, even at 7:00 in the morning if you get the chance. Walking in the early hours, with only a handful of people around, is fantastic.
Buy in advance the online tickets of the attractions you want to visit; you'll avoid wasting time or, worse, being unable to access them if the tickets are sold out.
Public transportation in Venice is definitely pricey. A single ticket costs 7,50 euro and gives you access to the Vaporetto for 60 minutes since stamping. When I travel to Venice for a day, I usually buy a 1-day ticket. At 22 euros, it's not cheap, but you'll be able to take as many rides as you wish. Keep in mind that albeit small, you'll have to meander between the alleys, and even covering what's a short distance as the crow flies will take you time.
Wear comfortable shoes and avoid at any cost high heels. Bring a scarf (even a light one in summer) since it can be cold on the boats, especially in the evening.
Venice guided tours
If you can spend only a day in Venice, time flies. A guided tour is a good option to make the best of the short time, visit at least a few landmarks of Venice, and learn more about this unique Italian city. Among the most interesting Venice guided tours are:
What to do in Venice in one day: Morning
➣ Rialto Bridge
Your day in Venice should begin with a walk to the Rialto Bridge, indeed one of the city's most popular attractions. Of the four bridges that cross the Grand Canal in Venice, Rialto, which houses several shops on either side, is both the oldest and the most beautiful. As you cross the bridge, take the time to admire the view of the Grand Canal from both sides – you will be able to take some stunning photographs. Just think that the Rialto Bridge was the only way to cross the Grand Canal without embarking on a ferry in the past.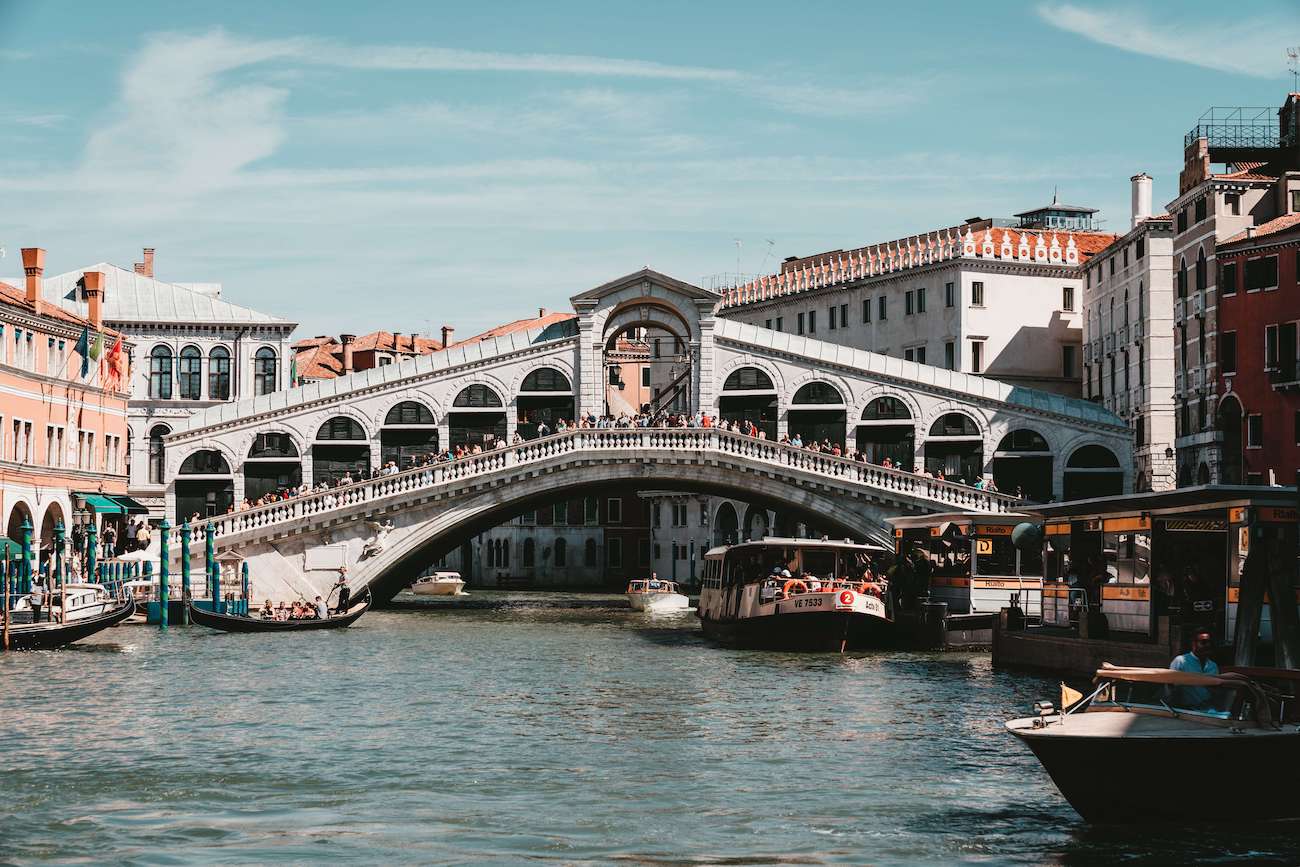 While you're there, don't miss having a look at the nearby famous Rialto Market, with its fish and vegetable stalls. In the morning, you'll get to see Venetians buying local products. Just keep in mind that the market is open Monday to Saturday from 7:30 am to 12:30 pm.
➣ St Mark's Square (Piazza San Marco)
From Rialto Bridge, walk to St Mark's Square, Venice's famous Piazza. This vast square, lined with magnificent buildings, is one of the most popular places in the city. For this reason, it is always crowded and bustling with vendors and tourists. That's why if you get the chance to get there early, you'll enjoy it so much more.
On the square, under the Procuratie (the famous arcades surrounding it), there are numerous historical places where you can sip a coffee: the Florian café is the best known. However, beware that the prices here are outrageously high, especially if you want to sip a drink on the terrace.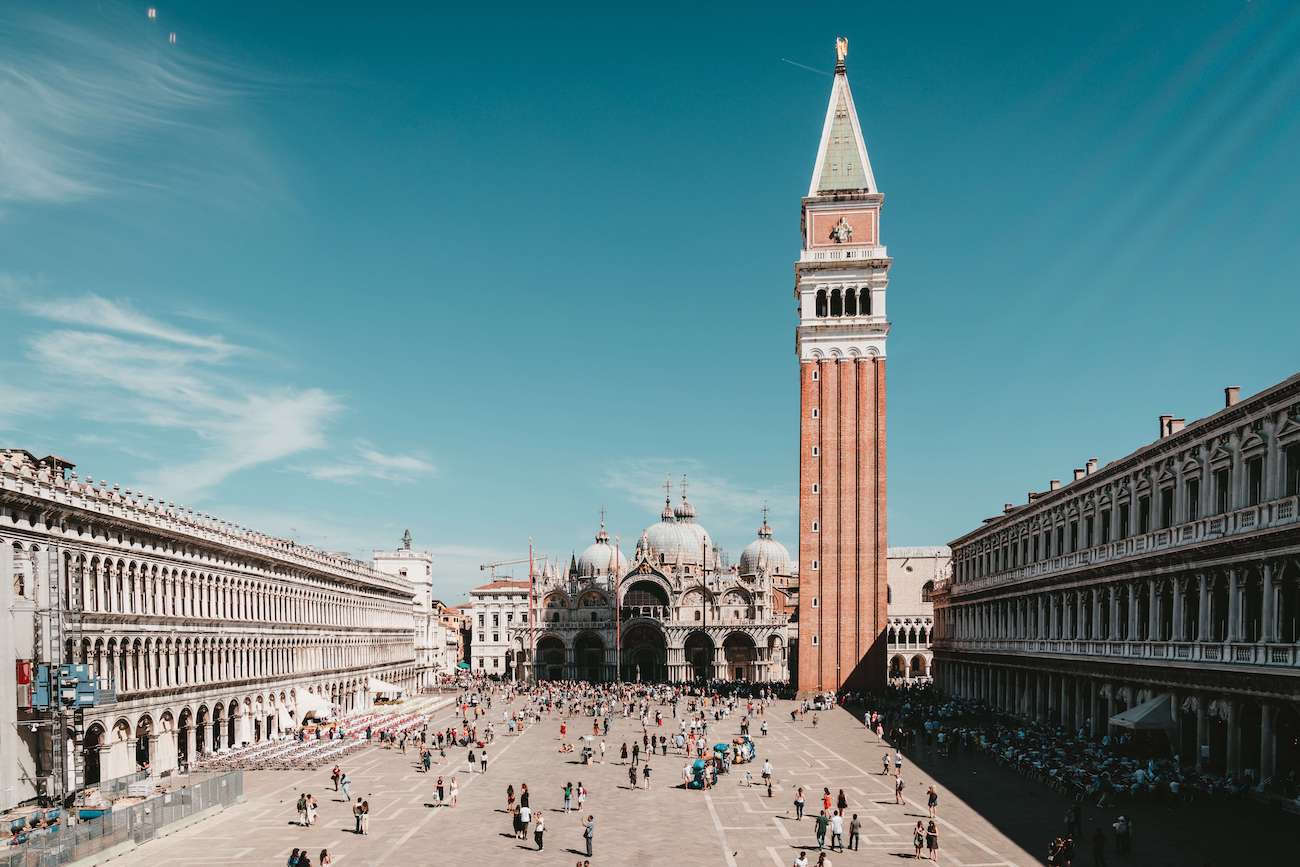 Spend a few minutes strolling around, taking photos from different angles, including with the famous pigeons of Venice.
St Mark's Square is actually the heart of Venice. Some of Venice's major attractions, like St. Mark's Basilica, the Doge's Palace, the Belltower, and the Bridge of Sighs, are only a stone's throw away.
➣ St Mark's Basilica
When you've finished exploring the square, it's time to pay a visit to St. Mark's Basilica. The church opens at 9:30 am on weekdays, but people often line up to get in much earlier.
Since the queues to enter the Basilica of San Marco can be pretty long, I strongly recommend that you book your entrance online. Even better, I suggest you join a guided tour, to discover all the secrets of this unique church and its rich decorations.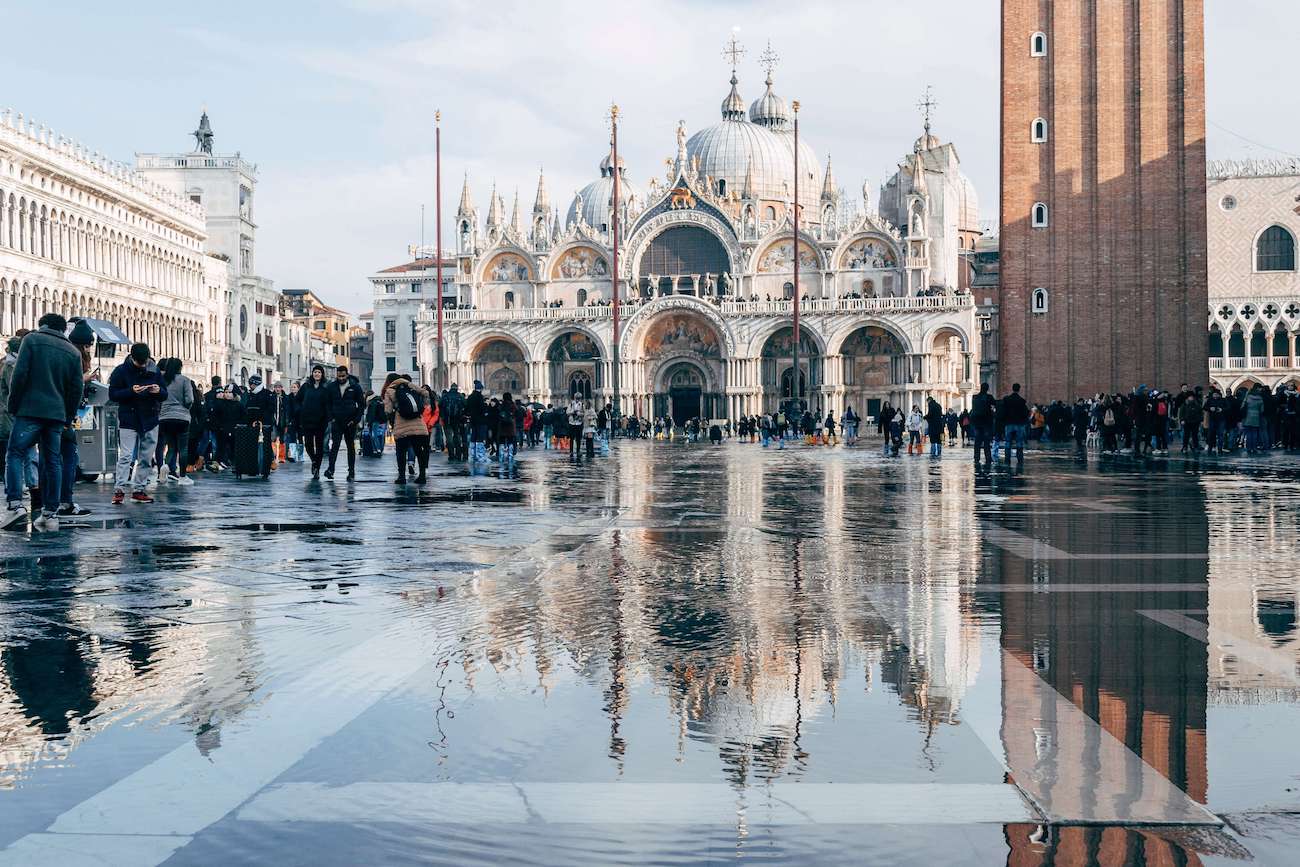 Once inside the church, you'll be amazed by the glittering mosaics covering a large portion of the upper walls, the gorgeous marble floors, and the numerous decorations. Majestic and opulent, the Basilica of San Marco is a symbol of Venice and is absolutely worth a visit.
If the weather is good, I suggest you go up to the terrace of the Basilica where the famous four horses looted from Constantinople during the Fourth Crusade are located. Like from Milan Duomo's rooftop, the view is breathtaking.
➣ Doge's Palace and St Mark's Campanile
If you can only visit Venice in a day you won't be able to see all of Venice's famous landmarks and you'll have to make choices and plan your Venice itinerary accordingly. In St. Mark's Square, in addition to the Basilica, there are two other iconic buildings: the Doge's Palace and St. Mark's Bell Tower.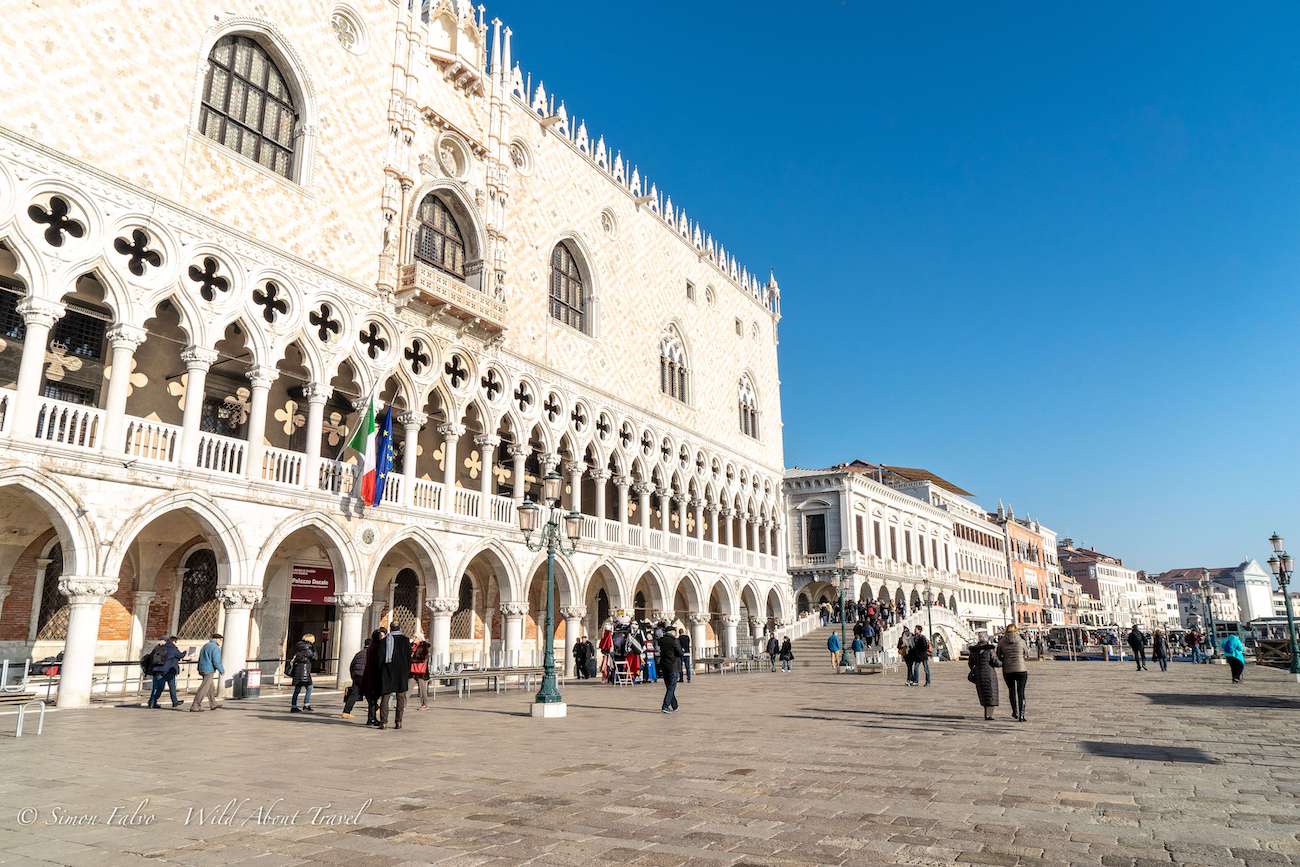 The Doge's Palace (Palazzo Ducale), a stunning example of Venetian Gothic, was the seat of the Venetian Republic's highest authority (the Doge). The palace was first built in 1340, and later modified and extended. Having only one day in Venice, in order to include a visit to the Doge's Palace, one of the top Venice landmarks, your best bet is to have a comprehensive guided tour of St. Mark's Basilica and Doge's Palace. You'll optimize your time, and discover the most important facts about these iconic masterpieces.
➣ Venice Bridge of Sighs
The Bridge of Sighs is just around the corner from St. Mark's Square and arguably one of the most iconic spots in Venice. The white limestone bridge was built in 1600 and connects the Doge's Palace interrogation rooms to the New Prisons (Palazzo delle Prigioni). Before getting imprisoned, convicts got the last view of Venice from the bridge. The name Bridge of Sighs dates back to the 19th century and stems from a poem by Lord Byron:
"I stood in Venice on the Bridge of Sighs, a palace and prison on each hand".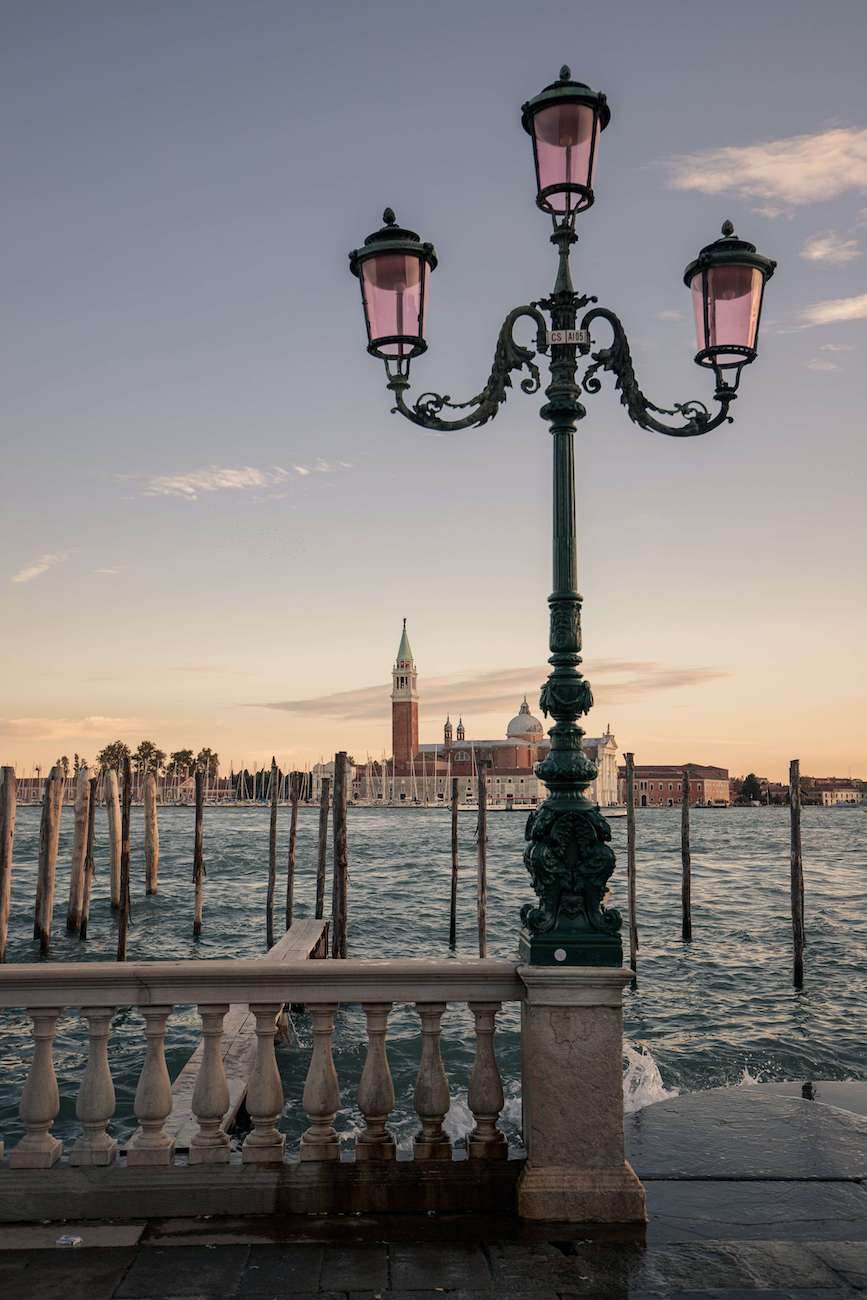 Nowadays, thousands of tourists admire and take photos of the bridge from Riva degli Schiavoni, or from the canal on a gondola ride.
Riva degli Schiavoni is the waterfront promenade running along a portion of S. Marks's basin. Have a stroll and enjoy the view of the gondolas rolling on the water, the magnificent church of San Giorgio Maggiore sitting on a small island on the opposite side, and the magnificent buildings along the promenade.
Venice in one day: Afternoon
➣ Accademia bridge and Dorsoduro
The wooden Accademia bridge crosses the Grand Canal (Canal Grande), leading to the Dorsoduro district (sestiere in Venetian). There's no better way to enjoy this picturesque area than by getting lost in the alleys, climbing tiny bridges, and resting at one of the many small squares. Get your camera ready as you'll soon find out that there are endless charming spots calling for a picture.
There are several important museums in Dorsoduro, among which is the beautiful Peggy Guggenheim Collection, but if you only have a day in Venice you probably won't have time for a visit.
➣ Tour of Venice canals
Together with the magnificent architecture, canals are what makes Venice unique. Many historical buildings, especially along the Grand Canal, directly overlook the water and are thus not visible from the land. That's why a must-do in Venice is a tour of its canals.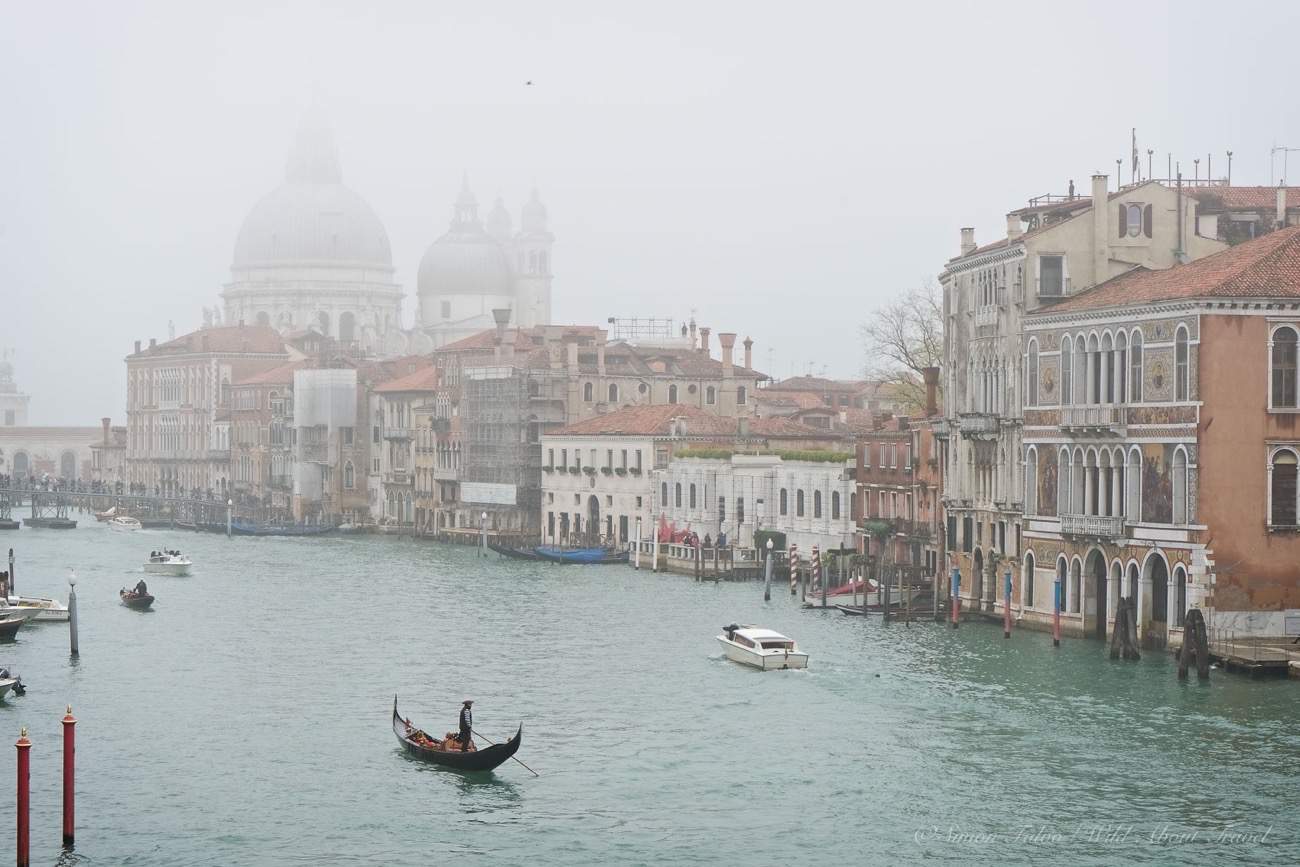 The cheapest option is to take the ferry lines 1 and 2, which ride along the Grand Canal. The downside is that the ferries are often busy and to gather a good view you have to be able to stand outside, close to the railing.
So, let's face it; if you really want to have a unique experience, you should take a gondola ride. You can choose between a private gondola ride, of course, more expensive, or a shared gondola that is more affordable.
➣ Cannaregio and the Jewish ghetto
By now, you're likely to have walked a lot and feel tired. If you still have some energy left, I suggest you catch a ferry to Guglie (Line 4 and 5) to discover, if only briefly, the district of Cannaregio and the Venice Jewish ghetto. It's one of my favorite areas and I bet you'll love it too.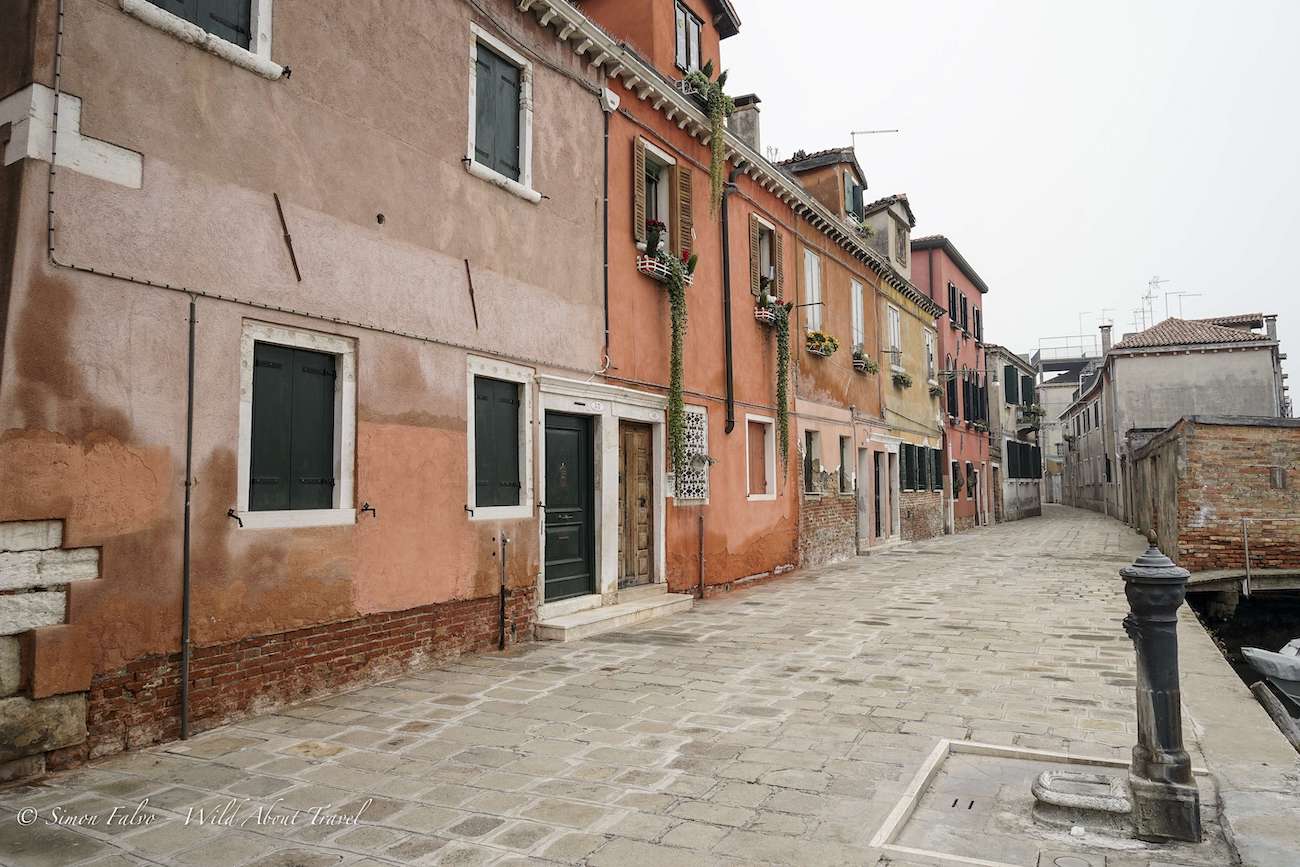 In Cannaregio, you won't find the opulence of the palaces lining the Grand Canal. You'll see simpler houses, with only a few decorations, their facades often partially peeled as a consequence of the marine dried salt. There are way fewer tourists around, and you'll see much more of the local life.
Venice in a day: Evening
Venice at night is arguably even more romantic and fascinating. There's something magic in the lights reflecting in the canals and the muffled sound of the water as it gently hits the houses' foundations. The alleys are often deserted, and often the silence is only rarely broken by the voices of people dining out in a small square.
Additionally to a romantic stroll, there are a few special things to do in Venice at night. How about a Cruise on a Venetian Galleon, enjoying the sunset colors and a candlelit dinner? Another cool option is to have a private food tour with locals, to discover and taste many local products. If you like classical music, you may like a concert by the Musici Veneziani in traditional costumes, performing Vivaldi's Four Seasons and other Baroque masterpieces.
One day in Venice: Practical Information
How to get to Venice
Venice Marco Polo Airport has flight connections with some cities across Europe. However, if you're traveling to Italy from overseas, chances are that your port of entry will be Milan or Rome. In both cases, it's easy to reach Venice by train since there are many connections from Milan to Venice and from Rome to Venice. You can check the schedules, and prices and buy your tickets here.
Best time to visit Venice
You should visit Venice in November, December, or January to avoid the crowds. The weather is unpredictable though, and you may experience a bright sunny day, or see Venice shrouded in fog, and even have to get around while Venice is flooded. Despite the downsides, this is my favorite time of the year, but I'm also privileged since I live in Milan and can easily spend a day in Venice.
Summer in Venice can get quite hot, and the city is usually swarmed by tourists. Thus, the best time to visit Venice is Spring or Autumn, although sometimes it can be rainy.
Finally, there's the Venice carnival. It's way too crowded for my tastes, but there's a truly incredible atmosphere, with lots of people wearing costumes and carnival masks. As you can easily imagine, prices are at their peak!
Where to stay in Venice
Accommodations in Venice are generally not cheap, but if you're spending only a day in Venice, you'll want to stay at a charming place and in a convenient area. Also, prices can vary substantially depending on the time of the year.
The Arcadia Boutique Hotel is located in the Cannareggio district, only 5 minutes from Venice train station, and is great value for money. Set in a 17th-century building, it boasts elegant rooms and contemporary bathrooms.
Hotel Olimpia Venice, BW Signature Collection is located in the Santa Croce district, only a short walk from the train station and the Grand Canal. The hotel overlooks a small canal and boasts a private garden.
The stylish Venice Times Hotel is close to the Grand Canal and only a 15-minute walk to the Rialto bridge. It boasts a beautiful contemporary design and a special character.
For a special treat, have a look at Hotel Ai Reali – Small Luxury Hotels of the World. Located in a beautiful 17th-century palace, it's only a couple of minutes from the Rialto bridge.