When you think of Switzerland, the first things that come up to mind are chocolate, cheese, mountains, picture-perfect landscapes, and… lakes. Find out about some of the most beautiful mountain lakes in Switzerland, which are easy to reach.
You've probably heard of the famous lakes in Switzerland (Lake Lucerne and Lake Geneva above all), and maybe you've even already been to one or more of them. All the major Swiss lakes are beautiful and worth visiting. However, I always found that small alpine lakes have a unique charm. Encircled by silver rocks and verdant pastures where often cows graze peacefully, mountain lakes in Switzerland somehow embody the idea of idyllic.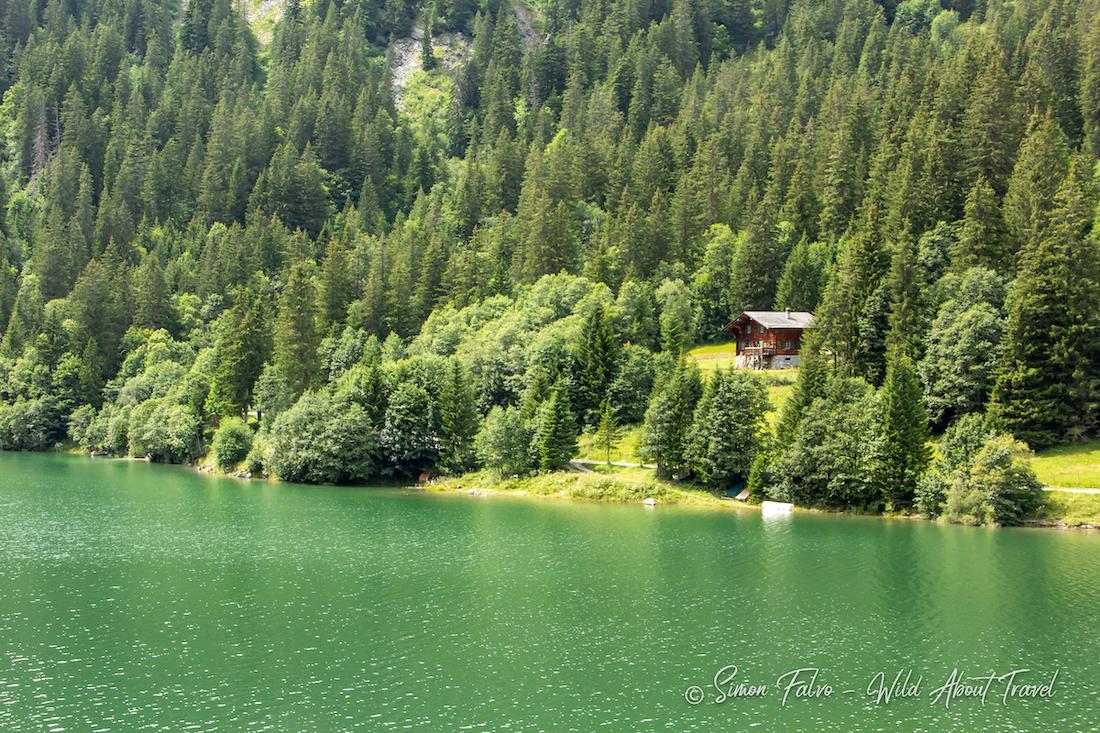 I can hardly imagine a more peaceful setting than an alpine lake. I love breathing the fresh air, listening to the soothing sound of the cow's bells, looking at the water mirror with its emerald and blue shades. And most of all, I like having to walk, if only a short hike, to get rewarded with stunning scenery. When you need to do a little effort, everything acquires a deeper meaning.
Don't worry, though. All the Swiss mountain lakes I mention below are short hikes, which don't require any particular fitness level. Most of them are within easy reach, even for families traveling in Switzerland with kids.
Jump to the relevant section [Show]
Beautiful mountain lakes in Switzerland you shouldn't miss.
Lake Oeschinen (Berner Oberland)
When I spotted Lake Oeschinen from the hiking trail, I felt in complete awe.
First, my sight rested on the calm water mirror, reflecting shades of emerald green, turquoise, and deep blue. Then, my eyes wandered around, to the bright green meadows, the darker patches of forest, the steep mountains circling the lake, and the snow-capped peaks. It was one of the most beautiful mountain lakes I'd ever seen, and it brought my memory back to the time I went hiking in the Cordillera Blanca, in Peru, to the stunning Laguna Churup.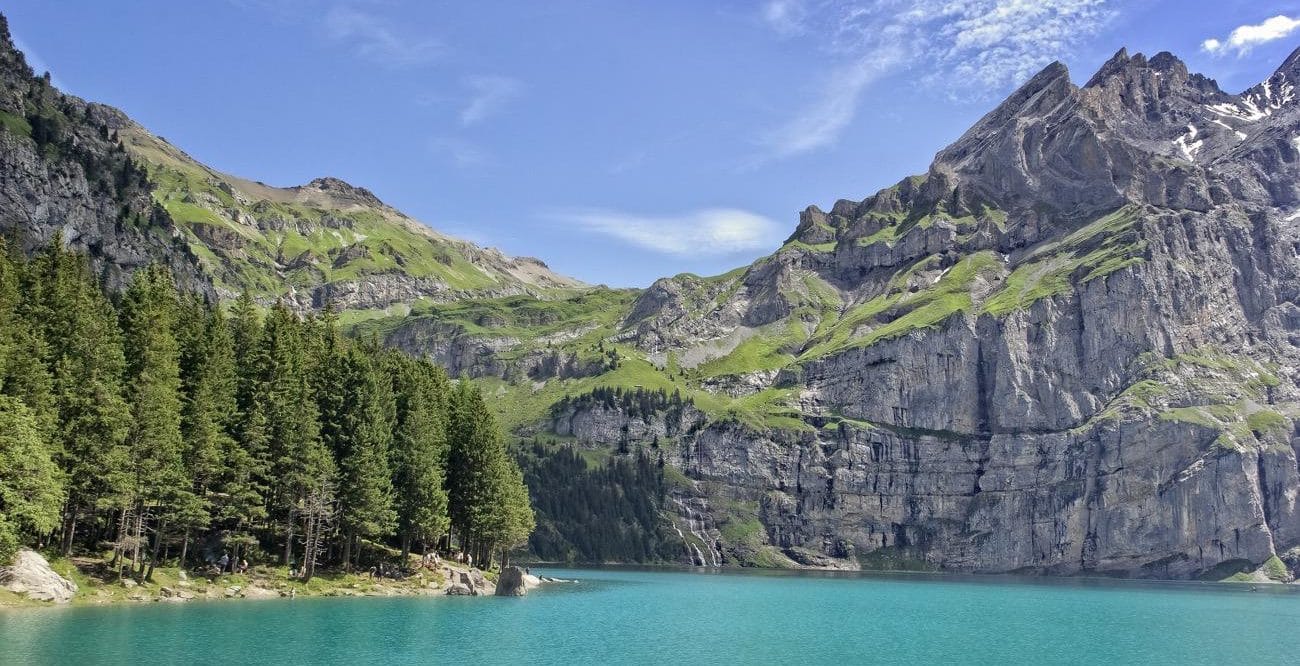 From Oeschinen Lake, you can hike up to the Bluemlisalphutte (a strenuous 5 hours walk up to 2840 mt/ 9320 ft), but you can also easily access the lake with a short (30-40 min) walk from the cable car climbing up from Kandersteg.
I love sitting in the grass and having a picnic, but there is also a restaurant (expensive, like everything in Switzerland), with a terrace overlooking the lake. Even if you're not much into hiking, have at least a walk around the lake (the entire circular hike takes about 3 hours, but you can also walk only part of it, and then go back the same way), to admire the scenery from a different perspective.
Bachalpsee (Berner Oberland, Jungfrau region)
The Jungfrau region and the area around Grindelwald are among the most beautiful (and famous) in Switzerland. Despite its beauty, most tourists (Chinese mainly, who apparently love visiting) spend very little time here, usually overnighting in Interlaken and taking the Jungfrau Bahn, one of Switzerland's most scenic train rides to reach Jungfraujoch and enjoy the stunning view of the Aletsch Glacier.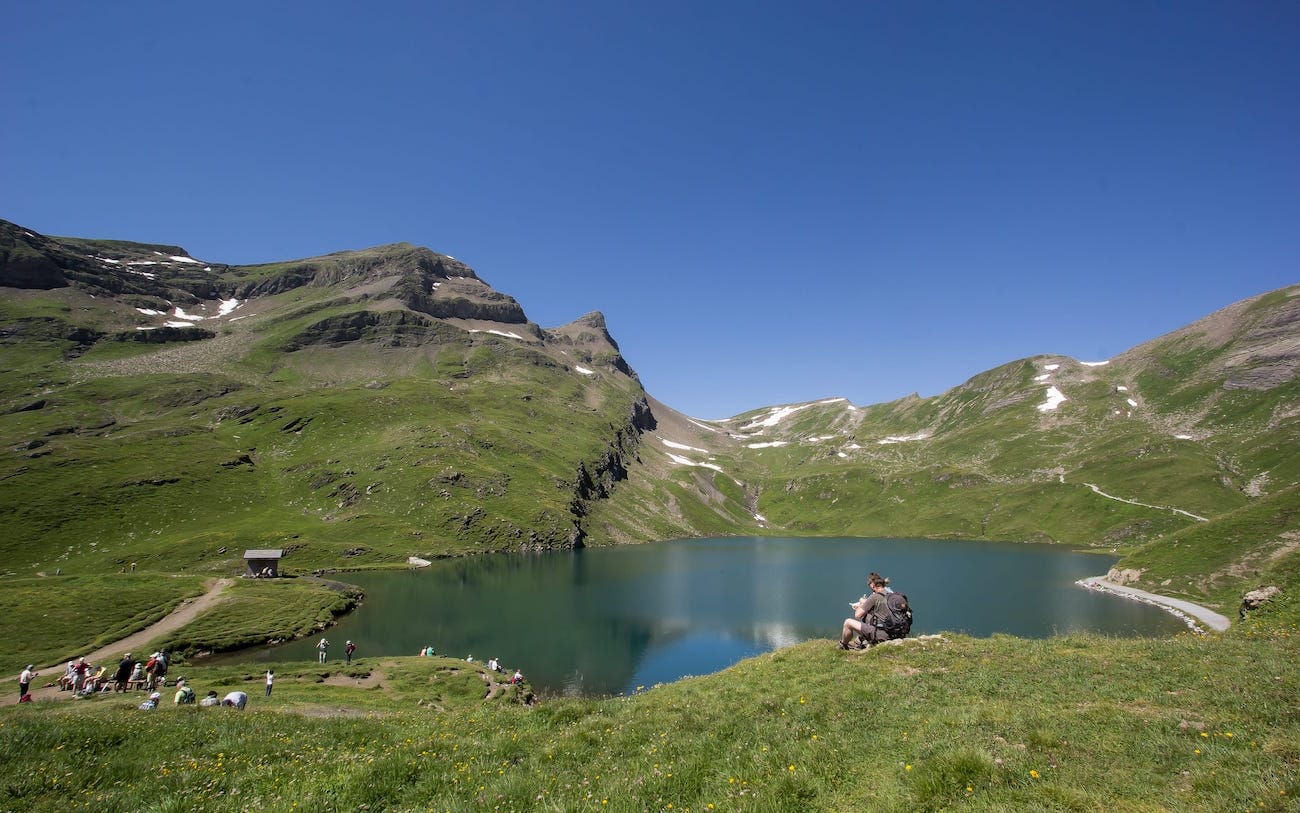 The truth is that this region is a treat for hiking lovers and offers so many superb views of the snow-capped mountains (especially the Eiger, Jungfrau, and Mönch), that you could easily stay for weeks.
To admire the lovely Bachalpsee, you need to hike, but it's an easy walk on a gentle ascent and only about 1 hour from atop the Grindelwald First gondola. The scenery is idyllic, and you won't regret having done a little exercise to spot one of the loveliest alpine lakes in Switzerland.
Related Read: A Lovely Hike From Grindelwald to the Pretty Bachalpsee
Arnensee (Berner Oberland)
Although it's only 12 km (7.5 mi) from Gstaad, one of the poshest mountain resorts in the world along the scenic Montreux-Oberland Bernois railway, only a few tourists head to Arnensee.
The idyllic Lake Arnen (called Lac Arnaud in French), is a well-known spot for locals living in the Saanenland who like going there to swim, hike, bike, or just to chill out.
You need a car to reach the lake, since the closest bus stop is in Feutersoey, from where a 1 1/2 – 2 hours easy hike (one way) leads you to the lake. You can also walk all around Arnensee, looking at the surrounding landscape from different perspectives.
Lake Lauenen (Berner Oberland)
The tiny Lake Lauenen is another delightful mountain lake in Switzerland, precisely in the Saanenland, a beautiful area in the Berner Oberland. Like Lake Arnaud, it's another lovely excursion from Gstaad, even only for a few hours.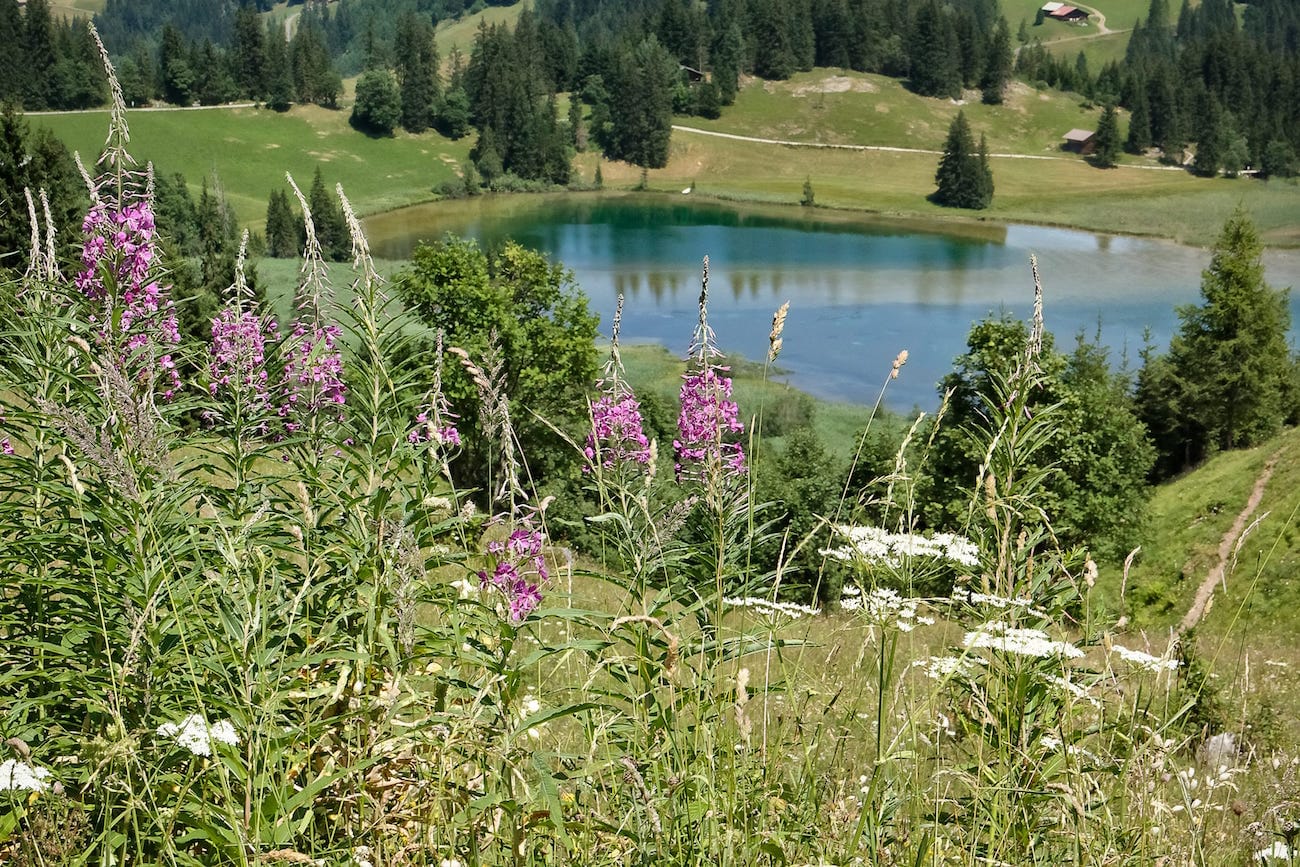 You can get there by car and by Post bus, but I highly recommend hiking from atop the Wispile. The hiking path starts at the arrival of the cable car and offers beautiful views of the pre-alps and the lush green pastures. It takes about 4 hours to reach the Lauenensee from Höhi Wispile, and once you get there, have your swimsuit ready for a plunge into the refreshing water.
Related Read: Wispile to Lauenensee: The Best Hike in Gstaad?
Lac Bleu (Arolla, Valais)
Yet another enchanting alpine lake, this time in the Val d'Hérens, in the Valais canton. You have two possibilities to get there. The shortest walk starts in La Gouille, and takes about 45-60 minutes. I recommend, however, the trail starting in Arolla (about 1 hour 30 minutes), offering magnificent views over the Val d'Hérens.
Once you reach the lake, you might wonder why it is named Lac Bleu (Blue Lake), because the shades are more emerald green and turquoise, some of the most beautiful colors I happened to see in mountain lakes. Around late June, early July, you're likely to see bright pink large patches from the blooming rhododendrons. This area is also particularly beautiful in autumn when you can admire the larches turned golden.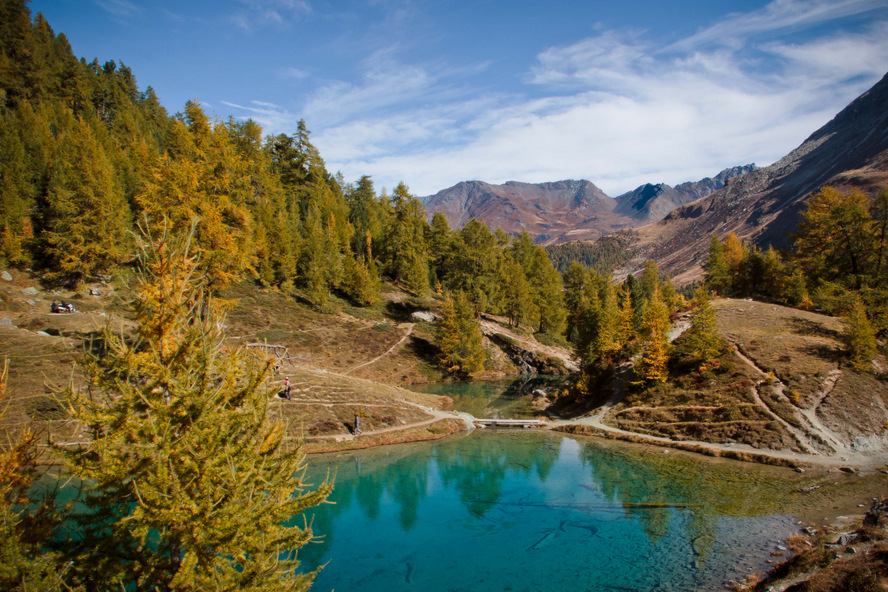 If you decide to venture into that lesser-known area of Switzerland, don't miss to visit Evolène, an enchanting small town with traditional old timber houses, the wood darkened by the sun, embellished by lovely flowers and other decorations.
Related Read: Evolène, Charming Old Houses and Traditional Swiss Life
Riffelsee in Zermatt (Valais)
It's hard to imagine a more breathtaking view than seeing one of the most awe-inspiring mountains – the pyramid-shaped Matterhorn – reflecting in a little mountain lake. Riffelsee is easily the most beautiful mountain lake in Switzerland, and chances are you've seen it on some postcard.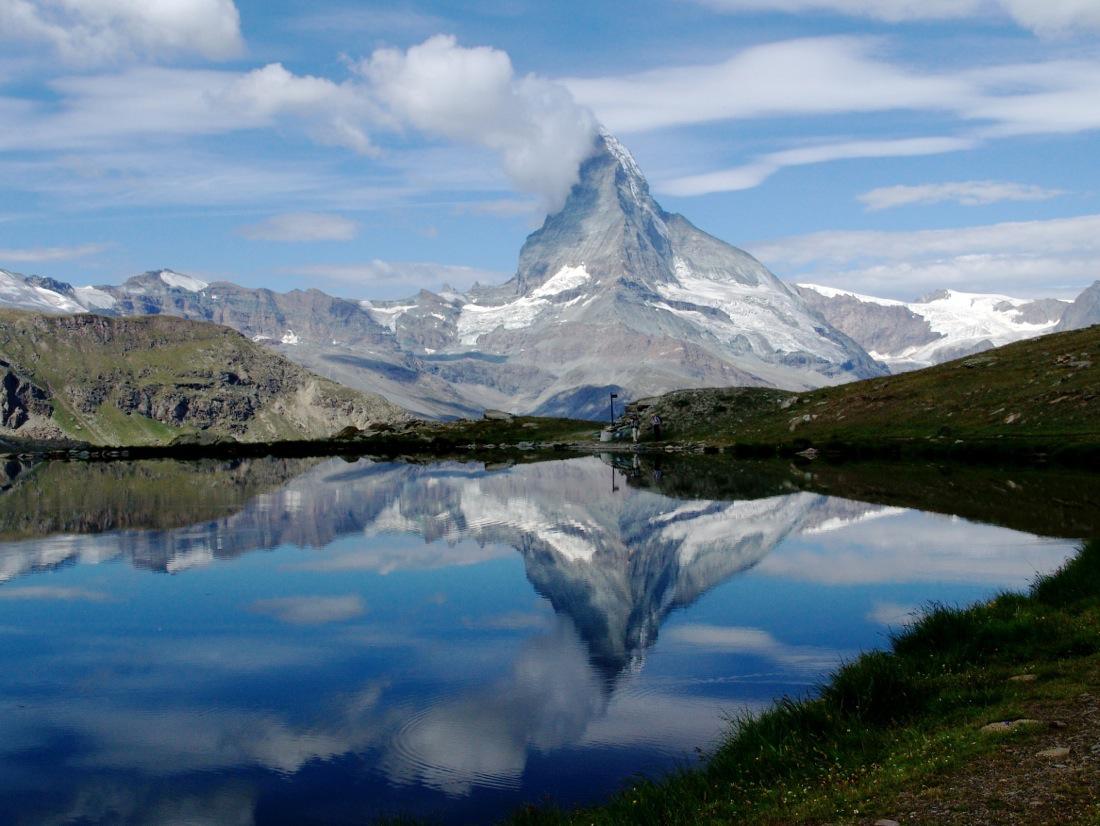 Access to picture-perfect Riffelsee is straightforward. Take the Gornergrat Bahn cog railway and on the way up or down, get off at the Rotenboden station from where you can reach the lake with a short and easy walk. Move around the tiny lake until you see the Matterhorn pyramid reflecting in the water mirror. And have your camera ready to capture a stunningly photogenic spot.
TIP: Even easy day hikes require a bit of preparation. Get a map and study the trail beforehand. Prepare your backpack with all essentials for a day hike. Don't forget to save the emergency numbers (General 112 / Medical Service 144) on your phone. Furthermore, I strongly recommend travel insurance covering you in case of unexpected, unfortunate events.
Seealpsee (Appenzell)
Often overlooked by foreign tourists, the Alpstein mountain range in Appenzell boasts superb sceneries and many hiking and mountain biking options for outdoors lovers.
On sunny days, a favorite spot for locals is the lovely Seaalpsee. Like many other mountain lakes in Switzerland, you have to walk to get there, though.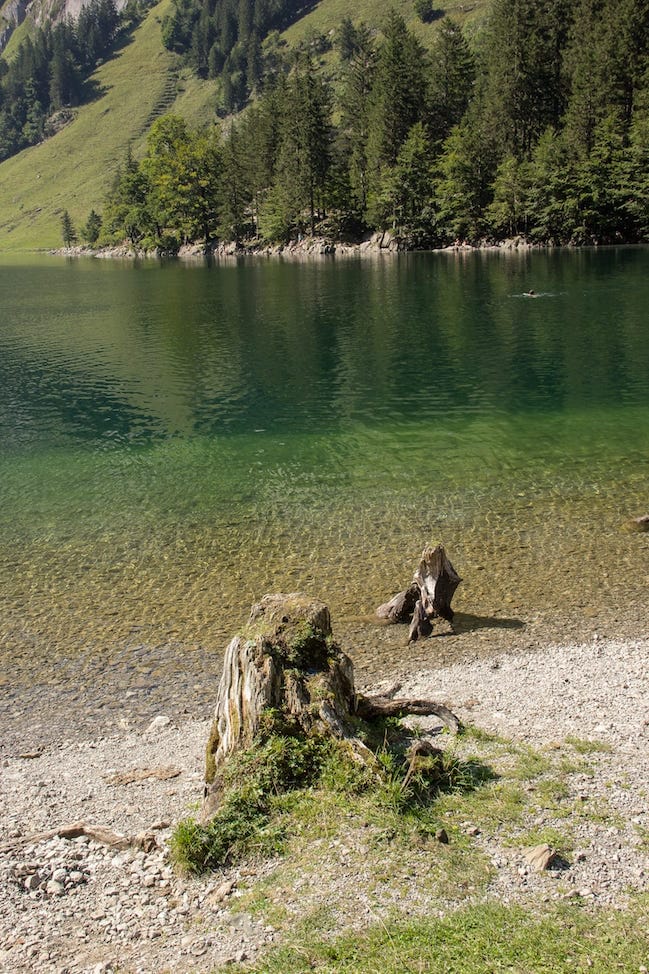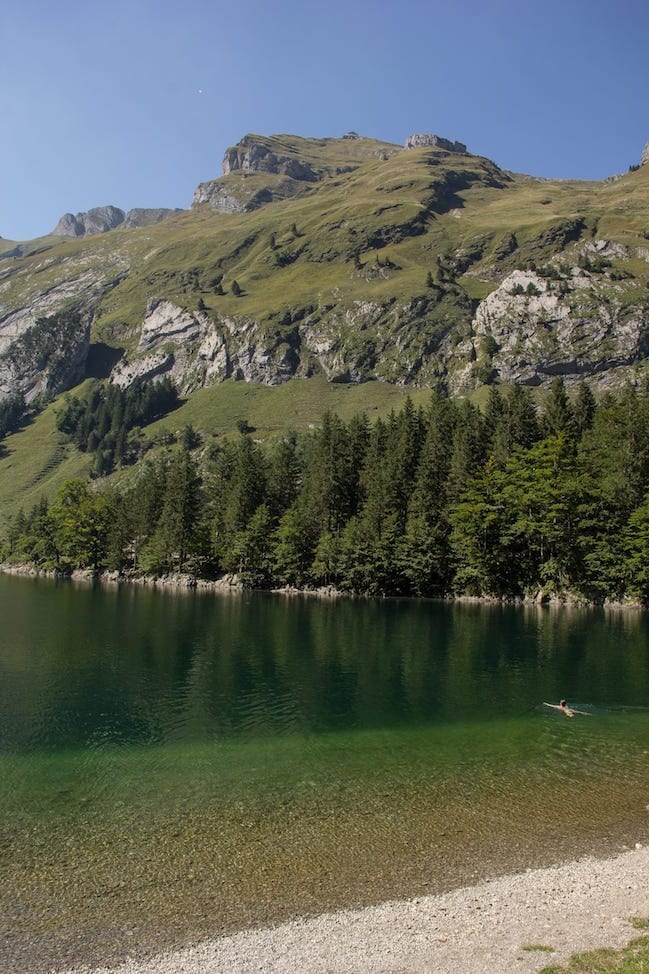 The most comfortable access is via the paved road from Wasserstein, which takes about 50-60 minutes each way. For those looking for a longer hike, there's a rather steep but beautiful downhill trail from Ebenalp cable car down to Seealpsee, for which you should count about 2 hours.
Have you seen any of these mountain lakes in Switzerland? Do you know any other which is worth visiting?
Practical Information
Mountain lakes in Switzerland: Map
Lake Oeschinen
Getting there: Train to Kandersteg from Brig, Visp, Spiez. Or, if you want more freedom, you can rent your own car. To shorten the walk, take the cable car from Kandersteg.
Where to stay in Kandersteg: It's worth spending a night in Kandersteg since there are many more beautiful places to explore nearby.
The Bernerhof Swiss Quality Hotel is right in the center of the (small) town and features bright rooms with a balcony to enjoy the views of the mountains.
The Waldhotel Doldenhorn is a beautiful hotel with a cozy atmosphere and also features an indoor swimming pool, saunas, hot tub, and rooms for relaxation.
---
Bachalpsee
Getting there: You can reach Grindelwald, the closest town, by train from Interlaken. From Grindelwald, take the gondola to First.
Where to stay in Grindelwald:
Hotel Gletschergarten is a traditional Swiss hotel with a warm alpine décor and a very welcoming atmosphere.
If you prefer a contemporary design and style, you'll love the Boutique Hotel Glacier. The hotel features a terrace with a restaurant, a spa, and an outdoor hot whirlpool.
---
Arnensee and Lake Lauenen
Getting there: You can reach Gstaad by train with the panoramic Golden Pass Railway from Montreux, Zweisimmen, and Spiez.
Where to stay in Gstaad: This charming mountain village doesn't come cheap, but you're at one of the most exclusive mountains resort in the Alps (and the world).
If you want to treat yourself like a celebrity for one night, have a stay at the magnificent Le Grand Bellevue, in the heart of Gstaad. Book in advance, though, because expensive as it is, the Grand Bellevue is always in high demand.
The Geniesserhotel Le Grand Chalet is more affordable yet beautiful. Located on a hill on the highs of Gstaad with great views of the valley, the hotel features alpine-style rooms with a balcony and a restaurant with a terrasse.
---
Lac Bleu, Arolla
Getting there: Although you can get to Arolla by public transportation, it will take you some time having to take the train to Sion, then a bus to Les Haudères, and a second one to Arolla. Renting a car will save you time and allow you more freedom to explore this superb area of the Valais canton.
Where to sleep in Arolla (and surroundings):
Hotel du Pigne in Arolla is ideally located. It features bright rooms and a cozy alpine-style dining room.
Another good option nearby is Hotel Les Mélèzes in Les Haudères (connected to Arolla by Post bus). The hotel features rustic-style rooms and a restaurant with a summer terrace.
---
Riffelsee, Zermatt
Getting there: The best way to reach car-free Zermatt is by train, taking the panoramic Glacier Express. The railway connecting St. Moritz to Zermatt is a scenic journey you won't regret. To reach the hiking trail to Riffelsee, you must take the Gornergrat train,
Where to stay in Zermatt:
Owned by former Swiss Ski champion Pirimin Zurbriggen, the Suitenhotel Zurbriggen features a modern and tasteful décor, indoor and outdoor pools, and superb views of the mountains.
The Firefly Luxury Suites combine contemporary, stylish decor with alpine-style warmth. The hotel also features an indoor pool and a spa area.
---
Seealpsee, Appenzell
Getting there: Zurich is the closest airport, and although you can reach Appenzell and Wasserauen by train and by bus, if you have limited time, I suggest you rent a car. From Wasserauen, take the cable car to Ebenalp.
Where to stay in Appenzell (and surroundings):
The Romantik Hotel Säntis is right on Appenzell's old town main square, in one of the typical painted houses. You'll feel immersed in the local style.
Gasthaus Alpenblick is a lovely guesthouse in Weissbad, less than 2 km (1.2 mi) from the Wasserauen-Ebenalp cable car. The guesthouse is surrounded by meadows and features a terrasse with superb views of the mountains.
_______
This post contains affiliate links to selected products and services. That means that if you buy anything, I get a small commission at no extra cost for you.
Pin it if you like it!