Not sure where to stay in Florence? Here's an overview of the main neighborhoods and a selection of some of the best hotels in Florence.
Florence is one of the Italian most visited cities, especially by people traveling to Italy for the first time. The historical center is quite small; therefore, it may seem irrelevant in which area of the city to lodge. However, there are differences between neighborhoods, whether you're only staying one day in Florence or longer. And choosing the best area to stay in Florence can make a big difference.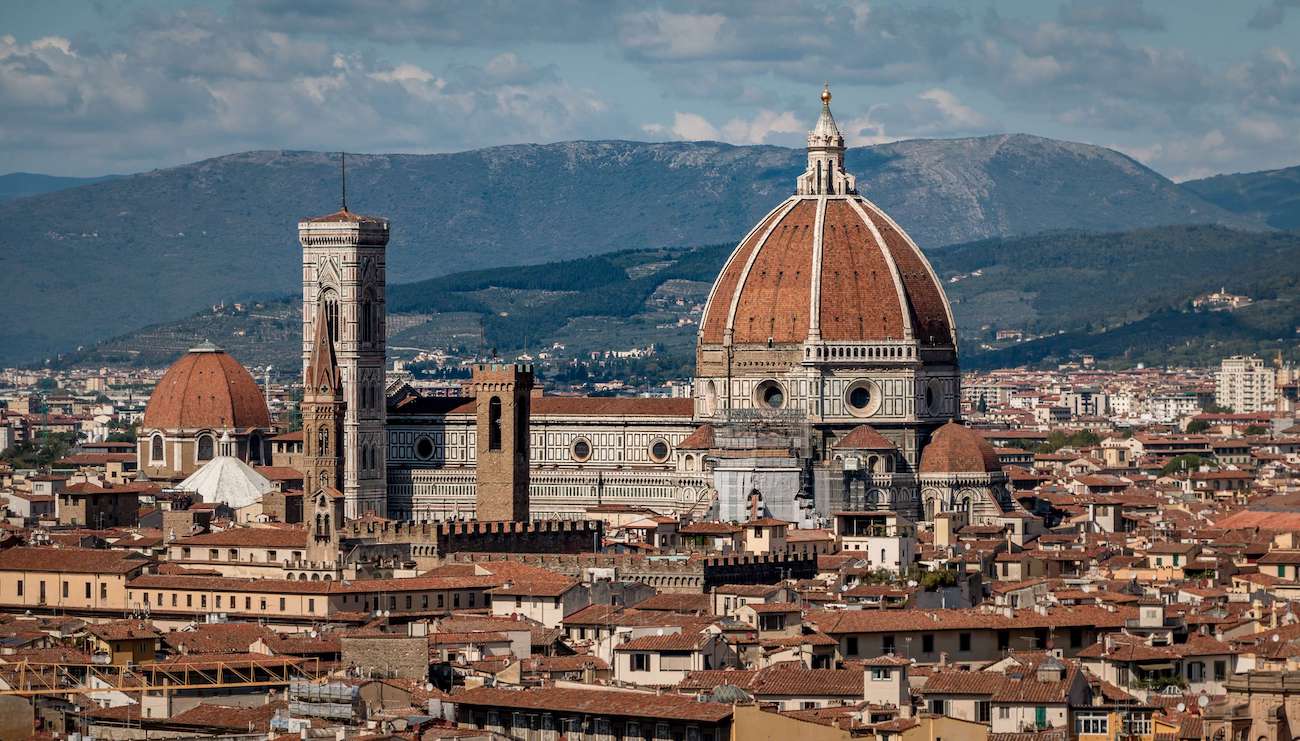 Also, you may want to have a unique stay at a boutique hotel in Florence, or maybe you need to find budget accommodation in Florence providing good value for money.
In any case, it's worth spending at least one day in Florence, although I advise staying at least two or three days. Or to stay longer and explore more of Tuscany from there. Actually, there are many beautiful day trips from Florence to cities like Siena or Pisa or the unique Tuscan countryside.
Quick overview – Where to stay in Florence, Italy
First time in Florence and Sightseeing
Best area to stay in Florence for first-timers and landmarks: Historical center
My top choice: Hotel Calimala
Florence for Foodies
Best Florence districts for foodies: San Frediano, Santo Spirito, Santa Croce
My top pick: Palazzo Guicciardini
Florence for Local Flavor
Best area in Florence to get local: Santa Croce
My top choice: Palazzo Roselli Cecconi
Florence with Kids
Best neighborhood to stay in Florence for families: Piazzale Michelangelo
My top choice: Serristori Palace Residence
Florence on a Budget
Best areas in Florence for budget travelers: San Lorenzo & San Marco 
My top pick: Hotel Ester 
Florence neighborhoods overview
Duomo – Historical Center
The area around Florence Duomo and Piazza della Signoria is the heart and soul of the city. All over, the narrow and cobbled streets crisscrossing the city center are full of iconic places that are on anyone's Florence bucket list.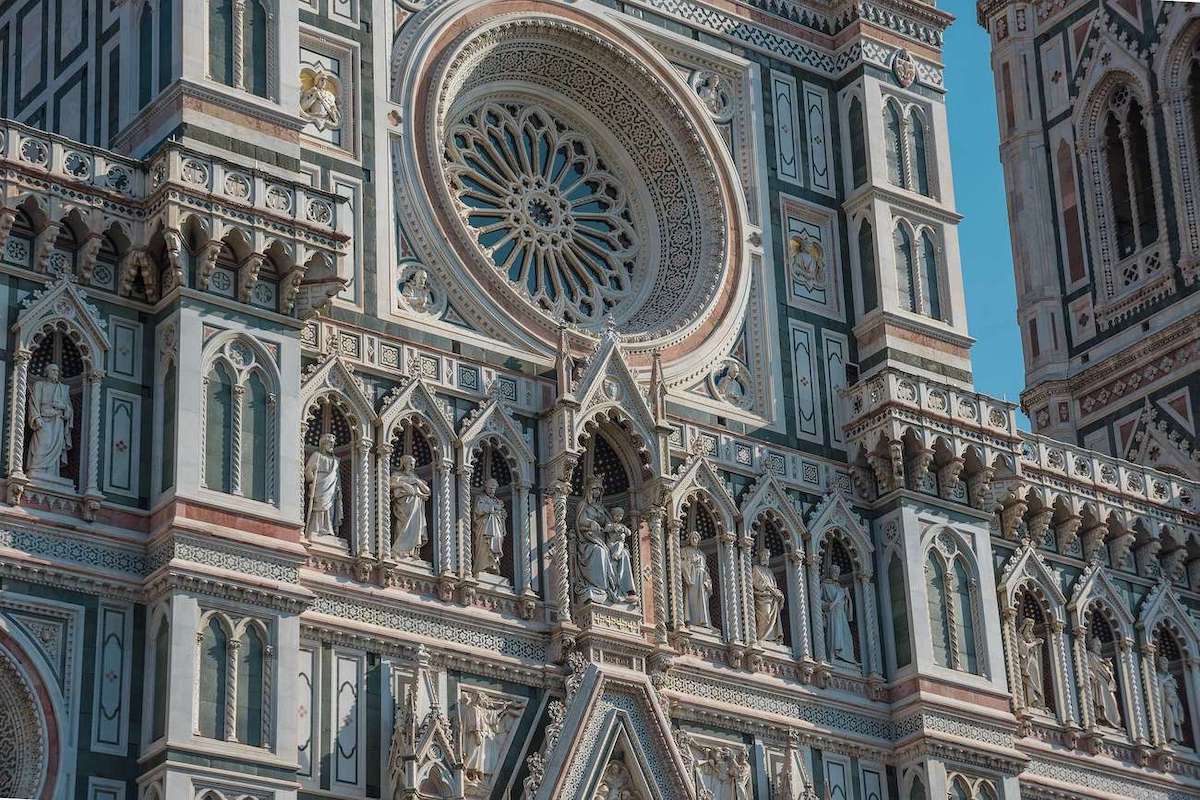 The main Florence landmarks are concentrated around the Duomo, very close to one another in the old town. In fact, by choosing a hotel in Florence's historical center, you'll be within short walking distance from the main sights like the spellbinding Cathedral square or the iconic Piazza della Signoria and Ponte Vecchio. That's undoubtedly the best area to stay in Florence if you're discovering the city for the first time or in case you're spending only one day.
An additional advantage of staying in Florence's old town is that you can visit the famous landmarks and the Uffizi Gallery early in the morning when they're usually less crowded. Furthermore, it'll be easy to revisit your favorite places at night when they have a totally different charm.
Since you're at the heart of the city, obviously the hotels here are also among the most expensive, although it's possible to find affordable accommodations.
San Lorenzo & San Marco
The area around Piazza San Marco (not to be confused with that of Venice, though!) and San Lorenzo are certainly among the best areas to stay in Florence on a budget, but without straying too far from the historical center. In fact, you're only a 10-minute walk from the Duomo.
Once San Lorenzo and San Marco were the poorest neighborhoods, especially when approaching the Santa Maria Novella train station. Today, they're quite elegant but a little less crowded with tourists than the center. These two neighborhoods are very similar, rather small, and next to each other. That's why they're generally combined and considered a unique district.
Home to the opulent Medici Chapels, San Lorenzo Market, and the beloved Central Market, this is the perfect area to satiate both the appetite for culture and food. Here you can find excellent local restaurants and, for shopping addicts, vintage boutiques where you can spend hours rummaging through to find that t-shirt you've been craving for a lifetime.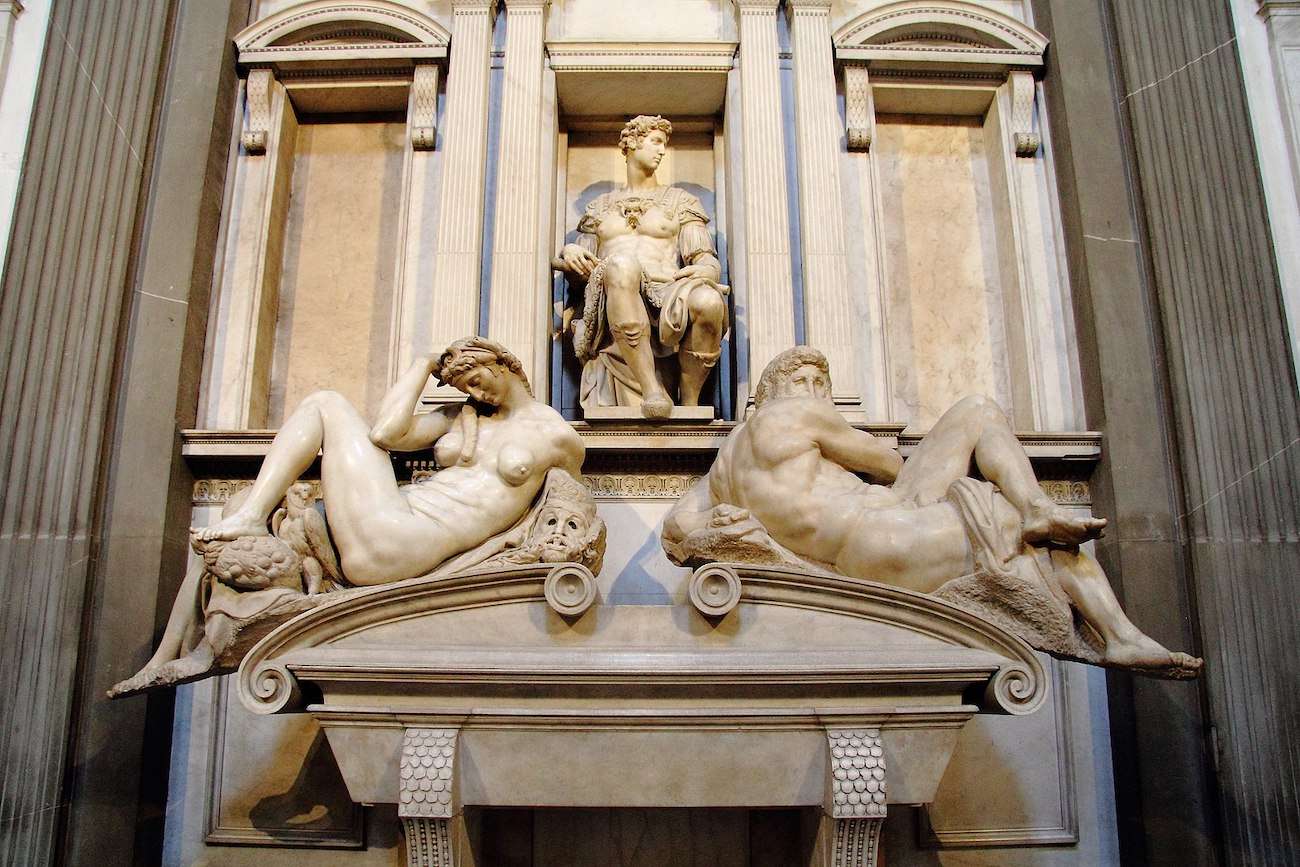 A must-see in this area is the Church of San Lorenzo, housing the Medicis Chapels, the family mausoleum showcasing Michelangelo's genius as an architect and sculptor. As for San Lorenzo Market, you'll find leather goods and other clothing items. You may want to look but beware that it's very touristy and that most of the products are not made in Florence and not the finest leather. Conversely, the covered Central Market is much more interesting. There, you'll see a wide array of food, mingle with locals buying groceries, and you can have a bite at the restaurant, tasting local products and dishes.
San Frediano & Santo Spirito
The district is Oltrarno, which literally means "across the Arno." Thus, it's basically located on the other side of the river compared to the Duomo.
San Frediano and Santo Spirito are very cool districts and are actually among my favorites. The whole neighborhood is quieter than the Duomo area, but I assure you it's not boring at all. Here you'll find many cafes, wine bars, and trattorias where you can taste some traditional Tuscan dishes. Don't miss to taste at least once ribollita, a typical, hearty, and delicious soup made of vegetables and beans. In San Frediano & Santo Spirito, you can also find artisan shops and lovely boutiques where you can buy more authentic products.
You may be farther from Florence's historical center, but that doesn't mean there's not much to see. Actually, you'll be close to two beautiful Florence landmarks: Palazzo Pitti and the Boboli Gardens.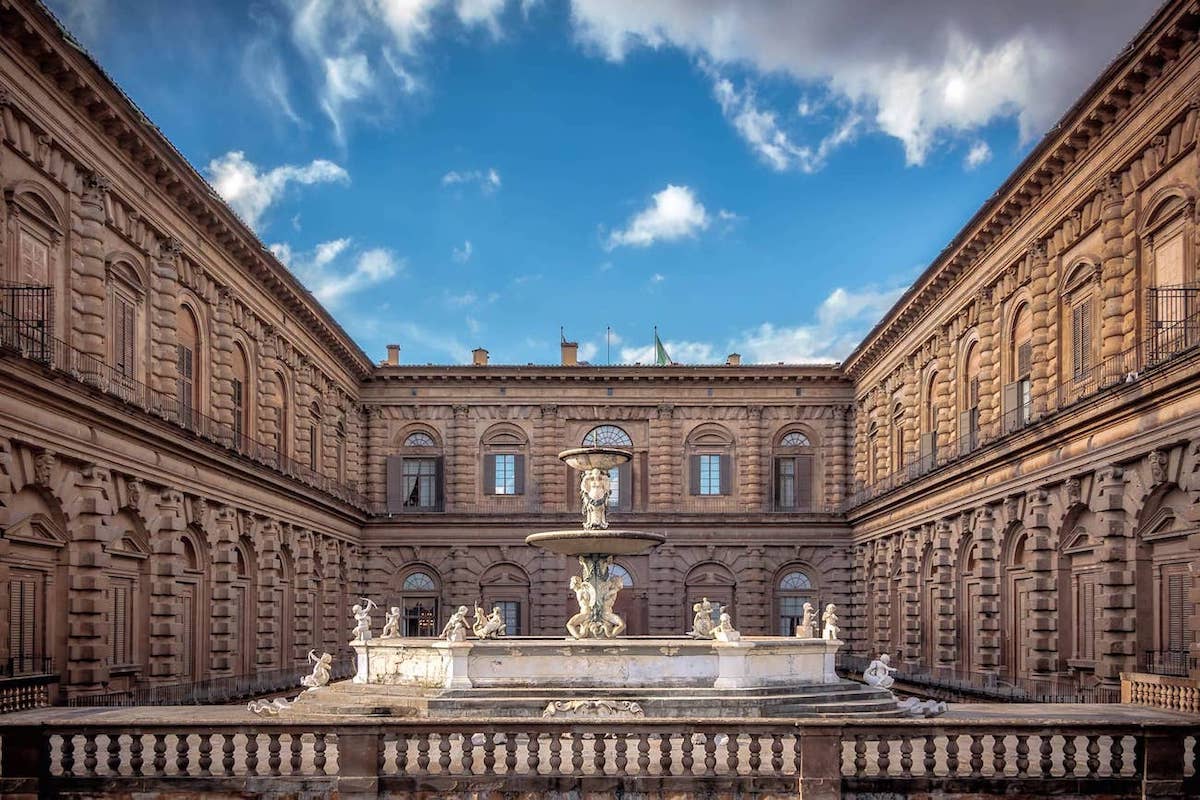 Or you can take a walk around Piazza Santo Spirito: it's a perfect example of the real atmosphere of this area!
This neighborhood is very nice during the day, but it comes to life at night, and you can choose between several pubs and clubs where you can dance until your feet are gone.
Santa Croce
My brother lives nearby, and thus, I have a soft spot for the Santa Croce neighborhood. The district owes its name to the beautiful Santa Croce basilica, one of the most stunning churches in Florence. The basilica is home to some of the most remarkable works of art from the late Middle Ages and the Renaissance. The Peruzzi and Bardi chapels, which Giotto decorated between 1320 and 1325, are among the unmissable Florence landmarks. Santa Croce also houses the tombs of many notable Italian artists, scientists, and popes, among which Michelangelo, Gioacchino Rossini, and Galileo Galilei.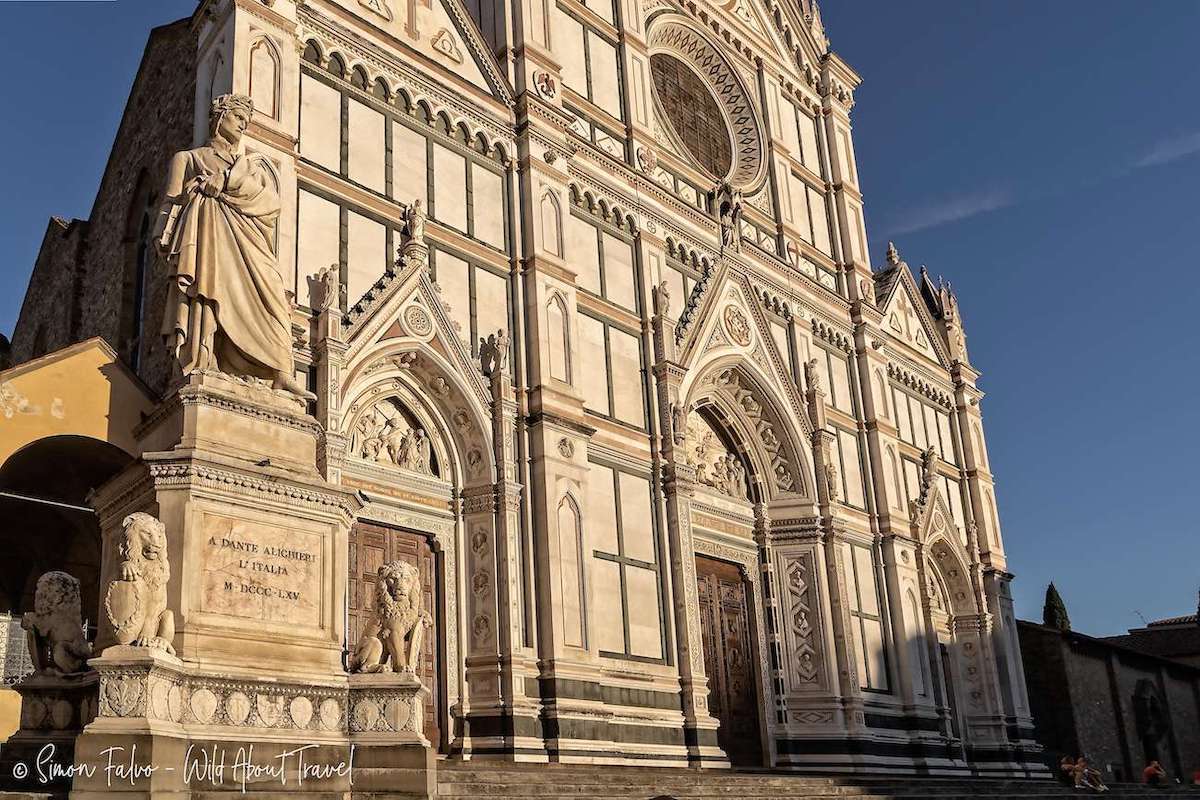 The Santa Croce district is the perfect area to stay in Florence if you want to experience more local life. Here, you'll find small cafès where residents gather, tiny bakeries, and a few excellent restaurants. The Sant'Ambrogio market is definitely worth visiting to spot the locals buying groceries and delicacies at the stalls.
Piazzale Michelangelo (and surroundings)
The vast esplanade on the hill overlooking the city is one of the best spots for amazing views of Florence at sunset. The area around Piazzale Michelangelo is the ideal place to stay in Florence if you want to avoid the crowds and enjoy the charming countryside. Although it'll take you some time, you can still walk to the historical center. Alternatively, you can rely on public transportation, especially when going back and uphill.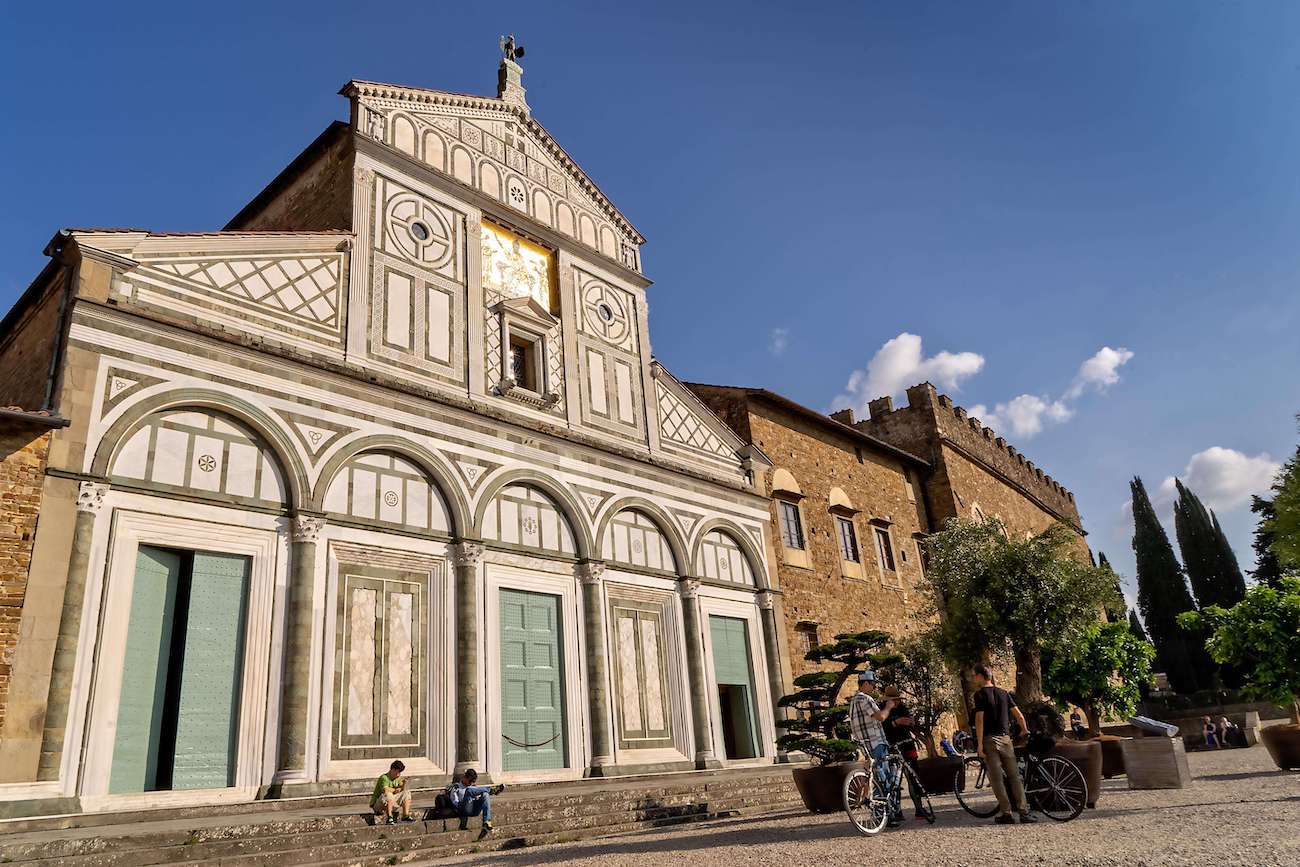 Piazzale Michelangelo and its surrounding are also an excellent option if you're traveling by car since finding a parking spot in the Florence center is difficult and pricey.
BEST HOTELS IN FLORENCE BY DISTRICT
Best Hotels in Florence historical center
Hotel Bernini Palace: This five-star hotel in a 15th-century palace stands out for its gorgeous decor, impeccable staff, and fantastic cuisine, all only a stone's throw from the top Florence attractions.
Rocco Forte Hotel Savoy: This five-star hotel might be the right choice if you want to treat yourself to a special stay. Halfway between Piazza della Signoria and the Duomo, Rocco Forte Hotel Savoy offers all kinds of amenities and outstanding service.
Hotel Davanzati: A cozy boutique hotel in the heart of Florence and a good option to combine comfort and affordable prices.
Boutique Hotel del Corso: Modern and stylish rooms and a great value for money for this boutique hotel in Florence's old town.
Gallery Hotel Art – Lungarno Collection: Elegant and stylish, this is the perfect hotel for art and design lovers. Some of the higher-end rooms and suites have a balcony, from where you'll have amazing views of Florence center.
Hotel Calimala: The hotel stands out for its contemporary, creative, and stylish decor, as well as for the rooftop terrace offering spellbinding views of the city.
Things to do in Florence historical center
– Visit Florence Cathedral and climb on the dome
– Discover the history of the Medici family with a 2-hour guided tour.
– Admire Renaissance masterpieces at the Uffizi Gallery and Accademia with a small-group tour.
– Take a guided tour of Palazzo Vecchio and learn about the history of the palace that's one of Florence's icons.
Best Hotels in San Lorenzo & San Marco
The charming Hotel Burchianti is only minutes from San Lorenzo church and very close to the Firenze Santa Maria train station. You'll stay in a 15th-century building with beautifully decorated rooms, most of which have ancient frescoes decorating the ceiling.
NH Collection Palazzo Gaddi is housed in a building from the Renaissance. The baroque halls are magnificent, and you'll have unforgettable views of the cathedral and other Florence landmarks from the rooftop bar.
Things to do in San Lorenzo & San Marco
– Take a guided tour of the Medici Chapels and learn about this famous family and one of Michelangelo's greatest masterpieces.
– You can also visit the Medici Chapels independently, buying a Reserved Entrance Ticket beforehand.
– Get more local and pop into the San Lorenzo Market for a food immersion.
Best Hotels in San Frediano & Santo Spirito
Palazzo Ridolfi – Residenza d'Epoca is a short walk from Palazzo Pitti in a beautiful ancient building. The rooms are tastefully decorated and combine contemporary and period furniture.
Step back in time at the gorgeous Palazzo Guicciardini, decorated with superb frescoes from the 16th century and classic furniture. Enjoy San Frediano and Santo Spirito's atmosphere, only 5 minutes away from Ponte Vecchio.
Right in Piazza Santo Spirito, Palazzo Guadagni Hotel is set in a 16th-century building close to Ponte Vecchio and the Boboli Gardens. The hotel features classic rooms with ancient furniture, and a panoramic bar overlooking Florence's historic center and the surrounding hills.
Casa Botticelli features stylish rooms combining contemporary design and selected pieces of ancient furniture. Close to Pitti Palace, the Boboli Gardens, and Ponte Vecchio, and within walking distance to Florence center.
THINGS TO DO IN SAN FREDIANO & SANTO SPIRITO
– Take a small group guided tour of Pitti Palace and the Palatina Gallery
– Have a stroll in the idyllic Boboli Gardens, either by yourself or with a guide.
– Chill out sipping an aperitivo at one of the local bars.
Best Hotels in Santa Croce
The charming Boutique Hotel La Casa di Morfeo is only a few steps from the Santa Croce Basilica and Sant'Ambrogio market. The rooms are tastefully decorated, and the hotel is good value for money.
Baglioni Relais Santa Croce, Florence, is a beautiful 5-star hotel set in a building dating back to the 18th century. The suites boast superb frescoed ceilings, and guests particularly appreciate the excellent service.
Things to do in Santa Croce
– Take a Guided Tour of Santa Croce Basilica, discover its masterpieces, and learn about the church legends.
– Have a stroll at Sant'Ambrogio Market, where you can also buy delicious food to bring back home as a souvenir.
Best hotels in Piazzale Michelangelo (and surroundings)
The 4-stars Art Hotel Villa Agape is set in a gorgeous park, with olive trees and cypresses. The property has beautiful decoration and offers free parking. Furthermore, you can take advantage of the free shuttle service to Florence's historic center and back.
There are many reasons to stay at the charming and quirky Hotel David. Close to the Arno river and 600m from Piazzale Michelangelo, Hotel David offers free parking and complimentary Happy hour from 6:30 pm to 8:00 pm. The bus stop is only a few steps away.
Bordering the banks of the River Arno, Serristori Palace Residence features modern apartments making it a perfect option to stay in Florence with kids. The area is safe and quiet and within walking distance of Florence's main landmarks.
Wrapping things up
Choosing where to stay in Florence depends on several factors, including your budget and travel style. Although the city is small, you may want to select a hotel in the best area in Florence for foodies or book a stay in Florence's historical center, close to the main landmarks. Also, some Florence districts are better for local life or quieter and surrounded by the countryside. Up to you to find the best accommodation in Florence according to your needs.
Before you go… Don't forget to
– Buy a worldwide travel adapter
– Buy travel insurance
– Bring a shawl in summer to cover your shoulders when visiting churches.
_______
This post contains affiliate links to products and services I either tested or carefully selected. That means that if you make a purchase, I get a small commission at no extra cost to you.
Pin for later!