Whether it's your first trip to Switzerland or a returning visit, no Switzerland itinerary would be complete without exploring at least one of the beautiful Swiss lakes.
From Lake Geneva, the biggest lake in Switzerland, to a tiny pond in the mountains, the choice is abundant. Which one you should visit depends on your Switzerland itinerary. Find out about the most scenic and colorful large Swiss lakes, and add them to your bucket list.
Jump to the relevant section [Show]
Wonder how many lakes there are in Switzerland?
You may be surprised that a small country like Switzerland has about 1500 lakes. Yes, that's the number. Quite impressive, right?
Some of them are quite big. But there are as well beautiful mountain lakes in Switzerland, amid jaw-dropping alpine scenery. Whatever the dimension, all are beautiful, each one in its way. Also, there are lakes in almost every canton, so even if you're spending only a couple of days in Switzerland, it's hard not to stumble into at least one.
The largest lakes in Switzerland
Lake Geneva
Unquestionably Lake Geneva (Lac Léman, in French) is the most famous lake in Switzerland. It also happens to be Switzerland's biggest lake.  Roughly shaped like a croissant, or a crescent, it's divided between Switzerland and France.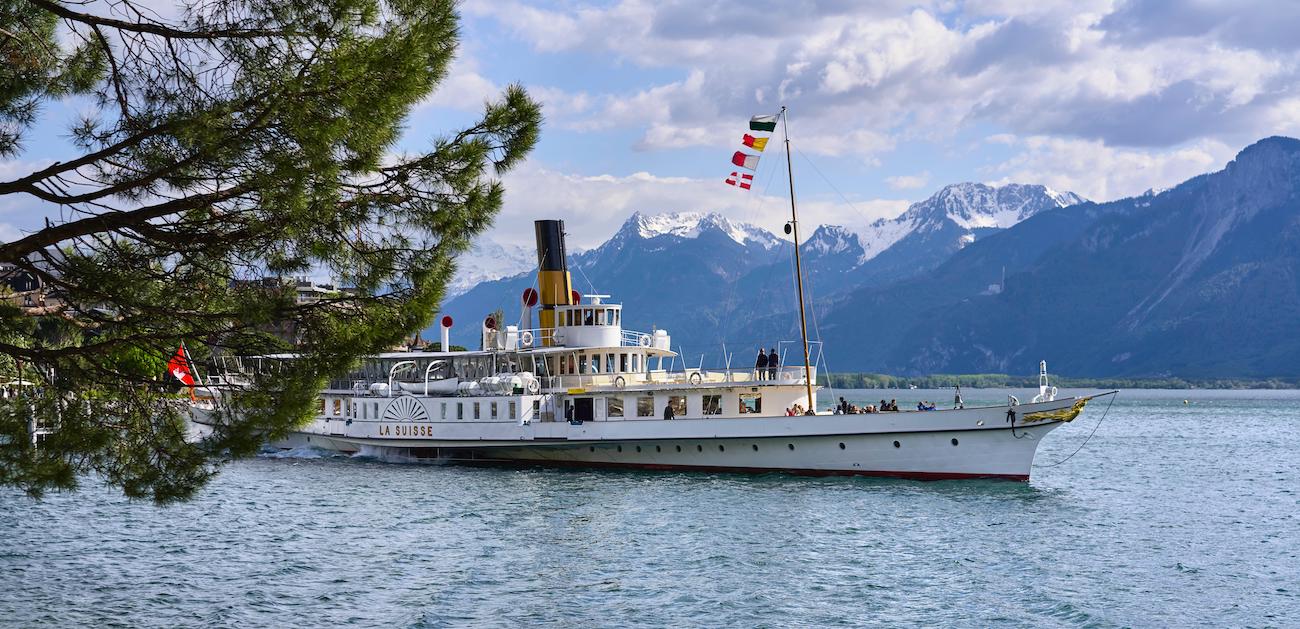 The beauty of the lake attracted many personalities, especially from the 1800s. Poets Percey Shelley and Lord Byron often spent holidays by Lake Geneva. Actor Charlie Chaplin died in Vevey, where he lived during his final years. Other famous people who bought homes around Lake Geneva include Audrey Hepburn, Phil Collins, and Michael Schumacher.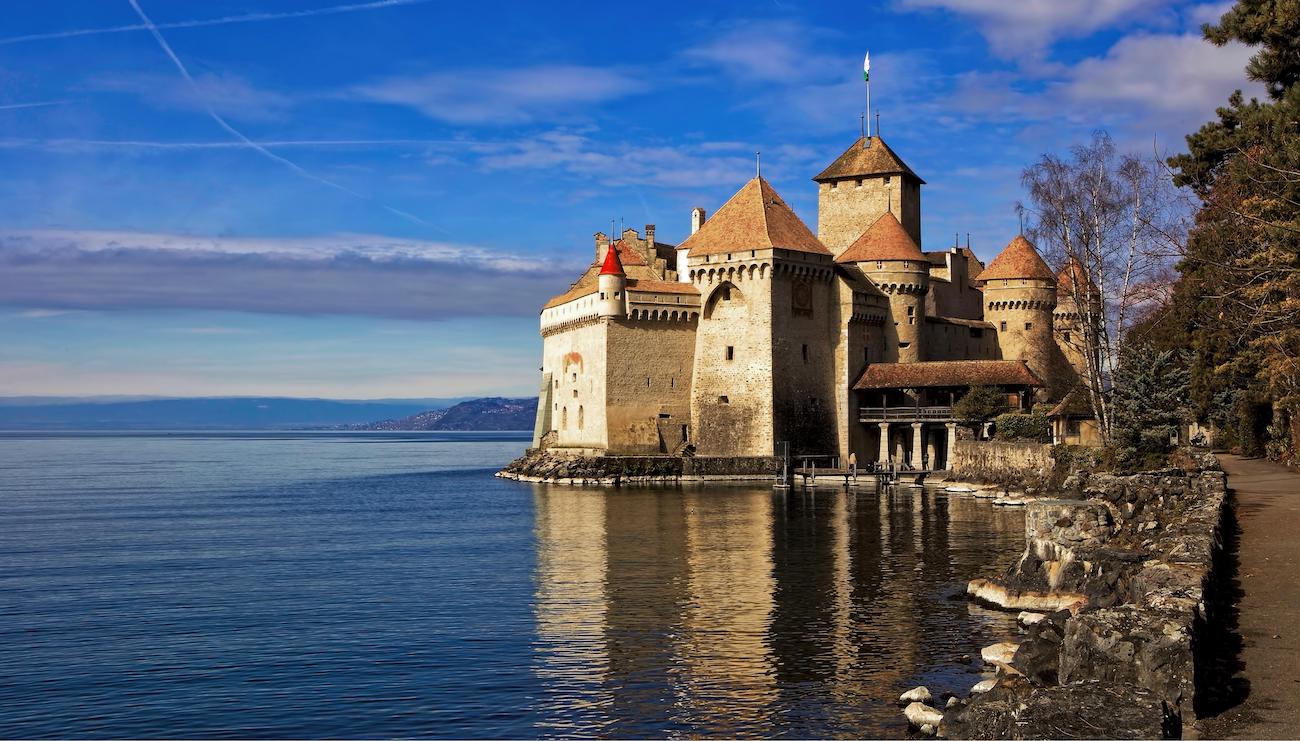 Geneva is the largest city overlooking the lake, and besides being very pretty, it's also conveniently located to explore the surroundings. There are plenty of beautiful day trips from Geneva, therefore, choose wisely. Two of my favorite excursions on Lake Geneva include the boat trip from Geneva to Montreux and the easy walk along the Lavaux terraces. These vineyard terraces are a UNESCO World Heritage Site since 2007, and the best time to fully enjoy their beauty is Summer and Autumn.
Things to do on Lake Geneva
➤ Take a sightseeing tour of Geneva and of Annecy, the charming and colorful town in nearby France, with an optional Lake Geneva cruise.
➤ Have a mouthwatering chocolate tasting tour, while discovering Geneva's old town.
➤ Spend a day in Montreux, visit Charlie Chaplin's World and admire the postcard-perfect Chillon Castle reflecting in the lake.
➤ Relax on a 1-hour boat cruise on Lake Geneva.
Where to stay on Lake Geneva
✦ Geneva: The elegant Hotel Longemalle is located in a pedestrian area, at the center of Geneva. From there, you can easily visit the city and make day trips in the surroundings:
✦ Lausanne: Hotel Angleterre & Résidence is on the lakeshore, from where you'll get beautiful views of the Alps. The hotel also boasts an outdoor swimming pool and a beautiful garden, making it the perfect choice if you travel to Switzerland with kids.
Lake Lucerne
Since Lucerne is one of the most beautiful cities in Switzerland, there are good chances you'll include it and Lake Lucerne in your Switzerland itinerary. It won't take you long to see why Lucerne is considered one of the top places to visit in Switzerland.
Furthermore, Lake Lucerne is in central Switzerland, thus close to many stunning attractions. The English name is a little misleading. In French, German, and Italian (Switzerland's official languages with Romansh), it's called the Lake of Four Cantons, since it spans across the cantons Uri, Schwyz, Unterwalden, and Lucerne.
The area around Lake Lucerne is also famous for superb mountain sceneries, offering stunning views of the lake. One of the best excursions from Lucerne is the one to Mount Pilatus. Combining the cable car ride, the steepest cogwheel railway in the world, and a boat trip, it's one of the most exciting day trips from Lucerne you can imagine. Another top spot near Lucerne is Mount Rigi, perfect for a day out amid idyllic scenery. If you're keen to see eternal snow and a glacier, you should take a tour of Mount Titlis. The trip is nothing short of spectacular, starting from the revolving cable car.
Things to do in Lake Lucerne
➤ If you're lucky to have good weather, don't miss taking a day trip to Jungfraujoch Top of Europe, combining a scenic train journey with one of Switzerland's top attractions.
➤ Make an excursion to Mount Titlis, from where you'll get breathing views of the Swiss Alps.
➤ Spend a day between water and peaks, combining a self-guided tour of Mount Pilatus and a boat cruise on Lake Lucerne.
➤ How about a 2-hour guided tour of the city, a boat cruise, and a visit to Lucerne castle?
➤ Relax on a Lake Lucerne boat cruise and admire one of the most beautiful places in Switzerland.
➤ In winter, you can also go skiing at one of the mountain resorts near Lucerne.
Where to stay on Lake Lucerne
Although there are many towns where you could overnight, I suggest you stay in Lucerne. First of all, because the city is incredibly beautiful. And also since it'll be much easier to take day trips from Lucerne rather than from nearby towns unless you're hiring a car.
✦ The elegant Hotel des Balances is set in one of the best areas in Lucerne, along the river and only steps from the city's most beautiful sights. It also boasts a lovely bar overlooking the river Reuss.
✦ Another excellent option is the Hotel des Alpes. Located in the heart of Lucerne, it features modern rooms and a beautiful terrace with romantic views of the river.
Lake Thun and Lake Brienz
Lake Thun and Lake Brienz are two other famous lakes in Switzerland. Although they're two distinct lakes, they're adjacent and usually visited at the same time. Interlaken, one of the top destinations in Switzerland, lies in between and thus enjoys a privileged position to visit both.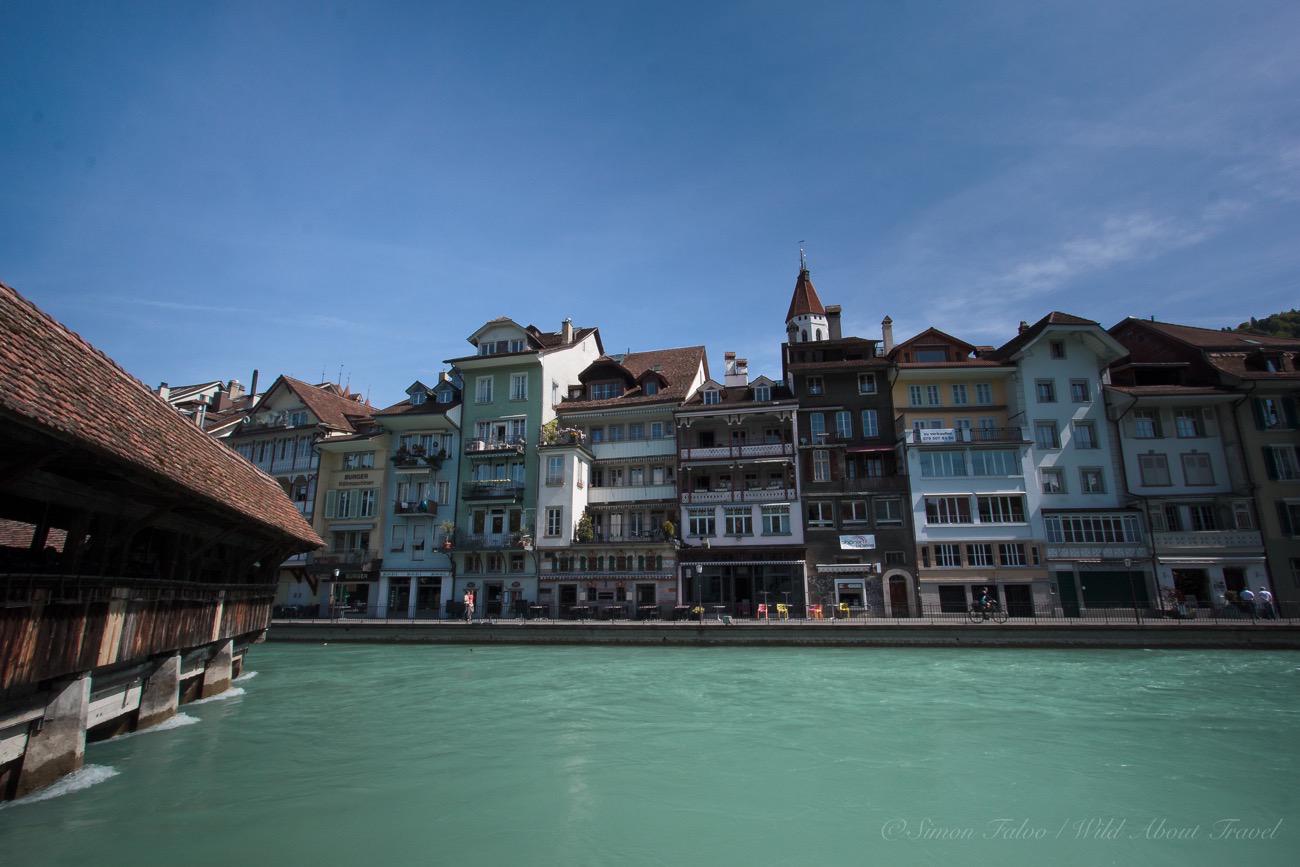 Furthermore, Interlaken is the gateway to some of the most beautiful mountain sceneries in Switzerland. One above all is Jungfraujoch Top of Europe, the highest train station in the old continent. From there, you'll get unique views of the Aletsch glacier and the surrounding snow-capped peaks.
That is also the area where you can experience one or more of Switzerland's most scenic train rides.  They're pricey, like everything in Switzerland, but if you have good weather, you won't be disappointed.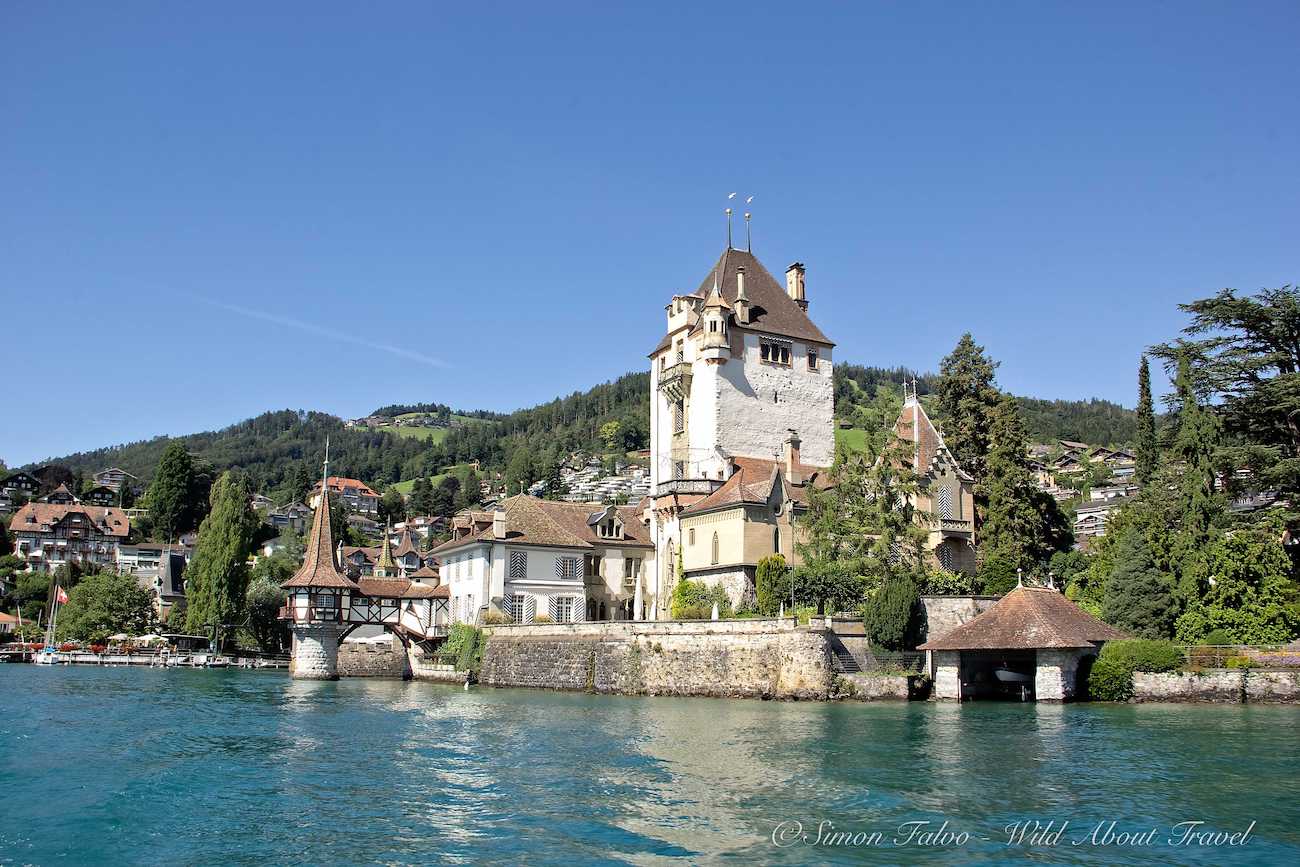 Both Lake Thun and Lake Brienz are beautiful, but I confess that I slightly prefer Lake Thun, which is one of my all-time favorites. I'm in love with its bright turquoise water, and charming Thun, the town at one of the lake's extremities. Set in between the two lakes, Interlaken is one of Switzerland's most popular destinations and the perfect place for outdoor activities and active travel.
Things to do in Lake Thun and Lake Brienz
➤ Have a day trip from Interlaken to Jungfraujoch Top of Europe, for unique views of the alps and of the Aletsch, the largest glacier in Europe.
➤ Take a kayak tour of Lake Brienz, and admire the stunning alpine scenery encircling the lake.
➤ If you're an adrenaline seeker, you'll love tandem paragliding in Interlaken, one of the best places to have your first flight. As you gently drift in the air, you'll have spellbinding views of the lakes and the Alps. I went tandem paragliding in Interlaken a few years ago and trust me, it's amazing!
➤ How about experiencing canyoning for the first time? Check out this active canyoning experience for beginners.
➤ For a real adrenaline rush, you can even experience skydiving in Interlaken! I tried once, in Costa Brava, and it's hard to imagine more adrenaline than that.
Want to know how tandem paragliding feels? Read here.
Where to stay on Lake Thun:
It's worth overnighting in Thun if you want to visit some of the beautiful nearby mountain attractions, like the Stockhorn or Beatenberg.
Although Brienz is pretty, I suggest you stay in Interlaken. Set in between Lake Thun and Lake Brienz, it enjoys an ideal location to explore the area. Furthermore, Interlaken is also an excellent gateway for an excursion to Jungfraujoch Top of Europe, and to discover some of the prettiest villages in Switzerland.
✦ Thun: The charming Boutique Hotel Schlossberg is ideally located at the heart of Thun's old town. The hotel features stylish decor and a small wellness area.
✦ Interlaken: Hotel Interlaken is in the center of the town, and minutes from the train station. It features contemporary décor in a beautiful historical building.
Lake Zurich
It's perhaps not as scenic as others of the biggest lakes in Switzerland, but it's certainly worth seeing if you spend one day in Zurich (or more).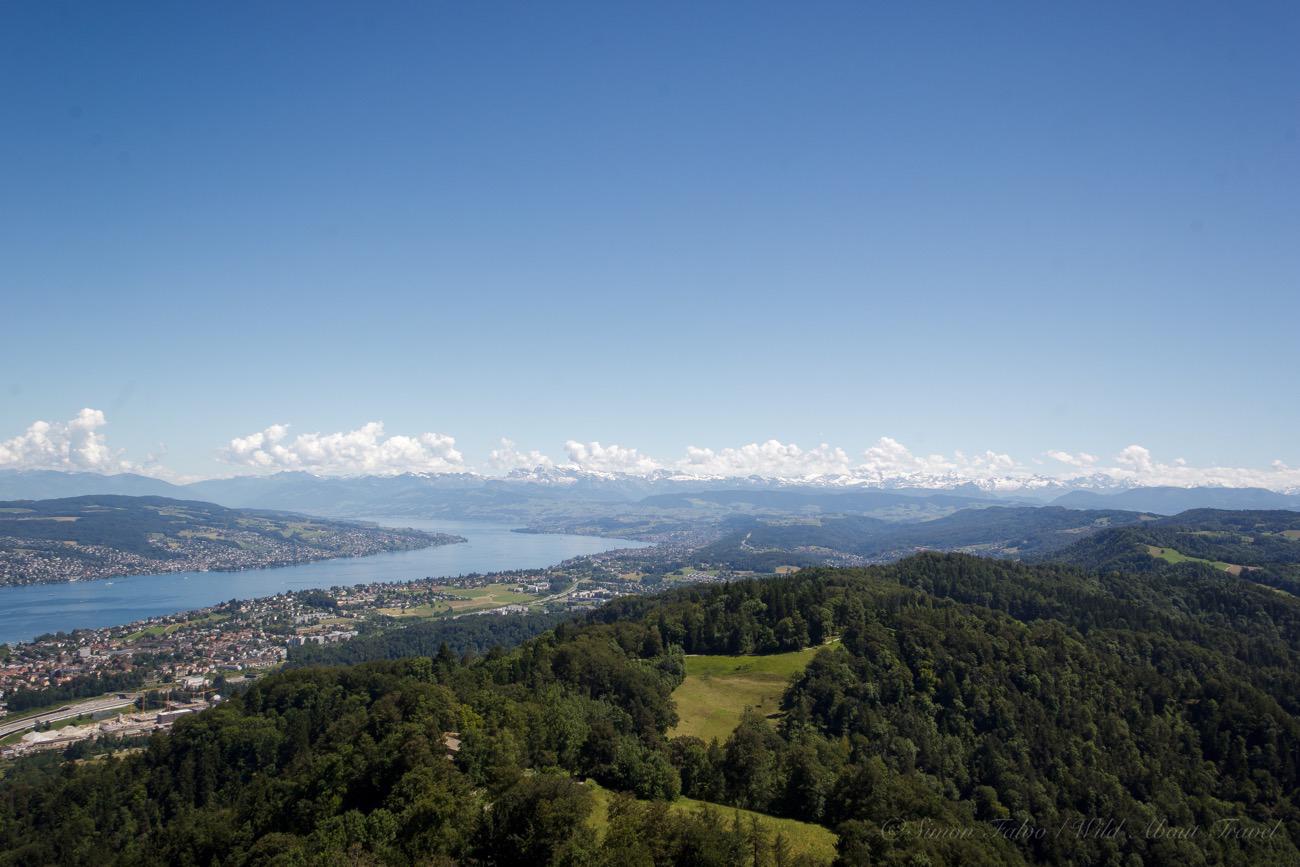 A classic is a boat ride, which can go as far as the charming city of Rapperswil. To get magnificent views of the lake from above, I strongly recommend you catch the train or the cable car to the Uetliberg. Zurich mountain is a beautiful spot. There are a few cafes and restaurants with terraces overlooking the lake and several options for easy hikes. Zurich is also close to the beautiful Rhine Falls and the delightful town of Stein am Rhein, with its unique painted houses. You can visit on your own, or take a guided tour from Zurich to the Rhine Falls and Stein am Rhein.
Things to do on Lake Zurich
➤ Take a tour of Zurich's old town, enjoy the ferry on the lake and visit the Uetliberg, Zurich mountain, by cable car.
➤ Although not directly on Lake Zurich, the tour to the Rhine Falls and enchanting Stein am Rhein is a beautiful excursion from Zurich.
Where to stay on Lake Zurich
The best choice is to stay in Zurich, from where you can easily travel across Switzerland and discover the surrounding area.
☞ Check out my post on the best areas to stay in Zurich for more information.
Lake Constance
The second largest lake in Switzerland, Lake Constance, is located up north, at the border with Germany and Austria. Of all lakes in Switzerland, Lake Constance is the one you're less likely to visit. The main reason is its geographical location, out of the way from the "classic" Switzerland itineraries.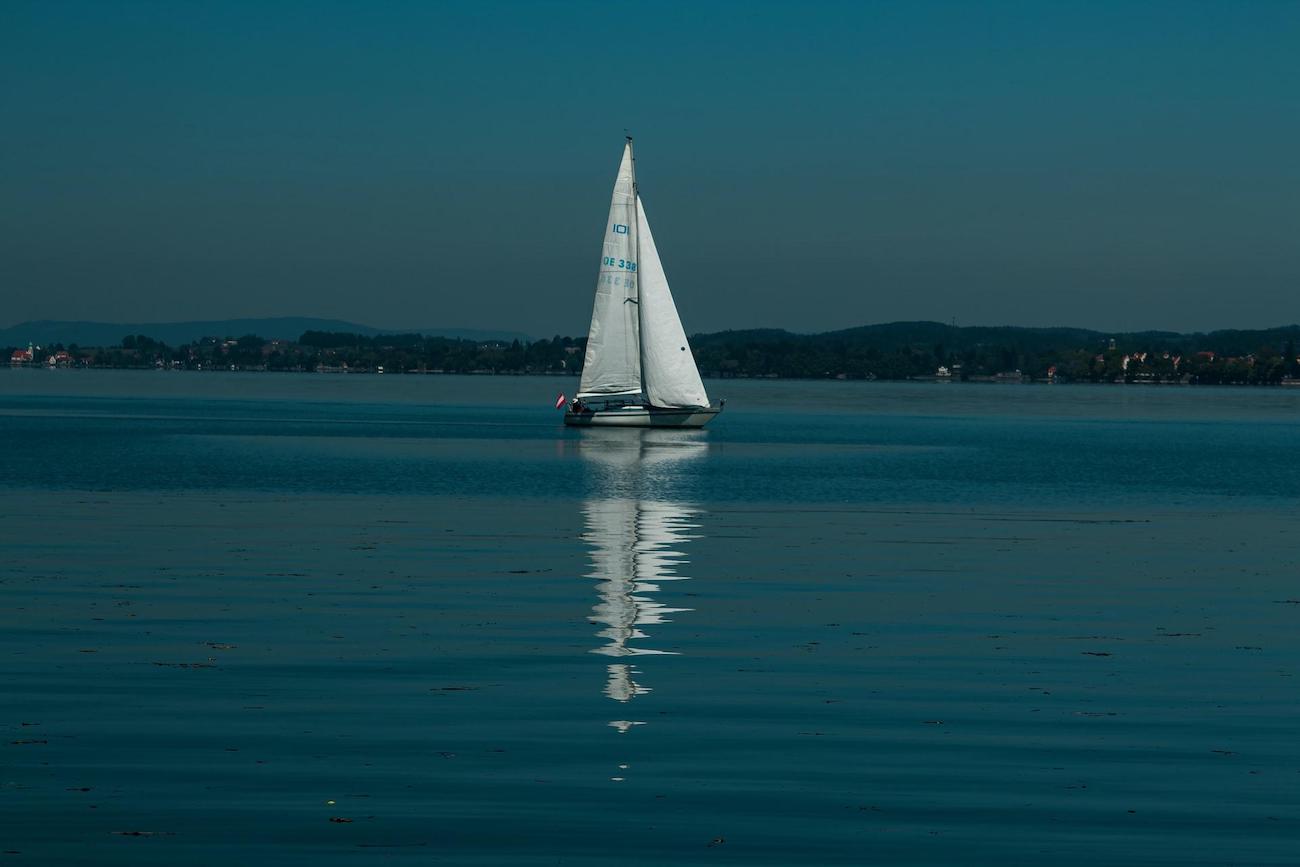 Nonetheless, if you spend a couple of days in Zurich, you could take a day trip to Lake Constance. And, as I mentioned before, don't miss to visit Stein am Rhein, one of Switzerland's most beautiful towns.
***********
In Switzerland, you can also choose between a myriad of smaller lakes. There are many picture-perfect mountain lakes within easy reach, either by public transportation or by having a short and easy hike.
_______
This post contains affiliate links. That means that if you buy anything, I get a small commission at no extra cost for you.
Pin for later!