Last updated on July 4th, 2021
Anyone with a passion for alpine ski competitions is familiar with the town of Kitzbuehel, in Tirol, and the Hahnenkamm – also called Streif – the most famous downhill race together with Wenger's Lauberhorn, in Switzerland.
Alpine ski indeed remains one of the leading attractions of this famous village in the Austrian Alps, but Kitzbuehel has become over the last years a paradise for outdoors in Tirol, with plenty of activities to do across the seasons.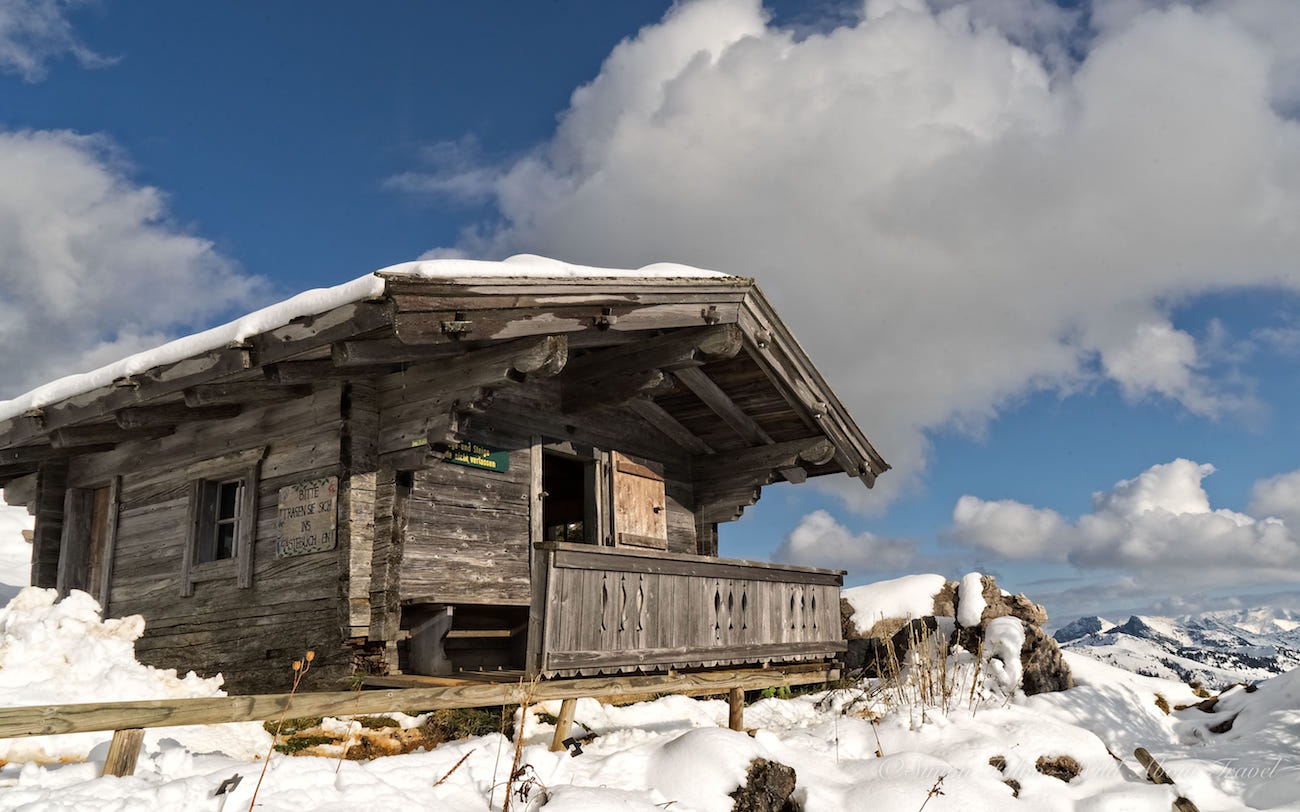 Hiking  in Kitzbuehel
I spent a few days in Kitzbuehel in September to attend the STS Kitzbuehel Conference, after which I went on a two days hike from the Kitzbueheler Horn to Aurach, spending the night along the way in a delightful mountain hut.
It had been raining dogs and cats during the Conference, and the mountains were never to be seen, so I had the most pleasant surprise when I woke up in the morning to a sunny day and a sky becoming clearer.
Engelbert, an experienced mountain guide, and a very cool guy met us at the hotel and off we were to start our hike.
Two cable cars (yes, in Kitzbuehel some cable cars are still operating until late September, even during working days. Amazing!) and about half an hour later we reached the Kitzbueheler Horn. Albeit only early autumn, we were welcomed by a soft blanket of fresh snow, overlooking the green pastures of the valley.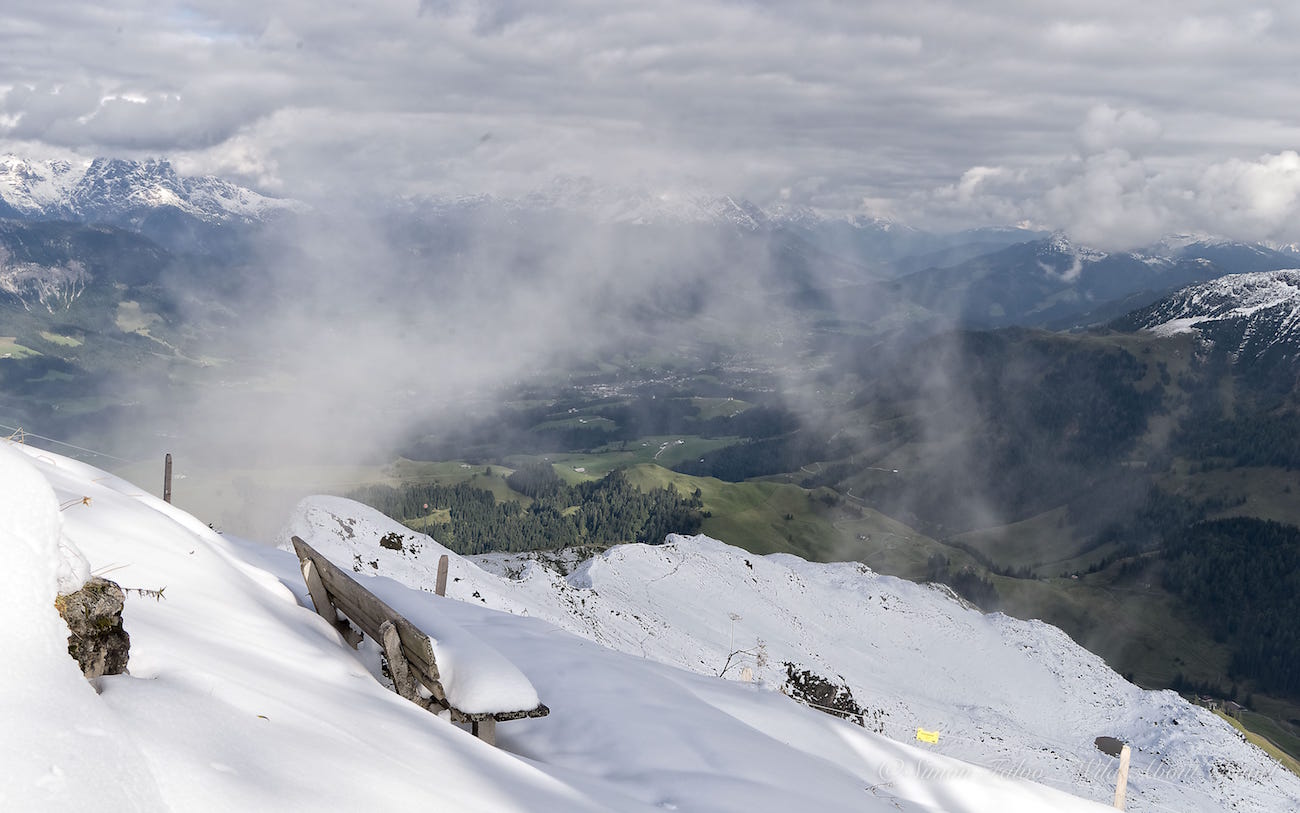 After a short and leisurely walk in the snow, we reached the Hornköpfelhütte, the pretty mountain hut where we would spend the night. Set in a scenic point, with a 360 degrees view of the surrounding mountains, the Hornköpfelhütte overlooks a small lake. It is indeed a reservoir, as Engelbert explains, and water is used to make artificial snow whenever needed.
Time for a well-deserved beer and a large plate of local cheese and cured meat, before heading out on the terrace for sunset. Surrounded by a perfect silence, we watched the sky turning from orange to pink, till the magic blue hour.

In Kitzbuehel, alpine ski is king and excellent snow conditions are guaranteed
During dinner – a delicious soup and an even more delicious Wiener Schnitzel – a thin slice of tender veal, breaded and fried – we talked about past alpine ski Austrian champions, and how in Kitzbuehel they are making incredible efforts to offer the best possible winter sports experience.
Fact is that over the last years snowfalls have become unpredictable and Kitzbuehel is at a low altitude (762 m / 2,500 ft). But since skiing is a serious matter in Austria, and tourism is a priority in Kitzbuehel, they managed to put in place a system able to guarantee excellent snow conditions during all winter season and beyond.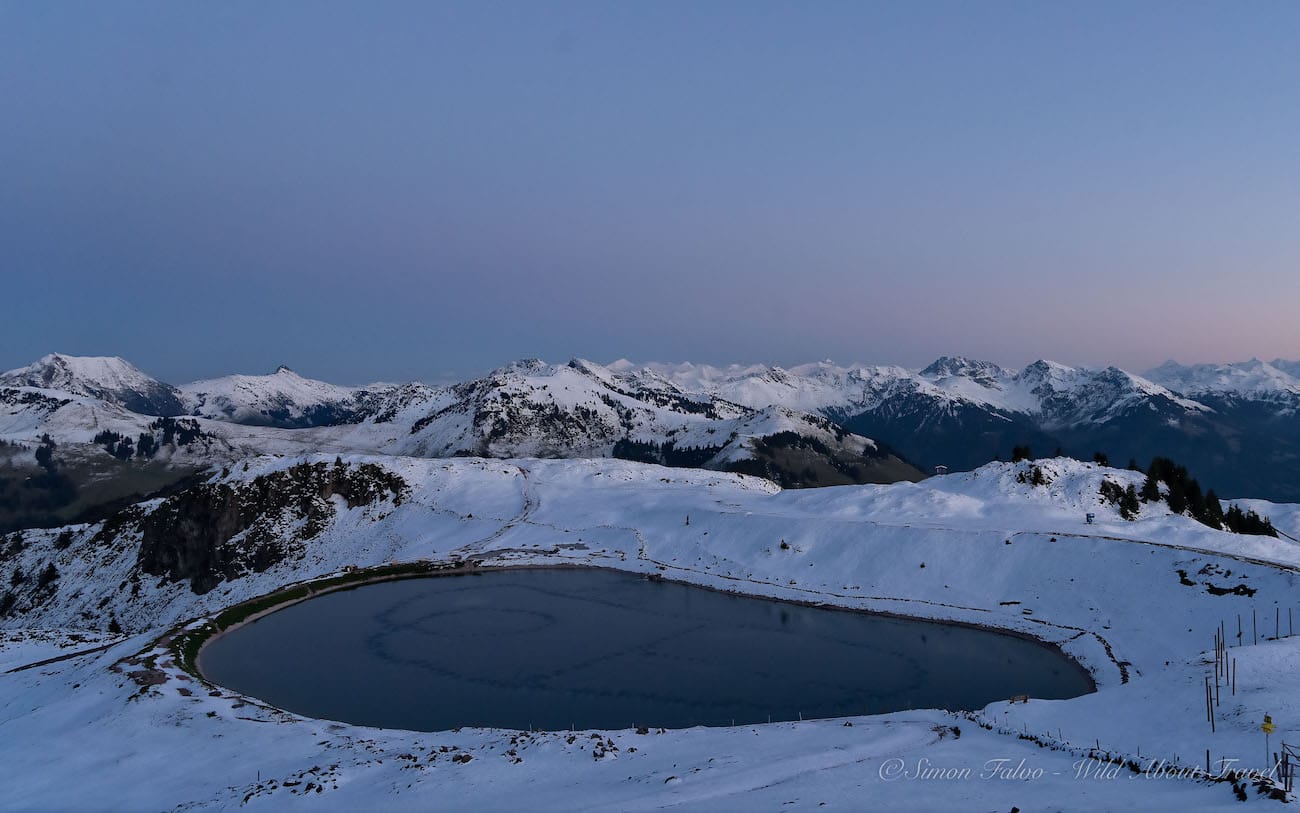 Aside from the water reservoirs, whenever the area is blessed with a good snowfall, snow gets collected, carried and stored in a place where the sun and temperature conditions are most favorable for its conservation. This way, when needed, they can move the snow back to the slopes that need to be taken care of. Not only. To make the most advantage from the snow storage, as soon as the temperature rises the area gets covered to avoid as much as possible the snow to melt. It was the first time I heard about such a solution and found it brilliant.
Thanks to this smart system, the ski season in Kitzbuehel starts already mid-October, with the opening of a few slopes and the world famous Hahnenkamm opening a couple of weeks later.
Beyond Winter, Kitzbuehel is a year-round paradise for outdoors in Tirol
As much as winter is the top season, Kitzbuehel is a year-round outdoors paradise, offering activities for any taste and age. And if one feels like pampering on a lazy or rainy day, several hotels have a spa and other wellness facilities.
I am a solo traveler, and I love hiking alone, but if you don't feel like going by yourself or you just wish to meet other fellow hikers and locals, from mid-June to mid-September, the Tourism Board offers free guided hikes of different difficulty levels, with guides Englebert, Susi and Madeleine. Listening to Englebert talking about all Kitzbuehel has to offer, I couldn't help thinking that free guided hikes are another great initiative (and not at all usual in mountain resorts) to help visitors get the most of this beautiful region and to feel welcomed.
Moreover, Englebert is one of the best and most relaxed mountain guides I ever met, and apart from leading us through the snow-covered trails and pastures, he told us a lot of curious things about the area. Therefore, if you happen to visit Tirol and the Kitzbuehel area (and I hope you will since it's worth spending a few days), don't miss the opportunity to take a free guided walk and meet some lovely local people.
Chatting about sports, outdoor activities and tourism, it was getting late and time to head to bed for a good sleep, lying under a soft duvet and surrounded by a perfect silence.
A bright blue sky and the sun greeted us the following morning. At the higher altitude, we would walk in the snow, but it was clear that the warm temperature would soon melt the white blanket, revealing the green pastures again.
After a generous breakfast, we all wore our hiking shoes and started the hike that would eventually lead us to Aurach, stopping along the way at the Bichlalm for a unique gastronomic experience. The Bichlalm is a lovely hotel with a warm and stylish alpine decor, and a fantastic terrace overlooking the Kitzbuehler Alps. It is also renowned for the unique and delicious home-made smoked speck (and, in smaller quantities, pastrami, and salmon), lovingly produced by Niko Gasteiger junior, who runs the hut together with his father.  
The taste of Niko's smoked speck is divine and perfectly balanced, and no less delicious were the pastrami and the smoked salmon. We ended our lunch break with a slice of yummy local apfelstrudel and continued our walk across the green pastures now that we had reached a lower elevation.
More charming views, and more interesting stories and facts of this incredible region. Engelberts' enthusiasm, as he tells us about the more than 1000 km of hiking paths, and the incredible variety of outdoor activities one can make all year long, is contagious. And it's easy to understand why Kitzbuehel considers itself "the most legendary city of sports in the Alps" and outdoors in Tirol are so inviting.
Practical Information
Getting to Kitzbuehel: 
By air – The nearest international airports are Salzburg (80 km / 50 mi), Innsbruck 95 km / 59 mi), Munich (125 km, 78 mi). From there, you can either rent a car or take the shuttle services, to reach Kitzbuehel in less than two hours.
By train – Many international trains stop in Kitzbuehel, and you can find more connections from Woergl, regularly served by Austrian Railway.
By car – Average time
From Munich approx. 2 h, From Innsbruck: approx. 1,5 h, From Innsbruck: approx. 1,5 h, From Salzburg: approx. 1 h, From Zurich: approx. 4,5 h, From Milan: approx. 5,5 h
Where to stay:
If you're in for a real treat, you'll love the A-Rosa Hotel. Standing on Kitzbuehel heights and overlooking the 9-holes golf course, it boasts a beautiful view of the mountains. Surrounded by a large garden, the A-Rosa Kitzbuehel is an oasis of peace, and albeit large, it is intimate and warm.
The breakfast buffet is one of the best I've ever seen, with so many high-quality foods that it was hard to choose. Don't miss to taste the different muesli, as well as the vast selection of local cheese. The A-Rosa Spa is so big that it's easy to get lost (and I did), and offers one of the vastest range of Sauna, Steam baths, and relax areas you may think of.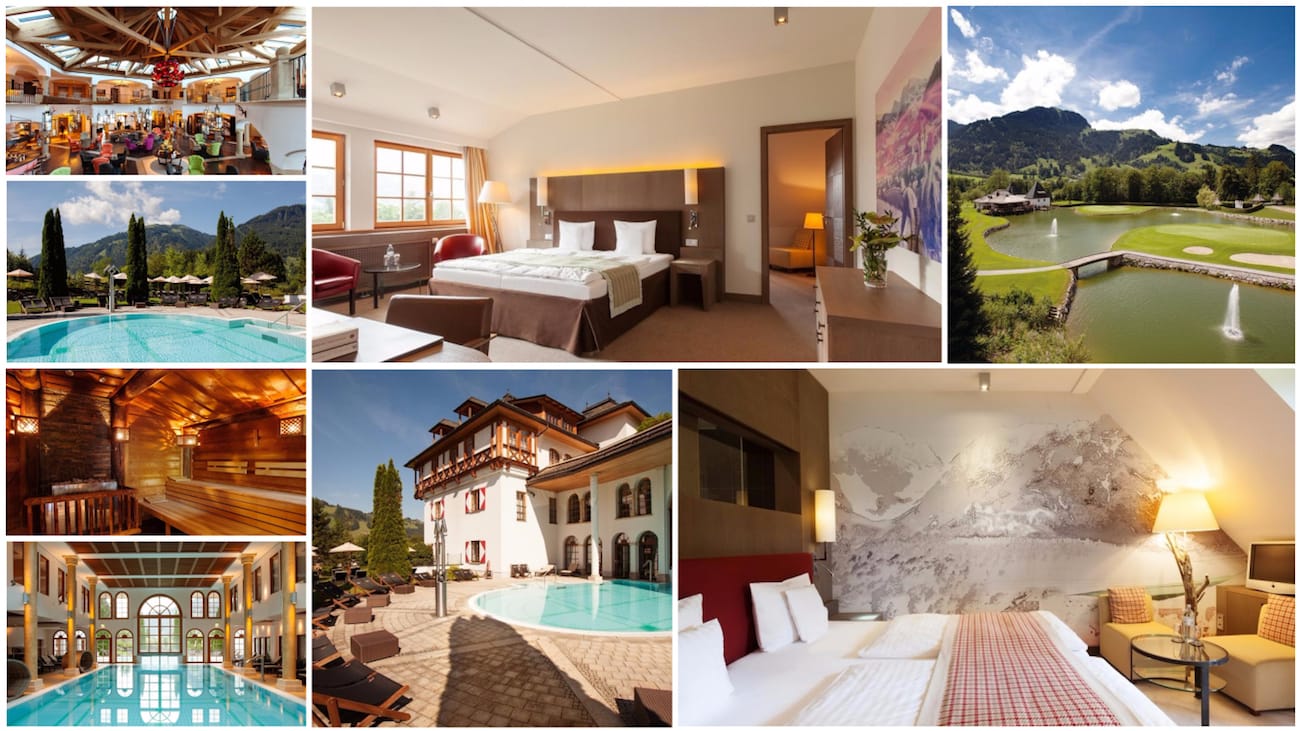 Where to eat:
Eggwirt – Restaurant with longstanding Tyrolean tradition
Bichlalm – Regional cuisine, trendy alpine style, beautiful terrace overlooking the mountains and the valley.
More useful links:
_______
Note: I was kindly invited by Austrian National Tourist Office (ANTO), Tirol Tourist Board (TW) and Kitzbühel Tourism (KT) to attend the Social Travel Summit, taking place in Kitzbühel, Tirol, as a result of the partnership with iambassador. After the conference, I had the opportunity to discover more of the region on a two-day hike. As always all opinions (and the enjoyment) are mine.
Pin it if you like it!