Despite its isolation – or maybe because of it – the people of Shimshal are among the friendliest and kindest I ever met during my travels.
Arshad and I had barely walked a few minutes that we met his mother-in-law, a large bag filled with small pieces of wood sitting on her shoulders, goats and their cubs strolling in front of her. We stopped to say hello, and with a broad and warm smile, she invited us for chai (the typical Pakistani tea with milk and a lot of sugar) at her home.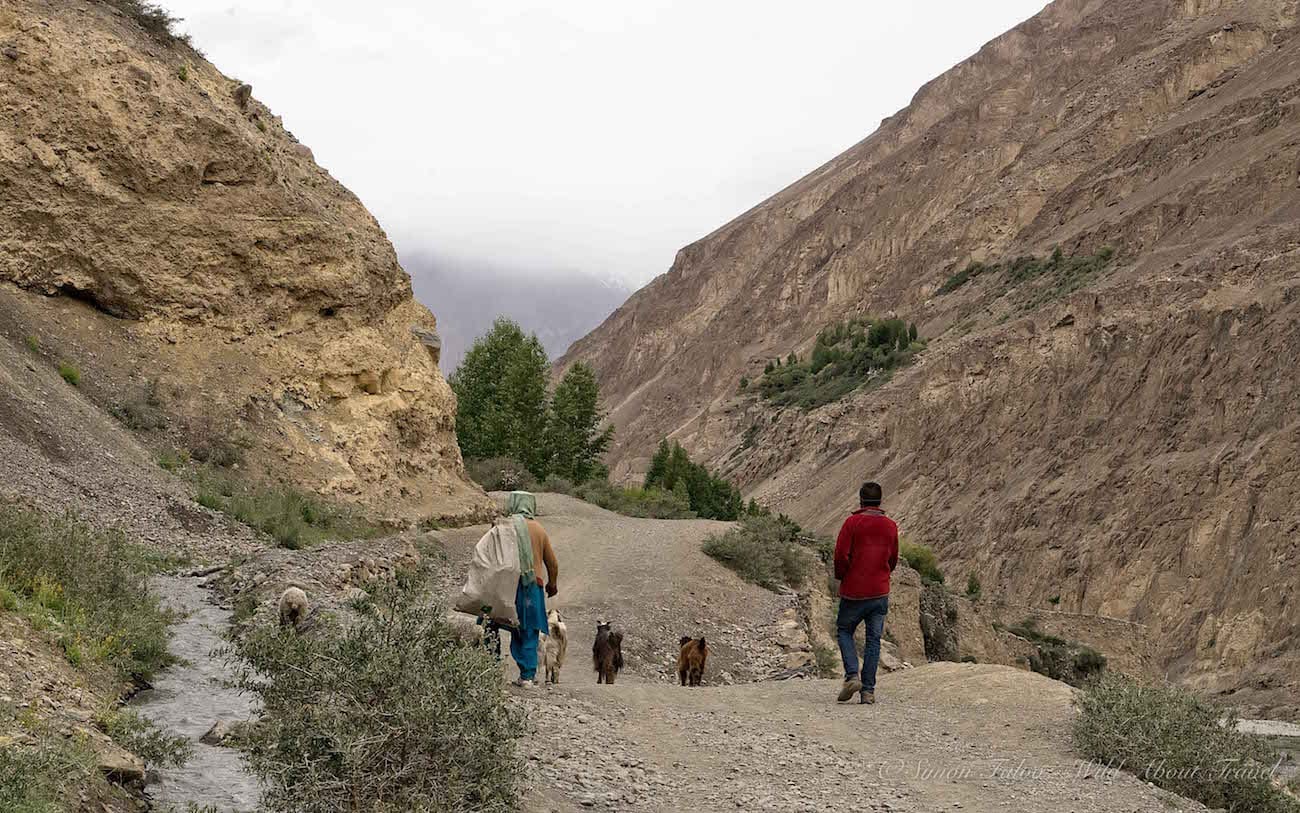 Discovering the local life in Shimshal Valley
I was keen to have a peek at the local life and gratefully accepted the opportunity to find out a little more about the culture in Shimshal.
I had the first surprise even before entering the house when I was invited to take my shoes off and leave them at the entrance. It's a fantastic custom (and one of the many reasons I loved the Japanese culture), which I try to get accepted when people visit me at home, in Italy, where taking the shoes off is considered inappropriate.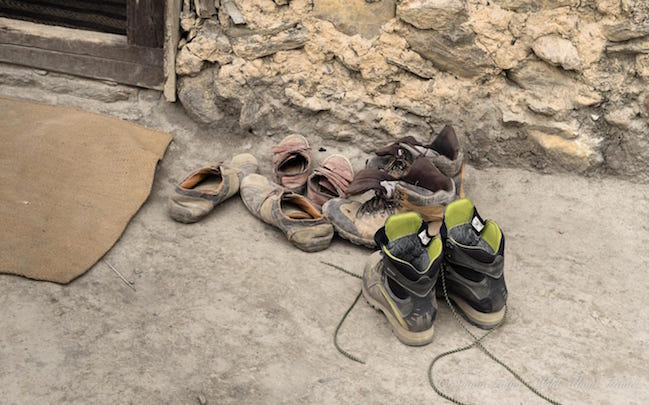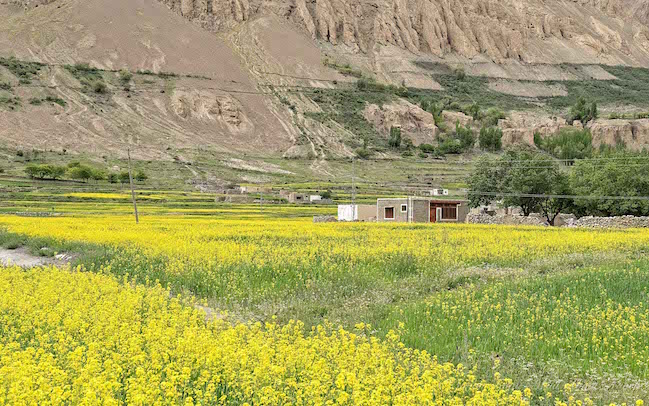 I entered the traditional house, a large square with columns, with a slightly elevated area in the middle. That's where the wood stove sits, providing warmth to the room and serving for cooking as well. I greeted and made my first cultural mistake, unaware that according to the local tradition women sit on one side of the room and men on the opposite side. Arshad's mother-in-law served tea and offered a plate of garail, delicious pancakes typical from the Shimshal valley. A real delicacy.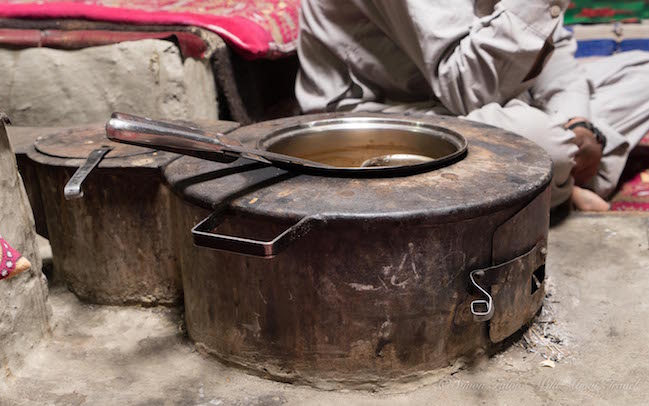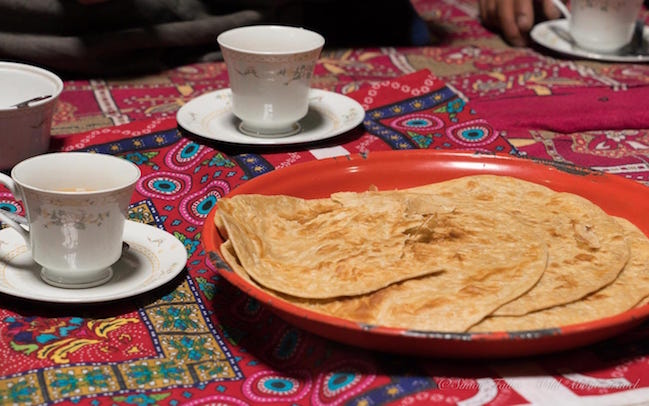 Perhaps nowhere like in the local traditional houses one can understand the importance and the value of family for the Pakistani people. In Pakistan, families are large, family members and other relatives come and go, and are always welcome.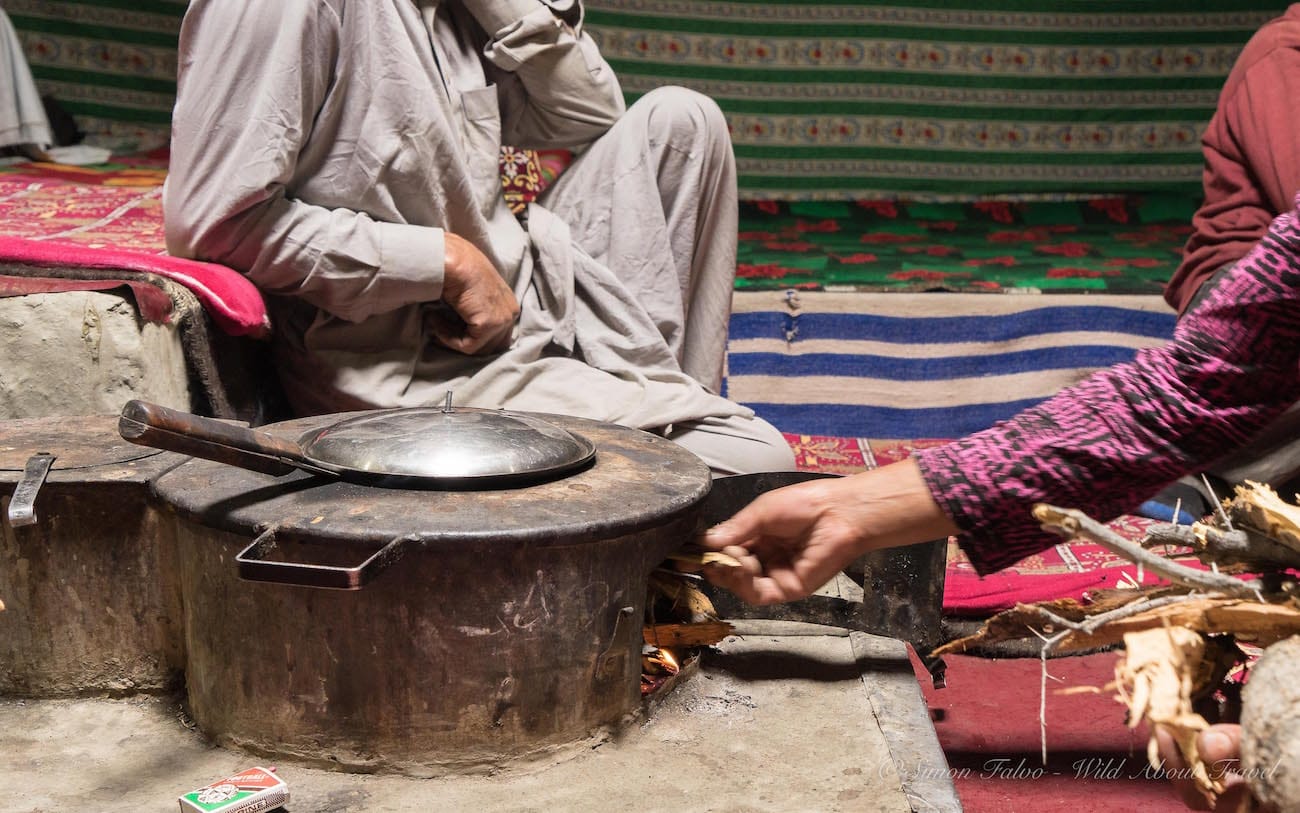 It reminded me of my childhood when at my grandparents' place in southern Italy we used to gather for endless lunches or dinners. Aunts, cousins, grand-children, grand-parents, all sitting at a long table, chatting, eating, enjoying the time spent together; beautiful memories of a long-gone past.
The heart-warming smiles of the people from Shimshal
The road ended the valley's isolation and certainly improved immensely the villagers' living conditions, but life is still hard in Shimshal, especially during winter.
That's why the smiles of the people from Shimshal touched my heart, and their sense of community and mutual support became a life lesson.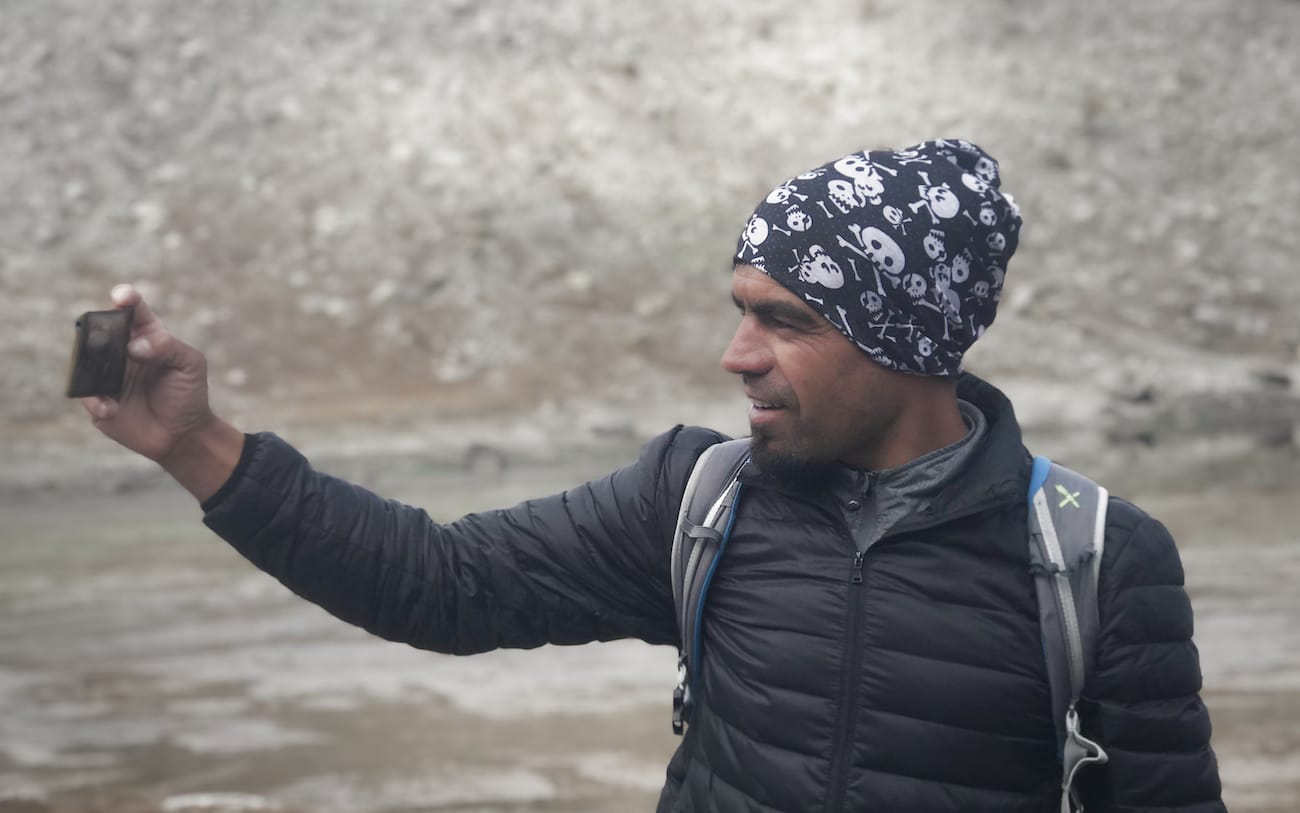 Too often do we forget how privileged we are, too often we give for granted things like electricity, running water, heating, not to speak about the possibility of having quick access to specialized healthcare in case of an emergency.
Shimshal made me understand the power of a smile and the importance of looking on the bright side of things.
I was not only enchanted. I went back home wishing to become a better person, fully appreciating what life has generously given me.
Visiting the beautiful and remote Shimshal Valley was much more than a trip to a unique and little-known place, it was a journey into myself, it made me uncover longstanding fears, it drove me to overcome them.
Practical Information
How to get to Shimsal:
It's a long journey to reach the Shimshal Valley, but also an excellent opportunity to admire beautiful sceneries along the way and to drive through bustling towns.
It indeed is worth discovering this magical area if you are visiting the Hunza Valley.
From Islamabad, the quickest way is to take the flight to Gilgit. However, this is a somewhat risky option, since small aircrafts fly over the Nanga Parbat and are therefore often canceled due to adverse weather conditions. The alternative is to reach Gilgit either by a private car (about 12 hours) or by Natco Bus (about 18-24 hours).
The second stretch of the journey is from Gilgit to Aliabad (Hunza Valley, about 2-3 hours) by private car or by public transport (usually small Toyota vans, about 4-5 hours).
The final leg from Aliabad to Shimshal is a fantastic scenic route with superb views on the Karakoram range to Passu, where the non-medalled road to Shimshal starts. The options are either a public 4×4 Toyota van (about 4-5 hours) or a private 4×4 Land Cruiser (about 4 hours).
Where to stay:
I had a wonderful time at the simple but lovely Minglig Guesthouse. You must be ready, though, because you won't find some facilities (limited electricity, no running water in the bathroom, but a large tank filled with water), although you'll enjoy the warmest hospitality and have the best sleep in your life surrounded by pure silence.
Getting around:
There's no better way to discover Shimshal than with a local and Arshad Karim is an incredible mountain guide. With him, you can visit the village, learn many interesting facts about the local life and traditions, have a walk in the surrounding hills.
Arshad is also an experienced climbing guide working with Karakoram Expeditions, and he can organize short or longer treks (from 3 days onward) in the valley, to Shimshal Pass, to the Yazghail glacier (I did this 3 days trek and it was just amazing) and more. You can contact Arshad via email or through Whatsapp +92 355 546 82 49 (keep in mind that the internet connection is limited and not always reliable, therefore do not expect an immediate answer to your messages), or Karakorum Expeditions, asking for Arshad as a guide.
Map:
Pin it if you like it!