Last updated on October 9th, 2021
Combining the passion for mountains and walking with love for modern architecture may sound odd, even a contradiction, but that's what you'll experience hiking Vorarlberg, following the Architecture Path, in northwestern Austria.
This four days hike in the Bregenzerwald between mountains, green pastures, lovely villages, beautiful old houses and superb modern alpine architecture is unique. Neighboring Switzerland, Germany and the Lichtenstein Principality, the Bregenzerwald (meaning the Forest of Bregenz) is an area where old traditions blend with creativity and long-standing craftsmanship. The result is a region like no other, where there's something for everyone.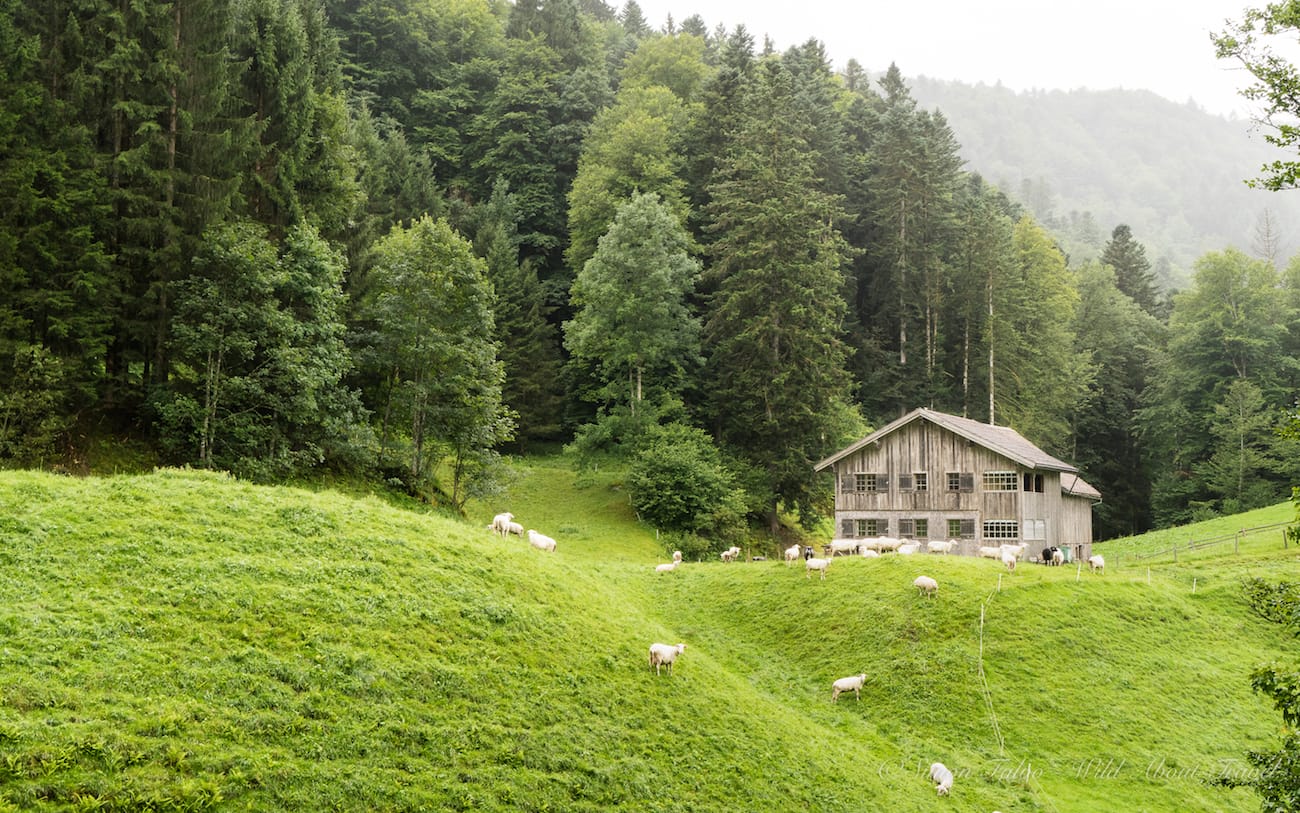 The rural scenery of the Bregenzerwald
Hiking in Voralberg's Bregenzerwald: a perfect combination of outdoors, culture, active holidays and comfort.
The idea of having a long-distance hike for several days could be intimidating but believe me; there's no reason for that.
Forget exhausting hikes with tiring height differences. Don't even think of carrying a heavy backpack and sleeping in cramped dormitories. The Architecture Path in the Bregenzerwald is a perfect mix of an active holiday with a high level of comfort.
daily stages are never longer than 4 hours,
you have your luggage transferred to your next accommodation and walk with only a light backpack,
the hikes are easy and suitable for everyone, included families with children,
there are many interesting things to see in between,
overnight is at cozy and very comfortable hotels in the villages,
once reached your destination, you can pamper yourself in the wellness area provided by most hotels,
there's no better way to end the day than indulging in a delicious dinner savoring local specialties with a creative twist.
Read also: 5 Tips to Hike Alone Safely"
The Architecture Path: a long-distance hike for slow travel lovers
You may wonder how a typical day might be. It's pretty relaxing, particularly if you walk in late Spring or Summer when the days are very long.
I'm not an early bird, and whenever possible, I like to take it say in the morning. Since the daily distance is not too long, and hiking time is never longer than 4 hours (but often shorter), there's plenty of time to enjoy a healthy breakfast made of delicious local products. Weather permitting, I like to have it outside, on a terrace or a patio with a view of the mountains.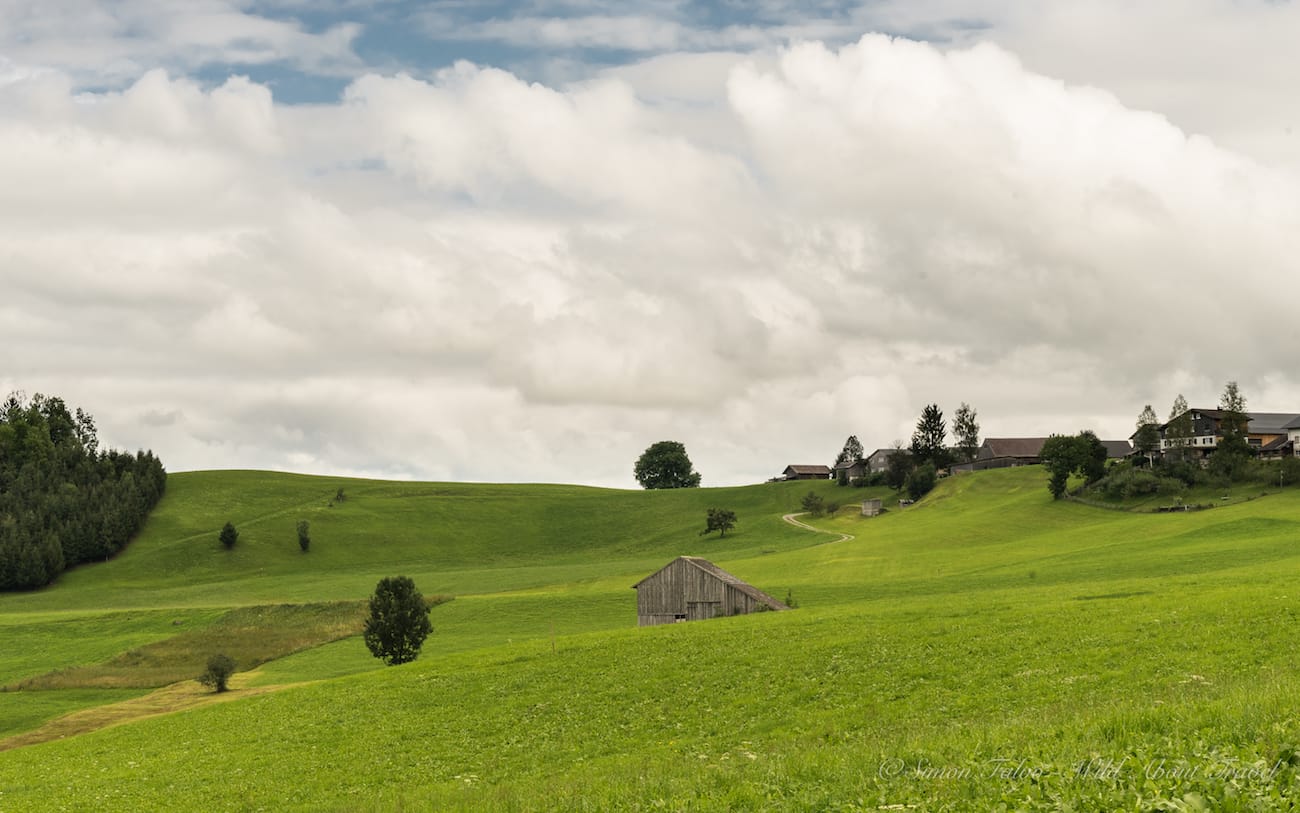 At lunchtime, you'll be at least half way, if not even further, so you can have a break, a bite, and a stroll around in search of some beautiful examples of the typical Vorarlberg old and modern architecture. To spot the nicest buildings, you can follow the suggestions highlighted in one of the 12 villages maps with short comments, or wander randomly, getting lost in the alleys. The towns are small, and you'll likely soon be back where you started.
Unless you make a very long pause, you'll reach the village at the end of the daily leg sometime in the afternoon, early enough for a little pampering. Many hotels have a Spa, and some of them even offer treatments using cosmetics produced with organically farmed local ingredients.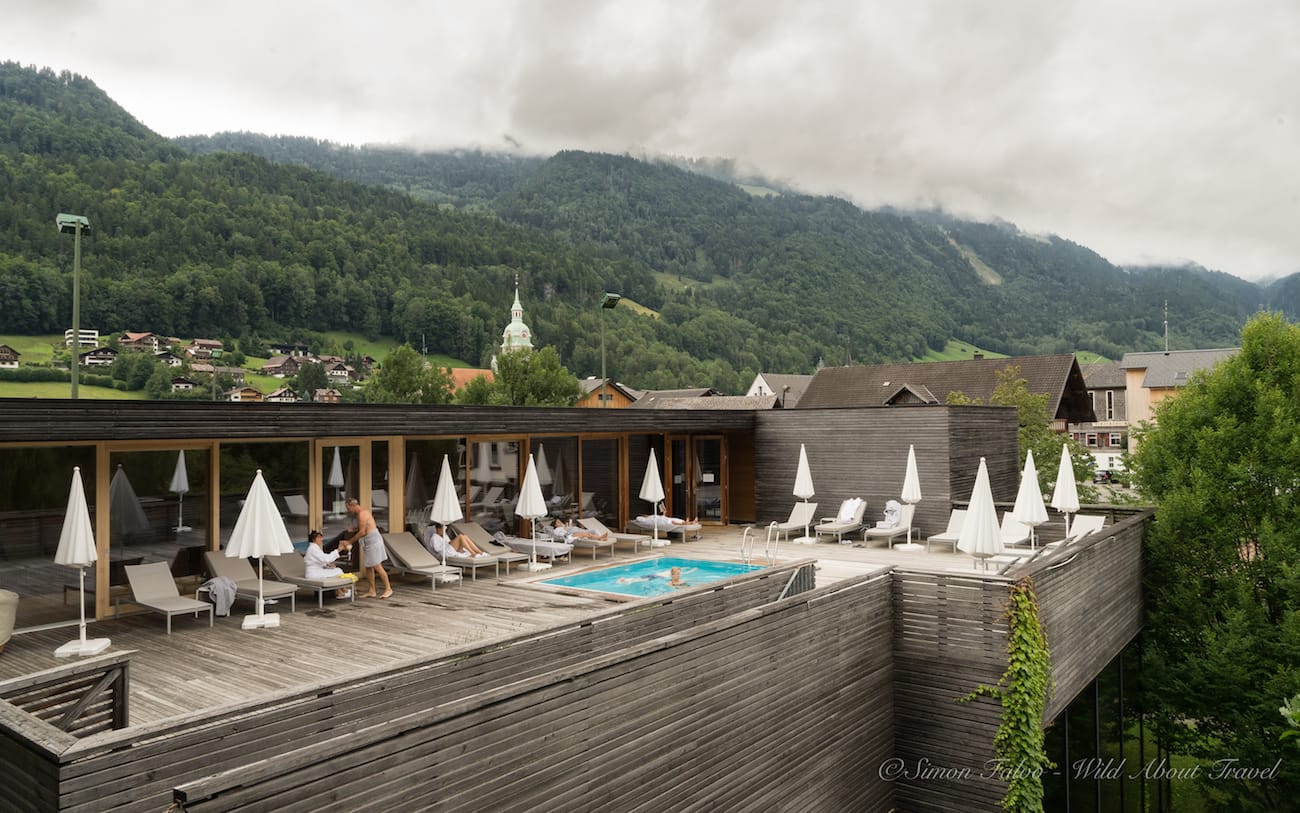 Bezau, Hotel Post und Susanne Kaufmann SPA
You can then chill out on the terrace, sipping a glass of wine, a cold beer, or a cocktail before heading for dinner for a regional culinary experience at one of the gourmet restaurants of the Bregenzerwald.
The Bregenzerwald: culture and traditions shaped by wood
The four days hike starts in Hittisau, crosses more beautiful villages and ends in the charming town of Au.
The hiking trail goes through broad valleys, smooth and verdant rolling hills, beautiful forests and lovely villages. The scenery of the pre-alps is blissful and invites to walk at a slow pace, taking the time to look around, savoring the whispering breeze and the babbling of the flowing creeks.
A creek in the Bregenzerwald

A pretty church on the hill

Here and there, lovely little churches perched atop the hills, with their whitewashed walls and pointy roofs, seem to guard the valley. Cows and sheep stroll peacefully in the pastures, and life flows gently.
The landscape is enchanting, the atmosphere bucolic, but what sets the Bregenzerwald apart is timber. The wood of the forest masterfully used over time in traditional and modern architecture.
Traditional architecture in the Bregenzerwald
Every village displays beautiful old houses, but my hands down favorite happened to be Schwarzenberg, where I overnighted on the second hiking day at the wonderful Hotel Gasthof Hirschen.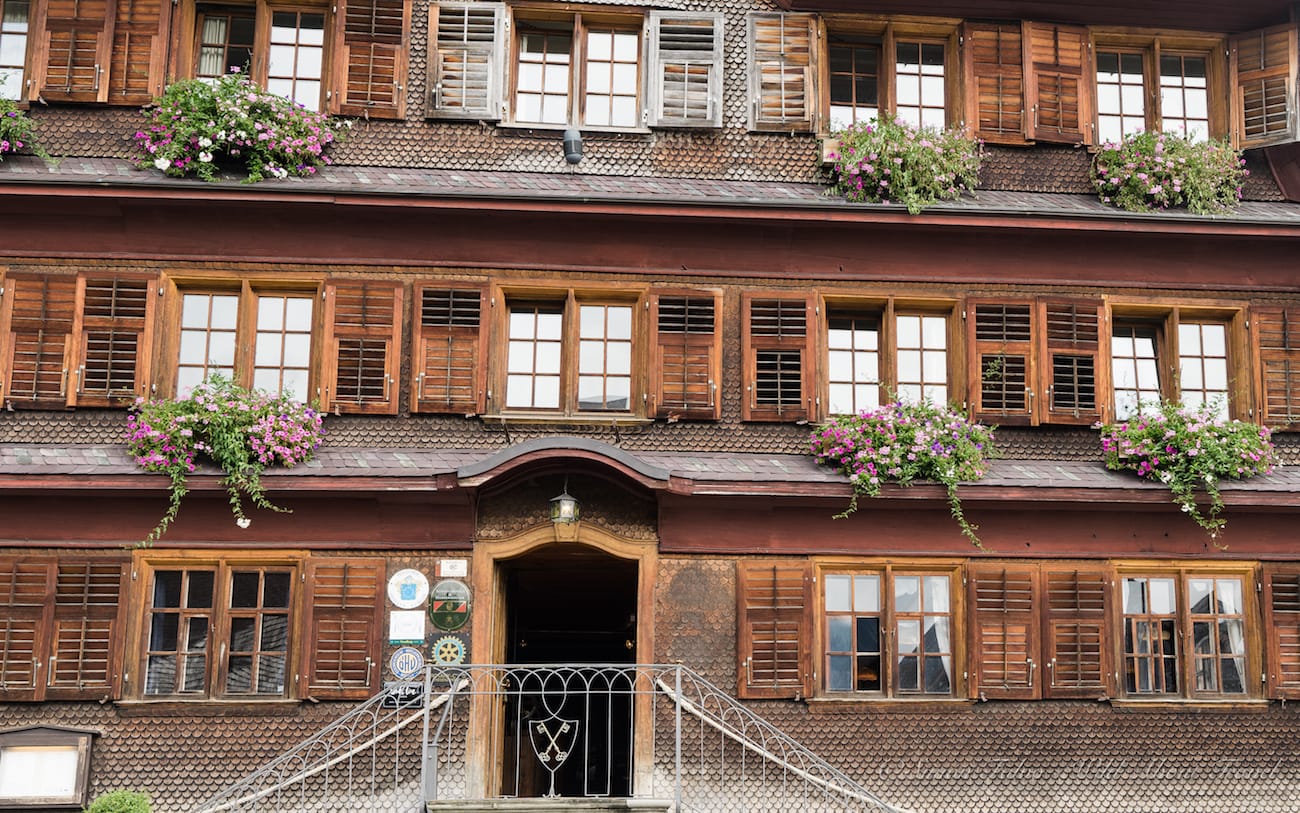 The Hirschen's finely carved late baroque facade makes it one of the most remarkable old houses not only in Schwarzenberg but all the Bregenzerwald. The exquisite taste and the masterful craftsmanship are also reflected in the elegant interior, especially in the wood-paneled Stuben, small and cozy dining rooms holding a unique charm.

Excellent dishes prepared with local ingredients, a romantic atmosphere, and a hint of a time warp make dining at the Gasthof Hirschen an unforgettable experience.
The nearby Hotel Adler, dating back to 1756 and refurbished in the late 1990s, is just as beautiful, as are the Dance Gazebo and the charming old building now housing the Angelika Kauffmann Museum.
Schwarzenberg – Angelika Kauffmann Museum
Schwarzenberg – Hotel Adler Facade
Bregenzerwald modern architecture: design, craftsmanship, and sustainability
As beautiful as the ancient buildings are, it's in the contemporary design that the Bregenzerwald stands out.
The longstanding craftsmanship and the skills in working with wood combine most harmoniously with a contemporary aesthetic. The new buildings are plain, designed following simple geometric shapes, and the main materials are timber and glass.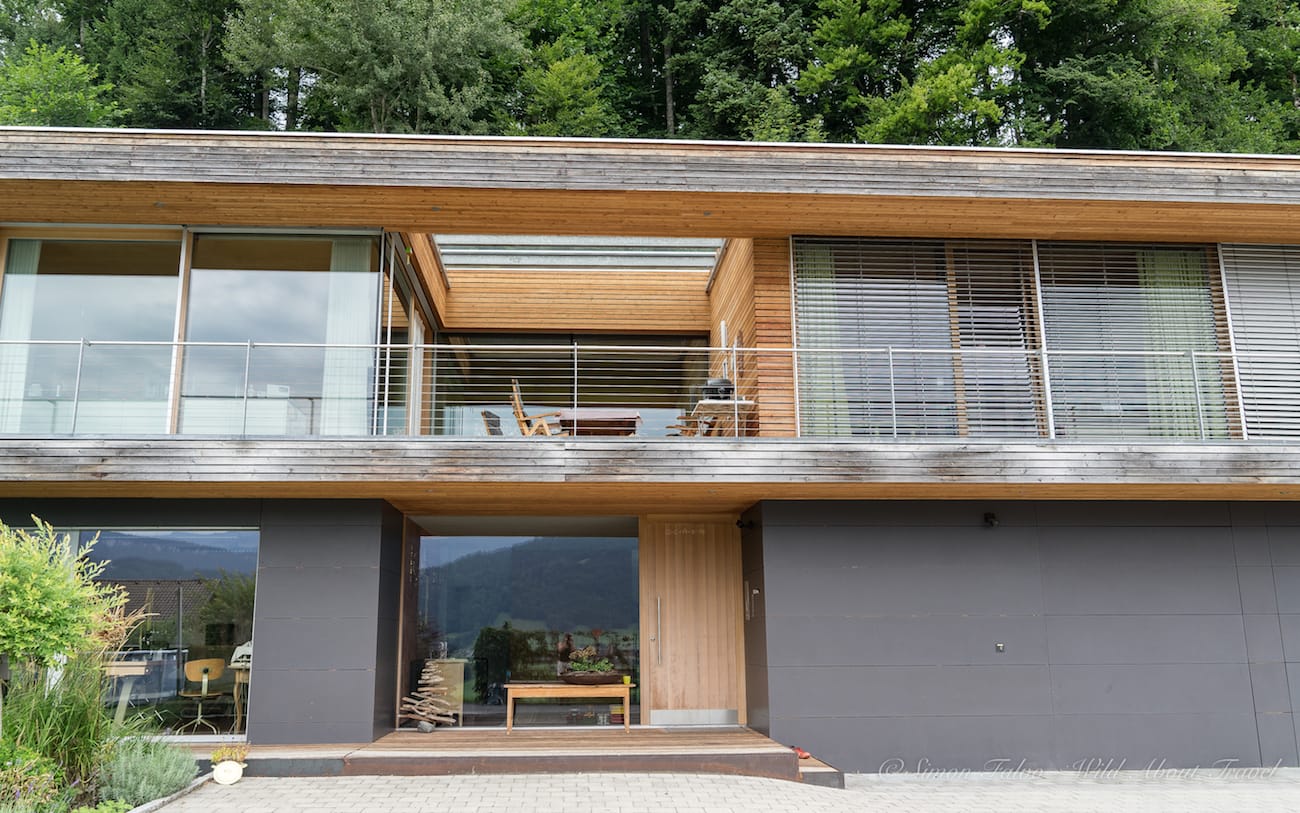 Unlikely in the past, when the houses used to have many small windows as a way to avoid warmth dispersion during the cold months, modern buildings have large window panels and glass walls. The result is a structure that fits perfectly in the surrounding landscape, and a new housing concept where the distinction between interior and exterior almost fades, and nature becomes part of the daily life.
It's not difficult to stumble into beautiful modern buildings, whether private homes, public structures or even industrial facilities.
Two must-sees for contemporary architecture and design lovers are the Werkraumhaus in Andlesbuch, and the Bus stops' project in Krumbach.
Designed by the renowned Swiss Architect Peter Zumthor, the superb wood and glass building hosts a cafe and restaurant serving as a meeting place, and temporary exhibitions of design objects from local artisans.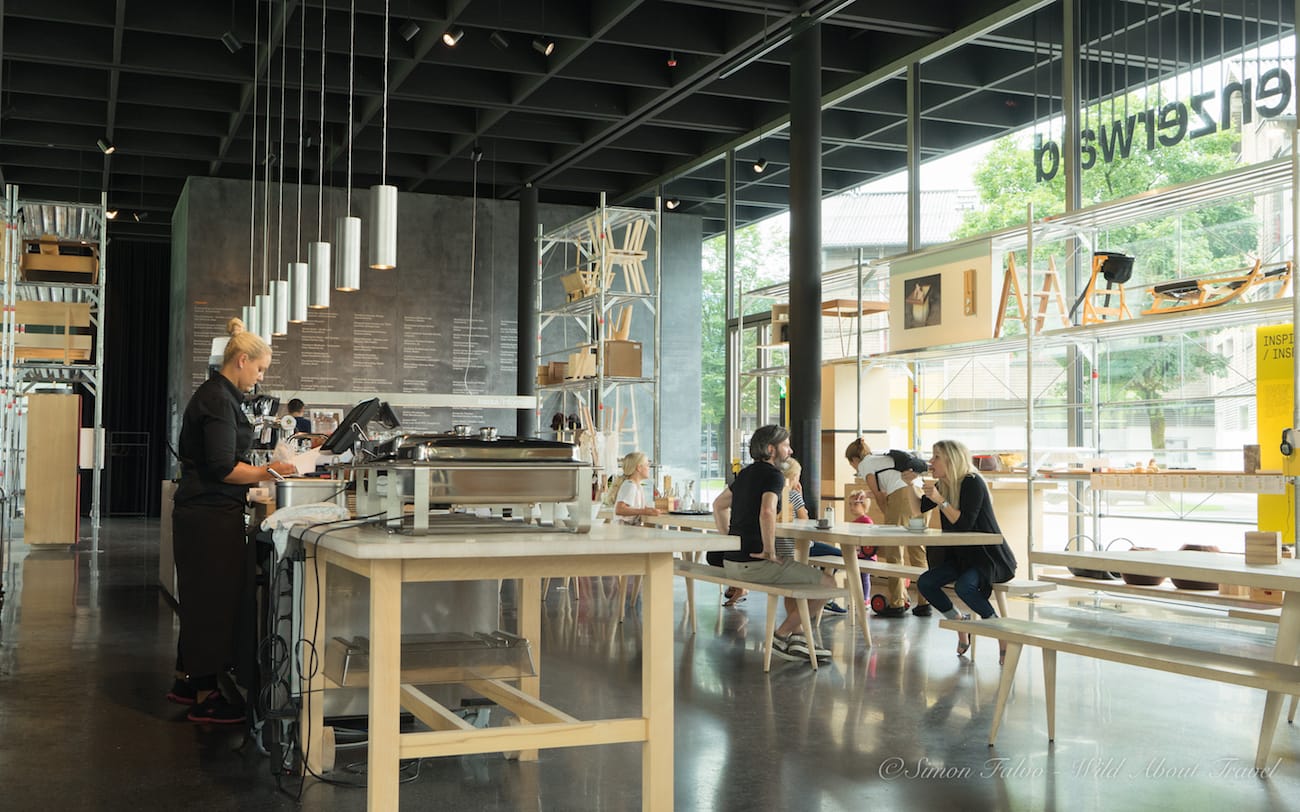 The beautiful Werkraumhaus in Andlesbuch
The village of Krumbach impressed me for an incredible innovative project.
The local authorities for culture invited seven renowned architects from all over the world to design seven bus stops, using of course timber and other moterials from the region (like glass and concrete), and partnering with local craftsmen. The idea was to combine creativity with usability, and the result is impressive. In Krumbach, waiting for the bus has a different flavor.
Climbing on one of Krumbach's design bus stops

Krumbach, Bus Stop
Modern architecture in the Bregenzerwald does not only enrich the region with a new aesthetics, but it is also strongly focused on sustainability. Therefore, innovation is not only in design but also in applying the newest technologies to provide the new buildings with renewable energy.
The Bregenzerwald sets up an excellent example of modern and sustainable real estate development, and I hope that more and more towns in beautiful natural settings will follow such a shining path.
Hiking Vorarlberg's Architecture Path: Practical Information
Getting to Vorarlberg:
By air – The nearest airports are Friedrichshafen in Germany (40 km / 24 mi from Bregenz), Memmingen (77 km / 47 mi from Bergen), and Zurich (120 km / 74 mi from Bregenz).
Getting around:
Bus and trains have regular and efficient connections. Therefore, a car is not needed.
Booking the self-guided four days Architecture Path hike:
You can book the hike directly on the Bregenzerwald Tourism Board's website.
For 5 nights/5 days prices start at 684 euro per person (they may vary depending on the hotel). Price includes: daily luggage transport to your next hotel, transfer to the first hotel and from the last hotel to Dornbirn or Bregenz train station, overnight and breakfast at 3- and 4- stars hotels), hiking maps and route description, Bregenzerwald Guest Card (free access to the local buses, cable cars, swimming pools), Book and Folder "Umgang Bregenzerwald" – 12 village walks.
Useful websites:
Vorarlberg Tourism
Bregenzerwald Tourism
Holidays and short breaks in the Bregenzerwald:
Even if hiking or active holiday is not your thing, there's plenty to do and see in the Bregenzerwald and the surrounding areas.
There are several cable cars to reach the mountains summits and enjoy the view, and you can easily reach Lake Constance (Bodensee, in German) for a stroll along the shore, water activities and also to enjoy the famous Bregenz Summer Festival.
Vorarlberg Map: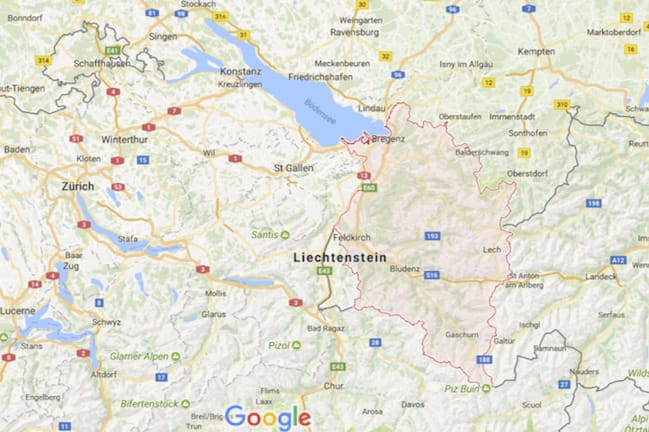 Bregenzerwald – Where to sleep:
Large, modern, and very comfortable rooms. Beautiful al fresco area with a lovely view of the meadows and the mountains. Excellent breakfast, with local products.

Schwarzenberg, Hotel Gasthof Hirschen
If you're looking for a hotel with a distinctive flavor and a romantic atmosphere, look no further. I loved the Hotel Gasthof Hirschen in Schwarzenberg, and you will love it too.
This traditional building from 1757 combines the beautiful wood paneled interiors and exquisite furniture with all modern comforts, including a sauna, and even two charging stations for e-cars. The gourmet dining in the romantic Stube was an unforgettable experience and one of the highlights of my trip.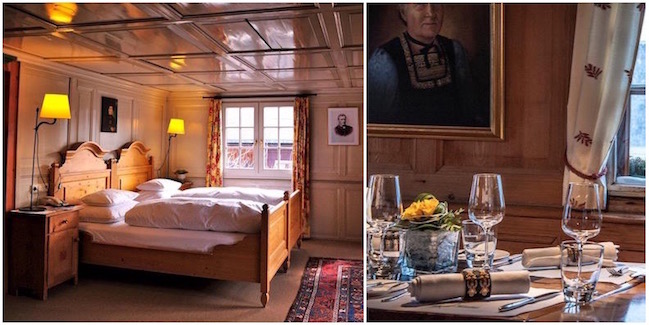 Bezau, Hotel Post und Susanne Kaufmann SPA
A perfect example of how old and new can blend perfectly.
The hotel is stylish and has everything you can wish for relaxing and pampering: indoor pool, Spa, outdoor hot tub, a beautiful terrace where you can sunbathe and enjoy the heated salt-water pool. And if you want to treat yourself with something special, you can book one of the special Susanne Kaufmann treatments, with cosmetics produced from organic natural products from the Bregenzerwald.

Au in Bregenzerwald, Hotel Adler
Hotel Adler impressed me with its huge rooms and large bathrooms with all comforts, and the beautiful views of the mountains. The hotel also features a Spa and free parking, and the staff is incredibly kind.

Pin it if you like it!
_______
Disclaimer: I was kindly invited by Vorarlberg Tourism and Bregenzerwald Tourism to discover this charming region. As always, opinions are only mine, as was the pleasure to enjoy nature and architecture.