I hadn't planned to visit Shimshal, a beautiful remote valley in Gilgit Baltistan (north Pakistan). It ended up being one of the best experiences of my Pakistan adventure.
In fact, I didn't have an itinerary for my trip to Pakistan. Only an extensive list of places I would have liked to explore. After a few days in Lahore and a short stop in Islamabad, I headed up north, to the mountains, the real focus of my journey. I did not have a precise destination, only knew that I certainly wanted to go as far Hunza and possibly even further towards Khunjerab Pass, marking the border with China.
The end of Shimshal Valley
On the way up north, I visited Fairy Meadows, a favorite mountain resort for Pakistanis, and for a reason. The view on the Nanga Parbat is gorgeous, the scenery is idyllic, and to get there you must take a jeep trek along one of the most dangerous dirt roads in the world. At Fairy Meadows, I had my first short trek, and I suffered for the first time mountain sickness, but that would not discourage me. I was craving for mountains, and I knew there would be a lot more.
Read also: Trekking to Fairy Meadows, with my Personal Police Escort
It was my friend Mirza Ali Baig, one of the best mountaineers in Pakistan who runs a travel agency organizing incredible expeditions – who a few days later sent me a message asking "why don't you go to Shimshal for trekking and to discover the local culture?". I knew that to him it was more than a casual question. Mirza is from Shimshal, and although he now lives in Islamabad, he does anything he can to promote his birthplace – too often overlooked by tourists – and to help locals.
At the time, I had just arrived in the beautiful Hunza Valley, with its lush green terraces where locals grow fruits (apricots, cherries, apples and more) and vegetables, and circles by majestic mountains. On the map, Hunza is not far from Shimshal; only about 110 km (68 mi). The idea was surely tempting. The issue was that since there's no recent travel guide for Pakistan (the latest Lonely Planet dates back to 2008 and is nowhere to be found, except at exorbitant prices that don't make any sense), I had no idea how to get there, and how long it might take me.
Mirza suggested that he could ask his best friend, who lives in Shimshal and works with him as a mountain guide, to come and meet me in Hunza. From there, we could head together to what I already knew would be a beautiful and extraordinary place. I couldn't have thought of a better plan, and the following morning I met with Arshad, in lovely Karimabad.
My guide, Arshad Karim, from Shimshal
The view from my room in Karimabad
Since things are seldom if ever smooth when traveling in Pakistan, leaving immediately to reach Shimshal was not possible. The reason? The NOC (No Objection Certificate), that foreigners need to visit certain areas of the country. The problem is that the rules regarding NOC are anything but clear, and apparently they get changes quite often. We had to wait two days because of holidays, and after a full morning when Arshad wandered through countless offices we got the final response. I did not need an NOC. So Arshad arranged for a private 4×4 Jeep and off we were.
Shimshal isolation ended only in 2003, when the thrilling dirt road was open
The trip in itself was quite an adventure, and I was soon to have another thrilling drive on a scenic but dangerous road. It takes about 3 hours to cover the 53 km between Passu, on the Karakoram Highway, and Shimshal valley, on a narrow and winding non-medalled road running through rocky gorges and crossing wooden bridges floating above the river. All around, barren mountains and steep rocky slopes shaded in gray, yellow, white, brown. A wild, rugged and magnificent landscape.
The thrilling non-metalled road to Shimshal
My Jeep ride to Shimshal
As we drove, Arshad told me the story of this perilous road, whose construction started in 1985 and completed in 2003. Until then, villagers had to walk three strenuous days to reach the nearest town along a narrow and potentially dangerous trail. Shimshal was, and still is, the remotest valley in Hunza and its isolation profoundly influenced the locals' way of living.
Approaching the village, I looked at the valley getting wider. Large patches of green and yellow appeared on the horizon, reminding of an oasis in the desert although Shimshal lays deep in the mountains, at an altitude of 3100 m. (10700 ft.).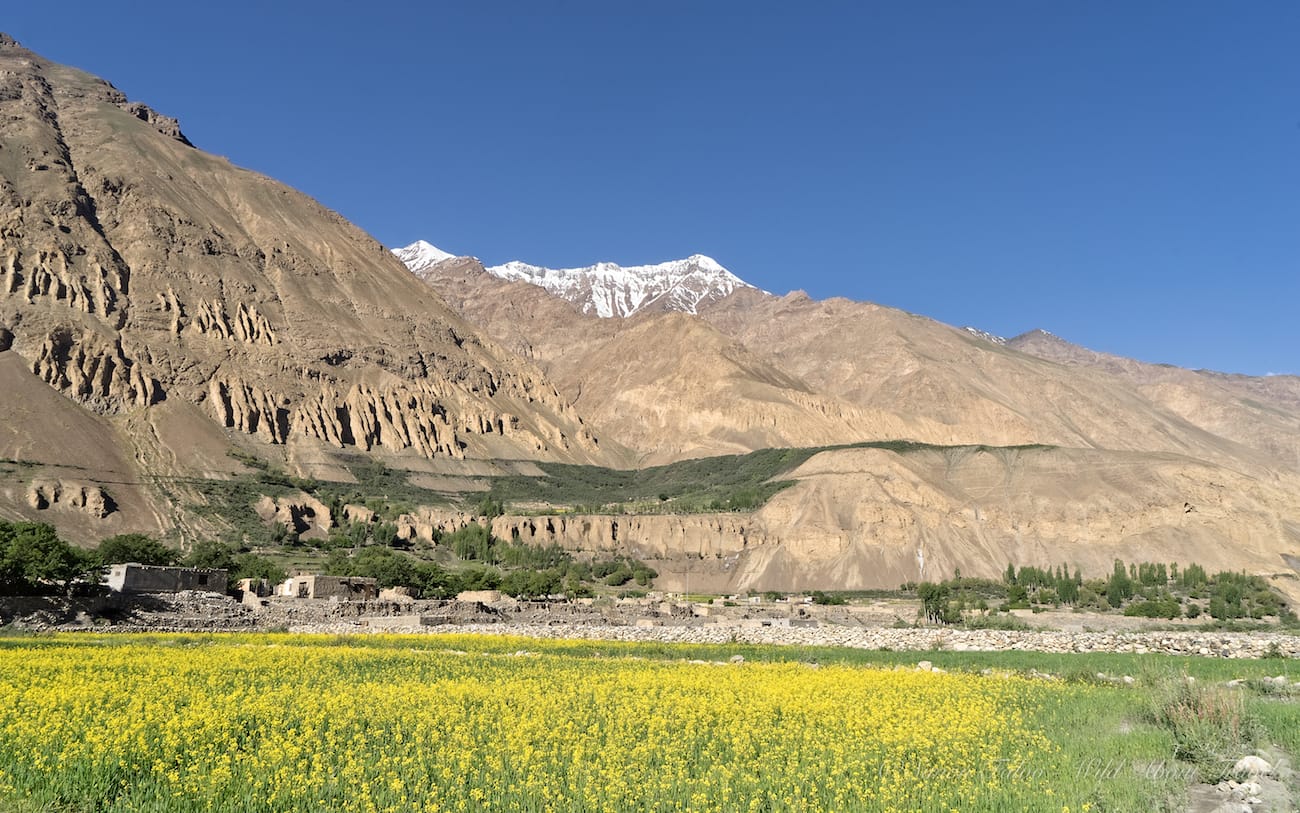 The lush Shimshal Valley (Gilgit Baltistan, Pakistan)
I settled at the lovely Mingling guesthouse where I had one of the best sleep ever, enjoying the absolute silence curled up under thick and warm blankets.
Discovering Shimshal daily life
The following morning, Arshad met me for a walk in the village and a climb on the hills for a view from above. In the village, I got a taste of Shimshal's daily life.
Women were attending their herds of goats in their colorful shalwar kameez, the traditional three pieces Pakistani outfit (loose pants, long-sleeved tunic and a big light scarf wrapped around the neck or covering their heads), sometimes complemented with the colorfully embroidered cap typical of Hunza. Kids were joyfully playing cricket, and smiling as we walked past them. Men were working on road repairs or other activities.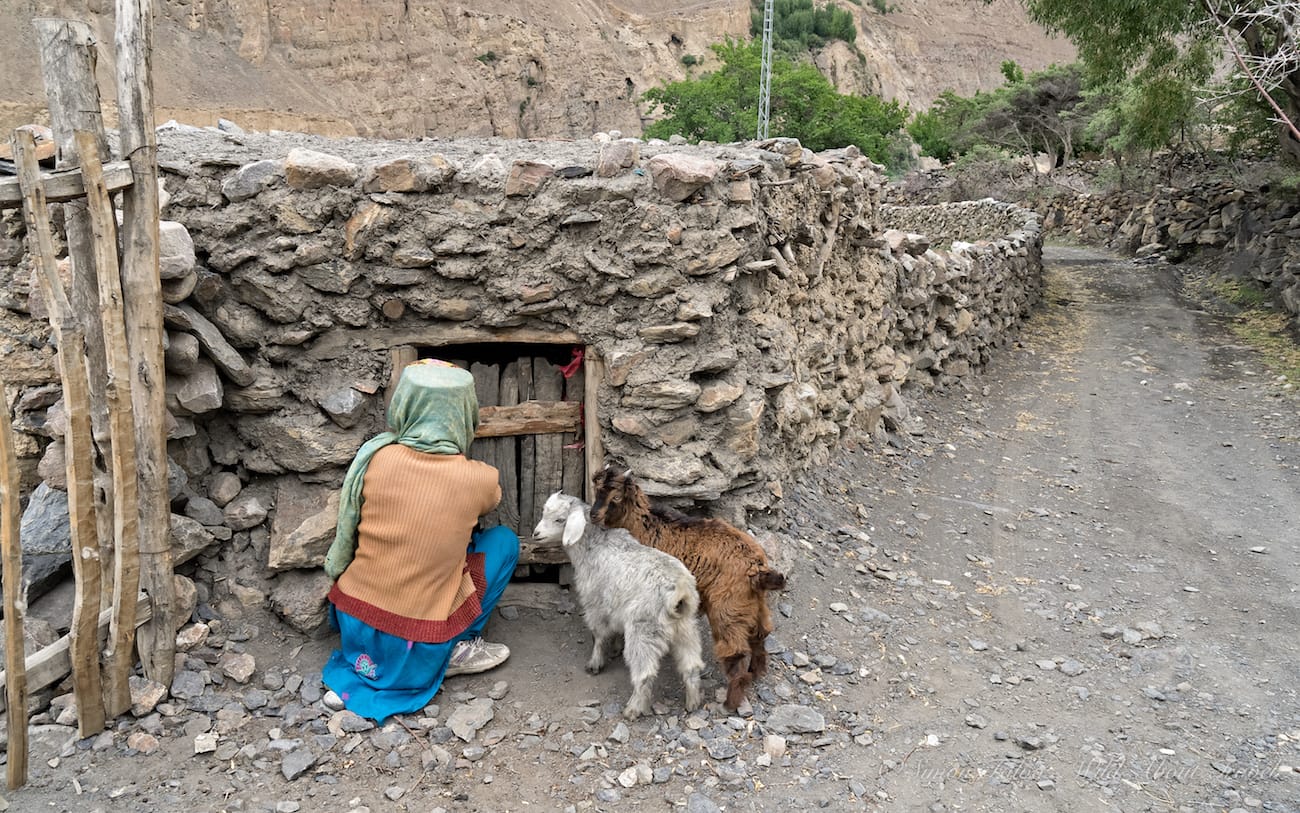 Life in Shimshal Valley
To many respects, it looks as if time stood still in Shimshal, and it feels a little like being out of this world.
Most households don't have flowing water, and they supply themselves with water regularly filling big plastic tanks and bringing them into their homes.
The small hydropower station ensures electricity only for five or six months, from late spring to late autumn. And even so, there's power only in the evening. But every house has small solar power panels through which they generate electricity during the rest of the year. Not a big amount, certainly not enough to run sophisticated domestic appliances, but sufficient to live through the cold winter.
Cooking is mostly done on a wooden stove, as is heating. A GSM mobile network is available since only last year, but the connection is very slow, and unpredictable.
Shimshal's life and traditions are fascinating

Shimshali women often attend herds
The road certainly was a huge leap forward, but it is still a long journey to reach the nearest town, and the dirt track is subject to landslides and other damages caused by the weather. Albeit less than only 15 years ago, the valley remains remote and isolated, and the locals are largely self-sufficient.
Pin it if you like it!