One of the oldest and poshest mountain resorts in Switzerland, Gstaad is more than the gathering place for the international jet set and the high society (famous past and present residents or regular visitors include F1 boss Bernie Ecclestone, actress Elizabeth Taylor, singer Madonna, as well as Prince Charles and Lady Diana).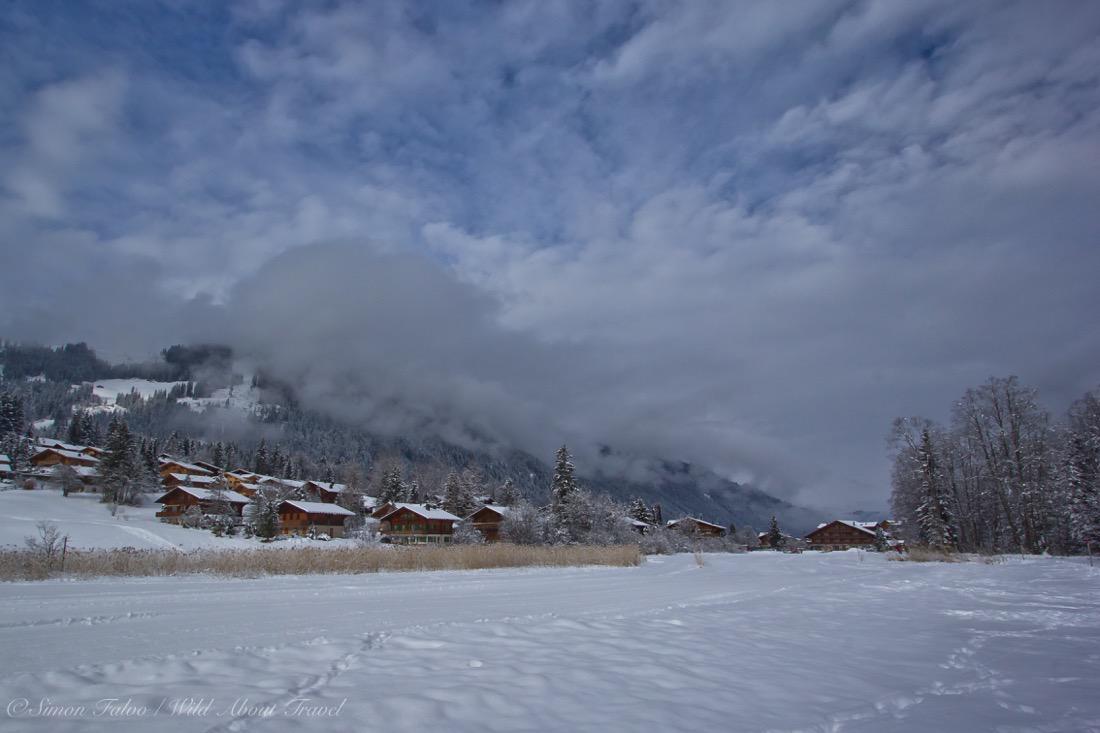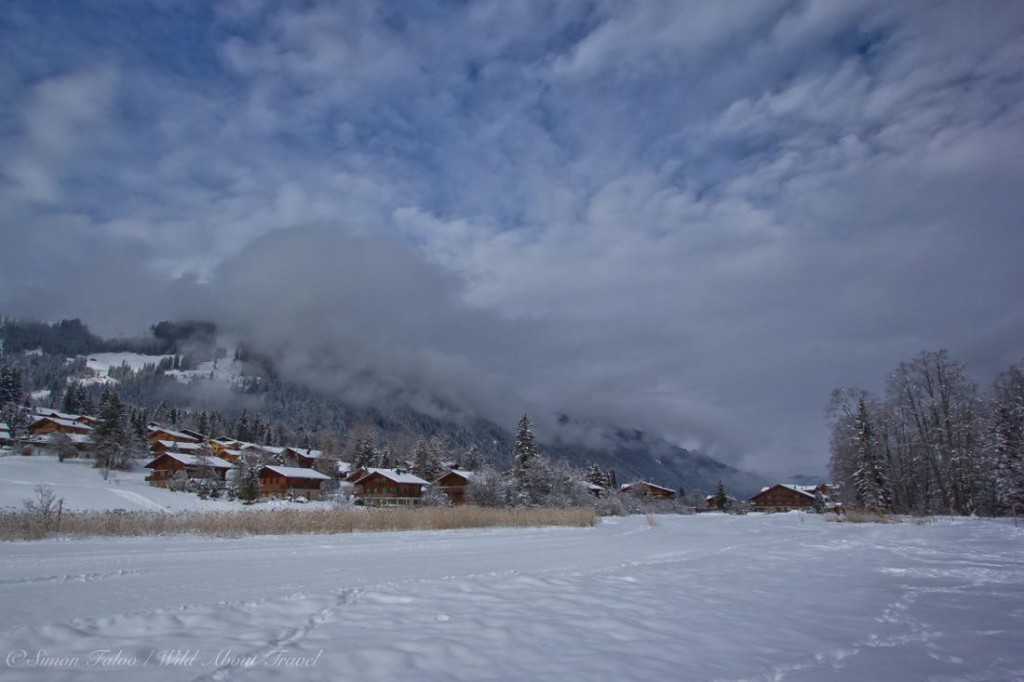 There's a side of Gstaad which is little known although extremely noteworthy. This little town in the Swiss Alps is a friendly destination for disabled people, who can experience many exciting mountain activities in winter and in summer. 
Introducing disabled people to skiing and other winter activities
I just spent a week in Gstaad and the Saanenland with my nephew Ludo, a wonderful 23-years old boy with Down Syndrome and very keen to go and ski with his aunt.
It was thrilled to show him the village where his father and I grew up, the life we led when we were children and, of course, to hit the slopes with him and do other winter activities. It was also an occasion to appreciate the area from a different perspective and to have a travel experience distinct from my usual solo journeys.
I was as excited as Ludo, and possibly even more.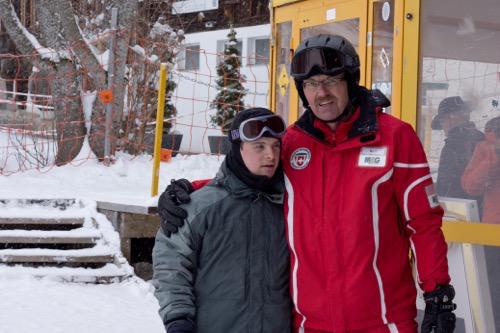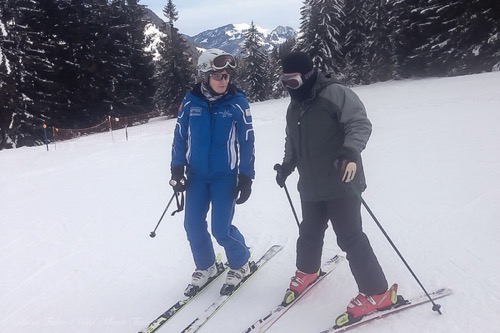 Gstaad, well-trained ski instructors and a friendly destination for disabled
It was a succession of unexpected surprises, starting from the ski instructors who are very well-trained to deal with disabled people. Ludo has a will power that I admire and I was so pleased in seeing how only a few hours with a ski instructor made him feel more confident.
We've been skiing on easy slopes, all right, but I was so proud to look at him slowly curving and gently coming down on his own. I found out how professional instructors are, able to guide and encourage him with 'little tricks' I would never have thought of and which proved to be very effective. Like striking the poles against each other behind the back as a way to relax and overcome the fear of speed, or having him thinking at a slice of pizza to make the snowplough and be able to slow down and get to a stop.
And there's more. If you spend a few days in Gstaad, you'll likely see on the slopes ski instructors leading downhill physically disabled people with specially equipped chairs, or guiding persons having serious visually impairment and even blind people. They are incredibly well prepared and thanks to their skills, skiing and other winter sports are accessible to people affected with disabilities. How fantastic is that?
Good food on the slopes for a deserved lunch break
Useless to say that after a few runs, galvanized and feeling like a little champion with his ski instructor, Ludo was hungry. What could make a boy happier than a big burger (the specialty of the lovely and quirky Saanewald Lodge) and a scrumptious dessert in a nice place that can be easily reached skiing?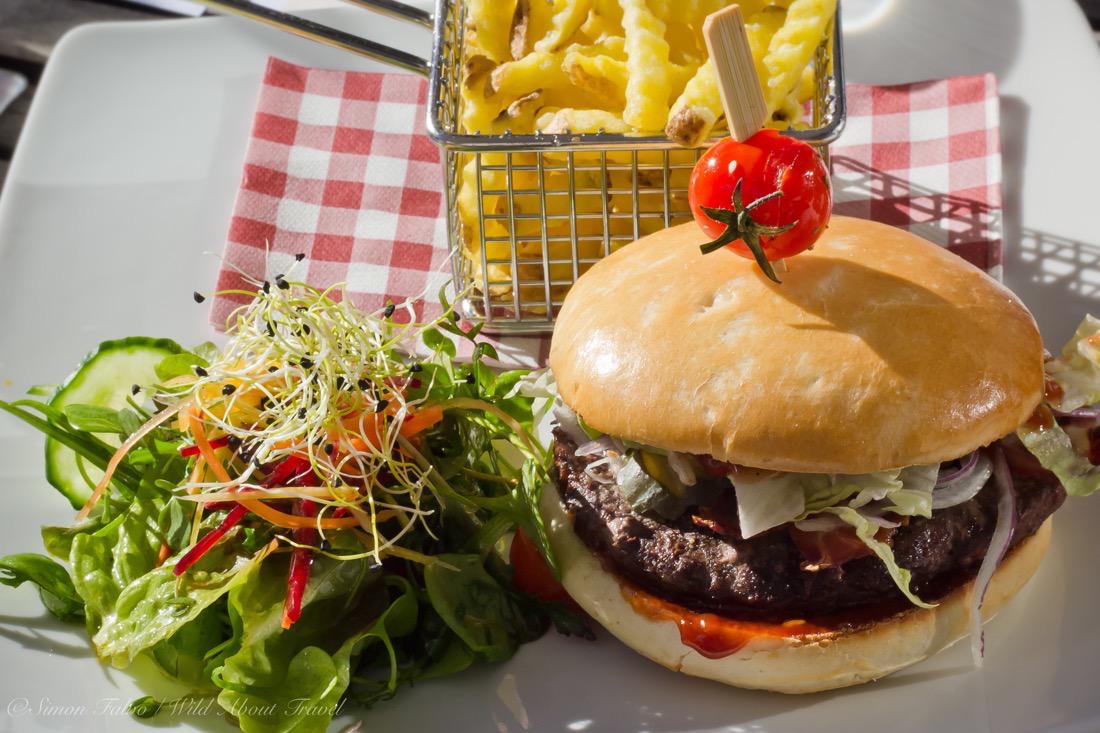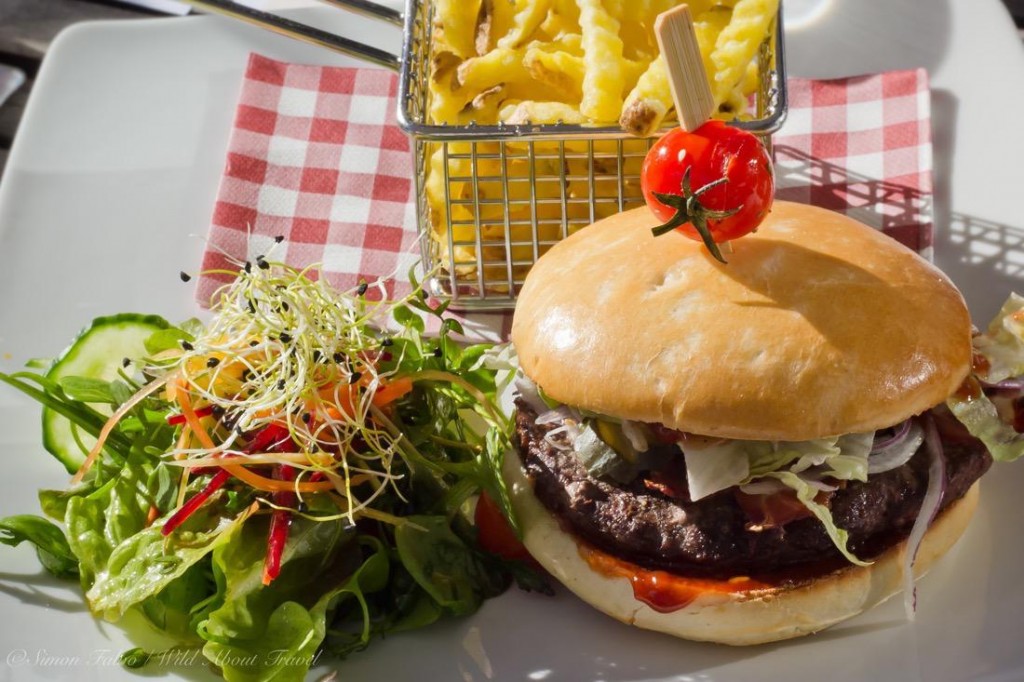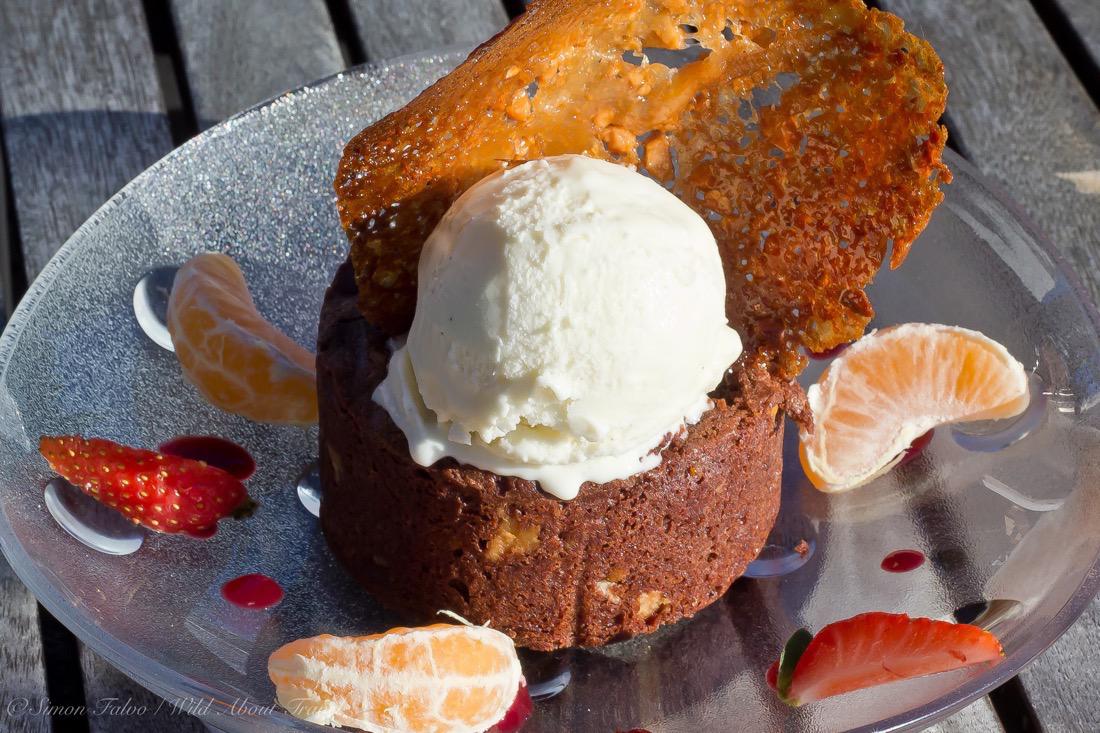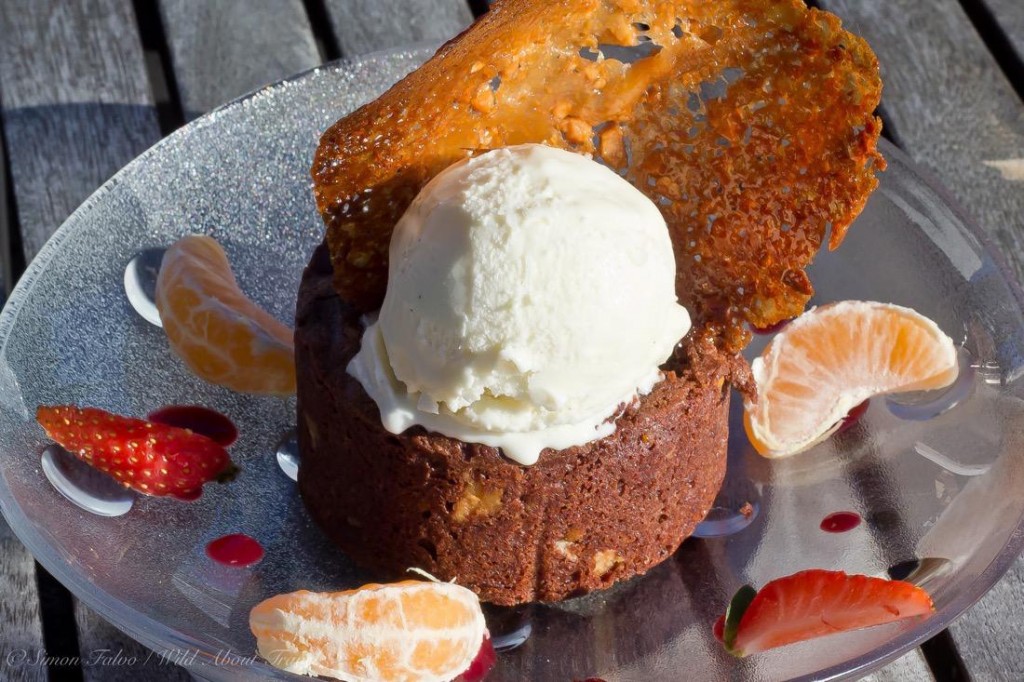 Gstaad and the Saanenland also boasts well equipped, barrier-free accommodations for disabled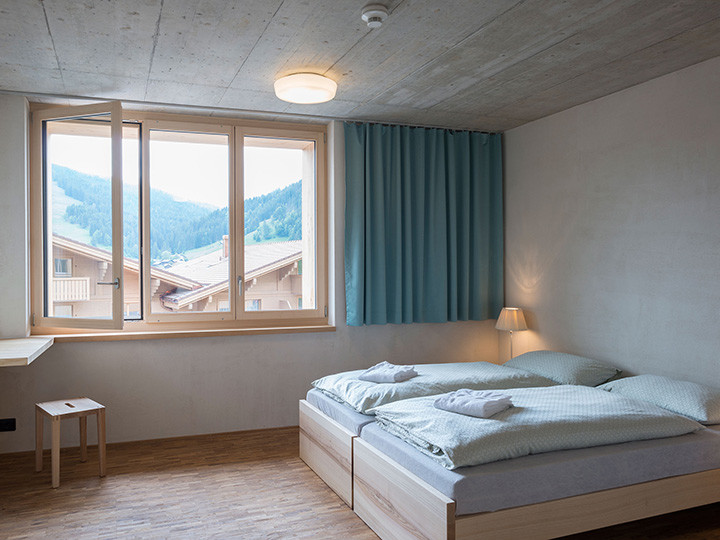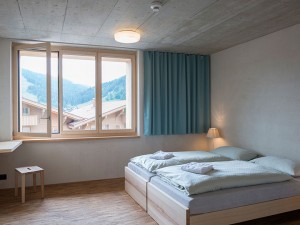 The brand new Youth Hostel in Saanen is an eco-friendly building perfectly suited to accommodate disabled people, with 42 rooms and 94 out of 158 beds disabled-friendly, a large lift and no architectural barriers on the premises, including the car parking.
The hostel does not have cooking facilities but provides evening meals at a good price for guests who don't wish to go out.  It doesn't come cheap for being a hostel, but it has excellent facilities and offers a good level of comfort.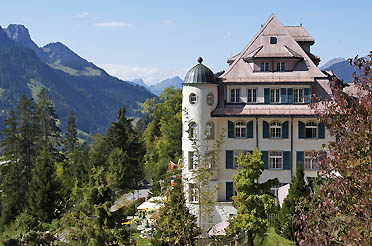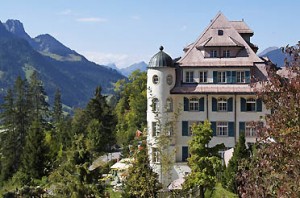 Situated on the heights of Saanen, with superb views on the mountains, the Hotel Solsana has a long-standing tradition in accommodating blind or severely visually impaired people, as well as guests in wheel-chairs.
While some common areas are little 'old fashioned' (at least, to my taste), rooms have been recently fully (and tastefully) renovated and the hotel facilities include a large, accessible swimming pool, a playroom, a video room with playstation, making it a good solution for families.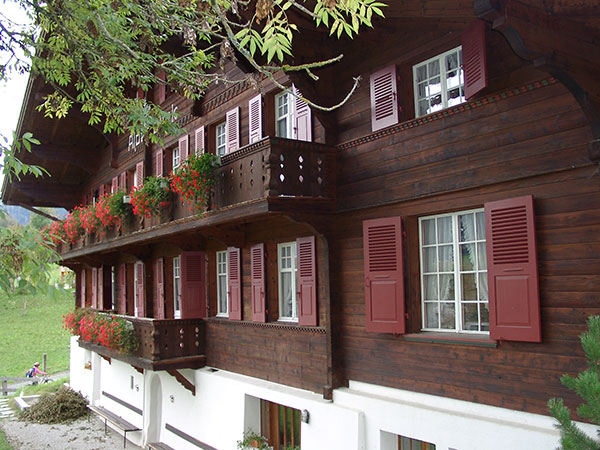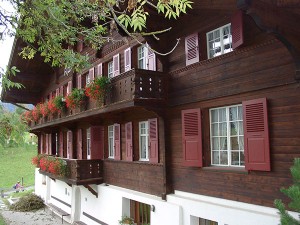 An alpine-style hotel in a historical chalet overlooking Gstaad, the Chalet-Hotel Alpenblick (website only in German and French, unfortunately) offers simple, budget-friendly accommodations and disabled-friendly facilities. Guests, and especially families, can enjoy the wide garden and play games in the recreation room and have a great time in a laid-back atmosphere.
The Chalet-Hotel Alpenblick often hosts groups of students on school-trips or of disabled people but is welcoming everyone.
Practical Information:
Getting there: If you like scenic train rides, you won't be disappointed by the one leading to Gstaad. The Golden Pass connects Gstaad with Montreux, on Lake Geneva, and Zweisimmen (from where one can easily reach the Jungraujoch, Lucerne, Gruyères and Interlaken)
Ski resort: Gstaad Mountain Rides is a vast resort with 200km of runs of various difficulties. The different areas within the resort are connected by train and bus.
Skiing for disabled, additional resources: Ski2Freedom – Gstaad Snowsports – Plus Sport – Tourism Gstaad
Unfortunately, not all sites have an English version and they feature little information. However, people at the Gstaad Tourism Board (tel: +41 33 748 81 81, [email protected]) are very helpful and will gladly provide information on the best structures and assistance in the contacts.
Map:
_______
Note: Gstaad Tourism offered me and my nephew two complimentary ski passes, a day with a ski instructor and a delicious lunch on the slopes, and arranged the visits to a few accommodations in the region. Opinions, as always, are my own.