If you're looking for a charming destination for a short break in Europe, you should consider spending 2 days in Porto, one of the most beautiful cities in Portugal. From the colorful houses of La Ribeira to the magnificent azulejos decorating many buildings, find out about the best places to visit in Porto.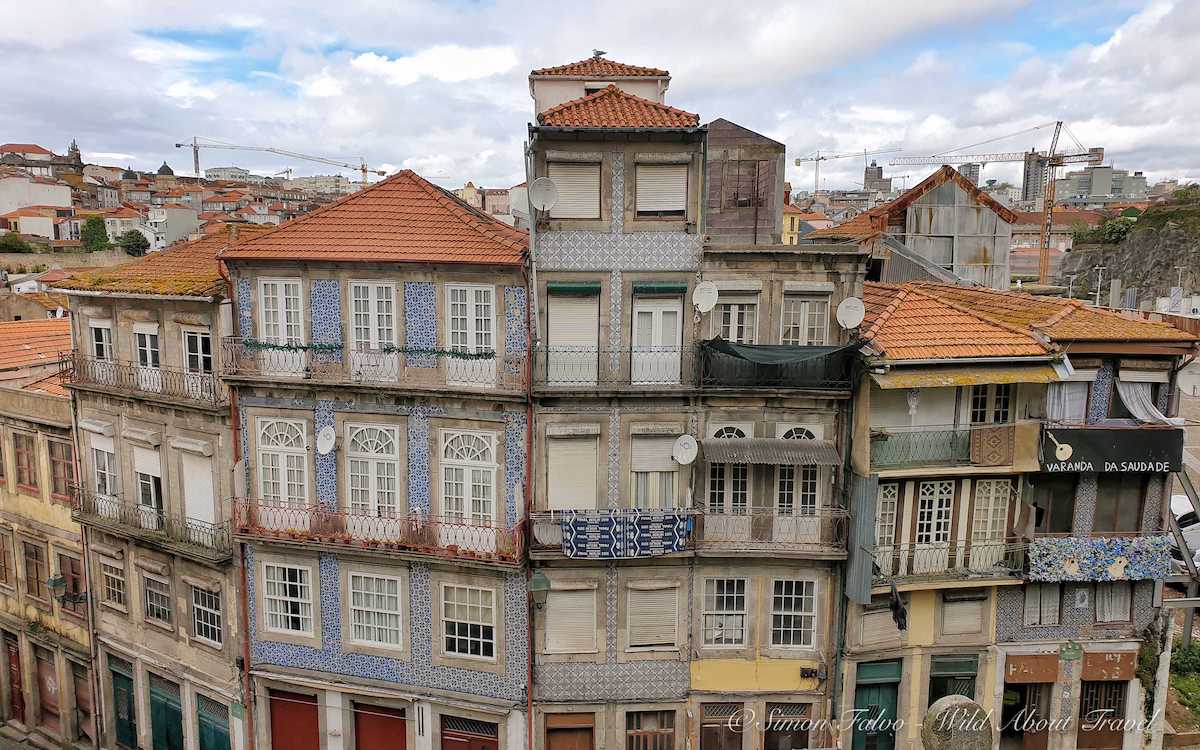 This post contains affiliate links to carefully selected products and services. If you make a purchase, I earn a small commission at no extra cost to you.
I started my 10-day trip across Portugal in Porto, and I couldn't have imagined a better beginning to explore this fascinating country. I didn't know that at the time, but exploring the country from Porto, the capital city of northern Portugal, down to Coimbra, Lisbon, Sintra, and further south to the Algarve proved to be an excellent decision.
It was pouring rain the night I arrived. Still, luckily, the weather was better in the morning, and I promptly headed out to start visiting the city. But first thing… Breakfast. Espresso coffee (I'm Italian, after all) and a piece of Pastel de Nata, the small custard tart typical from Portugal.
Like always, I did preliminary research on the things to do in Porto and highlighted the most appealing. Then, I combined all this with the right amount of spontaneous wandering since I love the unexpected. However, many travelers have limited time and prefer following a schedule and an itinerary. Porto is a small city. Still, it has an incredible historical heritage leading the city to be inscribed as a UNESCO World Heritage Site. Therefore, here are some of the coolest things to do in Porto in 2 days.
Jump to the relevant section [Show]
A
Porto: Know before you go

Getting to Porto: there are plenty of flights to Porto from Europe and the rest of the world, although in the second case, you may have a stopover along the way. Check out the prices on Trip.com
Porto airport to Porto: Porto city center is very well connected to the airport, which is 17km (11mi) away. The Metro Line E (purple) runs every 20 or 30 minutes, and the journey to Trinidade takes about 30 minutes. Bus lines 601, 602, and 604 run approx. every 30 minutes. Alternatively, you can also book a private transfer.
Best time to visit Porto: April to the end of October is the best time to visit Porto. In winter, it gets pretty rainy and windy but not very cold.
Getting around in Porto: the best way to discover Porto historic center is on foot. The city has an extensive and efficient public transportation network when going farther away. If you're planning to use public transport a lot, consider buying the Porto Card with Transportation (1, 2, 3, or 4 days plus discounts on several Porto museums and attractions).
Porto top attractions: Clerigos Tower, Sao Bento station, Dom Luis I Bridge, Ribeira, Livraria Lello, Churches do Carmo and dos Carmelitas, Cathedral, and everywhere in the old town. And, of course, Porto wine tasting!
Where to stay in Porto: Porto historical center encompasses the city's main attractions and many of the loveliest sites. If you only have 2 days in Porto, I suggest you stay in the historic center so that you can easily walk to walk and visit Porto's main attractions.
Check out more accommodations in Porto.
2 days in Porto: what do to and see

Although it's not a big city, there's quite a lot to do and see, and you'll soon find out that two days in Porto are barely enough. This is especially true if you want to take your time and enjoy the slower Mediterranean pace. Get on reading, discover Porto attractions, and start building your 2-day Porto itinerary.
Take a guided tour of Porto for an overview of the city
I confess that I snubbed guided tours for a long time. Until I had my first one a few years ago in Capetown. Unexpectedly, I enjoyed it way more than I anticipated. The main reason I liked it is that it's the best way to get an introduction to a city. Since then, during the tour, map in hand, I highlight the places that most interest me, knowing that I'll go back. That helps me plan the rest of the time, deciding where to go and how much time to spend at the locations I want to explore more closely.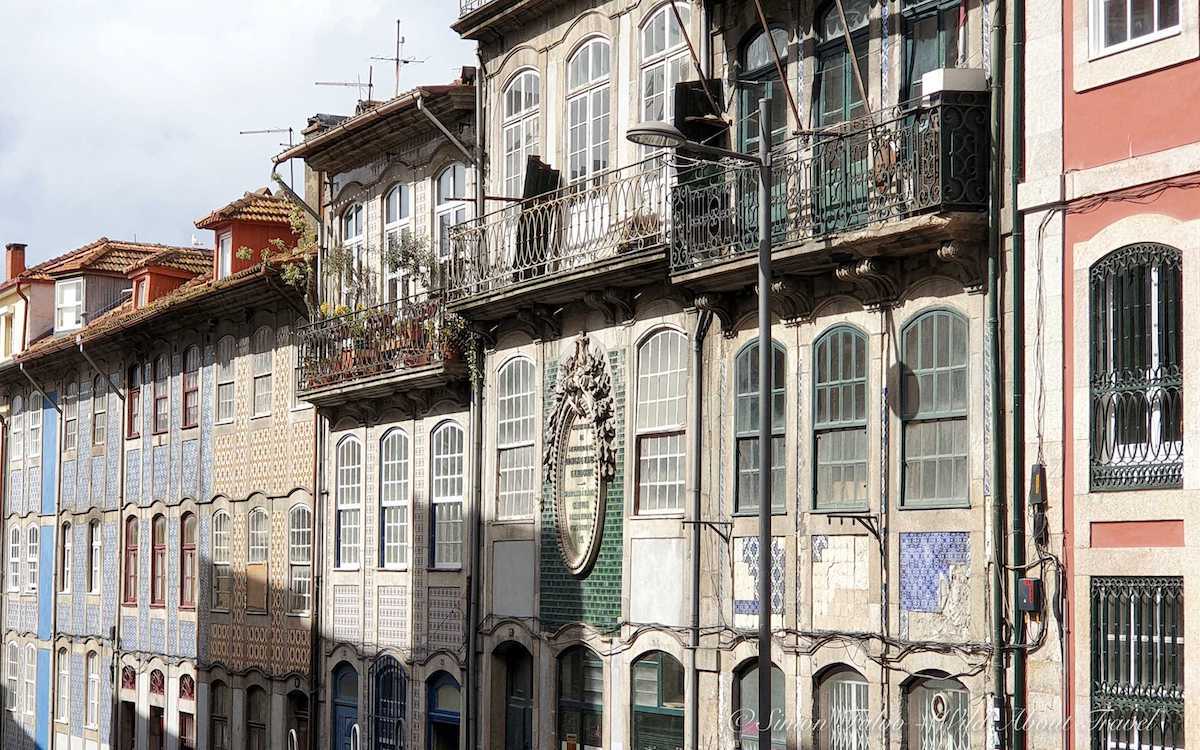 You can take a Porto walking tour with a local guide or explore the city by e-bike. And if you want something different or don't feel fit enough to climb up and down the hills, you can discover Porto by Segway, Vespa, or Tuk-tuk. There's something for everyone.
Here's a selection of guided tours in Porto:
Discover Porto highlights with the hop-on-hop-off bus
I usually shun touristy activities, but there are cities where the classic hop-on-hop-off bus (loved it when I visited Bath, one of the most charming cities in Great Britain) is the perfect option to get a first glance at a city. In Porto, it lets you have a quick overview of Porto's must-see places. Plus, the hop-on-hop-off bus in Porto is very cool as it includes a cruise on the Douro River and a visit to a Porto wine cellar, with tasting.
Explore Porto Old Town
The inscription of Porto historic center (together with the Luiz I bridge and the Monastery of Serra do Pilar) as a UNESCO World Heritage Site dates back to 1996. As you walk up and down the hills and discover the many landmarks, it soon gets apparent why Porto is so unique. Over the centuries, as the city grew bigger and new monuments were built, the urban landscape maintained a harmony that is still palpable.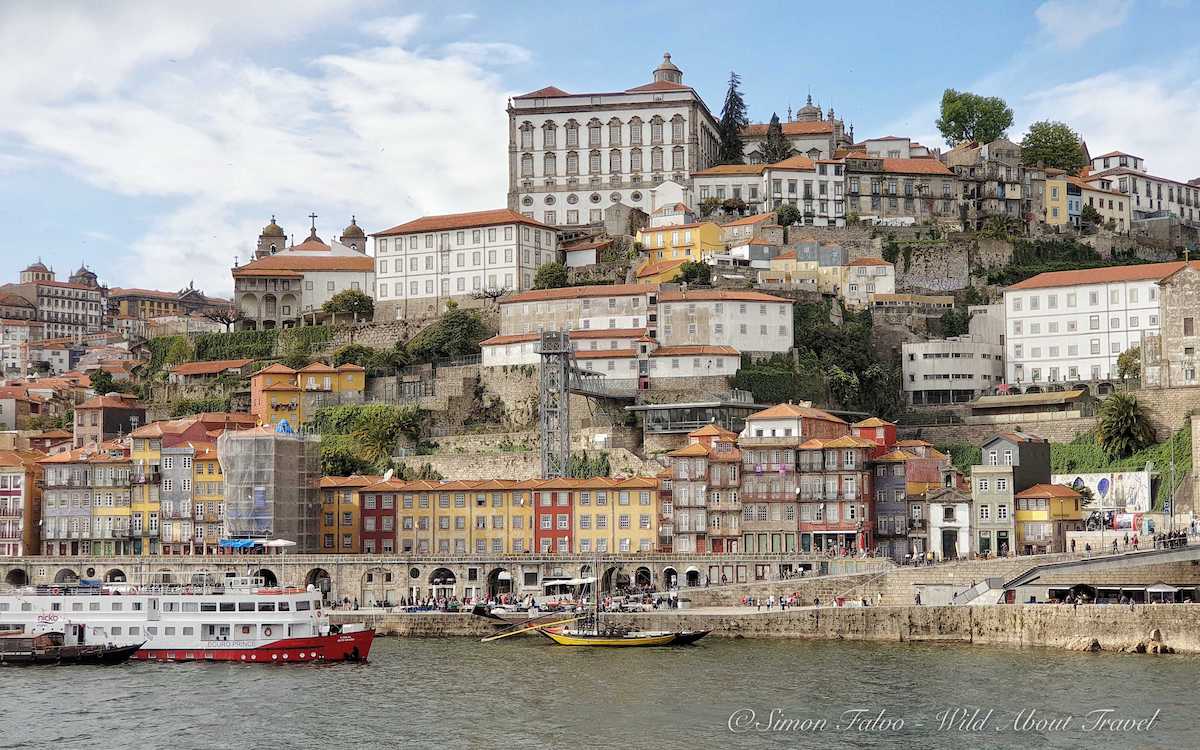 Ribeira
The Ribeira district, with its charming, colorful houses overlooking the Douro River, is undoubtedly the most famous area in Porto. As a consequence, it's also extremely crowded and very touristy.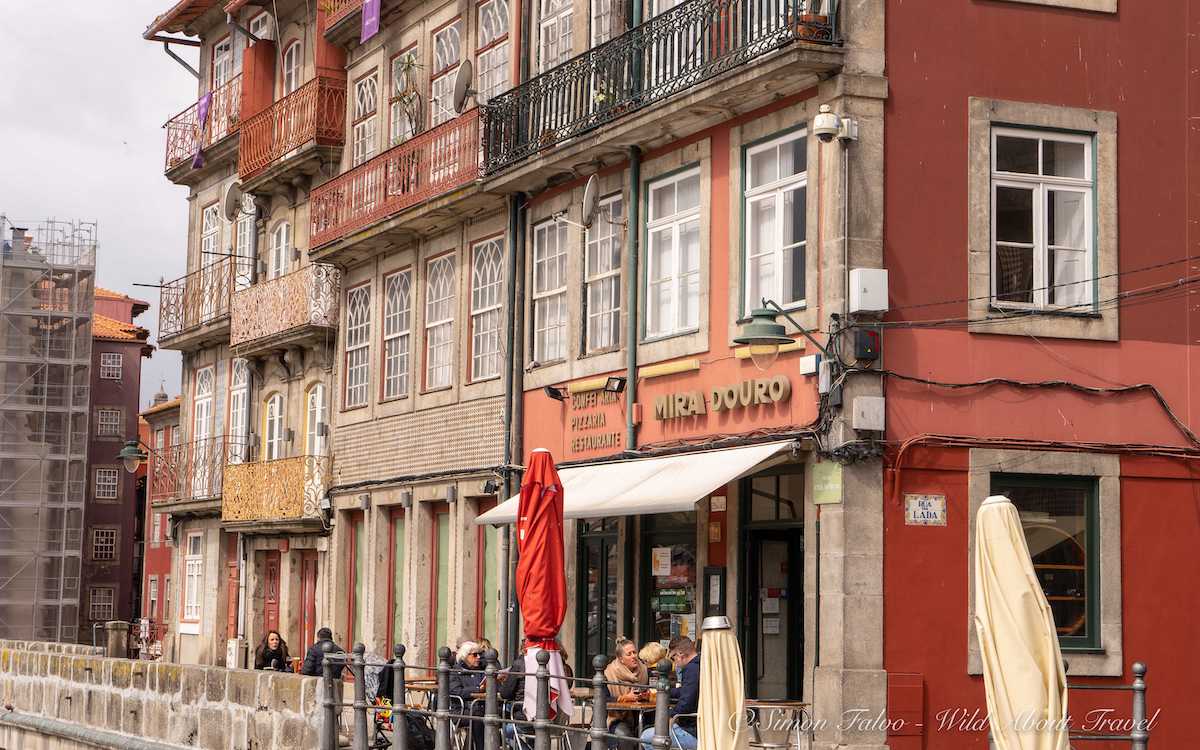 Likely one of the most photographed Porto's neighborhoods, it is undoubtedly beautiful. However charming, I found it a little too touristy for my tastes. It is, without a doubt, a must-see in Porto, but there are other districts that I found more appealing and authentic.
While strolling along the Ribeira, you'll see plenty of charming cafes and restaurants. They're indeed pretty, and several websites recommend stopping there for a drink or a bite. The truth is that there are good chances to fall into tourist traps, where you pay much more just because of the location. If the view is your priority, then go for it. Personally, I prefer having a stroll and then heading to the places where locals go.
Miragaia
Walking a little further from the Ribeira towards Foz do Douro and the ocean, you'll reach Miragaia. In the past, Miragaia stood outside Porto's city walls and, therefore, was considered a suburb. It's also the area once inhabited by the Jews and Armenians.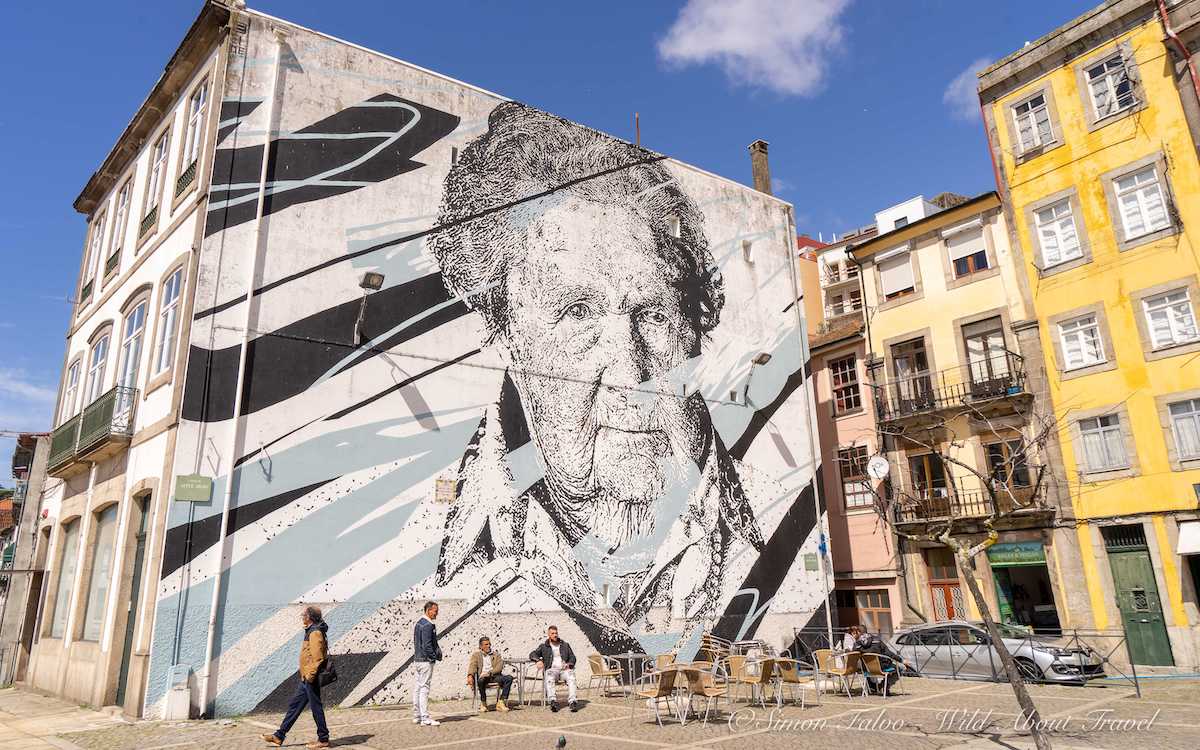 The pastel-colored houses and the ones with facades covered in tiles are enthralling. Miragaia was one of my favorite districts in Porto, and I felt it was much more authentic than the Ribeira. One of my favorite spots was the square along Rua Nova de Alfândega, where you can see a beautiful mural by Daniel Eime. It's an excellent spot to stop by for a while, watching the locals sitting and chatting at one of the tables right under the mural.
Tip: If you like Street Art, check out the Porto Half-Day Street Art Tour.
Se Cathedral
The area around the Gothic Se Cathedral is one of Porto's oldest districts. There's no better way to explore one of the most charming spots of Porto than getting lost in the maze of alleys.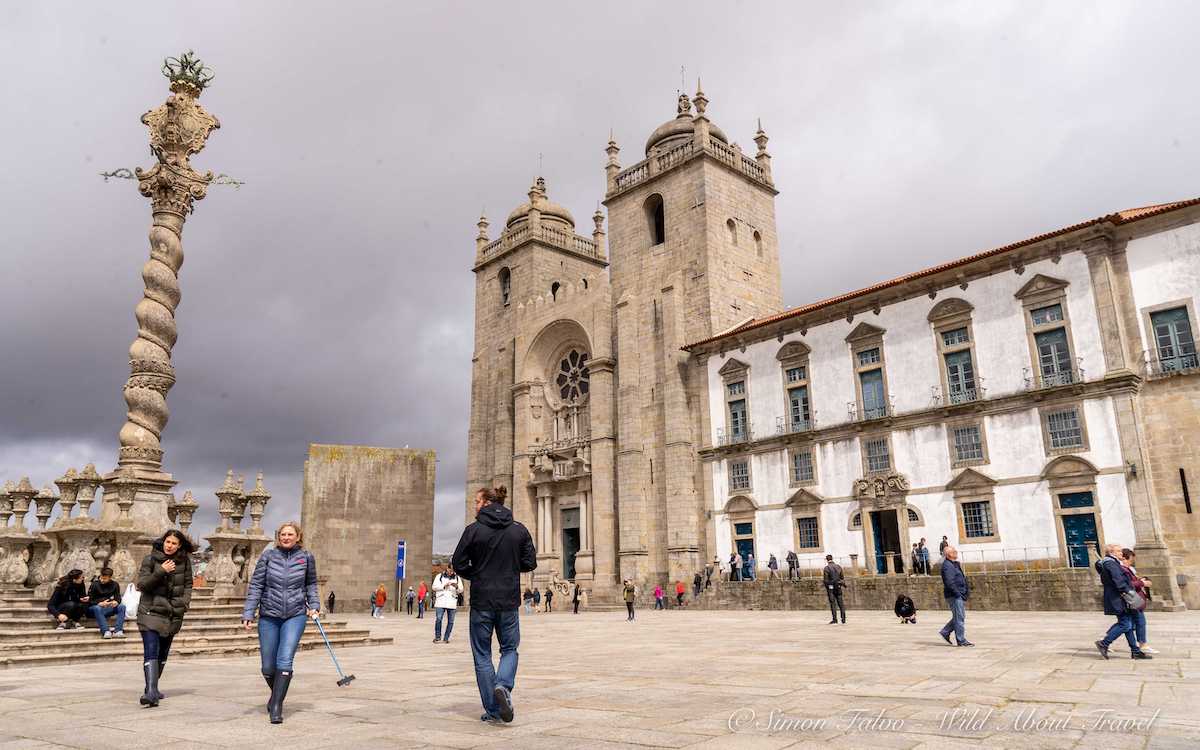 From the Douro riverside, the climb up the hill is quite steep, but you'll be rewarded with a beautiful view.
The origins of Porto Cathedral date back to the 12th century, although the construction was not finished until the mid-1700s. The original Romanesque style is still visible in the imposing building, together with styles from later periods. It's worth visiting the interior and the Gothic cloisters. However, if you're short of time or, if religious buildings are not your thing, don't miss to admire the lateral baroque loggia decorated with beautiful azulejos.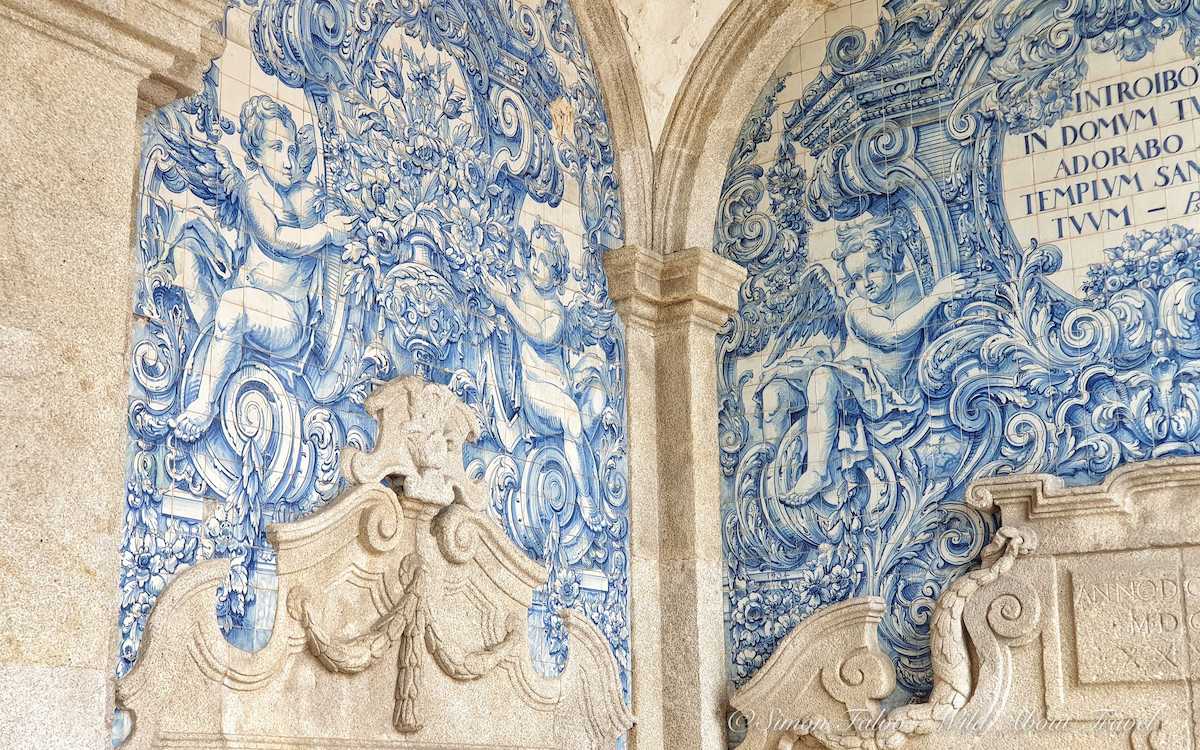 Sao Bento Railway Station
Often considered one of the prettiest railway stations in Europe, Sao Bento is one of the must-sees in Porto.
The exterior of the building, dating back from the early 20th century, is impressive. Still, it's the interior that sets Sao Bento apart. Twenty thousand azulejos tiles decorate the vestibule, depicting scenes of historical events and landscapes, and it took 11 years to complete the project.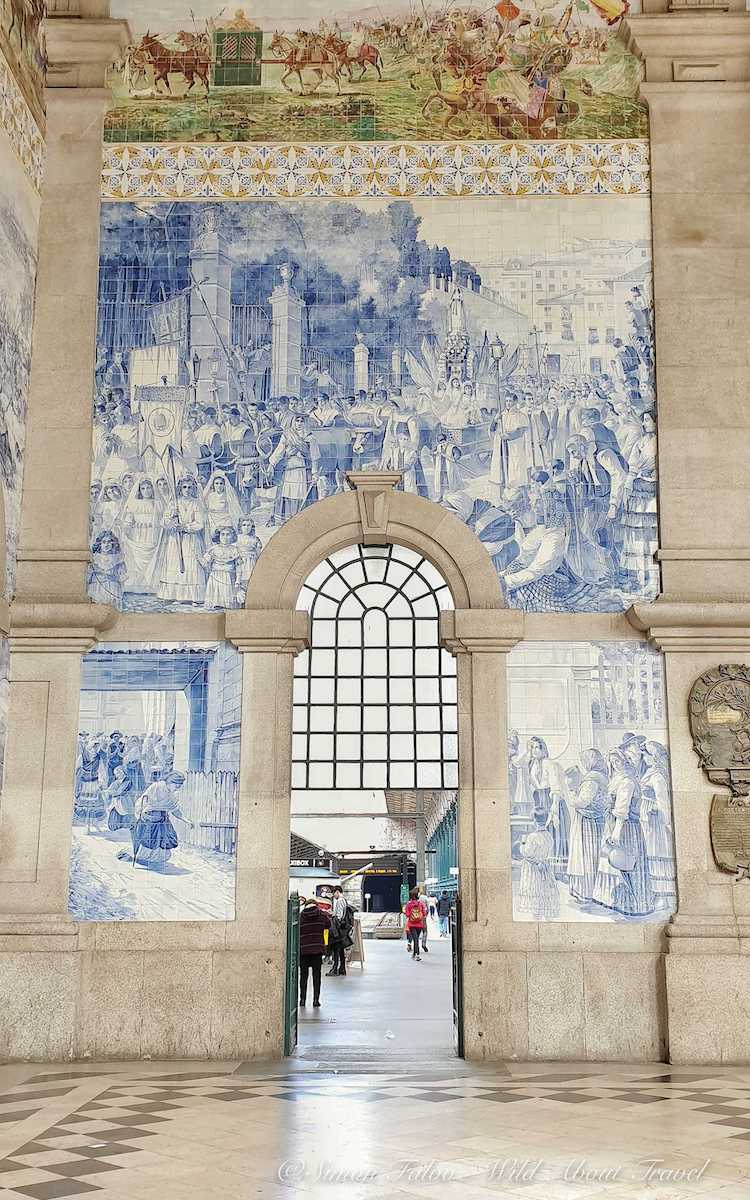 Dos Clérigos tower and church
The Baroque facade and interiors date back to the mid-18th century, but the real attraction is the bell tower and the sweeping views over the city. Sadly, on my second day in Porto, it rained all day; thus, I didn't climb the 76m high Torre dos Clérigos. But for sure, I hope to enjoy it next time I visit Porto.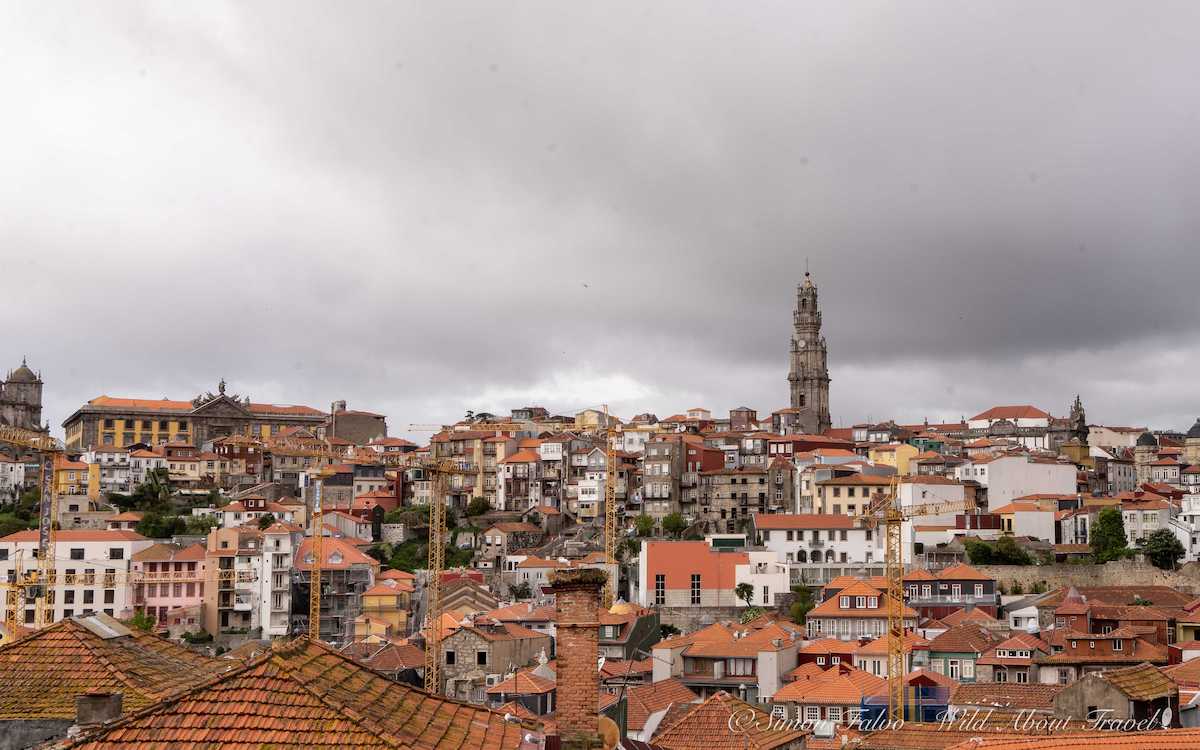 If you're luckier than I was and the weather is good, you should definitely add the tower to your Porto itinerary. From atop, you get superb views of Porto and the surrounding hills. Beware, however, that there's no lift; thus, you'll have to climb 225 steps to conquer the top.
Igreja do Carmo
Even if you're not a fan of religious buildings, you can't miss seeing the Igreja do Carmo, if only from outside. The late Baroque facade is beautiful, but what truly makes it worth stopping by is the magnificent azulejos decorating the side of the buildings.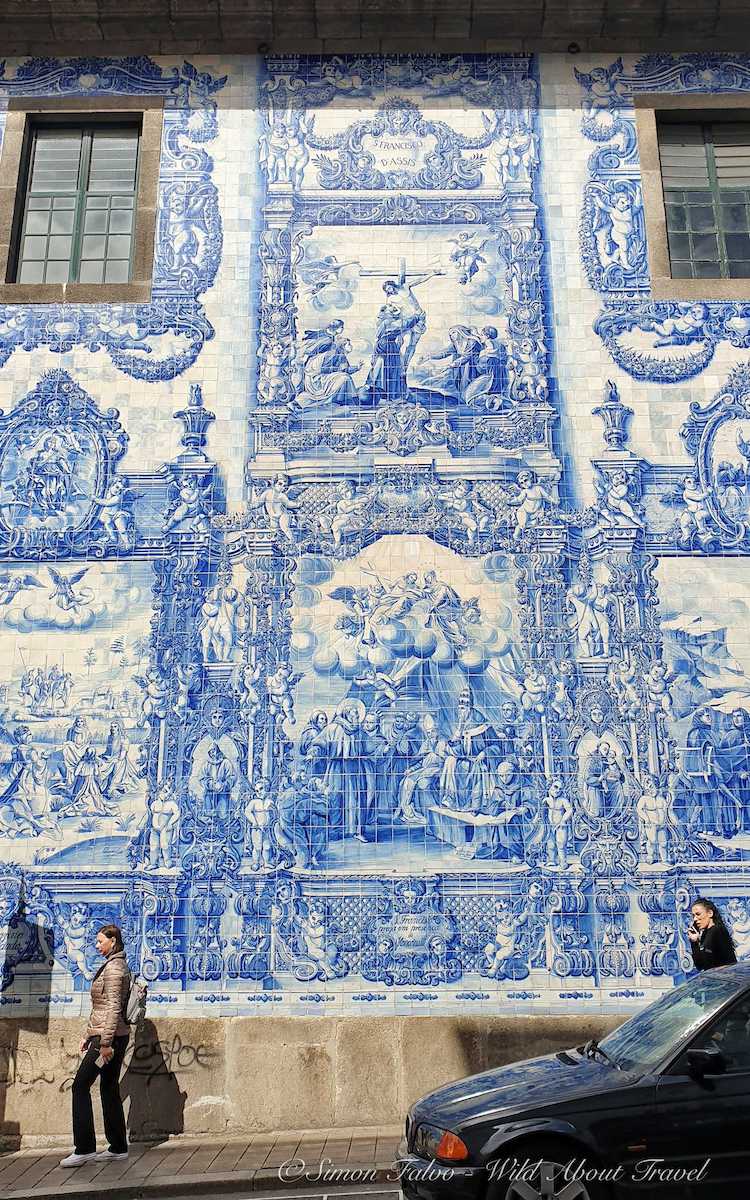 Useless to say this is one of the most photographed spots in Porto.
Livraria Lello
This beautiful Neo-gothic bookshop is one of the oldest in Portugal and one of the most famous in the world. The reason? Not only is its decoration stunning, but Livraria Lello is also said to be one of the places which inspired J.K. Rowlins – who lived in Porto from 1991 to 1993 – when she wrote her Harry Potter book series.
The bookshop has become one of Porto's main attractions, and there's an entry ticket to visit it. Being a bookworm, I was looking forward to visiting Livraria Lello. However, I eventually gave up when I saw the endless queue. Proof that even seasoned travelers make mistakes. Therefore, my advice is, if possible, to avoid weekends. Otherwise, if you can only spend a weekend in Porto, get there early in the morning, at the opening, although you might still find already many people waiting in line. There are so many things to do that 48 hours in Porto will pass in a heartbeat and you don't want to waste time queueing.
The sole way to be sure to visit Lello bookshop without wasting time is by booking the 3-hour guided walking tour that includes a skip-the-line ticket to Livraria Lello.
Palácio da Bolsa
The lavish Arab Hall inside the Palácio da Bolsa is enough evidence of the richness of the Portuguese trade in the past. Constructed in the second half of the 19th century, the Stock Exchange Palace is usually one of the spots included in Porto sightseeing itineraries. I didn't visit it, though. There's only that much one can visit when spending 2 days in Porto, and anyone has to choose what they are keener to see.
Dom Luís Bridge

and the Douro River

One of Porto's most distinctive landmarks, the bridge connects the Ribeira to Vila Nova de Gaia, on the opposite side of the Douro River. This is the town where tourists head to taste Port Wine at one of the many cellars.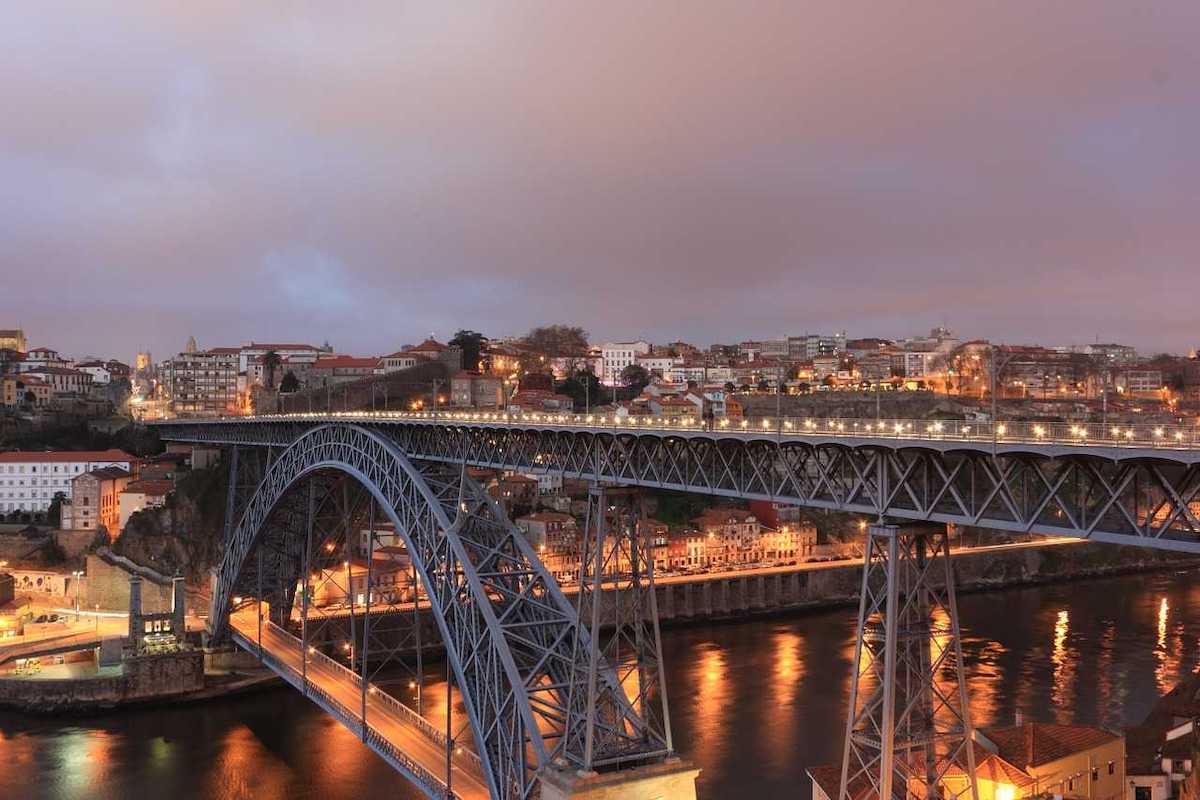 Gustave Eiffel, the French engineer who would later become famous for the project of the Eiffel Tower in Paris, presented a project for a single-decked bridge in 1879. However, due to the sharp rise in Porto's population, the project was rejected. Eventually, German engineer Théophile Seyrig won the competition to construct the Dom Luís bridge, inaugurated in 1886.
Cruise the Douro River
The 6 Bridges Douro River Cruise is one of the most popular Porto attractions. Not only it allows some rest after much walking, it also allows to look at the city from a different perspective. You'll sail on a boat that was once used to transport Porto barrels and which has been adapted. Along the way, you'll learn about the 6 bridges spanning Vila Nova de Gaia and Porto, and you'll enjoy the surrounding landscape.
Port Wine

Tasting

To many visitors, one of the top things to do in Porto is taste Port wine. Vinho do Porto, as it's called in Portuguese, is a fortified wine produced in the Douro region and one of the best-known products from Portugal. Furthermore, the Douro region is one of the most popular day trips from Porto, which I strongly recommend should you stay in the city a little longer.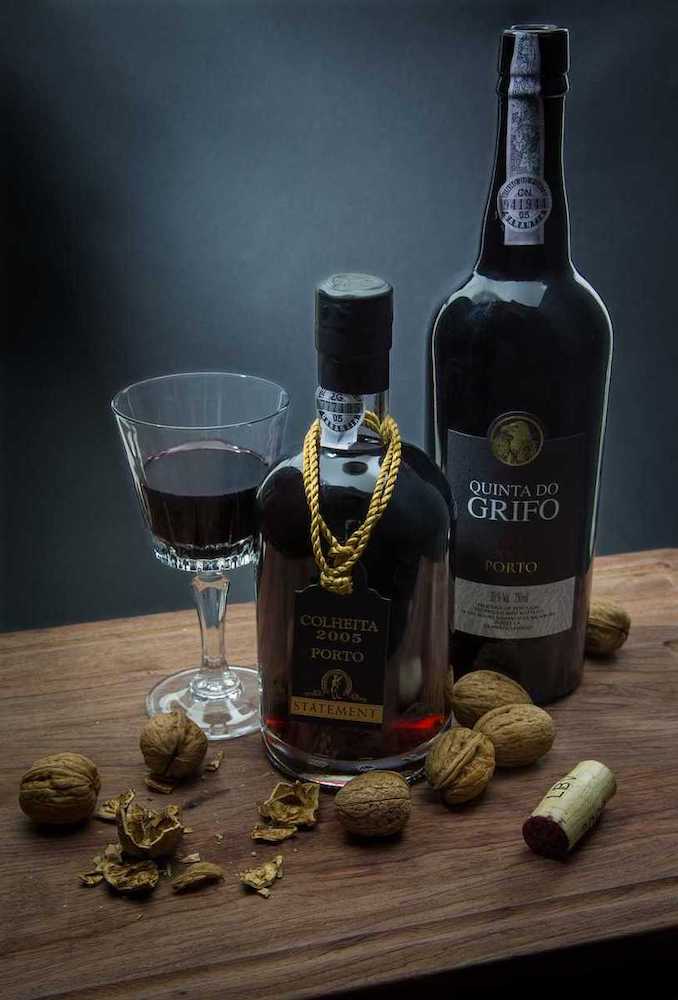 Right across the river Douro, in Vila Nova de Gaia, there are plenty of wine cellars that you can visit and where you'll have a tasting session.
I'm by no means an expert in Port wine but I found an interesting article recommending 5 cellars.
To discover the secrets of this delicious dessert wine, you can book a Porto Wine Tour with lunch and tasting. Another possibility is to get a more comprehensive tour of the city, including a visit to a Port wine producer. Finally, if you're looking for something different, how about combining a Fado performance with Port wine?
Matosinhos and Foz do Douro
A sightseeing tour of Porto wouldn't be complete without having a stroll on the beach to breathe the Atlantic.
From the Ribeira, board the quaint tram N. 1 and head to Foz do Douro. Stop by the lighthouse and walk along the promenade. Further away, you can visit Matosinhos, the fishing town with the largest sandy beach, a stone's throw from Porto. You can reach Matosinhos with the blue metro line or the bus N. 500 from Praça da Liberdade.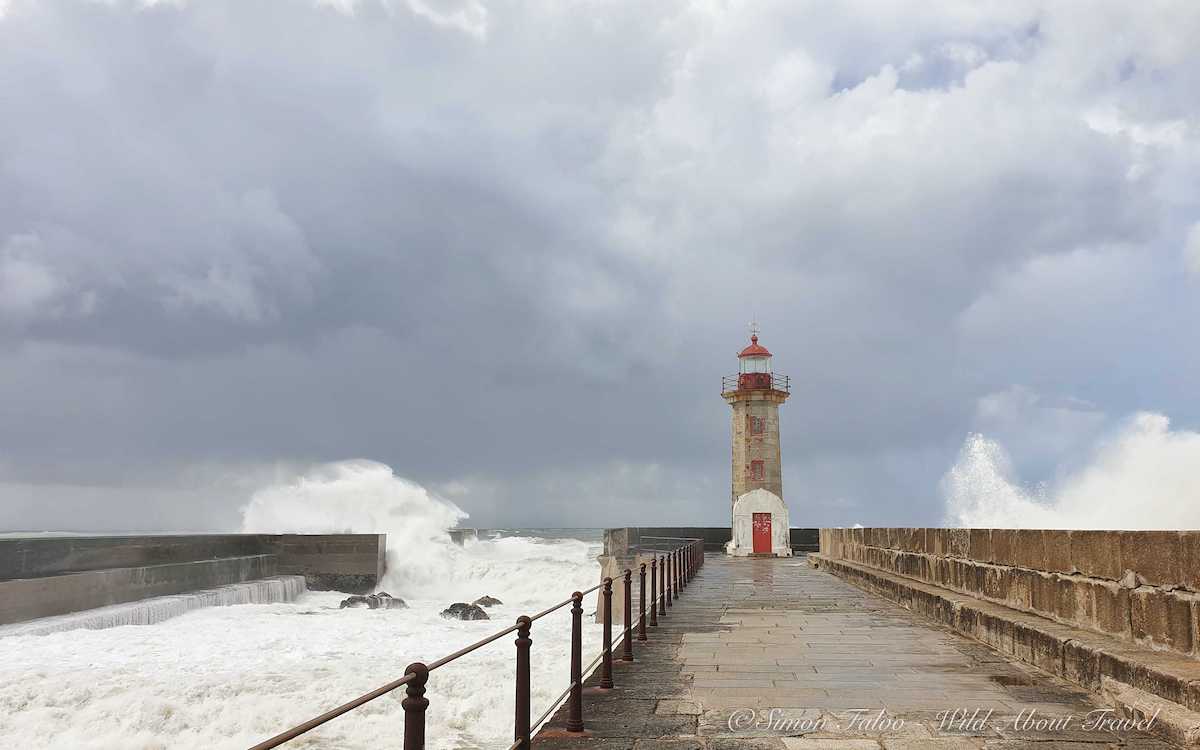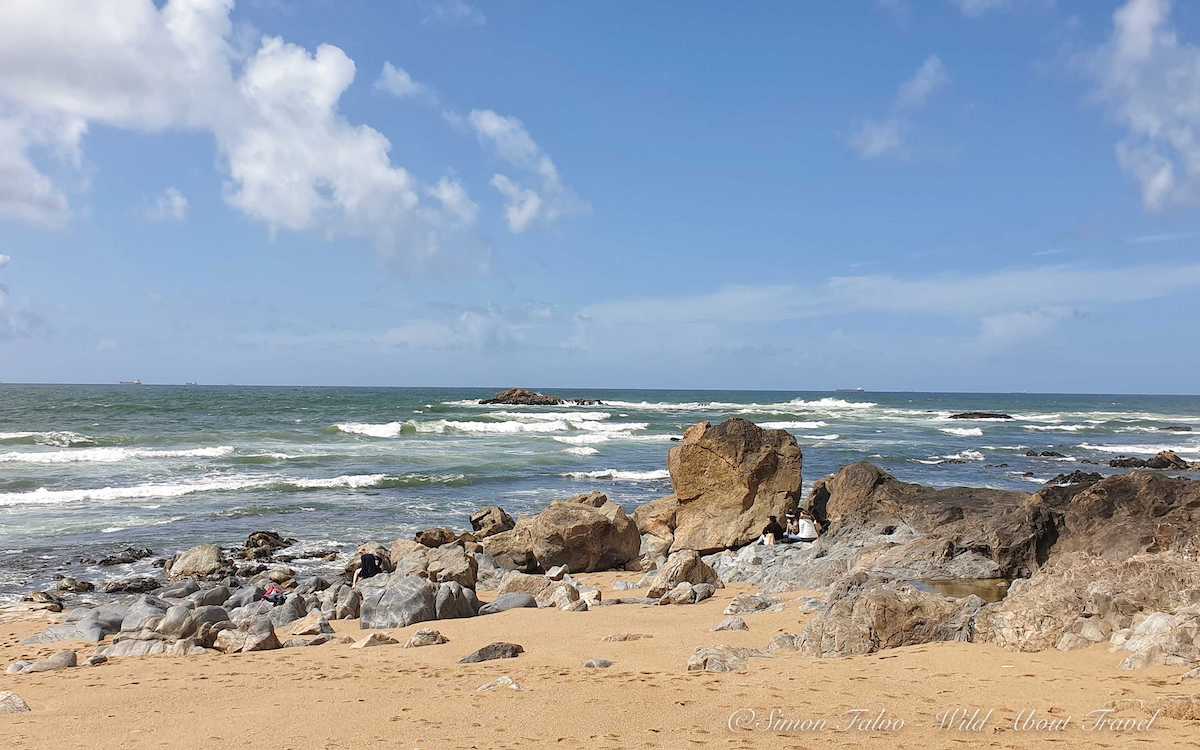 Porto at night
Wondering what are the things to do in Porto at night? Well, if you want to know Portuguese culture better, you shouldn't miss a Fado show. The 1-hour live Fado performance includes a glass of Port wine, and you'll get to know more about music that UNESCO declared an "Intangible Cultural Heritage of Humanity." Alternatively, you can combine visiting the Calèm cellar, Porto wine tasting, and a Fado performance.
Are you keen to meet new people? Then why not discover Porto nightlife with a guide, crawl 3 bars and a nightclub, and sip 5 free drinks?
One of the most romantic things to do in Porto is the sunset river cruise on a sailboat. If you're lucky, you could even spot dolphins!
Cool things to do in Porto
Looking for fun things to do in Porto? Here are a few:
Porto for foodies
Food is a tremendous and enjoyable way to discover a different culture in every country. In Porto, there are several tours and experiences allowing you to learn more about Portuguese culinary traditions and taste some delicacies.
And if you can spend 3 days in Porto…
Believe me, 48 hours in Porto will be over in a heartbeat. If you get the chance to spend 3 days in Porto, you' should dedicate'll be able to take one of the many fabulous excursions from Porto. To know more, read my dedicated article on the best day trips from Porto.
Wrapping things up…
If you can only spend 2 days in Porto, you can easily discover Porto's main attractions. If not all of them, fur sure many. Follow your heart and your interests. Remember that the city is busy in the high season, especially during the weekends. But with a bit of planning and advance booking for Porto top attractions you don't want to miss, you'll love the capital of northern Portugal.
Pin for later!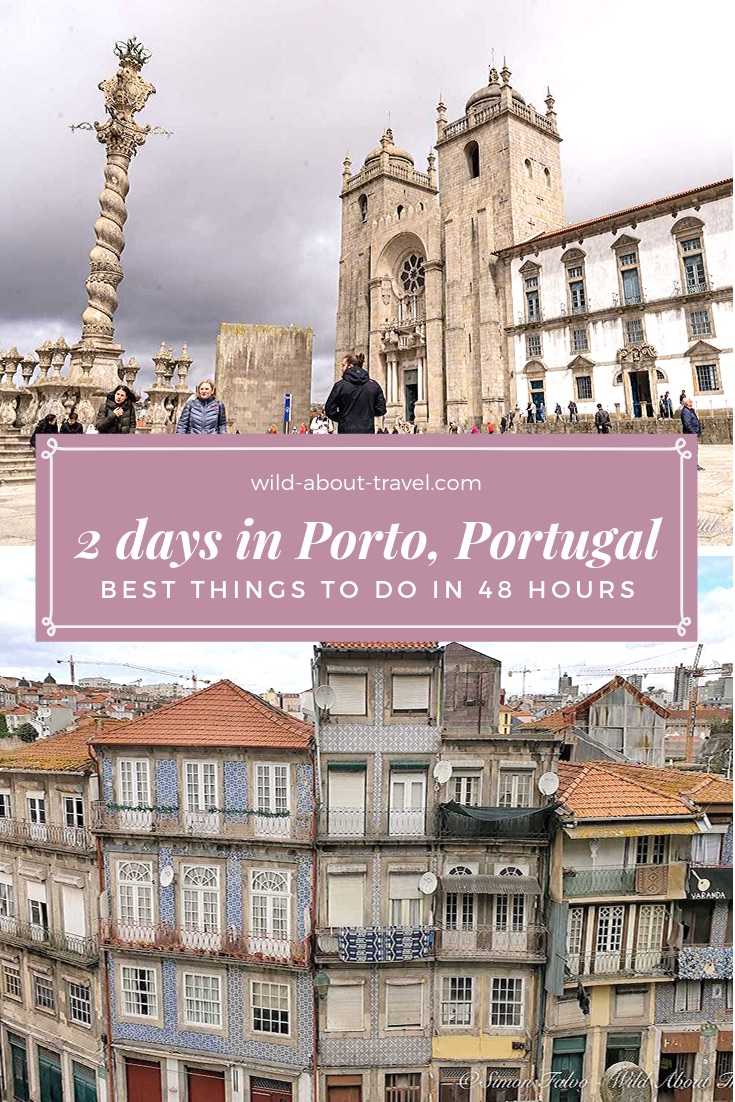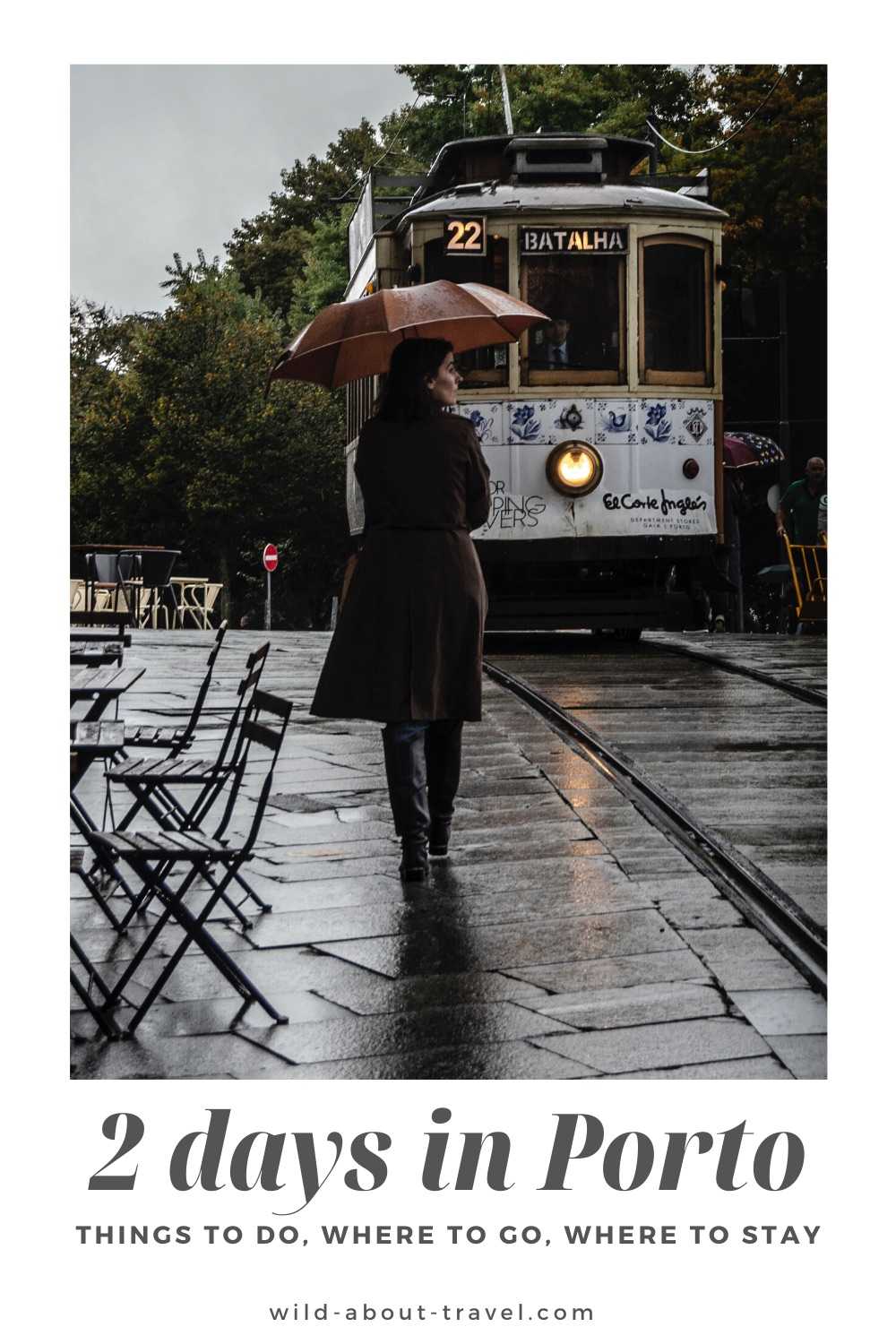 ______