Nestled amidst lush hills and adorned with fairytale-like palaces, Sintra is an enchanting town that beckons travelers from afar. Whether exploring ornate palaces, wandering through ancient forests, or savoring traditional Portuguese delicacies, Sintra is a must-see destination that promises an unforgettable journey. Discover why this small Portuguese town continues to captivate the hearts of all who visit and why it's a day trip from Lisbon not to be missed.
This post contains a few affiliate links to selected products and services. If you make a purchase, I get a small commission at no extra cost to you.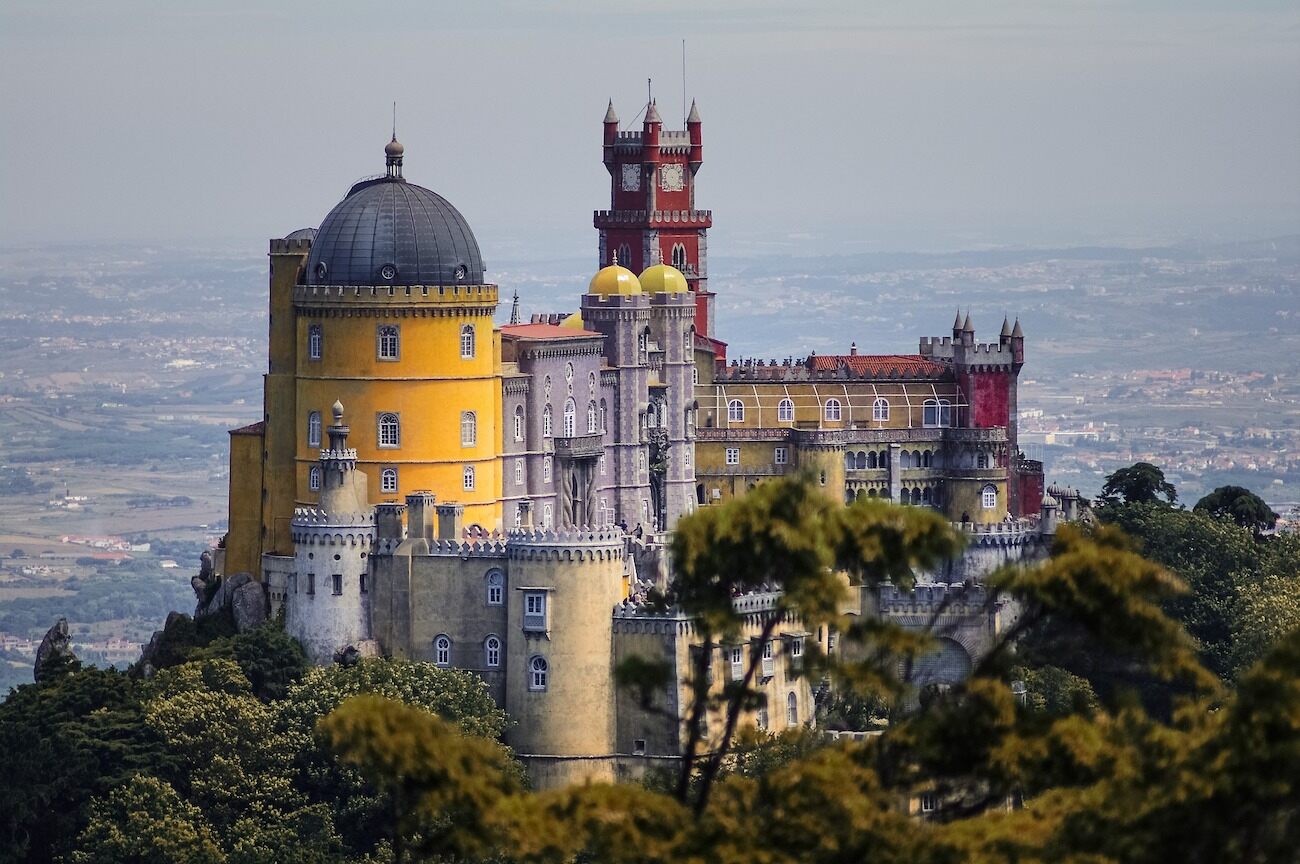 Located just a short distance from Lisbon, the capital of Portugal, Sintra's allure lies in its magical ambiance, rich history, and architectural marvels. With its UNESCO World Heritage status, this beautiful destination offers a captivating blend of historical sites, breathtaking landscapes, and cultural treasures. Sintra was one of the highlights of my 10-day itinerary in Portugal and one of the places where I'd really like to return. Even if you're only spending a couple of days in Portugal's capital, Sintra is likely the best day trip from Lisbon you can do.
Jump to the relevant section [Show]
A
Last-minute trip to Sintra? Know before you go

Is Sintra worth visiting? Definitely yes! It's a unique city; if you read further, you'll discover why it's a must-see in Portugal.
Best time to visit Sintra: Spring and early Autumn are the ideal periods. If possible, avoid Summer, when the city is hot and packed with tourists. If you can only visit in the peak season, try to get there as early in the morning as possible. Even better is to spend a night there.
How to get from Lisbon to Sintra: the train is by far the best and easiest way to reach Sintra from Lisbon. there are regular trains, and the journey takes 40 min. Check the timetable and prices. I recommend buying your ticket in advance during the peak season to avoid or at least limit possible long queues.
Tours from Lisbon to Sintra: There are several day tours from Lisbon to choose from. Some focus on Sintra and a few of the Palaces; others also include visiting Cascais. Day tours are also a great option to see more things in a day, arduous to do when getting around by public transportation. Here are a few of the most popular:
Sintra history and architecture in a nutshell

Sintra's rich past has left an indelible mark on its architecture, creating a tapestry of styles that tell the story of its evolution over the centuries. The town's history can be traced back to ancient times when it was inhabited by the Celts and later occupied by the Romans. During the Moorish period (8th to 12th centuries), Sintra flourished as an important stronghold.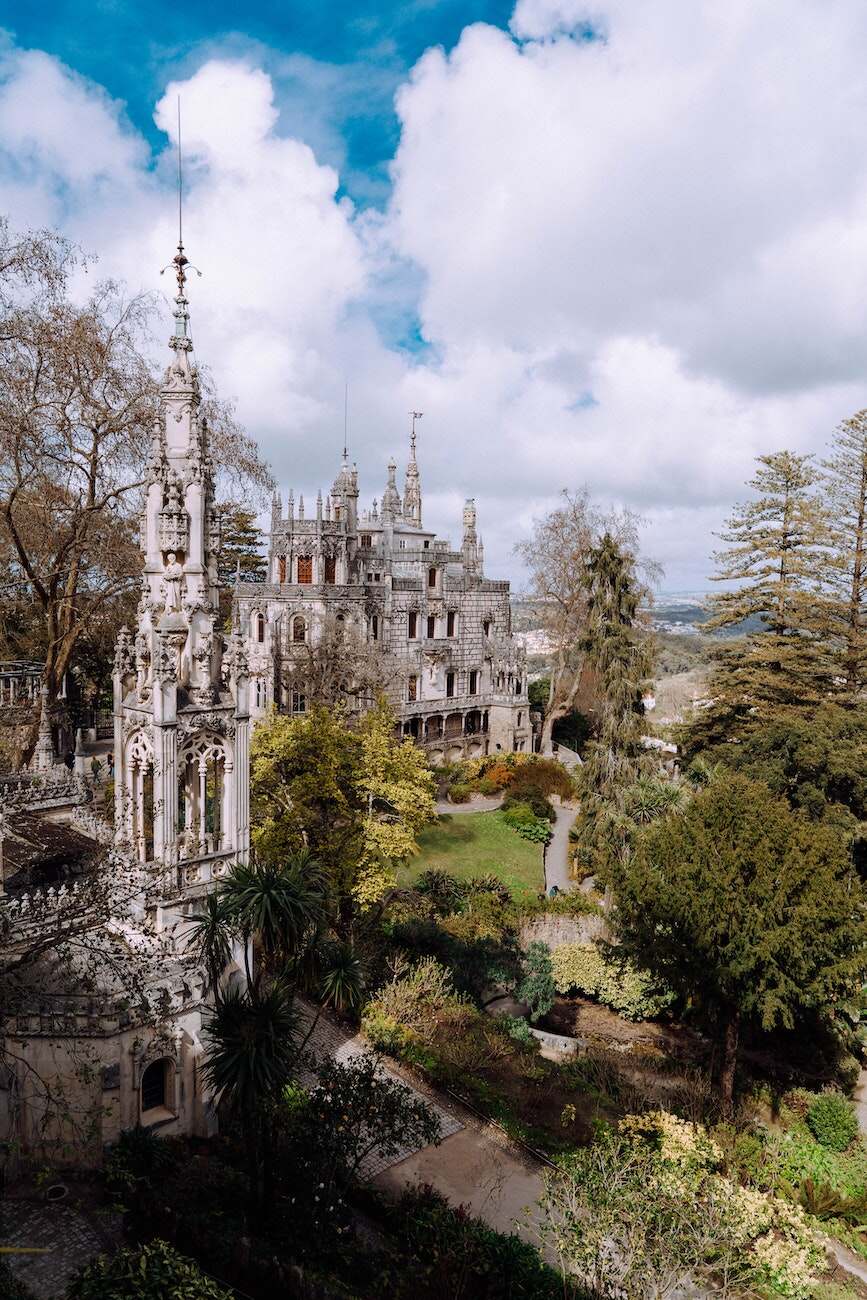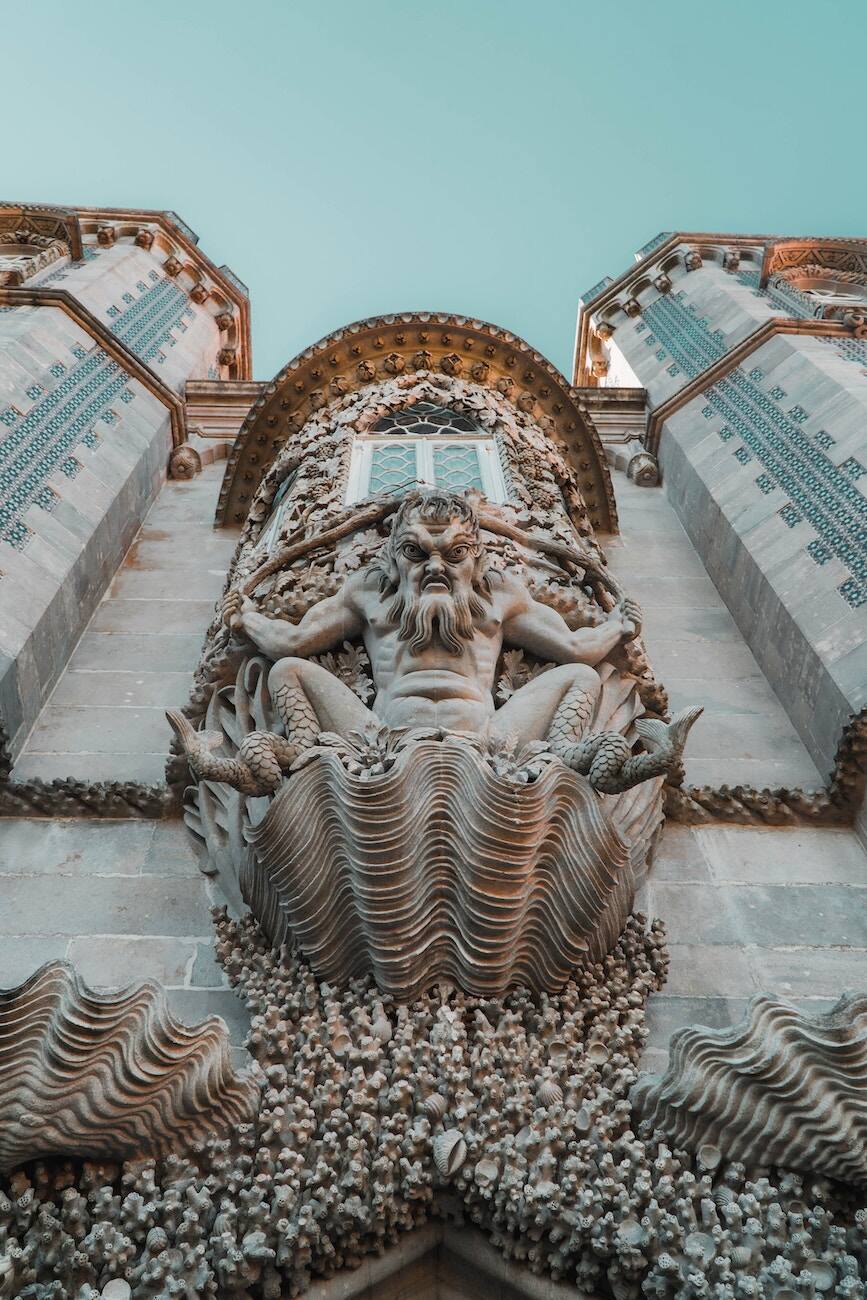 From the Middle Ages onward, after the Portuguese reconquered Sintra, the city became a favorite retreat for royalty and nobility, leading to the construction of opulent palaces, castles, and estates. These architectural gems, characterized by a blend of Gothic, Renaissance, and Romantic styles, reflect the town's evolving cultural and artistic influences.
For centuries shrouded in mysteries and myths, the magic of Sintra was rediscovered in the 18th century, fuelled by Romanticism. Its unique climate and natural beauty captured the attention of those moved by the landscape, inspiring them to enhance it with remarkable architectural creations that harmonized perfectly with the surroundings and allowed for the appreciation of beauty and grandeur. Sintra attracted many foreign travelers, intrigued by its unique exotic landscape and stunning palaces. This is also the period during which Sintra's architecture peaked with the construction of the fairy-tale Pena Palace and the magnificent Quinta de Regaleira.
Things to do in Sintra

While the Douro Valley is the most popular day trip from Porto, Sintra is the favorite day tour from Lisbon. Therefore, prepare for crowds and queues at Pena Palace and Quinta de Ragaleira, even if you're taking a guided tour. That's why I decided to spend a night in Sintra to savor its beauty better when the hordes of tourists leave.
Pena Palace: the brightly-colored fairy-tale castle
Perched atop one of the Sintra hills, the picture-perfect Pena Palace is one of the most iconic landmarks in Portugal. This Romantic-style palace boasts a captivating and eclectic design that seamlessly combines Moorish, Gothic, Renaissance, and Manueline elements. Its architecture, vibrant colors, and location make it look like a fairy tale castle.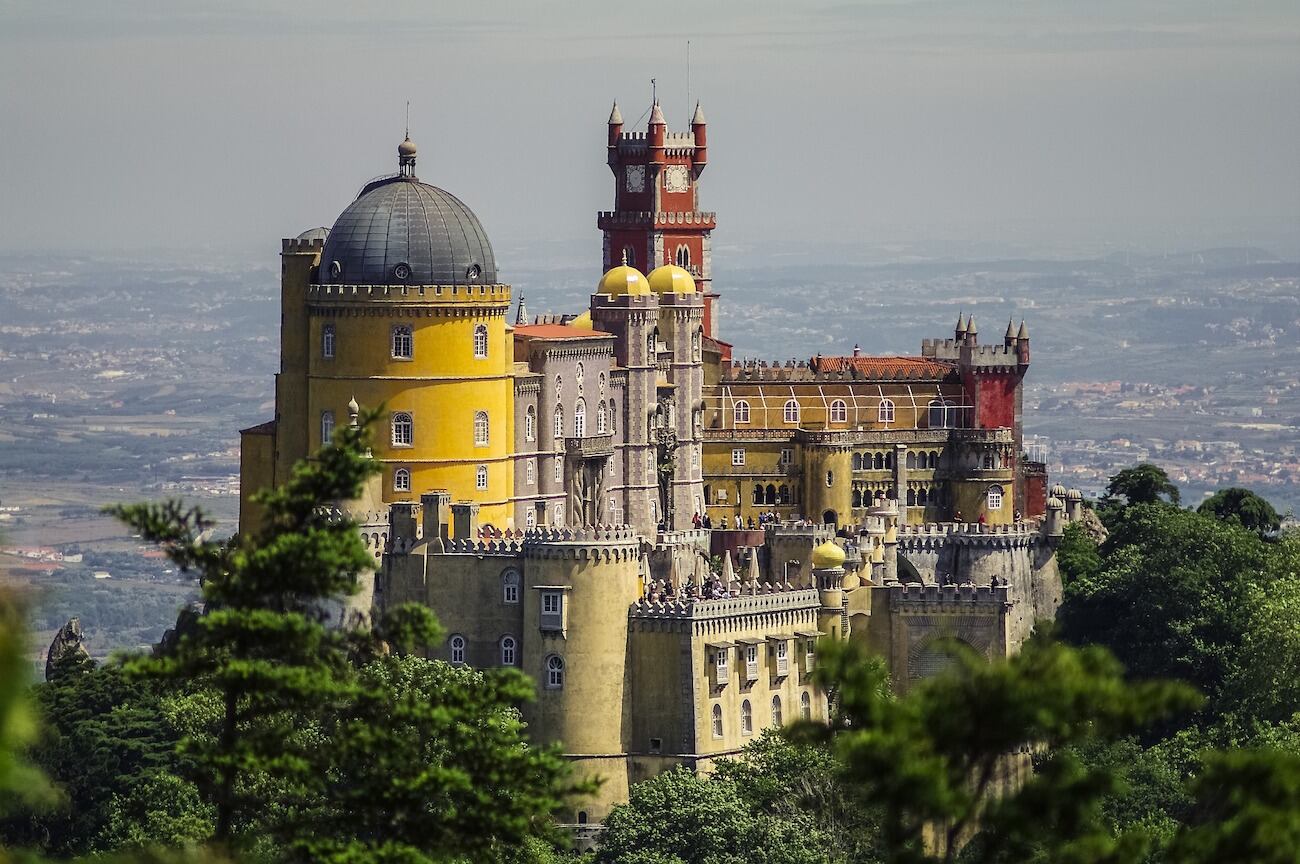 The palace's surroundings are equally breathtaking, with lush gardens that showcase a diverse collection of plant species worldwide. From the terraces and viewpoints, you can enjoy stunning panoramic views of Sintra's rolling hills and dense forests.
All this is true, provided you have good weather. When I visited Sintra, fog shrouded the city all morning. And while I could not enjoy the colors of Pena Palace and the sweeping views, it had a magic atmosphere that reminded me of a trip to Venice in November.
Inside the palace, you can admire the opulent wall paintings and ancient furniture. However, get ready for a long queue. I decided to focus on the external architecture and the park, and I don't regret it as the interior did not interest me enough. The good thing is that you can choose between two different tickets. One ticket gives you access only to the park, which is nothing short of beautiful. The second option allows you to visit the park and the palace inside. Whichever you prefer, I strongly advise you to purchase tickets in advance, to minimize the queues.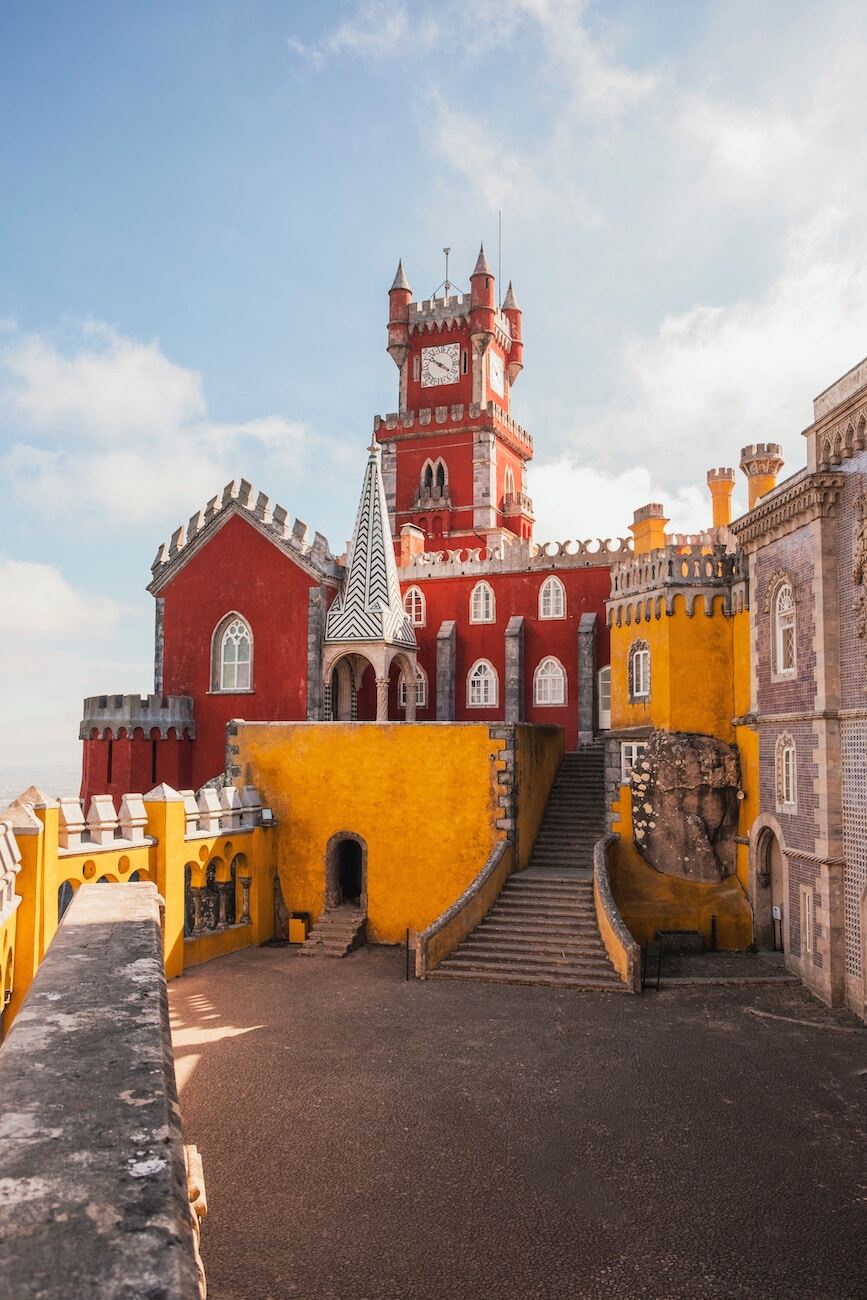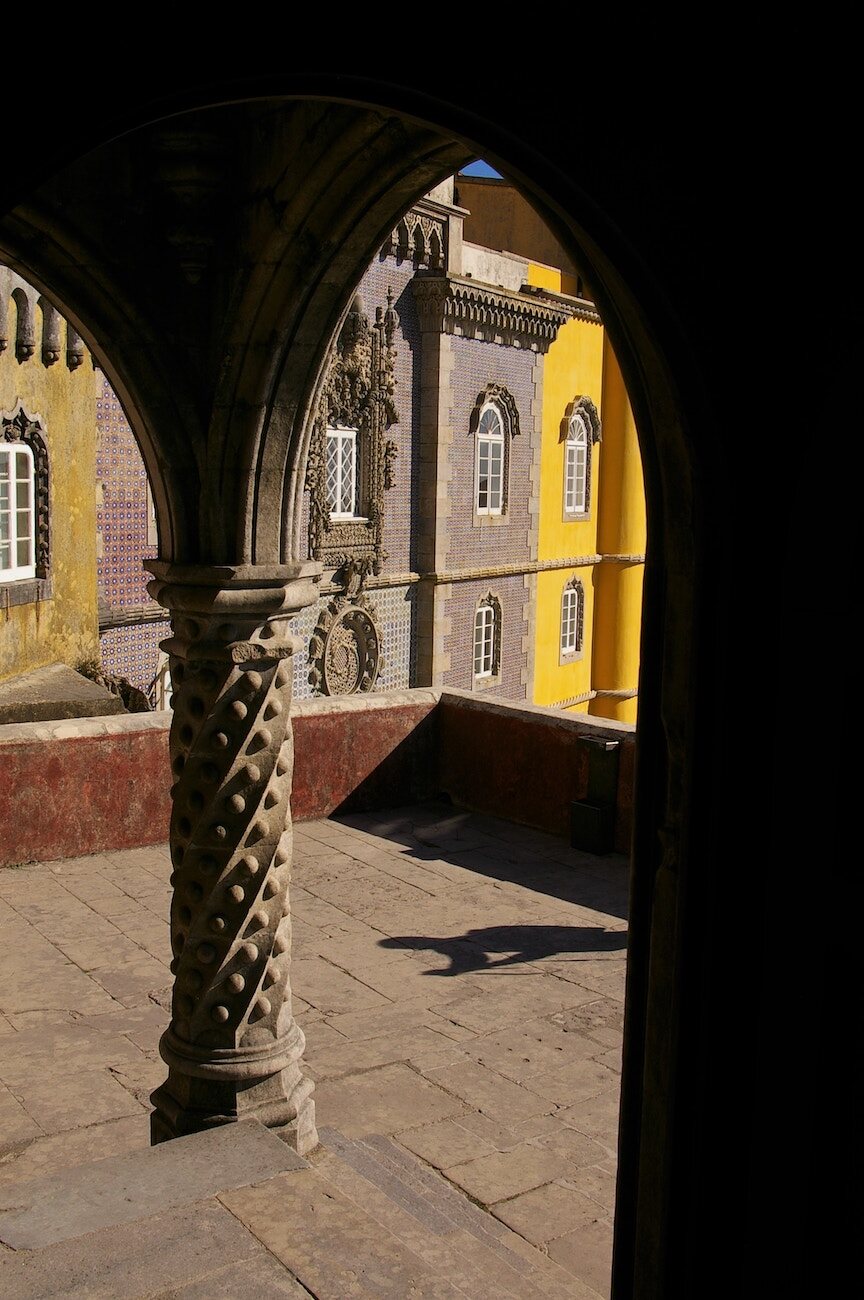 Being the most popular attraction in Sintra, expect the castle to be jam-packed with tourists, and try to go and visit as early as possible. Also, beware that from the entrance gates, there's a 20-minute uphill climb to the Pena Palace. While a convenient mini-bus service is available to transport visitors to the top for 3€, you will likely have to wait in line for a while.
Quinta da Regaleira: elegant and mysterious
Quinta da Regaleira, just outside the historic center of Sintra, is an extraordinary estate inviting visitors to a journey into mysticism and beauty.
Constructed in the late 1800s, this mansion embodies the vision and interests of its owner, António Augusto de Carvalho Monteiro (1848-1920), and the expertise of the Italian architect and scenographer Luigi Manini (1848-1936). António Augusto de Carvalho Monteiro was a Brazilian-Portuguese businessman with multiple cultural interests. Those included esoteric subjects which explain the symbolism embedded in the palace and its beautiful gardens.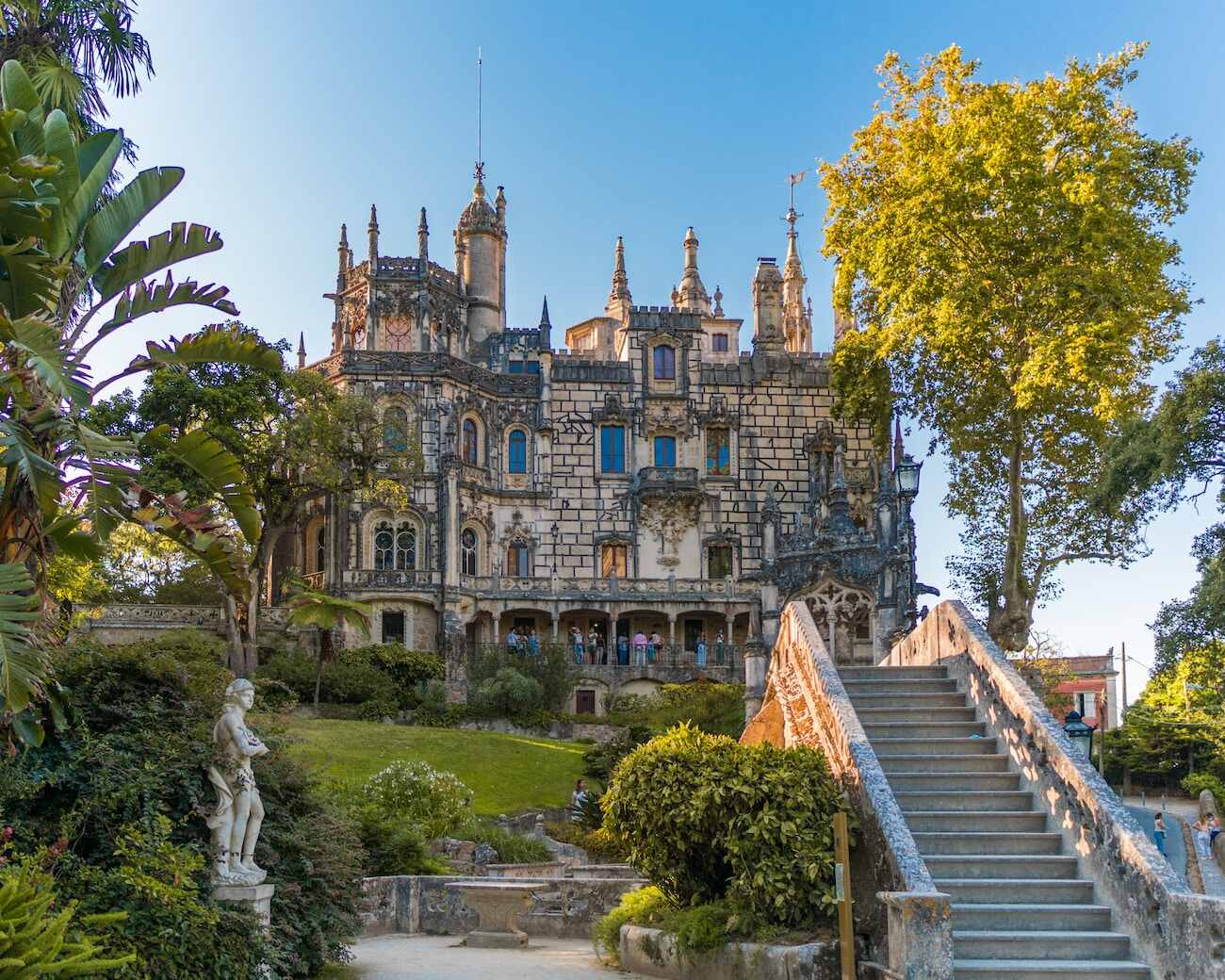 The result of the collaboration between de Carvalho Monteiro and Luigi Manini is an impressive architectural ensemble combining elements from various styles, including Manueline, Renaissance, Medieval, and Classical. The intricate external and internal architecture is magnificent, and I must confess that I liked Quinta da Regaleira more than the Pena Palace. Maybe it was because the sun shone brightly on the second day in Sintra, but I felt fascinated.
My enchantment continued as I explored the vast grounds adorned with lush gardens, winding pathways, grottoes, fountains, and hidden tunnels. I spent a long time wandering around, enjoying this stunning park, including the Initiation Well, perhaps the most famous spot at the Quinta da Regaleira. Imagine an underground tower with spiraling staircases. How incredible is it? Unsurprisingly, such a unique and unusual construction led to several theories regarding its purpose. Some believe it was used for Templar initiations; others invoke Dante's Divine Comedy, and the 9 circles of Hell, Purgatory, and Paradise, comparing them to the 9 underground levels of the well. As fascinating as these theories are (and there are more), there are no proofs. And that's what makes the Initiation well so mysterious.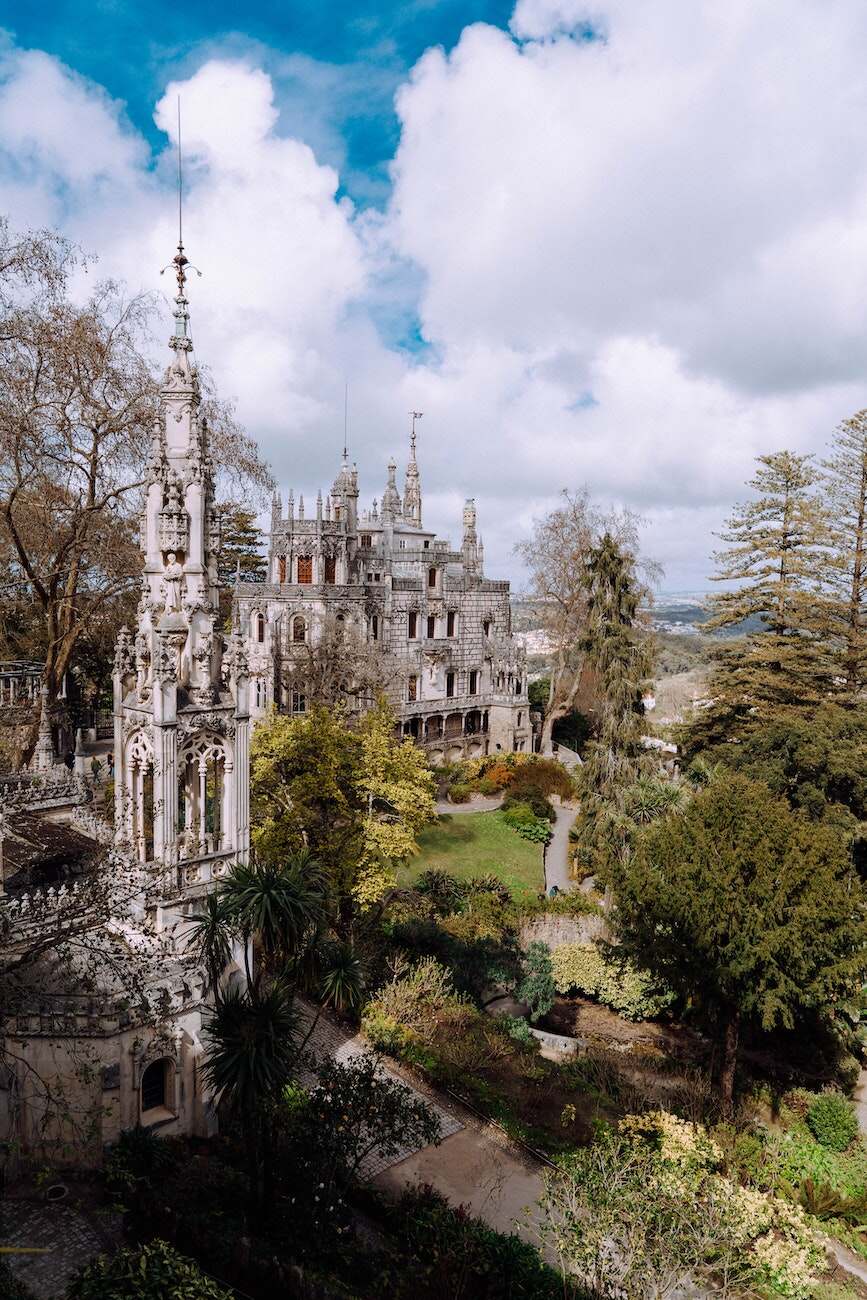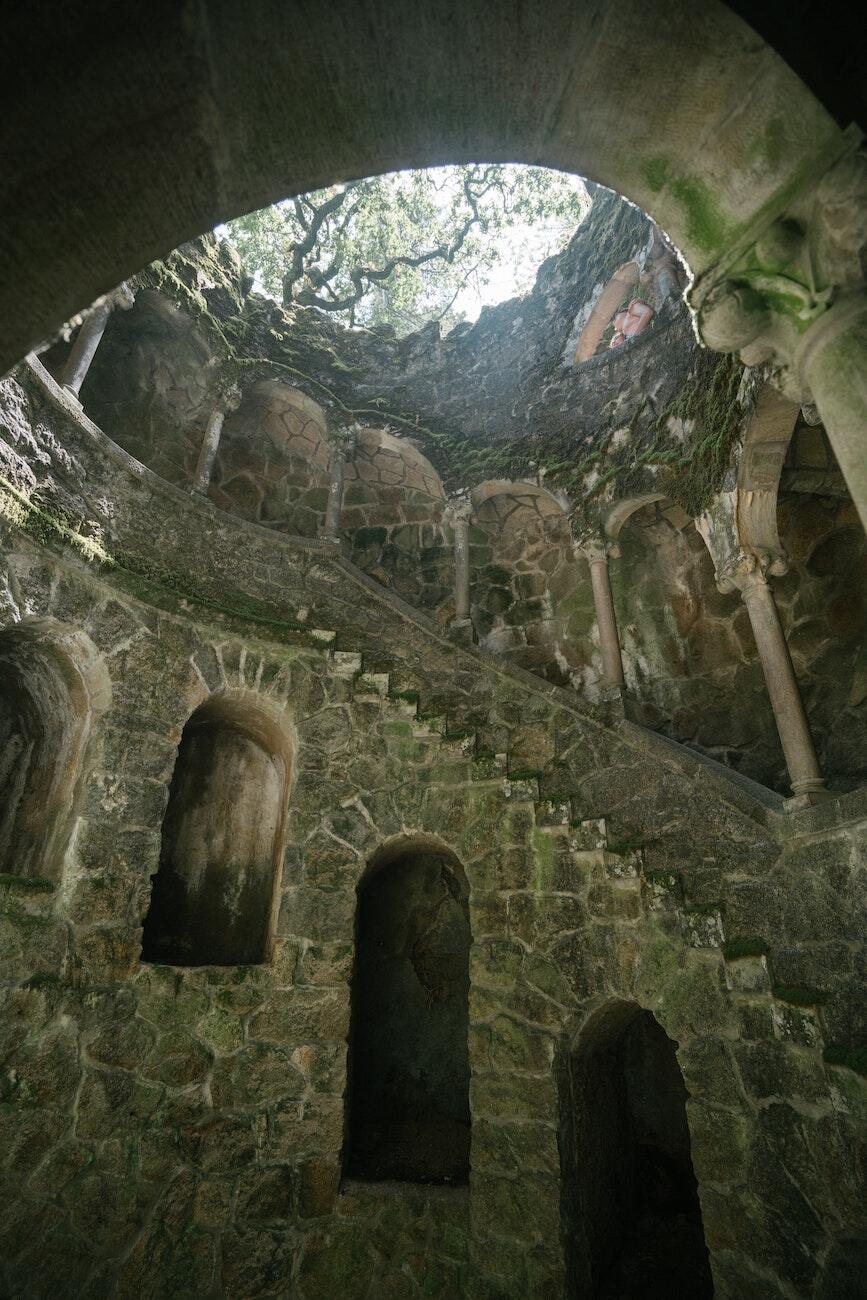 Like at Pena Palace, expect Quinta da Regaleira to be crowded, and you might have to queue to see the palace inside and to walk down the well. You can visit Quinta de Regaleira, together with the Pena Palace, on a day trip from Lisbon. Or you can explore Sintra independently and take just a small-group guided visit to the Regaleira Palace, including entrance tickets. Whatever you decide, as discovering Quinta de Regaliera is by far and large one of the best things to do in Sintra, I advise you to book in advance, especially during the peak season.
The Moorish Castle: stepping back to the Middle Ages
Perched on a privileged vantage point overlooking the Atlantic coastline, the floodplain, and the Sintra Hills, the Moorish Castle dates back to the 10th century. The Moors inhabited the fortress until 1147, when it was handed over to Afonso Henriques, the first King of Portugal, along with the conquest of Lisbon and Santarém. As a Christian population settled in the castle, the Islamic Quarter gradually disappeared, making way for a Medieval town that thrived until the 15th century. Over time, with conflicts between Moors and Christians resolved, the need for shelter diminished, leading to the castle's abandonment.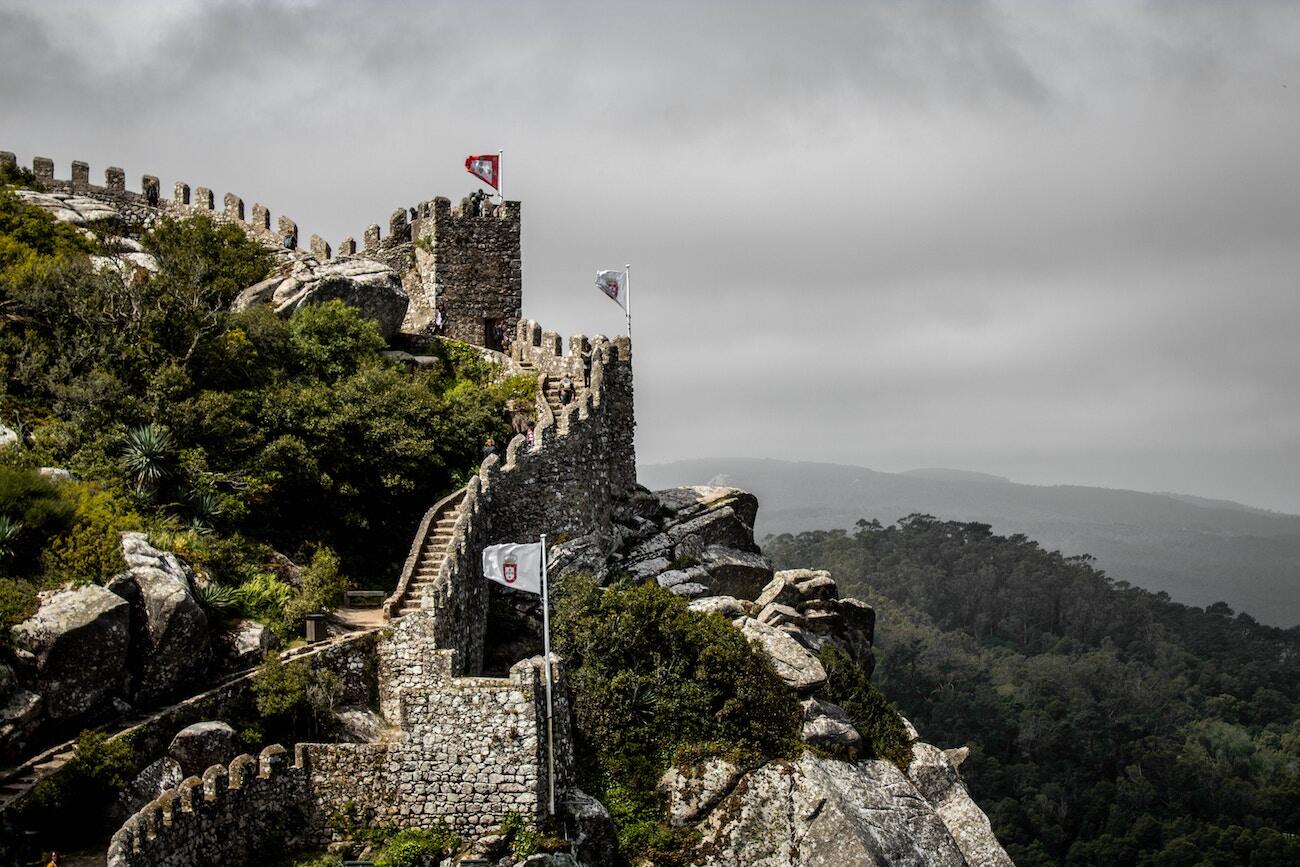 Although it's one of the best things to see in Sintra, the Moorish Castle is way less popular than the Pena Palace and Quinta de Regaleira. The upside is that it's much less crowded and, thus, much more enjoyable. That day, more than May it looked like November. Grey clouds colored the sky, and the mist blanketed the castle and its meandering walls. Somehow, it made wandering through this fortress even more fascinating. I couldn't enjoy the view from atop, but the fog shrouded the castle in mystery.
While most guided trips focus on Pena Palace, Quinta de Regaleira and sometimes include Cabo da Roca and Cascais, one day trip from Lisbon combines Pena Palace and the Moorish Castle.
Wander through the meandering alleys of Sintra historic center
While the Pena Palace and Quinta da Regaleira are Sintra's top attractions, the historic center is charming. Being small and compact, you can walk everywhere and get lost in the twisting cobblestone alleys lined with delightful, colorful houses. You can have a break and taste some Portuguese food specialties there or visit the artisan shops.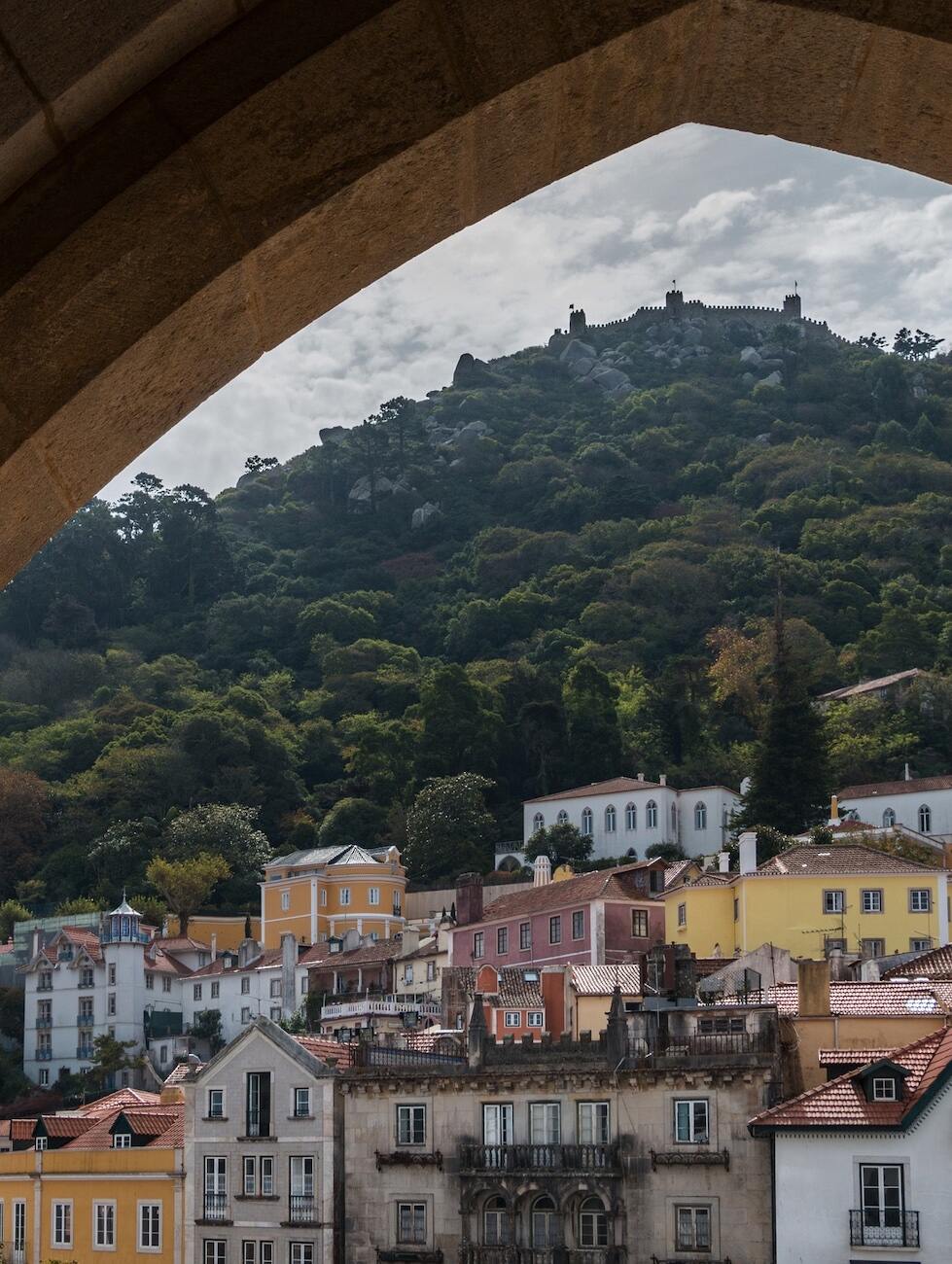 Wear comfortable shoes and get ready for some exercise, as Sitra historic center (and all of Sintra, to be honest) is an endless climb uphill and downhill.
Delve into nature in the Serra da Sintra
The Serra da Sintra, or Sintra Mountain Range, is a stunning natural gem surrounding the town of Sintra. As part of the Sintra-Cascais Natural Park, it offers a haven of biodiversity and tranquility and is the perfect place to escape the crowds swarming through the town.
The Serra da Sintra is renowned for its dense forests, charming hiking trails, and hidden treasures, including ancient ruins and mystical caves. Furthermore, from panoramic viewpoints, you can witness Exploring this enchanting landscape allows visitors to immerse themselves in the beauty of nature, breathe in the fresh mountain air, and witness scenic views that stretch from the Atlantic Ocean to the surrounding countryside.
Discover Cabo da Roca and its dramatic cliffs
Cabo da Roca, located just a short distance from Sintra, is a must-see for its breathtaking beauty and unique geographical significance. As the westernmost point of mainland Europe, it offers a dramatic cliffside setting where the land meets the mighty Atlantic Ocean. The rugged coastline and panoramic views from Cabo da Roca are truly awe-inspiring, so it's no wonder many people want to get there.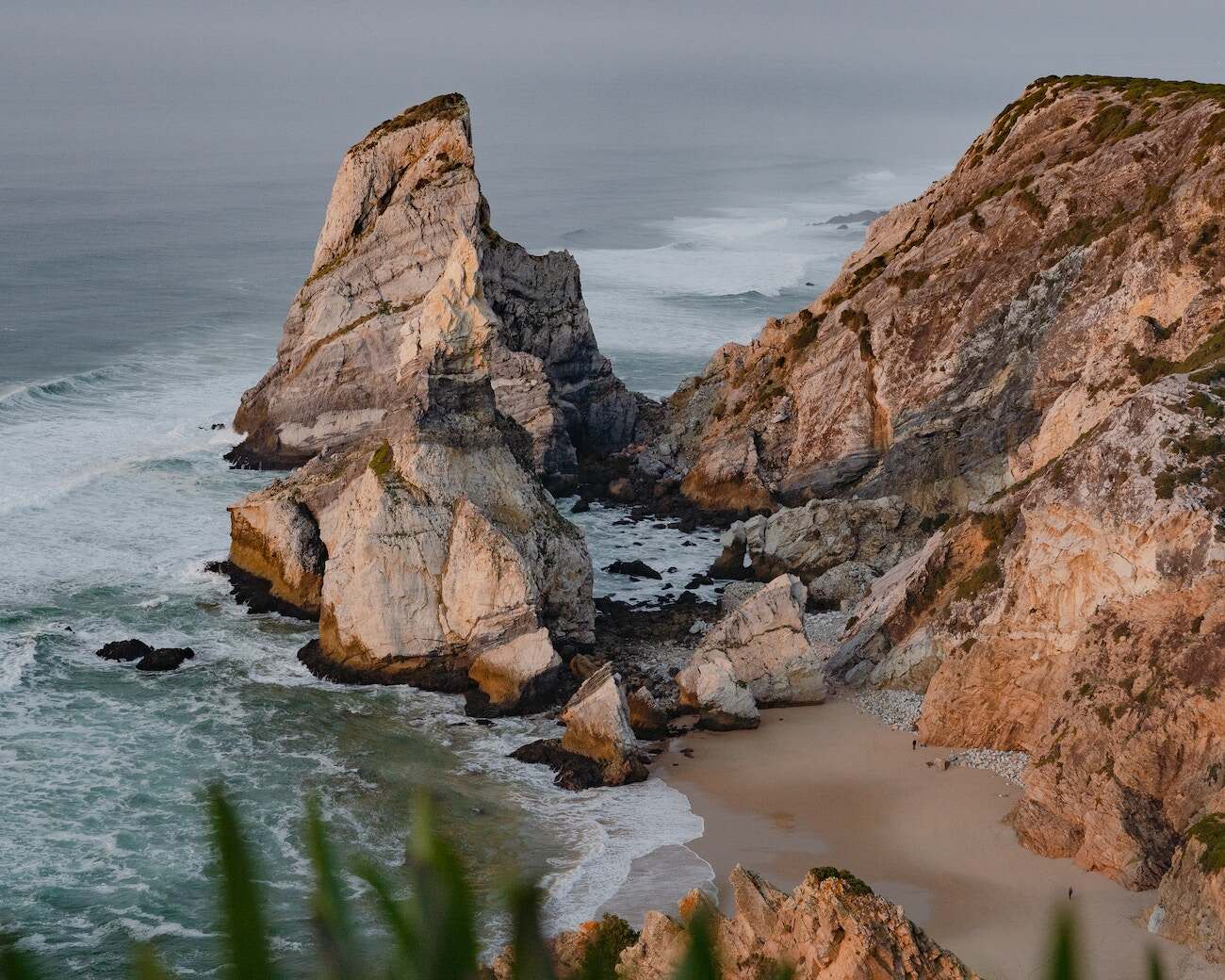 Many day tours from Lisbon to Sintra include visiting Cabo da Roca and Cascais. If you're getting to Sintra on your own, like I did, to spend a couple of days, you can easily reach Cabo da Roca from Sintra by bus. The journey from Sintra to Cabo da Roca takes about 40 minutes. If, afterward, you want to get back to Lisbon from Cabo da Roca, you can still use public transportation, changing in Cascais.
Alternatively, for those seeking a more adventurous experience, there's a hiking trail from Sintra to Cabo da Roca. I didn't walk it, so I can't share direct experience. But if this attracts you, the best option is to ask the local tourism board for advice and a map.
Take a ride on the vintage Sintra tram to the beach
The tram connection between Sintra and the coastline opened in 1904, became popular until the 1940s, and was thus extended during that time. From the 1940s onward, a slow but ongoing decay led to the termination of the tram line, replaced by buses, in 1975. However, the fascination with this old tram line remained, and little by little, the infrastructure was restored, and trams restarted circulation. At first, it was only the final stretch of the line to the coast, but work continued in the coming years, and in 2004 the circulation restarted.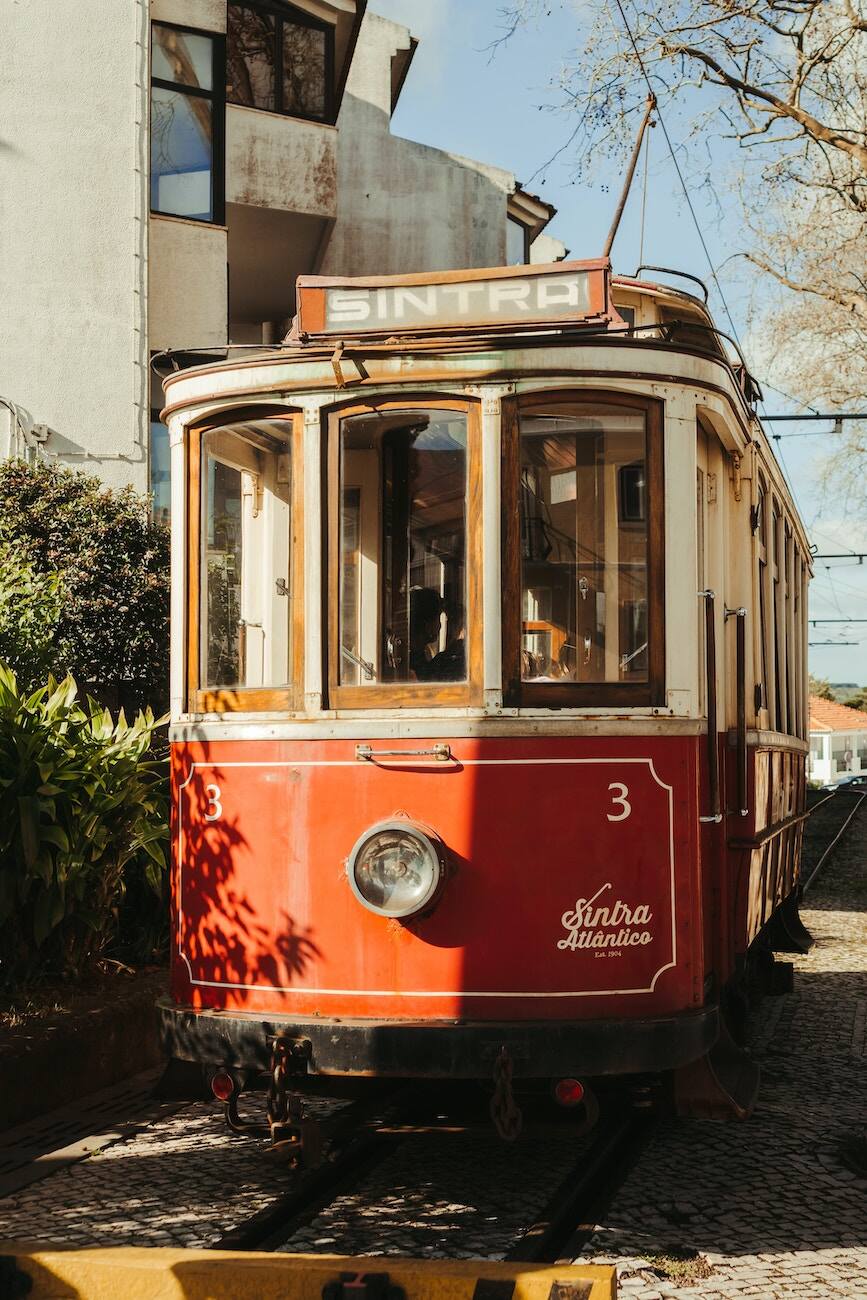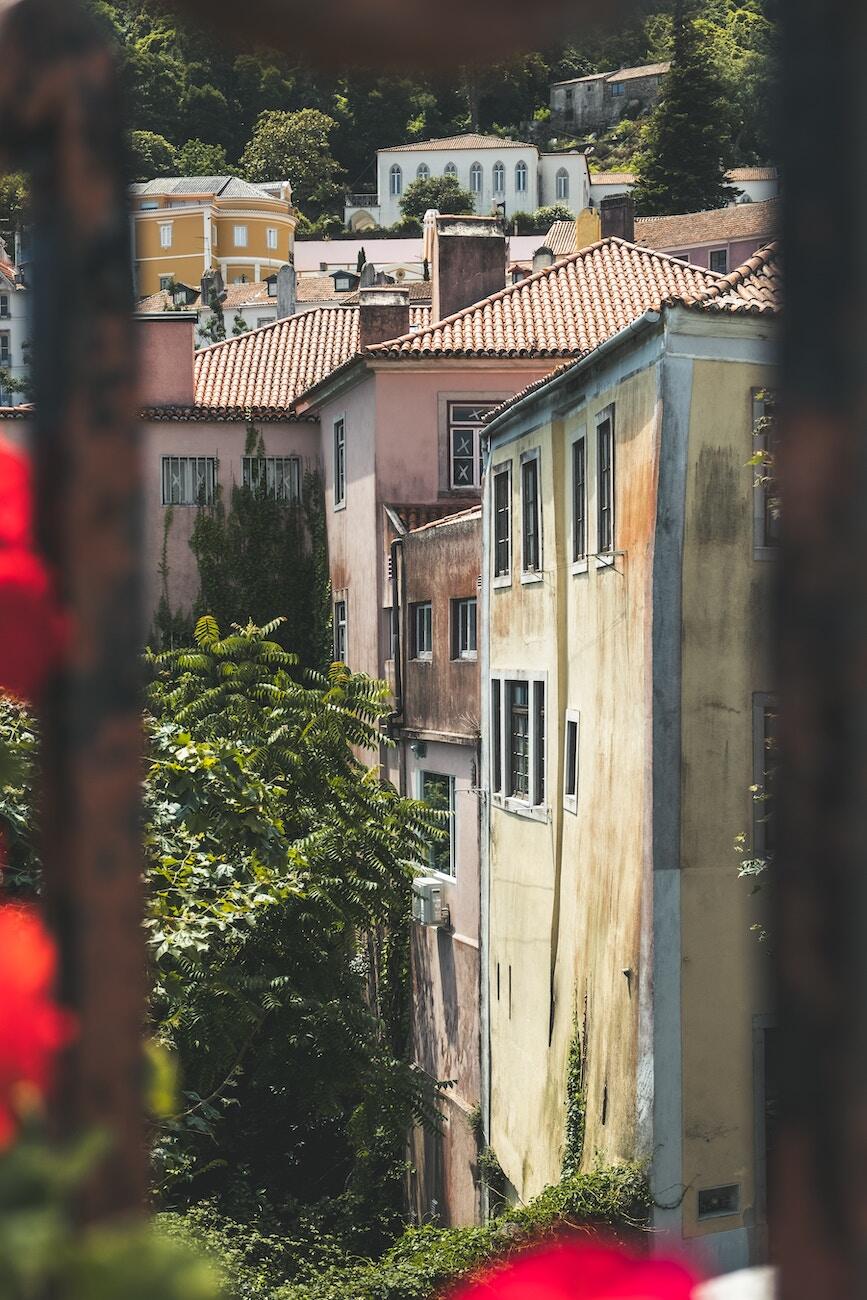 The ride on the Sintra tram to Maçãs Beach takes 45 minutes, but beware that there are only 3 rides per day during weekdays and 5 on Saturdays, Sundays, and public holidays.
Unusual things to do in Sintra
Looking for unusual experiences to do in Sintra? Here are a few that look quite cool:
Where to stay in Sintra

Although most people only spend one day in Sintra, mainly as a day trip from Lisbon, if you have the chance, you should spend at least one night in this delightful town. Sintra unveils its full charm early in the morning and from late afternoon, before and after it becomes overflown with tourists. Also, while the Sintra castles are the town's top attractions, it's worth enjoying the beautiful natural settings.
For a romantic stay, look no further than the charming Chalet Saudade. The building, dating back to the 19th century, has been lovingly restored and refurbished. It features lovely rooms, common areas with ceilings beautifully decorated with period frescoes, and an enchanting garden with ancient fountains.
Vila Bela Vista is a beautiful Bed & Breakfast featuring modern rooms in a recently refurbished ancient house. Only 300 m from Sintra National Palace and 800 m from Quinta da Regaleira, it's ideally located to explore Sintra castles and beyond.
The gorgeous Cedros Nature House is ideally located close to the center but in a very calm area, perfect for relaxation and a peaceful stay. It features modern decor, a year-round outdoor pool with a pool bar, and stunning views of the surroundings.
Before you go, don't forget:
Remember to bring a travel adapter to recharge all your electronic devices.
If you're traveling from a country outside the EU, remember to buy travel insurance unless you already have one.
Whether you visit on a day trip from Lisbon or stay longer, find out the best things to do in Sintra. Discover fairy-tale castles, the awe-inspiring scenery, and why it Sintra was such a cradle of Romanticism.


Pin for later!