I woke up in Lahore to a cloudy morning, the sky covered by a thin white blanket, the air motionless.
On the second day, the heat was even more stifling, and I thought, full of admiration, of the millions of people in the city fasting from sunrise to sunset, as prescribed during Ramadan.
Discovering Lahore under a scorching sun
Not eating and, to a lesser extent, not smoking, might be hard, but it's bearable. It's the lack of water or any other liquid during an entire day, with temperatures often rising above 45°C (113°F) which is tough. It's thus not surprising that Ramadan alters the rhythm of life, especially when it takes place in Summer.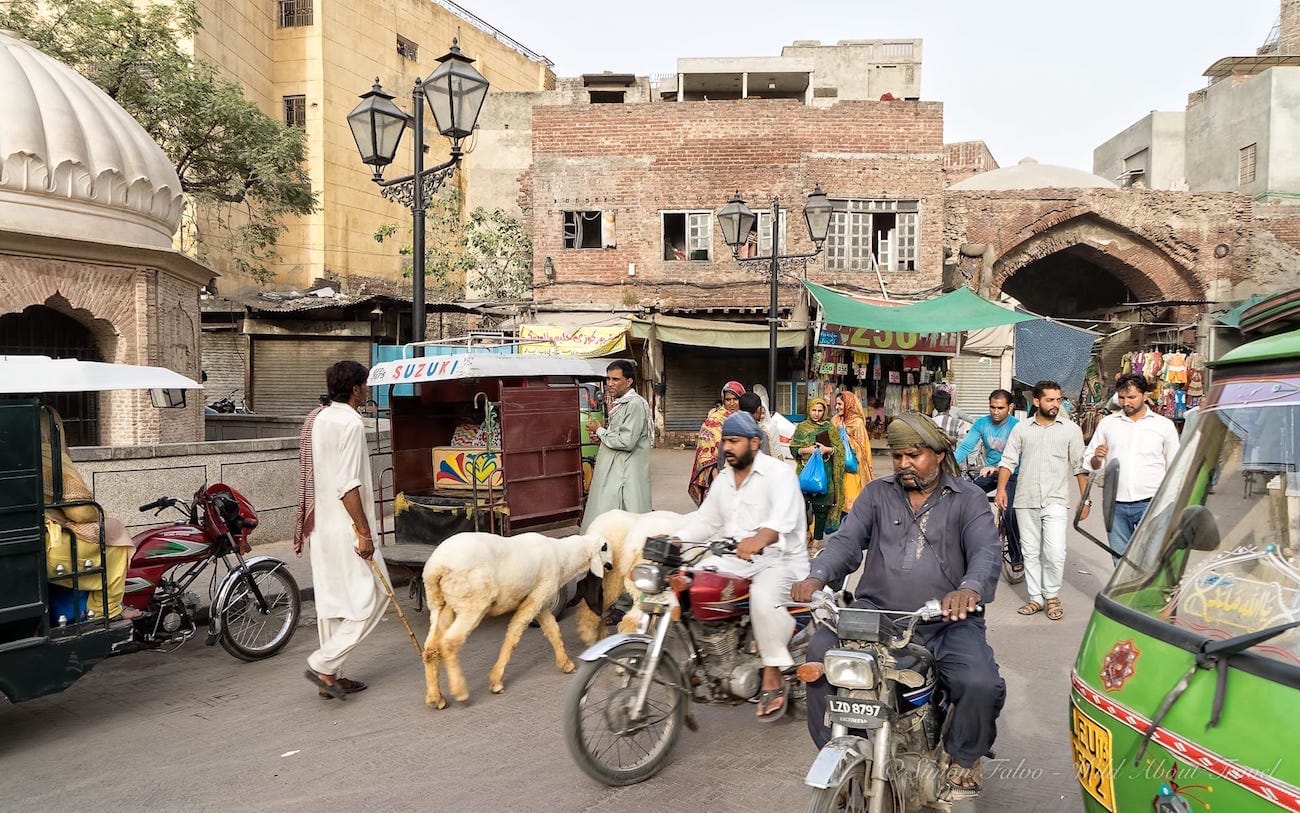 Braving the scorching heat, I head out to the Quaid-e-Azam Library, where I was to meet with Bismah, my new friend from Lahore. Set in the beautiful Jinnah's Garden, if it wasn't for the temperature looking at the elegant white building you might think to be somewhere in Great Britain. Indeed, the library was built in the mid-1850s when Pakistan – as part of the Indian subcontinent – was under the British Rule.
Inside, students are intently reading and taking notes, surrounded by the muffled sound of the ceiling fans, and I watch as they trace the beautiful Arabic letters on their notepads. I have like a flash-back, reminiscing of the time when I was a student and spent so many days at public libraries, and I wonder how many young people in the Western world still go in there, or if they have become something from past times.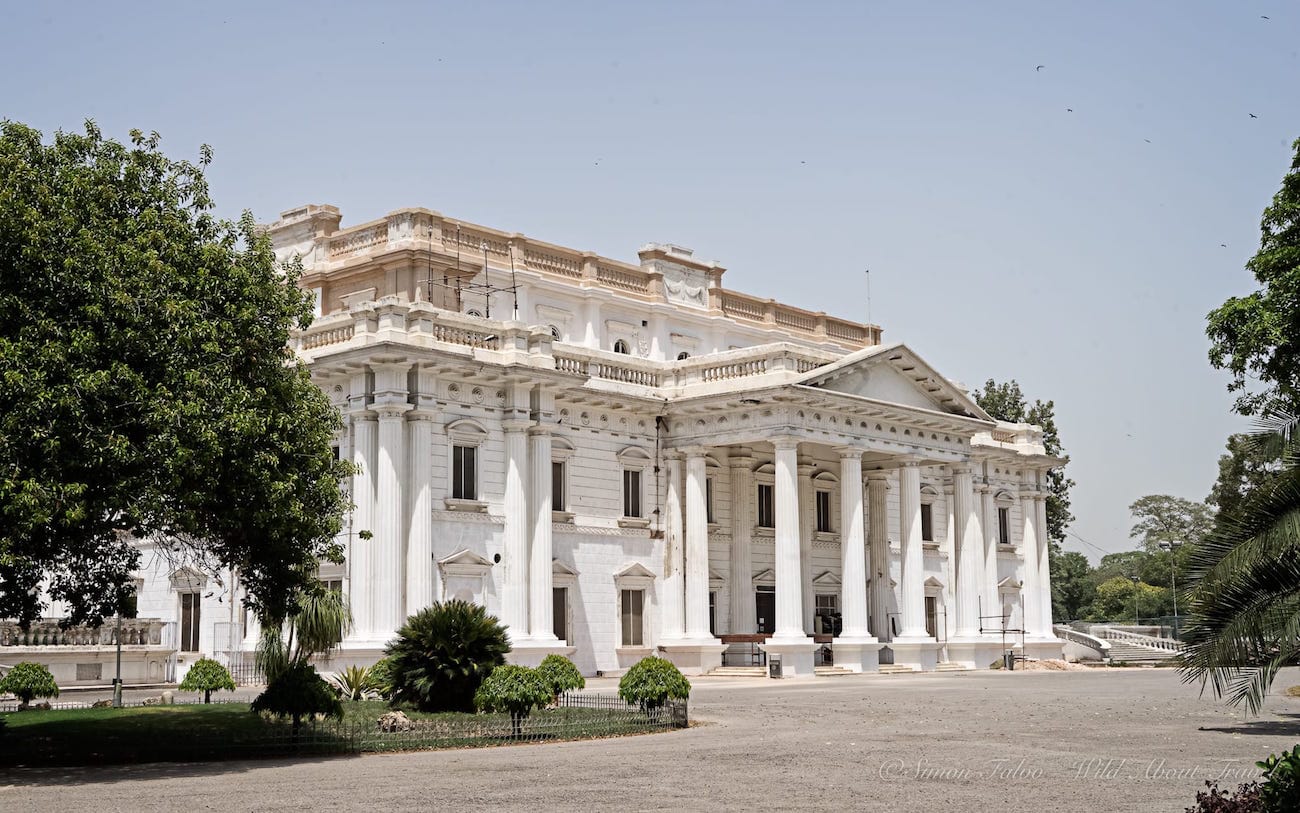 Much as I would like to have a long walk in the Jinnah's Garden, the heat is overwhelming and the only option to survive is to visit another place indoors, hoping for air conditioned or, at least, fans.
The Lahore Museum has a few beautiful artworks and handicrafts (my favorite were the finely carved wooden Mughal and Sikh doors, and some of the paintings), but I found it overall a little disappointing, mostly because of the lack of panels or tags introducing and explaining the objects displayed. What intrigued me, though, is the little bookshop right outside the Museum, where you can find a lot of old books on art and travel and have an interesting chat with the owner, a delightful old man with a passion for books.
Strolling in the colorful Akbar Mandi Bazaar
Time to visit the Akbar Mandi Bazaar, one of the largest spice and grains market in Asia, as I found out later.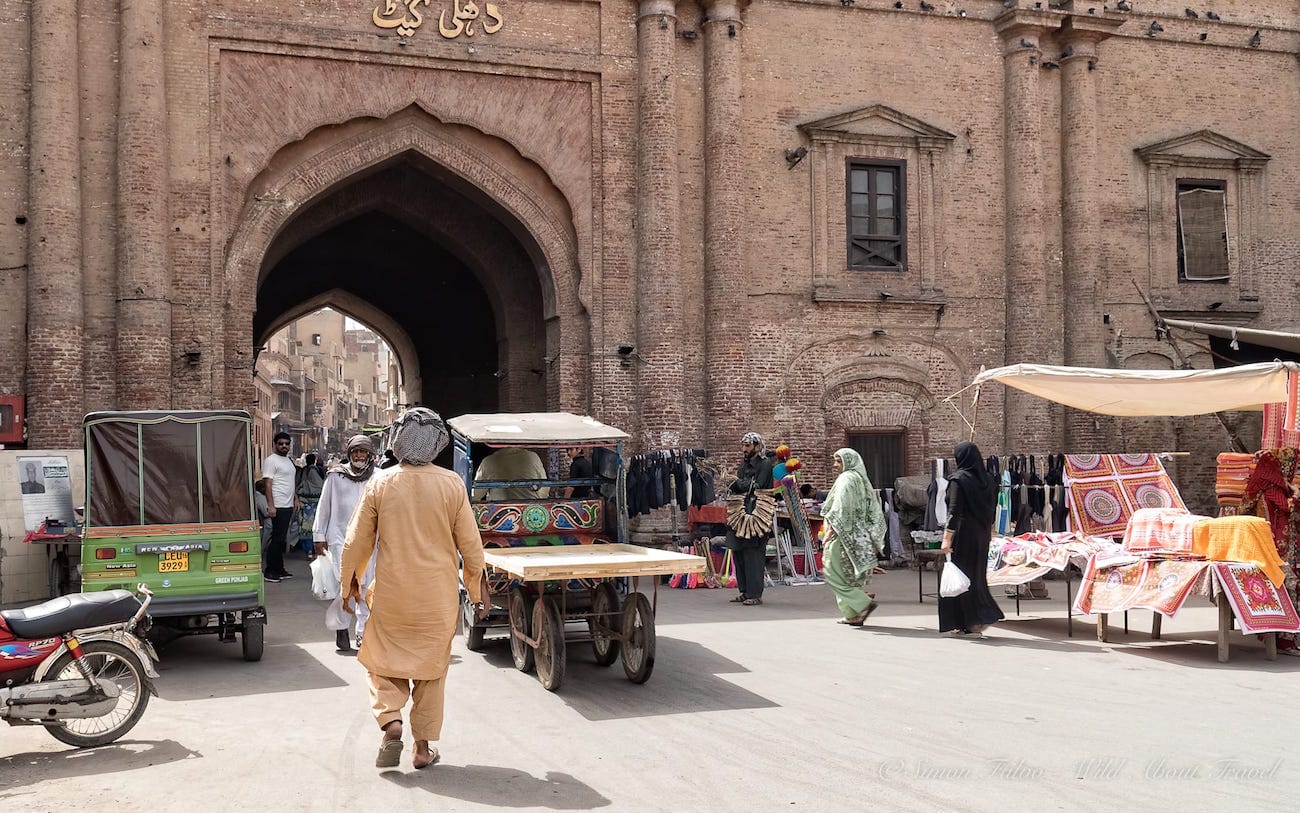 Entering through Delhi Gate, one of six remaining old accesses to Lahore Walled City, the hustle-bustle immediately stirred all my senses, arousing a multitude of emotions.
First came the colors. The vivid reds, blues, yellow, greens of the women's traditional dresses, called shalwar kameez, a three pieces outfit consisting of loose pants, a long-sleeved tunic and a scarf, which women wear in different styles, as a shawl, or as a veil to cover the head.
"While the three pieces are a must to keep on with tradition, there are endless ways to personalize the attires", Bismah explains. Shops sell ready made clothes, but also unstitched ones. "I go for unstitched dresses", Bismah continues, "because not only are they cheaper, but I can also shape them following my silhouette and give them a personal touch by adding different pieces of fabric". And indeed, she looks beautiful in her light blue and white costume.
As we stroll along the narrow streets, Bismah points at the facades of the old houses, partially hidden by large tarps hung to provide shade to the bazaar. Most facades are neglected but beautiful all the same, and it doesn't take much to imagine the splendor of Lahore's old city at the time of the Mughal. Wooden porches finely carved, buildings partially covered by tiles, elegant grids covering the windows to protect from the sun, letting in enough light and air.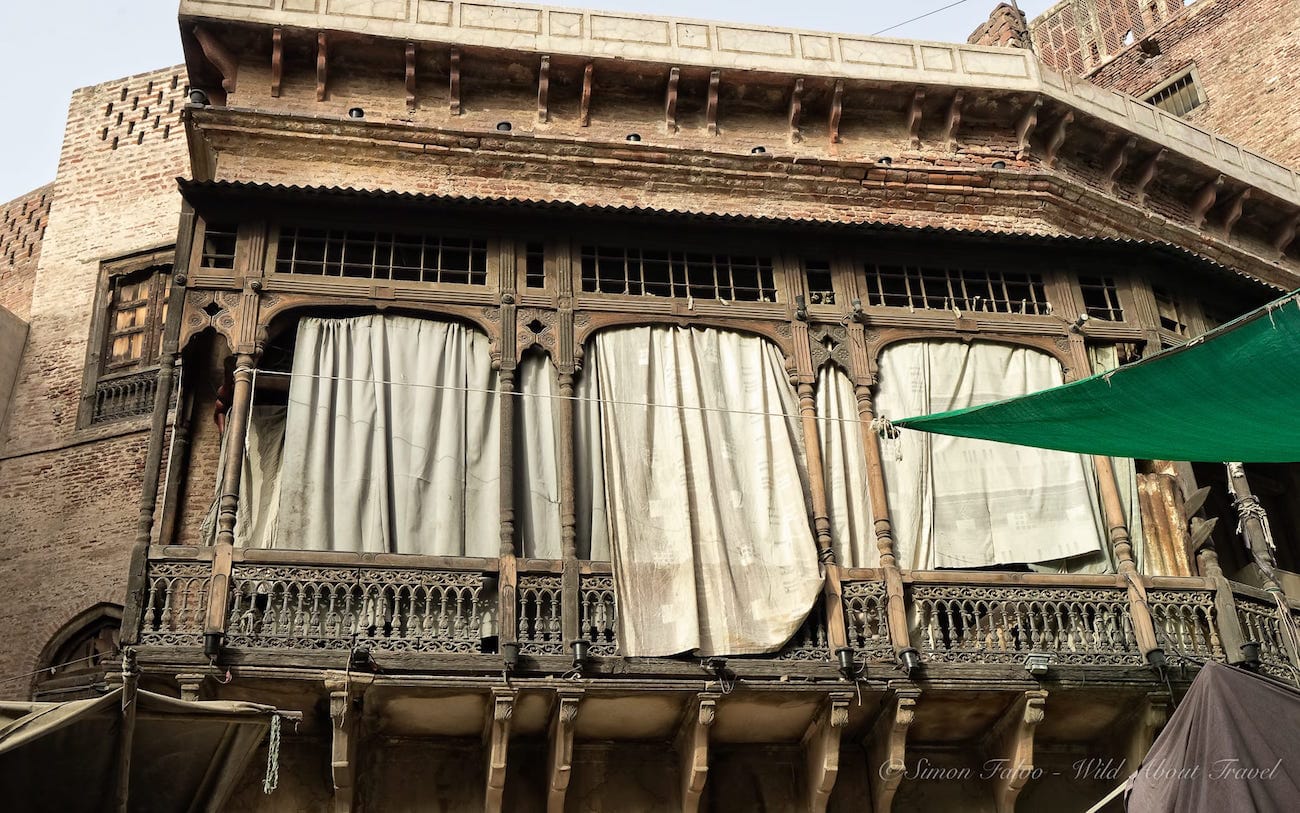 The smell of spices is intoxicating: Cardamom, Cinnamon, Cloves, Curry leaves, Garam Masala, Pepper, Sesame, Coriander, Lemongrass, Cumin, Saffron, Nutmeg, Turmeric, Henna, and more spices and grains displayed in huge bags. Shopkeepers made curious at the sight of one of the very few foreign tourists visiting Pakistan, invite me to have a closer look, proudly showcasing their goods.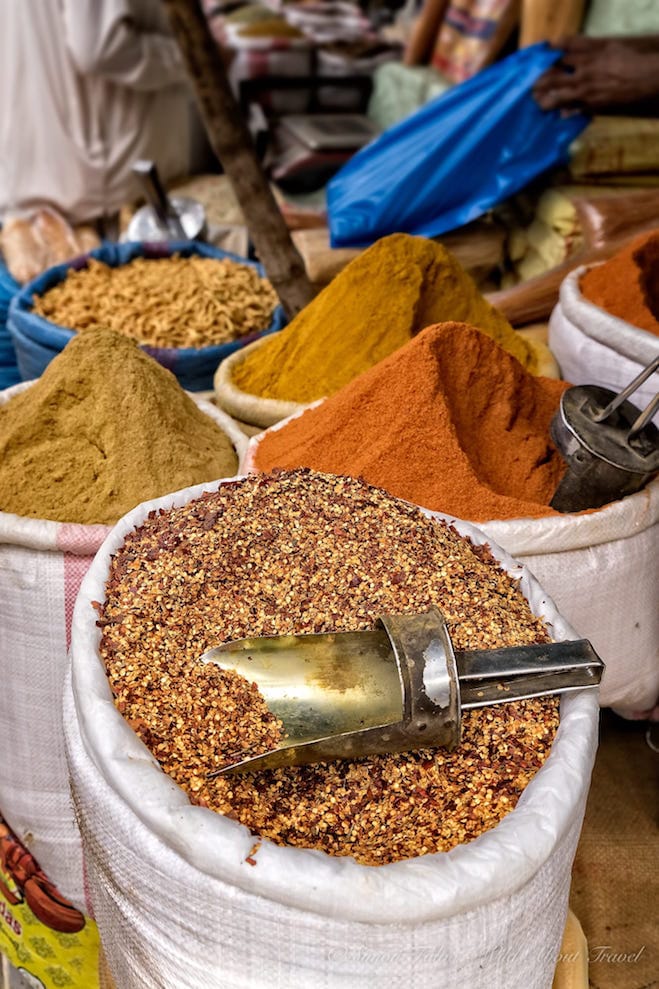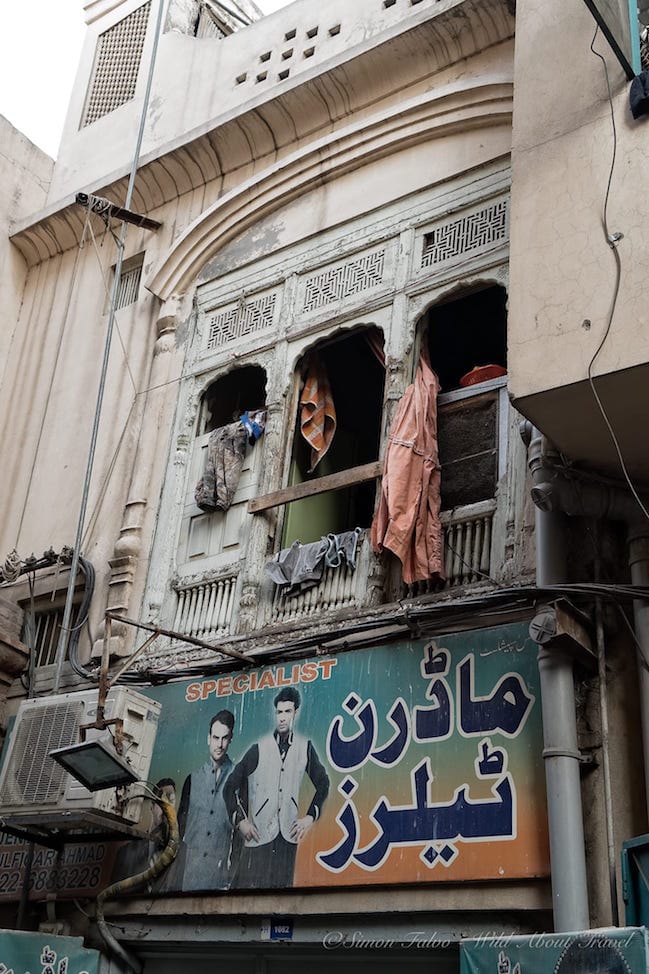 As the end of Ramadan fast nears, people get in a frenzy
As sunset time approaches, the market becomes more and more chaotic. The daily fast will end soon; shopkeepers start cooking chapati (the typical flat bread), frying samosa (dumplings filled with spiced potatoes, onions, peas, near or other ingredients) and roasting chickens on charcoal barbecues, people queue to buy something for the well-deserved dinner they'll have soon.
All of a sudden, people are in a frenzy, hurrying to reach the Mosque for the sunset prayer and then, eventually, have food and water. Everywhere noisy motorbikes, shaky rickshaws, carts pulled by oxen, horses or mules, a few old cars, while pedestrian quickly steps aside to avoid being run over.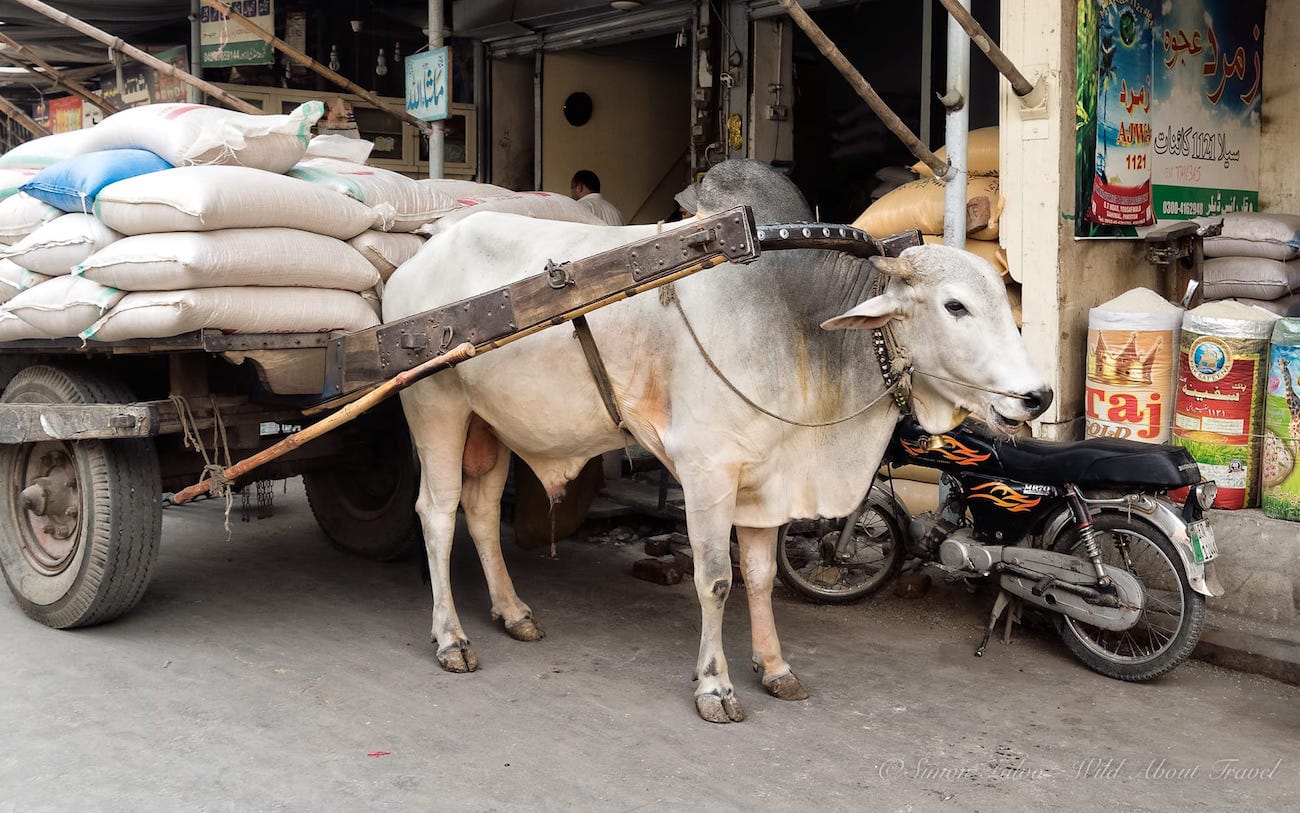 Slowly, we exit the Akbar Mandi Bazaar heading to the Wazir Khan Mosque, only a short walk away.
Where Badshahi Mosque strikes for its magnificence, the smaller and more intimate Wazir Khan Mosque impresses for the elaborated colorful decoration in faience tiles covering its walls and the beautiful frescoes in its interior.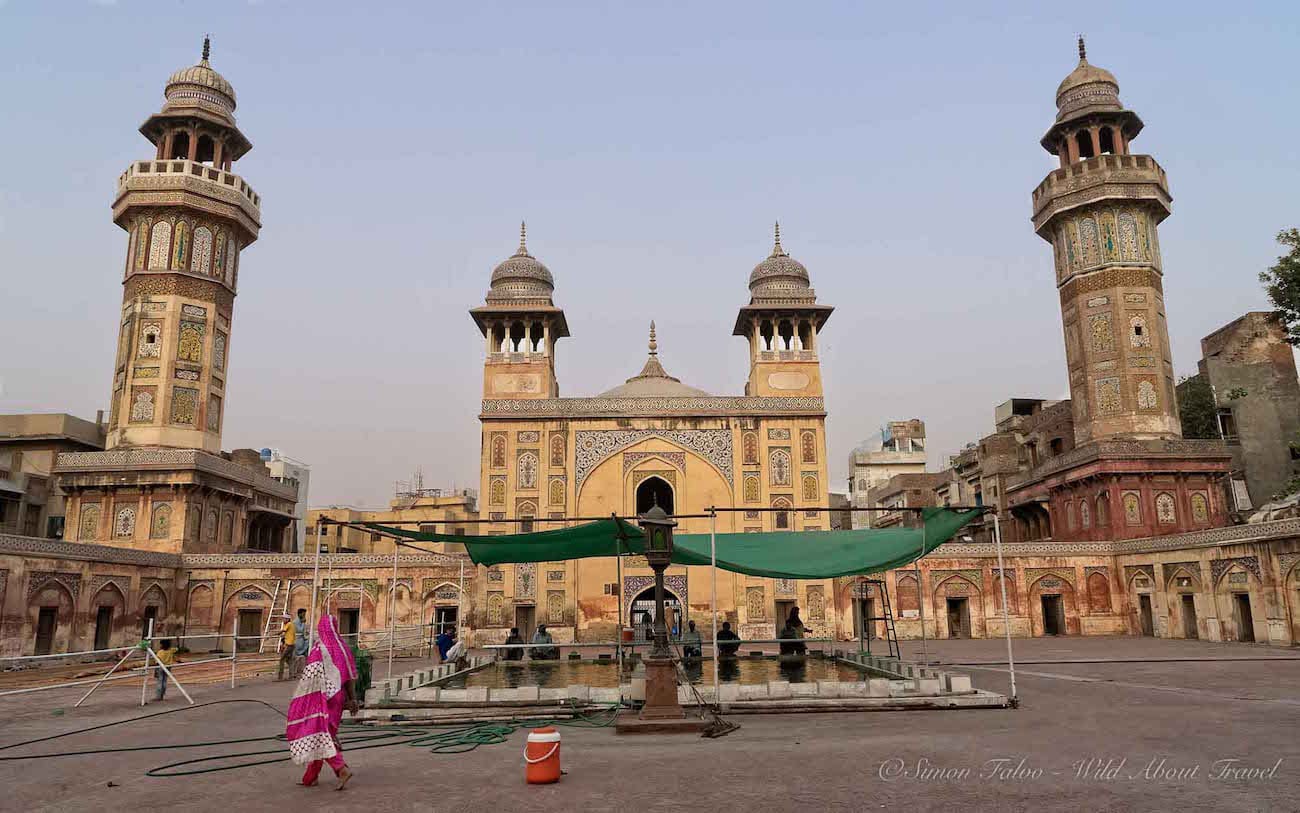 A few men start unrolling mats on the ground for the sunset prayer, and more people arrive, carrying food and drinks that they'll eat all together after hearing the loud siren announcing iftar, the end of fasting.
Bathed in the last rays of the sunshine, the colors of Wazir Khan become warmer, the shades longer, and the atmosphere is magic and intense.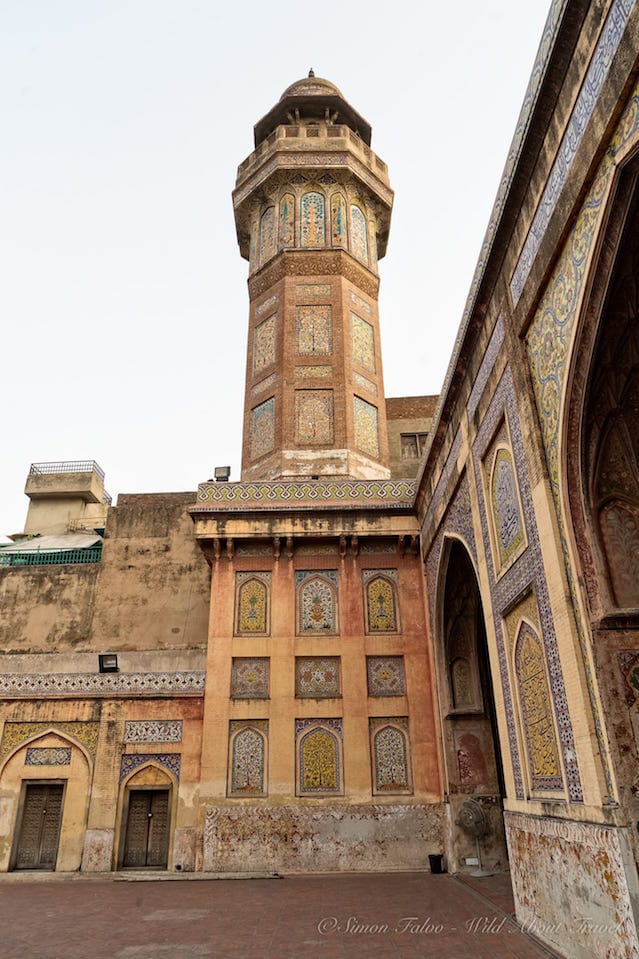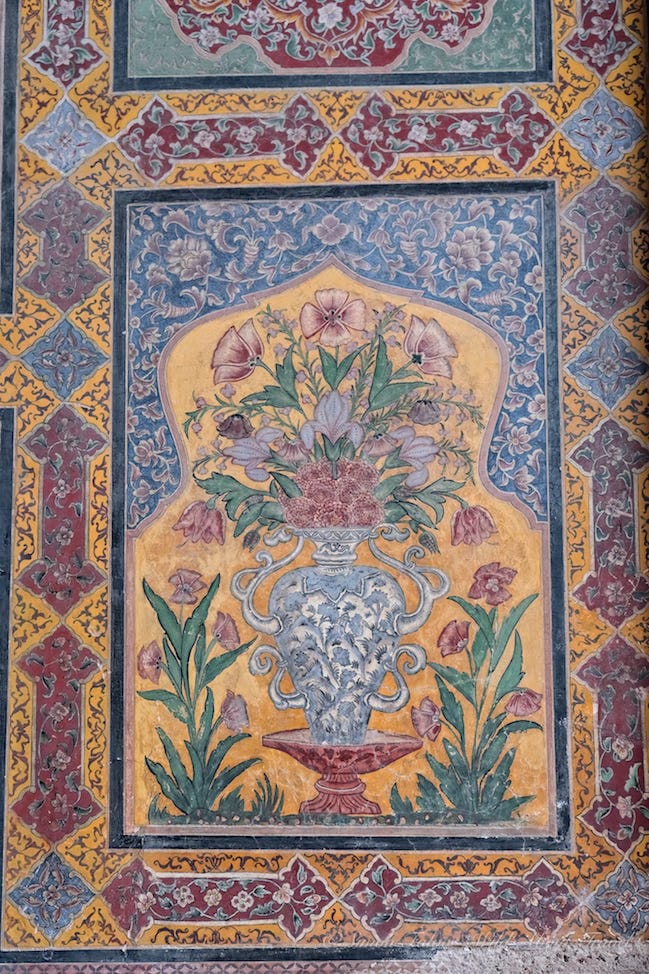 We leave as the prayer is about to start, heading to Bismah's house for dinner. I was soon to learn that kindness, generosity and the exceptional hospitality are the best part of Pakistan.
_______
Thank you to Bismah and Mansoor for making that day so special. If you ever plan to visit Lahore, I highly recommend you to get in touch with Bismah, who can arrange a personalized tour depending on your time and interests, quoting it accordingly. Bismah is also an amazing source to understand local traditions.
You can get in touch with Bismah on Facebook.
Lahore – Practical Information
Getting there
By Air: Lahore international airport is about 15 km from the city and serves many destinations, especially in the Arabian Peninsula.
By Bus: Daewoo Express runs several buses daily from Rawalpindi (Islamabad twin city) to Lahore (380km / 236mi). The journey takes 4h 15min, and you can book tickets online.
Getting around
Upon arrival and at the hotel, everyone will recommend you to take the Metro Cab, a professional taxi service with decent standards. You must call them in advance, and they usually arrive within 15 minutes, and you can also ask for the price to reach your destination.
A cheaper option is Uber (provided you have a local Sim card), where you can choose between regular taxi, higher end cars, and even rickshaws. Be ready to be shaken like being put in a mixer, but it's funny. Beware, however, that their driving is dangerous and it's better to take a rickshaw if you know a local since most of the drivers speak very little English if any.
Where to sleep
Lahore is huge, and to my knowledge, there is no hotel of acceptable standards inside the Walled City. It means that wherever you stay, as close it may seem on the map you'll need to take a cab to go around. In Summer, when the heat can be unbearable, a hotel with good air conditioning is a must.
I stayed at the Lahore Continental, a mid-range hotel with decent air-con, large room, clean and an overall good value for money. Only breakfast was poor, but it's hard to say if this was because of Ramadan.
In case you missed it: Falling in Love with Magic Lahore – Day 1
Pin it if you like it!